Lucerne Day Two
The banks of Lake Lucerne offer a most picturesque walk, especially first thing in the morning. Sometimes the sunrise is just ordinary, slightly gray and hazy and other mornings it is spectacular. You'll get that golden sky reflected in the golden waters of the lake. If there are any early birds here, it's very nice sunrise walk, perhaps even before breakfast at your hotel, at sunrise when the water turns to gold, and the swans put on a show.
Getting up so early when traveling is not easy, you're busy the night before out having dinner, you're tired and in most places, there is not much to see at sunrise, but here in Lucerne when you catch the light just right down at the lakeshore and over by the River Reuss you will have wonderful sights of swan and the city coming to life. In that early hour you'll find out why Lucerne is kept so clean, with street sweepers out in force with their little cleaning vehicles and old-fashioned brooms.
Farmers Market
Another early activity, beginning from 6 AM until noon twice a week, is the outdoor farmers produce market on the scenic banks of the River Reuss in the heart of town every Tuesday and Saturday morning. The local name for the market is "Luzerner Wochenmarkt."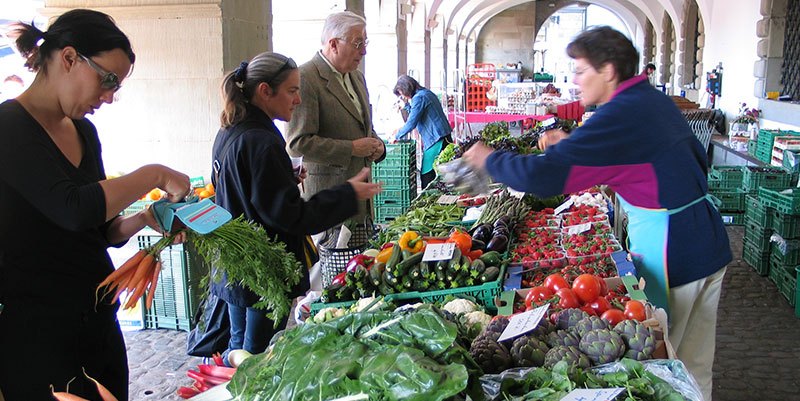 If you're up early, it's something to watch as vendors set up their stands. Each one of the booths is completely assembled in the morning and then when the market closes they take them down again and store them in a nearby warehouse, or take it back to their farm. Later in the morning it does get a little bit more crowded, so earlier is better for that energy of the hustle and bustle.
You can pick up your flowers and fresh fruits, vegetables, cheeses and breads. It is great fun to look at the fresh produce right from the farms, even if you're not purchasing anything. It's just a joy to walk through and share in the atmosphere. The market is on both sides of the river including space under the ancient arcades called Unter den Egg. Vendors are friendly and many of them speak English.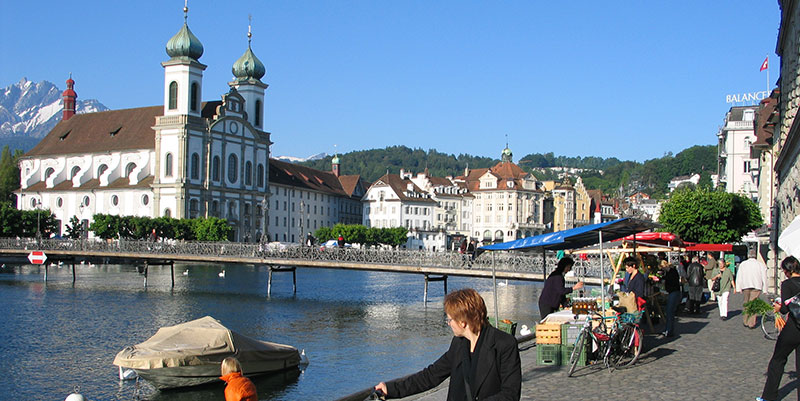 Of course, many European food markets like this are famous for their beautiful locations, their wonderful settings, perhaps surrounded by a historic plaza, but it's hard to imagine a more attractive spot than the banks of the River Reuss in the heart of Lucerne.
This is totally unlike shopping in a supermarket or some kind of a big box food store. Here the shoppers and the sellers have established a relationship over the years and have security and feelings of control over the origins of this food, most of which is organic.
You'll be surprised at how many different countries the food comes from. You've got France represented along with Italy, Greece and Spain, with baby potatoes, and vanilla sticks, and olive oil, fresh asparagus. Naturally you'll find a wide variety of Swiss cheeses, because cows and pastures for dairy production occupy most of the farmlands of the country. And yum, there are locally baked breads, that rich, dark heavy Swiss bread, along with white breads and French style baguettes. Many chefs from the top restaurants in town also shop here because they know that they are getting the highest quality possible.
Typical shoppers don't really need a list of things to buy. They'll just walk around and see what looks good and see what inspires them. Maybe talk to the vendors and get a few insights on some special recipes for these particular items.
It's like a family atmosphere here with vendors who have held their booths for decades and shoppers who come on a regular weekly basis because they live in Lucerne. Here you'll find that small town atmosphere where many people know each other and everybody's friendly and cordial.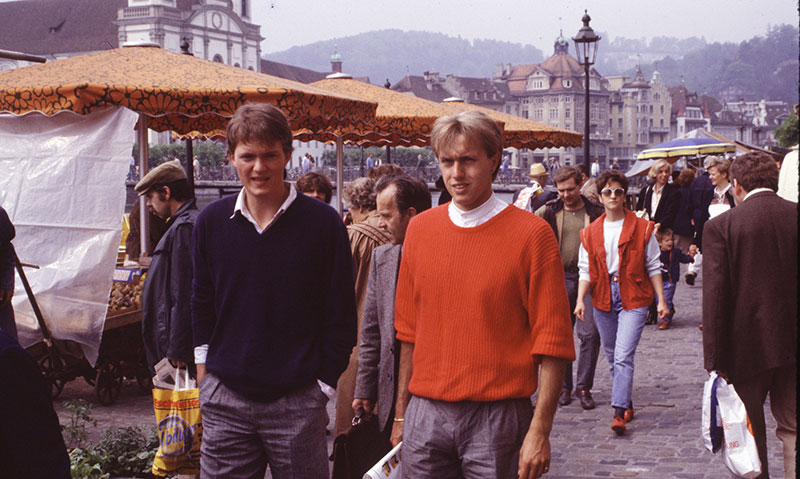 You'll notice this is not the kind of touristic market where you find booths selling souvenirs and crafts and clothing, but visitors are always welcome. There are that kind of occasional street markets in town and once a month there is a big street market along the river selling lots of those goods, handmade crafts, clothing and such and there's also an antique market every Saturday in the summer, and we will show you more of that coming up next.
The market takes place on both sides of the river, and you'll always notice the beautiful swans gliding by, especially on market days when they might find some extra food floating along in the river. The side in front of the Jesuit church focusing a little bit more on the flowers, the cheeses and the breads.
Many of the flowers are brought in from France and the Netherlands. But during the summer, Switzerland does grow a lot of its own flowers, and of course a lot of the produce is locally grown during the summer.
You probably are not cooking food on your vacation and you just wandered into the market to have a look and take a few pictures, maybe, and you will be tempted to purchase some of the fruits, nuts, other kinds of snack foods, and there are cafes around the market stalls as well. So it just makes the perfect spot to wander, take in the aromas, do a little people-watching, talk to the locals and get some good food..
Of course you want to follow general rules of etiquette for these open markets, such as don't touch the food. You can point and the merchant will pick it out for you. And it's not a place to bargain. Usually the prices are clearly marked right on the item. Taking pictures is fine, just turn off your flash so you don't blind them, and don't get in the way of the customers.
The market is a feast for all your senses, taste, visuals, hearing and smell. It's just an all-around amazing experience.
Flea Market
If you're here on a Saturday morning between early May and late October, walk across the river down towards the Mill Bridge and you will come across another kind of market. It's the flea market, all sorts of junk. No, call it antiques and collectibles, rarities, bargains. You can get cheap, cheap clothing. A lot of people here are seriously shopping for some inexpensive clothing, and you might be pleasantly surprised at the high quality of some of these hand-me-downs. It seems most of the customers are locals rather than tourists, but you might like to take a look, snap a few pictures and you might even find some sort of authentic souvenir.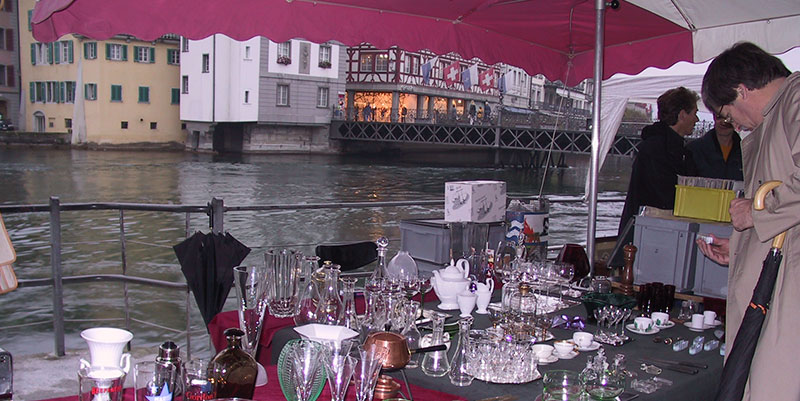 It only happens once a week, Saturday mornings from about 7 AM till just past noon. This might not be a world-famous market like you find in the very big cities of Europe, but it has got a lot of local character, and this setting cannot be beat. We are at the narrow part of the River Reuss where the entire Lake Lucerne is emptying out, so there's often a rapid flow of water going by, creating a quite dramatic background. The people are always friendly, providing a chance to rub some elbows and make a friend. It's that kind of off the radar experience that you might just stumble into, and find lasting memories here.
Even if you're not buying anything, it's kind of like walking through museum of recent culture history, looking at all of this stuff piled up on the tables and spilling out of the boxes. Certainly you can bargain a little bit if you want to, but just do that in good faith if you really are intending to buy something. See how cheap you can get it for. The vendors will take no offense. It's all part of the fun, part of the give-and-take, to be expected. Flea markets are not for everybody but if you're the type who enjoys this sort of sport, you don't want to miss it when you're in Lucerne on a Saturday morning.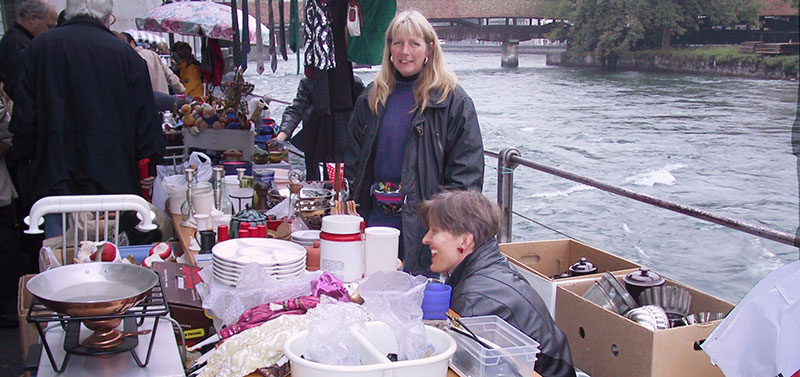 You might find some genuine antiques here that are of high value, such as an original Swiss cowbell, instead of going to a souvenir shop and getting an imitation, these are the real thing. Most of these products were made many years ago when there was more focus on quality and hand craftsmanship.
While we're over on this south side of the river, the side with the Jesuit church and the train station, there are a large number of things to have a look at: chocolate shop, laundromat, restaurant, couple of churches, a Renaissance palace, more historic buildings, and the new side of town, giving you a quick look on the map to help you get around.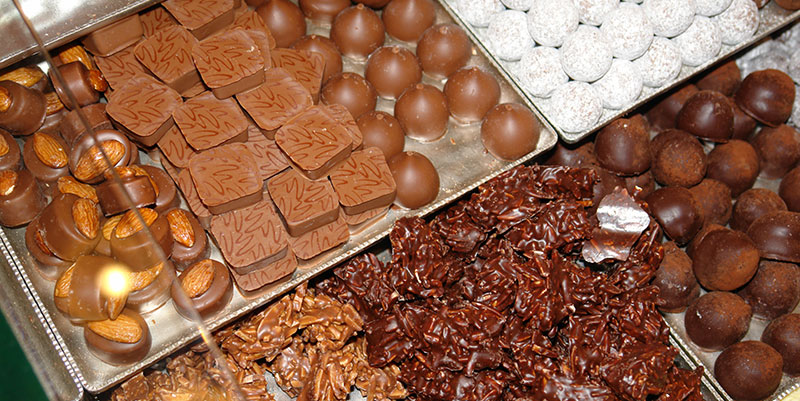 A nice attraction of this side is our favorite chocolate shop, Au Cachet, on Pfister-Gasse Street. They fill the pralines by hand with sinfully rich creams that will melt your soul with delight. Chocolate bars are available in many shops, but only a few have such delicious hand-made truffles.
They make them fresh on a regular basis and will package them in a nice box for you, a tremendous variety of kinds of stuffed chocolate. They stay fresh for a few weeks, making an excellent present to bring home or munch on the road. You want to get the truffles, also called pralines, the chocolates with a filling, rivaling those of Belgium.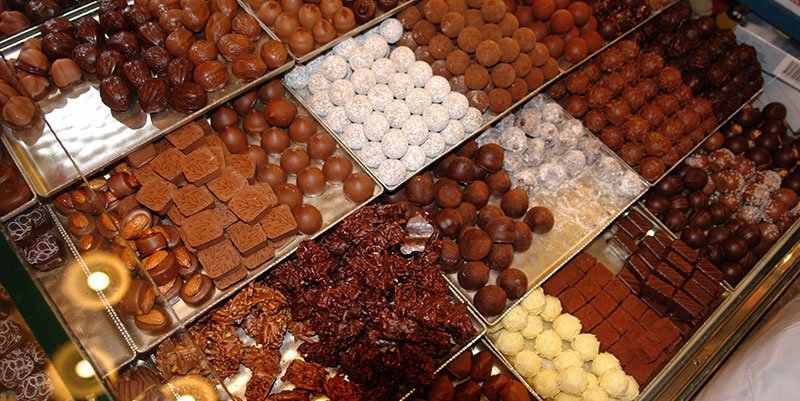 Suzanne, the owner, describes their process: "This is homemade, and we have it every week, we have it, fresh. And the chocolate is with different flavors, and it's with the very, very high quality of chocolate paste. We have put champagne flavoring inside, or Grand Marnier, or than we have, we have all this about a quarter is with liquor and the others are without liquor. It's with nuts, with fruits. We have marzipan, this is an almond paste with very special flavor. We have about 75 different kinds."
The chocolates are good for at least three or four weeks. You could buy several boxes, just mixed chocolates, say a variety, and you take them home, makes good presents.
Also nearby is a very old pharmacy with an external Gothic staircase that goes up the building, and the windows have a display of the old pharmacy materials, with old medicines, bottles and vials on the shelves, in a little historical display. Across the street is really an excellent restaurant, The Wilden Mann, in a hotel of the same name, which is a nice four-star hotel.
If you are in the middle of a longer trip and have nothing but dirty clothes, you can drop off your laundry at the Jet Wasch laundromat, two blocks west at 28 Bruchstrasse. They will wash and dry and fold your load of clothing for a very reasonable fee, and then you can pick it up at the end of the day. It saves you a lot of time and it's a great way to get your clothes done instead of spending time in your hotel bathroom, washing things in a bathtub. This way you don't have to bring such a large suitcase with you when you're traveling. You can bring fewer clothes and then get your laundry done halfway through your trip.

Over here there is also the very old Franciscan Church of Lucerne, marked by the pointed arches  in the late Gothic style. It's Catholic because Lucerne is a Catholic city, but Switzerland is a religious mix — some places Catholic, others Protestant.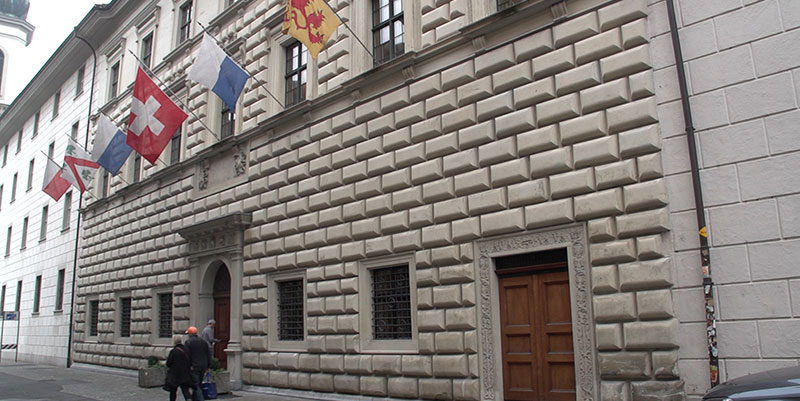 Walking back to the river, have a look at the pretty building with the flags out front, the Ritter Palace, originally used as a Jesuit residence, but later converted into government offices, now headquarters of the Canton of Lucerne. It was built in Italian style reminiscent of the palaces in Florence, because we are not far from Italy, and there has always been a fascination here for Italian culture. Go inside to see the surprising Tuscan courtyard interior.
Originally, it was a private palace  constructed as a private home in1445 by a very wealthy noble who was enamored with Italy, with the Florentine style of architecture. It was later purchased by the government, and for nearly 300 years there has been a government presence here in this palace. It's an enclosed courtyard protected from the Swiss weather. There are toilets here open to the public on the ground floor.
Next door is the Jesuit Church, which is so visible from the other side of the river, and now we have a chance to go inside. This pretty church was built between 1666 and 1673, influenced by the Italians and decorated in Baroque style by Toriano and Torricelli, two artists from the Italian-speaking southern part of Switzerland.

While you are in this neighborhood south of the river, you could take the funicular ride up to the Hotel Chateau Gütsch for another spectacular view over the town, and then go for a walk in their forest, perhaps followed by lunch or dinner in the hotel's elegant restaurant. In 2015 the old funicular railway was replaced by two modern inclined lifts. The journey to Gütsch today takes just one and a half minutes.
Mill Bridge and Medieval Wall
The Mill Bridge, or Spreuerbrucke, was one of the oldest wooden bridges in Lucerne. About 600 years ago they brought corn here using turbines to grind grain, and they would make the bread for the whole old town. This was built around 1408, notable for its series of paintings, "The Dance of Death," whose jangling skeletons of the Black Death make you feel lucky to be alive.
The clever Swiss have once again harnessed the waterpower that originally gave this bridge its name, the Mill Bridge, which had been used for grinding grain in past centuries. Now they have created a modern electricity-generating turbine, underwater and completely invisible, once again using the river current productively. It is a fine example of historic preservation and modern technology working together.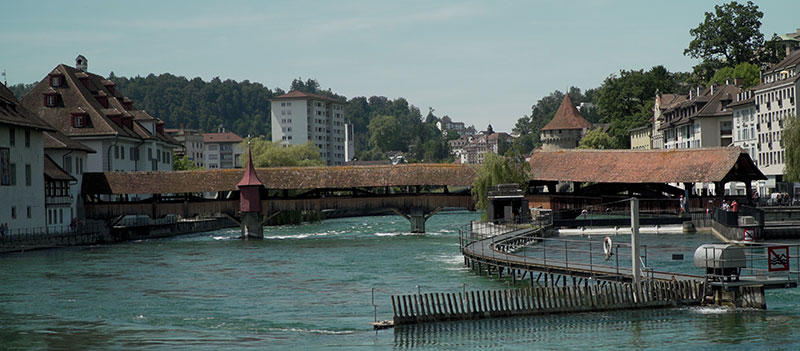 The River Reuss is the only outlet for Lake Lucerne, and have stick dam, a weir that functions as an adjustable dam. They can take sticks out or put more sticks in, depending on the level and velocity of the water, due to the amount of flooding and melting of snow. They make these adjustments to keep the lake at a uniform level for the boat traffic which needs to be correctly aligned with the height of the docks. So they adjust the level of the entire lake with these sticks. This flows north and it ends up, eventually joins the Rhine and eventually into the North Sea.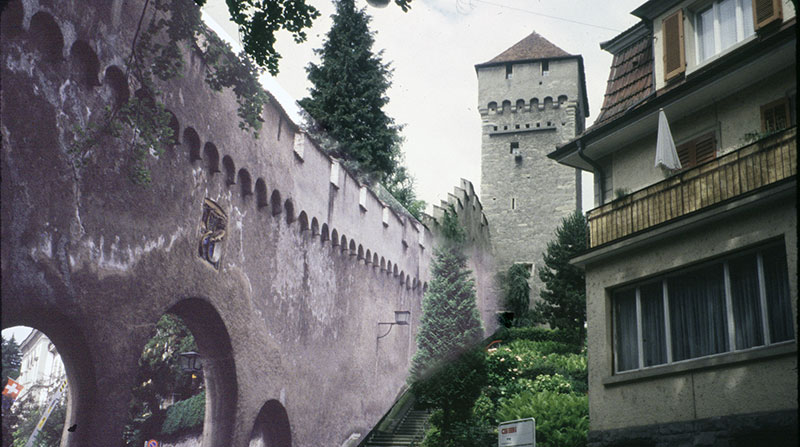 The medieval town wall still stands up on the hill, which you can walk up. You follow a road and there will be a path on the other side of the wall that will lead you through a pasture with cows. a nice barnyard touch inside the city. Walking along that road will bring you to a gate in the large tower and you go through the gate and take a sharp right, go up the stone staircase and it will quickly lead you into the garden path that runs along the outside of the wall.
It's really not that steep and makes a good way to gain altitude. The path turns into a little staircase and then you're inside the tower going up the authentic wooden and stone steps. Be warned these stairs are rather steep and cramped, not for total weaklings, but it's really only about 35 meters high. So it's not all that bad and there are handrails for safety and to help pull yourself up.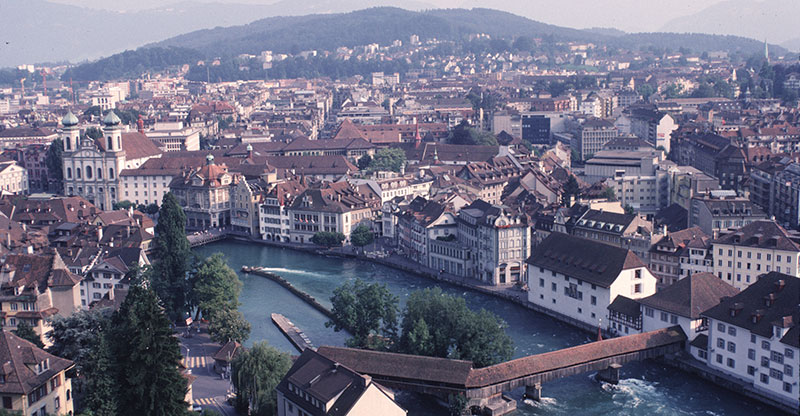 Emerging at the top you get a great view looking out over the city so it's worth the climb. It's a classic Instagram shot for you which makes a great reward and gives you that rosy glow of accomplishment after such a strenuous walk uphill. You've walked into a yodel-ready vista.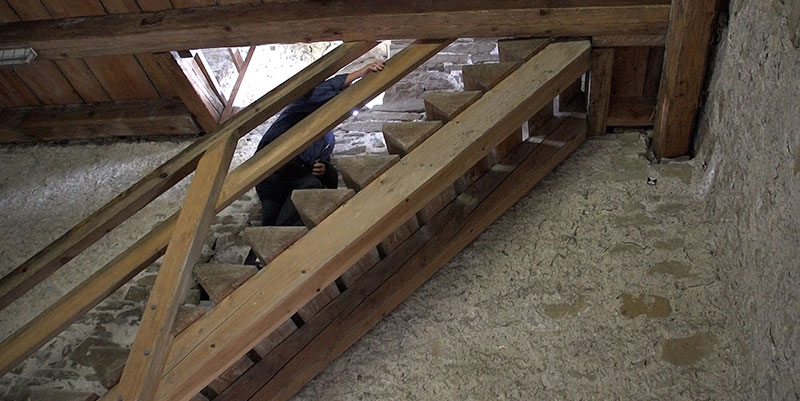 It's a little bit of a workout, but you get a spectacular view and that makes everything worthwhile. And there are three towers actually. If one is not enough, you go down and climb up a second, get that view and then climb up a third. Most visitors miss this altogether, but it's fun. Instead of spending all your time shopping, come on up and enjoy the view.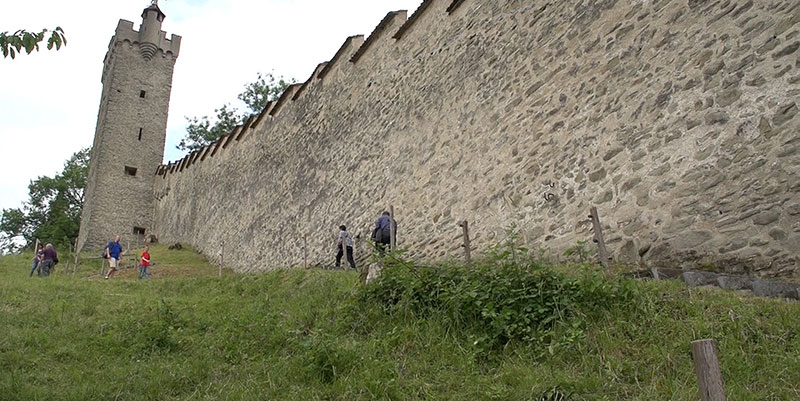 This old fortification wall around Lucerne still survives from the Middle Ages. It was built around the same time as the two wooden bridges between 1350 and 1408. And those bridges also functioned together with the wall as defensive barriers protecting the city. The Middle Ages were times of turmoil always subject to outside attack from neighboring cities, and these walls always played a role in protecting the city's commerce, to make sure that goods coming into or out of the city could be properly taxed and not smuggled in.
Upon leaving the wall, you have a choice of returning back the way you came towards the river, passing those same cows and down to the River Reuss, that's easy. Or better yet, if you can spare another twenty minutes continue along the wall to a different exit gate and you'll see more of the towers, with a chance to go up two more of them and walk along the top of the wall if you wish. It's always easier walking downstairs, even if it feels a little bit more awkward, and don't hesitate to take a break along the way. Catch your breath, and rest up a bit.
A historic plaque on the wall shows a diagram of the towers, and the routing and their names: Nölli, Männli, Luegisland, Heu, Zeit, Schirmer, Pulver, Allenwinden, and Dächli, nine of them. The visit is free but there's a donation bucket you can contribute to help for maintenance of the towers and these pretty gardens that you get to walk through as part of the trip.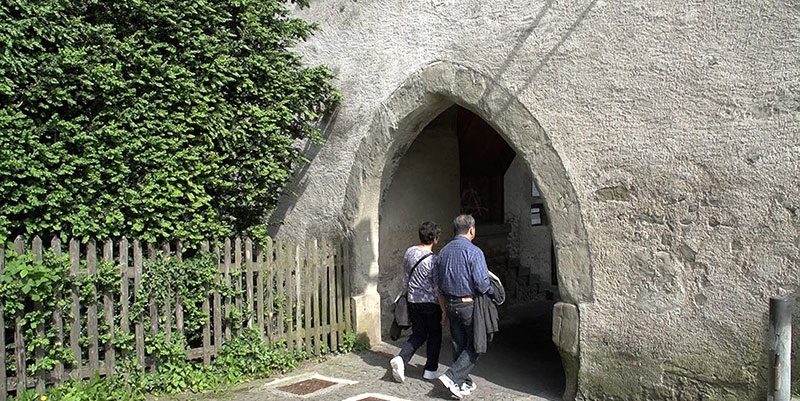 It's an easy walk back into the city itself, just takes a few minutes through the gates, and you'll get a view looking back up at one of the towers, the Zeit Tower, with the biggest and oldest clock in town. They say fishermen can tell the time from way out on the lake in their boats.
The New (South) Side of Town
Thus far we have presented the picture of Lucerne as a historic old town, but there's a large portion of the city that most visitors never see, the modern side, and so were going to take you there now. You might call it the real Lucerne, where local people live, work, play, shop and eat, although the locals love their Old Town as well.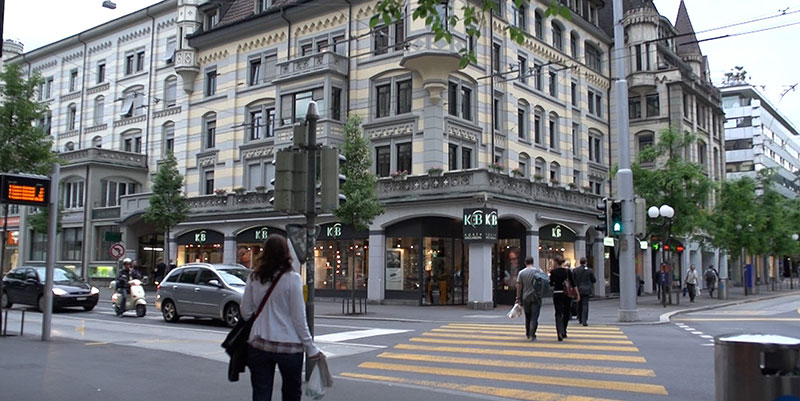 There are some busy wide streets with lots of traffic, no pedestrian zones over here on the new side of town. There are some small shopping malls as part of the urban mix along with some very pleasant sidewalk restaurants. You'll find this part of town is very livable, a comfortable place to be. We are on the train station side of the river, where you've got apartment buildings, modern architecture, very nice shops, and some excellent restaurants that locals flock to. So let's have a look and pry it open, and maybe you'll want to come over and have a look yourself.
However, this is not for the day trippers. It is not a place that tourists go to generally. When you walk around over here you don't see people taking pictures or looking at maps or guidebooks. It's really off the grid, not mentioned in guidebooks, but we are going to show it to you now.
Despite those quaint old buildings, Switzerland is a well-educated modern nation, very much on the cutting edge of design, engineering, construction, manufacturing, computer technology and higher education.
While this modern section might not be a major tourist attraction, it is a place that has some affordable hotels and makes a very good place to stay, because you're really only about a ten minute walk from the river and then across to the old town. It's very close, convenient, and the hotels here are quite modern and clean.
Quality-of-life is further enhanced by the little neighborhood parks and the well-tended flower gardens. They've got wide sidewalks and plenty room for bicycles and for kids to play. Here you'll find the kinds of avant-garde sculpture and modern architecture you'd never see on the old north side of the river.
It's a well-planned neighborhood with uniform height of about 6 to 8 stories and buildings in a human scale with neighborhood markets, and you've got your little ethnic restaurants, pubs and bars, and places for local shopping, all integrated into one unified neighborhood.
Sure, there are growing suburbs 5-10 miles outside of the city were many people do live. It's lovely out there, quiet and green hills with cows in the backyard maybe. But a lot of people choose the urban lifestyle and Lucerne provides it with high-quality.
Art lovers will want to seek out the Rosengart Collection, which brings together over 300 Classic Modernist and Impressionist works of art, extending over three floors. The museum houses two unique groups of works featuring 125 works by Paul Klee and about 180 works by Pablo Picasso. In addition, the collection exhibits works by over 20 masters of the 19th and 20th century, including Cézanne, Monet and Matisse. The Rosengart Collection is open every day, housed in the erstwhile Swiss National Bank at Pilatusstrasse 10, a neo-classical edifice built in 1924 in the Empire Style.
The most popular restaurant on this modern side is Helvetia, with a lovely outdoor terrace and trees all around. They've got indoor dining but nobody sits inside when the weather is mild. Everybody's outside enjoying the ambience of fresh air and the great food. This is a local place. You're probably not going to see any tourists here, but it's an easy ten-minute walk from the Old Town only, six blocks from the river and quite easy to find at Waldstätterstrasse 9.
Having seen the best of Lucerne, we are now going to take you on some fascinating excursions out of town to nearby mountains, by boat, train, funicular and on foot, in our next section.