Font-de-Gaume, Belvès, Urval, Domme, Rocamadour
Font-de-Gaume
Set in a lush valley with a beautiful trail leading to it, Font-de-Gaume is one of the few painted caves people are allowed to visit, which is a very rewarding experience.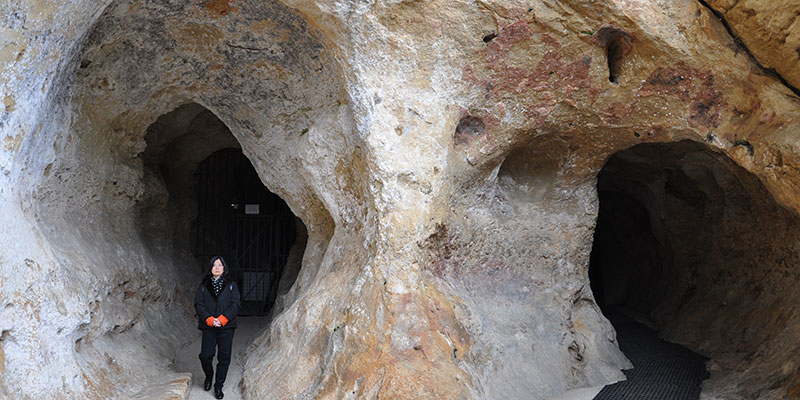 Font-de-Gaume is one of the most remarkable of the painted prehistoric caves in the Dordogne Valley area. It's one of the great landmarks of prehistoric art, because there are paintings on the walls inside these caves that date back 15,000 years.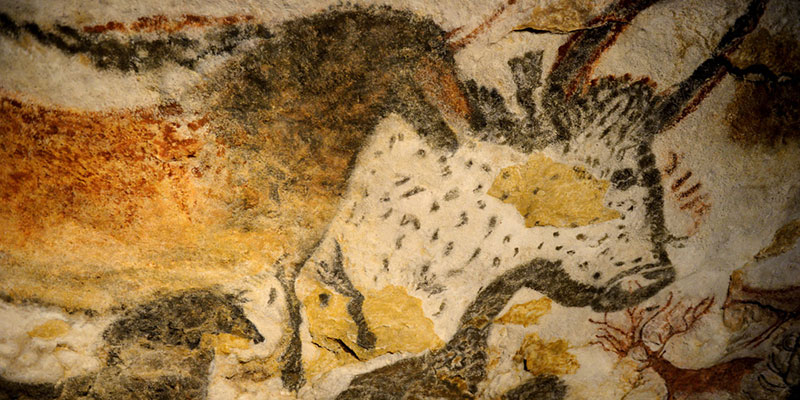 They're mostly paintings of bisons and some reindeer and some horses. And it really gives you an idea of the level of development that mankind had already reached 15,000 years ago. It's some of the first painted art ever found in the world. Of course, there are painted caves scattered throughout Europe. You find them in Spain and particularly through the south of France.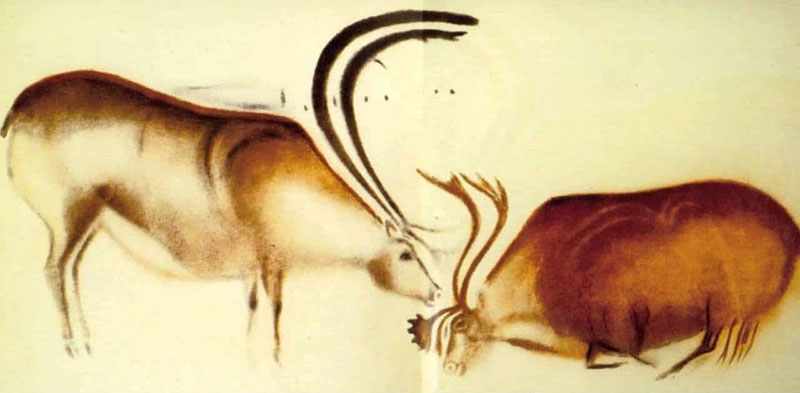 But this region is the most famous for a concentration of painted caves. They were using the contours of the caves in part to shape their paintings. So you see some very naturalistic looking almost three-dimensional bison painted on to the rock wall where there would be a natural protrusion for the head and natural protrusion for the body.
And it really shows how talented these early humans were. They were hunters and gatherers. And, of course, these paintings were all about the hunt, because bison and reindeer were some of their main foods. The theory is this was a way of guaranteeing a good hunt. It was their homage to the animals, perhaps tied up in their early religion as well, although very little is actually known, since it was 15,000 years ago, and there are no written records.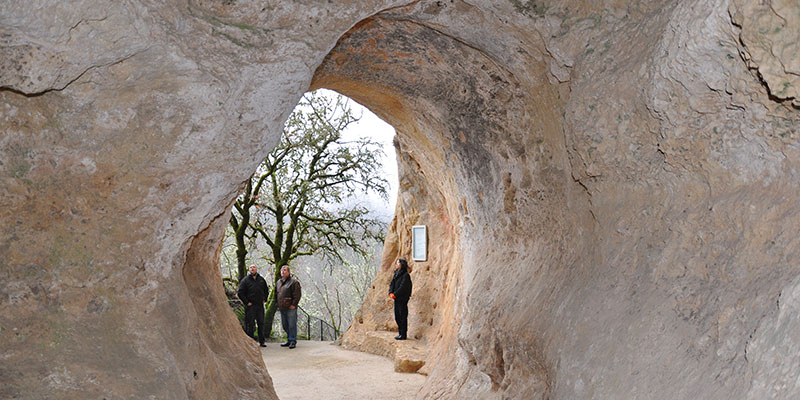 Then we continue on to one of the area's major towns, Belvès, famous as the site of seven towers, medieval towers that date back centuries. And there is a main street for pedestrians, as usual.
And in this case, it's early December and nobody's home. The town was really quite empty. The town square has a 15th-century covered market and several of the noted towers. There are many charming buildings in Belvès.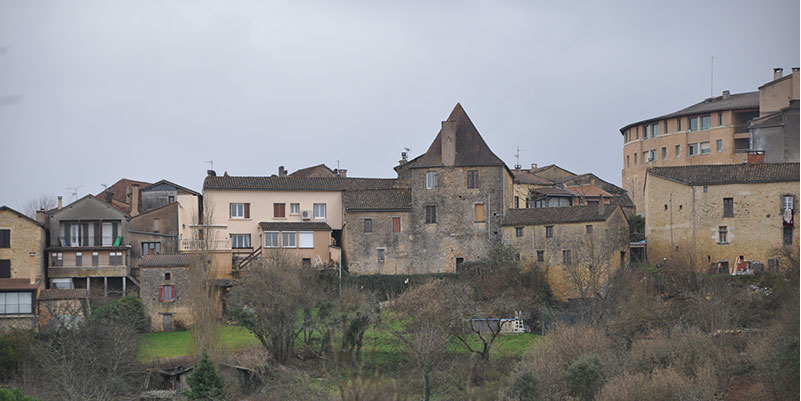 It's set on a hilltop from which you can have some commanding views across the countryside. And a few of these pedestrian lanes emanate out from that central square, including a narrow alley leading you to the archbishop's palace, indicating that this really was a fairly important town back in its day.
Urval
Sometimes you'll be reading a guidebook and some obscure little reference catches your eye, such as mention of the Hamlet of Urval. Well, it sounded like a good idea, so we drove over to take a look.
There's only about ten buildings clustered here, but it is quite charming, especially with the little duck pond and swans gliding through it.
A cluster of homes, and there's even a little post office here. The hamlet of Urval. Just a little detour and another side trip.
Domme
There are a number of towns that were specifically built as fortifications in the Middle Ages. There are called bastides. And one of the most famous is the town of Domme. It's a drive that takes about an hour from anywhere, because it's up on a hill.
It's an isolated, little fortified town, but worth the visit. There's a wall completely around it and several gates. You drive right in. And the town itself is a relic of the Middle Ages. It was first founded in the year 1293 and built up over the centuries. It played a role in the 100 Years War. It changed back and forth from the British hands to the French hands and to the British and back to the French.
The main street is the Grand Rue. There are shops here, and people still living in the town. You'll see some school kids out in the daytime as well. Not just an empty relic, this is a significant tourist attraction in the Perigord Region. It attracted some artists in its day, including writer Henry Miller who loved the place.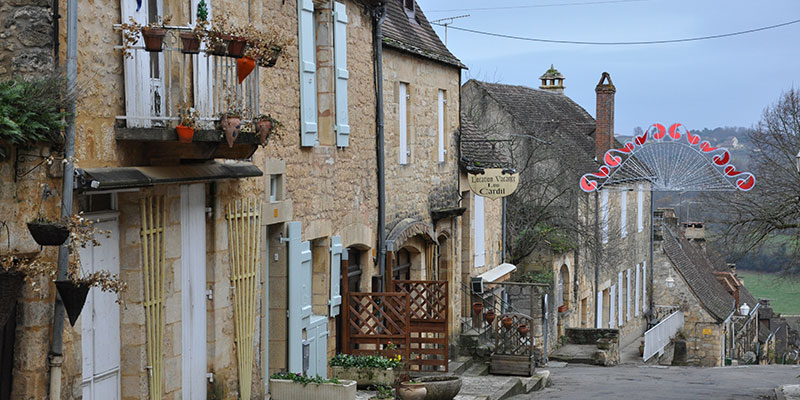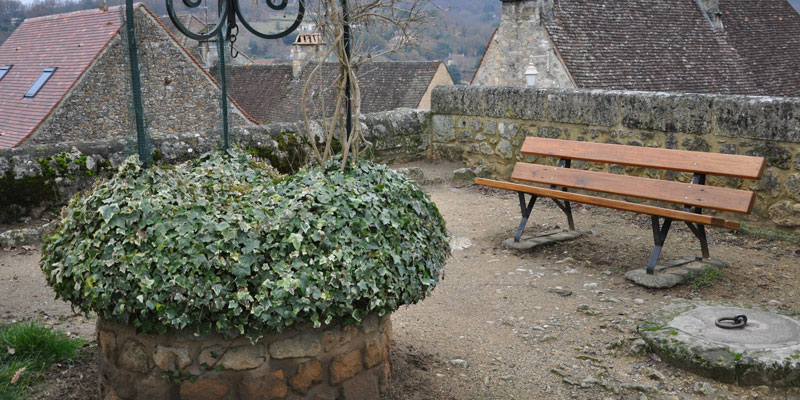 There are some fine views from the hilltop and a little park with a bench. You can sit down and rest up and then continue on your way out through that same wall, through another gate. Continuing on your journey.
We're heading to the town of Rocamadour, passing some walnut orchards, one of the great food crops of the area.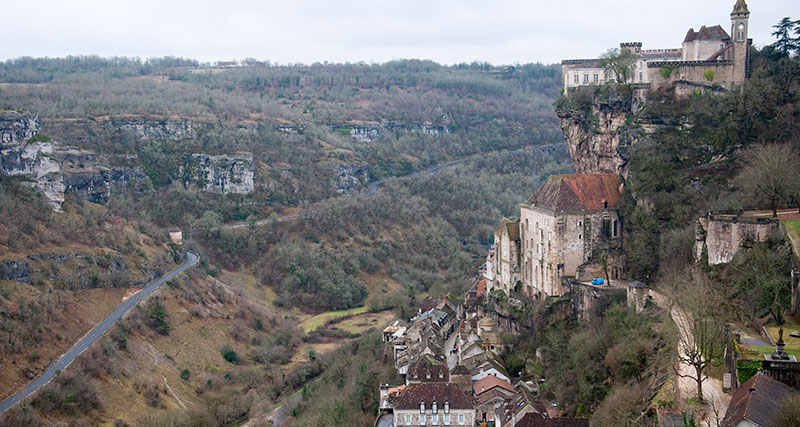 Rocamadour is an amazing little village, clinging to a limestone cliff overlooking a vast valley in a spectacular setting. It was originally a pilgrimage destination from the Middle Ages, and is still a pilgrimage village today, although we were visiting in the off-season, and you'll see it was rather empty. You've got three levels: the chateau on the top, the sanctuary in the middle, and the village down below. And you can drive right to it, especially in the off-season. No problem with parking. This is a weekday, and yet most of the shops were closed, hotels were closed, restaurants were closed, the shutters were drawn. But there is the Chateau magnificently perched above the village.
It's a walled village. In medieval times, it was actually fortified to keep the enemies away. Now it's very peaceful, of course, very tranquil and quiet. They say that in the Middle Ages, on a busy day, there'd be as many as 30,000 pilgrims.
The cheese shop was one of the few places open, and so we stopped for a bite and a taste. "And this is a blue goat cheese and this is a blue sheep cheese, which is one of my favorites. You want a taste? Yeah. Very tasty. Okay. And this is a ampagne, it's a cow cheese. And this town is very quiet today. You know, it's not the season." The Tourist Information Office was closed, but the cheese lady was very friendly, and filled us in on some of the history which dates back to the 12th century.
"There is a staircase that pilgrims would climb and still do today on their knees for a special blessings. I advise you go down. This is what you have to see here, by walking, you go here, you visit everything. And you go down. You can see the sanctuary from here. And it's very, very beautiful to see.
"Rocamadour is three floors, okay. Up here, this is the city. And normally you come here, you go to the stairs, which is what you must do on your knees. This is the sanctuary on your knees too, and go to the castle. Normally you have to do the pilgrim way, you know, on your knees. And so you will be forgiven for all the eternities. You have to do it on your knees, normally. This is a rule, you know. You have to go there. There is this sanctuary at the middle level and you can walk up to it through the staircase or take the funicular."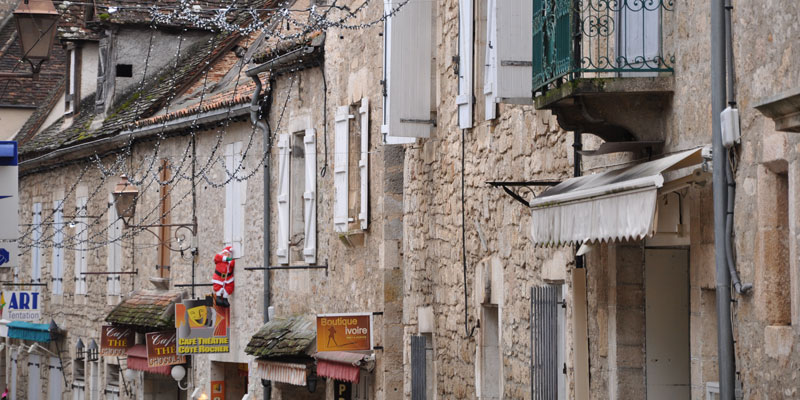 Well, we weren't about to spend a few hours doing the climbing, and so instead, we got back in the car and we were on our way. We are continuing along to the next destination in our adventures through the Dordogne Valley.