Sarlat
We are traveling deep into the heart of southwest France, passing castles up on the hills, and then coming upon the magical medieval town of Sarlat.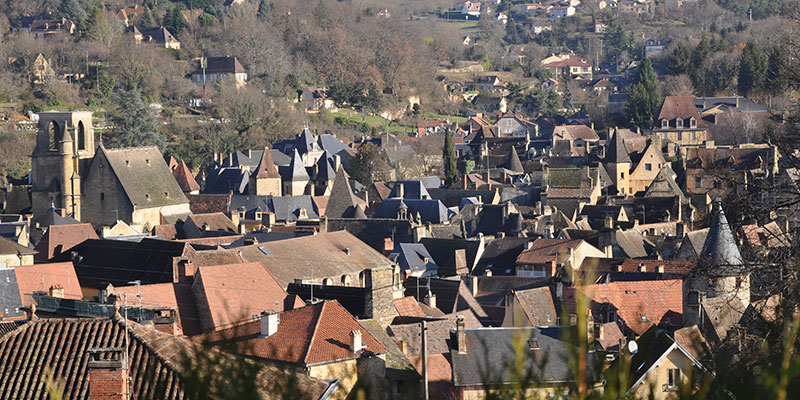 Sarlat is one of the best preserved early Renaissance towns in all of France. It's a small city, population, only 10,000 people, a hideaway in time, largely unchanged for the last couple of hundred years.
We're starting in Place de la Liberté, the main square, which has a variety of purposes and functions. On market day it's filled with the market stalls, on Saturday morning, especially. It's a really lively market. And then in the evening, the tables come out and the restaurants open up.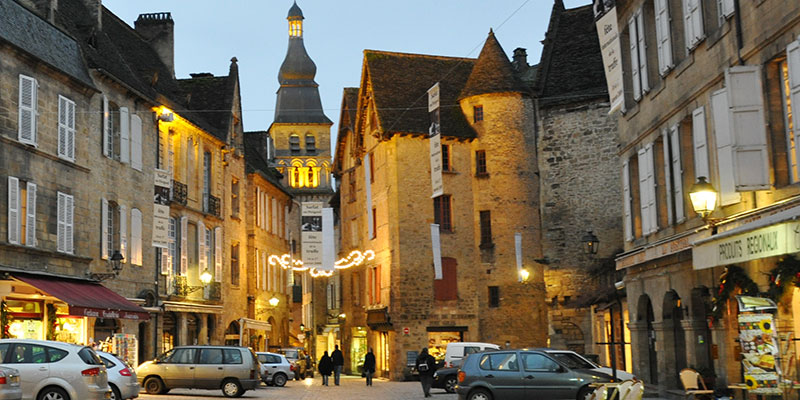 There are some cafes around the market square, and the Town Hall is here, the Hotel de Ville. You can see the church steeple of the Cathedral of Sarlat. So this is really the central focal point of the town, with little alleys and lanes leading out from it in every direction. And none of them are straight roads, of course.
As you walk around in the heart of Sarlat through these alleys, you come across narrow passage alleys that mysteriously lead from one courtyard space to the next. And then you'll find more shops and little cafe on the corners. It's like a maze, a medieval maze. Some of these passageways have pointed arches dating back to the Gothic period, the roots of this town. As you look around in these little courtyards, you're reminded of the antiquity of these buildings and the variety of the structures as well. It's just one of the richest historic sites in France.
Be sure to get off the main square and the main streets when walking around in Sarlat, and enjoy these little side lanes as well. The courtyards of Sarlat are some of the other great joys, miracles of preservation. You go around the bend, and there's another little restaurant, another little shop tucked away.
The history of Sarlat really begins with the Middle Ages, about the year 1000. A small village grew up, made of wood, as typical of the era. The village prospered, built a church and retained a bishop. Later, the Romanesque cathedral was constructed, which still stands today. But then there were troubles. The wooden buildings were destroyed by warfare and a big fire, and had to be replaced and rebuilt all at once.
It was decided to rebuild Sarlat in stone. So from about 1450 to 1500, the town that we see today was constructed. There's a Romanesque church, there are Gothic buildings from that earlier period, remnants of the earlier history. But by and large, it's a product of the 1450s or 1500. And as a result, we have got this somewhat uniform architectural beauty that is unrivaled anywhere else in France.
The town combines elements of different historical periods: Romanesque, Gothic, but especially the Renaissance. And yet, Sarlat is a living town, not just a historical relic. It's full of people, and cars drive right through most parts of town.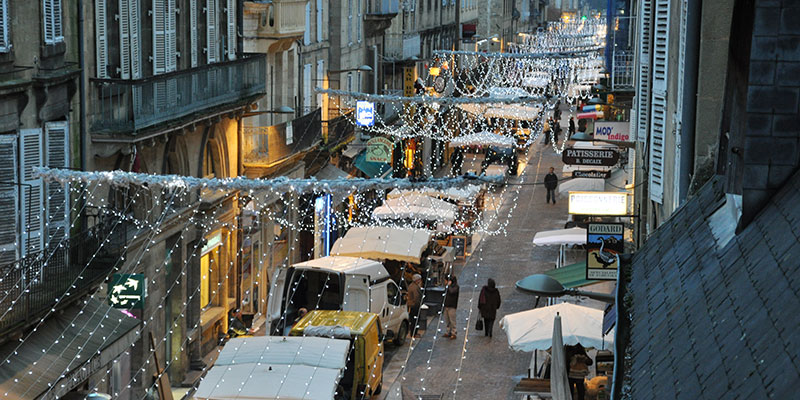 Sarlat has a couple of main streets that connect through to the main square, the Place de la Liberté. These roads are also great fun for shopping: wine stores, kitchen gadget shops, clothing stores. Sarlat has about a dozen nice restaurants and numerous cafes.
The little courtyard of Place André Malraux is named after the great French minister of culture from the mid 1960s, who was responsible for many of the historic preservation throughout the country, particularly here in Sarlat. Because of his work and the concerns of society, this town was rescued and brought back to life.
Sarlat really had gotten dilapidated in the mid 20th century. It was falling apart, getting depopulated and of no interest to visitors. The boom happened after the renovation and restoration. And you see the result, such as the charming restaurants in beautiful half-timbered buildings.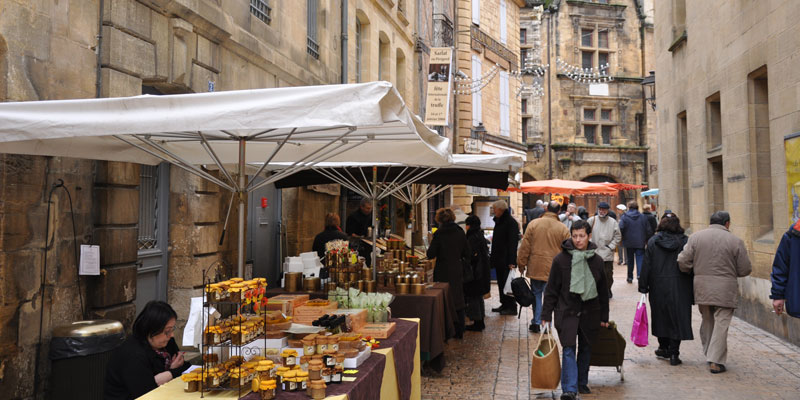 So you want to come here to eat, shop, and take pictures. Oh, the photo possibilities here are endless. Every place you point the camera is another great shot. And on a Sunday morning it's a quiet time of the week. A few people are out walking around and it has a real holiday spirit, when you arrive in December, as we have.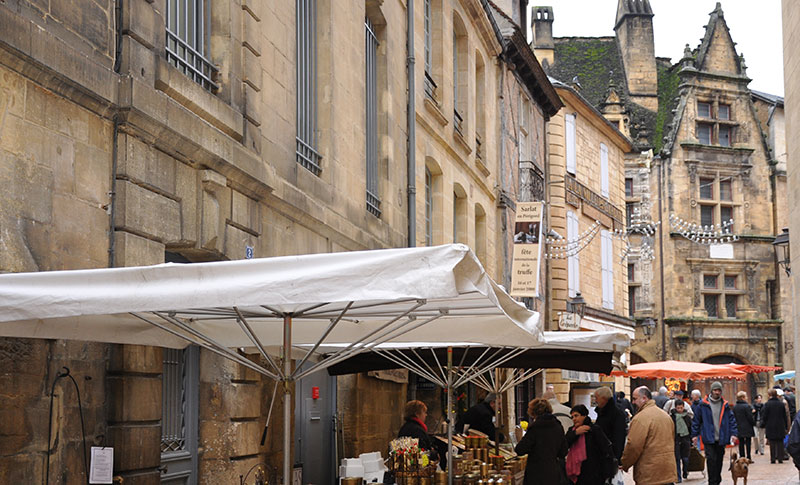 One of the most recognizable landmarks is la maison de La Boétie, on the right side of the picture, a building that dates from the Renaissance. It's a mix of architectural styles, especially with the Renaissance. And some Italian influences can be seen here as well.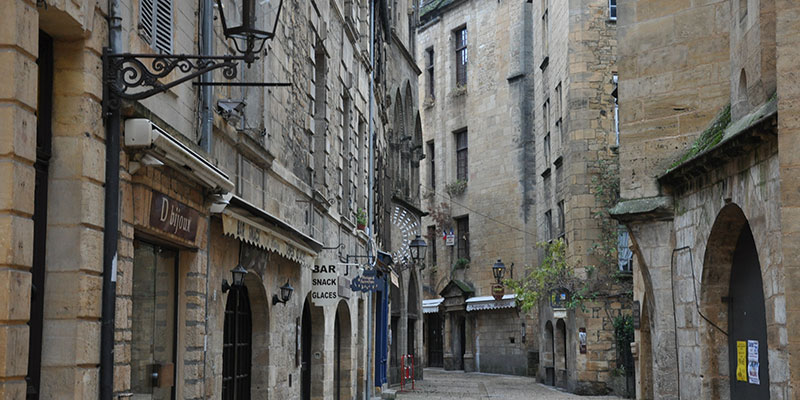 Rue d'Albusse is a typical example of the many back alleys of Sarlat, and it goes for a few hundred yards, winds around the bend, and connects with some other alleyways. There's a network of these alleys in Sarlat that are easily accessible to you when you visit the town.
They are doing an immaculate job of maintaining this town, keeping it clean. You don't find trash or graffiti in the area. It's really quite remarkable. So when you come here, don't just stand in the main square and on the main busy shopping street, take a few pictures, have lunch, and then leave town. Don't make that mistake.
Sarlat is such a special place that you should spend a few days here, at least at a minimum; it would be a good idea to spend about five days. That's right, five days in this area because of the surroundings. You'll find that there are many things to see within 20 to 30 miles of Sarlat. So while you're here, you'd want to rent a car to have access to that countryside and go out and visit the nearby villages.
There are prehistoric sites, such as the famous cave of Lascaux. You can enter the replica at Lascaux Two. And there are rock shelter sites that are really quite interesting. And about a dozen smaller towns nearby, some of which we described in other pages of this section.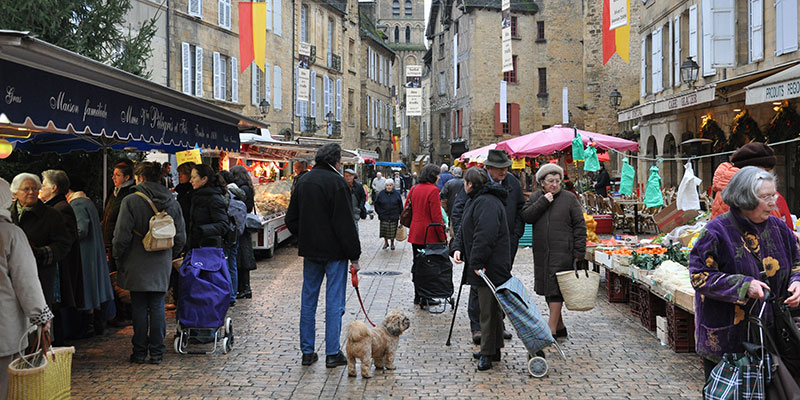 Another advantage of spending five days in Sarlat is that you'll be sure to catch some good weather. It might be cloudy, it might be rainy for a little bit, but if you're here for the five days, you're going to get lucky and you're going to get some sunshine, at least some bright overcast, and that makes it worthwhile as well, too. So don't make the mistake of only coming to Sarlat for a day visit, or passing through town. It's too precious. It's too important for something like that. You really want to spend some time. It's so pretty. Every place you point a camera is another photo in this town. So be prepared to take a lot of pictures.
In the daytime it's great, in the early evening the photography is a lot of fun too, to catch that twilight and the lights come on. Regarding what time of year to come to Sarlat, it's up to you and your schedule, obviously, always. But the best times are in the off-season. Now the busy season is from May through the end of October, and that's a lovely time to be here, but there'll be a lot of other people here as well. So it will be crowded.
The weather will be perfect in May and lovely in October, a little warm and very crowded in July and August. But if you can, come in the way off-season as we're doing here in December. The weather has been very nice, in the forties, so that's cold, but not bitter cold.
A lot of these days have been cloudy and overcast, but that's okay too. We had a little bit of sprinkle. We've had some sunshine and a nice variety. And the best thing about it is we've had no crowds at all. We've been to monuments where we're the only people, but you'd have to stand on line in the summer to get in.
We have had no trouble getting reservations at restaurants. They've been rather empty and the market square has been lively with the local people rather than with tourists. You can tell because they're not taking pictures. We're taking pictures. And so it's a really different experience when you're here in December. As well, you get that Christmas spirit, that holiday festive spirit. Any part of December is a great time to visit Sarlat. January, February will be colder yet. March and April gets into the nice time of early spring, before the visitor crush has arrived. Take your pick, but whatever your schedule allows, be sure to put Sarlat on your list of places to visit.
Our hotel in Sarlat