Monticchiello
We are in Tuscany, Italy, visiting a little tiny village that you've probably never heard of. It's Monticchiello, another one of the charming hill towns that are so beautiful. And this place is quite special, because only 200 people live here. It's a charming, medieval walled town that dates back to the 13th century, just a few miles away from Pienza.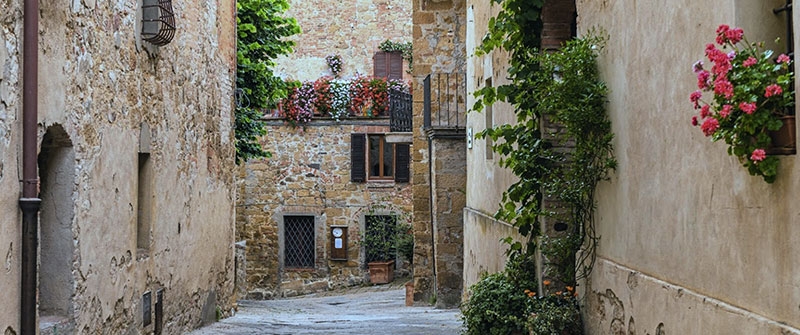 The village is less than 200 meters wide and yet has numerous little lanes and old stone buildings that make it very attractive – a fun place to explore for at least a couple of hours, or stick around longer for a meal in one of those great restaurants we will show you later.

It's up on the hill, surrounded by olive trees in that classic Tuscan style, with old buildings throughout the village.
Park your car outside, down below town, and then walk up the gentle hill to get into the village, which is surrounded by a green park with some pretty trees showing fall colors. (Our visit was in November).
Two towers are among seven still standing at this old medieval fortified wall around the town, protecting St. Agatha's gate that dates back to the 13th century. It's the main gate leading into the village.
There is no single most-important thing to see, so the idea is, take a walk throughout the little village, because the entire ensemble is one of the best-preserved old towns in Tuscany. Very little development or changes have happened in recent centuries.

It's a small town, and we have a short description, but you will be surprised at how much there is to see, including some amazing gourmet restaurants, and places to stay. We also found a friendly cat in the Gothic church. It's a destination to put on your list.
The first time Monticchiello is ever mentioned in any historic document was during the tenth century, but it's likely people lived here back in the Etruscan and Roman eras. The Middle Ages were a turbulent time here, with warfare and competition between the nearby cities, so little Monticchiello built a wall and aligned with Siena for its protection, until Florence took control later in the 16th century.
This small fortified hamlet was like a castle, with its main tower, Torre dell Casserol, the keep of the castle where the Lord lived, tallest among the other 16 towers in those days, shown here inside the white circle.

We see from above, the wall extending out from the tower and the town itself, clustered together with its old stone buildings gathered in its defensive posture that kept the people safe from attack.
Typical of these small villages, the church is the largest building, and located right in the center. It's the Church of Santi Leonardo e Cristoforo, with Gothic façade and Romanesque, interior built in the 13th century.

The day I visited was quite interesting because the church cat was on duty. He came to greet us and showed some interest in what we're doing. He's kind of lonely -- all day there is nobody else in the church except the cleaning lady, so he was quite curious and friendly. He was especially glad that my cat-loving wife was there to give him a little bit of scratching and petting in a mutual therapy session. The scene took on an added visual dimension because of the color of the cat matching very nicely the color of the church's floor and walls, all coordinated.
We also had a look at the church, admiring its round Romanesque arches and columns and pilasters holding up the barrel-vaulted ceiling. There are some frescoes dating back to the 14th century depicting various saints. They were whitewashed over and rediscovered in the 1930s during major restoration.
While this church is the largest historic building remaining in town, the most interesting parts of the village are the lanes and the old stone homes.
So you see, this little place does have a lot to offer, keeping us busy all morning and now working up an appetite.
You will be surprised and delighted that such a small village can support several gourmet restaurants, and a handful of bed-and-breakfast where you can spend the night.

Il Torino is located in one of those two towers that guards the front gate to the city. A villa is operated by the same owner, offering luxurious B&B accommodations in a room with a view. It's operated by a lady named Daria, and she also has one of those gourmet restaurants in the town featuring fine Italian cuisine. Daria has been a sommelier for more than 20 years and features those fine Tuscan wines like Brunello di Montalcino, Vino Nobile di Montepulciano, and Chianti.
You can also dine outdoors at tables on the little pedestrian street or in the garden terrace. They offer pleasant balance between the memory of traditional Tuscan flavors and new gastronomic suggestions. The restaurant also offers cooking lessons.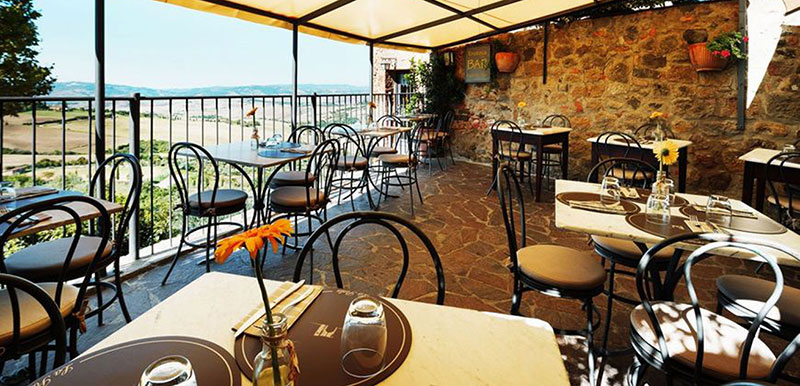 Daria previously owned another one of the great restaurants in town, Osteria La Porta. As the name suggests, La Porta occupies a prime position just inside the main gate to the village. You can dine outdoors next to the tower on a lovely terrace, with a beautiful view looking out across the landscape. Perhaps try the wild boar with fresh pasta, or handmade tortellini with cooked spinach and truffles.
Two more restaurants, called Bronzone and Bronzino, are operated by a local community organization named Teatro Povero, which also presents an original play outdoors every summer in town, written and performed by the local residents. This organization has evolved into a cooperative that manages many of the social and welfare activities of the community.
Along with restaurants and plays, they maintain a small tourist office, a newsstand, Internet center, a gift shop with snacks and wine, a small museum in town, and they rent out a guesthouse.
Teatro Povero is a rare example of the collective effort, functioning like a self-government and a cooperative economic organization.
While the town is very old and quite small, the people who live here enjoy that fine Italian style, living in a setting that is so picturesque it looks like it came right out of a movie, as we have shown you in our little movie today about Monticchiello, one of the little-known treasures of Italy.
It's a few kilometers away from the town of the Pienza which we also include in the website.
Monticchiello is located in Val D'Orcia, a scenic region in southern Tuscany, with many lush olive groves and vineyards, that was designated by UNESCO as a World Heritage Site.
There is no bus or train service to town, so you'll need to rent a car or have some good hiking boots. There are many popular hiking trails in the area. It's another factor that keeps this town so nice and quiet.
Google Map of Monticchiello