Chartres
Chartres is famous worldwide for its cathedral. Mostly constructed between 1193 and 1250, this Gothic cathedral is in an exceptional state of preservation. The majority of the original stained glass windows survive intact, while the architecture has seen only minor changes since the early 13th century.
The cathedral was designated a World Heritage Site by UNESCO in 1979, which called it "the high point of French Gothic art" and a "masterpiece".
The cathedral is well-preserved, with the majority of original stained glass windows intact, while the architecture has seen only minor changes since the early 13th century. The building's exterior is dominated by heavy flying buttresses which allowed the architects to increase the window size significantly, while the west end is dominated by two contrasting spires – a 105-metre (349 ft) plain pyramid completed around 1160 and a 113-metre (377 ft) early 16th-century Flamboyant spire on top of an older tower. Equally notable are the three great façades, each adorned with hundreds of sculpted figures illustrating key theological themes and narratives.
It was built on the site of the former Chartres cathedral of Romanesque architecture, which was destroyed by fire in 1194 (that former cathedral had been built on the ruins of an ancient Celtic temple, later replaced by a Roman temple). Begun in 1205, the construction of Notre-Dame de Chartres was completed 66 years later.
The stained glass windows of the cathedral were financed by guilds of merchants and craftsmen, and by wealthy noblemen, whose names appear at the bottom. The Église Saint-Pierre de Chartres was the church of the Benedictine Abbaye Saint-Père-en-Vallée, founded in the 7th century by queen Balthild. At time of its construction, the abbey was outside the walls of the city.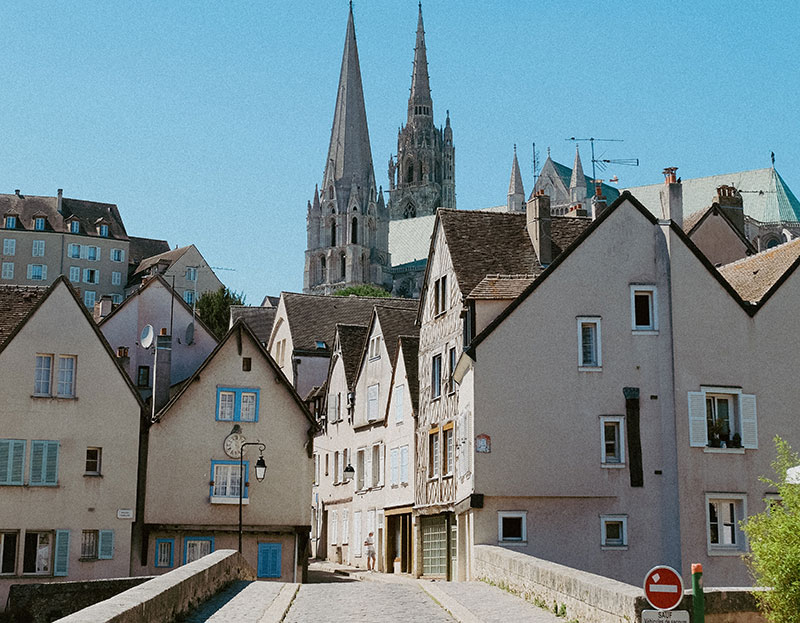 Other sights
The river Eure, which at this point divides into three branches, is crossed by several bridges, some of them ancient, and is fringed in places by remains of the old fortifications, of which the Porte Guillaume (14th century), a gateway flanked by towers, was the most complete specimen, until destroyed by the retreating German army in the night of 15 to 16 August 1944. The steep, narrow streets of the old town contrast with the wide, shady boulevards which encircle it and separate it from the suburbs. The "parc André-Gagnon" or "Clos St. Jean", a pleasant park, lies to the north-west, and squares and open spaces are numerous.
Chartres is one of the most important market towns in the region of Beauce (known as "the granary of France").