Pienza
There is something exquisitely special about the small Renaissance towns of Italy, particularly here in Pienza, which is the birthplace of Renaissance town planning.
Pienza is located in Tuscany, about two hours from Florence. The town was created here because an important local aristocrat became Pope Pius II, and decided to build up his home into this artistic treasure, which has had some influence on urban planning all around the world. They say it's the first Renaissance planned town. There is a harmonious compact form with the two principal buildings, the palace of the Pope and the Cathedral next to it, built around the central piazza.
Pope Pius II was a member of the Piccolomini family, a noble lineage that included yet another pope and many other bishops, dukes, and generals, seen here and a series of paintings he commissioned from Pinturicchio. It was his idea to build this town the way we see it today in a Renaissance style.
Piazza Pius II or "Pio Due," is the central focal point of the town, and the largest building of course is his personal palace, designed in the Florentine style by his principal architect Bernardo Rossellino. The pope's private palace in that Renaissance style from Florence, continued on as the Piccolomini family home until the 1960s. The palace is much bigger than the adjacent Cathedral.
Another prominent building on the piazza is the town hall, the Palazzo Comunale, with its graceful loggia on the ground level, and crenellated clock tower rising high above, with the popular Café La Posta right next door. They're open from 7 o'clock in the morning, so drop in for a cappuccino or espresso to start your day. And then later it becomes a bar and pub, right up until 10 PM.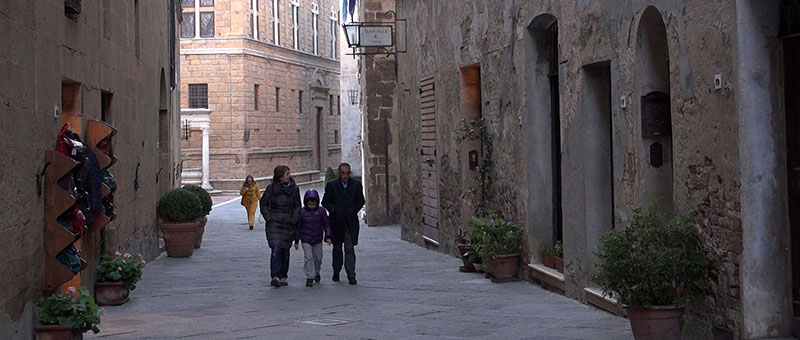 The main street of town is Corso Rossellino, and it goes right through the piazza, extending from one end of town to the other, with gates at both ends, with the protective wall going around it and that main street running throughout and the Piazza Pio in the middle.
Corso Rossellino, the main street of town, exhibits, some basic Renaissance-style features, including the human scale, the mix of residential and commercial, and the smooth, wide paving with a gentle curve to the lane. And notice the façades of the buildings do not jut out at odd angles. They present a more even and harmonious alignment, embracing the daily activities of life in a beautiful setting.
The main creative activities that were building the Renaissance were happening in Florence at this time, with the famous painters and sculptors hard at work, and construction of the Florence Cathedral. While Pienza is given the special credit as being the first town created with an overall Renaissance style, as a model of humane city design.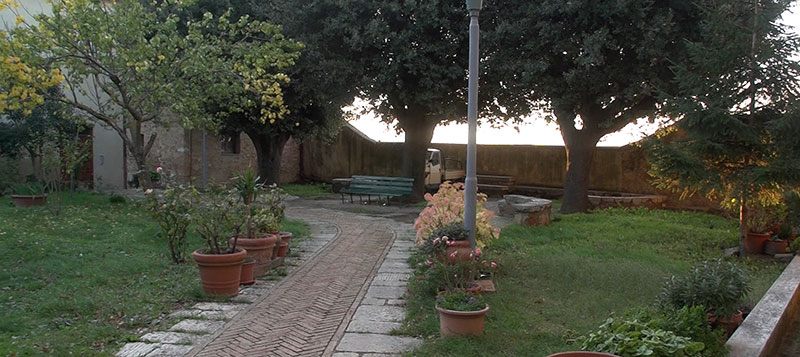 Some of the side streets lead off to small open green spaces, functioning like neighborhood parks, with benches, potted plants, and nicely paved lanes with homes all around it. You'll always be tempted to have a look at these little side lanes as you go by.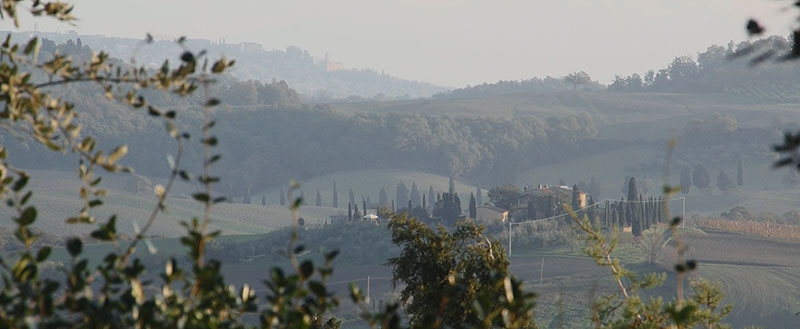 At the edge of town you'll come across some vistas of the Val d'Orcia that looks something like a painting, with its green rolling hills and vineyards off in the distance. As evening settles in, the scene turns golden and the town remains open for business, so this is a great time to be out walking.

Curiously, the main local product for sale here, that you definitely want to explore, is pecorino cheese. It's from the sheep grazing in the wonderful, green pastures all around the town producing a sheep milk with a special aroma. Pienza is considered the capital of pecorino cheese. And you'll also find a nice variety of local wines to go with it, such as here at Marusco e Maria. They create many variations including Marzolino, Magnifico, black di Grotta. You can get it mild, dry, or spicy.
You also find some traditional crafts being made, such as by this weaver who's creating some very colorful fabrics that would make a unique gift to bring home.
Continuing along the Corso, we're approaching one of the fortified gates that enter the town. Pienza had a medieval history before it became transformed into the Renaissance gem that we see today. During that earlier period it had a different name. It was called Corsignano. But many of those medieval buildings were demolished during the Renaissance transformation.
This end of town by port to Amarillo has a nice collection of small shops selling ceramics, leatherwork, antiques, and crafts. We have reached one end of town. Now we're going to turn back and walk on past the piazza once again to the opposite end of town. Then we'll take a stroll in more of those charming quiet residential alleys.
It's an easy walk back. Remember, it's less than 400 meters from one end of town to the other. This was photographed in mid-November when the sun goes down at 5 o'clock, making for an early evening, but the shops are open generally till about 8 o'clock. At that time of year, the town was not crowded with visitors, but during the summer this little place can fill up.
The Cathedral, also designed by Russell Lino, represents a rare and delicate balance of a Renaissance façade and Gothic interior. This church of Santa Maria Assunta contains three knaves with many columns and pilasters holding it up, creating a space so lovely that Pius II declared there should never be any changes. He said "no one must deface the whiteness of the walls or face excommunication. Nobody must change something to the beauty of the church, as it must remain as it is." And so it has, it's the same as when it was built in 1462.
It only took five years to construct the 40 main Renaissance buildings that transform Pienza, with the architect Rossellino working closely together with the Pope to satisfy his desires. And the Pope was very pleased, even though it cost much more than the architect originally projected. There were huge cost overruns. The Pope famously told his architect. "You did well in lying to us about the expense involved in the work. If you had told the truth, you could have never induced us to spend so much money, and neither this splendid palace, nor this church, the finest in all Italy, would now be standing.
"Your deceit has built these glorious structures, which are praised by all, except the few who are consumed with envy. We thank you, and think you deserve a special honor among all the architects of our time." And then he ordered his architect to be paid a bonus.
That brings us to the other end of town where we see another gate through the old wall, Porta al Ciglio, and a café next to it. That's a good place to wind down and close out our first day of exploring.

It's a small town, but it's worth spending a night, as we did so you can get out the next morning and take a stroll and see more of those little lanes. Who knows what you'll run into in this residential neighborhood?
Like much of town, the buildings on Via Pia have not changed in the last 500 years. The Pope ordered these 12 homes to be constructed back in 1463 to house some of the local residents who had been displaced due to that construction of larger buildings in the center of town. So rather than being evicted and becoming homeless, they were given these new buildings for free, paid for by the Pope.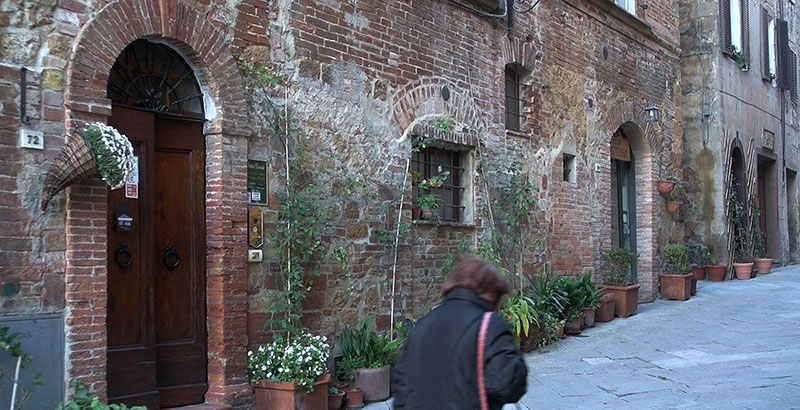 Pienza was almost like a second Vatican, with the Pope paying for construction of palaces for his favorite bishops. And yet it was also a town with ordinary workers to take care of business. There were tradesmen, and Smithies, a barber, an apothecary, there were carpenters living in harmony and well taken care of.
UNESCO made the center of Pienza into a World Heritage Site and said in the report: "Considering that the site is of outstanding universal value, and it represents the first application of the Renaissance humanist concept of urban design. And as such occupies a seminal position in the development of the concept of the planned ideal town, which was to play a significant role in subsequent urban development in Italy and beyond."

UNESCO continues: "Pienza has preserved its authentic character throughout the centuries since there have been no radical changes to the buildings or the urban fabric. The historic awareness of the heritage of the city has ensured the preservation of its high cultural qualities." UNESCO concludes that " Pienza has retained its setting within its historic boundaries and has not been subject to adverse developments."
They say there is no such thing as a Time Machine. Well, here in Pienza we found one.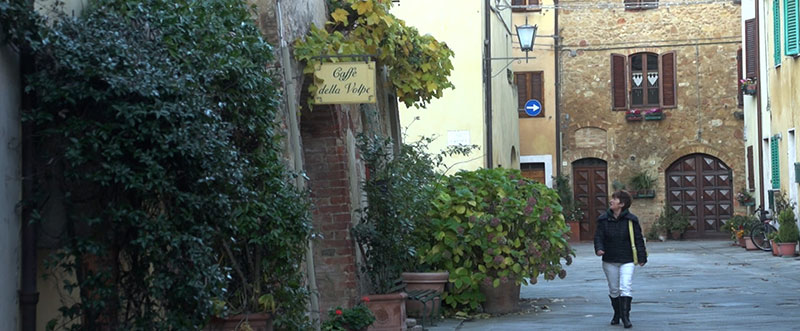 After the Pope died in 1464, the bishops all left and went back to Rome and Florence and other places, and  Pienza lost all its importance, becoming an nearly forgotten town in which nothing changed for the next 500 years. It's waiting for you now to rediscover it. You should consider staying for at least one overnight, so you have time to really walk around.
And there are some hotels such as the Piccolo Hotel la Valle that we stayed at, just outside the city wall -- a two-minute walk to get into the old town, a very comfortable and modern lodgings. They included a typical buffet breakfast with your room rate. You get yogurt, eggs, roles, coffee, fruits and more.
The hotel and the town were not very busy, because we were here in the month of November, which is a great time to visit. Or come any time that you can!
Google map of Pienza
Some helpful Pienza links:
http://www.palazzopiccolominipienza.it/
https://www.visittuscany.com/en/ideas/5-reasons-to-visit-pienza/
https://www.untoldmorsels.com/pienza-tuscany/
https://www.toscanainside.com/discover-tuscany/small-villages/pienza/
https://mamalovesitaly.com/pienza-italy/
https://www.learningescapes.net/pienza-italy/
https://www.placesofjuma.com/pienza-tuscany-italy/
https://lovefromtuscany.com/where-to-go/small-towns-in-tuscany/pienza/
https://www.summerinitaly.com/guide/pienza
https://en.wikivoyage.org/wiki/Pienza
https://www.timetravelturtle.com/visit-pienza-tuscany-italy/
https://www.marthasitaly.com/articles/16/pienza-tuscany
http://www.travelingintuscany.com/engels/pienza.htm
http://casavacanze.poderesantapia.com/album/valdorcia/piazzapioIImap.htm