Belgium
Belgium is a compact and diverse country in northern Europe, known for its picturesque medieval cities, art treasures, old-world charm, excellent cuisine, and renowned cultural heritage. While Belgium is a popular visitor destination, it is not as well-known or congested as other famous European places. This makes it quite appealing for travelers who want to get away from the crowds of "overtourism," and it enjoys mild temperatures in summer and shoulder seasons.
Belgium is a relatively small country, about 280 kilometers wide, and 210 kilometers north to south, with an excellent rail system connecting it together. You can go from one end of the country to the other in about 3 hours by high-speed train along major routes, and another 3,000 kilometers of track connecting nearly 500 Belgian towns. Because the distances are short, most rail journeys are quick and inexpensive.
For detailed train travel information see our Travel Tips page.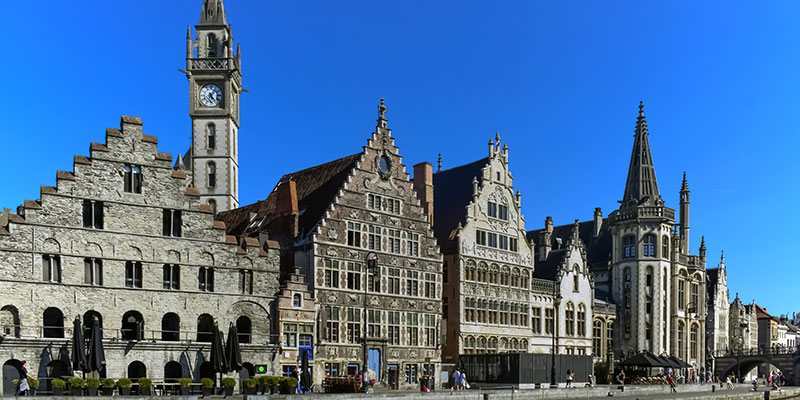 The country is similar in size to Massachusets or Maryland, and is the second most-densely populated Europe country, after the Netherlands. This means all the main cities are clustered close together, making it easy to see many fine sights in a week or two. You could use certain cities as home base to vist nearby towns on day-trips, saving the efforts of finding hotels, packing and unpacking. For details see our Travel Tips page.
Whether you're exploring the medieval charm of Bruges, savoring the culinary delights in Brussels, or immersing yourself in the vibrant cultural scenes of Ghent and Antwerp, Belgium promises an unforgettable journey filled with warmth and hospitality.
Belgium is divided into three cultural regions: Flanders in the north (Dutch-speaking), Wallonia in the south (French-speaking) and Brussels in-between (bilingual). Of course, English is widely spoken, making it easy for the visitor to get around.
Take a look at the detailed pages about each town, as found in the sidebar, or start with the following links to summary pages of Flanders, Wallonia and Brussels.
Bruges, Antwerp, Ghent, Leuven, Lier, Mechelen, and Ostend.
Flanders is one of Europe's most densely settled areas, which gives the visitor easy access to many wonderful towns.
Liège, Dinant, Mons, Namur, and Tournai
In the south, Wallonia showcases a more rural and natural side of Belgium, home to some of the country's most beautiful scenery.
The capital of Belgium is not in Flanders or Wallonia, but instead has a special political status designated as the Brussels-Capital Region. It is the capital of the European Union, and home to the European Parliament.
Each region offers its own unique culture and attractions. Throughout Belgium, you'll encounter a wealth of cultural festivals and events celebrating everything from medieval pageantry to modern art and music. The country is also home to numerous breweries, so beer enthusiasts can sample a wide range of Belgian brews, including Trappist ales and lambics. Belgium is bordered by the Netherlands, France, Germany, Luxembourg, and the North Sea.
It is so loaded with history and well-preserved towns from the Middle Ages through the 18th-century, that you can find 15 UNESCO World Heritage sites to explore.
Our focus is on 14 major destinations, but Belgium has nearly 100 cities and towns worth visiting, all nicely connected by road, bus, and especially the excellent train system, which can easily take the independent traveller to all these places.
You will also find links to many hotels throughout this site.
Antwerp's train station is one of Europe's most beautiful, inside and outside.