Lugano
You will be delighted by the blend of Swiss and Italian cultures in Lugano, one of the main cities of Ticino, Switzerland's Italian-speaking southern region. It is safe, clean, scenic, and picturesque, enjoying an amazing waterfront location, with a surprising amount of things to do. Our main focus is the Old Town of Lugano, truly a joy with its narrow pedestrian lanes and arcade-covered sidewalks.
In Ticino we've got the basic Germanic-style culture of Switzerland, yet they speak and eat Italian. It's very cosmopolitan, with the efficiency and cleanliness of Switzerland and the culture, romance and cuisine of Italy. It's a great place where you will experience the best of both worlds.
Lugano is a small town that could be seen in one day on an excursion from Locarno, one hour away by train or driving. But it is worth staying a few nights to explore Lugano properly and visit nearby attractions including the lakefront village of Gandria, and the collection of tiny buildings at the Swissminiatur, Switzerland's largest open-air miniature museum, and Morcote, a little village along the lake. The activities we shall describe cannot fit into a single day, so consider spending a couple of days here.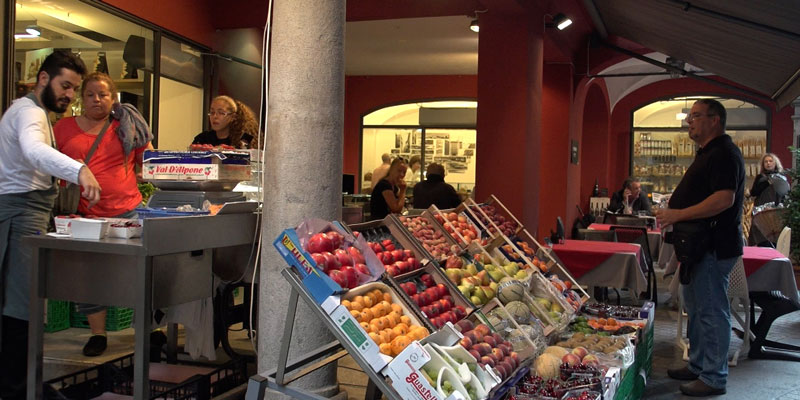 Lugano has been a market town for perhaps a thousand years, but the main part of the city we see today was built up in the early 19th century, and the town really started developing from the 1840s when the road was built through here and the first steamboats began on Lake Lugano. Then train service started in the late 1870s, which was very important because it became one of the primary connections between Italy and the rest of northern Europe.
If you arrive at Lugano by train you are not yet in the center, because the station is up above the town on the hillside, but you don't have to walk down. You can reach town on the funicular, called the Funicular a Lugano Stazione, a short line connecting the railway station down to the city center. Later you might ride two other funicolare in Lugano which go up the hills to various vantage points where you can get scenic views. You could stay in the heart of town at the foot of the funicular at the Hotel Lugano Dante, a four-star hotel.
One of Lugano's major attractions is the waterfront, with glorious sunshine reflecting off the blue waters. The tree-lined promenade and shoreline park invite you to stroll past boat docks and a couple of big water fountains with sculptural centerpieces and flowers around them. You could walk fifteen minutes from Lugano to Paradiso, a separate city along the lake, or perhaps a boat ride is more to your liking.
It's pretty convenient to board the boat for excursions to several different places along the lake, especially Gandria, a little hillside stone village with small pedestrian zone that goes right down to the lake. There is also Morcote, a tiny hamlet along the lake with beautiful shopping arcades, and there is Switzerland in miniature attraction. We explore these lovely places in our other web pages of this section.
We have much to see in the Old Town, such as the shopping passage on via della Posta, in the real old-fashioned style -- almost, a Parisian influence here. Central Lugano is a small historic area, effortless to explore on foot, about ten blocks wide and with a lovely waterfront.
When you begin walking in the pedestrian zone you discover some special features about Lugano and the historic center of town, such as the extensive arcades that look like medieval cloisters and go for many blocks lining both sides of the street with covered sidewalk areas. This style of columns and arches is reminiscent of Italian portico architecture. After all, we are right next to Italy here in Lugano and you also see that feeling of Italy in the piazza, the big open square. It is a calm and sheltered environment, protected from the rain and the sun, typical of various Swiss towns. Bern is a fine example of an arcaded city, and here in Lugano we have got arcades all throughout the historic center.
The biggest piazza in town is the Piazza della Reforma, with sidewalk restaurants, shops, banks and the grand Town Hall. It was built in the mid-19th century on the site of a much earlier bishop's palace. It's been, the City Hall since 1890, and still preserves that grand old style.
Naturally you'll often return to the main square of the Piazza della Reforma with its many outdoor restaurants and people passing through. This is a marvelous place to sit down and have a meal, have some wine or just relax with a snack and watch the passing parade.
Several narrow lanes reach out from the piazza with their characteristic arcades, like a loggia that you walk through, very medieval in appearance in a style that is centuries old. Via Nasa, the most-upscale shopping street extends from the piazza's southwest corner for 300 meters lined with ancient arcades sheltering shops of various kinds, from jewelers to clothing, from gastronomy to antique shops.
The pedestrian zone has a variety of interesting street intersections, with people walking here and there, stopping to chat in this friendly and sociable atmosphere. Of course the stores thrive in this kind of people-oriented environment -- it's like one big shopping mall.
The outdoor food markets in the Old Town are delightful, an archetypal idea of what a Swiss Italian food street scene should look like. There's the cheese, bread, fresh produce, fruits and of course, restaurants nearby. You'll always find a few market stands but the main market is on Tuesday and Friday mornings from 7 till noon.

Downtown has so many banks that Lugano is the third-largest banking center of Switzerland. Even some of the larger streets with automobile traffic have got lovely arcades -- the basic architectural theme of the Old Town.
The retail anchor of downtown is the major department store, Manor, which also had a lovely flower display out front showing off the famous flower of Switzerland, the edelweiss. This department store is also famous for its food court where you can get a variety of different food, sandwiches, hot foods cafeteria style at a very reasonable price. And there's a casual atmosphere that makes it easy to strike up a conversation with some locals if you like.
You will enjoy stopping at Gabbani, the famous gourmet food shop. They've been in business here since 1937 and have really branched out -- they've got a wine shop, a cheese shop, and they even run a small hotel that's ranked very highly on Trip Advisor -- ranked number three out of the small hotels in town.
Here's a few excerpts about Gabbani from the 150 comments on Trip Advisor: "small and exquisite, the place to be in Lugano, premium lunch and good price, Italian food at its best, Great food in happening place, small but very good food. Outstanding take-away food. Lugano's Harrods, good bread, good pasta, wonderful food and wine with very convivial hosts."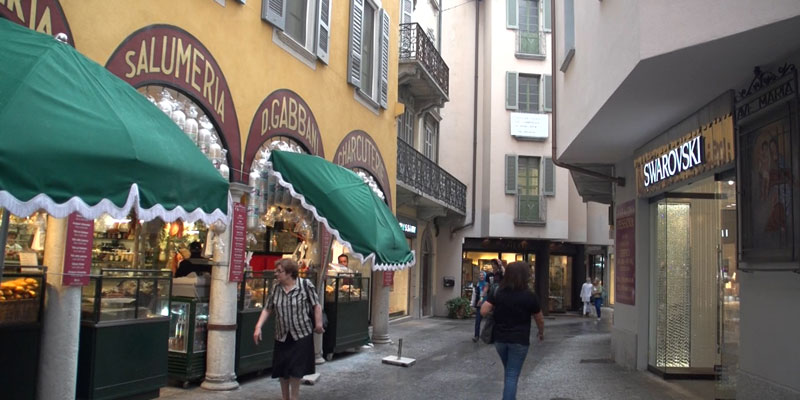 Gabbani is one of the symbols of Lugano, and the neighborhood around it with narrow lanes and arcades is the most charming part of town, where you could spend many hours. There are a number of these excellent food shops right in the heart of the Old Town where you can get a sandwich or salad to go, maybe just get a loaf of bread or get some fresh fruits, or just enjoy the vision of these beautiful foods -- the vegetables, the fruits are perfect.
These sidewalk stands are open every day but there's also a special farmers market on the city streets every Tuesday morning and Friday morning from seven until noon. This area is also world famous for its chocolates. In fact, there's a chocolate factory just outside the city that you can visit, the Alprose, where you can see how they make their chocolates.
Pastries line the window of the Grand Cafe which is been in business since 1803 and has a famous interior that was a medieval convent. In the typical European style, you've got fresh bakeries with a variety of types of breads and a lot of outdoor sidewalk restaurants. They have a canopy overhead for a little protection and they can sit outdoors here for most of the year with the mild climate of the Lugano area.
Another feature that makes Lugano so attractive are the hillside streets. It's just so much more interesting than being in a flatland town. They've got gently sloping streets, some configured as staircases, and it's all for pedestrians. In good weather restaurants put tables out on the staircase streets, making a special place to eat on a nice day. Even though it's a little bit of work to walk up the steps, it's a trendy retail center.
It's a kind of backbeat neighborhood with quirky little boutiques, unique shops, and artists and craftspeople: custom-made clothing, jewelry and a variety of fun things to enjoy. You'll run into some real characters here. And of course they've got cafes, bars and restaurants.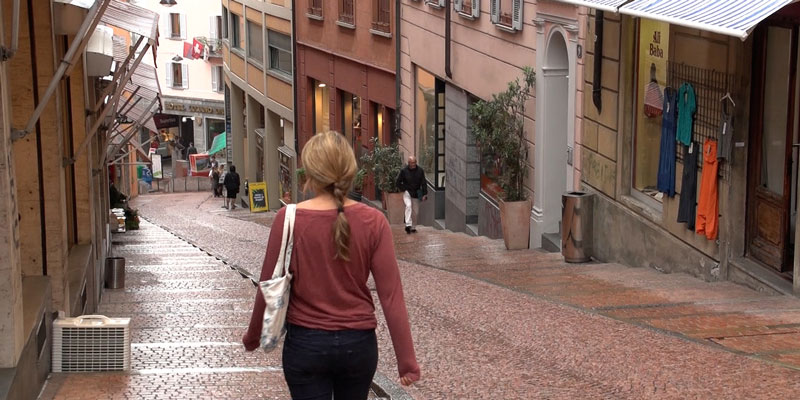 It's a neighborhood that would be very easy to miss, or you might be easily discouraged if you get to the foot of one of those hills and look up and think "oh, no, I don't want to walk up that hill". But it's not difficult at all. The slope is very gradual -- you walk up, you walk down. There are about four of these beautiful hilly streets. This hillside neighborhood is located between the train station up on the hill and the town center.
Towards the top there is a special attraction, the Cathedral of St. Lawrence on a terrace with a view. The facade was completed 500 years ago and the earliest church on this site dates back over a thousand years. The building we see today is a mix of Romanesque and Baroque styles, with a little bit of Gothic and Renaissance. Artworks include many fresco paintings, statues, the mosaic floors and those round Romanesque arches.
From the terrace there is a lovely vista looking out across the city to the lake. The funicular is right there so you could take it back down into the Lugano city center in a few minutes, or you can easily walk. It's always fun to ride the funicular, a combination of an elevator, train and escalator pulled by cable, transporting you in a stately manner on a system that's about 100 years old. There is something so charming about the funicular, an old technology working the same now as it did 100 years ago.
Departure
With the 2016 opening of the Gotthard Base Tunnel, the world's longest and deepest rail tunnel, the city has become easier to reach, for example cutting travel time to Lucerne by 45 minutes.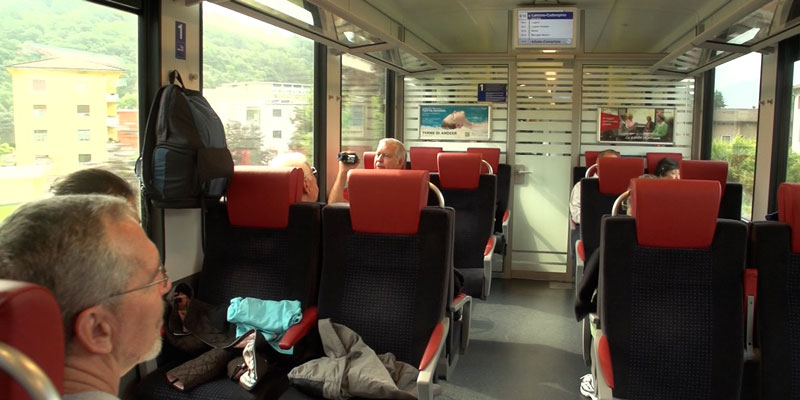 Or perhaps you are just heading from Lugano to Locarno, a one-hour rail journey including change of trains at Giubasco along the way. It's all highly coordinated so you don't have to rush when you're changing and this train service is frequent, with two trains every hour between Locarno and Lugano, making it really easy to get around.
If you are just passing through and want to walk around Lugano for a day, you can leave your luggage in the train station lockers. You'll find that kind of high level of customer service in most of the train stations in Switzerland, and they thoughtfully provide escalators to the locker level.