Glacier Paradise
at Klein Matterhorn
You are familiar with the famous Matterhorn in Zermatt, but perhaps less familiar with the Little Matterhorn, the Glacier Paradise, covered in snow all year round, reached by the highest cable car in Europe.
We are launching a major journey to the highest viewing platform in Europe that can be reached by cable car, 3883 meters high on the top of the Alps. It's called Glacier Paradise, at the Klein Matterhorn, because it's next to the more famous Matterhorn mountain that's even higher, 600 meters further up at 4478 meters, which we will gain great views of while going up in the cable car.
This is the easiest mountain "climbing" you will ever do -- we don't have to walk much at all, it's an easy stroll from one cable car to the next. This round-trip could be done in two hours, but there are some options to keep you busier than that.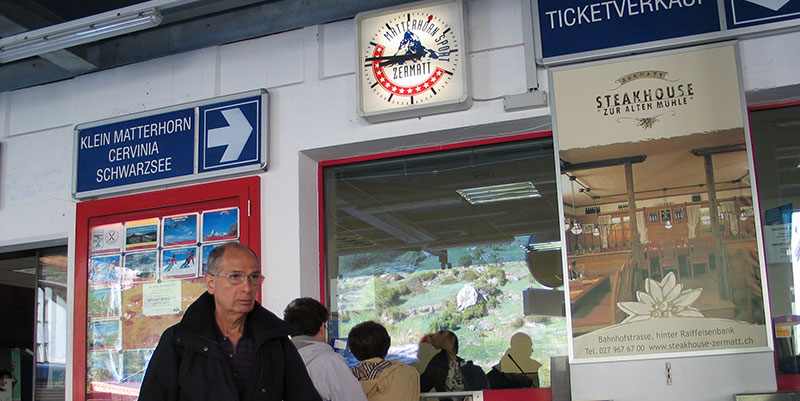 The cable car ride begins at the Zermatt Bergbahnen on the south end of Zermatt town about one kilometer from the main train station, which can be reached on foot or the Green Line shuttle bus.
The first leg of the gondola brings you to Furi, and there you have a choice of two slightly different routes to the top. The quicker sequence is ride to Trockner Steg, then transfer for the direct ride to the summit; or for a little more scenery, you can ride from Furi by gondola to Schwarzsee to look at the lake and views of the Matterhorn, then continue by another gondola to Trockner Steg and connect to the summit. With transfer time, the more direct route takes about 40 minutes, the longer one takes an hour.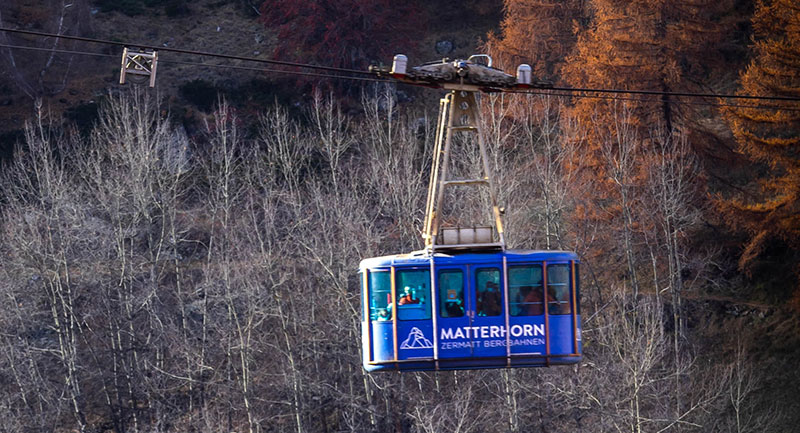 The 'Matterhorn Glacier Ride' 3S cable car from Trockner Steg to the top combines the latest technology and innovative design. Up to 2,000 passengers an hour can be carried in the 25 comfortable cabins, each with 28 seats. Guests enjoy a nine-minute journey in first-class comfort and with a fantastic panoramic view of the magical, alpine Zermatt world.
You might see hikers going up with some serious climbing gear ready to scale the peaks, but the average traveler needs no equipment, just some warm clothing. While riding up you can look back and see the little hamlet of Zmut off in the distance, where we will be doing some hiking on the way back down. This last cable car leg brings us to 3,883 meters, into that thin oxygen zone, so you want to take it easy. Most people have no troubles, so it's really no strain at all -- anybody can do this.
Emerging from the cable car, climb up a staircase to the main viewing platform with a spectacular panorama of the big high peaks all around, with many mountains over 4,000 meters high, stretching 360° in a circle around you here at the Klein Matterhorn. The engineers have been busy at work building tunnels, and pathways, and snack shops and elevators will take care of us.
It's similar to that vista up on the Gornergrat, both spectacular and both of them are certainly worth doing, especially on clear days. You get some views of the Matterhorn and into the town of Zermatt down there nestled away deep in the valley.
Watch the skiers go by, then they're going to slide down and ride back up that same cable car back to the top of the Klein Matterhorn. They can ski year round, including May, the perfect month to be here, and all summer .It's the highest summer ski slopes in the Alps.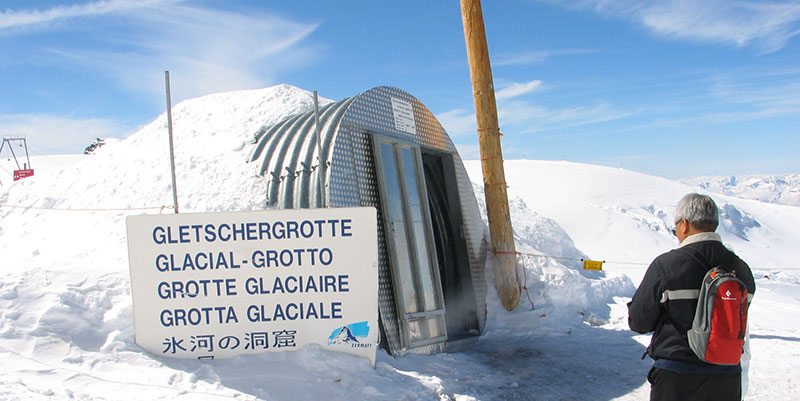 When you've had enough of the various views, you can walk inside the glacier! They've actually carved an ice tunnel – more than a tunnel, it's a grotto inside the glacier itself. This is just unbelievable. You walk along a comfortable matting and staircase and it's all lit up inside. They've got these different chambers and rooms and corridors and tunnels, all linked together in the most elaborate ice grotto you've ever seen. There is a pretend ice bar, but nobody is there to serve any drinks.
There is a historical display of winemaking in Switzerland. It's kind of reminiscent of the ice hotel in Sweden, although this is not a hotel but an interesting attraction. Then you come out through that same tunnel back outside.
Looking in the opposite direction from the Matterhorn you will see the Breithorn, another impressive mountain with a more rounded peak, at 4,164 meters. This is a mountain you can climb, as described in the Tourist Information website: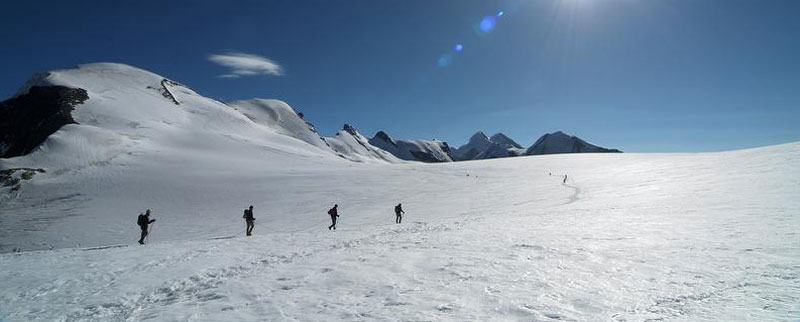 The Breithorn is one of the easiest 4,000-meter peaks in the Alps and is perfect to start your alpinist´s career. The ascent from Klein Matterhorn takes between three and four hours, depending on your fitness. The route takes you up and across glaciers, but no previous climbing experience is required.
The first section crosses the flat glacier. Using crampons (and snowshoes, depending on the conditions) is straightforward even for novices and easy to learn on this route. Once you reach the south face of the Breithorn, the route climbs to the summit where you will have incredible panoramic alpine views.
This is done in a package tour with a qualified mountain guide starting from the Zermatt Bergbahnen about 7:00 a.m. You will arrive back in Zermatt in the early afternoon.
When finished in this Glacier Paradise, take the cable cars back down. You could ride all the way to Zermatt, but when you reach Furi there are several alternatives. You could enjoy a snack at the restaurant, get some hot coffee, have a little bite, and there arenice picture windows where you have a good vista out at the ski slope, watching the skiers go by.
From Furi, a couple of nice options are either walk down from here via Zmutt, as we explain in a moment, or ride another gondola to Riffelberg, and from there, ride up the cog wheel train to the Gornergrat. Called the Peak2Peak, this enables you to experience the Gornergrat and the Matterhorn glacier paradise in one day. After your excursion, the Gornergrat Bahn will take you comfortably back to the center of Zermatt. The excursion route can also be completed in reverse order.

We have shown you the Gornergrat on a different day, so instead we have chosen to hike from Furi down to Zermatt town via a side trip to Zmutt. There is something lovely and ideal about this beautiful walk downhill through the wildflowers (especially in May) with mountains all around. The first section from Furi to Zmutt is on asphalt and gravel roads, then becomes a dirt trail the rest of the way, with a total length nearly 7 kilometers, takeing about 2 hours.
After a short while on this gentle downhill trail you enter a little cluster of buildings called Z'mutt, so small it is not even a hamlet, but what they call an alp -- just a few homes, several restaurants, and a couple of vacation cottages.
Z'mutt has been an occupied place for over 500 years. It's really quite something, seems like some of the buildings here are at least a couple centuries old. It makes the perfect pitstop and the food was really quite delicious. You've got a variety of restaurants and each has its own special menus featuring traditional cuisine.
Grab a few pictures and then adieu, leaving Z'mutt behind. After Z'mutt, continue about 300 meters then turn onto a path above the valley, with good views. You have a choice of continuing on the scenic upper trail through beautiful meadows and passing a few old wooden buildings, or take the slightly easier lower path with quicker access to Zermatt town.
It's pretty simple if you just stay on the path, you just keep heading down. Some people like to hike up. They say it is better exercise and also they get a view looking into the mountains that way. Well either way you have a nice view.
Continuing down, it takes about an hour from Z'mutt to hike all the way down to Zermatt – that's not bad, it's an easy downhill hike. There are some animals along the way, you might see a patch of sheep just ahead. They measure the distance in hiking time on those signposts rather than in miles or kilometers. When you see three quarters, that's three quarters of an hour, a pretty easy hike.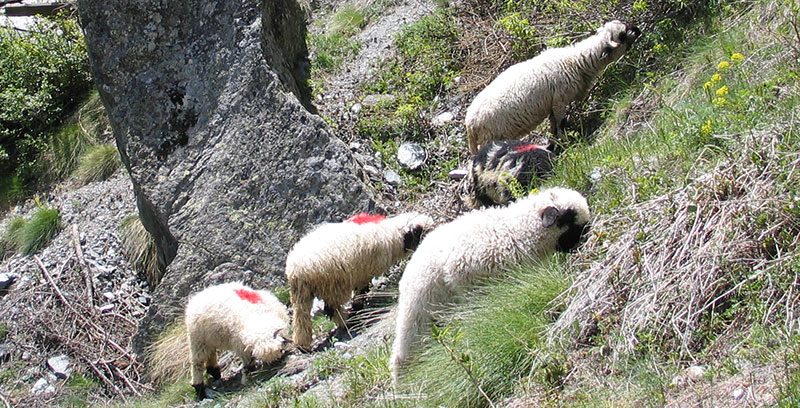 These mountain meadows are ideal for sheep, they just run loose and chew their way, it is like the country has been mowed down by sheep. Everything is so neatly trimmed in Switzerland and the sheep must have something to do with that, like they've been weed-eating the whole country.
We've got wildflowers and snow-covered mountain peaks, green hillsides – what a package. When you are at such a place you are looking all around, not just at one focus but on the side, above, below, in a total immersion to give you lots of interesting things to look at.
As we make away further downhill heading back to Zermatt you'll see streams and a mountain forest, on the easy trail coming down, nicely prepared walking surface, no problem. There are two different trails downfrom Zmutt, so it makes for nice alternative viewings. You have a choice of continuing on the scenic upper trail through beautiful meadows and passing a few old wooden buildings, or take the slightly easier lower path with quicker access to Zermatt town. If you have time and energy take the upper, otherwise the lower trail is also nice, and levels off as you get towards the bottom of the hill. Then suddenly, you're in Zermatt, back in the village.
Most people ride the cable car from Klein Matterhorn all the way back down to Zermatt instead of this hike via Zmutt, but they miss out on these sights. At the end of our tour of Switzerland, several of us looked back on this hike as a favorite moment of the entire trip.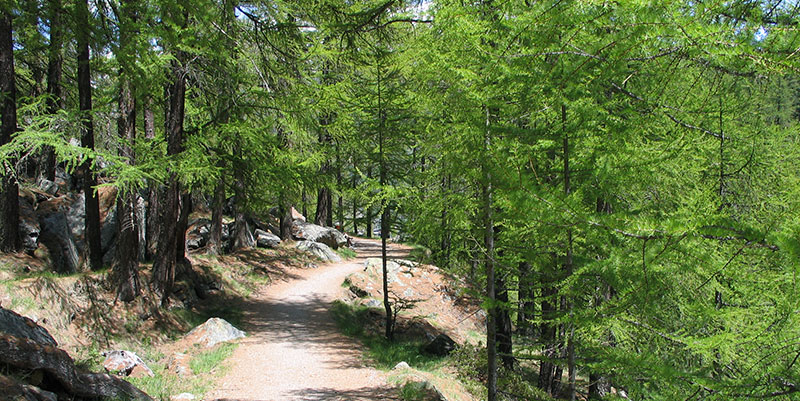 You could do this hike in reverse, starting out in Zermatt, but then you're walking uphill, and continue up to that cable car and then carry on from there to Klein Matterhorn. Or you could do Zmutt as a loop hike, starting up from Zermatt to Zmutt, have a break and maybe lunch, turn around and walk back down to Zermatt.
A classic old video of Klein Matterhorn from my 1990s archive: