Switzerland by Train, the Best Itinerary
Picture in your mind a vision of the Alps with their majestic pinnacles towering over green foothills, with little villages nestled at their base in green meadows. Touring Switzerland is almost like visiting all of Europe in one small country, with a mix of French, German and Italian cultures in a beautiful environment of majestic mountains and pretty villages. This is the land of efficiency and charm, with very friendly people. The best of both worlds, old and new.
Here we present an ideal rail itinerary for seeing Switzerland's main destinations, staying several nights in each place, providing time to look around. These are some of the most beautiful train routes through this mountainous country, taking you on the great train rides of Switzerland.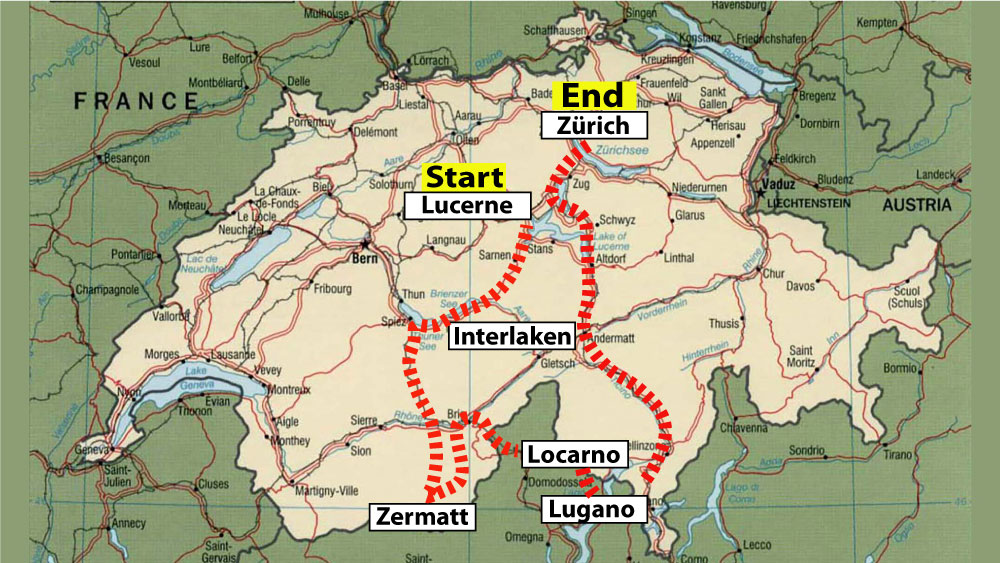 The rail routes in our story are the dotted lines. Our suggested itinerary begins in Lucerne, then continues to Interlaken, Zermatt, Locarno, Lugano and finally, Zürich. There will be delightful excursions going up mountains, riding boats, hiking on the trails, and exploring many towns.
This page emphasizes the train journeys between those specific cities, rather than providing long stories about the destinations. We present a brief summary here of each place, but have detailed descriptions of those cities throughout other pages of the website, which you can find in our menus and links. Rather than a lengthy book describing every town in detail, this is more of an outline of how to get from one place to the next, with quick snapshots of what to do in each destination. In addition to this specific itinerary, we describe several other rail routes on a different page, including the Glacier Express and Bernina Express.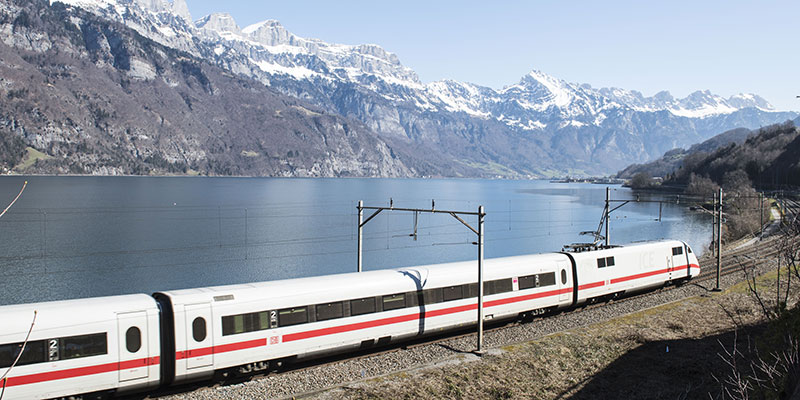 This ideal itinerary will cover the central part of Switzerland along the major rail routes between the big cities, and up some mountains on the small private tracks. It will be a scenic journey and a practical guide to help you plan your vacation, relive past trips, or just take a virtual journey from home.
SWISS TRAINS
You could make the bold claim that Switzerland has one of the world's great railroad systems: best scenery, excellent equipment, runs on time, short distances, panorama windows, stations in town, efficient service, friendly workers, English spoken, rail pass useful, extensive routes. At the end of this story we describe the various kinds of rail tickets and passes available.
Some other countries have faster and newer trains, but no place can match the Swiss for efficiency and the beautiful sights you will see from the trains. Come along as we ride the most spectacular routes through this mountainous country and provide you with lots of train travel tips.
The Swiss train system reaches all major destinations, so there is no need to rent a car when you're in Switzerland, and the distances are relatively short because Switzerland is a small country. Plus, you always have scenery to die for out the windows: snowcapped mountains, majestic rivers, rolling pastures with cows and sheep, and small villages as you roll along.
Switzerland has the most-dense railroad network of any country, sometimes reaching high up into the mountains with small cogwheel trains that will bring you up to remote villages, with frequent train service and comfortable, well-maintained vehicles for that pleasant ride experience. Sometimes there's a dining car where you can sit down for a hot meal, other times it's a simple sandwich snack at a stand-up cafe car. You'll find the train personnel are generally quite friendly.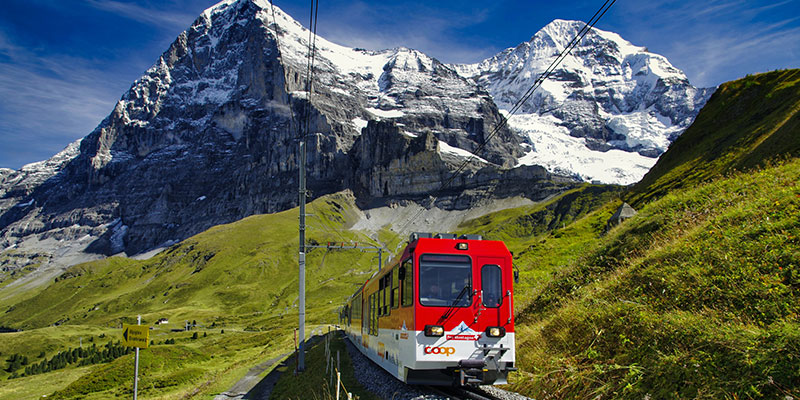 On these routes we will enjoy a typical range of great scenery with the mountains, a little snow on the tops of the peaks, beautiful lakes and the forested hillside, small villages, and isolated farmhouses with backyard vineyards. The spectacular scenic vistas are probably Switzerland's most valuable natural resource because that brings in the tourists and keeps the economy going. People come here to see mountains, forests, waterfalls, streams, cute little towns and villages, so the Swiss do everything they can to keep it perfect.
LUCERNE
Our visit begins in Lucerne, one of the world's prettiest towns, set on a beautiful waterfront along the shores of Lake Lucerne and the River Reuss, surrounded by majestic mountains.
The train station is located right in the center of town and it's very easy to walk through it with the escalators down to the underground shopping mall, then back up to street level. That is a good route to bypass the busy streets in front of the station.
You'll come up on the streets that are probably very close to your hotel so you don't have to take a taxi. Instead, you can just walk from the station dragging your bags right over to your hotel and take a little walk around town.
As we remind you about this, and all our other destinations, you will not find detailed descriptions of the highlights of this beautiful city here, but click on the menu to reach our many other Swiss pages.
Lucerne is one of the most popular destinations in Switzerland. It is famous for its well-preserved Old Town, consisting of many blocks of medieval buildings richly decorated with painted murals showing village life in the olden days, making this like an outdoor art gallery.
EXCURSIONS
You can take several exciting day-trips from Lucerne by train, boat and bus, visiting the spectacular nearby mountain tops of Titlis, Rigi, Pilatus, and Bürgenstock.
TITLIS
Our main suggestion is to visit Mt. Titlis by taking a one-hour train ride from Lucerne to Engelberg, then going up the mountain by cable car to the top of the mountain where you'll find a glacier covered with snow all year round. You can purchase a combined rail and lift ticket at the Lucerne train station. If you already have a Swiss rail pass, you don't need another train ticket, and you'll also have a 50% discount on the cable car ride. It is a lovely train route, passing through more of that rural Swiss scenery with cows out in the pastures and snowcapped mountains in the distance.

Upon arrival at Engelberg's end-of-line rail stop, walk 800 meters to the cable car, or ride the shuttle bus. Large cable cars will take you to the multi-level facility on top, then take the elevator up to the outside terrace for views of Jungfrau, Munch and Eiger, which can be seen on a clear day, places we will soon be visiting when we travel from Lucerne over to Interlaken. You can also walk across the glacier to the cliff walk suspension bridge, then go down and enter inside the glacier through the Ice Tunnel. Return to Lucerne the same way in reverse.
RIGI
Travel from Lucerne towards Mount Rigi by boat across Lake Lucerne to Vitznau, then from the dock, take the rack railway to the top, at 5,900 feet. Enjoy the mountain views, then take the rack rail part of the way back down, and for some variety, transfer to the cable car, which will bring you on a scenic aerial ride down to a different lakeshore village, Weggis, where you can catch the boat back to Lucerne.
BÜRGENSTOCK and PILATUS
Another enjoyable day-trip from Lucerne is taking a boat ride to Bürgenstock Mountain, followed by a short boat journey to Pilatus. At Bürgenstock you travel up on Switzerland's oldest funicular, reaching a hiking trail where you can walk along the face of a cliff, then ride another elevator, and get nice views looking over Lake Lucerne. Notice the collection of five-star resorts here, described in our Bürgenstock-Pilatus page.

Return to the boat dock the same way and continue your voyage to Alpnachstad, and from there up to Pilatus by rack rail. To save time and beat the crowd at Alpnachstad, you can buy the rack rail ticket on the boat to avoid standing in line when you get to the rail station.
PILATUS
After enjoying the view, and facilities at the top, you can return back down the same way on the rack railway, or for variety on a slightly faster alternative with a totally different routing, take the cable car down the backside of the mountain to Krienz, then walk a few blocks to the city bus stop that will whisk you right back into town. It's quicker, and something different. More information is available at the Pilatus website.
Those four mountains will provide plenty of excursions during your Lucerne visit, but there is one more train trip to consider, to Zürich. It is just one hour away by train, an easy day-trip, but there is so much to see in Zürich we are suggesting you spend a few days there, as mentioned at this end of this itinerary.
INTERLAKEN
From Lucerne we catch the train to Interlaken, enjoying a scenic two-hour ride through beautiful mountains, across the Brünig Pass, and along the shores of Lake Brienz.
Interlaken makes an excellent home base for visiting the spectacular mountains around Lauterbrunnen Valley in the Bernese Overland. Interlaken is attractive, with an ideal supply of 100 hotels and guesthouses, shops, restaurants and a pretty park in the middle, but this is not why we have come here. Instead, some spectacular mountain scenery is waiting just outside of your Interlaken home base: the Jungfrau, Grindelwald, Mürren, Lauterbrunnen Valley, Wengen, Schilthorn, Trümmelbach Falls, and nearby Bern. These surrounding peaks, valleys, lakes and villages rank among the world's finest sights!
Interlaken has two train stations, East and West, but most of the sights are reached by trains leaving from the East (Ost) station, so you might want to choose a hotel on this side of town.
JUNGFRAU and GRINDELWALD
From Interlaken Ost the train brings you into Lauterbrunnen Valley and from there, one route will take you up towards Grindelwald and up the mountain, heading to the Jungfrau. Grindelwald is so charming you might want to dwell for a while, take a walk, have some refreshments.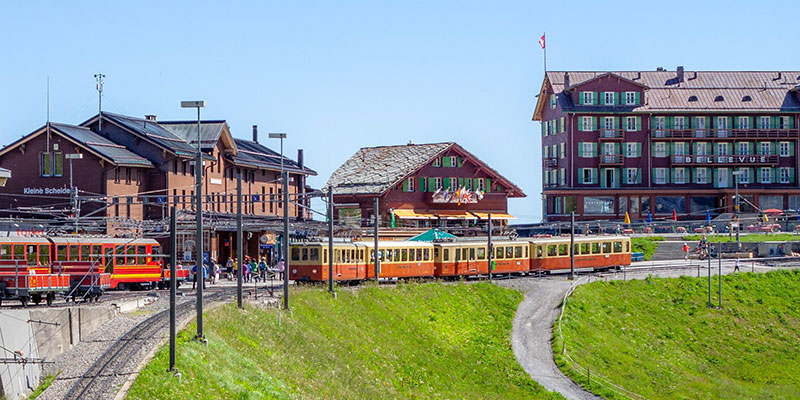 You then continue on the next leg with a choice of two modes: either take the Eiger Express cablecar to Eigergletswcher then continue by rack rail, or go by rail from Grindelwald to Kleine Scheidegg, where you change trains for the final run to the top of the Jungfrau. Again, there is fine scenery until the train enters the tunnel inside the mountain and finally reaches the highest train station in Europe. You will get spectacular views looking out over the glacier.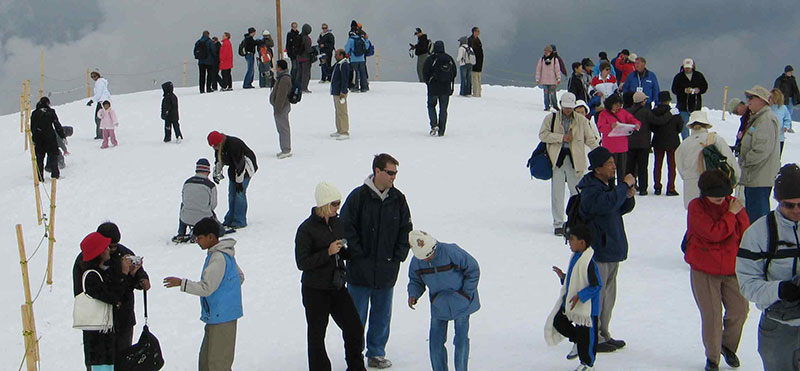 Enjoy the various facilities in this multi-level structure, with restaurants, gift shops, multi-media displays, outdoor terraces, and of course, the viewing area out on the glacier. When finished, head back down by train to Kleine Scheidegg, and transfer again to the Wengernalp Railway heading for Wengen. You could get out of that train halfway for a nice hike or just stay on board.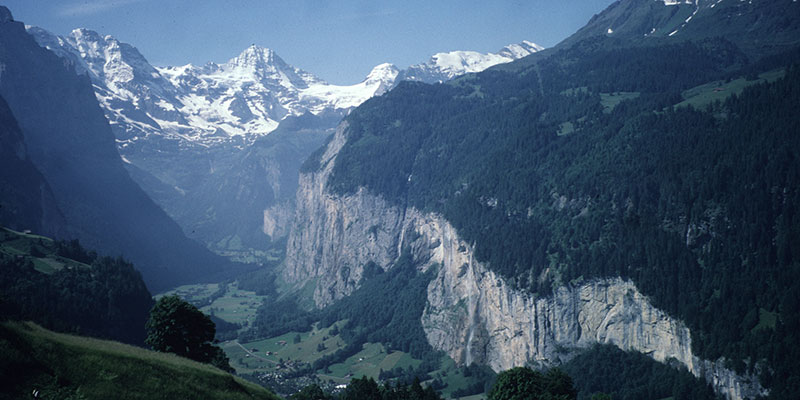 From Wengen continue down by train, along the way enjoying one of this planet's most divine sights, looking into Lauterbrunnen Valley, wow! In just 14 minutes you arrive in the village of Lauterbrunnen, where you can transfer back to Interlaken. An alternative route from Wengen is take a cablecar ride back up the mountain to Mannlichen, frolic in the snow for a while, then ride one of the world's longest cablecar routes to Grindelwald, where you can take the same train that brought you there back down again.
SCHILTHORN
The other great excursion from Interlaken is to Schilthorn, easily reached by bus or train, then cable car. To get the most out of the various sights along the way, plan to spend the whole day on this excursion. Depart Interlaken by train to Lauterbrunnen, then the faster route is take a bus to Stechelberg where you begin the first of three cablecar rides to the top of Schilthorn. However, it's better to save that route for the descent after your visit. Choose a more scenic, if slightly longer route from Lauterbrunnen by cablecar up to Grutschalp, connecting with a mountain railroad to Mürren, where you board the cable car to the top of Schilthorn. This creates a more varied and scenic round-trip loop.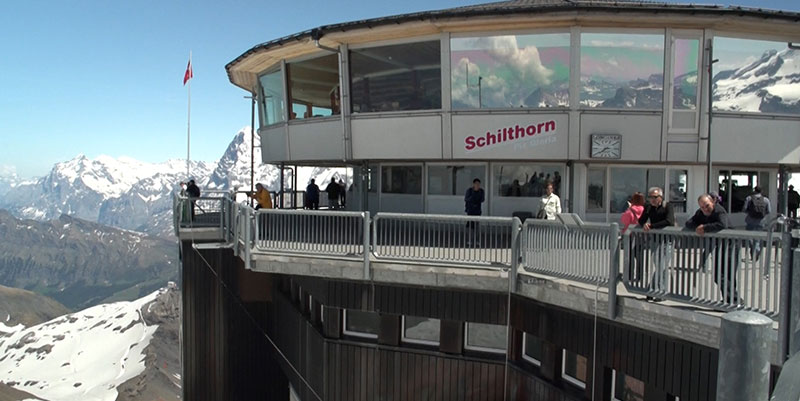 Enjoy the views at the top of Schilthorn, then come down the same cable car to Mürren, where you face another choice of mode: you could ride a cablecar from Mürren to Gimmelwald, but a better option is to walk that short route instead, enjoying one of the easiest, nicest Alpine hikes, then catch the cablecar at Gimmelwald to the bottom at Stechelberg. From there you proceed by public bus through the valley back to Lauterbrunnen town. Along the way you can get off the bus to visit Trümmelbach Falls, then continue by bus to Lauterbrunnen, and catch the train back to Interlaken.
MORE INTERLAKEN EXCURSIONS
At the edge of town you will find a funicular that will take you on a 15-minute ride up the Harder Kulm (4,300 ft.), to a magnificent mountain and lake panorama. There are easy walks along prepared paths, and you might even see a wild ibex, for they wander freely here.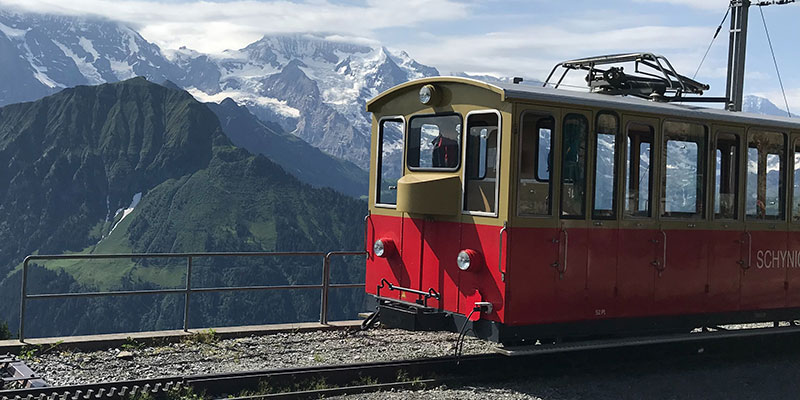 Schynige Platte is a similar, nearby mountain experience, reached by train. A five-minute train ride from the Interlaken Ost railway station brings you to Wilderswil, where you take a rack railroad that has been carrying sightseers up to the Schynige Platte since it opened in 1893. Guests step into the open coaches of the nostalgic cog railway, and the higher the train climbs, the more breathtaking becomes the mountain views. The wooden benches in the coaches of the nostalgic train and the vintage rolling stock dating from the nineteenth century exude the flair of times long past and revive the spirit of a bygone era.
BERN
It is an easy 50-minute train ride from Interlaken to Bern, making an excellent day-trip to one of the great Swiss cities, lined with arcades and well-preserved historic buildings in a vast pedestrian zone. The Bern train station is right at the edge of the Old Town, and the historic center is only about 400 meters long, so this is an easy, rewarding excursion that could be done in a half day.
Along the way you will pass through the town of Thun, a small historic town also worth visiting, on the shores of Thunersee.
ZERMATT
Our next destination is Zermatt, just over two hours away from Interlaken by train, through more postcard scenery, past picturesque mountain pastures, across rushing torrents, and through steep-sided narrow valleys. We settle into this popular village and look up to see the most famous mountain in all of Europe, the Matterhorn, which rises to an altitude of 14,070 feet in a distinctive vertical thrust-one of the most dramatic sights in the world!
Zermatt has more tall mountains than any other town in the Alps. Before heading right up to the hills you'll want to take a walk around in Zermatt village.
Gornergrat
We are taking the Gornergrat mountain train, a narrow-gauge rack railroad that's going to take us past some stunning views of the Matterhorn – the signature sight of Zermatt. Reaching the top after a 33-minute ride, you'll be rewarded with the most amazing mountain panorama in all of Europe, 29 peaks that are 4000 meters or more in height, which is practically every tall mountain in Switzerland from one spot.
There are several exciting ways to get down from the Gornergrat, taking advantage of the beautiful hiking trails, riding the train part way then walking the rest. There are other mountain excursions by cable car and funicular, including the Matterhorn Glacier Paradise, and Sunnega, described in detail in our Zermatt pages.
To TICINO
From Zermatt we embark on another spectacular train journey to the southern, Italian-speaking region callled the Ticino, but to get there we have to go through Italy, through the Alps in the Simplon Tunnel. Domodossola, where we change trains is in Italy, then we continue along the Centovalli line, which means a hundred valleys. This Centovalli trip is about 32 miles yet takes nearly 2 hours, so the train goes very slowly, giving you a good chance to enjoy the view.
LOCARNO
We are now in the best of all possible worlds, in the southern Italian section of Switzerland, which means we have all the efficiency of the Swiss, while enjoying the romance of Italy. Locarno, a charming town on the shores of picturesque Lake Maggiore, is a great home base for visiting the southern part of Switzerland, the Ticino, where we bring you to Lugano, Gandria, Ascona, Bavona, Morcote and more. These destinations are primarily reached by bus and boat, so refer to the Locarno page for more details about this place.
LUGANO
Lugano, along the beautiful shores of Lake Lugano, can be reached by train from Locarno in one hour. You could do this as a day-trip, returning to Locarno in late afternoon or stay in this pretty lakefront town for a few days. You will be delighted by the blend of Swiss and Italian cultures here, typical of the Ticino where they speak Italian, have the relaxed attitude of southern Europe, but are thoroughly Swiss.
If you arrive by train at the Lugano station, you are not yet in the town, but up above on the hillside. You can walk down, or better yet, on the funicular, called the Funicular a Lugano Stazione, a short line connecting the railway station to the city center.
Our primary focus is the Old Town, with its narrow pedestrian lanes and arcade-covered sidewalks. We also visit some nearby attractions such as the lakefront village of Gandria, clinging to the hillside.
ZÜRICH
We complete our train tour of Switzerland in grand style, with another perfect rail ride through the last of the Alps, and then final nights in Zürich! According to some studies, Zürich is the world's best city to live in, with the highest quality of life, -- so it is also a perfect place to visit. Thanks to the new Gotthard base Tunnel, a direct train will take you from Lugano to Zürich in just under two hours. The nearby town of Zug is a short train ride away.
As always with each of these destinations, see the Zürich pages for more details.
It has been a grand ride through some of this planet's most heavenly scenery, all in the comfort of the amazing Swiss train system.
TICKET OPTIONS
The Swiss Travel Pass is the most comprehensive way to go, and it can be good for unlimited travel for 3, 4, 8, or 15 consecutive days. And it's good on all the local transportation and the main trains. You do pay an additional fare supplement on certain private mountain trains.
A less-expensive version is called the Flex Travel Pass, which gives you the same benefits for a set number of days within a month. So you could use it for example during four days within a one month period for unlimited travel. This might be the better option when you remain in towns for several days, unless you are frequently venturing out on day-trips.
Another advantage of both passes is you get free admission to over 500 museums and free mountain excursions to Pilatus, Rigi and Schynige Platte, three of the very popular rack rail systems.
Both passes also provide free travel on particular premium panorama train such as the Glacier Express but you have to purchase seat reservations there. On regular train rides no seat reservations are necessary. Each rail pass is also good for free boat rides on all of the lakes, which is a great bonus. Discounts to the mountaintops vary. For example, if are going up Mount Tillis you'll get a 50% discount, but up to the Jungfrau, you'll get a 25% discount.
The actual price of these passes varies so much, and there are sometimes bargains and discounts, that it's just not possible to go into specific details right here. You can search online and find all the information that you'll need.
But to really determine your best choice, you need to have a very good idea of your itinerary: total length of the trip and the number of days within that trip that you'll actually be traveling.
Another great advantage of having the Travel Pass, whether it's the flex or the all-day, every day is that you don't have to wait on line to buy tickets. Instead, you can just hop on the train and go. So you're saving time, which is a precious commodity when traveling through Switzerland.
In the face of this bewildering variety of ticket choices, my personal favorite is just go for the gold, get the fifteen-day first-class Travel Pass. It's going to currently cost you 675 CHF, or 429 CHF in second class, and that'll give you peace of mind and unlimited travel through this incredible country.