Amsterdam
Amsterdam, capital of the Netherlands, center of economy, culture, and tourism, is an amazing city, often ranked among the world's top-20 places to visit!
Amsterdam gets about 6 million overnight visitors every year plus another 16 million day-trippers coming in on a bus tour, or just driving through. Most of these visitors only come for one day, and they don't see the rest of the country. What a shame. There are thousands of things to see in Amsterdam, worth staying for several days or a week, and the rest of the country is even better.
For more information about Amsterdam, see the Official Tourist Information website.

Amsterdam is an endlessly fascinating city is a most rewarding place to visit, but we remind you up front that the main theme and content of our website is that the Netherlands offers so much more to see than this one magnetic place. Definitely come to Amsterdam AND get out to enjoy the rest of this country.
List of videos about Amsterdam.
Amsterdam offers so much that we have several separate webpages describing different parts of town to provide an in-depth look. Those other pages are listed in the sidebar, and outlined here:
Center: Dam, Damrak, Damstraat, Magna Plaza
Canals: Singel, Herengracht, Keizersgracht, Prinsengracht and more
Old Town: Red Light, University, Rembrandtplein, Spui, Begijnhof
Jordaan: Noordermarkt, Egelantiersgracht, residential side lanes
Leidseplein: Leidsestraat, Vondelpark. P.C. Hooftstraat
Nine Streets: Picturesque shopping neighborhood
Rijskmuseum: Netherlands' greatest art museum
More museums: Van Gogh, Stedelijk, Historisch, Willet-Holthuysen, van Loon, Rembrandt House
Arrival and Departure Tips: Train station, free ferry, airport, nearby streets,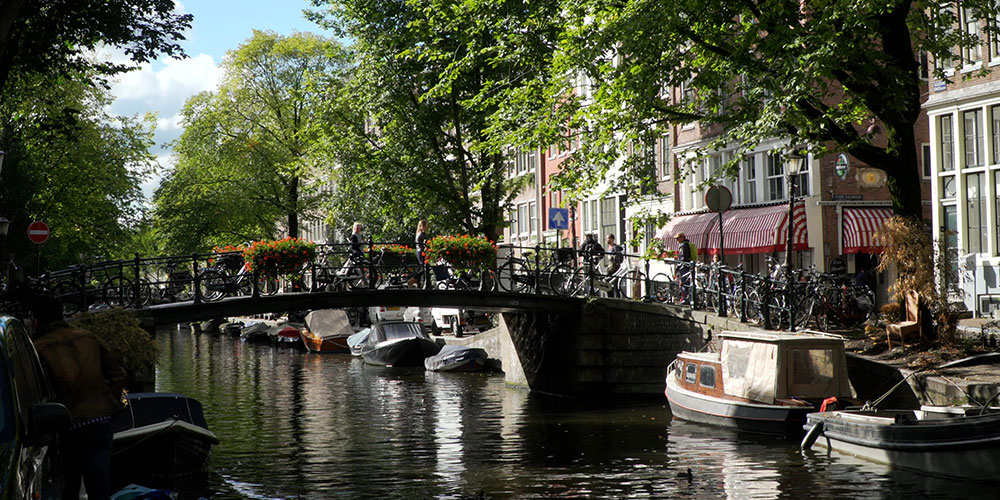 For those who love to stroll through historic cities, Amsterdam offers one of the world's best experiences. While the museums and historic landmarks and traditional architecture are among the great sites of Amsterdam, you'll also enjoy just walking along those quaint streets and admiring the magnificent canals, unique bridges, thousands of shops, and then sit back and relax at a sidewalk café. There are many wonderful neighborhoods to explore on foot or perhaps on a bicycle like a local.
Amsterdam claims to have more historic buildings and sites than any other city in the world, 6,936 at last count, nearly all of which were private houses constructed during the 17th and 18th centuries. This authentic collection of classic old brick buildings is a delight for the senses, further enhanced by the quiet atmosphere of pedestrians, bicycles, boats and trams. Very few cars or trucks come through to shatter the tranquility.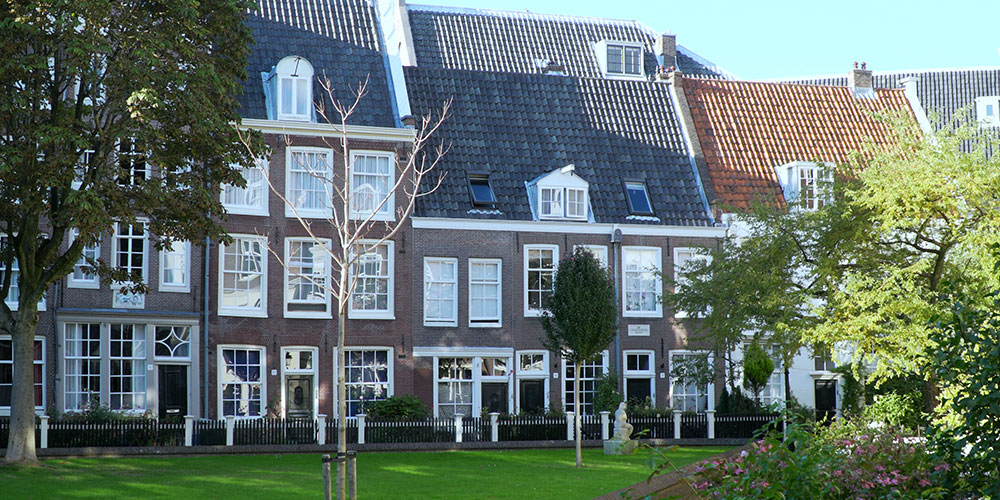 A harmonious similarity among these old brick buildings ties everything together in a balanced ensemble, yet each structure is unique, with different variations of gables, statues, molding and details that constantly reward the keen observer. Handmade architecture created by master craftsmen three centuries ago is quite different than our modern glass-box design where everything looks the same.
The city has not fossilized into an empty historic relic meant just for tourists, but is thriving with a mixed economy, keeping this city alive with possibilities for both locals and visitors. This is a high-tech society with one of the world's best standards of living, so you can be sure that services will operate efficiently for you.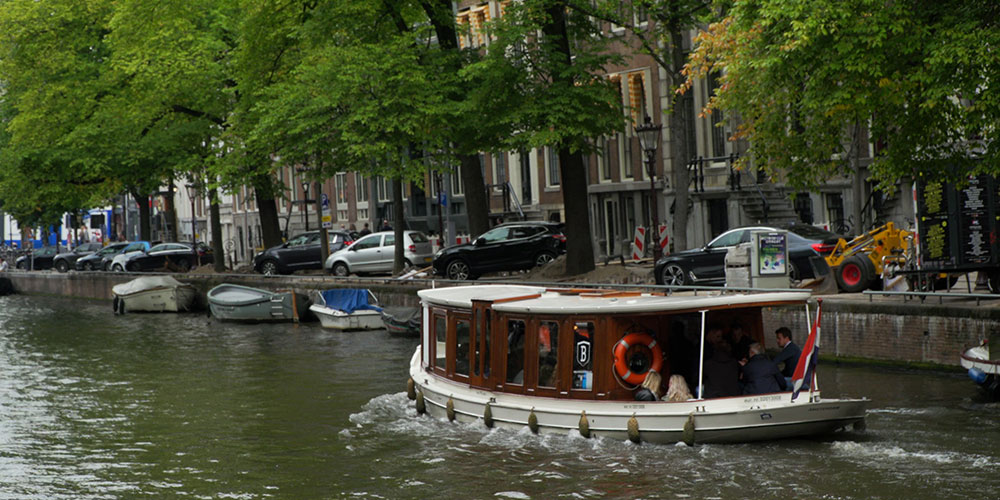 Three key c-words can sum up the magical allure of Amsterdam: canals, cobblestones, and coziness. Amsterdam is often compared to Venice because of the canals and large size of the historic district. Everything is compact, with many lanes given over to pedestrians, so you can happily cover the sights on foot; there are convenient trams running throughout town to give you a quick boost when you need it. Amsterdam ranks right up there with the best that Europe has to offer. There is so much to see that you can easily fill three days with non-stop discoveries.
There are a lot of sights to cover in the historic center, an area within the canals of just over one square mile. There is a small-town cozy feeling here created by the quiet cobblestone streets, low-rise brick homes and canals nearby. You will also find the many cafes, bars and restaurants offer a comfortable atmosphere, with their intimate interiors and friendly local customers, most of whom speak English and might not mind having a little chat with you.
Another reason things feel cozy here is that Holland is the world's second most-densely populated country, so people are used to rubbing up against each other. There is no unutilized space in the country -- there are no mountains, deserts or barren landscapes. Nearly half of the nation's dry land is man-made, pumped from beneath the seas and surrounded by dikes and dams to keep the water at bay. When a society works so hard to create land, you can be sure all of it will be used and occupied. Amsterdam itself is below sea-level and would be instantly flooded if the dams broke -- but that is not going to happen, thanks to sophisticated Dutch technology, not just that storybook kid with his thumb stuck in the dike.
Amsterdam is a quirky town. The typical citizen is a modern, well-educated professional earning good money in a skilled position, but at the same time there are some sketchy characters and a few pickpockets to be aware of. There is a legacy of wild times from the 60s and 70s when this was a main hippie center of Europe, filled with long-haired free spirits and radical political provocateurs. Some of that rowdy behavior continues with raucous stag and hen parties tying one on before jetting home on a cheap flight.
For centuries there has been a strong attitude of live and let live, ever since Protestants and Jews fled here to escape persecution in the rest of Europe. The result today is a vibrant social mix, which makes for a vigorous society, a varied cuisine, and a very wide range of people-watching opportunities. Tall blondes are all over the place, but it seems like every other type on the planet also puts in an appearance.
Amsterdam is an international city with nearly 200 nationalities represented in the population, including Morocco, Surinam, Turkey, Indonesia, Germany, UK, Ghana, Dutch Caribbean, Mexico and more. With so much mixing and mingling, they have learned to be tolerant and respectful. This makes for excellent people-watching because everyone is visible on the pedestrian lanes and outdoor cafes, the opposite from a car culture where people are hidden behind mirrored glass.
Explore the city in-depth with nine more webpages all about Amsterdam!
Hotels
Go to hotel page, or you can download list as clickable excel file or pdf