Avignon
Avignon is a treasure house of palaces, museums and meandering lanes in Provence in the South of France, surrounded by an old fortified wall that still protects it. That is one of the beauties of a walled town in Europe, not only did it protect the town from bandits and invaders during the Middle Ages, but in the 20th and 21st centuries it continued protecting these historic centers from modernization. Which means that the old town is beautifully preserved with large pedestrian zones, and yet at the same time filled with up-to-date shops and restaurants, a city providing comforts, convenience and entertainment that you expect to find in the sophisticated culture of France.
Palace of the Popes
We have a separate page all about the Palace of the Popes, which is so spectacular that it requires in-depth coverage all its own. In the 14th century the popes left the Vatican in Rome and relocated to Avignon, which transformed this city into one of the most powerful places in all of Europe at the time. The popes remained here for nearly 100 years and this was the Golden Period of the city when the great palaces were built in great mansions and the wall was constructed all the way around the town to protect the popes.
Avignon tour
We'll take you to the main highlights of Avignon as well as explore the extensive pedestrian zone and do some shopping, providing tips to help you get around. As usual, it's an entertaining and practical approach filled with great visuals and helpful descriptions.
This is one of the most beautiful cities in France, loaded with historic monuments, especially the great Palace of the Popes. They built the largest Gothic palace in all of Europe, so it's definitely something you must see when you come to Avignon, and also the little streets and pedestrian zones are certainly part of the charm, forming a large automobile-free zone, filled with shops and restaurants that will keep you busy.
Begin your orientation of Avignon, with a look at the two main squares in the center of town, the Place de l'Horloge, surrounded by cafes and bistros and the adjacent Place du Palais containing the city's most important and historic structure, the Palace of the Popes.
Along with the Pope's Palace and those two central plazas, the other main sites to see are the many pedestrian lanes lined with shops and historic structures and the main street, the Rue de la République, along with the medieval wall that still goes around most of this historic center.
Arriving at the main gate through the wall is a typical way that most visitors enter Avignon, especially if you're coming from the train, which is just across the street and this leads directly into the main street, which extends through the center from the train station nearly to the Pope's  Palace in a straight line about one mile long.
And we are here on a Saturday afternoon and evening when it's really special because it's closed down to automobiles at that time, and it becomes this big pedestrian mall. It's like a street party. Of course one of your main actions when you're walking around  is people-watching. Lined with modern shops and various quality restaurants, it is the town center's busiest, especially lively late afternoon and early evening.
Even if you are here on a weekday when the road is open to normal traffic, it's still very pleasant and there are really not many cars going by. You'll find that people are still walking in the street cautiously. There's a lot of quick places to eat here, but you'll probably get a better meal if you look for some of those quality restaurants on the side streets, unless you're just looking for some simple foods, as we'll show you in a moment. Towards the southern end part of it is lined by a lovely, tree tunnel. It leads from the main train station straight through town to the Place de l'Horloge, one of the main squares.
It's straight road that was cut through in the mid-1800s through what had been typical narrow, winding twisted medieval streets of Avignon that you still find throughout the rest of the historic center. It's a grand boulevard with pedestrian-friendly wide sidewalks, restaurants, fast food, fine cuisine, clothing stores. It's really the retail center of Avignon. There are some big department stores like Mono-Prix, FNAC and H&M.
There are snack shops, sandwich shops, pizza and there's also a department store, Carrefour, that has got a nice  food department in the basement  where you can get bread and cheese,  bottle  of wine and take some snacks back to your room maybe. Aah, but French cuisine. When given the choice and opportunity in a place like Avignon, go ahead and indulge in a great French meal.
Back out onto the Place de l'Horloge lined with restaurants and cafés and bars. It's a great spot in the center of town, carousel is usually going and check out these bubbles. This guy has got the biggest bubble ever, right out in front of the Opera. This Place is one of the central points of the city with a mix of restaurants ranging from a simple bistro to fine dining.
You're going to find many excellent restaurants within a few blocks of this central Place and lovely streets for strolling, as we'll show you now. Exiting the southwest corner of the Place you will come right into lovely Rue Sant Agricol and beyond that Rue Joseph Vernet. You've got those main streets of Vernet and Agricol right next to the Place de l'Horloge making one of the most interesting parts of town for you to explore.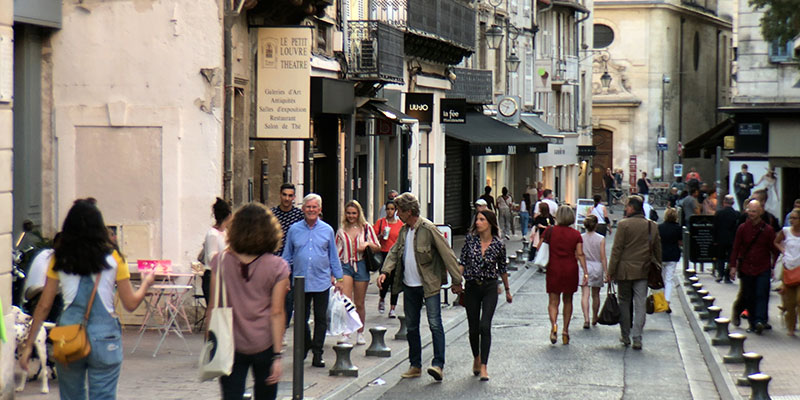 Be sure to walk a few blocks up and down Rue Sant Agricol, a classic side street which offers a delightfully pleasant environment of shops and people out for a stroll. Just next to the town's main square, Place de l'Horloge. Notice how they have iron posts to protect pedestrians from the automobiles because this busy street is open to traffic and yet remains very safe because of the design. There's a rich variety of kinds of shops here and throughout the entire town center. This is one of the favorite streets for just browsing along.
There are a couple of other quiet side streets you might have a look at. They don't have much in the way of shop or important touristic destinations, although you will run into a friendly little wine store where you can taste before you buy, and some old buildings. Tucked away nearby is the dilapidated Pallais du Rouer where Pope Julius 2nd ran a school.
A good reason to spend several days in Avignon is so you've got the time for just sort of an aimless wanderer down these back alleys, getting a little lost, and then back into retail heaven.
One of the nicer shopping streets in Avignon is Rue Joseph Vernet. Now this street is really at its best late in the day and early twilight when you have that magical combination of twilight, you've got shop lights, the evening light, the street lights are on, just beautiful to be out on the streets at this hour. It stays quite lively. It's a very safe spot 10 o'clock, even 11 o'clock at night. Of course, the shops will be closed, usually by about 8 o'clock, but the restaurants and the cafes and the bars are open.
While it's obviously a shopping area you don't have to be purchasing anything to participate in this pleasure. People are here just for the experience of strolling along enjoying the scene with the rich scenario of shops and lighting and people all blending in together to a great experience. We say windowshopping in America. The French say licking the windows. A most pleasant stroll through this deluxe part of town.
It's quite easy to find this lovely shopping area, just a few blocks west of Place de l'Horloge, the main central square of town and yet many visitors might simply overlook this because it's not in the main tourist zone of historic monuments, being a couple blocks west of the town center, and yet it is worth finding.
If you can't make it here at twilight, then just come over anytime you can. It's good throughout the day. The shops stay open, some close in the midafternoon for a brief siesta, we' re still in the south of Europe, after all. Travelers are generally busy every day, so don't worry about exactly what time to get here, but make it a point to find the street.
At the lower end it's a little wider. It's got a lane for parking and one lane for through traffic, but for the most part it's only one lane with wide sidewalks, makes it a very pedestrian-friendly neighborhood. You'll find the lower end does not have nearly as many shops and those stores are a little bit less upscale, more down to earth, so that makes a nice part to see as well. The total length of the street is just about 700 meters so you can easily see the whole thing.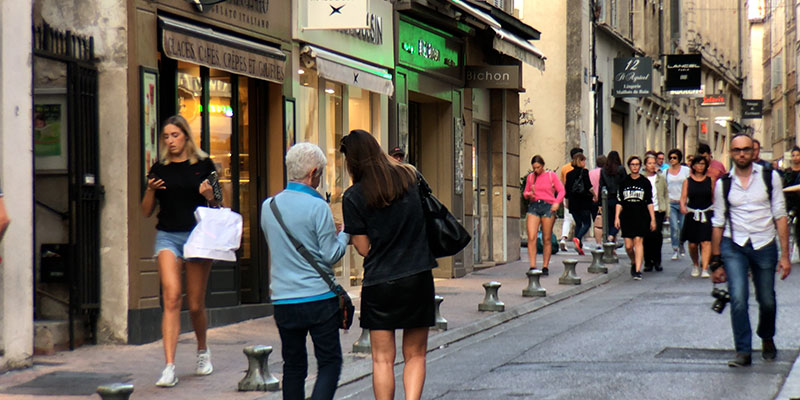 The street is named after one of the most famous painters of Avignon, Joseph Vernet, who worked during the 18th century noted for his seascapes and so it's only appropriate there are a number of art galleries on the street today.
There is just one hotel on the street the Mignon and it offers quality rooms at affordable prices. It's 2 stars and the rooms are soundproofed and it's right in the middle of the shopping area.
If you prefer a luxury hotel, walk towards the north end of Rue Joseph Vernet and take a left down to Place Crillon, just a block away, where you will come upon the Hotel d'Europe, a five-star deluxe property. It remained a private mansion from late 1580 to 1799, when it became a hotel, making it one of the oldest hotels in France.
Another hotel you might consider is the Mercure. It is right in the heart of town between the Pope's Palace and the Place de l'Horloge, a very comfortable four-star hotel. It's it's in the Accor group of French hotels and we found it was a very nice place, very clean, modern and friendly.
East Side
Now we' re going to take you on an extended walk through the pedestrian zone and narrow streets on the east side of downtown Avignon, an area filled with shops, people and historic buildings. The only way to see this part of town is by walking. You can do this on your own using your own instincts, or using a map, using the brochures, or with a local guide. We present a mix of scenes, some from our walking tour with a local guide, from our visit and others just meandering around on her own to give you a good overview of how you too can walk through the center of Avignon.
The old town is a charming neighborhood of shopping lanes and narrow residential streets with little back alleys, perfect for strolling. Some of these routes are exclusively for pedestrians, no cars allowed, especially in the shopping center just southeast of the Place de l'Horloge. It's like one big shopping mall. And this historic center can easily be seen on foot in one day, for it is a compact zone about 1/2 mile wide and about 1/2 mile long.
The curved shape of these streets will keep you guessing: what's around the bend? What's coming up next? Or which monument, or museum will you see around the next bend in the road. The streets are level, you don't have to worry about hills here in the center of the old town, and they're just riddled with little plazas and fountains with trees, some benches, and of course, numerous cafes. While this neighborhood is very old, the shops and galleries are up-to-date with modern interiors and contemporary European items for sale.
Be sure to visit the Tourist Information Office and get their free Welcome to Avignon brochure with descriptions of the major sites and an extremely useful map that provides 4 walking routes to follow while you are exploring the city. The tourist bureau has put colored arrows on the sidewalks here and there coordinated with the map to help keep you on track.
Walk to the south end of the square and turn east into the pedestrian neighborhood for a little meandering. At first this walking zone will seem vast and disorienting, there's a lot of tangled twisted corners and angles, there are no straight roads in here, they're curved, or they're bent, or they're V-shaped. This is actually just a few blocks of lovely shops that you would enjoy again later in the afternoon for some further serious browsing.
Across the street you'll find the church of St. Pierre, which was built in the Gothic style in the 14th century and then completed in the early Renaissance style. The choir stalls are especially impressive with their elegant 17th century wainscotting. The classical form of the interior contains six side chapels, and a nave and the main altar.
The large gilded high altar is a fine example of the high Renaissance. One feature of the church is most famous for are those solid wooden doors. There's a lovely statue of the Madonna and Child at the doorway as well. The exterior is especially impressive with its flamboyant Gothic style and the carved stone tracery of the stone ribs. Its location, just 2 blocks east of Place de l'Horloge marks the northern edge of the pedestrian zone.
Place Pie
From the church walk along Rue de Marchand past the synagogue and passing Place Jerusalem over to Place Pie. The origins of this open plaza go back about 500 years when it had been an area of housing that was pulled down in 1562 to open up free area for a busy outdoor food market. Place Pie is a relatively large, tree-lined square surrounded by quaint buildings and cafes.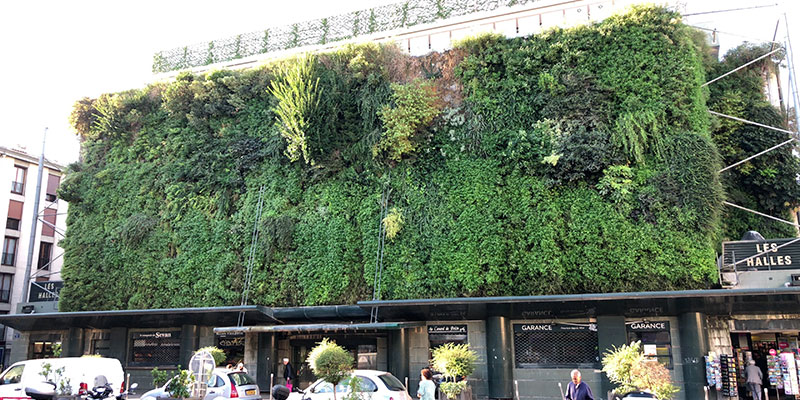 And today the main food market of town is still at this location, but now it's inside a large building, with a living wall of plants on its facade. The covered food market of Les Halles was created in the 1800s as a metal shed at first and then it grew larger and you see here today the modern market hall. It was built in the 1970s, with a very interesting living green wall on the outside.
Place Pie is a nice outdoor plaza tthat would be easily overlooked by the casual visitor to Avignon. It's not really at the top of any postcard shots or lists of things to visit in town, but you see it's a very lovely spot. Emerging on the south end at Rue Bonneterie, which turns into one of the most picturesque streets in town.
Rue des Teinturiers.
The Street of the Tinters. Several ancient water wheels along this cobbled lane are still turning, pushed along by a quaint little, tree-lined canal. These wheels were once used to provide power for the manufacturing and dyeing of textiles and printing and a few other industrial applications. It was the beginnings of the Industrial Age.
Now this is a trendy street with cafes, boutiques and a small theater, and it's a mere 10-minute walk from the town center. You might want to come back again for another look at twilight when it takes on different atmosphere.
And of course that's when the restaurants will be really coming to life. This street is the kind of place you just want to drop anchor for a while and hang out, sit down on a bench, lean up against the wall, relax, watch these waterwheels. Of course the wheels are no longer functioning to power any equipment, obviously, in this modern age, they're here mostly as historical landmarks and for your entertainment. So take advantage. It becomes very hypnotic to just stand watching these wheels go round and round. Generally when we see an old historic feature like this that still working, still moving, we just take it for granted that it's always been that way, but it requires some maintenance, some money and some effort.
From here we stroll back towards the center of town along Rue des Lices. It's not a pedestrian street. It's typical of the narrow lanes that have some automobiles but not very many. So it's a quiet place to wander, a good example of the slightly out of the way neighborhood that you might easily miss, but with the Rue des Teinturiers leading you over to look at the waterwheels you just might find it.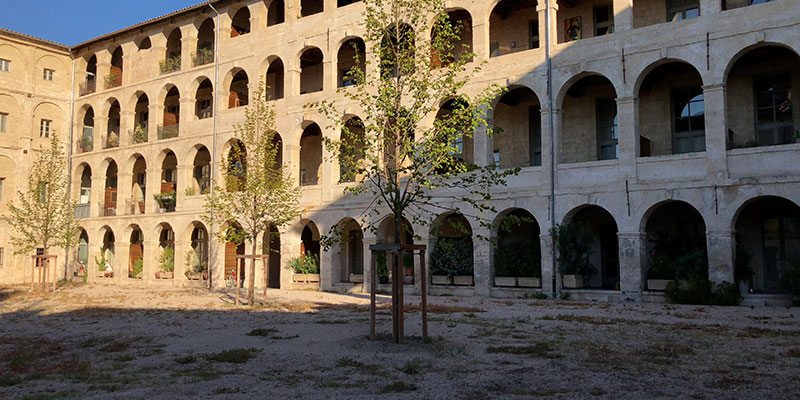 Notice the large four-story building with the arcaded windows. This has quite a history. It's about 400 years old and it's gone through a variety of purposes, starting out as a home for monks and then the home for poor people, it was a barracks for soldiers at one point and now it's a modern luxury apartment building.
Rue des Lices passes one of the more charming little plazas in town. The Place de Corps Saint with its burbling fountain and there's a picturesque little church of the Celestines and there's a bar of the same name. There is a lively array of café     tables that are spread out here in fair weather.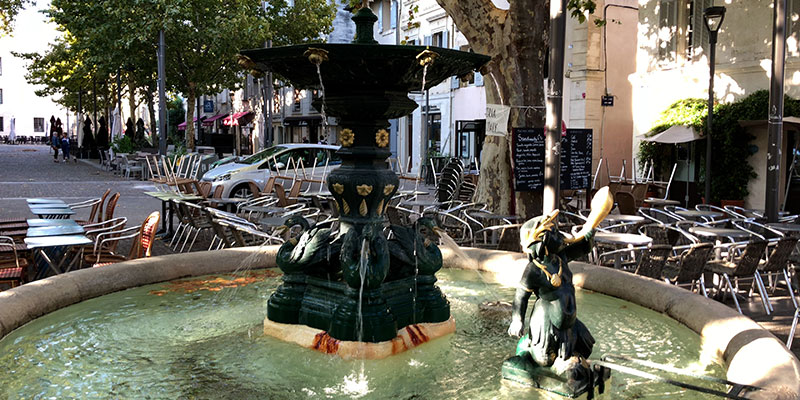 It's a lovely spot any time of the day, but it especially comes to life in the evening when people come out and enjoy the restaurants all around it. Another little place you might not find in many guidebooks because locals keep it a secret, but it's a great place to drop in. And in the evening you'll find several lovely restaurants, very casual, very friendly, warm, cozy places for a typical Provençal meal. It's more of a local neighborhood with homemade desserts, very reasonable prices and delicious food.
Around the corner would come upon Rue Frederick Mistral, which is a short lane that passes under a picturesque arch that connects to historic buildings. The street's name honors one of the great literary and culture heroes of Provence, Frederick Mistral, a writer who won the Nobel Prize for literature in 1904 and was a great advocate for the independence of Provence.
As you walk around in the old town you're going to see a number of other arches, some of them small, some of them tall and narrow, an indication of how old and densely populated the city is, growing within the confines of its medieval wall.
Next you'll continue a few blocks north to another church worth visiting, Sant Didier, one of the largest Gothic churches in Provence. The ancient collegiate church of Sant Didier in was rebuilt in 1358 and if you enter into it you'll find that it contains some arcades and a little Gothic pulpit in stone.
In the Place Principal, just northeast of the Sant Didier church, is the old Chapel of the Penitants. It was founded in 930 but rebuilt in the 15th century and it contains some valuable paintings inside.
Continue a block north from the church into Avignon's main pedestrian zone, lined with shops and a maze of several blocks ideal for wandering, and this will lead you back to that main Place de l'Horloge, and put you in prime position for lunch or a snack or whatever meal happens to be appropriate for you at this time.
Of course you'll always have a variety of choices. You could try Afro-Cuban. There's all sorts of cuisines, not only French food in Avignon. Maybe a crêpe and a salad, that's a nice light meal or kebab on the main street.
Okay, well now we're just going to wander and cut loose in this beautiful pedestrian zone late in the afternoon, everybody's out, it's mostly locals walking around. There are tourists of course in Avignon. It's a great center for that travels, but this is the scene of like passeggiata in Italy, late afternoon, locals strolling, shopping, seeing their friends, having a bite, having a drink, getting ready for dinner, so we are going to join them and just wander around, it's on the streets just on the right side of the Rue de la Republique, a wonderful shopping area and a great place to walk.
No cars allowed in this pedestrian zone. It's the heart and soul of Avignon, the great gathering place for strolling, people-watching, snacking and excellent shopping among hundreds of small stores packed into this friendly little neighborhood. It's a small area, only about 400 meters square with a dozen walking lanes that twist and turn, keeping you wondering where you are, so it might seem vast and disorienting, but you can't get too lost in this retail paradise.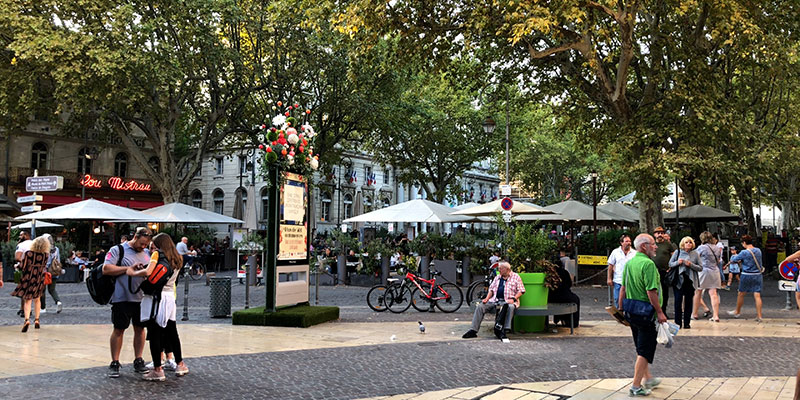 This human scale evolved organically over the centuries and then was perfected by the town planners here at their very best with buildings just a few stories high, providing plenty of air, light and sufficient room to walk around without getting run over by any cars or trucks, and with enough things to see here to keep everybody busy and attracted to come back frequently. Even the bordering streets, they do have some cars, are also quiet, with good sidewalks, more shops, cafes and little traffic, so the friendly zone extends further out, about 600 meters east from Rue de la République, giving you plenty of room to explore.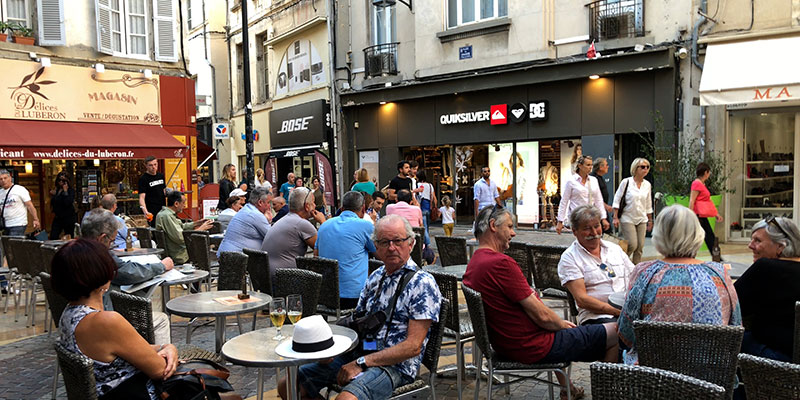 It can be a tough choice: relax at a cafe or go shopping. There's a whole variety of great things to purchase here in Avignon, ranging from souvenirs such as the Provençal fabrics and pottery or some jewelry, clothing, you name it, they've got everything. It's like one gigantic shopping mall in the pedestrianized streets of old town Avignon. Ironically, Place de la Principal is one of the most empty parts of this pedestrian zone, so don't always go by the names just follow your nose and look around.
There are so many great lanes for walking that the Tourist Information Office has prepared a map showing recommended color routes for walking, but they've colored in practically every other street in the center of town, so you can grab their free map by all means or just go and wander, every place is good.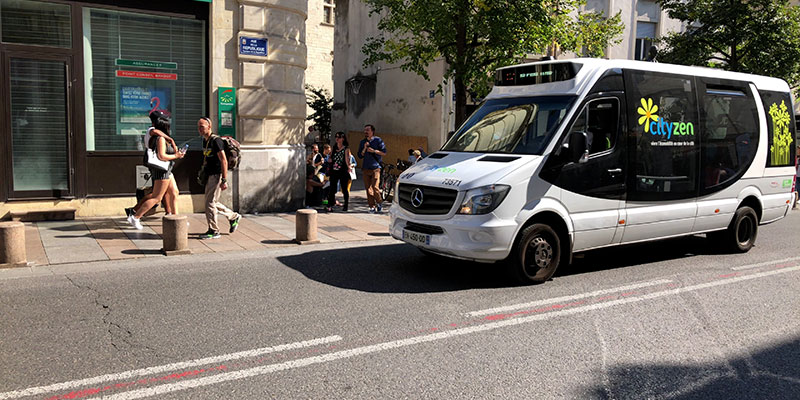 Quiet electric minibuses are part of their innovative transit system in Avignon. This is a wonderful way to carry people around through the pedestrian streets.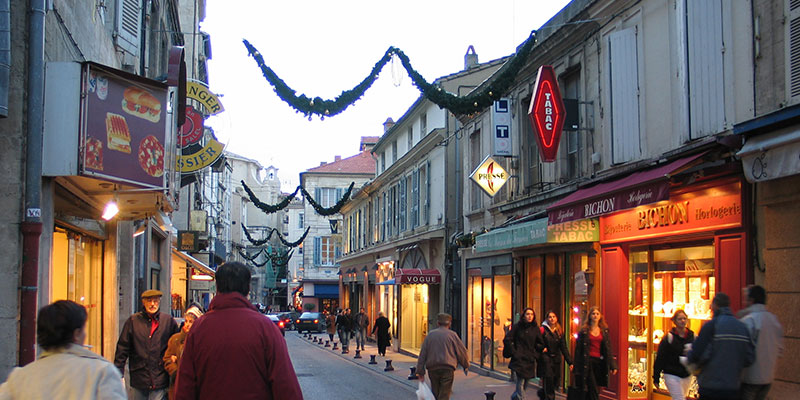 Twilight is just perfect for walking, maybe sitting at a sidewalk café and watching the people. It is probably not a time when you want to sit down inside a restaurant and lose the lighting. This is just beautiful to be out on the streets at this hour, twilight, you've got shop lights, the evening light, the street lights are on, and on the shop windows are all lit up. Most shops will be closing by 8 PM.
It's very safe to walk around in these little streets in the evening. Of course you want to take normal precautions, you don't walk around with lots of money. You want to just you watch out for yourself, but you don't have to worry. Feel free to stroll in the evening, perfectly fine.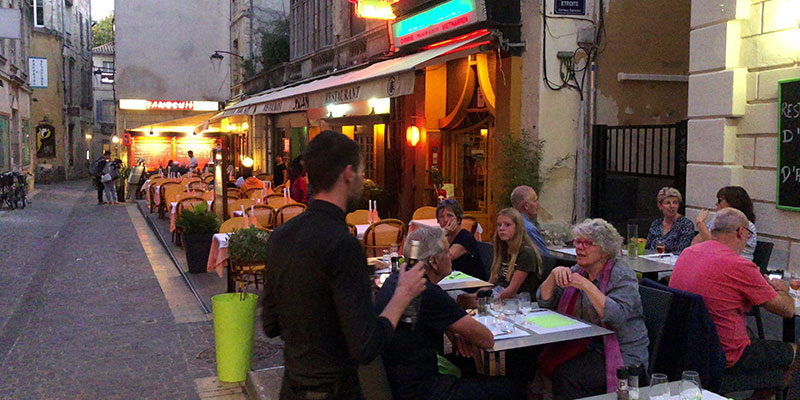 Well let's have a look at Avignon at nighttime just after sunset. The streets stay busy right through the evening. Most shops will be closing by 8 PM, and in the evening the side streets are also lovely. Then in the morning you might get up before breakfast and take a stroll, sure, why not. There is a special lighting, there's not many people out at this hour at about 6:30 – 7 o'clock in the morning, and yet it feels like you can have the city almost to yourself. It's certainly good way to escape the crowds if that's your interest, take a sunrise stroll in these little back streets.
I hope you've enjoyed our detailed visit to this wonderful city. Now it's time to move along to our next destination. This is part of our larger series about the South of France.
Day Trips
In addition to these many attractions of Avignon, there's another reason to consider staying here for at least a few days, maybe 4 or 5 days: it makes a great home base for visiting the nearby Arles, Aix-en-Provence, Marseille, Pont du Gard,Uzes, St. Remy and Nîmes with easy bus and rail connections for independent travel, or a variety of tour operators who can take your around on day trips. You can read about all of them in our website.
Those are all great places you want to see, but Avignon is probably the best location to see them from because of its large number of hotels, central location with great train connections and bus, and those many pedestrian zones and historic sights to keep you busy.
We'll be taking you to the stone village of Les Baux, have some crepes, down to Nice, the beach, the old town. We'll see it during the daylight and take you back there at night. We'll be visiting historic sites and meeting the people, Pont du Gard, ancient Roman aqueduct, the quaint village of St Remy will charm you on market day with street music, you'll see shop dogs and ancient arcades, the daily joy of life in the streets is one of our specialties. We'll do some downtown shopping and enjoy traditional recreation. All the best of southern France.