Mount Pilatus
It is best to reach Pilatus by boat, either starting from Lucerne, or perhaps continuing after your visit to Bürgenstock, as suggested previously. They have first-class and second-class service on board with a snack shop and a cafe, a restaurant, nice choices for a meal or just a light bite. Or just simply sit outside and enjoy the view.
From the boat, you get a great view of where we are heading, Mount Pilatus, the signature site of Lucerne, towering over the city and visible from many parts of town, especially along the waterfront. The mountain does not have a glacier, at just 2,100 meters high, but is often covered with snow in the winter, and sometimes gets snow in the summer.
The boat arrives at Alpnachstad, then up to Pilatus by rack rail, and down by cable car back to Lucerne. Be sure to buy that rail ticket on the boat to avoid standing in line when you get to the rail station, and that way you can stay ahead of the crowd getting off the boat, and throughout your visit.
It is possible to hike up, but that's strenuous, taking 4 1/2 hours. It is much easier to just pay the reasonable charge and go on up via funicular. Opened in 1889, the world's steepest cogwheel railway will take you to the top of Pilatus, proceeding uphill at a 48-degree angle. Some funicular are even steeper, such as the one at Bürgenstock, 58 degree elevation, but funicular are pulled up by cable, whereas this is a rack railroad.
You will have beautiful views along the way to snap pictures, and soon you're arriving at the top of Mount Pilatus on this funky little funicular. The cogwhell trip operates from late May through November, and takes 30 minutes, passing alpine meadows and striking rock formations.

At the top, surprise, surprise, there is actually a hotel up here in a round building where you could spend the night. There are various hiking trails at the summit, including an easy 40-minute Dragon loop trail and about one dozen other options. It is fun to look back down on Lucerne and the lake beyond, trying to spot some familiar locations.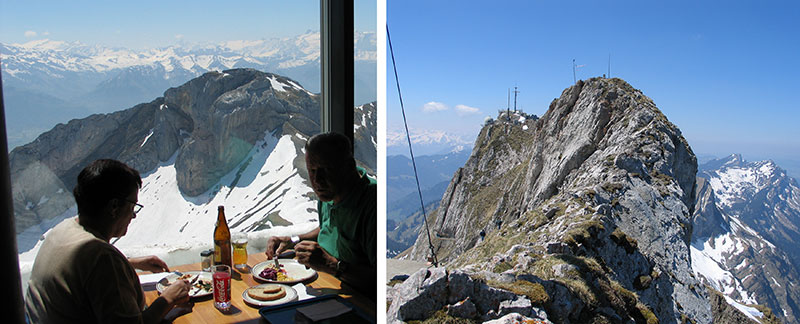 If you get hungry, don't worry, because even though you're at the top of an alpine peak, there are six different restaurants that you can pick from. The premier Restaurant Pilatus-Kulm offers traditional Swiss ambience while serving regional and seasonal delicacies.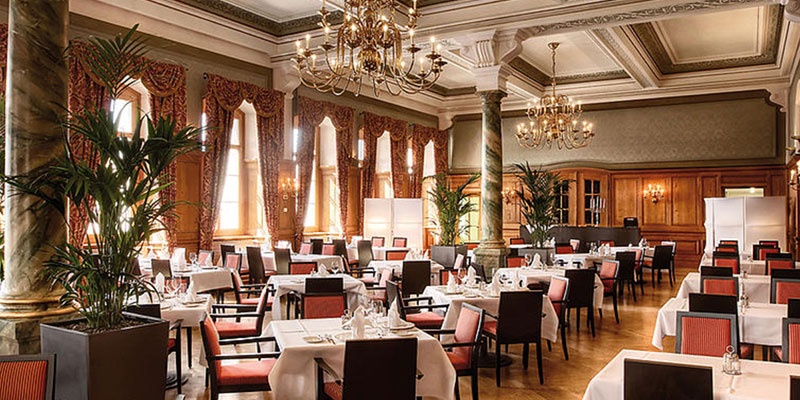 If casual self-service is more to your liking, try the Restaurant Bellevue, offering Swiss and international dishes. Or try any of the other four venues, all of them wrapped in fantastic mountain views. As usual, the Swiss have civilized their mountaintop.
You can return back down the same way on the rack railway, or for a slightly faster alternative with a totally different routing providing a nice bit of variety for you, take the cable car down the backside of the mountain to Krienz, then walk a few blocks to the city bus stop that will whisk you right back into town.
The cable car is quicker and something different. During the winter this is the only way to reach the top. Or you could do the entire route in reverse: The cable car at Kriens can be reached by the Number 1 bus that leaves from Lucerne central train station. It is then a short 10 minute walk to the cable car, following the Pilatus signs.
More information is available at the Pilatus official website
See the detailed Pilatus topographic map
More pictures of Rigi, Burgenstock, and Pilatus