Les Baux-de-Provence
The ancient stone village of Les Baux-de-Provence is a remarkable sight, dramatically perched 750 feet high on a rocky plateau with a history dating to the Middle Ages, and a prehistoric Celtic settlement going back thousands of years.  Les Baux was once a powerful medieval castle that controlled vast territories, including 79 villages throughout Provence, but is now a tiny quaint ruin.  Charming as could be, this cozy hilltop hamlet is a major tourist attraction with 1.5 million annual visitors, making it the second most-popular site in the region after the Pope's Palace in Avignon.  This tells you 1) it is very worthwhile, 2) but can get uncomfortably crowded unless you take preventive action, like visiting in the off-season, or arriving early or late in the day.
The plateau was naturally easy to defend due to vertical cliffs all around, and was further built up with stone walls and castle as protection from invasion by Franks, Catalans, Saracens and marauding bandits of the chaotic Middle Ages. The medieval village was built up from the 10th century and by the peak of occupation during the 1300s and early 1400s nearly 3,000 people lived in this small space.  Les Baux continued thriving for another century with a grand palace at the highest point.  The castle was attacked and destroyed in the 1600s by Cardinal Richelieu, leaving us with dramatic ruins, with some parts of the Château still standing.   
Major restorations in mid-20th century brought it back to life and have created a lovely historic experience, complete with museum, shops and restaurants.  You would enjoy walking through the well-preserved village along narrow, cobbled pedestrian lanes lined with original stone buildings, leading right back into the Middle Ages. The houses are partly scooped out of the rock, and partly constructed. Whole chambers, kitchens, cellars are veritable caverns.  You will not get lost because there is only one main pedestrian lane about 300 meters long on this rocky route, with a few side alleys leading to viewpoints.  The slight uphill slope is easy to negotiate and this slant enhances the drama of being in this exceptional place.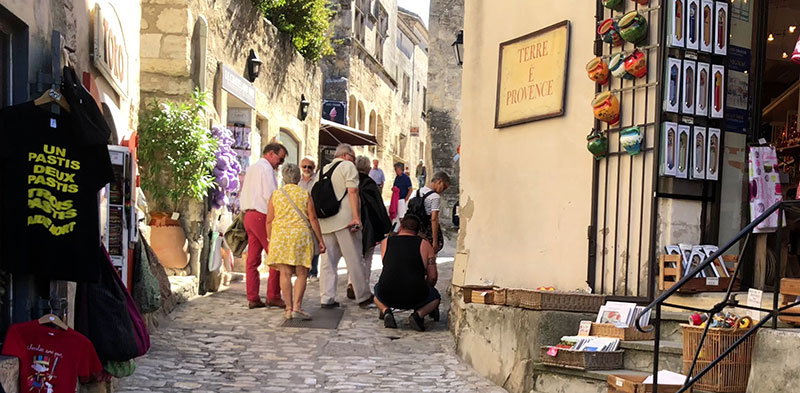 Frankly, you really don't need much guidebook help in this smallest of Provencal destinations – just follow your nose and wander about, but it is still beneficial to learn some history and get a few navigating tips. If in a rush you could walk back and forth through the entire village in half an hour, but you'll also want to spend at least 45 minutes visiting the fortress ruins, plus time for shopping and snacking. 
There are two sections to visit in Les Baux -- the free village, with its pedestrian lanes, shops, restaurants and old buildings, and the fortress paid attraction, which is very worthwhile. The vast outdoor site of the citadel fortress on the plateau has remains of the old buildings and palace along with various artifacts in a very dramatic hilltop setting with commanding views for many miles all around, providing an outdoor excitement that alone is worth the price of admission.
When you first walk in the front entrance of the village you will find a Tourist Information Office on the left side of the lane, which offers a free map, brochures and helpful information about shops and restaurants.  Better yet, before you even start your vacation, visit the websites for the town and castle and download their free apps from the AppStore and Google Play (listed below).  The Château app includes extensive audio tours, photos, maps and fun interactive activities.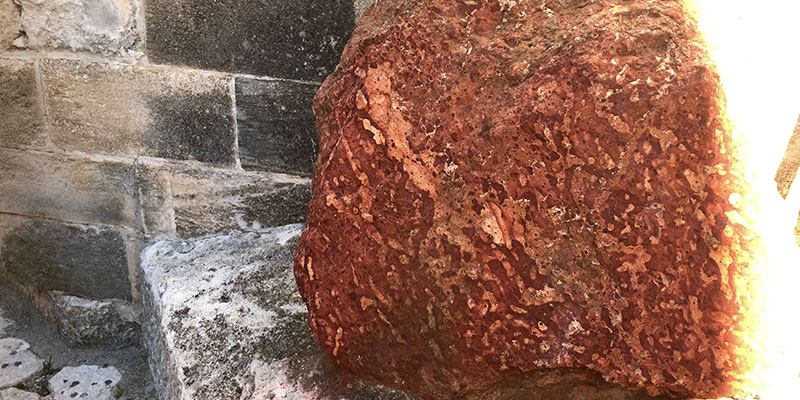 In front of the Tourist Information office you will see a large bauxite boulder on display, because the stone in these hills contains a lot of that valuable mineral. In the 1820s this became an important area to mine for bauxite in order to produce aluminum, and so the precious new material was named after this location where they first found it. 
Later, you could visit Carrières de Lumières, an abandoned bauxite and limestone quarry 800 meters away. This site has been transformed into a multimedia art theater with 70 video projectors casting images of famous paintings and places onto walls and floors of the artificial caves, immersing spectators in a colorful 3D world.
Once you are in the village the main joy is simply walking along and appreciating these very old stone buildings, most of which date back 500 years to the Renaissance.  The French government did considerable renovations in mid-20th century under direction of the Minister of Culture, André Malraux, to restore these historic structures to their original appearance.  The village had been falling apart but is now in beautiful condition, with no graffiti or trash, and offers many attractions for the visitor -- not only history, but shopping, panoramic vistas, and a variety of eating choices: snacks, sandwiches, drinks, crepes, or fine dining.  The little crêperie is perfect because it's right on the main lane, making them fresh on the griddle to order – how about ham and mushrooms and cheese – makes a delightful lunch that you can eat while walking along – divine finger food.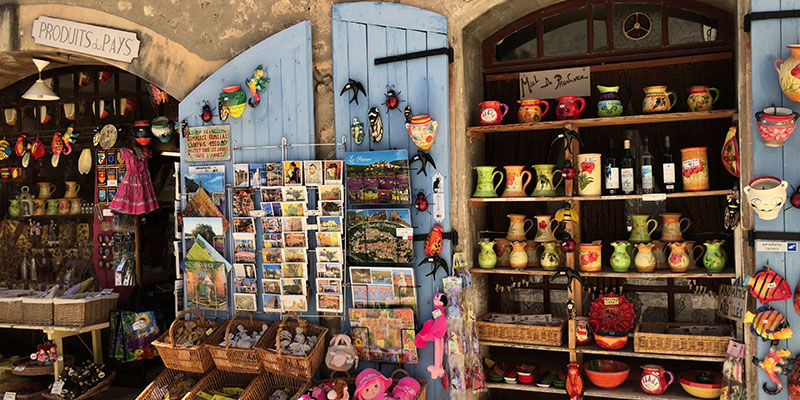 You are going to find a lot of attractive shops with a great variety of products at competitive prices. Among the traditional items for sale you'll see the Provençal fabrics in characteristic pastels: yellows, oranges and greens with local designs including olive tree motifs, so important to this area. Another easy to pack item is potpourri – one of the specialties of Provence made with flowers that grow in the south of France. This is a famous perfume district so the potpourri is local, making great little gifts. And of course there are always the T-shirt, cooking apron, refrigerator magnet, little models of the town, or anything that says Les Baux on it. Take a look around in these shops and you're bound to find something you've never seen at home, making a unique gift. We found that the prices here were just about the same as in the bigger cities in Provence, so when you see an attractive deal, don't hesitate thinking you'll get a better price later.  First rule of travel shopping is grab it right now.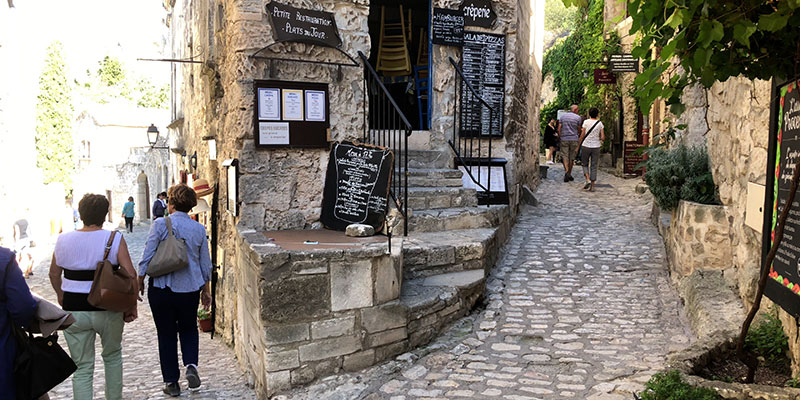 Navigating the town is quite easy with only a handful of little lanes to deal with.  Keep going straight on what is obviously the main route, called somewhat optimistically the Grand Rue. In about 200 meters it reaches a fork where you can turn right to Rue Neuve that will bring you, via Rue de l'Église to the best panoramic viewpoint of town.
Here you look west on a cluster of houses below and in the distance to the rocky low mountains of the Alpilles, a dramatic landscape of barren limestone patched with pine and cypress greenery.  Get a good look and take lots of photos because this is your only view, unless you pay admission to the Château up ahead, which we highly recommend.
This lookout is next to the main church of Saint-Vincent, built between the 12th and 16th centuries, mostly in the Romanesque style, and partly carved into the bedrock in the "troglodyte" style. Quite small, as expected in such a tiny village, the building is square and has a nave with two aisles. There is also a tiny Penitants' Chapel across the square with modern murals inside, and public toilets to the right of the church.
At the far end of the main lane, a few minutes away, you'll find the ticket office for the Château, the Musée d'Histoire et d'Archéologie des Baux-de-Provence, a vast outdoor collection of ancient sites.  By all means go into the office where you can have a look at the exhibits – a small model of the town is quite fascinating, and you'll be tempted to pay the 8 euro admission to go out onto the plateau and see the rest of the site, which is definitely worth visiting.  You have come all this way and made it to the end of the road, by all means you should carry on to see this magnificent outdoor site with its wind-swept plateau and lofty castle ruins perched on the highest point.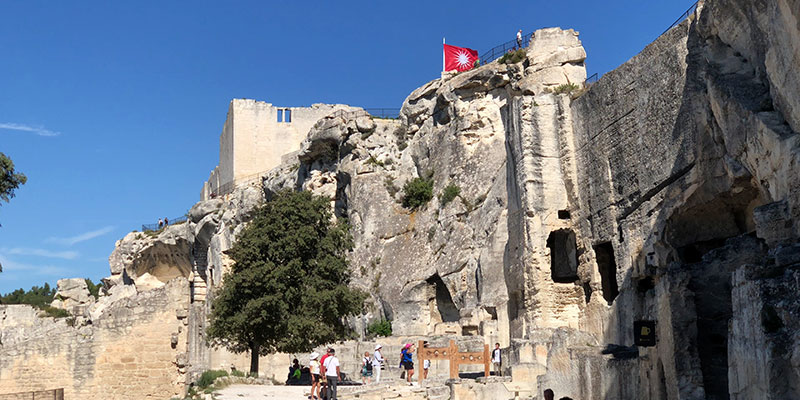 They call it Château des Baux-de-Provence, but don't expect to see a big mansion or palace, because there is no complete building left out here, and yet, the ruins are fascinating. The fortress, which had resisted many a siege, was of almost monolithic construction; its ramparts, towers, staircases, banqueting halls carved out of the rocks and built up with tall stone walls. They made clever use of the natural foundations enhanced by elaborate construction, creating one of the most fantastic castles that ever existed.
This feudal Court of Baux was famous for its high level of culture, chivalry and merrymaking, with formal etiquette and endless entertainment from singing troubadours, the seat of a famous Court of Love. Nowadays it's mostly in ruins but you can imagine the grandeur they once enjoyed.
You'll see several reproductions of medieval siege machines – huge full-scale models that are in working order, including a battering ram which is a reconstruction of an instrument that would not have done much good in attacking this village, because it is so high on the cliff.  A full-sized trébuchet sling is ready for action, largest in France, like those used during the Middle Ages for the siege of villages.  The sling could send two hundred pounds of rocks flying 200 yards through the air with devastating impact.  From April through September weekends, costumed guides demonstrate various crafts and weapons.
Stroll through the shattered ruins of what had been the inner fortress that controlled the surroundings for 100 miles.   Not many walls are left standing here, more like bones and foundations, so use your imagination and learn some history from the free audio guide that comes with your entrance ticket. Notice several caves were carved into the limestone to create additional living space. The citadel has a steep staircase you can climb up, but not for the faint of heart or those afraid of heights. At its top you have a nice view of extensive olive groves reaching to the distant Alpilles Mountains, from Aix to Arles on a clear day. 
A vast, barren plain extends 200 meters south end of the plateau, flat, empty and windy, which it might not seem alluring, but walking across it to the precipice can be thrilling when you reach the edge.  Views across the vast landscape reach to the glimmering Mediterranean, making a majestic spot for a picnic along this white limestone fringe, if you don't get blown over by the mistral. However there is no food available for sale inside the castle grounds, so you might want to bring your own supplies.  Also they do not allow reentry – once you leave the site that's it, therefore you cannot go out and get some food and come back in again, so be prepared.
It seems very peaceful now, but centuries of violent history saw battles rage back and forth, with attacks from Barcelona in the Catalan area of what is now Spain to the west, and various invasions from the Eastern side, and Saracens coming up from Africa. The history is as extraordinary as its situation. It was not only a city, but an empire in which the island of Sardinia, to say nothing of places nearer home, such as Arles and Marseille, paid them homage.
Barons of Baux were among the most powerful lords of the land, and acquired great titles and possessions, being in turn the Princes of Orange, the Counts of Provence and Kings of Arles, but by the 15th century they had been defeated and their fortress destroyed.  There was an effort shortly after by Good King René to renovate and rebuild, which was quite successful.  The final blow that destroyed the castle came in 1632, when Cardinal Richelieu led an army that leveled the walls, in response to an ill-fated Protestant Huguenot rebellion stirring throughout southern France.  Richelieu was de facto leader of France in the reign of Louis XIII, increasingly concerned with the power of the Southern knights and the new religion. Richelieu subsequently ordered destruction of all fortified castles throughout the nation, putting an end to the lingering feudal order. Following this disaster, in 1642 the French struck a deal with the rulers of Monaco, which at that time was much larger than today, and gave Les Baux to Honoré Grimaldi, Prince of Monaco, and it remained in the possession of the House of Monaco till the revolution of 1789.  Throughout the 19th century Les Baux was nearly abandoned and the fine mansions fell into decay, until rescued in mid-20th century and restored to the historic site we enjoy today.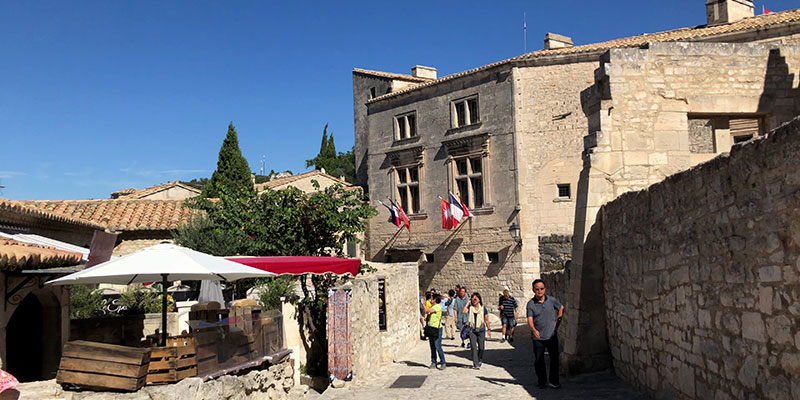 After you've completed the visit you can walk back through town again to get out to the main entrance. Even if you've walked up in one direction it's always nice to observe as you walk back in the other direction – you're going to see new things each time. 
If you missed the great view looking down into the valley when you were coming up the lane towards the Château, be sure to detour over to catch look at it now. Turn left on Rue des Fours to the viewing terrace just by the main church of Saint Vincent.
Walking back down the main Grand Rue past the shops is probably the most interesting route, but you might try a scenic alternate along Rue de la Calade, with more views across the valley. This leads to Place Louis Jou where you'll find the free Musée des Santons, exhibiting a collection of the little folk-art figurines so characteristic of Provence, with added items from Naples.  Open daily in a historic building that had been the Town Hall in the 17th century, this is one of several little museums tucked away in Les Baux that could keep you busy, including Fondation Louis Jou and the Yves Brayer Museum, celebrating those local artists.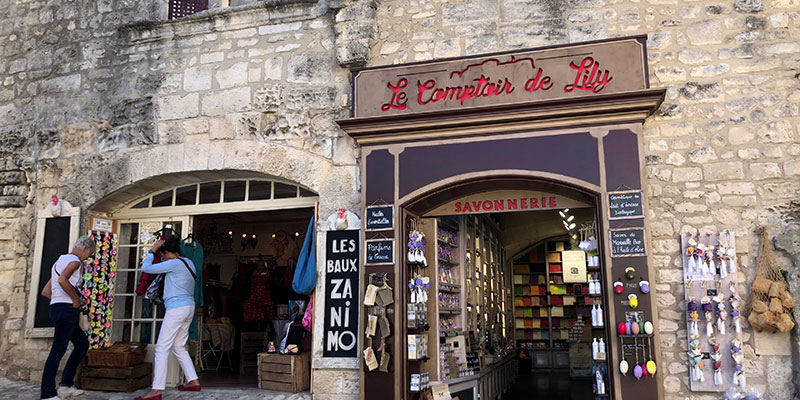 An alternative exit from town is a side gate from Rue de la Calade, the Porte d'Eyguières, leading down to the Fontaine Valley, the best route for those who parked their cars down along the valley's streets.
Most visitors either arrive by tour bus or park in the paid lot at the main front entrance for 5 euro, but for those who want to save money there is parking along the valley roads.  It can be a very long walk, especially at busy times.  If you are staying in nearby Arles or Avignon and would rather not drive, tour companies provide excellent service on a day-trip including visits to Pont du Gard and St-Remy. Either way, driving through this unusual Alpilles countryside is a large part of the pleasure of the day's outing.  Upon arrival or departure there is a great overview of Les Baux from the hilltop on the other side of the valley, which gives you the best perspective on this eagle-nest city, a good way to begin or wrap up your visit.
Useful websites:
Official Tourist Information site
also
http://www.beyond.fr/villages/baux.html
http://www.provenceweb.fr/e/bouches/baux/baux.htm
videos:
The village:  http://youtu.be/kWDcCZ6cS6o
The Château:  http://youtu.be/fhTZXM2Ce6I
And:
http://www.youtube.com/watch?v=LxpUdhU7BfM
and 3-screen multimedia:
http://www.youtube.com/watch?v=FUDh3hkz1WY