Mount Titlis
Mount Titlis is one of the most scenic and popular destinations in Switzerland, high in the Alps. It's an easy day-trip that can be done in six hours. The best way to get there is take the train to Engleberg, then a cable car to the top.  Alternatively, you could drive if you have a rental car, or you could come up by tour bus. There are package tours that you can purchase ahead of time, or in Lucerne, but we always find that the nicest way to get there is by train.
It's good to get an early start, so leave after breakfast and then you can get back to town perhaps by 2:30 in the afternoon. The train station is easy to reach from most parts of Lucerne in a five or 10 minute walk. When you reach the Lucerne train station, avoid the busy road in front by going down an escalator to the lower level, then walk through their little shopping mall, with a variety of sundries and foods available here. Then return up other escalators to the tracks at ground level where you'll see the signboard with the train schedules and departure platforms.
The train station is a modern and functional building, which also has one of Switzerland's most popular vegetarian restaurants, Tibbits. You can purchase your train ticket at the office one flight up from ground level, as well as the ticket for the cable car that will bring you up to Mount Titlis and then back down again. If you have the Swiss Travel Pass there is no charge for the train ride and you get a discount on the cable car.
Altogether it takes about two hours from Lucerne to the top of Titlis: 43 minutes for the train, and one hour to walk to the cable car and ride up. Then you spend about one or two hours up top and two more hours coming back down to Lucerne. A good plan is to catch the 8:41am train and then about six hours later you are back in town, about 2:30 or 3:30. There is one departure every hour to Engelberg and of course they famously run on schedule.
The first 15 minutes on the train is through suburbs of Lucerne, which have been steadily growing in recent years with more housing, but it's still a small city, population under one hundred thousand, with a quarter-million in the broader metropolitan area. Garden plots for flowers and vegetables surround many apartments. Towards the beginning there are a couple of briefs view of Lake Lucerne as you are riding along, then you'll soon be in the majestic countryside.
After leaving town the scene transforms to rustic green fields and mountains. You are going to see many cows in the pastures and miles of green fields covered in grass and clover, the silage they are growing for animal feed. They harvest the cuttings and roll it up in white plastic wrapping and store it for the winter.

Farmers will be out cutting the grass, stacking up wood, and other related activities along the way. They are able to get three crops out of one plot of land during the season, which they fertilize by spraying cow manure, so their dairy production is an organic closed-loop. You might be 'lucky' enough to smell that fertilizing operation. The Swiss contented cows enjoy their outdoor pastures throughout most of the year and that's one of the reasons they produce such great cheese and milk chocolate.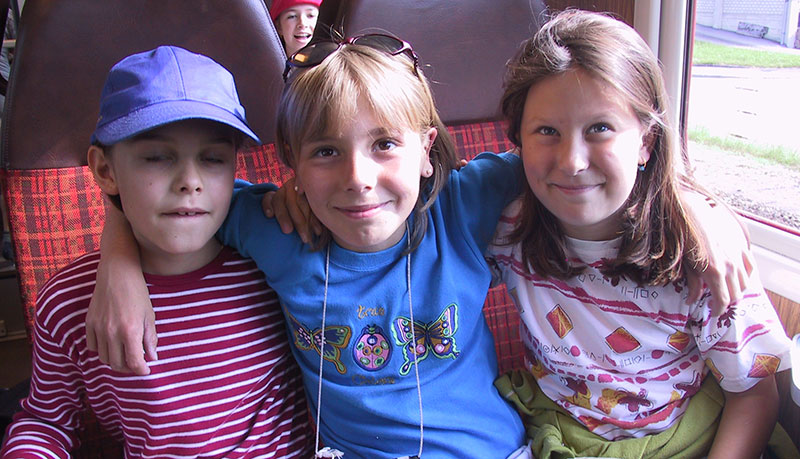 One of many great things about traveling by train is that it's very easy to strike up conversations and you'll run into all sorts of international travelers. The train does stop 3 or maybe 4 times along the way, picking up a few people, or droping them off. While the train is quite comfortable, it is narrow-gauge, smaller than the intercity trains or international trains.
There are various hiking trails along the way, and some activity centers. One of the famous recreation centers is Wirzweli, very popular with the little kids. You might see groups here getting off, and there is a van that will shuttle them up to their mountain plateau. It's about 1600 meters above sea level and there's a lot of activities for young and old up there. Nature, relaxation, real good times year-round.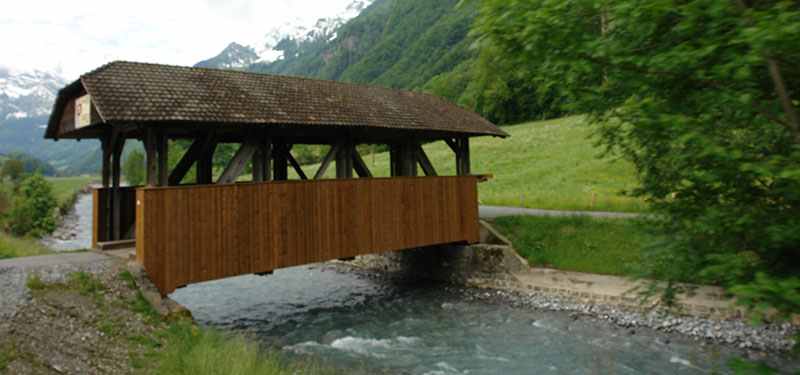 You might even see several covered wooden bridges, and a parade of cows along the main roadway, and other farming activities. Stay alert looking out the windows and you'll have lots of photo opportunities. Look for the little round church with its onion-dome steeple and mountain backdrop which offer scenic highlights. Most homes are built in that traditional chalet style with the wooden architecture and a steep roof to keep the snow off. The larger buildings are usually multifamily.
You'll have a second look at the same scenery on your way back after visiting Titlis because it's the same train track round-trip ride. However, you might be a little tired after the Titlis excitement, so it's best to pay full attention on the way there, especially if you have good weather because it might get cloudy or even rain on the way back.
I've done this beautiful excursion about 25 times and never get bored of the majestic scenery. Getting to Titlis is half of the pleasure of the day. It is also a lot of fun running around in the snow on top, but this journey is one of the more scenic rides in Switzerland. Don't look at the train ride as just simply a necessary burden of getting to Titlis. You want to take full advantage of that beautiful scenery out both sides of the train as you go.

Slide the train windows down for your best photographs and view so you don't get any reflection of the window glass in your picture and also you get a more unobstructed view. If it's too cold, then you've got to keep windows up for courtesy to other passengers but usually between spring and fall, it's fine, pull them down. Sometimes a more dramatic vista can be gained if you'll just stick your head out the window and look forward -- just don't lean out too far.
Close the window when going through the few short tunnels, to block the noise and odor. If you paid the higher price for the first-class seating you might find the windows don't go down, because it's an air-conditioned car, whereas second-class is better because the windows usually do slide down, giving you better access to that good shot, and you'll save some money. The facing seat arrangement on this train is nicely set up so that you can have conversations and make some new friends along the way.
A small river flows along the train tracks, which did cause a problem some years ago. There was a big flood that washed out some of the tracks, but the Swiss rebuilt the train tracks and created a much smoother and faster ride. They also got rid of the steep section of track, which required use of the rack system for traction, by drilling a tunnel through the mountain with a gentler gradient. There is one very tall waterfall along the way, and there are some large water pipes coming down the side of the mountain, with dynamos inside generating electricity, ending up at an electrical substation.
There is a footpath that continues along most of this routing, so you could walk along the stream and explore some side trails. There are some other cable cars that will take you up the side mountains, providing another option. If you've got all day, you could walk it, with constant views of the river.
As the train gets closer to Engelberg the mountains grow higher and you'll see quite a bit of snow up top, where you'll get the first indication regarding visibility at the top. Curiously, the best scenery is in the final moment rounding the bend coming into Engelberg, however after watching an hour of scenery go by you might be a little jaded and miss the grand finale.
Then we level off and get to Engelberg station at the end of the line, so there is no great rush to get off the train, which is going to be parked here for quite a while. All passengers leisurely get off and walk along the short platform of this small station, appropriate for a country town. You change from the train to a cable car at Engelberg and ride up Mount Titlis, about 10,000 feet high. You want to be prepared for some cold weather because it will be freezing, with a glacier on top and guaranteed snow on the ground.
Engelberg is a ski resort in the wintertime and it's a year-round destination because of Titlis. It's worth taking a brief look around this small town later, but the priority now is to get up Mount Titlis as early as possible for best chance of clear visibility. There's a post office in the station if you happen to need some things mailed out. typical of the Swiss postal services, they sell packing boxes right here in the stationery, which is handy for the traveler. There is a pay toilet at the train station, but if you can wait, toilets at the cable car lobby are free.
You could take a free shuttle bus from the train station over to the cable car which would save a little time, because the distance is 800 meters or about 1/2 a mile. It is an easy, level, lovely walk, but take a look in front of the train station and if the bus is there you might as well hop on. However, after sitting on a train for an hour, it's good to walk, get out and stretch your legs, get some cool fresh mountain air, and walk over to the cable car if you like.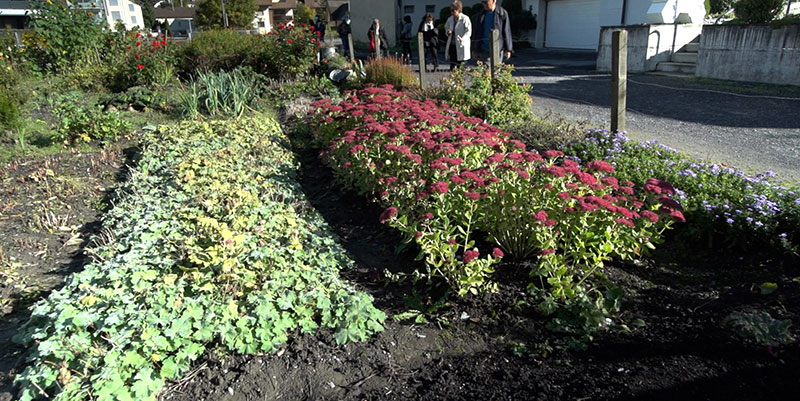 The 10-minute walk is especially pleasant along the stream and passing gardens with vegetables and flowers. You can see the cable cars going up the hill from the road, and then you walk directly into the Titlis Rotair cable car lobby. It's a relatively new facility they've created with escalators and bigger cable cars that easily hold 6 people for the nice smooth ride, changing cable cars only once.
Your main hope is for clear weather because the mountain view is the main reason for this trip, looking into the central Alps of the Bernese Oberland. Sometimes it's partly cloudy and you wait 5-10 minutes for the clouds to part, but you'll almost always have a very nice view. On a good day, you can see all the way to the Jungfrau, which is in the middle of the Swiss Alps.
Regarding the weather, you never know if it's going to be clear or cloudy at the top until you get there, because conditions in the mountains change very quickly. Even if you check in the morning from your hotel, you ask the desk clerk, they look at their live computer view, or they might call the mountaintop, these conditions can change radically. Within 15 minutes visibility can go from very cloudy to clear or vice versa. I have experienced days when it was gloomy and raining in Lucerne, but crystal clear on top of Mount Titlis, so just take a chance and go for it. You might get that exquisite thrill of starting the cable car ride in cloudy overcast then breaking through into bright sunshine halfway up the mountain.
Conditions vary with the seasons. For example, if you're visiting in the month of May, the ground might be covered with snow, or you might have only snow at the top with the glacier. You'll find out when you get there. But one way or the other, you'll nearly always have wonderful views.
After getting your ticket, enter through the gates and walk along to the cable car loading area. In the first segment going up you'll reach an intermediary landing stage of the cable car and at that point you'll see they've got some scooters available, which you can ride on the way back down the mountain after finishing your visit.
Then change cable cars to the bigger one, which can hold as many as 80 people standing. This is the world's first rotating gondola and rises in elevation from 3500 feet in Engelberg all the way up to 10,000 feet at the top of the mountain. If it is a very clear sky at this level, that is a great sign that you're going to have excellent visibility to see deep into the heart of the Alps at the top. Sometimes you'll have skiers on board because there's always snow at the very top and the ski season is quite long here.

With this round shape of the cable car, it seems like everybody can get a good view and get a piece of that window looking out. We will reach the top of Mount Titlis in about four minutes time, finding that spectacular payoff that we've come to see, mountains covered with snow.
Upon arrival at the top it is easy to just follow the crowd off the cable car and into the pavilion, and then take an elevator up a few flights to the viewing platform. At this altitude the air is a little thin, so you do not want to walk quickly up any staircases. Hardly anybody ever has any problem with altitude sickness on this visit, and it helps that your blood still has a residual oxygen to make you feel normal during these few hours of your visit.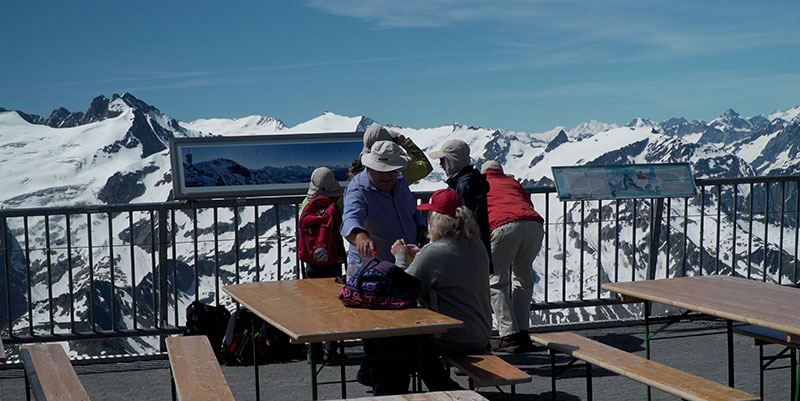 Your first goal is to go on outside to the open-air terrace, which provides some of the best views of all into the mountains. When you come out on this terrace you will be dazzled by the rising slope of snow in front of you but be sure to take a good look from the back of the terrace towards that distant mountain range, where you can see right into the heart of the Swiss Alps, the Bernese Oberland, the center of the country.
They call it a massif, and the mountains here are mostly 12,000 feet high, even 13,000 feet high. The most famous ones in the far distance are the Jungfrau, Munch and Eiger, which you can identify with the help of the labeled diagram at the railing.
When you're at the top of Titlis it really only takes one hour to see the sights, but there are various attractions that could keep you busy for another hour or two, including lunch, finding different viewpoints, a cliff walk, and the Ice Flyer cable car. Of course walking on the glacier is a big part of the fun here when you're up at Titlis.
The facility has four levels, including a restaurant, cafeteria and shops. They make it very comfortable to be able to enjoy the wild environment of a snow-covered alpine peak in such a civilized way, where you can enjoy the mountain view while sitting at the outdoor terrace sipping coffee or hot chocolate, and maybe some apple strudel.
The deck functions something like an outdoor living room with its comfortable seating, its benches and tables, and there are railings on both sides, so you have access to the interior restaurants as well as walking out on the snowfield from here. The terrace is really a central focal point of the entire experience up here at 10,000 feet high, providing the best single viewing point for looking into the peaks, and also a terrific place to take your pictures. When taking pictures of your friends, or a selfie, be sure to hold your camera up high so you can see the mountain behind the people.
You can walk right onto the glacier from the panorama terrace and frolic in the snow. It's cold enough that the snow never melts, but in the summer with typical sunshine you're going to feel comfortable with just a light jacket. Because Mount Titlis is the highest peak in the area there is a huge telecommunications tower up on top of it.
Surprisingly, it is usually not too cold except in the winter, especially when sunny, despite snow all over the place. It feels like about 38 degrees, 39 degrees and very comfortable. It's a glacier, so the ground is freezing, there's snow on the ground even in the summer. It might even be snowing, even in April or May. You don't even need a heavy jacket but do bring about 3 or 4 different layers of clothing, so it will be comfortable and pleasant.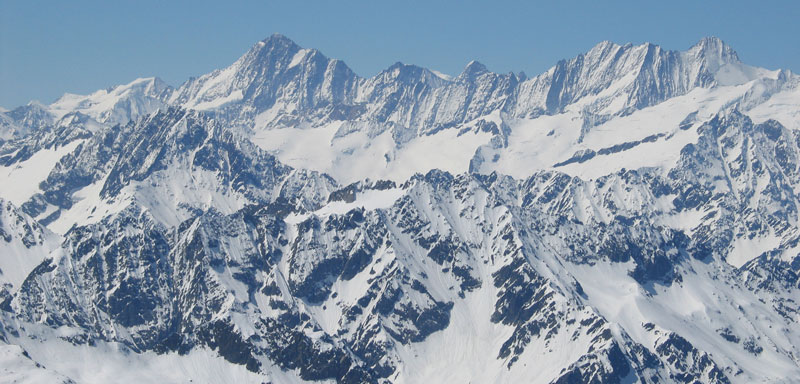 If visibility is not so good when you first arrive, wait around because it'll probably clear up. The weather changes rapidly on the mountaintops. Sometimes the clouds only open for a few minutes, dramatically revealing the distant alpine peaks, so be sure to keep your eyes on that and have your camera ready.
One of the most exciting attractions is called the Titlis Cliff Walk, at the far end of the snowfield a couple hundred meters from the observation terrace. It's a pedestrian suspension bridge that gives you dramatic views looking all around, and even straight down 500 meters beneath your feet.
It's claimed to be the highest suspension bridge in Europe and there is no extra charge for walking on it, so take advantage. It opened at the end of 2012, after taking 5 months to build and has become a most popular attraction, sometimes called the world's scariest bridge. It's really a little spooky for people who are afraid of heights, because it is an open, metallic, but sturdy walkway, where you are just suspended between the peaks.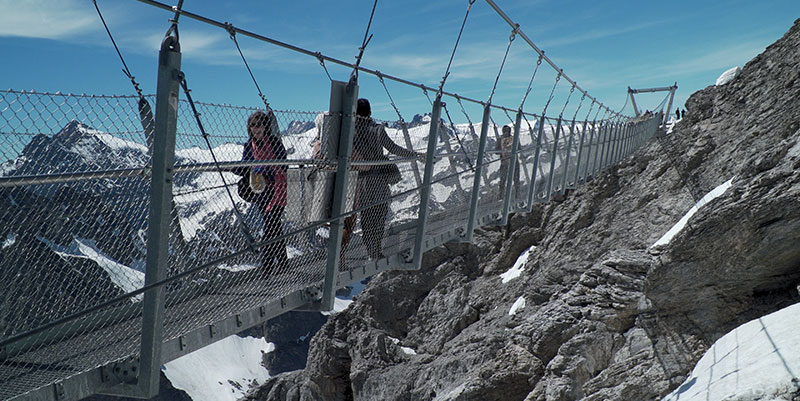 This bridge is so popular that the concept has caught on and expanded throughout Switzerland. Now you find quite a few of the mountain peaks that have an attached bridge or outside metal walkway to give you some added thrills. It's opened access to some previously inaccessible vistas with a relatively minimal effort, offering views that are slightly different from the main viewing platform.
You could take this staircase down inside the glacier, walking through the ice grotto we shall see shortly, but on the other hand, you could just turn around and walk back along the sky bridge and back out onto the snowfields for some more fun on the glacier.
You can slide down the snowy slope on your butt if you like. Some people grab a piece of plastic or cardboard and if you feel adventurous there's an inner tube ride that you can get to if you ride down on the Ice Flyer chairlift to the lower sledding area. You can also ski up here. Even in the summertime they have a summer ski school, and in particular in the wintertime, there are many ski runs all around the mountain village of Engelberg.
With all the different activities you can enjoy up here, the best parts are enjoying the views, walking on the snow, and then going inside the glacier. We are standing on a glacier, which is a river of ice and compacted snow, and thanks to the clever engineers, you can walk inside the glacier through the ice tunnel.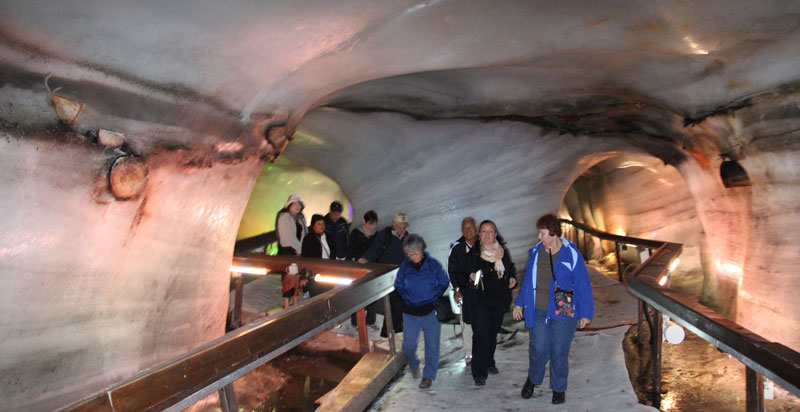 It's an ice tunnel they call the grotto which they have carved into the glacier itself, with colorful lighting inside and some ice sculptures. It is great fun and very safe with secure footing on a nonslip rubber mat. You walk in the tunnel which goes around in a small loop circle that only takes a few minutes, so be sure to look for this ice grotto while exploring that complex of cafeterias, cafes and gift shops up on the mountaintop.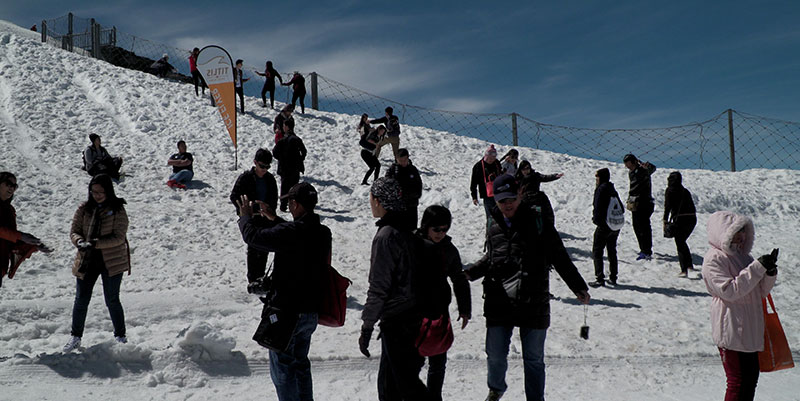 As you have seen there's a lot to do up on the top of Titlis, so you could easily spend two or even three hours up here, especially if you're going to have a meal. But if you're a little pressed for time, one hour can do it. Get out there, walk around, take your pictures, and ride the cable car back down the hill.
For some more fun on the cable car trip down you can get off the gondola at the next-to-last stop and rent a scooter to coast down the final mile. It is just a simple standup foot scooter. You hold onto those handlebars with both hands and it's a wonderful ride. It goes around zigzagging down on the road, which is at times a gravel road, a dirt road, but mostly it's paved. So it's really quite safe, quite fun. You've got good brakes with these scooters so you can slow down you can stop, take a picture. Don't try and take any pictures while you're moving because you've got to keep both hands on the handlebars. And wear that little protective helmet that comes with the rental.
For a slightly longer scooter ride you can walk over to the Untertrubsee station and whiz all the way down Engelberg. No pedaling required. Just hang on. The rides are offered between May and October. If you're here in the wintertime you can rent an electric snowmobile, riding on a closed track.
It's so easy to ride the scooter you'll catch on within a minute so that you can enjoy the ride and look out at the nice views as you go gliding by. Then return your scooter at the bottom and walk over to Engelberg.
You can be back down in Engelberg by 2 o'clock, catch the train and be back in Lucerne by about 3 o'clock. One train leaves every hour. Check the schedule, perhaps at the station before you go up to Tillis, that way you can time your visit and arrive at the train station in relaxed style to catch the train.
ENGELBERG
If you just missed the train, or have some extra time, you can take a walk in Engelberg town and maybe grab a bite to eat. You'll find that Engelberg has some pretty little gardens, nice houses and spectacular mountain vistas. The village center is just around the corner from the train station and it's quite pleasant.
The main street is for pedestrians, just a few hundred meters long. There are several bakeries and convenience stores that offer sandwiches to go. You can get a meal and then go catch your train and have lunch while you're traveling from Engelberg back to Lucerne. That'll save you some time, because you're probably quite hungry by now and you do have that one-hour train ride, so that's a good opportunity to both travel and eat.

Or if there's enough time in Engelberg itself, there are some nice restaurants where you can sit down and have a good meal, such as the Spannort Hotel and Restaurant, except some are closed between the middle of April, all through the summer, and reopen in the middle of November. It's a winter resort area mostly for skiing up here in Engleberg. But you'll certainly find other restaurants and outdoor cafes and sandwich places here or do a little window-shopping to poke around and kill some time waiting for your train.
You could even spend a few days here in Engleberg. There are some hotels open year-round, and in summertime, there's hiking. They've got 500 kilometers of hiking trails, and in the winter it is the largest ski resort in central Switzerland, with 14 ski lifts and 82 kilometers of downhill skiing.
When you finish with Mount Titlis you return to town the same way by train, enjoying the scenery a second time in reverse, or maybe you'll be taking a snooze. Scenery always looks just as good if not better the second time around. You're going in a different direction, seeing it from different angles, and perhaps the weather is better this time going back than it was coming up in the morning.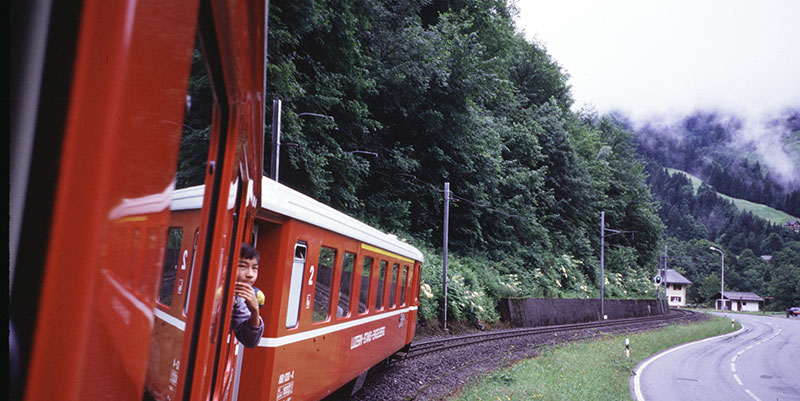 If you're following along with the schedule you're arriving back in Lucerne in midafternoon about 2:30 which gives you time to either relax in town for the rest of the day or head out for another excursion. And that wraps up our grand visit up to Titlis from Lucerne.
Be sure to consider the other excursions we suggest to Mount Rigi, Mount Pilatus and Bürgenstock.
Summary video of arrival in Lucerne, Old Town and Titlis