Sirmione
Lake Garda in the north of Italy, near the Alps, is the largest lake in the country and it has two dozen beautiful villages around it. One of the most interesting is the fortified town of Sirmione.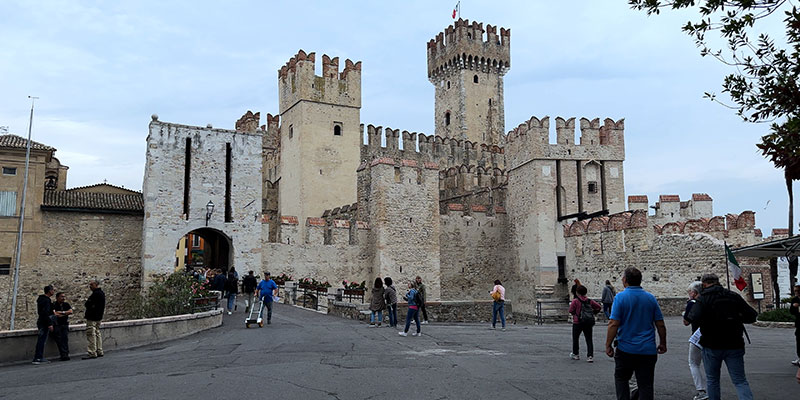 The first thing you see upon arrival is the impressive medieval castle. You enter the town, crossing the drawbridge and through a fortified gate, a dramatic way to begin our visit. Later, we will take you inside the castle and climb to the top of that tower for a grand view.
But first, we're going to walk around the village and enjoy its charming pedestrian lanes. Right away, we're at the Castle Piazza (Piazza Castello), one of several lovely little piazzas in this village, which also has some beautiful lanes for strolling, shopping and eating.
Intriguing little alleyways, tunneling through the buildings, connect the various streets and piazzas, adding another element to Sirmione's charm. Shoppers will find many tantalizing opportunities. Sirmione is on a narrow peninsula jutting into the lake, so you'll have some pleasant waterfront strolls.
And yes, there's a beach at the peninsula's north end. In addition, there are ruins of an ancient Roman villa, one of the largest Roman archeological sites in northern Italy, as you'll see after we visit Sirmione town. The castle and town seen from above give you a nice overview and show how compact the town is. Just 400 meters long and 200 meters wide, with several little waterfront piazzas that are quite inviting along with charming pedestrian lanes, as we'll show you in a moment.
The town is on a narrow four-kilometer-long peninsula that juts out into the lake. It's been compared to a jewel on a wand because of its unique location. It played a special role in defense of the lake, as we'll describe later when we get inside the castle. Simply strolling around, enjoying these beautiful buildings and the location on the lake is probably one of the most enjoyable activities in your visit to Sirmione.
This was photographed in October, when the weather was still very nice. It was never cold, hardly any rain and no crowd. It was wonderful. You could get a seat in the restaurant. No problem.
Along with that fantastic Italian cuisine, there are a handful of beautiful piazzas lined with restaurants that go right down to the waterfront, which gives you a chance to go out on the dock, take a boat ride, or just enjoy the scenic vistas along the lakeshore. It's always enjoyable to watch the ducks and swans swimming around by the dock, looking for food, and establishing the pecking order.
Piazza Giosuè Carducci is the main piazza of town with the most beautiful gardens and is lined with many excellent restaurants and the dock where you can get your boat ride. Then it connects right back into the pedestrian lanes of town, offering many opportunities for gelato. Via Vittorio Emmanuele is one of the main connecting lanes of town joining these various piazzas and streets together, sometimes going through tunnels under buildings, creating a wonderful experience of walking with ancient buildings up above. They have a shuttle van service from various hotels that will bring you to the parking areas outside the old town.
Sirmione has narrow meandering alleys and cross streets like Via Santa Maria Maggiore and a couple of main lanes as we'll show you on the map. It's easy to find your way around because there's just one main street, a second parallel lane, and then a few cross streets. When you see cats walking in little side alleys, you know this is a peaceful and quiet town.
Meandering lanes lead down to piazzas and the waterfront, as we'll show you in a route that you can easily take with a few hours of leisurely strolling and looking around, taking a break, having something to eat. It's easy. This town is small enough that you could see it in one day or perhaps even half day as we're doing. And then you'll have time to take a little boat ride and visit a couple more villages.
One of the main lanes connecting these cross streets becomes a tunnel, occasionally going underneath buildings and quickly connecting one piazza to the next. You'll notice that gelato is a very popular item here. Piazza Flaminia is one of the largest open spaces with restaurants along both sides and easy access to the lakefront. So you have some nice views out across the waters and many restaurants are great places to sit at the water's edge for a nice view. Along with several fine restaurants on Piazza Flaminia, there's an excellent small Hotel Catullo which extends across to the next piazza, a three-star property that gets five-star reviews, complete with a waterfront restaurant. Waterfront Hotel Pace also has a restaurant extending out over the lake.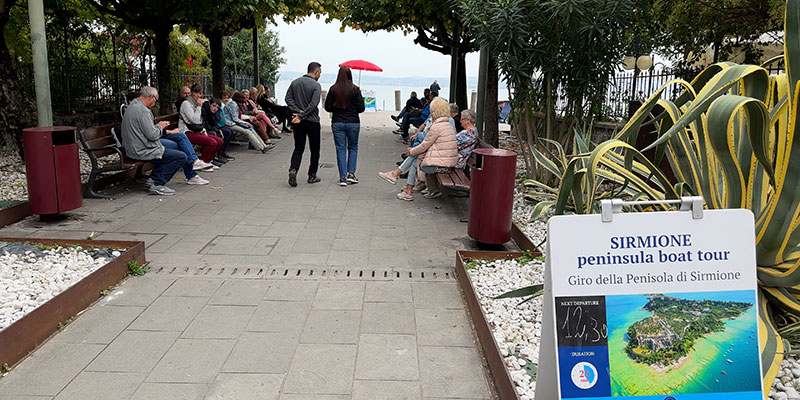 The next piazza over from Filomena is Porto Valentino, also with more restaurants, of course, and a couple of little hotels and apartments for rent. There is a dock at the end where you can join a scenic boat tour that goes around the peninsula, which is a highly recommended excursion, giving you some spectacular views as we'll show you towards the end of the program.
Even though you could visit Sirmione on a day trip, by now you might be thinking the place is so beautiful and peaceful and relaxing, that it would be nice to spend a night or two and you're right. Then you could visit other nearby towns on the lake, taking advantage of the lake ferry system, which visits 16 towns all around Lake Garda and takes about two and a half hours to go from one end of the lake to the other.
Many people feel that Sirmione is the prettiest, but each town has its own charms, which is why Lake Garda gets more than 22 million visitors annually -- yet another reason to come in the shoulder seasons of spring and fall like October as we're visiting now. You will love it.
We have reached a major intersection where the two main parallel lanes come together. You might call it the crossroads of Sirmione. We've been walking primarily on the main via Vittorio Emmanuele, and now we're going to shift over for a bit to via Giuseppe Piana. This lane is shorter and has fewer people, but it still has shops and cafes. So if you want to get away from that crowd, come over to Villa Giuseppe Piana. Everything is close together here in little Sirmione, so our total walking distance has just been about one kilometer.
There's a manicured garden with a path connecting our two main parallel lanes. In addition to walking on the main street, you'll want to get out into those little side alleys and do some more exploring. That could take you more than a day. Now we've turned around and are heading south on that main street, via Vittorio Emmanuele, looking for more views of the lake. The waterfront on this side of town does not have a path that runs along the shoreline, but you get easy access to the water by walking through the piazzas or sometimes by walking through a little shopping mall, a good place to find some souvenirs, stop for a snack, then look for that sign that says Vista Panoramica. And if you know which route to pick, it'll bring you to the water.
Hang around, enjoy the open spaces, and then walk back into the main lane via the next piazza. And there are several lovely hotels right on the waterfront, some with a dock where you can jump in the water and go swimming, a popular summer activity, not in October when we're visiting. The weather was nice but too cold to jump in the water. They have natural hot springs here that you can enjoy in several spas.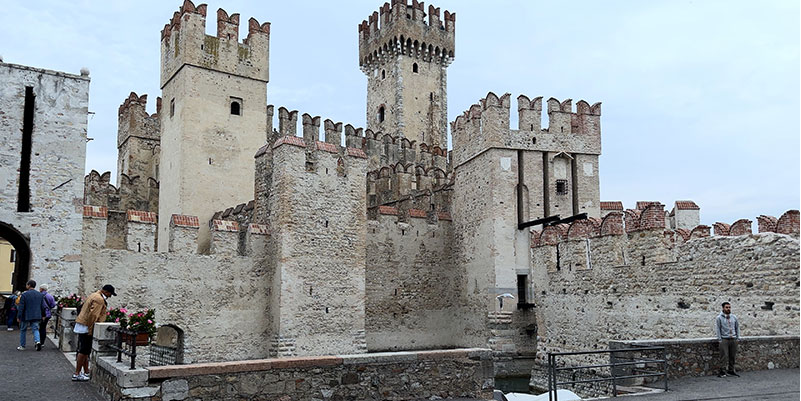 Scaligero Castle
That completes our main walking tour of the village, and now we have something that's perhaps even more exciting, the medieval castle built back in the 13th century. It's one of Italy's best-preserved ancient fortresses and ranks among Italy's top 30 visitor attractions.
It's cliche to say we're stepping back in time, but that's what's happening when you enter the courtyards, plazas, and battlements of this amazing structure with its great tower rising high above. And we are going to climb to the top for a fantastic view.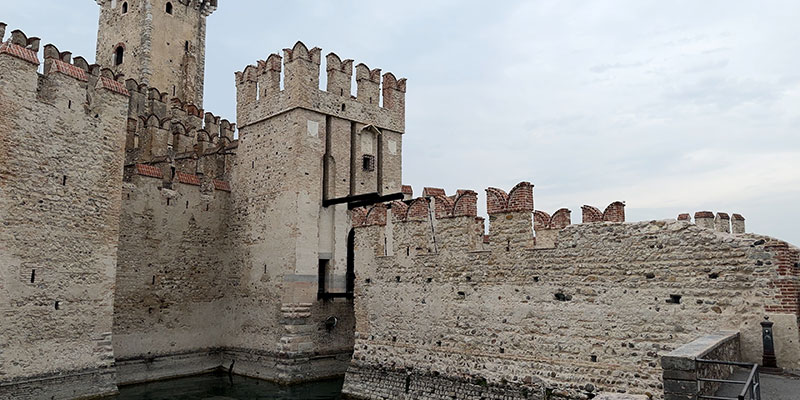 Notice the fortified entrance, which was always a weak point in any castle. There's a drawbridge and a barbican around it -- that's fortified walls along both sides of the drawbridge, which we can see more clearly from the outside, so defenders could shoot down anybody trying to attack.
Walking across the drawbridge with those high walls on both sides protecting the entry, we get into the castle's main courtyard. The tallest tower will be considered the last bastion for defending the leader of the fortress, later used as prison and judicial chambers. But it's easy for the visitor now to gain access to the upper levels because there is an excellent staircase constructed that will bring you right up there.
Castle slideshow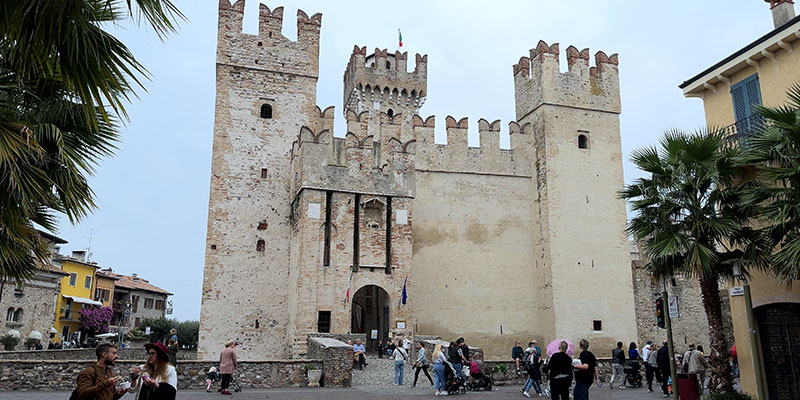 It's exciting to walk along the ramparts, passing the swallowtail crenelations and slits in between for crossbows and guns, which give you excellent views looking down at the town. Not only does the visit thrill you with the castle's interior, but also the views you get looking off into the distance across these clay tile roofs of ceremony. You can walk all the way around the ramparts at this upper level of the castle.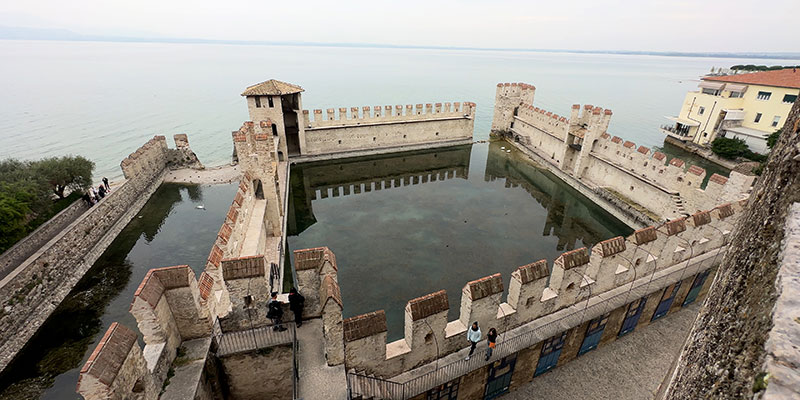 When you get to the other side, you look down and might be surprised to see a fortified harbor. These internal docks are the only surviving Italian example of a 14th-century fortified port. We'll see more views of this picturesque fortified harbor after we walk back down the staircase. It's easier going down, bringing us back into the castle for further explorations. The crenellations, with their swallowtail shape were like a stone forest that provided shelter for the defenders who could shoot out at the attackers from the protected gaps.
This fortification protected Verona from any attack by Milan, which controlled the opposite shore of Lake Garda. We are at the northern end of the Sirmione Peninsula, which is separated from the mainland by that water channel, the small boat harbor makes Sirmione an island. From here we can see all the way down the peninsula to the mainland.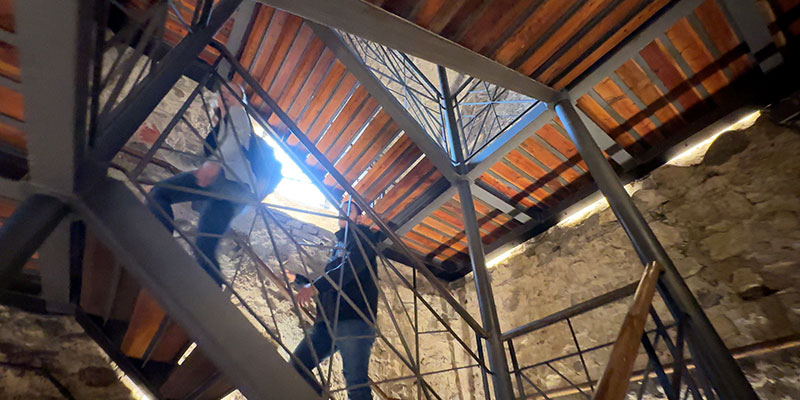 But we're not at the top yet, so you've got to keep climbing up more steps to reach the summit of the tower, which is 47 meters high. It takes about 150 steps to get up there from ground level, and you'll find the view is well worth it. You're twice as high as you had been on the ramparts of the walls.
Warfare between the competing city-states of Italy was widespread back in the Middle Ages, so castles played an important role. Sirmione was part of the feudal state of Verona, located just 40 kilometers away. And so the rulers of Verona are the ones who built this castle. They were called the Scaligieri, which is why we call it the Scaligero Castle.
The Della Scala, or Scaligieri family, who built the castle, ruled from Verona over a large part of the Venetian area from 1259 to 1387. Venice took control of the area in 1405, and the castle continued to be an essential fortification, with Venice retaining control until 1797, when Napoleon took over, followed by several decades of Austrian rule until Sirmione joined together with the united Italy in 1888.
Long before the castle was built, the first settlement here probably dates back 7000 years as a lake-dwelling fishing community. By 2000 years ago, Sirmione became important to the ancient Romans because it was on the main road that went all the way from Genoa in the west over to the Adriatic in the east, passing through Bergamo, Brescia and Verona.
Once you're back on ground level, you'll find more of the castle to explore. Walk through some arches and across the drawbridge in the barbican and through a doorway, through these impressively strong and thick stone defensive walls, then climbing a few more steps to get another view of that fortified harbor. It's believed that this powerful crenellated stone wall was further built up by the Venetians, who were masters of military architecture with fortifications all over the eastern Mediterranean.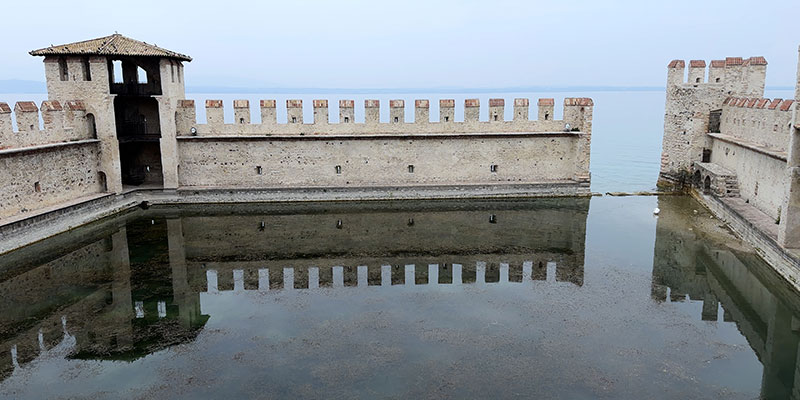 After the unification of Italy, the castle became the office of the local government of Sirmione. Restoration began following World War One in 1919, when it became a museum and tourist attraction, undergoing a major restoration in 2018. The castle has a dramatic setting with a moat around it and those tall quadrangular towers and fortified bridges leading to the entry. With a moat going all the way around it, the castle looks like it's floating, although others say it looks like it's sinking. It depends on your perspective.
We have just a few more things to see here, and then we'll take a boat ride around the peninsula. A street is named via Dante because the great poet lived in the castle for a short while after his exile from Florence.

In a few blocks we reach the parish church of Santa Maria Maggiore built in the late 15th century with a lot of gothic influence -- the nave with pointed arches above, five altars around, an impressive organ, various monuments and statues, with some beautifully colored fresco murals on the walls. Upon departing the church stroll past its northern wall.
Just beyond the castle, you'll find a beautiful garden and a path leading you to a scenic panorama view of the beach. If this were summertime time at midday, the beach would be packed with sunbathers and there'd be swimmers offshore. But we're here in October, so it's pretty quiet today. The path is a delight to walk on either at the upper level or down below, along the shoreline as we're doing enhanced with colorful bougainvillea growing over a solid stone embankment.
Our walking route takes us along the scenic shoreline, passing the pebble beach and then up around through the garden area and back down through the central lane on the way to catch the boat for our ride around the peninsula. This loop is just over one kilometer.
If you do not have a lot of time in your visit, you might skip this leg, especially if it's not summertime when you could swim, but it's a pleasant walk if you have enough time, which you should if you are here for most of the day. This small grove of very old olive trees reminds us of the role agriculture still plays in the region.
Along with the moderately priced hotels, there is one hospitality icon that stands above all the rest, the deluxe five-star hotel, Villa Cortine Palace -- in off-season, about 400 euros, in summertime about 600 euros, and closed from November through March. Too bad for us, we are not staying at that fine hotel, but instead, we're leaving town, going down to the boat dock for a ride around the peninsula.
Boat Ride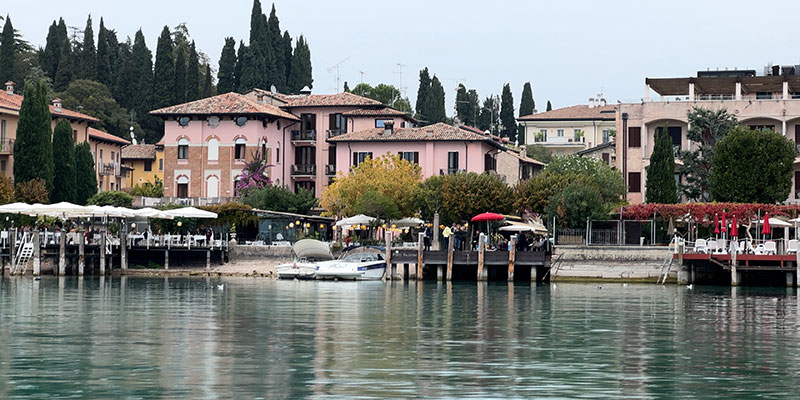 Lovely view from the water of the piers and piazzas that we had recently been walking through. Terme is the hot spring spa, and next to it is a row of hotels with waterfront views. You can do this same boat ride on the public ferry, but for my small group, we chartered a private boat.
Grottoes of Catullus
When we got to the north end of the peninsula, we had an amazing view of an ancient Roman villa, one of the most fascinating archeological sites in Italy that dates back to the end of the first century B.C. and occupied right through the end of the second century A.D. The villa is immense, stretching about 170 meters long and 100 meters wide, covering an area of about two hectares.
The ancient Romans were here 2000 years ago, including the poet Catullus, and 100 years after him, a grand villa was constructed in the ancient Roman style. We are viewing it on a boat ride that you could catch from the pier offering tours of Sirmione Peninsula. You can also walk to the site from Sirmione town.
Because these ruins are so old, very little is known about them, despite decades of archeological research. And so they have been misnamed as the Grottoes of Catullus, even though there were no grottoes and Catullus, the Roman poet had nothing to do with it. This colossal structure was characterized by long porches and terraces open towards the lake, including a swimming pool and a large cistern for storing water.
It is one of the most spectacular ancient Roman sites in northern Italy. And a great way to end our visit to Sirmione, a special place we completely enjoyed. And now, we're carrying on across Lake Garda to the town of Garda on the far shore that we will present you in a different page.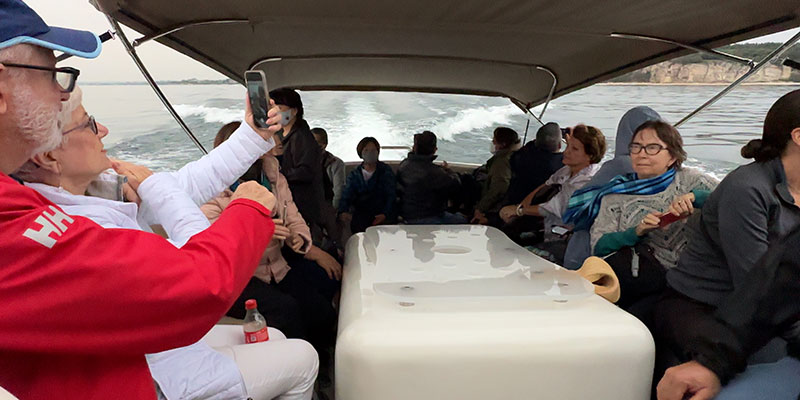 Sirmione google map