Connemara
We are heading out to Connemara in the west of Ireland, a region of scenic coastal views, rolling farmlands, open meadows, winding country roads and the big attraction, Kylemore Abbey, one of Ireland's great castles. This grand mansion was a former private estate, then a girl school, operated by Benedictine nuns.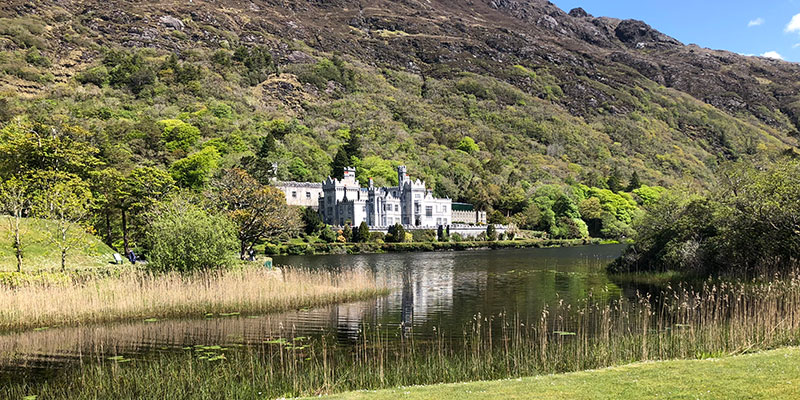 Kylemore Abbey has become the most popular visitor attraction in the west of Ireland, famous for its beautiful setting on the lake and extensive gardens all around—certainly one of the prettiest sights you can ever experience.
The Abbey is easily reached on a day-trip from Galway City, which makes an ideal home base for exploring the majestic attractions of this area, as shown in our Galway page. You'll find that Galway is a great town for strolling along its main pedestrian street with many shops and restaurants, including numerous pubs with live Irish music on offer. There are many fine hotels in Galway in a variety of price ranges to give you a good place to rest.
The route takes us north from Galway through the central part of Connemara, over to the west by Clifden and around the Sky Road and stopping, especially at Kylemore Abbey, and then returning on a slightly different route back to Galway. This will bring us to some of the best views in Ireland.
The van tour was provided by My Ireland Tours with our guide, Charlie Rutherford, who was absolutely magnificent. He was funny, friendly, knowledgeable, native Irish and very skilled driver to get us around to all sorts of extra attractions that surprised us every day. My Ireland Tours made all of the hotel arrangements, provided the driver-guide, and included admissions to various destinations.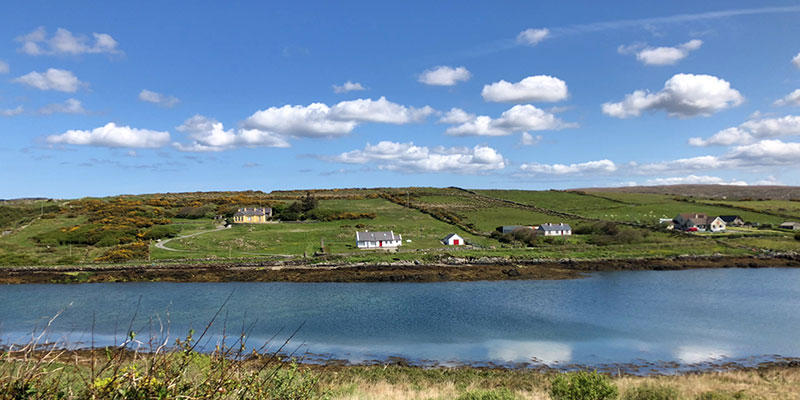 We are going to Sky Road, which is an exciting drive. There are good pictures to be taken along Sky, and from there we continue down onto Kylemore. You could drive this yourself in a rental car, but Irish drive on the "wrong" side of the road than most places. The roads are in good condition, altough sometimes narrow, so you might sometimes dodge oncoming traffic. It's generally very safe to drive, but letting somebody else do the driving is much easier. So that's where the small tour comes in handy.
Typical of the Connemara scenery, you'll pass lots of bogs and open meadows and lakes along the way and only a little traffic on the road or homes scattered across the landscape, but you will see several rural towns along the way. Moycullen is typical of small villages, with a few shops and houses scattered along the road, many of them with stone walls built around as you get further into the countryside,  with an endless supply of beautiful scenery. Oughterard is the next village we pass through. There's also the Connemara Lake Hotel here, a good base if you spend time in Connemara.
Then Charlie took us on another one of his scenic detours to visit a five-star deluxe castle hotel, Ballynahinch. If you go down the side of the castle and then around to the front, you can see thrilling views from there. Stopping at the castle gives us an excellent chance to get fresh air, stretch our legs, take a little break, and enjoy the scenic vista.
The hotel provides flyfishing lessons in the stream offered by the "gillies" if you're staying there. Set among 700 private acres, Ballynahinch was voted the number one castle hotel in Ireland by Condé Nast Travel magazine readers. Then back on our minibus to resume the journey. We're heading for Sky Road and Kylemore Abbey.
Of course, along the way, you want to stop in at some of the high-quality gift shops and have a look at Irish woolen sweaters and scarves and various kinds of handmade crafts available, especially here in Connemara, including a variety of jewelry made from the local green,  granite stone.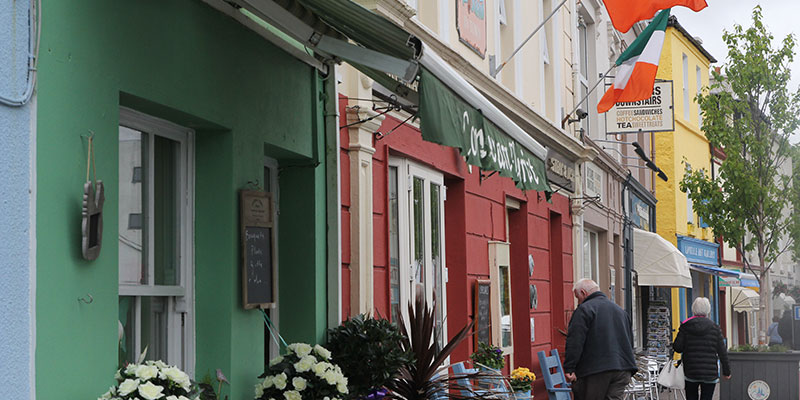 Clifden
We're driving down to the town that's considered the capital of Connemara, the town of Clifden. It's a quaint place, with wide sidewalks and many shops and cafes. We're here on a weekday in May, so it's not very busy. The area is also known for outdoor activities like fishing, golfing, horse riding, and water sports, making it an ideal destination for nature lovers and adventure seekers.
A shop called All Things Connemara has a wide variety of souvenirs, clothing, guidebooks, and also rents bicycles. Connemara is an ideal place for bicycle riding, allowing you to explore the natural beauty at your own pace. Cycle along the famous Sky Road, a scenic route that offers panoramic views of Clifden Bay and its surrounding landscapes. You'll be treated to breathtaking vistas of the Atlantic coastline and the Twelve Bens mountain range.
Located just outside Clifden, Connemara National Park is a vast expanse of mountains, bogs, heaths, and woodlands. It offers various hiking trails and stunning views of the Twelve Bens mountain range.
We continue driving just beyond the town of Clifden out onto the peninsula for one of the great scenic highlights of Ireland, the Sky Road. This scenic drive is a loop offering spectacular coastal vistas, including views of Clifden Bay and the Atlantic Ocean. It's perfect for a leisurely drive or a bike ride. All along the west coast of Ireland you'll find several of these scenic peninsulas jutting out into the Atlantic Ocean and the Sky Road offers one of the best vistas. It was fortunate to have beautiful blue skies, white clouds, and the scenes reflected in the water, providing one of the highlight moments of the entire Irish tour.
We did quite a bit of stopping and getting out of the van while driving through Connemara to enjoy the landscape, take a good look and snap some pictures. There are a couple of inhabited offshore islands. This routing is just 12 miles long and's part of the much longer Wild Atlantic Way that runs the entire west coast of Ireland.
Bagging our trophy photos to lock in the memories, we're back on our minibus and on the way again -- a stunning site with many stone walls and lush, rolling green hills dotted with sheep. He was driving very close to the shoreline with some wonderful views looking out into the coves. Next, we are driving through the little town of Letterfrack marking the end of the Sky Road, as we approach the main destination of today's itinerary.
Kylemore Abbey
Kylemore Abbey is one of the great highlights of Ireland, western Ireland's number one visitor attraction. This is a beautiful spot you should see if you are staying near Galway in your visit to Ireland. It does get busy, but it provides a serene and beautiful experience – a former private mansion, then a Benedictine Abbey, a private school for girls. Now it's a major tourist attraction because it's so beautiful here on the lake.
There's also a large flower garden spread out over 6 acres that we will take you through. There are two places to eat cafeteria-style with quick service and surprisingly delicious homemade foods, and lovely walking paths to explore the extensive grounds and stroll along the lake shore.

Probably the best part of the visit is simply looking at the Abbey across the beautiful lake. And you also get to go inside and tour the former mansion. A magnificent landscape garden has been created that for many visitors will be their favorite activity, half of which grows flowers and ornamental shrubs. The other half grows vegetables, fruit trees and has an herb garden.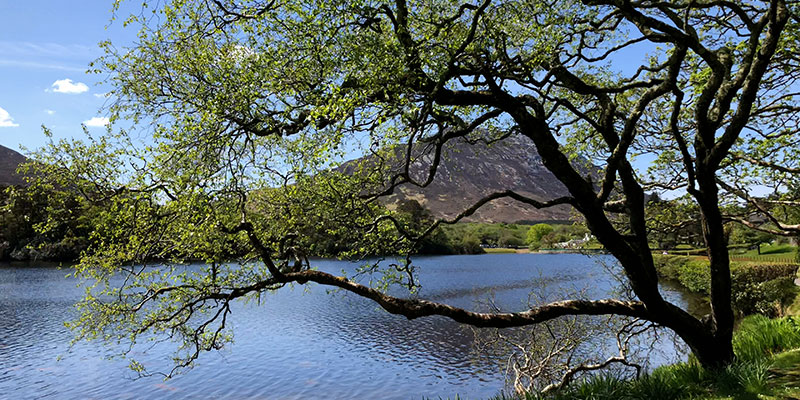 You could walk from the Abbey to the gardens, but it is about half a mile, so they provide a shuttle bus to bring you from the Abbey over to the garden walk. You can walk around and then take the bus back again. If you are riding the bus, be sure to have look out the window at that gorgeous scenery as you drive past a couple of small ponds with lovely reflections in the water.
Or if you're walking, you'll have that same view but from a more peaceful and slower perspective, so either way, getting from the Abbey up to the garden is quite a delight. There is no extra charge for the bus ride, for entering the garden, or anything additional inside. Your one admission fee covers all the attractions except for the restaurants and the gift shop. After a stroll in the gardens, return to the teahouse for some refreshments.
As their excellent website describes, the Victorian Walled Garden is an oasis of splendor in the wild Connemara countryside. First developed in the castle's early days, during the late 1800s, it once boasted 21 heated glass houses and a workforce of 40 gardeners. In the middle, if you look, you'll find a shaded fernery, an essential feature of any Victorian garden, with a stream flowing through it. In earlier years, the garden fell into decline and became completely overgrown with brambles and trees hiding all its traces of former glory. The Benedictine nuns began an extensive program of restoration in 1995, and in the year 2000, the garden was opened to the public.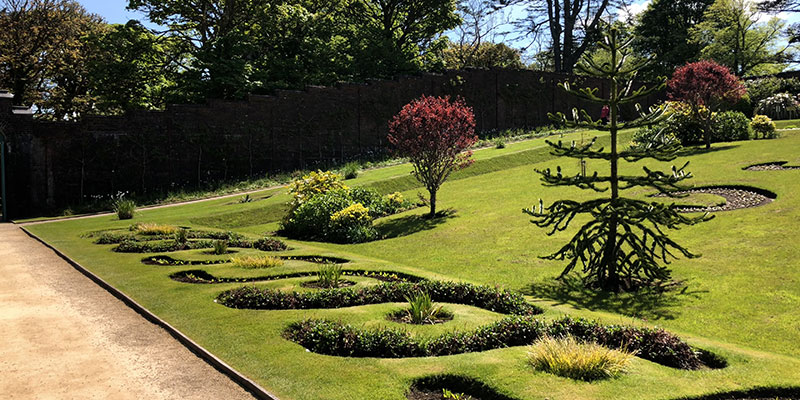 It's one of the last walled gardens, built during the Victorian period in Ireland. Today a full-time garden staff works hard to maintain it. You can see the garden is well worth exploring in its entirety. Don't just come in, take a look, take a picture, turn around, and walk out again. Strolling all around gives you different perspectives and the complete experience.
The staff is friendly and knowledgeable about all of the different plants here, so feel free to ask them any questions you might have. You can read their monthly blog on the website describing the seasonal changes in the garden. Most of what we're seeing are flowers, and there are herbs as well here.
You'll find the teahouse located right next to the garden – a great spot for a light snack or a sandwich, a salad, or soup – delicious food here, with seating indoors and out. And it's right next to the bus stop, so you can keep your eye on your shuttle back to the Abbey. They arrive about every 10 to 15 minutes.
If you feel like taking a stroll and working off those luncheon calories, then walk back to the Abbey. It's all downhill, so it's much easier walking back than walking up to the garden – a half-mile takes you about 15 minutes.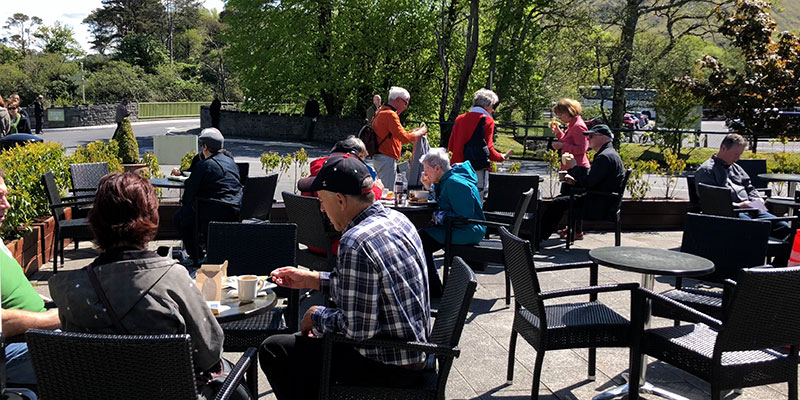 If you did not eat at the teahouse, you have another chance at the main restaurant, Mitchell's Café. It's a modern self-service restaurant that maintains a tradition of good food and warm hospitality. The hot buffet serves lunch, including vegetarian dishes, a selection of quiche, pasta, fish, and traditional favorites such as Irish stew.
You can never get too much of the main view of the castle as it's framed across the lake like a picture postcard come to life. It is almost a visual cliché, but it's the real thing, 150 years old. And yes, you can go inside – that's part of the visit. There are several rooms open to the public with friendly staff people to tell you about it.
"This is a 150-year-old building, so there are a lot of related problems – electricity, and of course it has to be up to fire safety codes. The materials were certainly brought in from a long way away. So, all the granite blocks on the façade of the building that extend throughout the castle, or the Abbey as is known today, in some places, the walls are up to 3 feet thick. It's Irish stone from Dalkey in County Dublin. The limestone around the exterior, and the windows come from East County Galway, so it's all 100% Irish, the materials outside, anyway.
"Of course, some of this mahogany oak would have been brought from England, and in the vestibule area, a lot of that oak paneling is from the Duke of Manchester, his properties in England. It was built as a private residence for Mitchell Henry and his family. He had nine kids. So this is more of a summer home. The family winter home was in the Knightsbridge district of London; it's a very tony part of that city in the UK. And then the Duke of Manchester purchased from him in 1903, because Mitchell Henry was essentially bankrupt. He spent his fortune trying to maintain this place out here in the west of Ireland, which was very difficult.
"The Duke was here for ten years with his wife, the Duchess of Manchester, and then they lost it because he was very much into gambling, apparently, and lost it in some insane poker game which was a winner take all affair. And then the Benedictine mothers took over after that in 1920, because their Abbey had been bombed out in Belgium during the First World War – completely leveled by shells.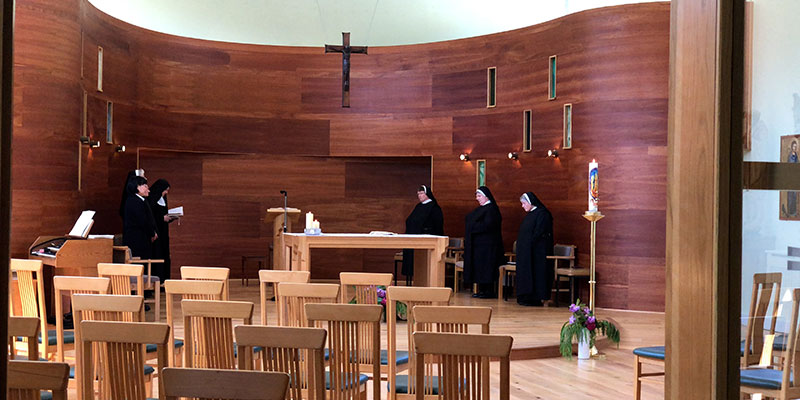 "We have seven active nuns, the other three are basically retired. They busy themselves praying five times a day, for everyone. They pray for us. They're also working away. We know the motto of the Benedictine is in Latin -- ora et labora -- which means prayer and work. And so women are praying, they are certainly trying to do administrative work, charity work, and also they run a farm, and they work in the factory behind the visitor center making chocolates and soap, all of which are on sale in the craft shop up here.
We had a chance to speak with Sister Magdalena who told us some more about the Abbey.
"Yes, here in the west of Ireland in Connemara, and a well-known busy spot, I think, in the west of Ireland. Well, it's such a lovely place. I think it's such a natural beauty spot. It is where one sees creation all around us. God, himself, the maker of this lovely place, unspoiled. And this is where we chose to keep the place and to share with others. And we're deeply grateful to God for that. And we are very happy to be able to reach out and share more of the space with visitors when they come. And hopefully, the important thing is the community will grow, so when we have planning permission to build a new monastery, we hope to build right in the center. So the ethos of the Benedictine community was spread to us, the entire estate. Do wonderful things, we hope, for God, for Kylemore, and for this local community."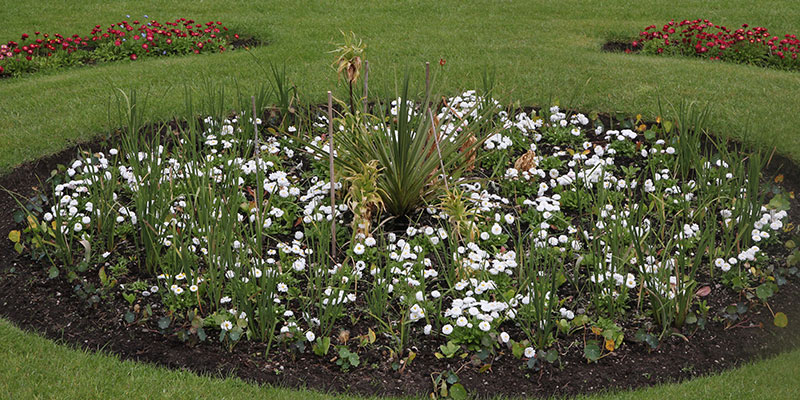 Tell me about the Benedictine precepts. What are some of your philosophies? "I think peace would be the most important thing. We can be peaceful among ourselves, and we can give peace to the people who come and visit here at Kylemore. It's one of our main mottos, peace. It's a challenge with a number of visitors that we've got here. It is rather successful, but it needs to be, to maintain the place. This is the problem, keeping this place is a challenge. But we chose not to sell it a few years ago, and now we have the task of trying to maintain this. Indeed, our castle has been leaking, and still leaking, but we have restored some of it.
"We get lots of visitors, hundreds of thousands of visitors a year. We compete, of course with other attractions in the west of Ireland, such as the Cliffs of Moher down in County Clare. But in terms of Connemara, there's very little that can rival us in terms of numbers. Certainly some of the local towns, Westport, Clifden, get lots of people but in terms of an exclusive area this is one of the prime locations to come."
The nuns are going to build their own new monastery on the lakefront,  right in front of the visitor center. They'll be right next to the new church. When they get that monastery built they'll move in when it's completed. The mother abbot in the Benedictine order has no mother superior. She only answers to the Pope. So whatever she says happens in this building, happens. And the Benedictines are teaching order of nuns, and so when the school was active, all the way up until 2010, they were teaching.
Along with the new monastery they'll build, the Abbey is planning to expand the number of rooms in the castle that are available to the public, nearly doubling in size the interior space. They'll be restoring and opening up to public visits to the former library of the nuns, the kitchen, some sitting areas, making the visitor experience even more rewarding.
Finally, there is one more site to visit – the church built in a neogothic style in the late 19th century by Mitchell Henry in honor of his wife, with the typical Gothic style of architecture,  pointed arches, rib-vaulted ceilings and stone columns everywhere. You can see that Kylemore Abbey and Connemara make the perfect day-trip in the West of Ireland. And Galway is the ideal city to stay in for your visit.
Driving back to Galway from upper Connemara is another wonderful part of the day's activities, with more of the lovely, rolling scenery visible out the windows of our minibus. We were fortunate with the weather because it was a perfect day – sunny with blue sky and white clouds and nice temperature in the upper 60s.
We've been traveling in the middle of the month of May, which really is an ideal time to be here in Ireland. Of course you're always taking a chance in Ireland because it's often a very rainy place, but today it was perfect. After all, they do need the rain to keep it the Emerald Isle, nice and green, which you are seeing as we roll by these farmlands with sheep grazing and lined with stone walls. It's a wonderful sight.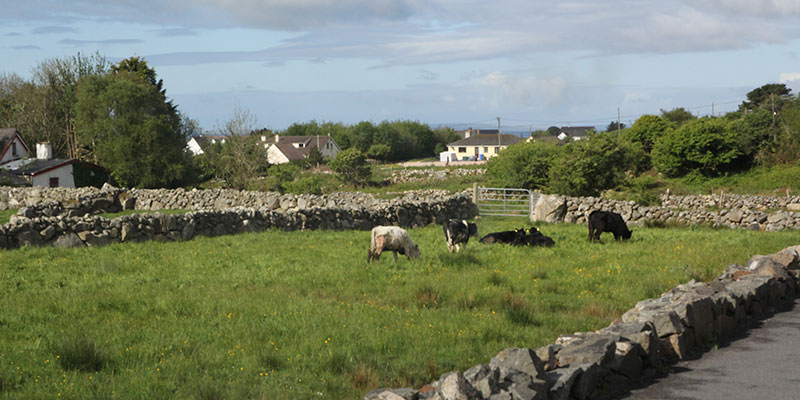 The time flies by, with more of this lovely scenery out the window. In a short while we're at the suburbs of Galway in Salt Hill beach area, and then downtown at the pedestrian mall listening to some music.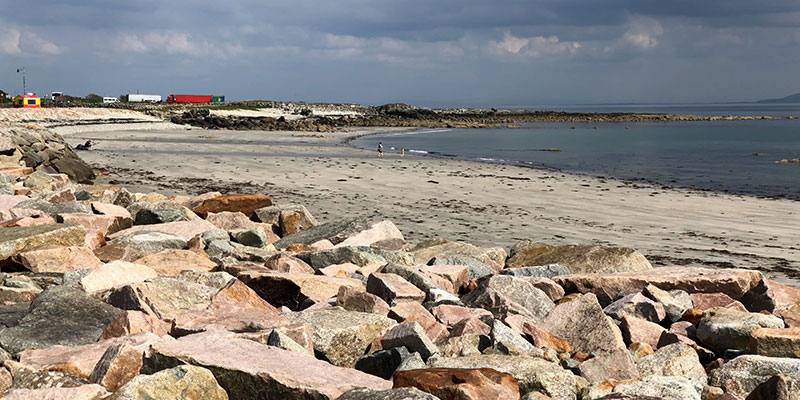 We have a lot more of Galway to show you in another page.