Montefalco
Montefalco isin Italy's Umbria region. Here we will reveal the secret of this old medieval fortified town, uncovered like a hidden treasure.
Travelers who enjoy wandering in quiet, little back lanes, lined by ancient stone homes with flowerpots, and no crowds, will be enraptured by Montefalco. You are getting away from it all at this hilltop location surrounded by vistas of green rolling landscapes covered by olive trees and vineyards, giving it the nickname "balcony of Umbria."
There is no train service here, which is one of the reasons this town has remained off the beaten track of mass tourism. The intercity bus service is quite good, with a bus stop right at the town entrance, connecting you with all the main towns of the region. Bevagna and Faligno are delightful old towns, each just 17 minutes away by bus, making nice day-trips if you are staying a few days in Montefalco. Many other towns of Umbria can be reached in about one hour. Umbria does have good train connections for the main cities, but you will also find it easy to reach smaller towns by bus. By visiting during November I got to see the town with very few other tourists around, and enjoy some fall colors. I was lucky with the clear weather because it can often be cold and rainy then.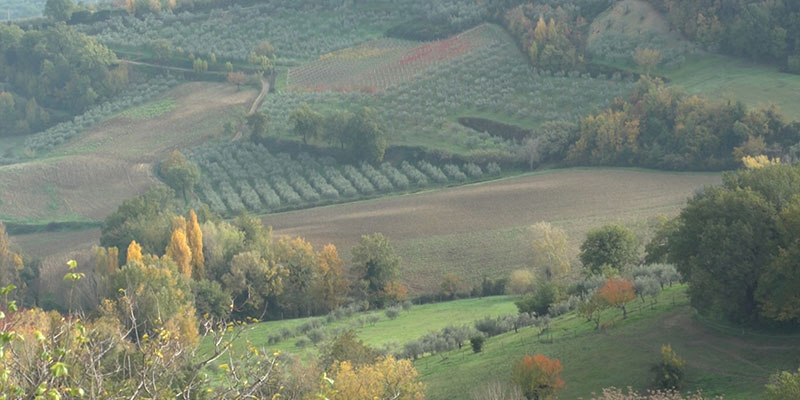 Umbria only gets 6 million annual visitor overnights, compared with 50 million in adjacent Tuscany, which explains the peacefulness of Umbria versus the famous neighbor of Tuscany next door. We are all familiar with the big Tuscan cities like Florence and Siena, but how many know the biggest town in Umbria? It's Perugia, and other main Umbrian towns we cover elsewhere in this website, listed in the sidebar, are also not very well known: Bevagna, Foligno, Gubbio, Orvieto, Spello, Spoleto, Todi, Asissi -- all beautiful.
Umbria has a more of an authentic small-town atmosphere compared to Tuscany, and the prices tend to be a bit lower. Many tourists in Umbria are Italians, unlike the majority of foreigners visiting Tuscany. If people only knew how attractive this place is, many more would come, so let's just keep it between us for now to give you a chance to enjoy Montefalco before it gets discovered by the hordes and trampled by overtourism.
The Old Town is quite small, barely 300 meters end-to-end, but it could keep you busy for a full day or two, with many wonderful sites to explore. Population of the Old Town is just 2,000 with another 3,000 in the surroundings, so you will not encounter any traffic jams here. It's an ancient settlement with origins going back to the Etruscan era, thousands of years ago, and finally evolved into the sleepy medieval hamlet we see today. There have been hardly any changes to the town structure in recent centuries.
In addition, Montefalco has two unique attractions, involving wine and art. The excellent local wine is made from the Sagrantino grape, found only in this region, and the town's art treasure is a series of frescoes by the Renaissance genius, Benozzo Gozzoli. See slide show. The wine and art alone make this a wonderful destination, but there is so much more!
Typical of European medieval hill towns, Montefalco was protected by a fortified wall that went all the way around it, most of which is still standing, dominated by the high crenelated tower at the main gate of St. Augustine.
This leads right into the main street of Montefalco, Corso Goffredo Mameli, extending to the main piazza only 250 meters away, yet has quite a few shops, boutiques, wine stores, restaurants and a couple of hotels.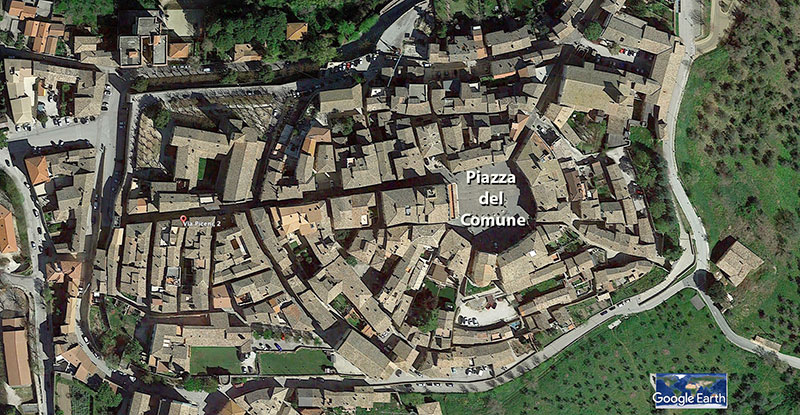 You'll want to spend some quality time in the main Piazza del Comune. It's the circular heart of town, the central hub with five little streets leading out from it, and surrounded by old palaces, some of which are now residences, hotels, City Hall, and a church that became a theater, along with several excellent restaurants.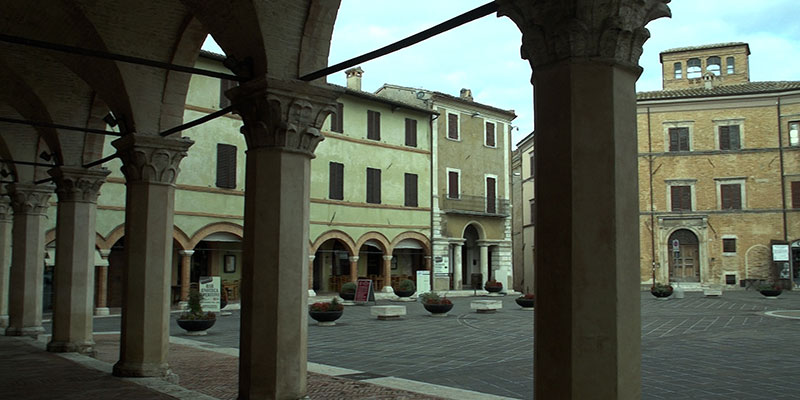 Many other Italian towns have a large domed church or cathedral on their main piazza, but here it's more of the civic architecture. We have the town hall and palaces, with the main churches located elsewhere in town. Perhaps that tells us something about the priorities of town planners here. Several little intriguing side lanes extend out from the piazza that we will explore during the visit.
The Town Hall, Palazzo Communale, was constructed in 1270, and was later enlarged during the 15th century when a Renaissance loggia with Corinthian pillars was added, creating a big terrace dominating the square. Next to it is Palazzo Bontadosi Hotel And Spa, the town's only four-star hotel, in the former home of a 15th century cardinal.
In the evening you can admire the lighting on the buildings and the peace and quiet, with a fine choice of restaurants. If you are staying in one of the town's few hotels, you can walk here from anywhere in town in a few minutes.
L'Alchimista is one of the best Enotecha in the region, a wine bar and restaurant with a family atmosphere, where I found the owner and chef playing with their little granddaughter in the dining room.
Called The Alchemist, their magic manipulates simple, raw materials and turn them into a golden dish. I enjoyed a light, mid-afternoon meal of cheese and prosciutto, with some bread and wine. With several other nice restaurants around the piazza, you might want to stay a couple of nights in Montefalco, as I did, to get the most out of your dining experience.
Walk in the little lanes
There is a little lane on the left side of L'Alchimista restaurant called Via Porta Camiano that leads into a residential neighborhood of picturesque, quiet pedestrian lanes. With a beautiful paving of stone and brick quite easy to walk on, especially with this gentle slope, you can almost float down. It could be very easy to overlook this narrow entrance, so be sure to look for it.

When you enter this neighborhood there will be forks in the road with intersections and sometimes no street signs to tell you where you're at, almost like walking through a maze, in a small area so you don't really need a map. It's a little confusing but lots of fun to just go wander. There are a bunch of these colorful flower-lined pedestrian lanes throughout town, going up and down the hillsides.
This flower-lined stretch of Via Porta Camiano, which leads down to Via dei Vasari, was my favorite little back lane, and that's really saying something because Montefalco is on the list of the most beautiful villages of Italy. So let's rank this lane among the best of all time.
It's relatively straight and long, because it reaches all the way from the piazza out to the medieval wall and a gateway called Porta di Camiano, which dates to the late 13th century, from where you get another beautiful view looking across the Umbrian countryside – like a little piece of heaven – more olive trees, vineyards and green rolling hills.
Continuing our walk through the labyrinth of ancient streets, which is a residential neighborhood for the locals. Around the bend you'll undoubtedly come across laundry in the street. Via dei Vasari is another picturesque narrow lane that will bring you
Nearly lost in this tangle of alleys is the little church of Santa Lucia, one of the oldest in town, dating back to the year 1220. It was founded by the Benedictines. The interior is plain, but has fragments of a 14th-century fresco. The little church of San Bartolomeo dates back to the year 1219, another one of the oldest of town.
Via dei Vasari is a main lane in this neighborhood, where you can peek into little private gardens and terraces. The lane connects in with Vicolo degli Operai, and then on to Via Tempestivi, making a lovely place to get a little lost.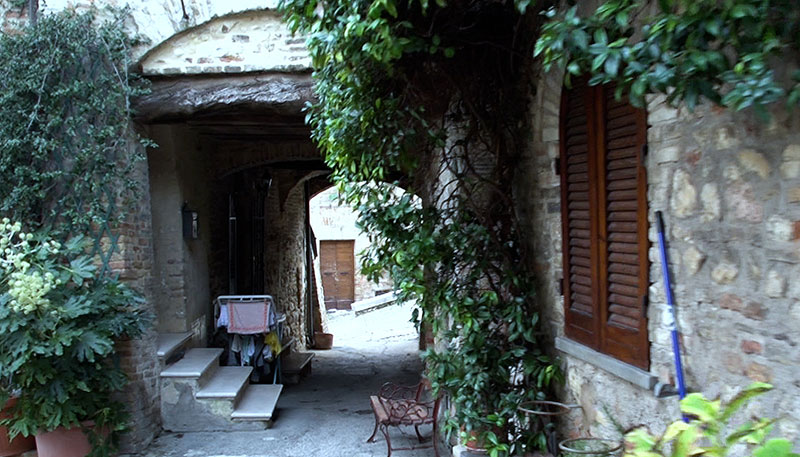 Typical of that medieval style, the old houses sometimes formed an arch across the lane, so occasionally you walk right through a building. It's because the town was surrounded by a fortified, protective wall, so they couldn't expand outwards. They had to expand up.
The town's second-largest gateway is Porta di Federico, also known as St. Bartolomeo. It was built in the year 1244 and took its name in honor of the Emperor Federico the Second, who was visiting the city, providing another vista and a view along the outside of the medieval wall.
They needed these protective walls because the 13th and 14th centuries saw many clashes with the surrounding communities, particularly because Montefalco sided with the Pope against the Ghibelline lords of Foligno. So Foligno conquered Montefalco and ruled until they were kicked out in the mid-15th century.
At that time the Pope regained control and a peaceful period settled in where Montefalco developed its town layout and achieved some artistic developments during the High Renaissance period, continuing with some autonomy until 1860 when Umbria was annexed to the kingdom of Victor Emmanuel the Second.
Via dei Vasari ends up at a narrow alley, Vicolo degli Operai, that would lead you back to the piazza. Or you could continue straight to Via Tempestivi, which brings you back to Corso Mameli. There are a number of other tiny lanes in this soutwest part of the village that are splendid for wandering and getting a little lost, including Castellano, Melanzio, Clarignano, Ciuppis and Piuanciani. You can't get too far here because if you zigzagged along every lane, up to Mameli and back you are only walking about 800 meters.
Alternatively, you could walk along the outside of the wall on Borgo Garibaldi, which brings you through a little neighborhood with an interesting shop that sells olive oil and wine, typical products of the area. That route along the wall also brings you to a wonderful church, Santuario di Santa Chiara della Croce, dedicated to Santa Chiara, who was the most important of Montefalco's eight saints. It's still an active church and monastery.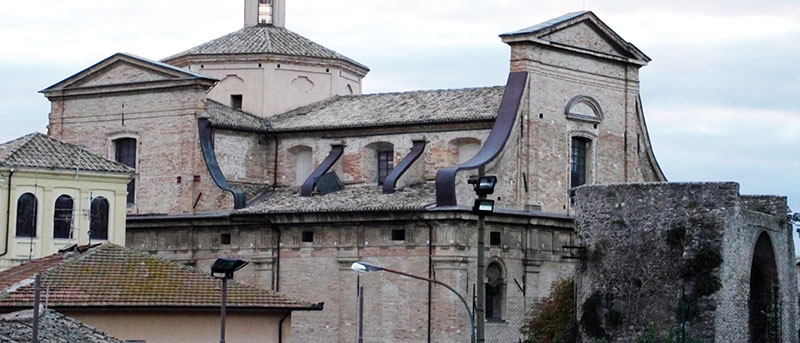 Benozzo Gozzoli
Now I want to share with you that special art treasure mentioned earlier, the great artistic masterpiece of Benozzo Gozzoli, one of the finest Renaissance painters. He worked in Montefalco for two years painting frescoes on the walls of the church of San Francesco, which is now deconsecrated and has become the Museum of San Francesco. Located on Via Ringhiera, just 70 meters from the piazza, so you could have come here earlier when on the piazza, or just come back at your leisure. The village is so small you'll quickkly get here from any point.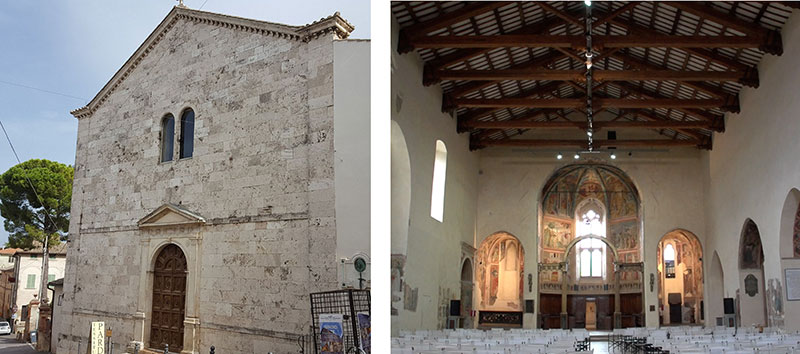 The collection is one of the most extraordinary phenomena in the history of art, and one of the main reasons people visit Montefalco. This cycle of paintings depicts the life of St. Francis of Assisi, including one of his most famous episodes preaching to the birds: "My brothers praise your creator who covered you with beautiful feathers."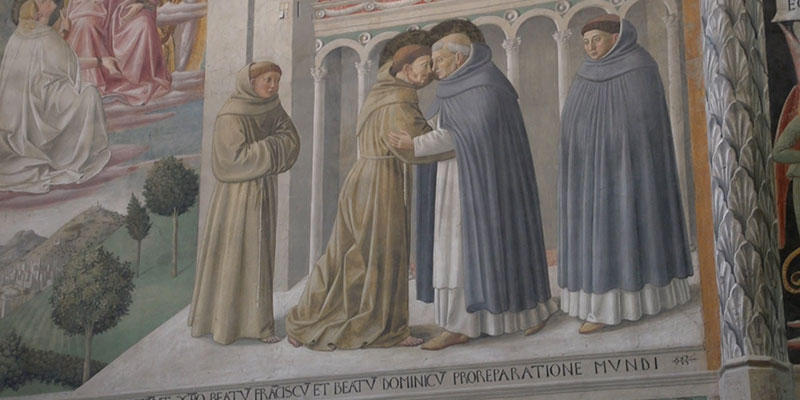 There's the poignant depiction of St. Francis giving up all of his worldly possessions. The charm and sweetness of Umbria are summed up here in the choir of this modest church. A freshness with suave composition and color, never was the master more perfect. Most of the work was done in the apse of the church, painted right up to the ceiling and covering the arch.
Here we see the Pope accepting the Franciscan Order and allowing him to begin his crusade. Here he's kneeling and praying expelling the devils from Arezzo. When he finished this elaborate assemblage of frescoes, he turned his attention to a side chapel along the aisle depicting scenes from the life of St. Jerome. A poignant work here is St. Jerome removing a thorn from the paw of the lion.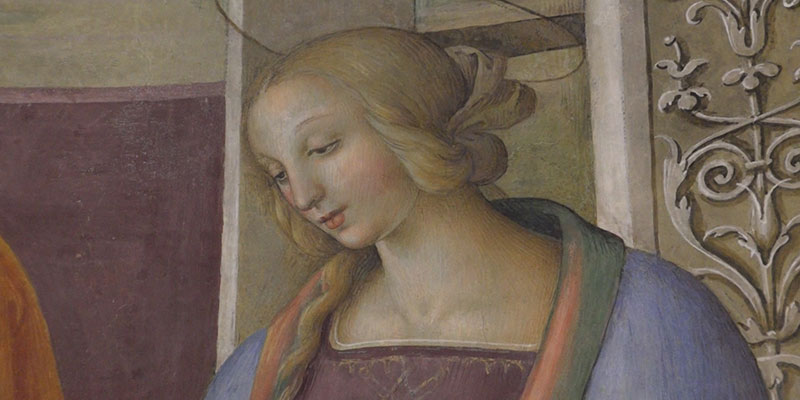 Gozzoli was born near Florence in 1420, and was apprenticed to some of the great Renaissance artists there, including Ghiberti, who he helped make the Gates of Paradise for the Baptistery. Another masterpiece in Florence was his Procession of the Magi in the chapel of the Medici Palace. He also worked in Rome at the Vatican painting the chapel of Pope Nicholas the Fifth.
In addition to Gozzoli there are some other artists including a colorful masterpiece by Fra Angelico of The Adoration of the Magi at the birth of Christ.
Save some time to look at the historical exhibits – tables, detached frescoes from other churches a, collection of textile works, and several archaeological finds from the surrounding area, including the statue of Hercules from the second century A.D.
SLIDE SHOW OF MORE GOZZOLI PAINTINGS
The last church we're going to visit is Chiesa di Sant'Agostino, on the main street of town. It's a fine example of Gothic architecture, built in the late 13th century.
The wide aisle on the right functioned as a second nave. Outside we can enjoy that special experience of a cloister, its central courtyard embraced by an arcaded loggia, free and open to the public.
To leave this beautiful town we are heading down to the bus stop, and along the way we have one last chance to purchase some of that Sagrantino wine or olive oil. It's only a 50-meter walk from the old town to the bus stop, and some mornings there is an outdoor market happening – it's mostly clothing and accessories, always with a very good price.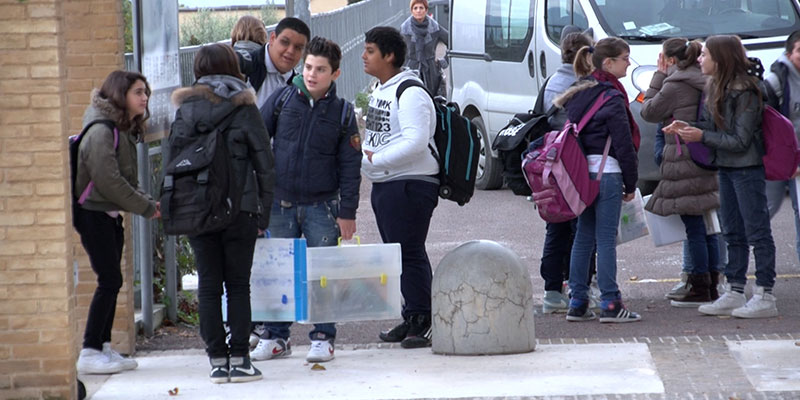 If you're here early enough, you'll probably see a bunch of the local kids waiting for their school bus. The bus station is a multipurpose gathering spot, and provides automobile parking if you came by car, because tourists are not allowed to drive in the old town.
It is easy to purchase your ticket at the nearby tobacco shop, only four euros to get to Bevagna or Foligno. There is no train service to Monte Falco, but the buses are frequent, inexpensive and quite comfortable, with connections to the nearby towns of Foligno and Bevagna, just about 17 minutes away. And you can reach Perugia in one hour.
We are soon out in the countryside, and here you'll find another reason why bus service is quite lovely – the scenery is outstanding. We've been looking at these hills from the town now we're driving right through them, enjoying some astonishing views of the vineyards.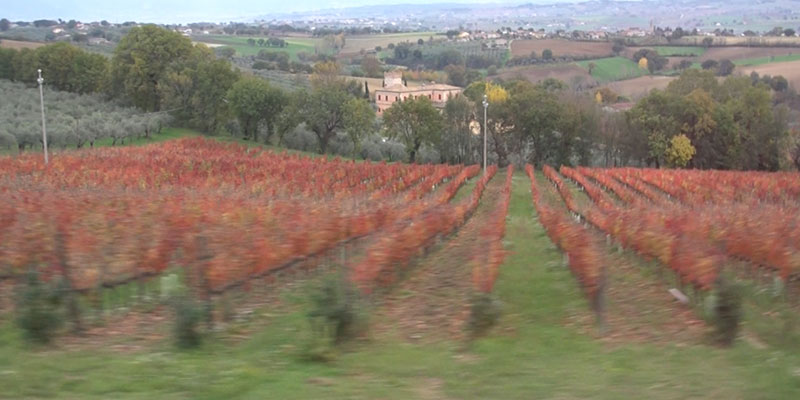 In some ways it's a good thing the trains do not come to Montefalco, because it keeps the crowds down, creating that peaceful atmosphere that we've been enjoying throughout the visit.
And that completes our in-depth look at Montefalco.