Varenna
We are visiting Varenna, one of those magical, beautiful villages along the shores of Lake Como in northern Italy. The lakefront setting gives it a marvelous ambiance with the pedestrian walkway and cafes right along the waterfront terrace, where you could have a delicious meal at one of several restaurants featuring that classic Italian cuisine and fresh fish right out of the lake or get some rich gelato from the gelateria inside an ancient stone arcade.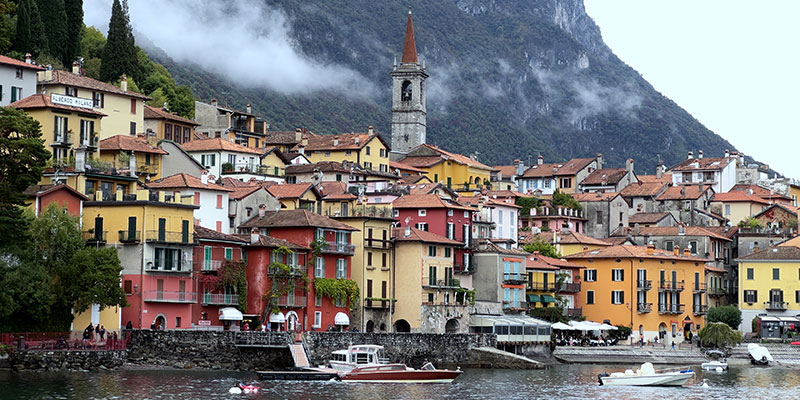 We'll also visit a dramatic ravine where you can walk along and look down into a small canyon with a raging river that carved it out over the last 15 million years. Varenna is located at the midpoint of Lake Como, with many other villages around this large lake. And certainly, Varenna is one of the most popular and attractive of all of them.
You could drive there or take a train even, but the most beautiful way to arrive is by boat, where you'll have a complete view of the waterfront village and the hills beyond. We were coming across the lake from Bellagio, just 15 minutes away. We were staying in Milan and had a private tour in a van that drove us up from Milan and took care of us in our visits.
If you're traveling independently, it's effortless to take a direct train from Milan to Varenna in just over one hour, part of the convenient train service along the east shore of Lake Como. But arriving by boat is something quite special. And there's an extensive ferry system on this huge Lake Como with 34 different towns serviced by ferry boats.
You could stay in Varenna as a convenient home base in one of their several hotels and explore the lake by boat, train, bus or by hiking in Varenna. There is the lower town by the waterfront and the upper town with the main Piazza S. Giorgio with a church and several hotels, most notably the deluxe four-star Hotel Royal Victoria. A more affordable choice would be Albergo del Sol, a three-star hotel owned by the chef of its restaurant and pizzeria.
San Giorgio is the main church of the town, built in the 13th century with a beautiful, frescoed interior, with a sacristy and bell tower that dates back to the second half of the 15th century. It faces the piazza and is located on the main street that runs up the east shore of Lake Como. It's pretty quiet here. Locals hang out here, including a tortoiseshell cat whose color blends beautifully with the cobblestone pavement. Dogs, delivery people, and other scenes of daily life unfold as we stand here enjoying the scene, with a few restaurants and lanes leading to other hotels.
The piazza is a good starting point, but you want to get down into that lower town by the waterfront with several alleys leading out from here that will take you there. Some of these alleys offer a gentle descent to the water's edge, making a very easy downhill walk, while others are a bit more vertical with staircases. We walked from the piazza down the steps and around to the main waterfront, and then continued along exploring Varenna with our local guide, Giovanni with Como Lake Holiday.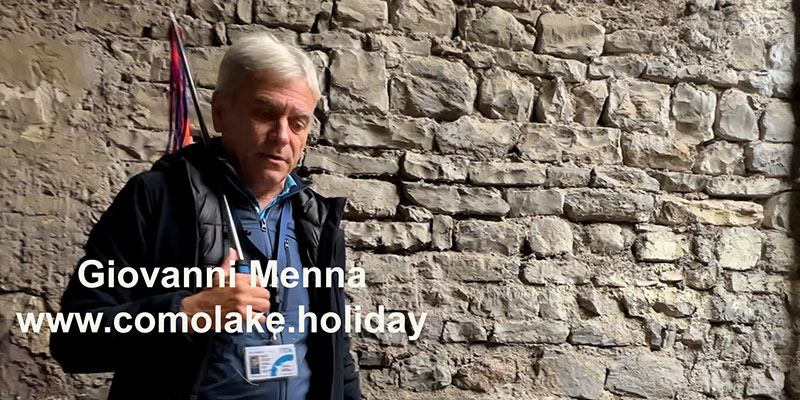 "Now we are going to make about 200 steps down to the lake. But at least they are downhill. So let's go down this way. Oh, well, it's not that dangerous if you just take one step after the other when you're here. We are right in the middle of this, one of the many steps, one of the many tunnels that we have in our towns.
"And if you look around, you may realize that they are all made of stones. They made all these structures around us on the lakes. Every lake has got buildings like this; all made just using stones. By now, they've been a bit restored.
"You see, there is a bit of cement around, but originally you would have just stones, one stone above the other, you know, and they will make these tall buildings with several stories, three or four stories, one above the other. And you may wonder, why? Are they solid? They are very solid. They have resisted for hundreds of years; they have resisted earthquakes. It's a granite. It's a granite, rather simple to cut and work."
We soon reach the bottom along Riva Garibaldi and emerge into the lakefront terrace, which is the most beautiful part of town by far. It only goes for about 200 meters, but every little bit of it is perfect with those outdoor restaurants on one side and the waterfront on the other, and beautiful paving underfoot. There is no sandy beach in this part of the village, but instead, a very nice, gentle ramp leads down to the waters. And yes, people swim here in the summertime. Now, we're visiting in late October, and so this is a wonderful time to be here. The climate was great, temperatures very comfortable, and it was not crowded. You could easily find a seat at the table, but if you visit during the summertime, be prepared for some crowded conditions.
It's such a very popular spot, something like nearby Bellagio, yet smaller and thus more concentrated. It would be better to come in the shoulder season, that's spring and fall. Winter, on the other hand, is not so good -- it's going to be cold and gray and rainy. Some of the hotels and shops in the Lake District are not even open in the winter. No matter when you come, this picturesque, traditional village is an essential stop for anyone wishing to visit one of the most typical and peaceful towns of the lake.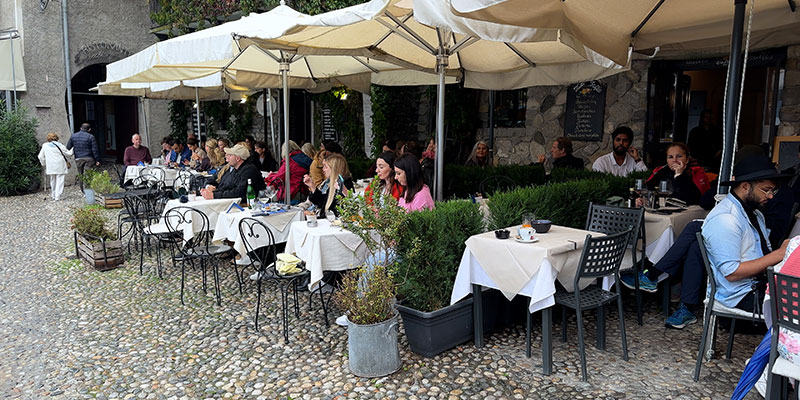 This is not one of those busy destinations with a lot of museums and monuments and things that you have to run around and see. So you might as well sit down, relax, have a meal and enjoy the scenery. Those narrow alleys going uphill as ramps or steps are certainly worth exploring. But on the outskirts of town, numerous things could keep you busy. You can rent a bicycle; you can go hiking. There are various excursions by boat. We've been exploring the small center of Varenna, and just on the south part of town, there is a small pebble beach and two world-famous gardens worth visiting.
Pay the admission to explore a lush botanical garden extending along the lake for nearly 500 meters, with beautiful paths through the flowers and trees adorned with fountains and sculptures, and a house museum of 14 furnished rooms with original decor and furniture. This historic Monastero villa was founded as a Cistercian monastery in the 11th or 12th century, with a botanical garden, and the Giardino Botanico Alpino di Valtellina, a mountain botanical garden located nearby. Next to it is the deluxe four-star hotel Villa Cipressi, with its own botanical garden that also has a slight admission charge.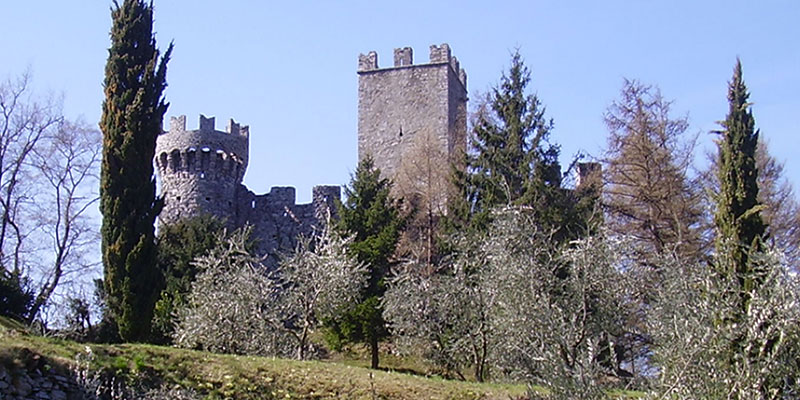 Castello di Vezio is another nearby attraction, about a 20-minute uphill walk from Varenna. It's a medieval castle with breathtaking views looking out over Lake Como, standing here for more than 1000 years, protecting Varenna from frequent wars during the Middle Ages.
Back in the center of Varenna, you can walk out along a little boat dock and get a nice view looking back at the cluster of buildings, restaurants and the boat ramp. Here we are in the very center of the village, the most picturesque spot in town. We've got the restaurants on one side and the broad promenade with some benches looking out over the waters. This peaceful, charming place offers a mix of natural beauty, cultural history, shops, mild climate, delicious food, grand scenery, and outdoor activities, making this one of the most popular choices for tourists visiting Lake Como.
And you'll also see some locals sitting around having a chat and enjoying their town. This is such an attractive place that there has been a settlement here as far back as the third century B.C. and during the Roman and later Middle Ages. It was an important center of trade and commerce and also a frequent target of invasion by neighboring cities and armies fishing.
The productive waters of Lake Como had long been a main activity for this village, and then tourism became the most important part of the economy. Even as far back as during the Renaissance, Varenna became a popular destination for wealthy travelers who were drawn to the village's stunning natural beauty and historical landmarks. Many of the villas and gardens that still exist were built during that period, immersed in greenery and with a village history.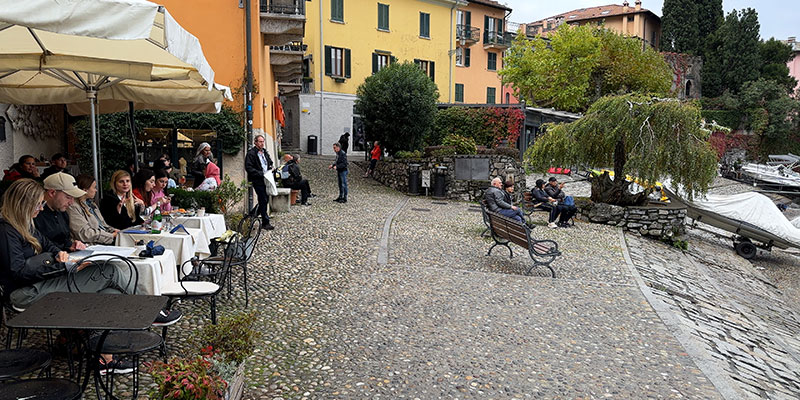 Varenna is a magical place to spend your holiday. It's a small village, but full of alleys, lanes, and steep staircases that will give you some unique moments and glimpses of the lake, which is a perfect place to practice watersports such as rowing, sailing, water skiing, and much more.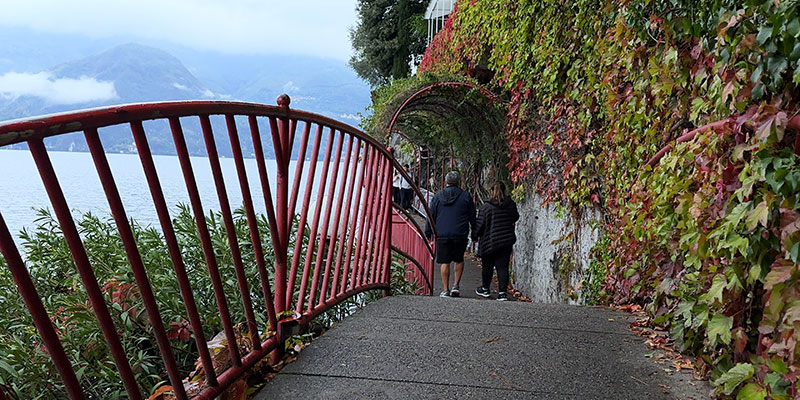 From here, you can see the walkway continues along an embankment, and then it extends for 200 meters as a cantilevered bridge, romantically called the Walk of Lovers, which offers more views looking back at the town center. Continuing along between the rock cliff and the lake water, the path carries on to the ferry dock back, where we started our visit.
And that sums up all you need to see in Varenna. You might stay here for just a few hours or, as mentioned, stay for a few days, use it as a home base, and get around by ferry and train, and bus to see the rest of the villages around Lake Como. If you're staying in Milan, you could do a very nice day trip with a train to Varenna, which is served by Varenna-Esino-Perledo station, on the Tirano–Lecco railway. Then you could take a ferry boat to Bellagio, and then another ferry or bus to the city of Como and then back to Milan from Como by train.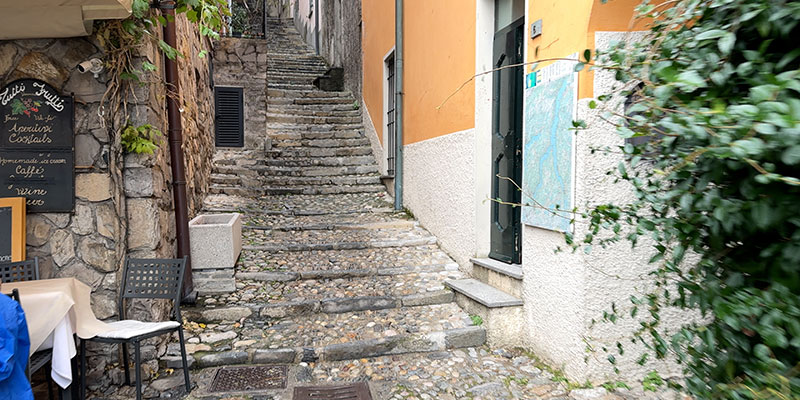 Each of those four legs will only cost about 6 euros. Then toss in some money for lunch, and you have a complete full-day excursion for about 50 euros. An easy side trip by bus or train to the nearby town of Bellano will bring you into this deep ravine. It is a narrow and winding canyon that was carved out over the last 15 million years by the Pioverna River, resulting in a breathtaking landscape.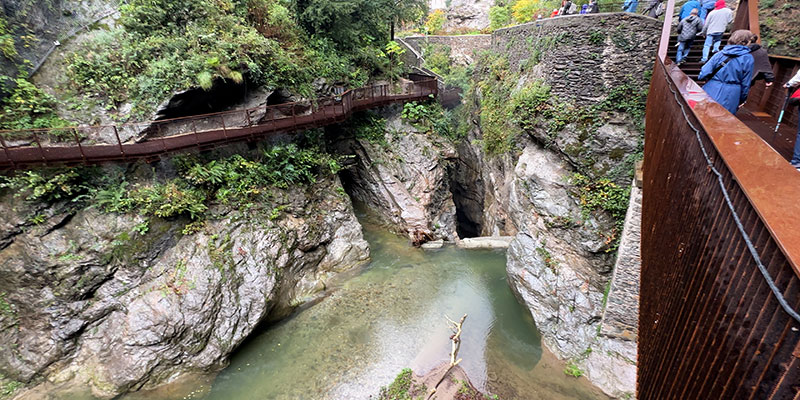 Orrido di Bellano (Bellano Ravine )
The gorge averages 15 meters deep and stretches for over a kilometer with sheer rock walls on either side that reach heights of up to 50 meters. The river flows through the canyon in a series of cascades, waterfalls, rapids, and pools, creating a dynamic and ever-changing environment that is beautiful and awe-inspiring. And you can see it all by comfortably walking along a series of suspended walkways and bridges that have been built into the rock walls.
The walkway also passes through several tunnels and rock overhangs, adding to the dramatic and otherworldly atmosphere of the gorge. The walkways allow the visitor to get up close and personal with the natural wonders, with whirlpools, lush vegetation nourished by the constant water spray, and rock formations that the force of nature has sculpted. It's an easy and safe adventure, just eight kilometers away from Varenna, another activity to enhance your stay and a fine way for us to end our visit to Varenna.