JUNGFRAU
in the HEART OF THE ALPS
Jungfrau mountain is one of the world's most spectacular sights, 4,158 meters high with beautiful vistas framed by other majestic peaks covered in snow. The astonishing view from the Jungfraujoch observation platform includes nearly 200 alpine summits and Europe's longest glacier.
This center of the Swiss Alps is very easy to reach with a combination of train, cog rail, and gondola in a magnificent scenic journey from Interlaken that only takes 90 minutes. Europe's highest train station welcomes you at the top in a multilevel facility with observation terraces, elevators, restaurants, ice tunnels, scientific observatories, stimulating exhibit areas and snow fields to walk in.
How to get to the top
You can make the trip in a circular route, going up via Grindelwald and back down through Wengen and Lauterbrunnen, which enables you to see many different parts of this wonderful landscape. You could do the loop in reverse going up through Lauterbrunnen and Wengen, but for various reasons, it's better to go up via Grindelwald. That way you can reach the peak quickly and take your time coming down, perhaps enjoying a short hike and visiting a couple of charming villages as described later.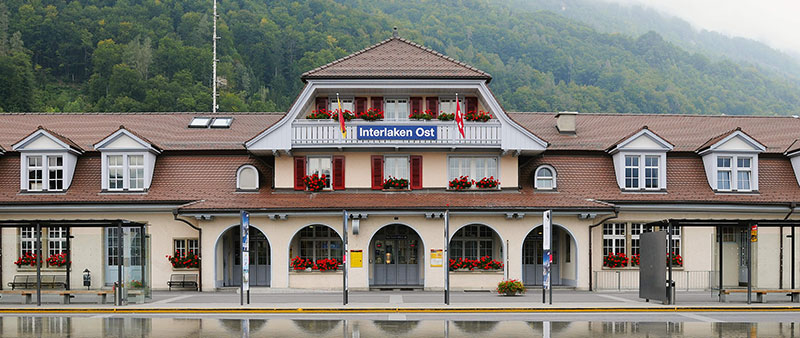 Start out from Interlaken's East train station as early as possible in order to increase chances of good weather and clear visibility, because afternoon clouds often roll in blocking the view. You can check the weather on live tv from your hotel or the train station to get some estimate of what conditions will be like two hours later, but things do change and there is never any guarantee of clear skies. If the summit is really socked in with thick clouds and dreary forecast, this might be a better day for a trip to Bern or a boat ride on the lake. That is why you need to spend a few days here to maintain a flexible schedule.
OK, clear skies, get moving. If you leave Interlaken by 7am the early start enables you to beat the crowds and gives you enough time in the rest of the day for all the activities we will be suggesting. You might even get a "Good Morning" early-bird discount on the 7am departure, depending on availability. With that start you can reach the Jungfrau summit by 8:30 AM. Summer normal roundtrip price is 235 SF but is reduced if you have a Swiss Pass.
After leaving Interlaken the train travels on a scenic curving route through a valley and along the banks of the Lütschine river, passing villages of Wilderswil, where you could get on a train to the Schynige plateau, and Zweilütschinen, where the train tracks have a juncture. One track goes straight ahead to Lauterbrunnen, the other goes up to Grindelwald. Sometimes the train separates here into two sections, one going straight to Lauterbrunnen the other up the hill so be sure you got on the correct part of the train when you boarded in Interlaken.
The train ascends gradually towards Grindelwald through a rural scene with green fields and mountains in the distance. Goats and cows browsing in pastures remind us of the importance that agriculture historically has played in this area, when farming was the main occupation a century ago. Of course, tourism has become the number-one occupation now, but flocks of animals are still nurtured, adding another charming element to this beautiful scenery.
 Approaching the Grindelwald suburbs, sprinkled with beautiful chalet homes, you will be transferring to the next leg of the journey, where you have a choice of routes. You can either transfer to a cog rail, or to the new aerial gondola which is faster and more popular. The trains and cable car transfers are all synchronized in an efficient system designed by Swiss engineers to make the most of your time.
If you want to see Grindelwald village and perhaps walk in the Glacier Canyon, take the cog rail, as explained here.
If you are making a transfer in Grindelwald you could spend just a few minutes for a quick peek, or several hours to fully explore the possibilities in and around town. Grindelwald is about 1000 meters in elevation, cradled in a valley surrounded by very steep mountains, as shown in the video here.
The village of Grindelwald is quite lovely, with various shops and some very good restaurants serving potato noodle goulash with pretzels and other traditional dishes. It is a small place with shops and cafes clustered in a few blocks. There are several activities nearby including a mountain excursion and hike in a small canyon.
A cable car outside the village will take you up to the local mountain, called First, with more viewpoints and a dramatic cliff walk extending out over the edge. You could ride down the hill on standup scooters, zipline, or sit-down mountain cart, like a go-cart without engine. There are trails for hiking and mountain biking.
You can also take a hike into the Glacier Canyon, a narrow gulch with towering stone cliffs rising up above it, located 2 kilometers from the train station, It can be reached with bus no. 122 to Gletscherschlucht, or by taking a 1/2 an hour walk through a peaceful rural scene of homes, pastures and cows. You pay an admission to enter, but it's well worth it, as shown in the video here.
You can walk deep into the mountain canyon on a metal path that is safe and easy, following a level route framed by rock cliffs so close together it seems like they are touching at the top, hundreds of meters above. Rushing river water cascades freely from the mountains into the Lütschine River further down, sometimes causing a sudden rush of wind through the canyon and a rapid temperature flux as rays of light reflect along the steep walls. The trail cuts through short tunnels in the cliff, with little bridges and cantilevered walkways to make the walk easy and fun. Swiss engineers have built a very comfortable walkway with hardly any uphill grade at all.
This had been the lowest glacier in the Alps but unfortunately with global warming, there is no longer a glacier in Glacier Canyon, but the rock formations in the narrow chasm make this a worthwhile excursion.
You could walk back to the train station on a different route making a loop trail. Along the way you'll probably see some cows up close, posing for a nice picture.
From Grindelwald, continue by cog rail ascending amidst charming views of the valley and mountains, reaching the rail station of Kleine Scheidegg, where you transfer to the final leg up to the Jungfrau, as shown in the video here.
Show More Grindelwald
Most people choose the faster scenic way to the top by getting off the train at Grindelwald Terminal and riding the gondola. Called the Eiger Express, this cable car is the same price as the cog rail, and travels 6,500 meters in 15 minutes, offering superb views of a vertical series of interconnected mountains with their separate peaks.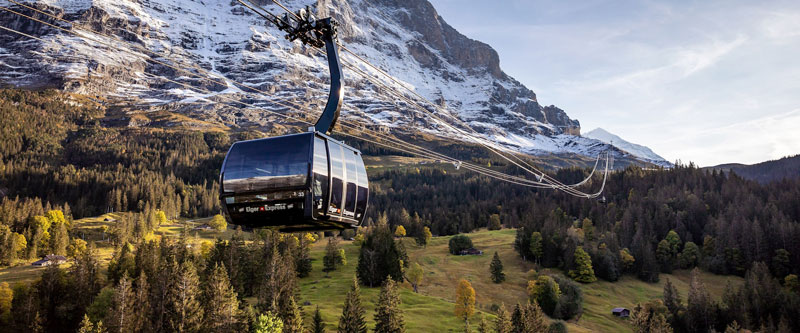 The cable car ride ends at Eigergletscher where you transfer to a cog rail for the final 26-minute leg up to the Jungfrau.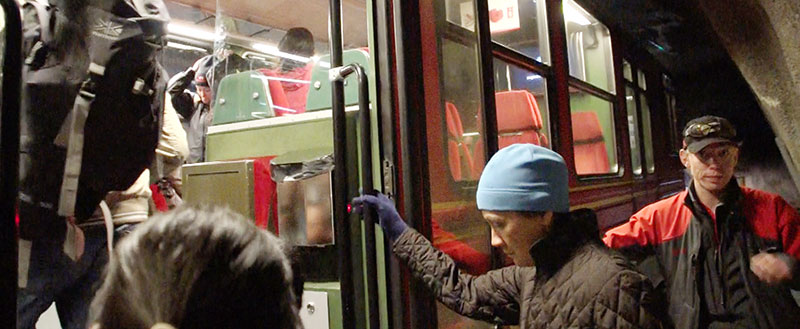 This rail line to the Jungfraujoch is 100 years old and a great engineering wonder because it goes into the mountain and climbs mostly inside the rock, arriving at Europe's highest rail station. This Jungfrau railway was constructed at the beginning of the 20th century, which has made the area one of the most visited places in the Alps.
The beginning of this rail leg is above ground providing great views for a few moments, so sit on the right side of the train if you can. It would be good to reserve a seat for this leg when you purchase your ticket.
Google map of route and destinations.
More than half this ride is through a 7 kilometer-long tunnel inside the mountain and under train sheds open on one side. It does make two 5-minute stops in the tunnel along the way which allow passengers to get off the train and walk to picture windows for magnificent vistas. It stops at Eigerwand, which is on the north face of the Eiger, and at Eismeer, on the south face of the Eiger, where you can see through holes that have been excavated to provide windows.
The rail company has timed the stops at these two photo opportunities just perfectly. You have enough time to get off the train, walk on a level surface through the tunnel over to the picture window, take photographs, admire the view, catch your breath, then walk back to the train and get your seat again to resume the journey. They blow the whistle to let you know it's time to go, as shown in the video here.
When you have a spectacular clear view like this, with sunshine lighting up the glacier, be sure to take your pictures because when you get to the top it might be cloudy, so shoot while you one can.
At the top when you get off the train you'll find everything is very nicely organized. Follow the crowd, get on the elevator, ride up, and then walk outside for the main event, standing on a glacier looking out at a wonderland of immense snow-covered mountains, as shown in the video here.
Toss around some snow, watch the other people frolicking in the snow, take some pictures, and hope the conditions are clear. Be patient if it is cloudy -- skies can clear up in a few minutes. The weather can change quickly up here, from bright clear sunshine to clouds or foggy mist in an instant. That's mountain weather. We're at nearly 3,500 meters high, which is about two and one half miles, really, really high, and it was so easy to get up here.
But you haven't even reached the top yet. Ride the elevator another 108 meters up to The Sphinx, the Jungfrau's highest platform, at 3,571 meters (11,716 ft) above sea level to one of the highest observatories in the world. Views up here are similar to what you saw on the snowfield, but this higher perch is something you must see. This platform is the second-highest observation deck in the Swiss Alps just behind Klein Matterhorn in Zermatt. It also offers a panorama view in the north direction towards Interlaken, with a dramatic vertical drop in the foreground and gradual green slope descending 3,000 meters, with France and Germany visible on a very clear day.
In 1937 the Sphinx platform was opened up and more scientific instruments and laboratories were added, with a weather station, astronomical telescope, cosmic radiation detector, solar observatory and environmental monitoring station. The center's studies have documented an alarming trend in recent decades of a gradual reduction in the size and extent of the Alpine glaciers, undoubtedly due to global warming.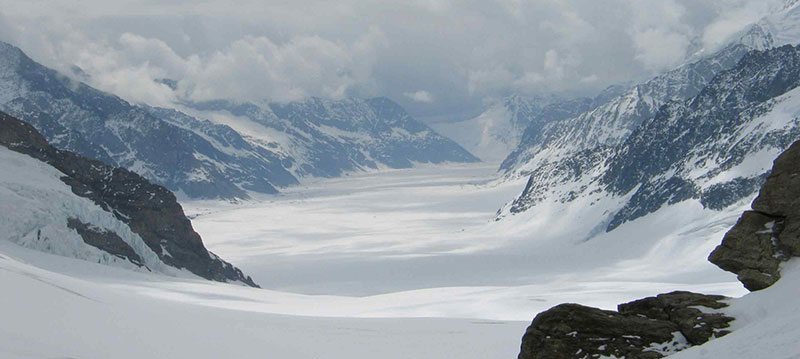 While it might seem you are on top of the mountain, this area is the Jungfraujoch, a ridge connecting the 4000 meter peaks of the Jungfrau on the right, and Mönch towering above the left side. Even this high, some visitors in the summer get by with shorts and T-shirt in average temperatures just above freezing, otherwise have some warm layers ready.

Plan on spending at least one hour, preferably two, at the top exploring the various levels and attractions at the visitor center, connected by tunnels, exhibit rooms, rotating doors and elevators. Don't just come up to the top and take a picture and head on back down again.
You'll be amazed at how many more things there are to see and do up here besides looking at the actual view. They've created entertaining spaces with movies, lightshows, ice tunnels, restaurants, gift shops, historic exhibits, Europe's highest post office, chocolate museum, ski rental, and dazzling displays arranged in a vast assemblage. It is almost like they have created a mini-Disneyland inside the mountain top.
The major attraction here is the Ice Palace, a series of tunnels and large rooms carved into the glacier, with many ice carvings, colorful lighting, moving walkways, and exhibits about the history, connected in a labyrinth of vast spaces, as shown in the video here.
Mountain guides first created the ice caves and halls in the 1934 with picks and saws, while today, artists carve the ice with a great deal of flair. On a mirror-smooth tour through a frosty world, visitors will discover many works of art in nooks and crannies, and you'll find a cocktail bar with ice glasses.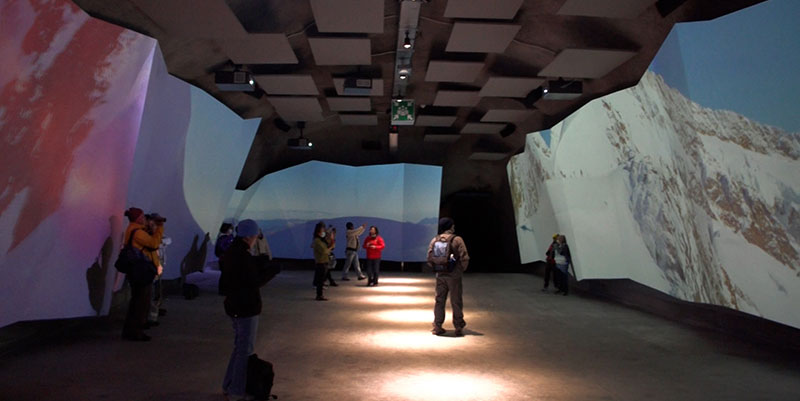 Don't miss the enormous film projection theater located in the Sphinx Hall near the Ice Palace, with a panorama video of alpine scenes projected all around you on 250 meters of very tall walls, creating a breathtaking immersive experience. Viewers get the feeling of flying through clouds, plunging into masses of snow or even sinking into crevasses of ice. It's just brilliant the way they've created these angular screens 360 degrees around, creating an illusion that rivals the excitement of the actual view from outdoors.
This Sphinx Hall is connected to the Ice Palace by a moving walkway called the Alpine Sensation through a 250-meter tunnel that displays romantic paintings of the Alps, along with photos and descriptions of Jungfrau tourism history. Using a stream of sensual images as well as a combination of light and local music from the past and present, the adventure tour takes visitors on a journey.
Another attraction you can find up here is the Edelweiss Cavern, a room filled with edelweiss-designed lights on the walls, contains an oversized snow globe that depicts the life of the Jungfrau Region and Switzerland.
When you're back in the gift shop and lounge area, perhaps enjoying a hot chocolate, keep your eyes on those picture windows because sometimes the view will get even better. Perhaps when you were outdoors clouds were blocking the view, but within a few minutes clouds can blow away revealing the vistas.
When you're finally finished enjoying all these fun activities, catch any convenient train back down the route you came up. You don't have to worry so much about the train schedules. Just head on down and get to the right track, and there'll be people there to guide you to board the train. There had been plans to build this railway a long time ago, starting from as early as 1860, and construction finally began in 1896. There were some explosions, there were a few deaths, there was a lot of hard work involved. And finally in 1912 they opened up the Jungfraujoch station and began the train service.
To complete the circular route of the journey, continue to Kleine Scheidegg where you can change trains for a different itinerary that will take you down through Wengen. If you are hungry and waiting for the next train, there's a nice restaurant there at Kleine Scheidegg train station where you can get a good typical Swiss meal and some beer.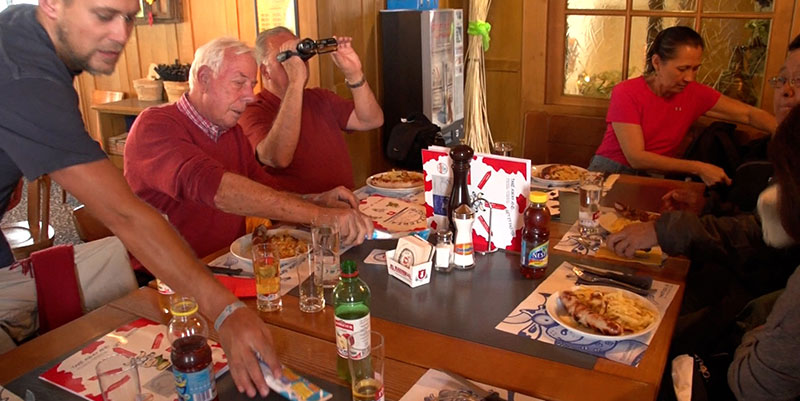 You might think that eating in a small train station at 2,000 meters elevation is the last place you want to eat, but turns out the sausage and potato is quite tasty. Having a meal next to the train platform is convenient; you can time your departure exactly.
The Wengernalp Railway links Kleine Scheidegg to the towns of Wengen and Lauterbrunnen, with a length of 19,114 meters, making it the longest cog railway in the world. You could take the train all the way back down to Lauterbrunnen and then change trains and continue directly into Interlaken, or better yet, make a few stops and detours along the way.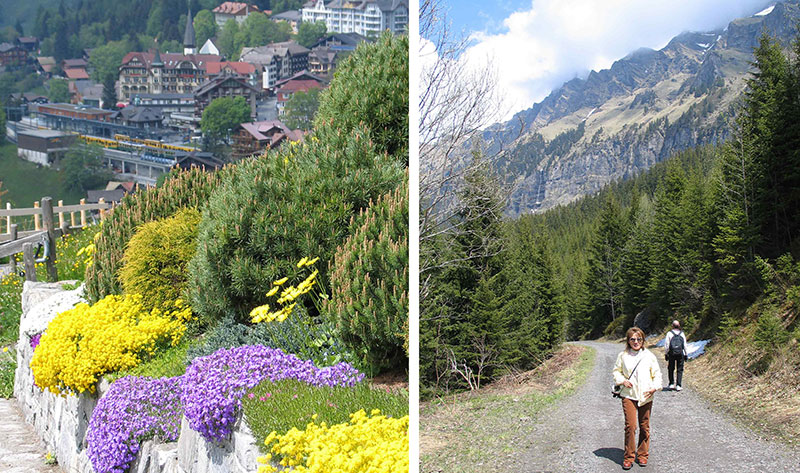 Although you have already paid for the train ticket it can be fun to walk part of the way on a little bit of a hiking adventure. If you get off the train at the request stop station at Wengernalp you can walk one hour from there downhill along a pleasant 2.2 kilometer path to Wengen, with nice views looking into Lauterbrunnen Valley, as shown in the video here.
It is a delightful stroll through meadows with a view to the Eiger, Mönch and Jungfrau on the right, and many wildflowers, especially in the spring. There is even a small hotel at Wengernalp if you care to stay in such a remote place. https://wengernalp.ch/tabletversion/index.php

For a shorter walk, remain on the train until the next station at Allmend and hike 30 minutes to Wengen, or stop for a meal at the mountain restaurant in Allmend. Or you could walk all 9 kilometers from Kleine Scheidegg down to Wengen in 2 hours.
You will see trains going by, usually twice an hour, which you could have been sitting in, but it can be more fun outside taking your time fully immersed in this special environment. It is easy walking along a well-marked trail and gravel road, but if there is snow cover this is not such a good idea because the ground is slippery and you might not see the trail beneath the snow. In early May these trails are often snow-covered, but not later in the month.

Whether walking or riding in the train, you arrive in the small village of Wengen – no cars allowed here, just people. You could bypass Wengen and stay on the train down to Lauterbrunnen, or get off and spend a little time in this village, experience the quiet atmosphere, get a drink or bite to eat, shop around and enjoy the views.
There are a half-dozen hiking trails extending out from Wengen, also a 6-minute cable car ride up the local mountain to Männlichen for more trails and views across the valley. The upper level of this cable car is outdoors, giving a thrilling vista all around. There are refreshment stands at Männlichen.

One could spend several hours in this area taking a hike on various trails, riding sleds down snowy hillside, and just enjoying wonderful views of tall mountains all around.
There are connections to another cable car which travels all the way across the mountains back to Grindelwald in 20 minutes. It's one of the longest cable car rides in the world and one of the most scenic. Passing through the Holenstein middle station you stay on the car and continue further down the slope into Grindelwald, as shown in the video here.
If you do ride the cable car to Grindelwad you could then walk to the train station and continue by rail back down to Interlaken, as seen here in the video.
Instead of taking that big detour over to Grindelwald, ride the same cable car from Männlichen back down to Wengen and get ready for a very special 14-minute train ride to Lauterbrunnen, with some of the most eye-popping scenery yet.
My favorite short train ride in the entire world isfrom Wengen to Lauterbrunnen, because of the astonishingly beautiful view looking into Lauterbrunnen Valley, which looks great any time but especially if the lighting is just right on the distant cliffs, usually in mid-day. While travelling down, hang your head out the window to get the best angle and snap some great pictures, as shown in the video here.
The switchback rail route zig-zags down -- sometimes views are best on left or right, or looking forward or back, so you need to stay mobile, and hopefully the train is not crowded so you can move around for ever-changing angles on the best view. It is so good you might consider taking it back up to Wengen and back down again, especially if you have lots of time and a Swiss Pass for a free ride.
Lauterbrunnen
You could also take a hike along this similar route on a trail that goes from Wengen down to Lauterbrunnen. It will take you about an hour and it's quite nice although much of it is through the forest. You don't get many clear views but there'll be some special angles you can enjoy.

The train ride is over in just 14 minutes and you've arrived in the village of Lauterbrunnen, a small town with a good variety of cozy hotels that would actually make a very nice home base for visiting the mountains all around you. We have been advocating Interlaken as a home base due to the large number of hotels and restaurants, but if you are tight for time and only want to see Jungfrau and Schilthorn, consider staying here in Lauterbrunnen, which has several dozen hotels and guest houses that will take good care of you.
Lauterbrunnen is a major transportation hub. You can drive your car, get cable cars from here, and rack railways, you can ride the postal bus, hike some trails, then take the train back to Interlaken which is about 1/2 an hour away.
See more about Lauterbrunnen in our Schilthorn section.
This mountain region has been declared a UNESCO World Heritage Site because of its splendid natural beauty. Covering an area of 824 square kilometers, the Swiss Alps Jungfrau-Aletsch UNESCO-World Heritage Site contains nearly all of the Bernese High Alps, with their monumental rock massifs, in the Cantons of Berne and Valais.
At its heart lies the impressive Eiger, Mönch and Jungfrau rock massif and the glacial landscape surrounding the Great Aletsch Glacier. On the southern slopes of the Bietschhorn, this high-alpine scenery is gradually transformed, over different altitudinal vegetation zones, into a submediterranean rocky steppe.
Swiss topo map of Jungfrau region: