Rotterdam Center
Pedestrian streets and shopping areas
Rotterdam is another great Dutch city you would love to visit for a few days, exploring its vast pedestrian zone and shopping streets in the center and many other attractions.
Unique among Dutch cities, it was bombed flat in World War II and rebuilt in an exclusively modern style. Continued rapid growth has produced some futuristic architecture with excellent, people-friendly town planning. Although not many classic old buildings remain, travelers will still find much to admire in the spectacular modern sights, as you will discover here.
This page has the main description of the pedestrian streets and shopping areas of the center of Rotterdam, and we also have three more pages with detailed descriptions, videos and pictures of the rest of the center, as follows:
Rotterdam one-minute video introduction:
Rotterdam is the Netherlands' second-biggest city, with 600,000 people and an urban center of 6 square kilometers, so it is best to spend at least two days here for a proper visit. In a pinch you could visit from a nearby city on a day-trip, such as from Delft, just 15 minutes away by train, but then you need to run around all day to see the sights while missing out on some good attractions. Rotterdam is worth more than that.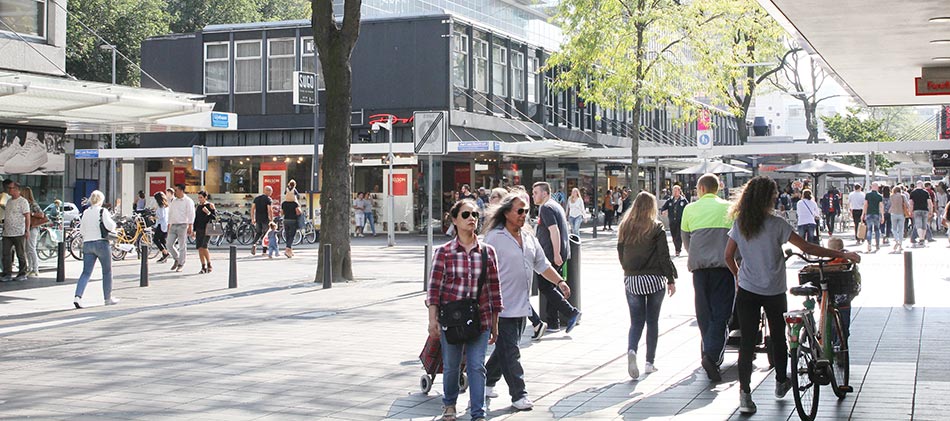 There are several major streets and malls in the vibrant center of downtown that function like a big outdoor shopping center that you will enjoy exploring. Some quaint side lanes will also entice you to have a closer look.
Fascinating modern buildings are everywhere along with pedestrian lanes, parks, shops, restaurants, museums and the scenic waterfront setting for bustling boat traffic.
Rotterdam walking tour video
The Netherlands is fairly small, so you could be staying at a nearby town such as Delft or the Hague or Utrecht and come over by train. It takes just about 15 minutes to arrive from Delft, for example, so that makes it an easy daytrip.
Or better yet, take our suggestion and stay in Rotterdam for a couple of nights.  That will give you time to see the important sights and also poke around in the little streets, exploring the boutiques, art galleries and unique little craft shops.  There's a boat ride in the harbor you'd also like to take, and several delightful museums.
This is a busy and charming city, with a compact downtown,  about 1.5 kilometers from one end to the other. There is a lot to see here: museums, variety of restaurants, the waterfront, great architecture, including many modern buildings.  The sidewalk restaurants and cafés are extremely popular. You are going to love this city.
Lijnbaan
Begin your explorations by walking two blocks east from Centraal Station to Lijnbaan, the most famous of all Rotterdam streets. Lijnbaan is the first automobile street in Europe that was converted to exclusive use for people, making it Europe's premier modern pedestrian shopping street, opened in 1953 after the devastation of World War II.
By now this pedestrian concept has been copied in nearly every city and town in Europe and many places. They experienced initial resistance shop owners opposing it for fear of losing customers, then realizing foot traffic is the best possible retail enhancement. Shopping malls did not even exist yet in 1953, so this was really some kind of visionary planning. The famous American shopping mall developer Victor Gruen visited here back in 1953 and was disappointed that this had already opened before his own first mall was built.
The stores are integrated so well with the street that it looks more like a standard shopping mall than a pedestrian lane, enjoying advantages of both urban and suburban styles. You'll want to get off the mall now and then for added shops and cafés on the side lanes.
One plaza branching off here is Stadhuisplein, a wonderful outdoor space with lots of dining facilities on a terrace that was the city's first open-air restaurant location, and still one of the most popular. Across the busy Coolsingle Street is the old City Hall, which is convenient to visit now. After that we shall return to the pedestrian mall.
City Hall
Stadthuis Rotterdam (City Hall) is a grand structure built between 1914 and 1920 in somewhat of a Renaissance style. It is located on a major boulevard, the Coolsingel, and still functions today as the seat of government with the mayor's office and the Council Chambers. It is one of the few major buildings that survived the bombing of World War II.
The building is open with free admission to the public areas on the ground floor where you will find an amazing lobby with some lovely surprises including a couple of large statues and a magnificent rotunda with large dome towering above somewhat reminiscent of the Florentine Renaissance style of Brunelleschi, and neoclassical arches that harken back to the days of ancient Rome. Have a good look but don't stop there.
Continue through the arcade on the backside of the building where you will find a hidden-away charming place. This garden is easily overlooked, especially if you're just walking past the outside of the building.
It is a surprising, lovely oasis in the back yard of the City Hall, with a fountain in the middle, benches around it and beautiful flower gardens surrounded by old, brick, ivy-covered walls.
Like all Dutch City Halls, many weddings take place here, and the garden is the ideal spot for those wedding photographs, capturing the emotions with a gathering of friends and family. 
There's no line to get in and there are some clean toilet facilities inside. The security guards are quite friendly, looking out for things here. You can also arrange a free tour inside the building if you make a reservation. There you'll see the grand Chamber Halls and numerous artworks–murals and sculptures, and the wedding room and wedding reception hall.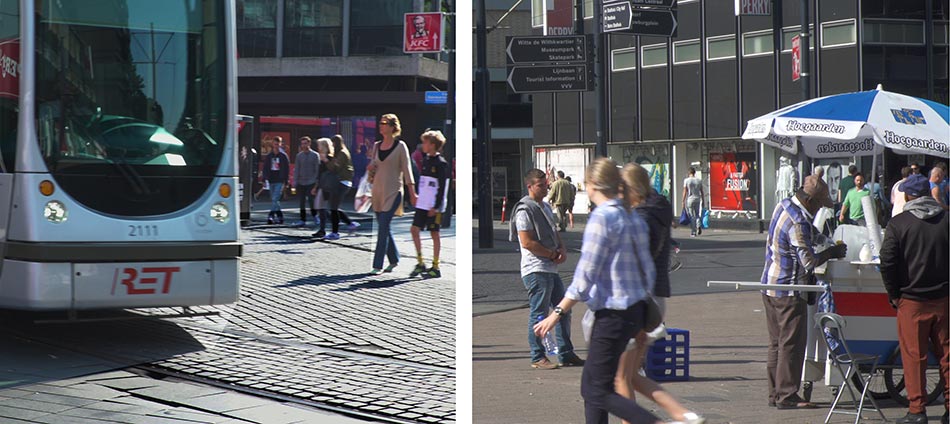 Continuing a few blocks further south on Lijnbaan, we cross a busy intersection with lots of pedestrians and trams to reach another lovely side mall called Beurstraverse. There are still no cars allowed down here, but you've got trams on steel rail at street level going by. It's a safe mix for alert pedestrians.
You could go left onto Beurstraverse now, but better yet, continue one block to reach the end of Lijnbaan which terminates at another wide pedestrian shopping plaza, Binnenwegplein, a popular spot with benches to rest on while watching the passing parade. Walk around the block by turning left here and the next left on Coolsingel, bringing you back to Beurstraverse featuring an intriguing split-level shopping mall with the lower deck sunken below street level.
Beurstraverse is a lovely place to visit, something quite different with shops above and below, along with benches and tables out in the plaza. This sunken mall has a brilliant design that encourages people to shop on two levels instead of just one, unlike a normal shopping street where people usually just stay on the main street level.
Of course most shopping malls are multilevel with escalators and nice stairways which is what we find here, a hybrid between mall and pedestrian street. There is a charming curve to the architecture of the plaza, providing a cozy and comfortable feeling. The nickname for this place is Koopgoot, which means "shopping gutter" with the bottom level so low you can walk straight into the metro station.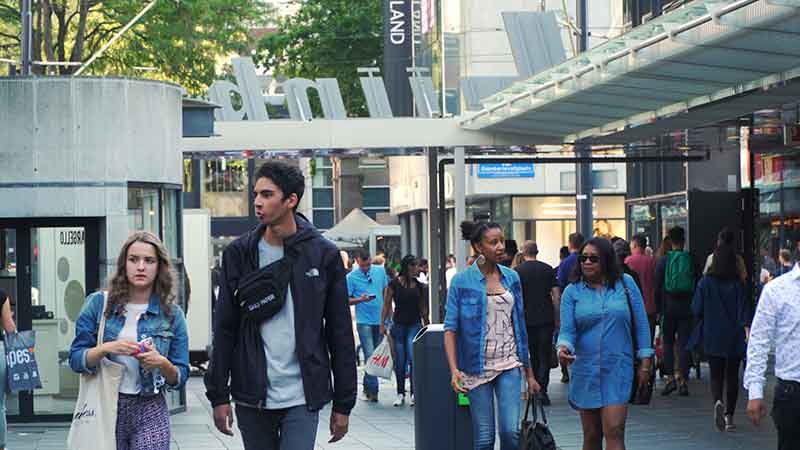 After walking along these busy pedestrian malls, you will have seen a thousand locals already and noticed the surprising ethnic variety in a land you might have thought was all blonde and blue eyes. Rotterdam has the nation's highest percentage of foreigners, with half the population of non-Dutch origins or with one parent born outside the country.
At the time of publication, the mayor of Rotterdam, Ahmed Aboutaleb, is a practicing Muslim of Moroccan descent. Rotterdam is a good place to be young and single because 70% of the city center population between the ages of 20 and 40 is unmarried.
From Beurstraverse walk east 500 meters on Hoogstraat where you might get lucky and come upon a big calliope playing pipe music, as sometimes happens on busy Dutch pedestrian lanes.
Markthal
You now arrive at one of the most amazing buildings in Rotterdam—Markthal, a food market, restaurant cluster and apartment house! Next to it is the city's biggest outdoor marketplace.
The outside of the building appears almost normal upon approach from the side, where you may notice apartments with balconies and a slightly curved roof.
Markthal video visit
But stepping inside begins a kaleidoscopic journey that's like entering a fantasy land, looking high up at the concave roof covered with an amazing mural.
The main food hall has a floor area nearly the size of two football fields, 120 meters long and 70 meters wide, reaching a height of 40 meters, carving out a vast enclosed space larger than most cathedrals. It is visited by 8 million people every year, half of them from Rotterdam, the rest from the Netherlands and abroad.
That arch above is a condominium of 228 apartments, many with windows looking down into the market.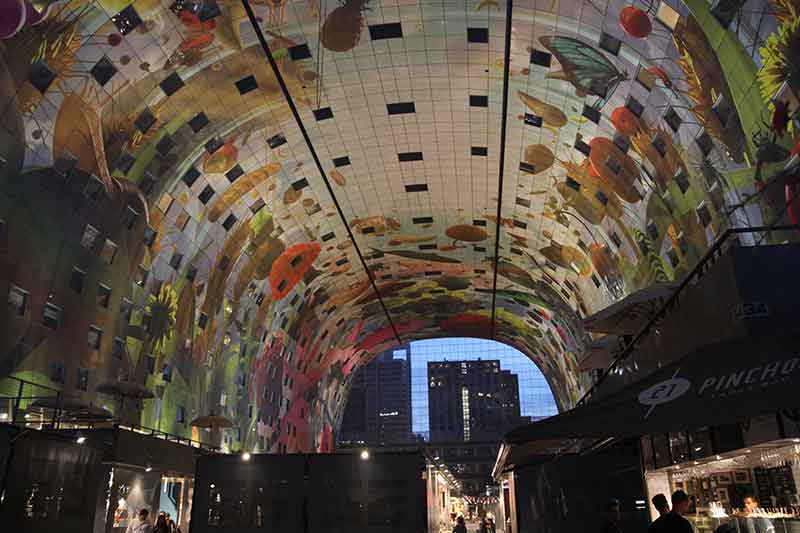 The roof's innovative shape is further complemented by an amazing mural depicting a cornucopia of foods on offer in the market, along with flowers and butterflies. The name of the artwork is "Horn of Plenty." This unique painting covers 11,000 square meters, making it reputedly the largest picture in the world. It was created by Arno Coenen and Iris Roskam, helped by a team of animators, photographers, and special-effects at Pixar Studios.
The artist Arno Coenen explained, "You could just look at the wonderful almost psychedelic picture for its beauty, which points out the miracle that food is there for you, it is a work with the spiritual, religious feel to it. However, it's larger-than-life size is not a tale of religion. It's about nature." Some call it the "Sistine Chapel" of Rotterdam.
Indulge yourself at a hundred food booths and snack bars featuring many different cuisines and nationalities under one roof: fresh produce, cheese, pasta, pizza, sushi, frozen yogurt, fish and chips, churros, fresh fruits, noodles, baked goods, Italian, French, Spanish, Asian, Dutch, Indian, Vietnamese, Turkish, Lebanese, Syrian, Chinese, Greek and Portuguese.
There are salads, coffee, cappuccino, donuts and cupcakes, chocolates, licorice, seafood, sausages, spice, frittes, calamari, custard tarts, nuts, herbs, dried fruits, waffles, wine shops, bakeries, tapas, hams, juices, mushrooms, croquettes. There is a kitchen utility shop, an Asian grocery store, bubble tea, sandwiches, burgers, crepes, and more.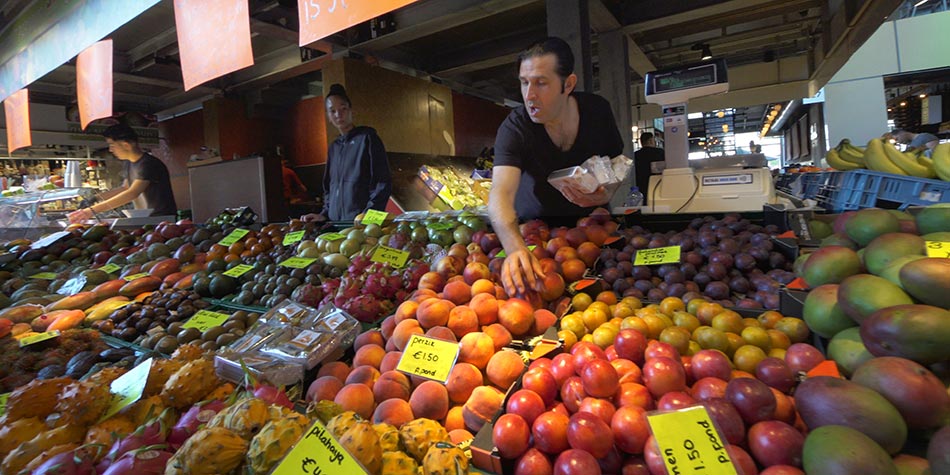 Fruits and vegetables cover the counters in endless variety of colors. They have 20 different restaurants with seating or take-away, but you might just decide to eat while standing. Perhaps also pick up some fresh strawberries, a loaf of bread and bottle of wine to prepare for a picnic in the park outside.
You would expect a Dutch market to have lots of cheese for sale, but you might be surprised at the incredible variety of flavors of the cheese, such as herb, garlic, mustard, truffle and chili pepper. Influence of Mediterranean cuisine is found everywhere, for example in the large variety of olives and tapenade, a crushed olive paste in different flavors, textures and colors. If you're not hungry when you enter, you soon will be after walking around and enjoying this visual feast.
Alongside the Markthal is a very popular outdoor public park with playgrounds for the kids, especially on Saturdays when families gather together, enjoying a holiday atmosphere. It is located at Grotemarkt in the Laurenskerk quarter, between Markthal and the outdoor market.
The unusual white building beyond the park is Rotterdam's Central Library, another of the city's best architectural curiosities. A six-story cascading façade with industrial design and angular yellow tubes gives it a delightful, whimsical appearance.
The library contains half a million books in open stacks and one of the biggest record libraries in Europe. It's a multipurpose structure with a theater, bookstore, Internet terraces on the first and top floors, lecture halls and a café that sometimes has live music.
From the Markthal you could visit the adjacent Cube Houses, Blaak Market, and Old Harbor, which we describe in detail on another page. For now we are continuing the walk along Rotterdam's most interesting shopping streets, heading to Witte de Withstraat.
You could reach Witte de Withstraat by walking about one kilometer along the waterfront, or just take the metro from Blaak station for one stop to Beurs station, then walk 200 meters to Schilderstraat, which soon changes name to Witte de Withstraat.
If you walk instead of riding the metro, you can enjoy a long waterfront pedestrian route along Wijnhaven canal, with bridges to help you get around in this area, and many things to see: boats going by, high-rise apartments, and local families out for a stroll. A short-cut using the Kraneschipbrug pedestrian bridge provides a lovely harbor view while saving you from walking around the block. This brings you past the Maritime Museum, that we describe elsewhere, and then connects directly to Schilderstraat.
Witte de Withstraat
Our route continues as the street changes name to Witte de Withstraat, one of those perfect urban streets that's got it all: sidewalk restaurants, ethnic cuisines, cafés, bars, music clubs at night, art galleries, alternative boutiques, unique little craft shops with handmade items, nearby hotels, wide sidewalks, trees providing shade and mostly local clientele. You can see why it's one of the most popular places to hang out, more cultural than the shopping malls seen earlier.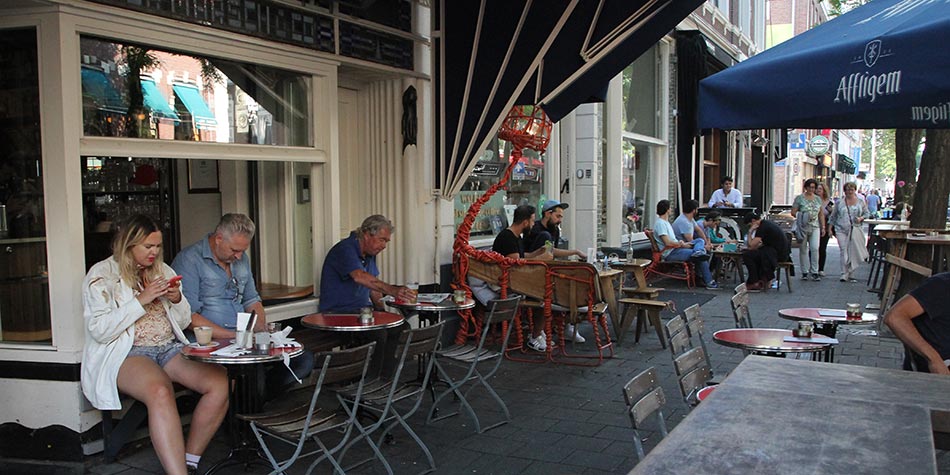 The atmosphere here is relaxed and slightly Bohemian, compared to most other parts of town, and yet it's a family-friendly place, unlike during the 1970s when it was noted for seedy bars and illegal gambling. Now it's a bit of urban heaven with a residential neighborhood around it that also includes some small hotels and vacation rentals.
This quarter is the vibrant heart of Rotterdam's art scene, sometimes referred to as the Axis of Art, also known for its dynamic nightlife. While galleries, cultural institutes and fashion boutiques are open all day, the focus shifts to cafés, bars and restaurants in the evening. The street is only 400 meters long so you can easily walk along both sides of it to check out all the action in a short time.
The museum district called Museumpark begins at the end of this street, which we describe elsewhere.
Westersingel Canal
You have now reached Rotterdam's most well-known and popular canal, Westersingel, which forms a lush, green, sculpture garden along the western edge of downtown.
At this point you have various choices. You could visit the nearby Boymans van Beuningen museum, or head south one kilometer to the Wereldmuseum and waterfront for the harbor cruise boat ride, that we describe elsewhere. All of those activities are highly recommended, as you can read about in some detail in our other pages.
For now we are assuming you have done that and are now ready to continue north one kilometer, back towards Centraal Station. You could easily hop on tram 7 and ride 10 minutes north along the canal back to the train station, but you would find that Westersingel is a delightful place to walk.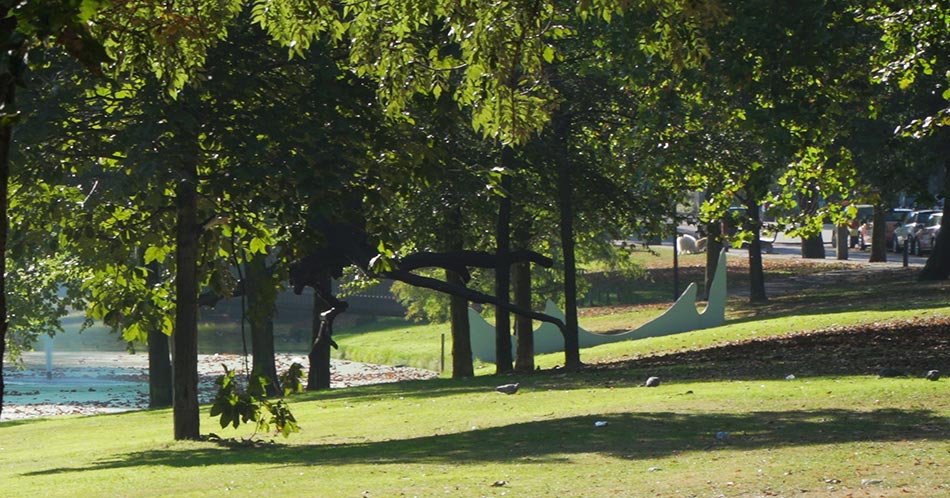 This lovely route along the canal has a park on both sides, with lush landscaping, towering trees, benches for relaxation, ducks in the water, several fountains, a wide promenade, and a series of large sculptures in this vibrant outdoor setting.
It's called the Westersingel Sculpture Route and displays 17 different statues by major sculptors, including Rodin, extending north for about 800 meters between the Museumkwartier and Kruisplein. The art is managed by Sculpture International Rotterdam which supports the city's international and cultural objectives. They continue to develop projects to further promote Rotterdam's collection of artworks in public space.
Several side streets lead from here back into the central pedestrian zone, most notably, Eendrachtsplein, which extends towards another popular shopping street, the Oude Binnenweg. These are some of the only streets that are still surviving intact from World War II, not seriously damaged in that devastating bombing run. It's a pedestrian zone famous for its many pubs and shops.
A statue of Santa Claus stands on the right, holding something variously described as a Christmas tree or vaguely erotic sex toy. The nickname for that statue is "Kabouter Buttplug," which means gnome butt plug in Dutch. The artist, Paul McCarthy, intended it as a statement against rampant consumerism.
Delfshaven
While walking the sculpture route you might consider another side trip option to Delfshaven, easily reached in 15 minutes by tram number 4 or metro that you connect with at Eendrachtsplein along Westersingel.
Unlike most of Rotterdam, Delfshaven was not bombed during World War II, so it has old-fashioned historic architecture and numerous beautiful houses along a scenic waterfront with shops and restaurants. It is the only part of the city that looks like most of the other towns in the Netherlands.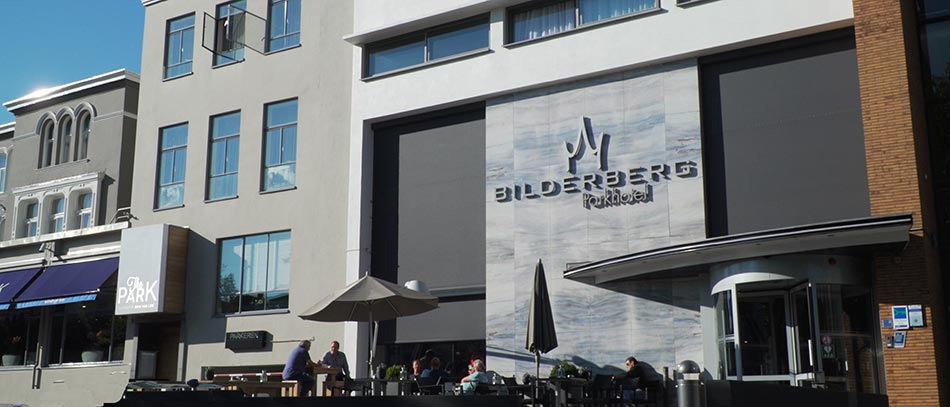 Continuing our walk along Westersingel, you'll notice several hotels, especially the four-star Bilderberg Park, ranked among the top hotels in town. It's been around for 90 years and has been thoroughly modernized.
I noticed a nice little neighborhood park one block over from the canal, on Karel Doormanstraat. I happened upon a local lady walking her dog, and it seemed like she was in no hurry to get anywhere, so maybe she wouldn't mind a quick chat. Your travels will always be enriched when you strike up a conversation with a friendly local.
I asked her, "Could you please tell me about Rotterdam?" and she had a lot to say.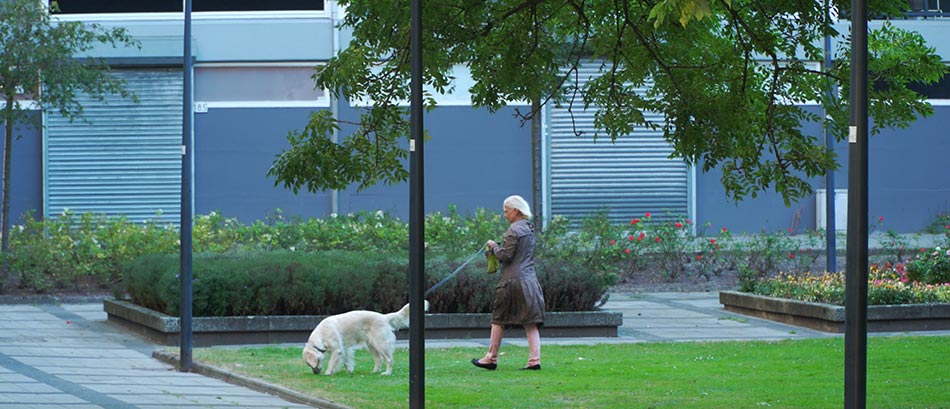 "We are proud people, but we are also people who rather work than play. Work first, then play. Most of the time we're very proud of our city. And we have a lot of pedestrian malls, very pedestrian friendly. That's a bonus, and I think for the shops in the malls as well. And now they're still wanting more shops, more shops, more malls. And everybody can see, no more, there are already so many empty spaces. How many clothing stores do we need?
"Of course there's always a need for affordable housing, right? That's the part they keep on forgetting. They break them down but they don't rebuild it. A lot of people are living above their means."
"Well this is a beautiful street, typical of many of your streets, isn't it, with the trees, outdoor cafés and pedestrians?"
"Yes, but that wasn't always the case, oh, no. Not too long ago we had only one square, that's the one that looks onto the City Hall. That was the only one that had terraces. That's not that long ago, maybe 10, 15 years. And now every self-respecting pub or restaurant needs to have a terrace, even if it's only two chairs. Here there's always something new. Have fun. Enjoy our city."
Trams and trains
Nine different tram lines are operating in Rotterdam, making them a convenient way to get around, all thoroughly modernized. Trams provide a comfortable ride on steel tracks, smoother and with more seats than a bus. There are different kinds of tram tickets you can purchase. If you're just taking one ride, you can buy the two-hour ticket, good for anywhere in the system, including round-trips, or you can buy the all-day ticket.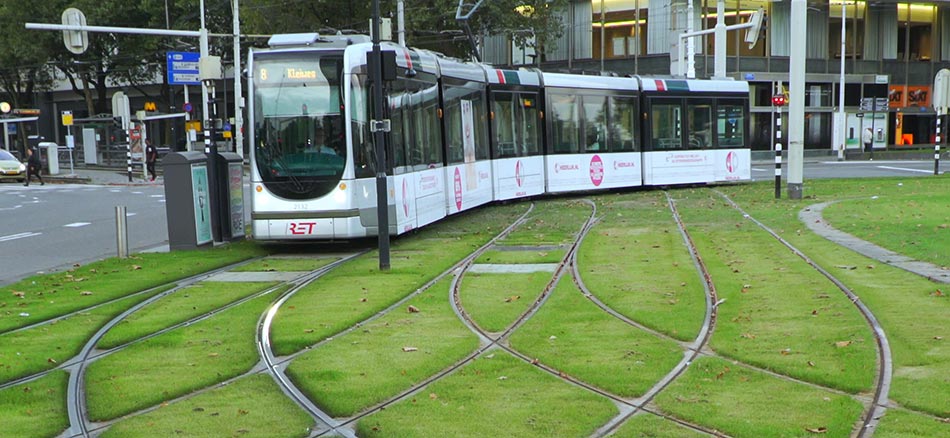 At their beginning in 1878, trams were horse-drawn vehicles until 1904 when the first electric trams began. By 1906 there were already five electric tramlines operating and four more lines began in the next four years. The last horsecars stopped running by 1925. The maximum extent of Rotterdam's tramway network was 25 lines, which was reached in 1930.
Throughout the main cities of Europe, there has been a similar history of trams developing from horse to electric and then declining, but recent years have experienced a resurgence in popularity. At one time, 40 different Dutch cities had operating tram systems, but now there are only a handful, and just two have metros, Rotterdam and Amsterdam.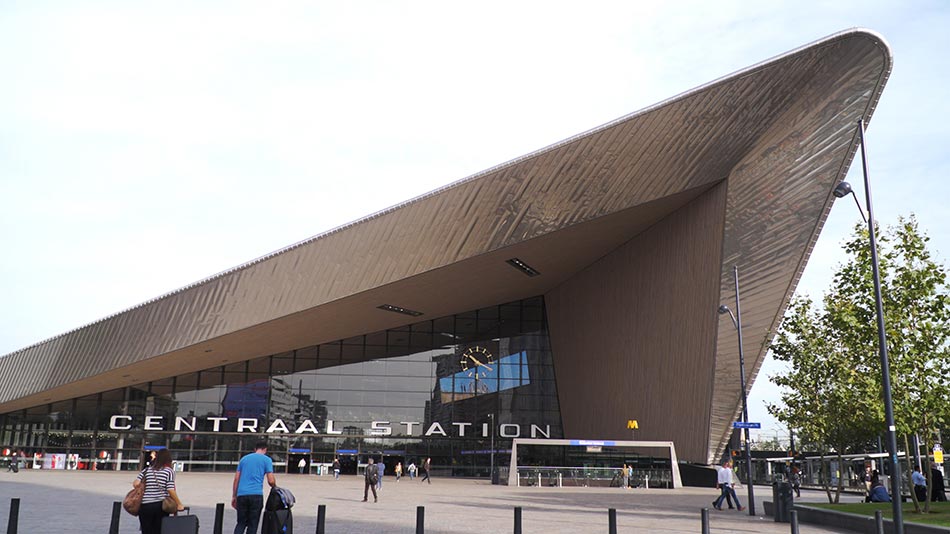 Centraal Station
Centraal Station is the hub of transportation in Rotterdam with many different train lines running through it—Intercity, local, trams, Metro, light rail, and international. It's a busy place with over 110,000 passengers every day. The train station is like a small city, with shops and restaurants, and you'll even hear some live music if somebody is playing one of the public pianos. Naturally you'll find a Starbucks along with some pretty good food, including French and Italian.
The Dutch trains are really the best way to get around in this country. You don't need to drive because the trains go practically everywhere, including all of the main cities that you would want to visit.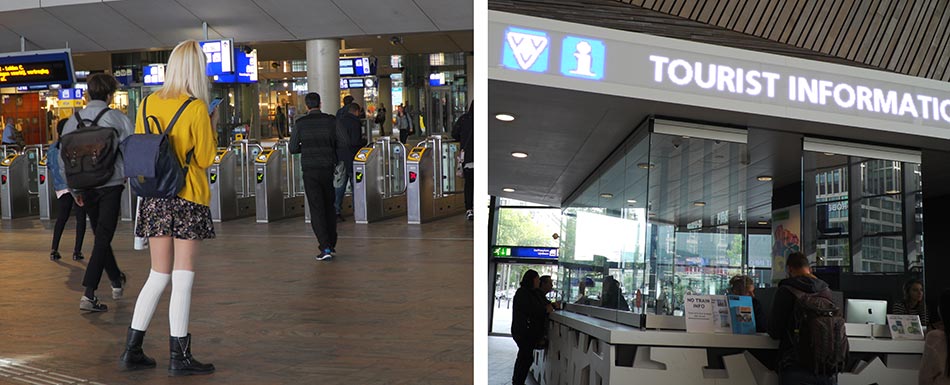 There's an excellent Tourist Information counter here where you can get a lot of good advice about the main sites you want to see in your visit. They provide information about hotel bookings, restaurants, exhibitions, and what's going on, with free maps and brochures, and the tourist app you can download on your mobile phone.
I learned more in conversation with a knowledgeable, friendly agent:
"Main highlights, the Market hall, Erasmus Bridge, Cube Houses, and the Kop van Zuid with architecture by Renzo Piano, Rem Koolhaas, Norman Foster. And pedestrian lanes, the Lijnbaan is the first shopping street in Europe, very nice, people walk around there and the Hoogstraat, Hoogstraat pedestrian zone, and the library"
The train service between cities is quite frrequent, every 15, 20 minutes, to Amsterdam maybe four times an hour, can take you direct in 45 minutes. And Schipol airport is only 26 minutes away. Rotterdam has continued growing, getting more popular with more tourists coming every year. In the past it was Amsterdam only, but now Rotterdam is getting also popular.
While you are at the train station you might consider visiting Rotterdam's world-renowned zoo, called "Blijdorp Zoo" just a 12-minute walk to the northwest of the station. It's known for Art Deco architecture and has about 200 animal species along with multiple cafès in a botanical garden setting.
The tram station out front of Centraal Station is quite active with eight different lines running through it. You'll quickly reach anywhere in town from the Centraal Station.
Another interesting landmark is the grass-covered trafic circle and large fountain at Hofplein, located along the broad Weena boulevard, one kilometer from the station. It can be easily reached with tram 21, 23 or 24, or just walk there
The huge fountain is in the middle of the busy Hofplein traffic circle with cars, bicycles and trams zipping by. The tracks are placed in a wonderful, eco-friendly grass lawn, with several main streets crisscrossing, and people on foot or bike heading off in all directions, especially busy at rush hour.
The Hilton Hotel is here, a very good place to stay that sheltered me in comfort for two nights. It's a beautiful five-star modern hotel, right in downtown and only 10 minutes walk from the train station, with a tram stop in front of the hotel. Grand Hotel Central across the street is a less expensive option, a comfortable three-star hotel with the same excellent location.
The road behind these hotels leads one block over back to the Lijnbaan pedestrian shopping mall, where we began our visit, and the waterfront is one kilometer away, about a 30 minute walk or easy tram ride.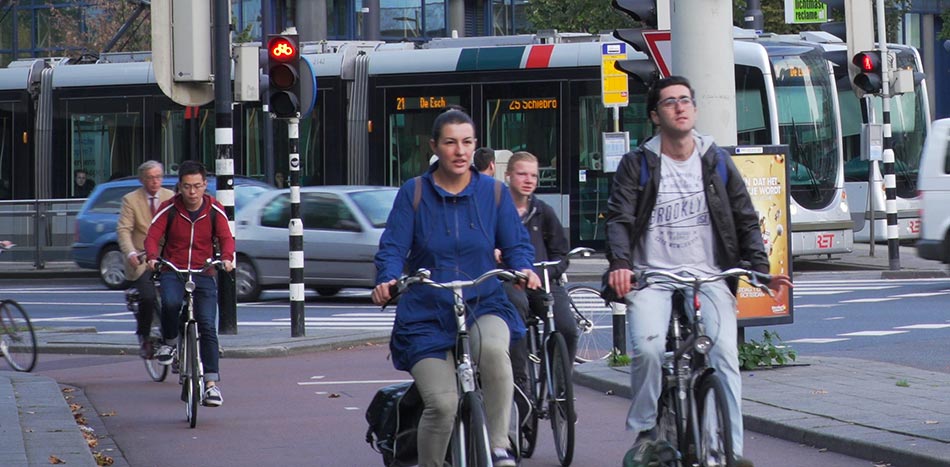 Perhaps consider traveling like a local on a bicycle, which you can rent at the train station and other places around town, and with so many bicycle lanes, it's very safe. Just take the normal precautions. You're in a country where more people ride their bicycle to work than drive a car.
Walk recap
The total walking route covered a total distance of about 5 miles, or 8 kilometers, but double that if including all the meanderings in shops, museums, parks and other diversions. You could possibly do all of this in one big day. After all, a normal walking pace is 3 miles per hour, so theoretically you could cover the bare-bones distance in a half-day. Of course, that is not recommended, because you need much more time to absorb the sites, take a boat ride, visit a few museums, enjoy food and drinks, shop, chat with locals, get a little lost and just plain old meander. Our tour is designed to efficiently cover the distance in one convoluted, continuous loop, which should properly be divided into two days to provide sufficient time for relaxed discoveries.
History: Post-War Reconstruction
Rotterdam is a unique Dutch city in being totally new, already with 38 skyscrapers and 352 high-rises and many more coming up soon. There are only a few of the historical buildings and a small historic neighborhood left here.
The city was rebuilt from scratch after World War II because of extensive damage during a bombing raid by the Germans in 1940. Ironically the raid only lasted 15 minutes but it was a thorough carpet bombing of the city that totally destroyed the central part of Rotterdam.
Rather than re-create the historic buildings after the war, the government decided to do something bold and different. They completely cleared out the rubble and rebuilt from scratch, resulting in a wonderful, thoroughly-planned and efficient modern city. Starting from zero, they were able to layout streets again and design the contemporary style of buildings, including housing, in the central part of town.
Many buildings are skyscrapers with mirrored glass walls, a reflection of thoughtful creativity that produced unusual, post-modern architectural styles. There is no other Dutch city that's as modern and the result is spectacular.
It's taken 60 years of effort to build it up and the city is still growing with many ongoing construction projects—a healthy and vibrant metropolis. There is a lot to see here: pedestrian lanes, shops, museums, many restaurants,  the waterfront, and great, modern architecture. This spectacular place is another Dutch city to love.
Excursion to the beach
One final suggestion is a beach trip to the "Hook." Hoek van Holland is a lovely coastal town known for its beautiful beach, the Noorderpier or North Pier and the Nieuwe Waterweg with the Maeslantkering Storm Surge Barrier. There is much to see and do in this bustling seaside resort: beach clubs, bars, restaurants, shops and museums.
Hoek van Holland is accessible by public transport with metro line B. The 'Hoekse Line' takes you in 35 minutes from the center of Rotterdam to Hoek van Holland Haven. Buses (611) depart from Hoek van Holland Haven to Hoek van Holland Strand. A ferry departs from here on a 5 1/2 hour crossing to Harwich, England.
The cities of western Netherlands are surprisingly close and interconnected. For example, the Rotterdam tram system also serves Schiedam, Vlaardingen, Barendrecht, and even The Hague Centraal Station (metro line E). The Hague doesn't have a metro system itself, but is served by the metro of its neighbor, Rotterdam. Leiden and Utrecht are just a 30 to 40-minute train ride away. The Netherlands is a small country that you could cross from one end to another by train in 3 ½ hours. Learn all about it in the many pages on our website.
Be sure to look at our other Rotterdam pages: