Siena

Siena, in the heart of Tuscany, is one of Italy's most popular destinations, a great medieval landmark to explore. It's both a historic site and a vibrant modern city with excellent shopping, many fine restaurants, and beautiful pedestrian lanes throughout town. We'll show you the busy main streets, always active with lots of people, and take you to those out-of-the-way little lanes, into the quiet residential neighborhoods.

The main piazza, called il Campo, and the Cathedral, called the Duomo, are two of the most important attractions that we will explore in detail.
Siena is so well-preserved that UNESCO has designated the entire old town as a World Heritage Site, not just one building or neighborhood, but all of the old town.

UNESCO describes Siena as "an outstanding medieval city that has preserved its character and quality to a remarkable degree. It's a rare example of a medieval historic town of this size. The original urban form of the city, with its 15th century street plan, has been retained along with the Gothic design of its public buildings, palaces and tower houses, which remain unchanged."
Siena is a very livable city, built to a human scale, covering about a square kilometer, which makes it small enough that you can easily walk from one end of town to the other in a single day and see almost all of the sites in between. There's an endless variety of interesting things to see along your way.
Siena attracts millions of visitors every year, and yet most people don't spend the night here. They're visiting on a daytrip, maybe three hours, half a day. Typically they are coming from Florence, just over an hour away by bus or by train or by driving. At the end of the story we will show you the best way to get from Florence to Siena.
The many wonderful sites coming up in this story can be covered in one big day, if you get here early and stay late, but you might find it's better to spend a night or two in Siena itself so that you can really enjoy the many pleasures of this amazing town.
This Google map shows the route we will be walking in our visit:
Siena is a small city, but crisscrossed by dozens of little lanes that provide many miles of picturesque strolling opportunities for the ambitious trekker. It's fun to just wander around and get a little bit lost, up and down the back alleys and then find your way back to the main lane and the major landmarks.
Siena is divided in three districts corresponding to the three ridges it sits on, North, West and East, with the Campo in the middle, the main piazza.
At the north end of the main shopping lane, via Banchi di Sopra, there is a pretty little square, Piazza Salimbeni, with Europe's oldest bank founded in 1472. Facing that is Siena's five-star grand Hotel Continental. It's been here over 100 years, a former palace – nice spot for a break.
The next square is Piazza Tolomei, whose palazzo is the oldest private residence in town, dating from the early 13th century. The piazza is a popular place for locals to hang out and watch the passing parade.
This main shopping street is worth walking from one end to the other, perhaps stopping for a bite at one of the attractive little restaurants along the way. And narrow side alleys will attract you with their charms.
This street was once part of Europe's most important medieval route, like an ancient superhighway, called via Francigena, which united northern Europe with Rome, always busy with pilgrims heading for the sacred city.
Via Banchi di Sopra soon ends at the beautiful Loggia Mercanzia. Built in the early 1400s the loggia had been commercial Court of Justice and a money exchange house.
This is the central intersection, the heart of downtown where Siena's three main pedestrian streets come together: via Banchi di Sopra comes in from the north, then branches off to the east becoming via Banchi di Sotto, and to the west as via di Citta. The latter two, Citta and Sotto are really one street the changes name, then change again at the fringes of town. So at this point, all three districts are joined. These three streets are the widest and busiest of the pedestrian lanes in the historic center and have many buildings from the 13th through the 15th century – palaces, churches and old civic structures.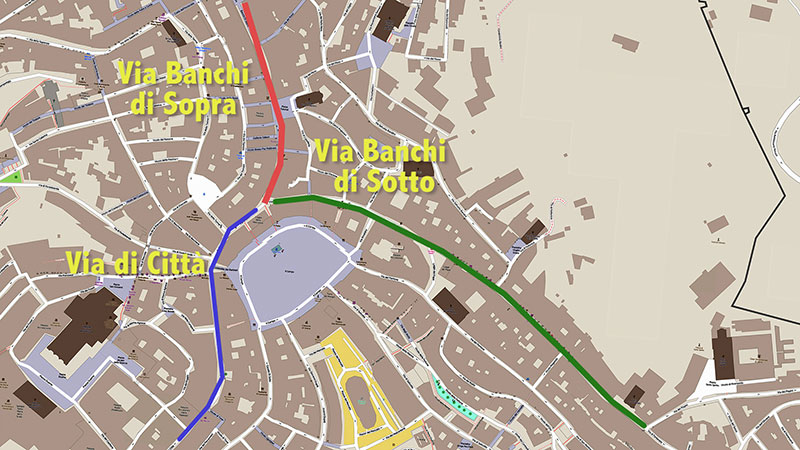 Of course, you will find varying kinds of shops and restaurants throughout their lengths, which total less than one mile altogether. This is the neighborhood for easy strolling and watching the locals in action, although it does get quite full of tourists during the busy summer season. Escape the crowds by ducking into the side alleys. We're going to take you on detailed walking tours in those three parts of town, but first let's have a close look at the Campo, the great piazza of Siena.
iL Campo
This famous public square in the heart of Siena is not very easy to see from the main pedestrian lanes, hidden by the buildings around it, but you'll find that it's very easy to gain access. There are 10 different entrances to the piazza via alleys, staircases, various ramps and little lanes. Several of those alleys have good places to get a quick bite to eat, although many fine restaurants are waiting for you in the piazza.
Nearly 500 feet wide and surrounded by shops, restaurants, and the towering Palazzo Publico, this is the very heart of town. Il Campo symbolizes the government in various ways. One message the leaders proclaimed with this large square was they would rule the city properly and were therefore not worried about a revolution or a gathering of large groups of people.

The piazza is divided by brick lines into sections that represented the governing Council of Nine at the time it was paved in 1349, which some people feel today was the best government they ever had. Nine merchants and bankers ruled, desiring to make themselves and everyone else rich, and with the theme that all were welcome to participate. The Council of Nine presented a very new kind of democratic message for the Middle Ages, and it worked so well that Siena became one of the richest cities in Europe.
Like most of the rest of town, the surface here is slanted along the slope of the hill adding an unusual dimension to this beautiful gathering place. Piazza del Campo was and remains today the principal public space of the historic center and is regarded as one of Europe's greatest medieval squares. It's renowned worldwide for its beauty and its architectural heritage.The shape of the piazza has been compared to a horseshoe, a half-moon, a seashell, and an amphitheater, and yet it's commonly called a square.
The Fonte Gaia, which means "fountain of happiness" was built in 1419 as an endpoint of the system of conduits bringing water into the city center.
Construction of the Palazzo Pubblico, or City Hall, began in the late 13th century in classic Sienese Gothic style, built of stone on the bottom level and brick on the upper floors, with crenellations, turrets and the tall tower giving it the appearance of a fortified castle. Parts of the large structure still function as the City Hall today.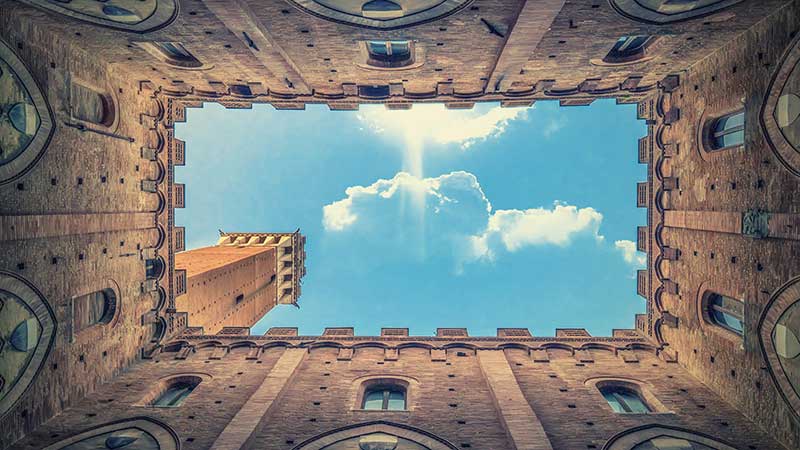 If you just want a free, quick glimpse you are welcome to walk into the inner courtyard, no charge, surrounded by an impressive arcade with colorful coats of arms and offering a dramatic view up at the Mangia Tower, while other sections are open to the public as the Civic Museum.
The piazza is lined by palaces formerly housing the noble families of old Siena: the Sansedoni, the Piccolomini, the Saracini and others all build to a fairly uniform height and appearance. The open site was the marketplace established before the 13th century on a sloping site near the meeting point of the three hillside communities that coalesce to form Siena, the Castelari, the San Martino and the Camoglia.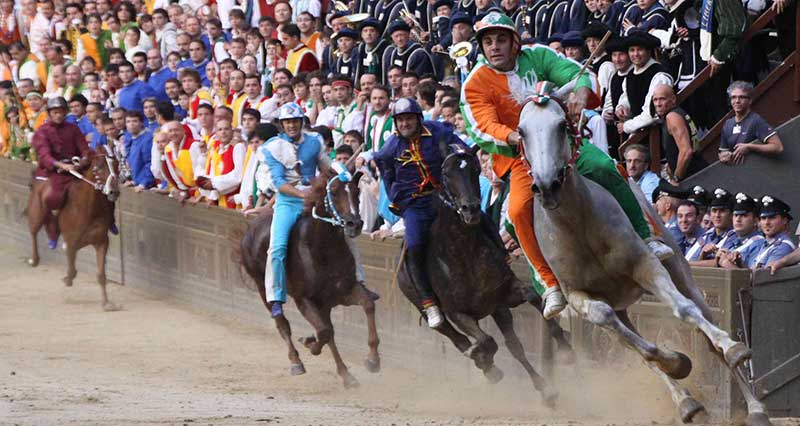 Twice a year, the Campo becomes an arena for the famous, bareback, horse race called the Palio, with 30,000 screaming spectators crammed into the center and 20,000 more fans standing all around the outside and looking down from the windows and balconies.
Regarding the timing of your visit, if you're coming as a daytrip, say from Florence, you'd want to get here as early as possible and stay as late as you can. In other words, give it the full day, there so much to see. But if you only have half a dayit is better to come in the afternoon, which is more lively than in the morning. That way you can be here for the late afternoon passeggiata, when many locals come out for that twilight stroll, and maybe stick around for dinner.
You'll probably walk through this central piazza several times in your visit. Maybe one of those occasions you can stop for some gelato, the ideal snack with a quick energy boost.
The Campo is a great place to have an outdoor meal at one of the many sidewalk restaurants that are around it, although you're eating here more for the ambience than for the quality of the food. You'd probably find dozens of high-quality restaurants with good prices in the back streets away from the tourist area, but you can't beat this location, especially in the evening.
You will find this experience of eating an evening meal at twilight, sunset on the Campo, is going to be one of the highlights of your trip, no question about it. Sit back and relax, enjoy the ambience, have a carafe of wine, have some antipasti, have some salad, eat a main course, or you could just sit down and have a drink may be the classic spritz with a few snacks to go with it, and just enjoy this environment and experience.
You will probably look back on that moment in future years as one of the highlights of all your travels. And then after dinner, you can stroll back up the main street heading to the bus stop. There are plenty of buses heading back to Florence in the evening, or maybe you're staying in Siena, better yet, that would make things much more comfortable.
Late afternoon and early evening are always the best time for strolling in any Italian town's main streets because then the locals are out in force enjoying their passeggiata, the promenade, see and be seen. This delight of the evening walk is a great reason to extend your visit for a full day and night.
But we are not leaving yet! Siena's Duomo Cathedral is just two blocks away from the compo, and we will bring you in there later in the story for a detailed visit. Now let's take a walk in all those little back streets of town that are so wonderful, starting on the lower west side.
Back lanes
Get away from the crowd and you'll start to feel like a local. You'll find that when you get off the beaten track, these little lanes are a lot more interesting. You're not going to see many shops or restaurants, but you will notice the beautiful architecture, the old brick, the arches across the alleyways. Simple sites, like a local out walking her dog, can be pretty entertaining when you just stop and take a look, and wait for something to happen.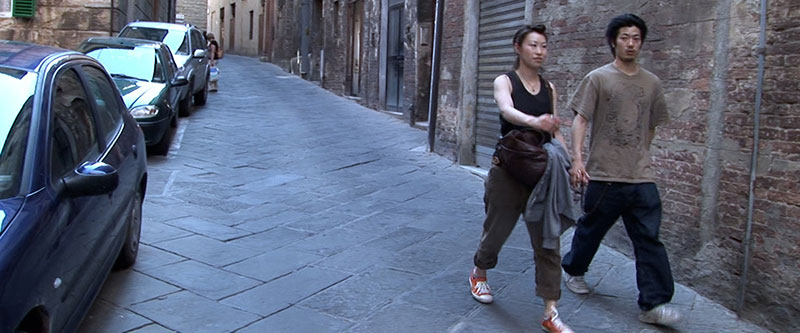 If you're walking down, you're going to be having to turn around eventually and walk back up the hill. After all this is one of the Tuscan hill towns. Walking on the steep hills can be a challenge for anybody, especially if you have a dog who's pulling you in the opposite direction.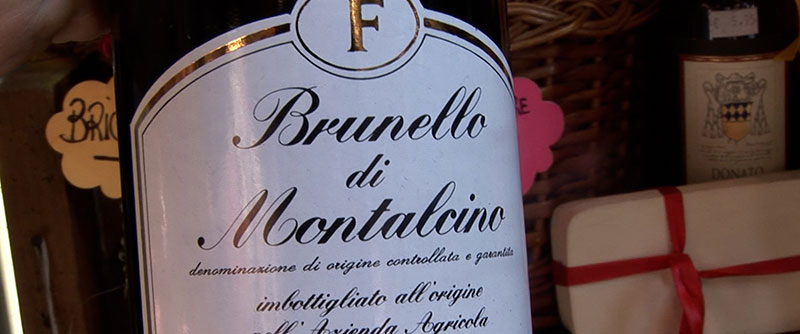 Browse in the neighborhood wine shops for what many consider to be the finest of all Italian wines, Brunello di Montalchino, a proud product of Tuscan vineyards. The restaurants in these residential neighborhoods are really quite better than what you'll find on the main tourist drag.

They are more authentic, often in a medieval basement, prices are good, and the foods always delicious. Pizzicheria de Miccoli is famous for salami and cheese. Go on in and have a taste and get some fixings for a picnic.
Now we're going to take you walking off the grid, further away from the tourist areas, further away from views and landmarks and famous churches, and just into this lovely, peaceful, residential neighborhood. There are a few shops, restaurants and cafés, catering mostly to the locals who live nearby. We're just downhill from via Citta, strolling along the Via Giovanni Dupree and the side lanes near it.
This is the advantage of having sufficient time in your visit to Siena. Sure, you could see the city in three hours like a typical bus tour might provide for you, but if you've got a full day you really get the entire experience. You can see the big important tourist sites, and then even more importantly for many of us is just getting into these real neighborhoods and experiencing life as it's lived by the natives.

Via Fontebranda is famous for its view of the Basilica San Domenico, one of the biggest churches in town. Siena especially presents a unique opportunity to see a sizable Tuscan city that still looks like it's something out of the Middle Ages.
There are many reasons for this high state of preservation in Siena, and we will be exploring some of those as we continue walking around through these charming little lanes and alleys. Many of these old buildings that we see today, especially the fine palaces, were constructed as far back as the 13th century, which was the golden era for Siena. After the 13th century there were many problems that prevented much further modernization of Siena. Even in the 14th and15th centuries there was not much of a Renaissance to speak of here.
Everything is very peaceful and safe and friendly in Siena now of course but in ancient times the problem was frequent warfare with neighboring city states, especially with Florence, and also invasion by Spain, and France and other occupiers. It was a turbulent time in the 14th, 15th, even 16th-centuries here in Siena, so not a lot of modernization happened during that period, which must have been kind of difficult for the difficult for the residents at the time. But fortunate for us today as visitors, and for the city itself, because of its booming tourism economy that has resulted. Siena is one of the most popular and important attractions in all of Italy.
Piazza Mercato
Continue through the little side lanes and down to the Piazza Mercato. This place was the ancient market square which still today has outdoor produce market several times a week. Otherwise it's kind of a parking lot surrounded by very old pastel colored residential buildings.
From this relatively low elevation we can look up to see the clustered homes with some greenery and tall buildings. You'll also get a nice view of the church of San Giorgio. This Mercato is a lovely nook of the city, just two blocks south of the Campo, the main busy square, and yet 95% of the visitors never get here.
And to help navigate through these winding pedestrian lanes – you might get a little lost but there are usually street names up on the buildings, and get a good map. It's a small town, so you can't get too lost. And if you should get disoriented while you're out walking, that's a great excuse to stop a local and ask them for some directions. You might even get into a friendly conversation.
We're going to take you on an extensive walk in little lanes in the residential neighborhoods on the east side of town, strolling along via di Pantaneto which is the eastern extension that main lane, via Banchi di Sotto, which later changes names again to Via Roma.
In this neighborhood you'll find the Siena University, one of the first in Europe when it was established in the year 1240. And naturally you'll find quite a few young people here and inexpensive restaurants, and a very casual kind of atmosphere. Even though Siena is a historical town, almost an outdoor museum, it's very much a residential community, as it has been for about 1000 years.
The dog has a right to walk freely because, well, he's at a street called Dog and Cat. The little alleys are called Vicolo, and they are charming and quiet and peaceful places to live. It's really quite amazing how the Italians figured this out hundreds of years ago. In fact, the way the cities developed in the Middle Ages often made more sense than the way we develop today, with our massive traffic congestions and remote suburban sprawl.

Here you've got a compact town with lots of people living together in pretty high density, and yet you have quiet little lanes like this that would be a wonderful place to live. And then around the corner in easy walking distance you've got your shops, your piazza, you've got the church, you've got schools nearby – everything you need is in easy walking distance.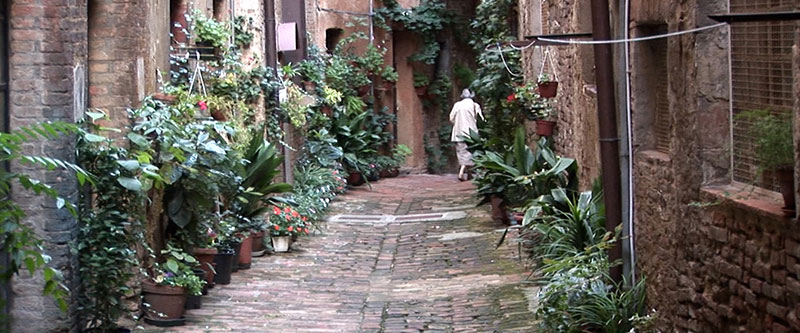 Take advantage of this excellent historic preservation because it presents a golden opportunity for some extensive walking in the many little back alleys. Casual strolls could easily keep you busy for several hours. There is so much more to see in this town beyond the major sites. Exploring off the beaten track, away from the tourist centers and shopping streets, can be a very rewarding experience for the intrepid traveler.
And now we're going to continue walking on other nearby lanes, especially Gilio and Rossi, and various alleys that will lead us there and take us around. For those travelers who love to get away from the shops and stroll through quiet residential alleys, Siena offers many more possibilities. These little byways are your gateway to enter the authentic side of Siena.
You can get free information from the official tourist office while you're there, and they have brochures that will help you find your way. They outline various walks that you can take on your own, also available as downloads from their website. The name of that official tourist office website is enjoysiena.it and it's got different itineraries suggested for you – if you have three days, they've got an outline, or two days, or three hours, or one day. But something you don't find even on their website or in the tourist guidebooks are these simple little residential neighborhoods and yet this can be a most rewarding part of your visit.

The Basilica of San Francesco was first built from the year 1228 and expanded from the original Romanesque into the larger Gothic style we see now in the 14th and 15th centuries. The vast interior could handle large crowds of the faithful.
We are finishing up our walk through this neighborhood with a stroll along another wonderful residential lane, via dei Rossi, which will lead back to the main street, via Banchi di Sopra.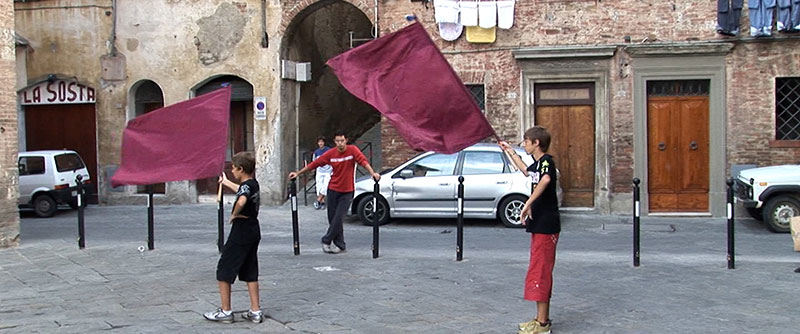 Along the way we came upon this charming practice session, a typical neighborhoodscene that you might run into with kids tossing flags around, because this is one of the great traditions of Siena. They'll put on a performance at various festivals and parades in full costume.
Another tradition that most visitors enjoy is shopping for souvenirs. You'll find a variety of these stores scattered throughout the town and there is very nice selection of ceramics and other gifts in shops just behind the Duomo Cathedral, where we are heading next.
Duomo
The great cathedral of Siena is the Duomo, just a few minutes' walk from the Campo. The façade is crowded with sculptures and architectural details and boasts three large doors, the central one capped by a bronze sun. Work began on the lower part around the year 1284 using polychrome marble, with statues depicting prophets, philosophers, apostles and stories of the Virgin. You can purchase admission tickets on their official website, which is helpful in busy times to avoid the line.
The façade was then raised higher in the early 14th century to accommodate an expanded and higher nave, utilizing a more elaborate design scheme in the upper level heavily influenced by French Gothic architecture. And then the façade was finished sometime between 1360 and 1370. But don't just look at the outside. Pay that small admission fee to enter into paradise. It is one of the world's most beautiful and intriguing churches. It's a must-see on your visit, loaded with astonishing architecture, sculpture and paintings.

This first sensation might be one of positive bewilderment of riches. Nothing quite prepares you for its unparalleled lavishness of decoration. You are surrounded by so many beautiful things that you don't know which way to turn next. It is a vast, orderly confusion of beauty. Dimensions of the church are 289 feet long by 80 feet and the transepts measure 173 feet wide. More than just a religious structure of the Duomo is the economic symbol of wealth, international trade and cultural influences.
One aspect you cannot miss is the huge dome that soars overhead. This is a mysterious and magical feature that appears to be coffered with square recesses, but this is an optical trick painted on in the 16th century. Slightly asymmetric, the blue dome with golden stars is a stunningly attractive sight representing the Kingdom of Heaven. The cupola was finished in 1264, and thus preceded Brunelleschi's larger dome at Florence by 150 years. The great gothic pillars stretch down the long nave carrying round arches whose inner curves are elegantly coffered.
Another masterpiece, that some consider the most significant individual work, is the elaborately carved 13th-century pulpit by Nicola Pisano. As a platform for preaching, the pulpit was a focal point of great interest to the congregation during the sermon, and this one rises to the occasion with many elaborate, flowing scenes from the life of Christ.
Michelangelo, a native of Tuscany, has a marble statue of St. Paul and three others here, not his best work -- but noteworthy because it was to be part of a larger series of 15 statues that he was paid for by Pope Pius III but never finished, resulting in a lawsuit that dogged him for much of his life.
On the right side enter through a magical doorway. We are now in one of the world's most beautifully painted rooms. The Piccolomini Library is a gallery with a series of 10 large, brightly-colored frescoes painted in realistic Renaissance style by the Perugia master Pinturrichio, which was one of the most important art projects in Italy at that time.
The viewing experience is astonishing because you are completely surrounded by the painting. The 3-D illusion makes it seem we're looking through the arches of a gigantic loggia into broad imaginary spaces filled with many people and distant landscapes. As crisp and real as a photograph, truly these are masterpieces.
The frescos are a painted biography depicting scenes from the life of an Italian nobleman, Enea Piccolomini, who went on to become Pope Pius II. The walls are filled with deep perspective showing vast landscapes and elaborate architecture that frames extremely detailed scenes of religious and political celebrations, depicting hundreds of people.
The remarkable floor is one of the most famous things inside the Duomo with 56 large mosaic pictures made from multiple types of colored marble. Bold three-dimensional, geometric designs frame the pictures and extend throughout all dimensions of the floor.
Rome's greatest Baroque sculptor, Gianlorenzo Bernini, is also represented in a side chapel which he designed, containing two of his statues of saints -- Jerome and Mary Magdalen.
That completes our in-depth look at Siena. Now I'd like to share some information about how to get from Florence to Siena.
How to get to Siena
Like many travelers, you're probably relying on public transportation to get around like bus or train, and in getting from Florence to Siena a very convenient way to do it is by taking the bus, the SITA bus line S-I-T-A. Their bus station is right in the heart of Florence, across the street from the main Florence train station, and you can easily buy your bus ticket right on the spot at the bus station.

If you're traveling on a weekend, it'll be busier and you might have to stand – some people stand all away, but much better to have a seat. If traveling on a weekend start early, or travel on a weekday if you can.
Be sure to catch the Rapida bus rather than the ordinary bus, because the Rapida is nonstop, which just takes an hour and 15 minutes, so that's very convenient. The other bus does make three or sometimes four stops along the way, which could take you an hour and 40 minutes. So, get the Rapida. It's the same price and more convenient. There is generally one bus an hour, and you can check the schedule on their website. Lately they're leaving it 9:10, 10:10, 11:10 AM.
The bus seats are quite comfortable, and you get a lovely view out the big windows of the rolling hills of Tuscany as you drive along. Most of the route is on a freeway, so it's not the most scenic journey in the world but you do get nice glimpses of the vineyards and a few olive trees here and there, and the green hills in the distance. You might even notice a fortified hilltop village off on the right side of the bus.
You could travel from Florence to Siena by train but it's not as convenient, taking 90 minutes, which is 15 minutes longer than the bus ride, and when you get to Siena, the train station is not in the Old Town – it's down below. There is an escalator from the train station up part of the hill, but it will take you some time walking the 1.5 kilometers to get into Siena's Old Town from the station. The bus drops you off right in the Old Town.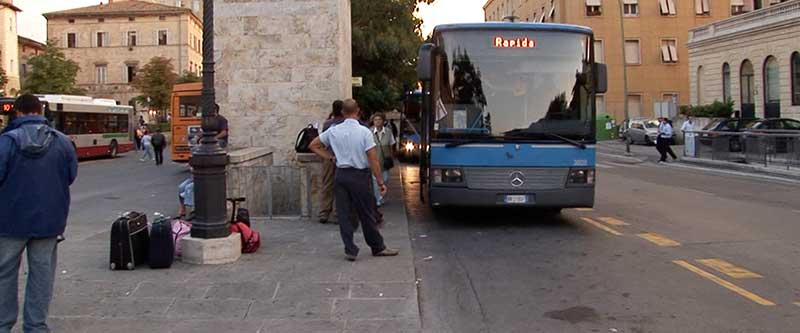 Upon arrival in Siena you'll probably want to use the facilities at the bus ticket office. They've got a pay toilet which is very clean and very convenient, and you could buy your return ticket if you didn't already purchase a round-trip ticket back in Florence. It's a very easy walk from this bus stop into the Old Town – it will only take a few minutes and then right away you're in the pedestrian zone.

And if you're staying overnight in Siena for a few days you'll find that you can ride the bus to some of the other nearby towns of Tuscany. It's a very easy walk from this bus stop into the Old Town – it will only take a few minutes and then right away you're in the pedestrian zone.  When you have finished your daytrip it's easy to get back to the same bus stop for your return ride to Florence.