Stresa
Stresa is a town of about 5,000 residents on the shores of Lake Maggiore in the province of Verbano-Cusio-Ossola in the Piedmont region of northern Italy, about 90 kilometres (56 mi) northwest of Milan. It is situated on road and rail routes to the Simplon Pass.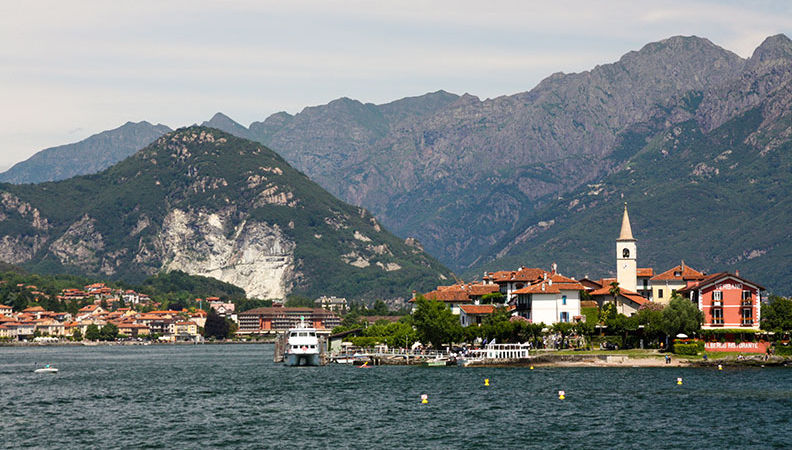 Borromean Islands near Stresa are major points of interest and can be seen from Stresa. Regular boat services from the town's two docks provide access to the nearby Borromean Islands. Eurocity services connect to Milano, Berne and Geneva.
The Borromean Islands (It. Isole Borromee) are a group of three small islands and two islets in the Italian part of Lago Maggiore, located in the western arm of the lake, between Verbania to the north and Stresa to the south. Together totalling just 50 acres (20 hectares) in area, they are a major local tourist attraction for their picturesque setting.
Isola Bella is famous for its stunning Baroque palace and terraced gardens, Isola Madre features a botanical garden with rare plants and exotic flowers, and Isola dei Pescatori is a picturesque fishing village with narrow streets and charming restaurants.
Their name derives from the Borromeo family, which started acquiring them in the early 16th century (Isola Madre) and still owns the majority of them (Isola Madre, Bella, San Giovanni) today.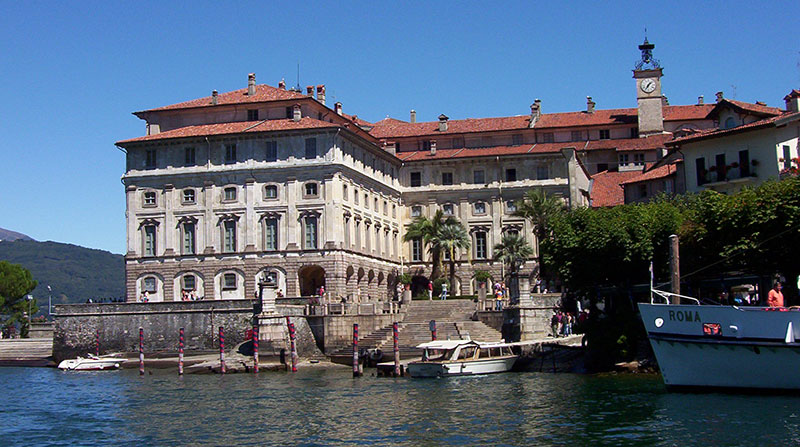 Isola Bella, named for Isabella, countess Borromeo, was originally a largely barren rock; after first improvements and buildings, opened by count Carlo III between 1629 and 1652, his son Vitaliano the 6th built an attractive summer palace, bringing in vast quantities of soil in order to build up a system of ten terraces for the garden. The unfinished building displays paintings by Lombard artists and Flemish tapestries.
Isola Madre, the largest of the three, is also noted for its gardens, which have been maintained since about 1823 in an English style. Its palace, though uninhabited, is splendidly furnished with 16th- to 19th-century Italian masterpieces and paintings.
Isola dei Pescatori or Isola Superiore is now the only inhabited island in the archipelago. It has a fishing village, which in 1971 had a population of 208.
Isolino di San Giovanni is located just off Pallanza (today part of Verbania) to the north.
The name of the town first appeared in documents on January 15, AD 998 as "STRIXSYA". Later "STREXIA", "STREXA", and "STRESIA" were also used.
In the 15th century, it grew into a fishing community and owed feudal allegiance to the House of Visconti of Milan. It subsequently came under the control of the Borromeo family. In 1948 American author and journalist Ernest Hemingway visited the town. He had set part of his 1929 novel Farewell to Arms in the Grand Hotel des Iles Borromees. In 2002 Stresa hosted the 10th International Hemingway Conference.
Island Tour
One-Day Borromean Islands Hop-On Hop-Off Boat Tour. Train from Milan to Stresa, one hour.
From Stressa, the hop-on hop-off boat tour cruises beautiful Lake Maggiore and the Borromean Islands. The exclusive boat service travels between Stresa and the 3 Borromean Islands – Isola Bella, Isola dei Pescatori, and Isola Madre.
This tour allows you to travel at your own pace – you can leave the boat at any of the islands and hop back on the next boat when you want to continue. This tour is one of the most used services for reaching the amazing locations of the Borromean Islands and Lake Maggiore. The modern and comfortable boats take you to the most stunning and characteristic places on Lake Maggiore, the Borromean Islands, and Stresa.
Information from Wikipedia. Added original content coming soon.