Introduction
We are taking you on a grand tour of the Netherlands by train, to Amsterdam and beyond, visiting nine other wonderful Dutch towns! Most travelers to the Netherlands only go to Amsterdam, although the country has much more to offer, as you'll see in this detailed picture guide.
The Netherlands is one of the world's great countries with quality of life among the very best. The Dutch built thriving cities that have retained their historic character and are a delight to visit.
You will experience nine Dutch cities on this comprehensive journey to Haarlem, Alkmaar, Leiden, The Hague, Delft, Rotterdam, Gouda, Utrecht and Maastricht. We also bring you to an in-depth look at Amsterdam.
Video List and links
This website serves two main purposes: it provides a richly illustrated portrait of the main cities, and it presents an actual tour itinerary to help you plan your own trip. It is a practical guide showing exactly where the interesting places are with specific walking routes to see the sights. The website will establish two further basic conclusions: these places are extremely attractive and they are easy to visit— in other words, you should go.
Even if you are just curious about the country with no plans to visit, this picture guide is ideal for armchair travel, and perhaps will inspire a future trip, or recall fond memories of a previous journey.
Multimedia package:
Detailed text, 1,200 pictures, many walking maps and videos provide a rich mix of information and entertainment, taking you on an enjoyable trip through the Netherlands. This multimedia extravaganza is a new concept in guide, with the majority of space devoted to pictures, accompanied by clear descriptions that tie it all together.
Videos provide another dimension bringing the towns to life even more vividly—the next best thing to being there. By the time you have finished reading and looking at all the pictures and videos, you might feel like have actually been there. But even this virtual visit is no substitute for going to see this amazing country.
It is easy to explore each of these towns on foot, with so many delightful things to see when strolling around. Experienced travelers know the best way to explore a city is walking.  Our comprehensive plan is illustrated with maps that will make sure time is not wasted getting lost.
Another tempting aspect of these Dutch towns is they are not crowded. Unlike so many other European destinations that have become gridlocked with overtourism, these places are relatively off the beaten track, especially if you come in the off-season.
The Netherlands gets about 19 million annual incoming visitors, with half of them going to Amsterdam and 5 million taking day-trips from there to nearby Haarlem, although just half-million spend the night. Rotterdam and The Hague annualy receive about one million overnight visitors, followed by Utrecht and Maastricht, getting a half-milion overnighters, and with fewer visitors in our other cities.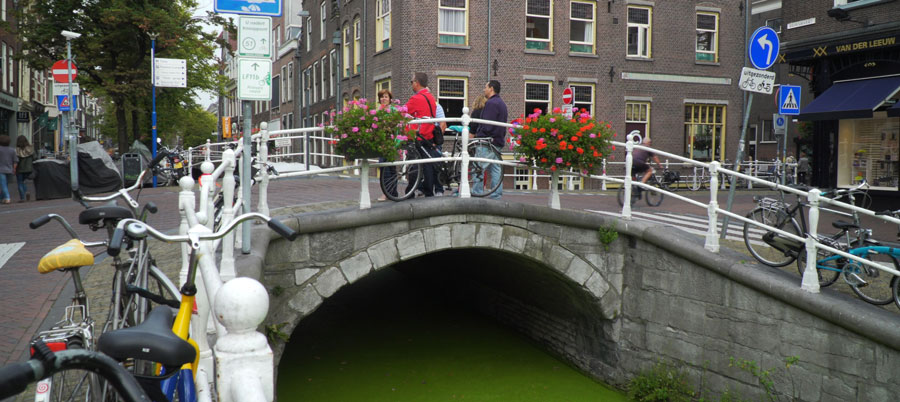 Let's not forget the one thing that makes these towns unique—canals running through the heart of town. Most of our cities have these lovely waterways, often lined with pedestrian promenades and outdoor restaurants, creating a charming ambience. You can also explore them on an excursion boat tour, or paddle your own canoe.
The following section lists our cities in the order of the proposed itinerary, with brief descriptions and number of days that would be practical for a good visit, totalling 17 days. This is our suggestion to cover many of the country's most appealing cities, in a reasonable length of time for a comfortable trip. With the help of this guide you can evaluate each place and decide if you want them all, or pick a few that seem most attractive to you. While two or three weeks would be lovely, the country is also ideal for short stays.
Haarlem, many lanes, unique little boutiques, large pedestrian center, often overlooked due to Amsterdam proximity. 2 days

Alkmaar, more than the Cheese Market for which it is famous, compact size, canal tour. Day-trip

Leiden, walking lanes, boat ride, museums, Rembrandt's home, oldest university, restaurants on canal. 3 days

The Hague, second to Amsterdam in popularity, national capital, home of royal family, palaces, some skyscrapers. Day-trip
Delft, picture-guide perfection, Vermeer, excellent preservation, compact pedestrian zone in historic center. 3 days
Rotterdam, uniquely modern, big harbor, vast pedestrian shopping zone, unusual contemporary buildings. 2 days
Gouda, more than namesake cheese, with market square, canals, lanes, big church, historic museum harbor. Day-trip

Utrecht, unique atmospe of terrace restaurants and promenades at water level, shopping lanes above. 2 days
Maastricht, nation's southernmost city, well worth the two-hour train ride to get there, no canals, but picturesque. 2 days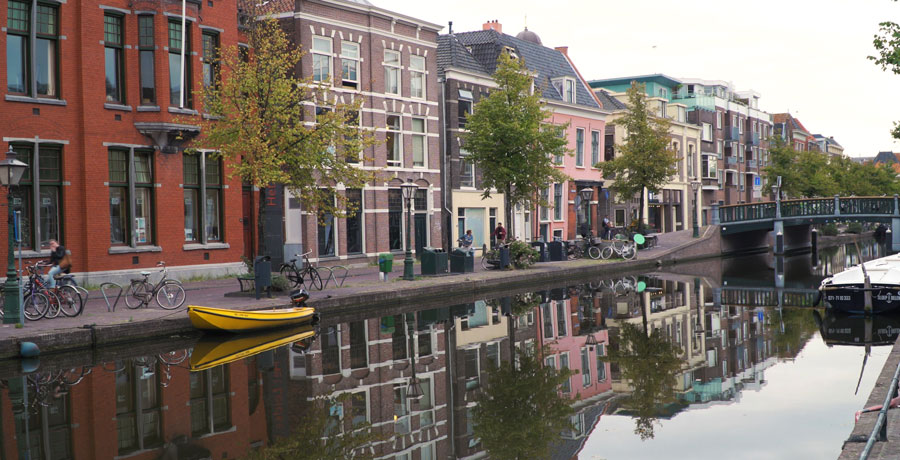 The Netherlands offers one of the finest collections of beautiful towns in Europe, easy to explore because their historic centers are small, with flat terrain and extensive pedestrian zones containing many well-preserved old buildings and picturesque canals. The preservation of these old town centers is not disturbed by modern buildings or eyesores. Unlike so many visitor destinations, these towns have not been inundated by ultra-luxury clothing stores and shops catering solely to tourists. Instead of such boring, bland homogenization, they offer a more eclectic mix of local retail shops.
We lead you to these fascinating smaller cities that are less crowded but filled with historic landmarks, pedestrian neighborhoods, unique little shops and restaurants, enhanced by those romantic canals. The guide contains many wonderful sights providing an authentic taste of a country that will delight you with the beauty that awaits and friendly people you will meet.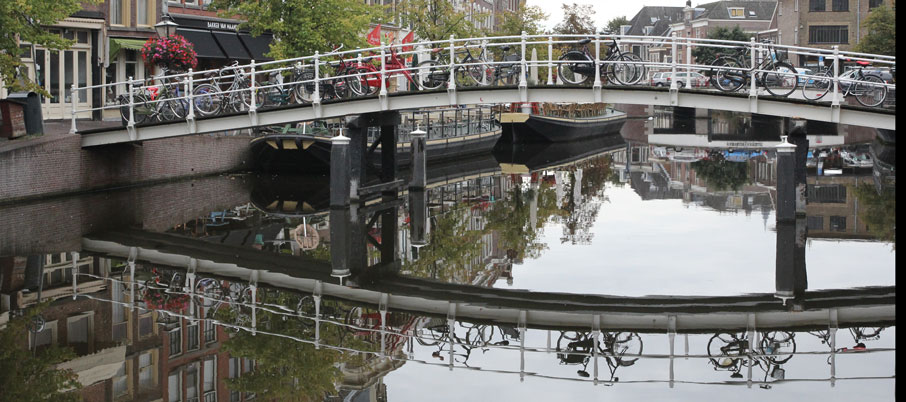 You will discover that the country has so much to offer you should do it justice by staying in these cities for two or three nights, with a few day-trips to other places.
This guide is unusual in several different ways:
In-depth descriptions of each city
1,200 pictures of the sights
Clear instructions about precise walking routes
Sights described in geographic order, not an A-to-Z list
Maps show specific routes best for walking
Includes top attractions and out of the way detours
Intercity travel by train rather than bus or car
Like a personal tour guide speaking in casual style
This guide selects the best cities, then leads you along with a minimum of backtracking, enabling you to see the main sights without getting lost or wasting time. The maps, photos and detailed descriptions are handy tools to help you discover and understand these wonderful places. Feel free to rearrange or deviate from these guidelines at any time, depending on your interests and time available.
An itemized itinerary is included with walking routes and suggested number of days to stay in each place. Our schedule recommends two nights or three nights in most places to fully experience the shopping streets, museums, eating and drinking, historic neighborhoods of old brick buildings, little pedestrian lanes, and canal boat rides–typical of the fun things to do in the Netherlands.
The alert open-minded traveler wants to plan but also be open to serendipity, those unexpected surprises that frequently pop up while strolling along, so be ready for a little spontaneous excitement, or noisy road construction around that next corner and adapt plans accordingly. That is another good reason to stay for two or three nights in each place, which provides sufficient time to cover the sights in a relaxed schedule, with opportunity to wander and have fun on personal adventures.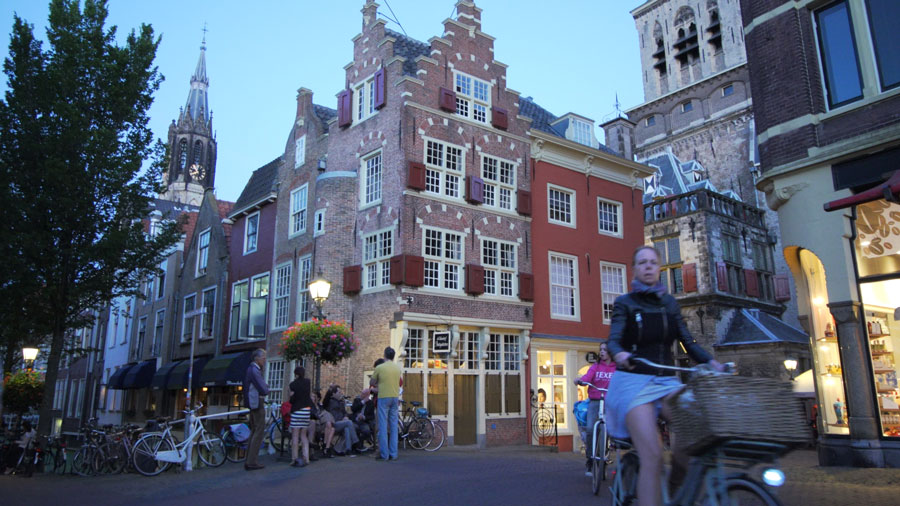 While our focus is on self-guided walking tour routes, don't worry if you are not much of a walker because these towns are flat, small, usually only one kilometer across the historic central zone, making it easy to get around.
The Netherlands is a land of canals, bicycles and beautifully preserved old towns such as Delft and Leiden where it seems many buildings have not changed in the last 300 years.
There is no need to take an open-top bus tour here. Most central streets prohibit motor vehicles and these cities are small enough you can walk everywhere, or occasionally take a tram or bus. Because of that, most of these towns do not even offer that typical open-top bus tour.
Yet it's quite a revelation to see how modern everything is at the same time, including some futuristic architecture outside the historic centers.
This is an advanced, progressive country, yet steeped in tradition and history that goes back over a thousand years. It's one of the most enlightened and tolerant nations in the world, and one of the wealthiest.
Their per capita income is high and relatively evenly distributed, which ranks them among the world's most affluent countries. Another recent global survey ranks them in the top-three for child development, considering environment, education and health.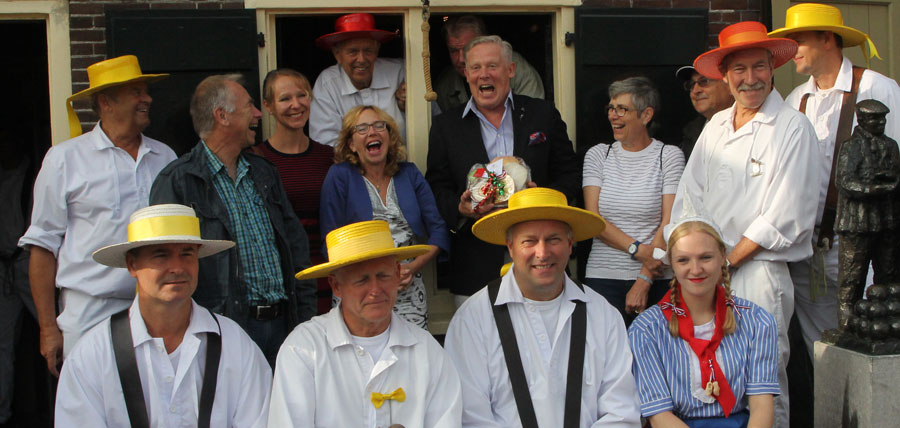 Dutch are famous for their relaxed attitudes of cooperation, partly due to a long history of working together building dams and pumping water out to prevent the land from being flooded–and because they have Europe's highest population density, they have to get along with each other. Dealing with their flooded land also required cooperation of entire communities, and created a tradition of collaboration. This plays a role in modern business where workers often participate in corporate decisions, and in the cozy lifestyle tradition of "gezellig," having a good time together.
The important role of bicycles in this country, learned from childhood, indicates some deeper truths regarding simplicity, environmental responsibility and quality of life.
The use of bikes and public transit is a common way people interact with each other. Another reason people are sociable here is because of the way they get around, either walking, on bicycle, or in a train rather than being isolated as sole occupant of a private car as many modern travelers are. Very often you'll see people having a conversation as they pedal along next to each other.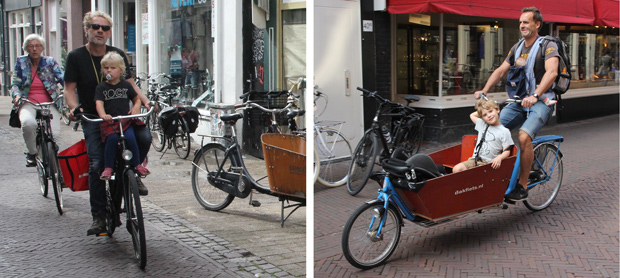 Traveling by bicycle instead of automobile is not only healthier for the person and environment, but suggests the community is cohesive, with less distance separating work, play and home. Indeed these towns are small enough that walking is also a typical way people get around. Not only is this tranquil setting something we can learn from in planning future urban growth, but it creates an environment that is a pure pleasure for the visitor to enjoy, adding a wonderful dimension to your travel experience.

Mixed-use towns with homes, shops, and jobs nearby are modern planning goals that have always been a tradition in most European places, but it seems more pronounced in a bicycle culture. Streets are quiet with peaceful sounds of nature, people talking, kids playing and the odd motor scooter buzzing by. When residents live close enough to their jobs they don't waste precious time in transit, although some do commute to another city.
It is easy for us to communicate with the locals because this country has the world's highest percentage of people speaking English as a second language, so just about everybody speaks English as well as you do. They speak Dutch, quite unique but with distant linguistic connections to English, German and Danish. Their language is hard for outsiders to pronounce and is spoken by very few non-Dutch, so they must speak English to communicate with the rest of the world.
Dutch people are therefore quite approachable if you'd like to strike up a conversation. They're gregarious and congenial, so by all means, if you are interested and see a chance to talk with some locals, go for it. Find someone who is not in a rush and break the ice with a simple hello or question like, "Where's a good place to eat?" We'll share examples of this friendliness throughout the guide.
The people are highly educated by some of the top universities in the world, and higher education is inexpensive for those who are interested. Vocational schools are also important, training 40% of the working population. It's a nation of friendly, smart, productive people who also know how to relax and enjoy the good life.
The foods are great, offering the full range of global cuisine. You can have a reasonable lunch for about €12 ($15)–often it's a good hearty sandwich with a cappuccino or a beer. Of course, the Dutch love their beer, most famously Heineken but also Amstel, Grolsch, Brandt, Skol, Breda, Oranjeboom and many craft brews. They don't produce much wine, but being in the center of Europe, it is easy for them to import wines from France, Italy, Spain and all over the world.
As usual in Europe, spring and fall are ideal times to visit, with ideal weather and less crowds. If you come mid-April to early May you get that bonus of seeing the tulip fields blossoming in all their colorful glory. The trip described here was taken in September, with perfect weather, hardly any rain, temperatures usually 75°F, 20°C, very comfortable.
Winter is cold but not freezing, with daily average temperatures around 6 °C (43 °F) during the day. There is some light snow about 20-30 days per year. Spring and autumn are cool with highs around 10 °C (50 °F). In summer temperatures are generally pleasant, with high ranging from 20 °C (68 °F) to 25 °C (77 °F) and a few hot days around 32 °C (90 °F). In short, the Dutch climate is similar to that of London.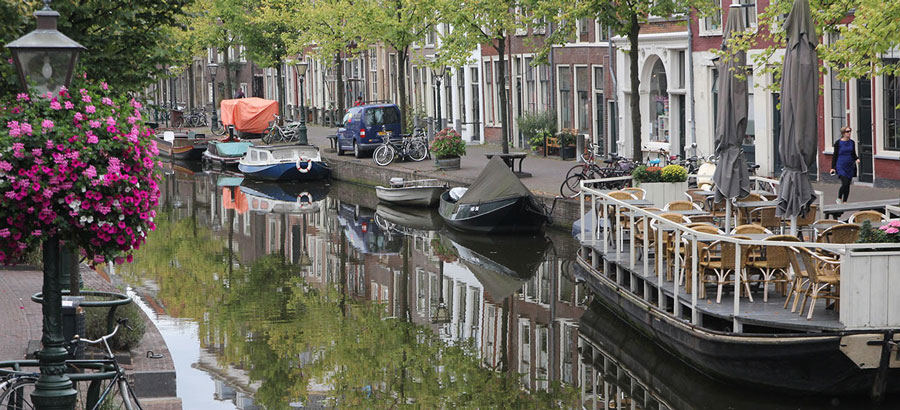 A short geography and history lesson will help set the frame for understanding this nation's unique character. The country should be partly underwater because 26% of it is below sea level, and another large portion barely above high tide. This might be happening to other countries in the near future, so perhaps we can learn some lessons here. It's always been that way in the Netherlands. Somehow they have made the most of that precarious situation, pumping water out with windmills for many centuries, creating farmland and canals.
In olden days canals formed the country's chief roadways and the main streets of many towns; instead of heavy carts and straining horses there were broad-beamed barges and brown sails, an easy way to travel. There was no other country with so many canals relative to the national size, giving the Dutch an enormous advantage in efficiently moving trade goods. The canal network connected the towns like a cargo and information superhighway that played a huge role in development of this land into one of the world's wealthiest nations back in the 16th century. Many still function today in the network of more than 165 major canals.
But why so many canals, you might wonder? The Dutch were forced by necessity to construct canals, with so much of their nation below sea level. As fast as they tried to make roads, the stones or bricks sank into the mud and left things soggy and boggy. With their characteristic enterprise they started digging canals and have not ceased constructing them for nine hundred years. With their thousands of windmills they pumped water out of the marsh and into the canals creating farmland and waterways.
The Netherlands may have cities, roads, trains, farms and quaint buildings, but it is a country of canals before all. The canals set the tune and make this nation unique on Earth.
For the new visitor it is quite unusual, but after a while one gets accustomed to the ever-present canal and the odd spectacle of watery streets. These canals are of many depths and widths, from narrow ditches running at the side of the road, crossing fields and gardens, all the way to major waterways connecting to the North Sea. Utilizing this grand liquid network, many towns became ports, communicating with the sea. The number of canals in the Netherlands exceeds even the wonders of Venice.
The Dutch expanded into a global superpower in the 17th century with a fleet of sailing ships and trading practices that made them one of the world's wealthiest countries, with over 150 merchant ships and 40 warships, 50,000 employees and a private army of 10,000 soldiers.
There is a long history of trading and commerce here, starting with creation during the 17th century of the incredible Dutch East India Company. In Dutch, Vereenigde Oostindische Compagnie (VOC), became the world's first global corporation, establishing many trade routes that reached from Africa through India and into the Far East, especially Indonesia. They also controlled large parts of South America and New York (New Amsterdam).
Their early focus was on the spice trade for nutmeg, cloves and black pepper, in which they gained a monopoly and could charge 20 times more in Europe than what they paid for these goods, quickly making them very wealthy with soaring profits. Over time they diversified, trading silver and copper from Japan to India and China for silk, cotton, porcelain and textiles, also gaining a monopoly over cinnamon. This Golden Age was highly successful but criticized by some now for brutal colonial tactics that were occasionally used to dominate native cultures.
This highly developed economy produced enormous wealth that enabled construction of these beautiful cities. Fortunately, they were preserved because not a lot happened here in the 19th century in terms of redevelopment, thus preserving the historic cities we see today.
Train Travel
The excellent intercity train service makes it a pure pleasure to travel in this country, eliminating any logistical concerns about how to get around. The Dutch have one of the world's best rail systems. It's clean, efficient, prompt, not expensive, always on time. While rail service has been here since the 1840s, the stations and trains are completely modernized.
The Netherlands is a small country where trains can get from one city to the next in usually less than 30 minutes, and from one end of the country to the other in a few hours. Train stations are conveniently located right in the town, usually just a few minutes' walk from the center.

You pay for the ride with the OV-chipkaart, which works like a debit card for local or intercity trains, buses and trams. Just tap the card on the ticket reader before boarding and then tap it again once you get off, so you are only charged for that specific journey. If you forget to check out you pay a penalty, but you can still check out up to 6 hours later at a station pole or gate. When leaving the country you can get a refund of any balance on the card.
You can purchase and recharge the card at train stations, many supermarkets, convenience stores, newsagents and the airport https://www.ovshop.nl/
Most rail stations are quite modern and easy to navigate and provide a good place to grab a meal, a drink or takeout sandwich. You can eat at the station or bring food and drinks on the train. Larger stations are like shopping malls complete with clothing stores, lounges and tourist information counters.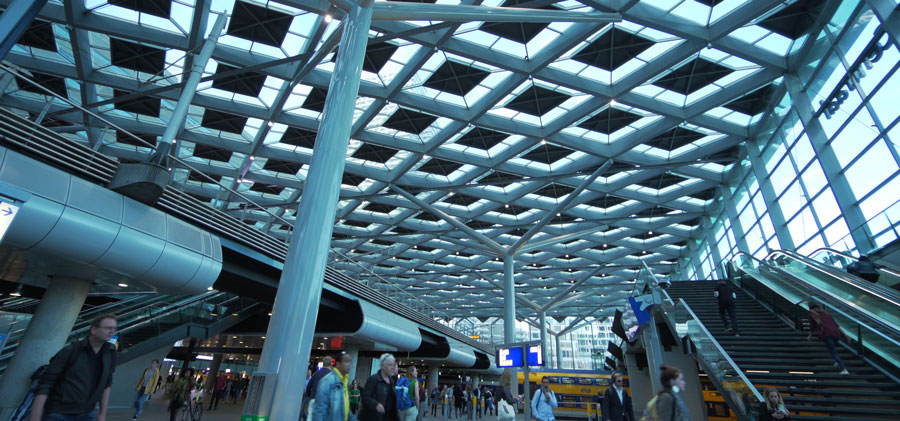 Superb train service is one more reason that visiting the Netherlands is so enjoyable. Although most visitors do arrive by car, there is no need to drive because trains will take you nearly everywhere, offering an excellent way to get around this small country. Students and commuters use the trains mainly from 7:00 to 8:30 and from 4:30 to 6:30, so avoid those rush hours. Seat reservations and 1st class travel are unnecessary here. There is also an efficient bus system connecting smaller towns.
How Many Days?
All areas of the Netherlands are worth visiting but that could take many months, or years, so I have narrowed down the list of places to a more manageable amount, choosing some of the most interesting and noteworthy cities.
Duration of the visit obviously depends on personal desires, available time & money, physical condition, energy level, companions, side-trips, need for shopping, museum interests and more. This nine-city itinerary can be comfortably covered in two weeks or stretched to three weeks which is a comfortable maximum for many people no matter where you go. Any longer begins to wear you out, and if shorter you are not fully exploiting the opportunity and effort you took to get there. From early May through late September the weather is usually warm, so that would be a fine time for your visit.
If you only have one week to see these places, don't attempt to cover them all in that brief period. Instead, read through the guide then choose several that seem most appealing to you. I am not going to rank them in any order of importance because that is a personal choice and they are all good to visit. One exception, if you don't have time, is Maastricht, because it is the most remote, about a 2-hour journey. But it is so worth seeing, especially with Aachen's magnificent cathedral nearby, it just proves how useful it will be to carve at least two weeks for your visit.
While Amsterdam is not the main focus of this guide, you probably want to visit Amsterdam if you have not been there previously, so add several days. Even if you are planning to only stay in Amsterdam, you should spend enough time there for day-trips to some of these other cities, because the country is small. For example, you can travel from Amsterdam to The Hague by train in about 45 minutes. Visiting the Netherlands and only going to Amsterdam is like visiting the Louvre to look at just the Mona Lisa — there is much more to see.
Logistical notes
This guide does not provide long lists of specific shops and restaurants for several reasons. The main point here is to show and describe the best walking routes that will put you in direct contact with shops and restaurants for you to decide on the spot, always a big part of the adventure. A tremendous amount of that information is already available on the internet for you to discover. Such recommendations made in guides and articles are often there for commercial reasons, bought and paid for, not to be trusted. These listings go out of date quickly — what was a good deal today might not work tomorrow.

Picking and choosing what to do, where to eat, shop and sleep in these places is a big project in itself, ultimately guided by your individual preferences, a major part of enjoying the journey. Some general tips will suffice for now, with many more suggestions coming up in the guide. You are taking an excellent first step by reading about the destinations; think on your feet while there, be flexible, ask some locals for advice, then check it out for yourself. We do provide a list of suggested hotels in the final chapter.
Sometimes the best restaurant is so busy it is worth a short wait to get in, or maybe it is a popular lunch wagon with only takeaway foods. While it can be a good starting point to consider restaurant tips from on-line review sites, be wary of them because those top choices are often overcrowded and have become strictly touristic, spoiled by their high listing. At a restaurant, don't just look at the menu out front—get nosy, step inside, ask to have a look, notice what people are eating, see if they are all tourists. If everyone is still waiting for their food, find someplace else with better service, or if the place is empty while neighboring eateries are packed, there may be a good reason.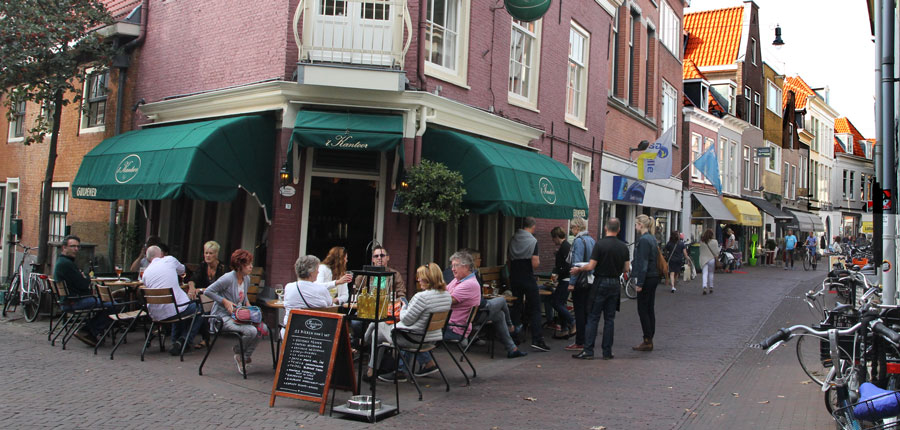 This guide contains no paid product endorsements but instead is an honest report, a practical guide for finding the best places and getting the most out of the visit. However, I will occasionally mention a restaurant and hotel that I happened to enjoy, but take that with a grain of salt because conditions are always changing.
Museums
If you purchase the Museum Card it will get you into nearly all the museums in the country, currently for the one-time fee of €60, good for a whole month and well worth it if you're spending at least a week in the country. Having this card makes it less expensive and faster to enter, while encouraging you to pop into a museum you might have skipped, to discover how entertaining it is. Don't miss out.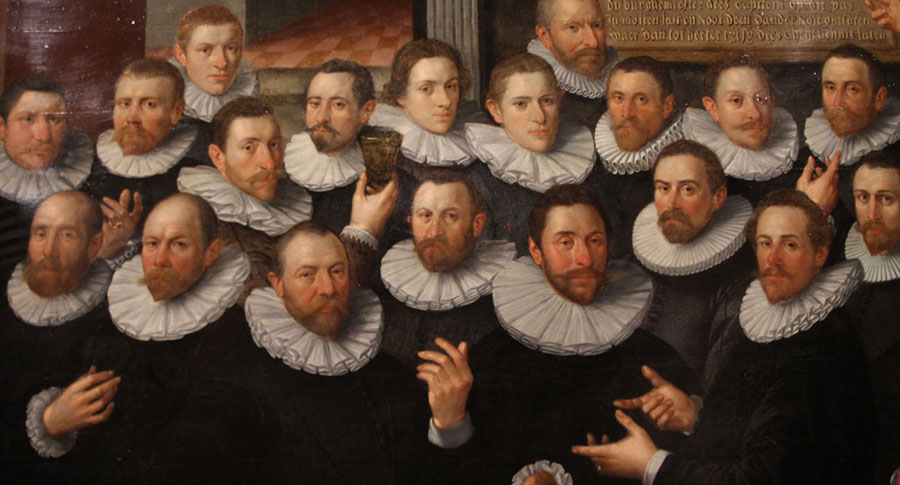 Group tour or solo?
Many visitors come to the Netherlands on a bus tour or canal cruise, where all the logistics are taken care of. This guide provides added information for those on such package trips, and can also help you choose a tour that includes some favorite places you will discover here.
I have been leading group tours for more than 30 years throughout Europe and respect the value of that organized approach, but I can assure you the Netherlands is easy to discover on your own. The guide shows how simple and satisfying it is to get around without need to join a group tour.
A large part of the travel adventure is wandering in little back lanes at a leisurely pace, enjoying some spontaneous meanders, which does not often happen when part of a flock of tourists trooping through a city.
The Netherlands is uniquely suited for independent travel. Towns are small and close to each other, connected by efficient rail service. Historic centers have abundant pedestrian zones, safe and simple to navigate. Dutch all speak English, making it easy for you to be understood, and they are sociable, providing opportunities for some enjoyable conversations.
To further enrich the visit, local guides are always available to provide a private walking tour or in a small group, arranged through the helpful Tourist Information offices (VVV) found in all these places. The allure of a river cruise can be experienced with canal boat rides offered in most places.
Note from the author:
My work as a tour guide, travel writer and filmmaker has created a direct knowledge of how to get around and find the best sights at a reasonable price and pace that covers the territory without wearing you out.
Learn more about me on my travel website http://toursbytrain.com/About.html  and my travel videos  http://tourvideos.com/ 
The text is often conversational in tone as if I am casually speaking to you informally on a street corner looking at the sights. Based on my experience as a tour guide I have a good understanding of what topics are most interesting, and describe them with some detail, but not so much that you get bored.
This is an actual tour itinerary:
The guide is a written version of a tour I would conduct if we were there together, leading you along in actual sequences, connecting the dots on defined walking routes and describing what we see. Too many guides provide lists of sights without explaining how to get from one to the next. This guide does not attempt to cover the entire country with a long list of places superficially described but instead provides comprehensive information about some of the best places to visit.
Let this guide be your adviser that opens the door and invites you into this magnificent country.
The text and numerous photos serve a variety of different purposes:
The guide is practical, entertaining and educational
Provides strategies to help get the most out of a visit
Creates a virtual journey to entertain armchair travelers
Helps recall the experience if you have been there
Presents reasons to visit this country in future travels
Helps travelers discover other towns beside Amsterdam
Viewing Techniques for mobile devices
Device orientation for reading and videos: When reading the text, hold your device vertically for correct page layout, but when viewing videos, hold the device horizontally. The text is designed for vertical orientation, with a single column of words and pictures, using space efficiently. If the tablet is held horizontally, pictures are smaller with less text visible, and there will be empty spaces. However, either orientation works well with a large tablet, like the iPad Pro.
The best page layout for reading will happen if you size the text three steps up from minimum, or two steps up for large tablets. I suggest white text on black or grey background to enhance the quality of the photos. Pages are responsive and will adapt to any device size, whether tablet, laptop, desktop, or phone.
Videos look best with your device held horizontally in full screen. To expand the video image, touch the screen and spread fingers out, or on some devices, double-tap.
The videos:
 Each city chapter begins with a one-minute, embedded video introduction to provide a brief impression of the place. There is also a link to a longer movie below each of the introductory videos. In addition, more links to additional videos are scattered through the text, providing entertaining, informative exploration of the cities. For convenience the videos are all listed again towards the end of the guide. With YouTube 4K playback, you can enjoy several hours of high-resolution viewing. The 10 embeded videos, and 25 linked on-line, vividly bring these cities to life.
More places
Towns covered here are some of the best Dutch destinations in my humble opinion, guaranteed to provide excellent, authentic travel pleasures, but let's consider them a fine introduction to this amazing country.
While these are some of the most popular cities to visit in the Netherlands, there are many other attractive destinations packed into this small country. It seems that every town and village has something to offer, so this guide does not pretend to tell the entire story of the Netherlands.
All areas of the Netherlands are appealing.
The Dutch Tourism Office selected some additional cities that travelers often overlook, each a real hidden gem with a unique ambiance and charm:  Amersfoort; Arnhem; Breda; Den Bosch; Eindhoven; Groningen; Leeuwarden; Nijmegen; Hanzesteden; Zwolle.
There are plenty of other special towns to discover, such as: Apeldoorn; Deventer; Dokkum; Dordrecht; Edam; Enkhuizen; Goes; Hattem; 'S Hertogenbosch; Hoorn; Houten; Kampen; Kinderdijk; Marken; Middelburg; Muiderslot; Ootmarsum; Schiedam; Sneek; Swollen; Thorn; Veere; Volendam; Zaandam; Zaanse Schans; Zierikzee; and Zutphen, as discussed in our final chapter.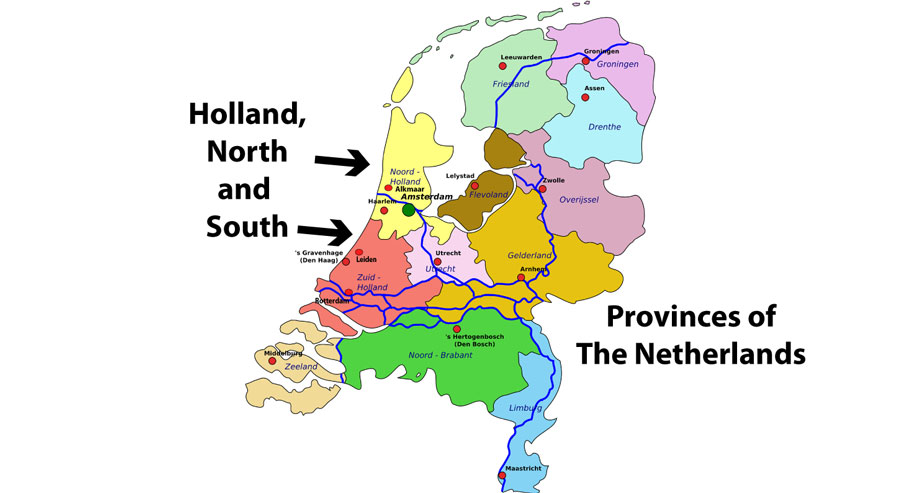 Many visitors call this country Holland which is quite okay but a common mistake because "Holland" is just two western provinces, which do contain the cities in this guide except Utrecht and Maastricht. Curiously, the national tourist website is www.Holland.com and the Dutch often refer to their country as Holland, but visitors should stick with "the Netherlands."
Let's get started now on this big expedition!