Todi
Todi is a fantastic medieval gem in the heart of Umbria, an excellent example of a typical Italian hill town, and yet Todi is off the beaten track of tourists. Most travelers have probably never heard of Todi, but Italians in the know are quite familiar with it because this preserved medieval village is so beautiful. Located in central Italy's Umbria region next to Tuscany, Todi is one of many towns in this area that are worth visiting.
Video of Todi, the complete tour
We'll focus on the little pedestrian lanes and piazzas, lined with historic buildings including ancient monumental arches in the old, fortified walls and surprisingly modern shops. Along with providing pictures and videos, the main scope here is to describe a walking route that efficiently navigates what can be a confusing tangle of lanes and alleys. Use it to plan your own visit, or just enjoy a virtual tour now, strolling through those charming little pedestrian lanes.
Umbria is not as well-known as Tuscany, but it's very similar, equally beautiful, and in some ways more charming because it's less crowded, less touristic, with many amazing towns: Perugia, Gubbio, Spoleto, Spello, Assisi, and here we are in Todi, a spectacular place.
The town of Todi is about one kilometer across in the old town, just under a mile, and yet it's big enough to keep you busy exploring for a couple of days. You want to spend at least a full day here, maybe two, walking around, exploring the little back alleys, enjoying the piazzas. The attractions of Todi are the city itself, the buildings, the layout the streets, the people, the lanes, the pedestrian streets, the alleyways, stonework, the arches, and of course that great Italian food and drink.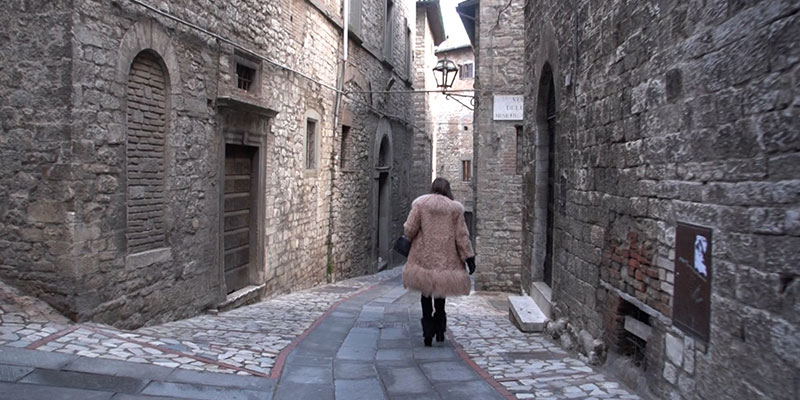 With its old stone houses snuggly packed into this compact town, connected by numerous pedestrian lanes, Todi is a delight to explore on foot. Rather than suburban sprawl with residential communities covering the landscape, the town is clustered into the dense urban center, and surrounded by farmlands, hills and mountains.
While walking along your eye is going to be attracted to many little side alleys, often with an arch leading to it from the main lane. Sometimes you'll see a residential courtyard shared by private homes, other times it's just an alley with an arch. Surprisingly tall buildings here are a reminder that way back in the Middle Ages, people lived in multi-story apartment buildings.
Some arches on the main lanes had been gates in the fortified wall around town, while other arches are just structural to help stabilize these old buildings, protecting them from earthquakes and deteriorating walls.
Piazza Del Popolo
The central Piazza del Popolo is the major focal point for people to gather at all times of day and on into the evening. The piazza is anchored by the Cathedral at the north end, and by some important civic buildings on the south side, including the museum, courthouse, and Town Hall. It is considered one of the country's most beautiful medieval-style piazzas, with its origins going back much earlier, to the Roman times and perhaps even to the Umbrians, a thousand BC.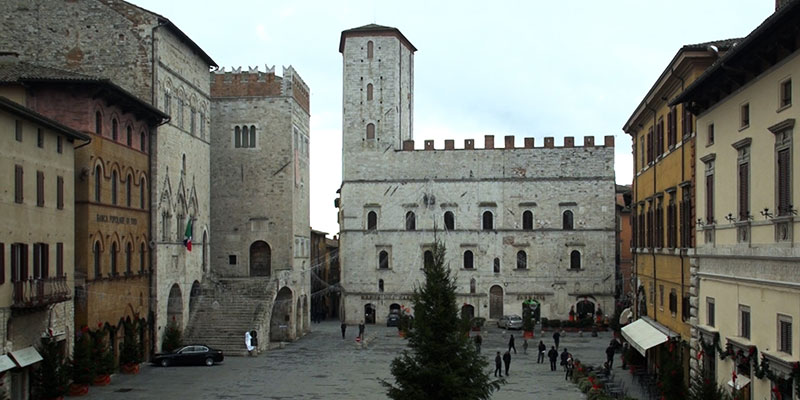 Piazza Del Popolo will always be the main focus of your visit, a good home base with its attractive shops, cafes and strategic location. It just takes fifteen minutes to reach the edge of town from here in every direction. You'll come back here many times as you wander north and south, east and west. We shall come back later in the story for a more detailed look at the piazza, but we are eager to show you around town now.
The main streets extend from the piazza, with many small lanes all around it that are great fun for exploration, which could be your main activity here, as we shall describe with specific directions. Shoppers will also find diversions along Corso Cavour, where we shall soon begin our walking tour.
Because this is a hilltop town, some of the streets are steep, so if you want to take it easy you could just stay in the center area near the piazza, which is quite level at the top, but you really should explore those main lanes extending out north and south from it, along with some little alleys. In ancient times, Romans did a lot of engineering work cutting the top of the hill and flattening it out for their town. Romans also carved underground water storage cisterns beneath the piazza we will get to later.
The streets and piazzas are grand places for a stroll any time, but especially in the evening twilight for the passeggiata, when locals come out to enjoy conversation with their friends and neighbors. This is another reason it is worth spending at least one full day and night to experience this special place properly.
You'll find there are plenty of things to see and do in your visit, exploring the different neighborhoods, maybe catching street music from a wandering minstrel, visiting museums and churches, and experiencing the town in the evening when it seems to come even more alive than during the day.
It's very easy to get into the little lanes — you just wander. There are no cars here, just people and homes lining these little narrow lanes. It's very medieval in the twisting street patterns, but it's a small town with a wall around it — you won't get too confused. However if you just go walking without any plan or direction, it is easy to get lost or waste time in less interesting places, while missing some of the good stuff.
We are providing an organized route with step-by-step walking directions to help you get the most of your time and make sure you don't miss anything important. The basic layout is typical of many old Italian hill towns, with the piazza in the center and the main street extending out in two directions from it along the ridge of the hill, and a tangle of side alleys branching off.
We're going to take you on a comprehensive walking tour starting in the southern part of town, then up to the northern side, and with a close look at the streets around the piazza. After covering those main lanes, it's fun to take some time for wandering in the little side alleys, getting a little lost.
Walking Tour
The most interesting way for visitors to begin a walking tour is by exiting the southeast end of the main Piazza del Popolo, which connects to Piazza Giuseppe Garibaldi, one of the famous vistas and lookout points of the city, beautiful during the day, and especially lovely at sunset.
Because we are on a hilltop 400 meters above sea level, there are spectacular views all around this very dramatic setting. The rural landscape is varied and features farms and forests with houses on the valley bottom and cultivation of different products, especially olive trees, corn for polenta, and grapes for wine. The higher ranges of the Apennines in the distance are a picturesque mosaic landscape that alternate dense forest of oaks with horse chestnuts, and there are some wild truffles in those hills.
Main Street
Now we are going to spend some quality time on the main shopping street, Corso Cavour, which leads out from Piazza Garibaldi, and later changes names two times, to Via Roma and then Giacomo Matteotti. We'll meander along some of the charming side streets that we shall explore on the return leg back up this same street.
Corso Cavour is like a little 5th Avenue or High Street, with nearly all the shops in the town. They don't have a department store or a shopping mall, but here Corso Cavour is lined with small, independent stores for locals and visitors alike with a nice variety of goods – clothing, food, jewelry, gift shops, shoe stores, restoration workshops, and more. This is what you might call downtown Todi. It's especially nice in the evening when the shops stay open until 8 PM.
Cavour is one of the main roads of town and not exactly a pedestrian street, but it's pedestrian-friendly. Cars do come through, but they drive very slowly in this narrow lane in courtesy to the people walking.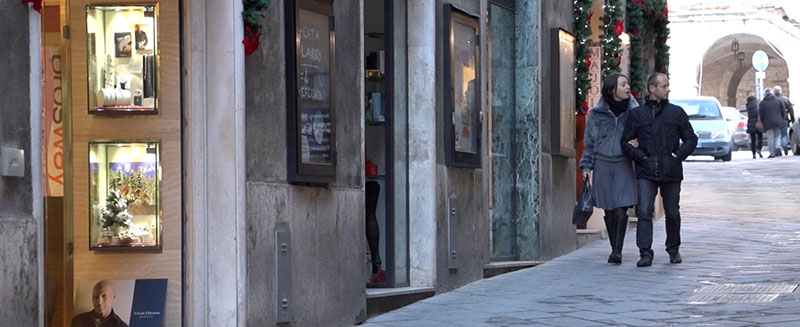 The streets were laid out way before there were any automobiles, perhaps as far back as the Roman times, for pedestrians, horses, cows, goats and other animals, but now it's adapted to the modern world where we can have a mix of cars and people. It is the perfect place to begin your walk with a bit of retail browsing and people watching, then get a snack, some gelato, or a meal at restaurants nearby.
The official name of this first section is "Corso Camillo Benso Conte di Cavour," and it's probably about as far as most tourists ever get when they visit the main piazza a block away. They'll come down here, but unfortunately they miss out on almost everything else that we're going to show next. There is so much more to see.
One of the first side lanes on the right, via Cocchi, with a tempting sidewalk café, connects Corso Cavour with via Mazzini, another one of town's main streets that we will walk along later.
Corso Cavour runs along the hillside ridge but you can easily walk down side alleys, such as the staircase alley Via del Mercato Vecchio, and get a different view straight across into the town itself, looking towards the fertile farmlands of the valley and then back up at the town. Return up the convenient staircase and you're soon back on the main street again.
You'll see a beautiful fountain right along the central part of Via Cavour on the small Piazza Bartolomeo d'Alviano. The eagle statue at the center is a symbol of the city of Todi. Traditionally he's the bird that chose this location to build a city, with shops and pizzerias nearby. On the fountain's right side, Via San Benedetto winds up one block to Via San Lorenzo.
Of course, being Italy, you will always find wonderful places to eat – pizza, pasta and salad are the basics, accompanied by some local wine, perhaps at an outdoor terrace that offers a spectacular view across the countryside.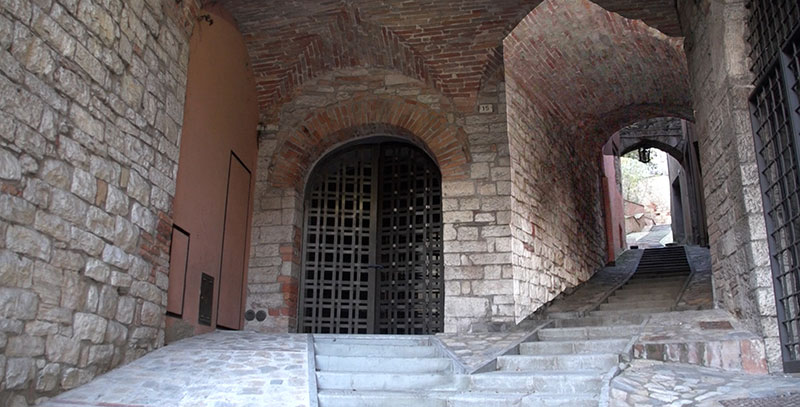 After a few more blocks the main lane changes name from Cavour to Via Roma, just south of another staircase alley, Via della Miseracordia, which would lead you up to Via Lorenzo Leoni. You can save this detour for later when we shall be on it from a different direction. Alternatively, if time and energy permits, you could explore each of these side lanes and staircases by walking up them then turning back to continue along the main lane. However that could suck you into an endless maze with no clear exit.
Staying on the main lane one more block brings you to another landmark arch of town, a former gate in the wall called Porta Marzia,  tucked away on the inner ring of the walls. This gate is one of the oldest in the city, dating to the Etruscan period, but rebuilt in the seventeenth century. The arch is the only survival from the first original wall that ran around Todi back in the Umbria-Roman days.
Porta Marzia was rebuilt in the 17th century with an elegant Renaissance balustrade up top. This is just south of Via della Miseracordia, at a point where the main lane changes name from Cavour to Via Roma. This gate marks the end of the retail zone, which was only 250 meters long.
Notice the beautiful via San Fortunato staircase ramp leading up the hillside next to the arch. This is typical of the Umbrian and Tuscan hill town style of staircase on a slope – shallow steps in the center surrounded by beautiful stonework that gives you an even path if you prefer that route, perhaps for your baby buggy or shopping cart.
It is tempting to go up each and every one of these side lanes, but it can be tiring.
You might take a brief look waling part-way up via San Fortunato, which extends to the church to a church of that name. Just have a quick glimpse to see how it looks, then return to Via Roma. In a short while we will get to the Church of San Fortunato on a different lane, via San Maria in Cammuccia. Continuing now along Via Roma, which becomes a mostly residential street with a few shops, but still interesting to walk along to admire the old buildings.

If you are walking in the morning, you might see a bunch of high school kids walking down Via Roma on their way to class at the State High School Jacapone, offering courses in human sciences, classics, science and linguistics, with 700 students. It might seem like Todi is an open air museum, with an aging population, like in many Italian hill towns. However, this is a vibrant and modern city at the same time with lots of young people.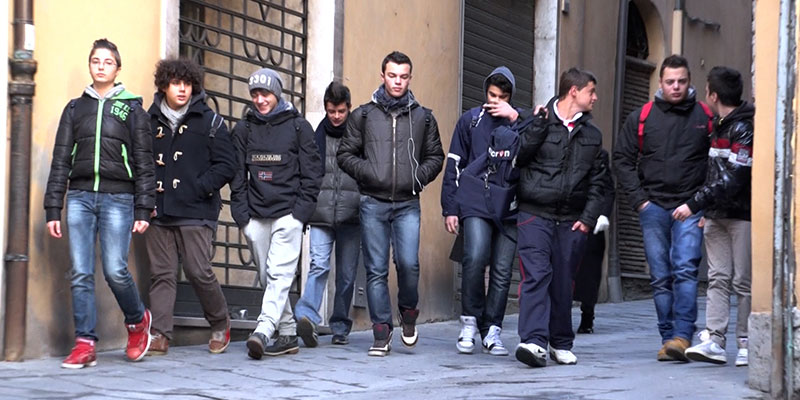 The overall population of Todi, with its surrounding communities outside the walls, is about 17,000 people, of which 3000 are students. Todi also has the country's oldest agricultural school, with special emphasis on cultivation of olive trees and vineyards for grapes and wine production. Their 500 students experience school and work program with high-tech laboratories and farming out in the fields. With all of these educational opportunities, Todi attracts students from nearby regions, giving the town a delightful jolt of youthful energy.
At the southernmost part of via Roma we find another splendid gate, Porta della Catena, in the second ring of walls, dating back to the Roman period. The eagle is holding a tablecloth in its claws, which symbolizes the founding of Todi by the ancient Umbri tribe, way back in prehistory, because he snatched the cloth from people in the valley below and flew up here and dropped it, which they took as an omen of a place to build a city.
As the road continues south of this arch, it changes names to via Giacomo Matteotti, but it's a less interesting residential area. If you were to walk all the way to the end of it, you'd reach another set of gates called Porta Romana. However, it's an 800-meter round-trip walk, which I don't recommend.
Returning north of Porta Catena, where the road becomes via Roma again, you'll see an interesting side street, via Cesia O della Piana, at the corner with the small church of Chiesa del Sacro Cuore.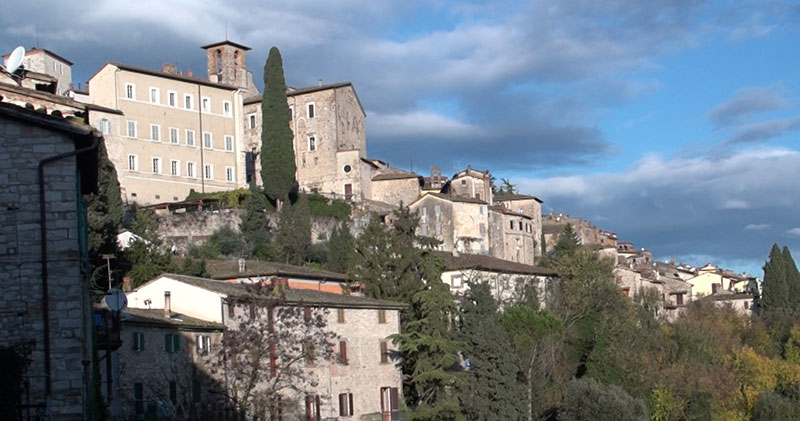 It will lead down and around to a scenic viewpoint and then back up on a different route., a round-trip of about 300 meters, slightly downhill and then slightly uphill coming back. This kind of an optional little walk through these narrow zigzag alleyways is for a visitor who has sufficient time. It's ideal to have one day to cover the main sites and then a second day to just go wander and get a little bit lost, hoping for a few nice surprises, like views looking out across the countryside and up at the town of Todi, perched up on its ridge.
At the bottom is part of the first stone wall built by the Etruscans, using those massive blocks of stone, and then above it, the stones get a little bit smaller. That was a later construction on top of the ancient walls. The different patterns are almost like the stratigraphic layers of an archeological exhibit, showing different styles and periods of construction all in one building that's still occupied today. There are some very old and tall residential structures here constructed with those varied layers of stone. That was certainly worth a little detour off of the main lane of town to get down here and see these old buildings on interesting back streets, with some little gardens. Sometimes you have no idea what's down the alley, but one thing leads to another, and maybe you'll get lucky and find some interesting sites.
After strolling downhill for about 100 meters, take a left on the small alley, Vicolo S Silvestro, that takes you back up to via Roma. Here you will see a busy little intersection with a few cars going by, pedestrians, a little food store, a bar. It's a center of activity.
Via Santa Maria in Cammuccia also branches off from this intersection. It's another narrow residential lane with no shops, but marvelous old buildings with many houses and apartments clustered in tightly. Look at some of the courtyards and hidden staircases as you walk along. We are definitely into the far back lanes, well off the beaten track of most tourist itineraries. This kind of medium-rise, high-density was created in the Middle Ages, and it makes a very livable kind of city where everything is in walking distance, with quiet pedestrian lanes and no automobile traffic.
Via San Maria in Cammuccia is another narrow residential lane with no shops, but marvelous old buildings with many houses and apartments clustered in tightly. Look at some of the courtyards and hidden staircases as you walk along. We are definitely into the far back lanes, well off the beaten track of most tourist itineraries.
This leads along 150 meters of fairly level path to Porta Aurea, a gate through the second (Roman) wall. Notice the nice view of Chiesa di San Fortunato's bell tower, which you will soon be climbing.
Parco della Rocca
A staircase lane, via Porta Libera, will take you up towards the church and a nice park, Todi's green oasis of Parco della Rocca. From here you get some lovely views, and there are many little paths and stairs and green lawns that you could enjoy here, scattered throughout the park, if you have the time.
Exit the park on via Lorenzo Leoni, which goes around the back of the church of San Fortunato and under an arch at the busy little intersection with via di San Fortunato which goes back down to via Roma in one direction, or to the church the other way. At this point you could head right into the church. So far the route has only been 1.5 kilometers, but a bit longer considering little deviations along the way.
Optional detour
For those with time, curiousity and energy, take yet another 200 meter round-trip deviation by continuing along via Lorenzo Leoni a few blocks, then down and up a staircase, and returning the same way back to the church. For the dedicated urban walker it's fun to make these little deviations deeper into the heart of southern Todi, especially into this labyrinth of tall buildings towering over the winding narrow path, which becomes a stone-lined maze.
A few cars will squeeze through on what seems to be a pedestrian lane, but after all, there must be deliveries made, and people do live along the street and need to drive home. Shoppers beware: there are no stores on this lane, but is it still makes a fascinating walk through this residential neighborhood, marveling at how cars and trucks can squeeze between these old stone buildings.
Extra credit on this detour: You'll soon come upon via Della Misericordia, a lane that descends from Lorenzo Leoni back to via Roma, just two flights below, so go ahead, take the plunge to satisfy your curiosity about what's around the bend. Touch base on via Roma, noticing how attractive the stairs look, then walk back up and return along via Lorenzo Leoni back to the church of San Fortunato, completing this big detour.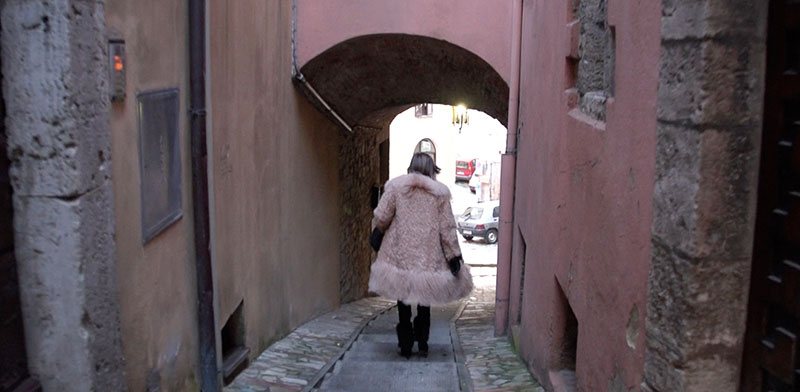 Walk around to the front of the church, which rises above Piazza Umberto, sparing you the need to climb more dozens of steps to get up here, because you will need that energy to climb the steps up the church bell tower for the grand view
San Fortunato
Construction began in 1292, and yet they never quite finished the upper part of the facade. The central portal leads directly into the nave. Elegant rib columns support the Gothic vaulting with thirteen side chapels, some decorated in the Baroque style. The church was built by the Franciscan Order with a large nave to facilitate their preaching. All of that is nice, but we have really come to climb the steps up the tower for the viewpoint.
You will find that it's a pretty easy climb, just take your time, it's worth the effort for the spectacular view of the main part of town with the Duomo in the distance and the green hills beyond. Also clearly visible is the Renaissance church of Santa Maria della Consolazione, located next to town on the southwest side, designed in the style of Bramante. You'll also see Porta Amerina, one of the original surviving gates of the outer wall on the south edge of town, with more clay tile roofs and old buildings around it.
When done with the church walk down that big cascade of steps to Via Augusto Ciuffelli, which could directly take you 200 meters back to the the Piazza del Popolo, but first, take a left and walk 200 meters in the other direction to the Oberdan Gardens for the most spectacular view of Todi. This is also where you catch the free funicular down to the public parking lot, if you drove here. The funicular operates from seven in the morning until midnight, which makes it very easy to park your car down below in this large parking area, because tourists are not supposed to drive their cars inside the old town.
When returning to the Piazza del Popolo you will pass the Piazza Jacapone, a popular gathering spot for young people during the day and right into the evening. Conveniently located near the center of town, it's a good place to meet up with your friends, perhaps because of the gelato shop here. There's a bus stop for local and inter-city buses here.
One of Todi's oldest restaurants is here, Trattoria Jacopone. Another attraction of this piazza is the four star Hotel Fonte Cesia, one of the best in town. Its 36 rooms are in a restored ancient building from the 17th century, in a perfect location.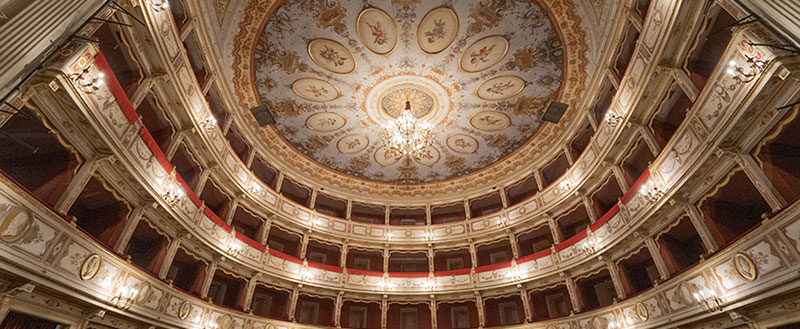 Teatro Comunale
Just next to the piazza is the Municipal of Todi, Teatro Comunale, opened in 1876 with an opera by Giuseppe Verdi. A large number of shows are regularly presented, including stage plays, dance presentations, full orchestra symphonies, operettas and musicals or solo performances, as I happened to catch the evening I was in town. Check the theater schedule and if something is going on, take advantage and enjoy the show, enhanced by the elegant architectural beauty of the theater, which has 500 seats, room for everybody.
North Todi
That completes the detailed walking tour in the south part of Todi, now we are going to explore the northern section of town. We will return to the Piazza del Popolo for a detailed visit later, but for now, walk through it and exit on the lane to the right of the Cathedral, via del Duomo.
This nicely-paved lane will curve and twist and change names several times, offering an easy downhill stroll with intriguing little side lanes branching off that beckon some investigation, eventually reaching the Porta Perugina gate at the north end of town, 600 meters distance. Of course your route will be longer because of the little side lanes to explore, but the good news is we are heading downhill (except for the uphill return along the same road).
Shortly after the road changes name to Via Santa Prassede you will come across some large stone blocks in a building on the right, which are a surviving section of the first city wall, called "Primo Cerchio delle Mura." It was constructed in the third century BC by the Etruscans, and are among the oldest remains in Todi. In addition, there are remnants of two later Roman and medieval walls further along the way.
This main street keeps curving and going downhill, changing names again to Via di Borgo Nuovo. A main branch becomes Via Della Maleretta, with other little side alleys along the way, such as Vicolo dei Bovalini, which translates loosely as cow path.
You'll see many short arches that are connecting the buildings together and stabilizing them from earthquakes. In some walls, you'll see what had been an open arch, now filled in as the building evolved over time.
Secondo Cerchio delle Mura.
This gateway marks the boundary of the ancient Roman city, and it's also the point at which this road changes names from Prassede to Borgo. This arch is part of the second wall that goes around the town, which was the Roman wall. Todi became a Roman colony and a municipium in the first century BC, and experienced the typical Roman development, with fragmentary remains found throughout town.
Three concentric rings of wall encircled Todi: the earliest and smallest is the Etruscan wall around the center, the next biggest one out was the Roman, and the longest, third wall was the medieval wall that is mostly intact today.
While there are nearly a dozen of these monumental arches still standing, we know from historical records there are many others that have disappeared. Yet, it's incredible how many of the town's old buildings are preserved and fully utilized as contemporary housing. This can be a busy street, with cars driving right through those ancient arches, so keep your ears open and walk on the side.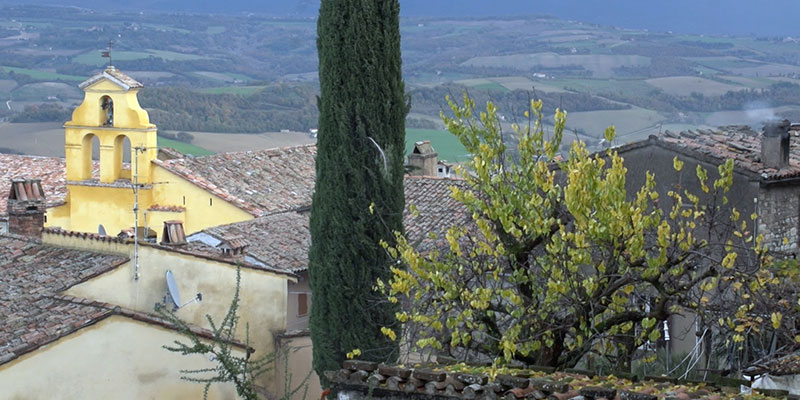 The view from that main lane is somewhat constricted by the buildings around it, but step off into the side lanes, such as Via San Marco, and you can look out across the lower town, and across the fields in the lower Tiber River Valley, with productive farms and rolling hills in the distance. Return to via Borgo and continue walking north.
If you walk all the way down the hill you get to the final series of arches that are in the outer wall.
Porta Perugina
This is the most magnificent of the gateways, called Porta Perugina because it leads in the direction of Perugia. It was built in the middle of the thirteenth century as part of the medieval wall around the town, with an elaborately fortified multi-arch structure. And because there are not very many exits from this walled city, it's a fairly busy roadway, and spectacular from the outside.
They built this larger medieval wall because the town's population kept increasing, and today the wall extends for four kilometers all the way around the town. From here you connect into the Umbrian road system. There's also a bus stop with a fairly extensive local bus routing available for you.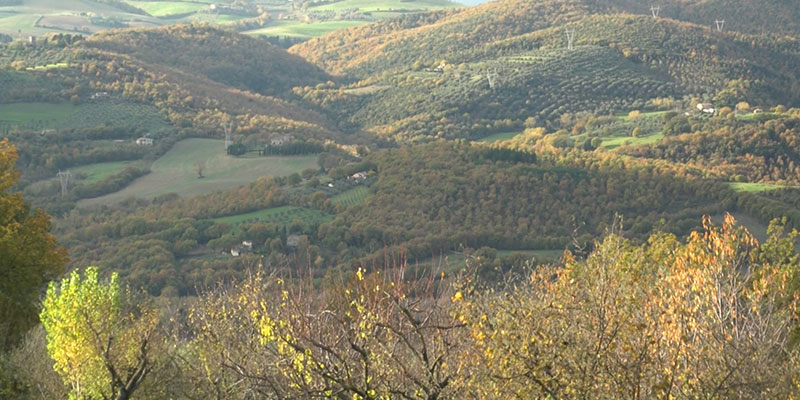 There's something very special about the beautiful scenery all around Todi - it's just a sublime rhythm of low hills and lush vegetation, especially colorful in the late afternoon golden light. You'll notice more of the residential cluster when heading back inside the city walls. It's like the small town is divided up into even smaller villages.
It's easy walking downhill, but then you've got to turn around and hike back up. So it's worth it to see the entire extent of these medieval walls. Walk back up to the main piazza, retracing your steps. Even though up a slight hill and 600 meters away, you can get to the piazza in ten minutes.
By now your total walking route is about 4 kilometers, but your long march is nearly finished, with one more kilometer wandering around the piazza and nearby lanes. Five kilometers is the baseline of the walk, but when you factor in the uphills, and various meanderings off-track, this is a big excursion. It could be done in one day, but to reach slightly out-of-the-way places not even mentioned in this itinerary (you can go discover them), and experience something beyond the usual tourist sites, it's helpful to spend a night or two in Todi. That way you can enjoy the evening passeggiata on the piazza and Corso Cavour, strolling with the locals.
Piazza Del Popolo
Piazza Del Popolo has been the center of town for 2000 years. Ever since the Romans first built their town, this was the center, their forum, where everything happened. A place for shopping, eating out, and government functions, just like we do today.
The four main buildings around the piazza are: the Cathedral at the north end in the most prominent and highest position, Palazzo Del Capitano and Palazzo Del Popolo, on the east, with Palazzo dei Priori on the south edge. The Cathedral and these three major public buildings form a perfect outline of the ideal Italian piazza.
Palazzo Del Capitano houses the municipal offices and a fairly small museum with about six galleries of ancient artifacts, statues, and arts. It displays some old guns, cabinetry, a scale model of Todi's temple of Santa Maria della Consolazione, painted wooden statues from the Renaissance, and earlier Byzantine paintings.
Palazzo Del Popolo is where the governing people's commune used to gather, the People's Gatherings Of The Communes, like a legislature. A large external stone staircase joins these two palaces together.
Palazzo dei Priori has been standing for 800 years at the southern end, which houses the courthouse and more city offices. Inside you'll find the official Tourist Information Office, a handy place to get brochures and a handy free map showing the main streets and little side lanes of town. Here you can get some information about restaurants and hotels, and ask about what's a good route to go walking on while you're in the city. You can also reserve a guided tour with an official guide here.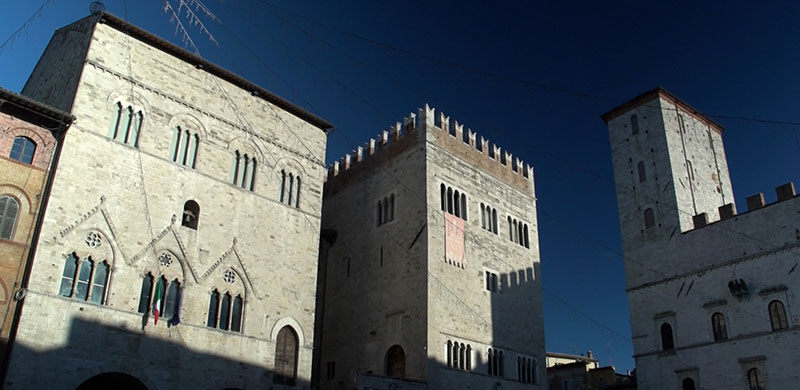 These essential government buildings date back to the twelfth and thirteenth centuries when Todi became a very prosperous and independent commune. Along with the rectangular tower added in 1367, these are among the oldest public buildings in Italy.
Duomo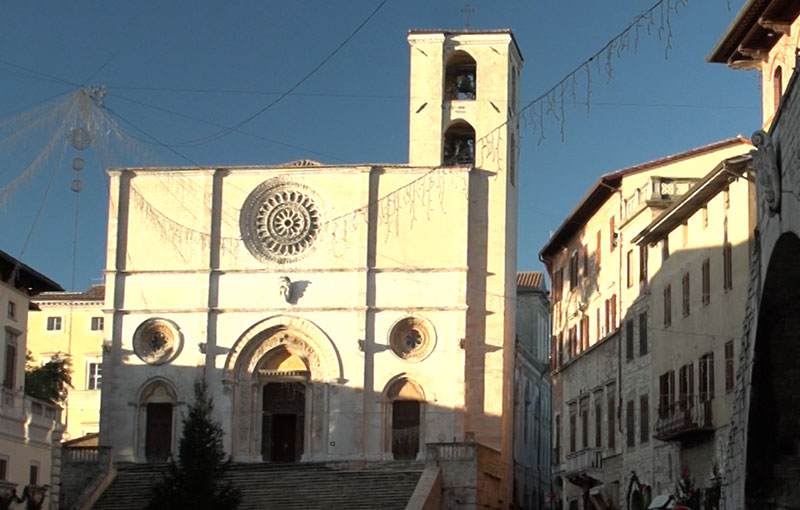 The Cathedral is the piazza's oldest structure, constructed from the 12th-century in what's called the Lombard style, similar to the Romanesque. In later centuries it was frequently renovated and altered, with the facade completed in the early 1500s. It is officially called Concattedrale della Santissima Annunziata.
Two wide aisles flank the nave with rows of Corinthian columns and graceful arches, with a stained glass rose window from the early sixteenth century, and a frescoed last judgment similar to Michelangelo's Sistine Chapel. You're always welcome to come and pray or perhaps even attend mass if the service is on during your visit.
Along with these official buildings, the piazza has always been the center of social life in Todi, such as at Cafe Serrani. Because Todi is such an old city, built up over the centuries in a very dense residential style, this is one of the only open spaces in the heart of town. The flat paving stones are very smooth, and maintained so well that there is no crack or broken bits to trip over.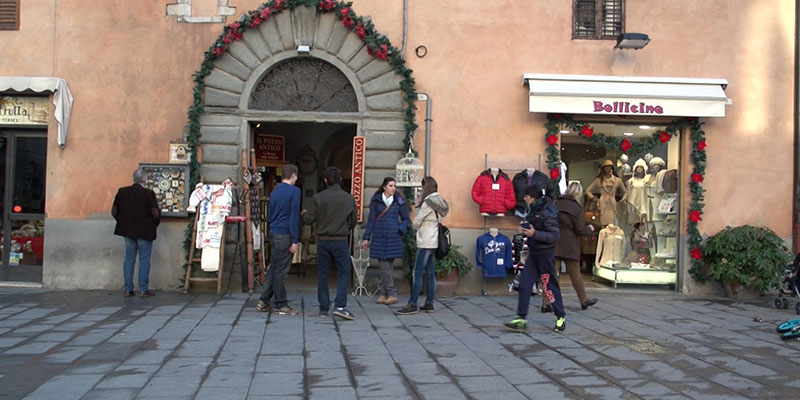 Cars are allowed to drive along the edge of the piazza, while the main central part of the square is reserved for pedestrians. It functions like the city's outdoor living room with shops, cafes and important public buildings all around it. This is a place where families can set loose their kids, who turn it into a big playground or race track.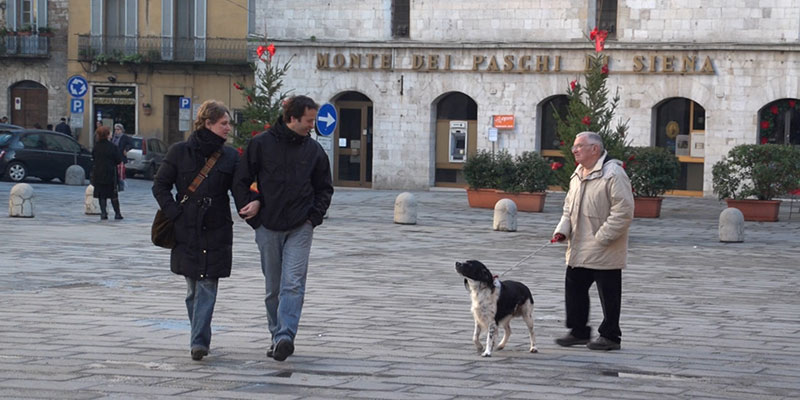 My visit was in November, which is a great time to be here because it is entirely uncrowded, the weather is not very cold, hotels have better rates and availability and there's no problem getting into restaurants. At this time of year the town is strictly a place for the residents, with hardly any tourists around. The businesses here cater mostly to local customers, and many of them have been in place for a long time.
If you come quite early in the morning you can have the whole piazza to yourself, along with some workers, who are keeping it clean. It's really quiet at this time of day. Another nice thing about spending a night in Todi is getting up early and appreciating this beautiful plaza's grand architecture. You can see how vital the piazza is by the way they keep it so clean – every morning it is scrubbed spotless.
Of course at twilight the piazza is even more beautiful than during the daytime, attracting more and more people, old and young alike. This is a place where families enjoy time together strolling around, and friends have a conversation catching up on the day's activities.
Twilight is that magic hour when Italians enjoy their passeggiata, that social stroll that ends the day when there is still blue sky, lights come on and it's almost time for dinner. In winter twilight comes rather early, like 4 o'clock, 5 o'clock, but during the summertime, it's about 10 PM when the sun goes down.
Cistern
Directly underneath the paving of this piazza are some incredible ancient Roman remains. It's a huge underground water storage system still preserved today, called the Roman Cistern, and you can actually walk through them.
This is how the ancient Romans maintained a steady water supply for their town. Twelve large rectangular rooms are made of Roman concrete and rock, covered by barrel vaults extending about eight meters high. Arched passageways connect the rooms.
The ancient Romans were unable to build their typical aqueducts to bring water in because Todi stands on the top of an isolated hill, surrounded for miles by lower fields. But they could bring water into these tanks by surface runoff and from some underground wells, which also controlled the erosion and stabilized the city. Part of the system remained in use up through the nineteenth century as a public water reserve.
Along with these underground water tanks there is an additional three kilometers of underground tunnels and galleries, dozens of pre-Roman, Roman, and medieval cisterns, hundreds of wells from various eras. It's like an underground city and you can walk through a lot of it. There are guided tours that you can hook onto that will show you these amazing sites.
Nearby on via Cesia o della Piana you can see the Fountains of Scannabecco, built in 1241, with four water basins used as a sink for the ancient housewives, as well as a source of drinking water for people and horses. Since ancient times the fountains have been an important part of the city's social life.
Near the Piazza
There are interesting neighborhoods to explore on both sides of the main piazza, starting to the east along via San Lorenzo. Typical of all of Todi this too is a residential neighborhood with quiet little lanes, even though we're just blocks from the busy center of town. With people living in close proximity, it's quite easy for the parents to walk their kids to the local elementary school, and for others, it's a nice place to walk the dog.
It is that kind of small-town atmosphere were anybody seems to know each other, and even the dogs know each other. These dog encounters always give neighbors a chance to stop for a friendly chat.
Around the corner I found a wonderful place to eat, Ristorante Umbria, serving traditional Umbrian local wines, soups, game, pasta with aromatic herbs, vegetable fries, truffles and porcini mushrooms. Chef Fausto Todini was among the first Umbrians to receive a Michelin star back in the 70s.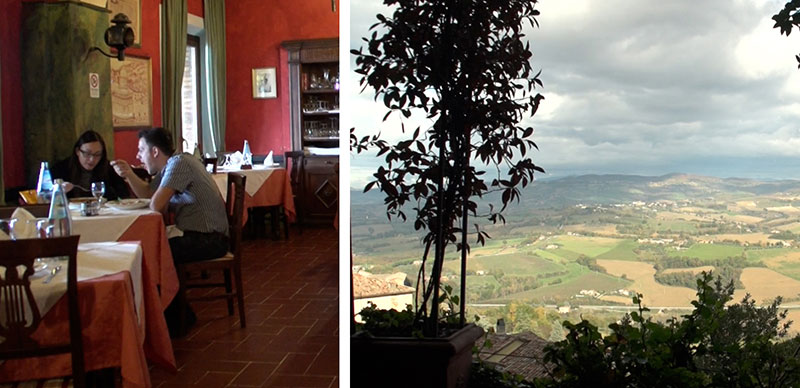 While the dining rooms are beautiful, the terrace in the back provides probably the finest outdoor place to eat in Todi, transforming this into a destination restaurant that people flock to from many miles away.
Now I'm going to take you on a short walk off the beaten track into more little back lanes on the west side of Piazza Del Popolo. It's a residential neighborhood, typical of Italian hill towns, with homes packed in very tightly together in efficient use of space. We are getting away from the shops and the main piazza, into a beautiful tangle of lanes in the heart of the medieval town where people still live, enjoying a stroll past ancient stone buildings.
As you face the Cathedral, take the street to the left, Via Paolo Rolli, which leads past the Bishop's Palace, Palazzo Vescovile, and continues on into this compact zone.
The lanes sometimes step down as staircases — many don't even have street names posted. Almost like entering the Bermuda triangle, you might get a little lost in here, but don't worry it's a small neighborhood. This kind of activity you don't find in most guidebooks, a simple walk into an authentic residential place, filled with the ancient charm of the Middle Ages.
You're free to walk around in these narrow lanes, and might even come across the small water cistern. Looking around at the stonework and up at the arch, you can't help you get the feeling this is an ancient neighborhood, many centuries old.
This neighborhood is so densely packed and lacking in street signs, that maps and Google Earth won't help much, so you'll just have to figure out how to get out of here on your own. You might as well skip a few of these lanes to the west of the piazza, which are only residential, no shops, no vistas, just old buildings, such as Via Valle Inferiore, Via del Monte and Via Salvatore.
Then you'll arrive at a terrace where the space opens up dramatically with a grand view looking out across the countryside to the distant Convent of Montesanto, which dates back to the year 1235, built as a monastery for nuns. It later became a fortress during the medieval wars and then converted once again back into a convent for nuns, which it remains to this day. It's sometimes possible to stay here for a few nights on a spiritual retreat.
When you turn around and look at the views from this terrace in another direction, you see the backsides of the old stone houses of Todi nestled along the hillside, their wood fireplaces blowing picturesque smoke out the chimneys.
Lapidary Museum
We get these views from the terrace of another monastery, which has been converted into a museum, with a beautifully painted interior and artifacts from the ancient days of sculpture and ceramics, displayed in the former church of the Lucrezie Monastery, now called the Lapidary Museum.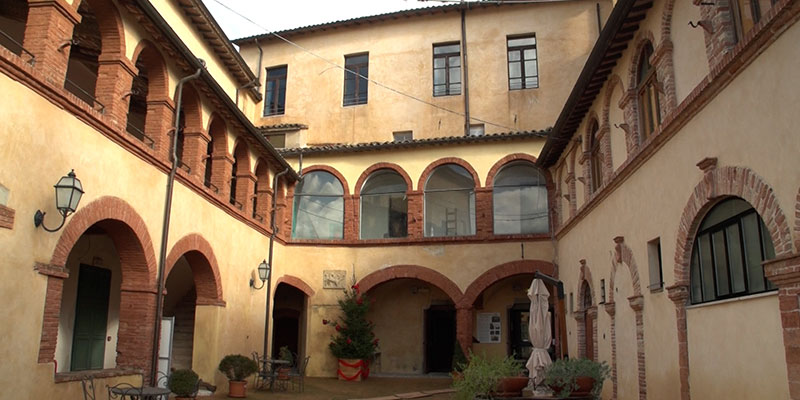 It's got one of the most ancient collections in Umbria and displays the long history of the town from the Roman age, to the Renaissance, and up to modern times. The museum is located just a block away from the Duomo and the Piazza Del Popolo, so it's easy to get here.
That wraps up our detailed walking tour of Todi.
Getting to Todi
The easiest way to reach Todi is to rent rent a car. For example, you could drive here from Rome in about 90 minutes. If you don't have a car, but use public transportation, you might find that the best way to get here is by bus, which connects from many of the main cities of Umbria, and the bus will deliver you to the center of town at Piazza Jacapone.
If you're coming by train it's a little challenging, but it can be done. The station is about three miles outside of town, so you'll need to connect into town with a local bus or a taxi. However, the train to Todi is on a private Umbrian train line, not part of the main Italian rail system. So you can only connect into this train line from one of several major cities such as Perugia, or in Terni, each of them providing connections to the inter-city trains on the main lines.
When that slow, local train arrives in Todi at the Ponte Rio station, the town is still a few miles away, but you can easily ride there on a local bus, which departs from the train station. It's about a 15-minute bus ride to town, and along the way you'll have some scenery, including a look at one of the old fortified walls that runs around the lower part of town.
Passing San Fortunato Church, the bus conveniently arrives in the center at Piazza Jacopone, that we've described earlier, a popular bus stop. From this point, you can walk to Piazza del Popolo in 2 minutes.
However, if you are coming from Florence or Rome, for example, the inter-city train only takes you to Orvieto, then it is an expensive 40-minute taxi ride to Todi, or rent a car in Orvieto.
For those who are driving, there is a public parking lot, Parcheggio Porta Orvietana, at 1.3 euro/hour, below town on Viale di Montesanto, with a free funicular to bring you up to the Oberdan Garden, a 200 meter walk from the Old Town.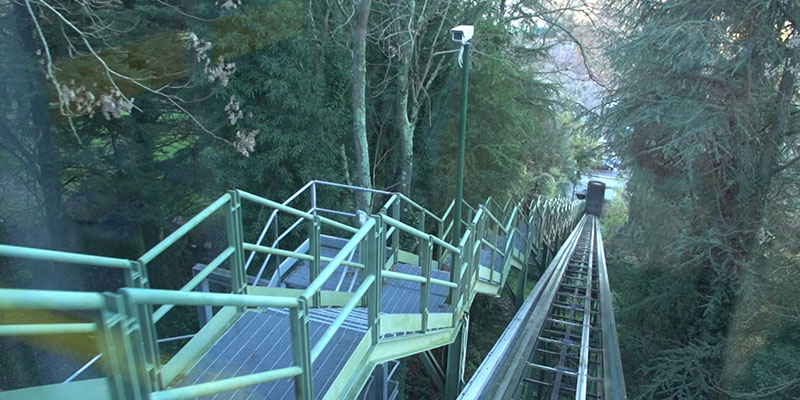 Todi, an Italian hill town
Shopping street and piazza