Gandria
One of the most interesting excursions from Lugano is a short boat ride to the picturesque, little hillside village of Gandria. You could make this visit as a one-hour round-trip, and stay on the boat to just look at Gandria from the water, but it's worth getting off the boat at Gandria and walk around for little while, maybe an hour.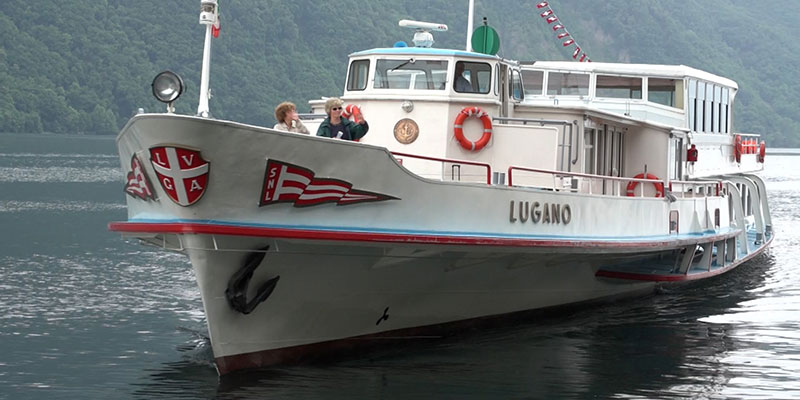 Then you can catch the next boat coming through heading back to Lugano. Many would find the boat ride itself is the most exciting part of the journey because of the lovely views you get as you glide past the pretty shoreline. The boats leave about once every hour for most of the year, although you want to check the schedule online or when you get there. You could take other boat trips on Lake Lugano, but this one to Gandria is the most popular. It's easy and relaxing.
The boat trip does not go directly to Gandria at first, it goes in the opposite direction over to the adjacent city of Paradiso, paradise on the lake, pick up a few more passengers perhaps. Paradise sounds pretty good but actually the city looks like it's just packed in with apartment buildings clustered along the waterfront. The boat picks up a few passengers then it leisurely turns around. We pass a giant geyser, a fountain that shoots up from inside the lake. On a day like this it's perfect to sit up on the outdoor deck, or you could sit down below inside. It's very comfortable there as well, often warm and sunny because we're in the southern part of the country.
Gandria is about 9 km (5 miles) away from Lugano. It just takes half an hour for the boat to go from Lugano to Gandria, and as we get outside of the city we see at some beautiful estates along the water's edge and lovely gardens.
There are a few villas along the way, including that of the Thyssen-Bornemisza family. They had an important private art collection, which has been moved to Madrid in a museum that they donated. It is one of the world's most significant private collections. There's a road that runs behind the houses but a lot of people just get around by boat on the lake, it's easier that way.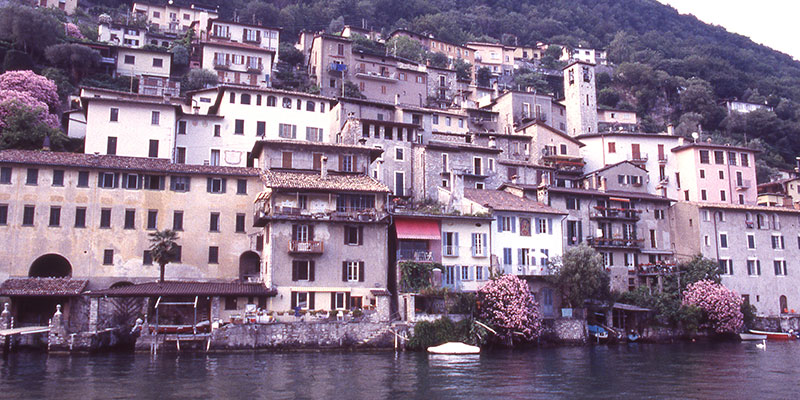 We come around the bend and get our first sighting of Gandria. It truly is a magical little village. We will be getting off here and taking a little stroll through the village and finding it is a pedestrian zone. There are no cars allowed in the village itself because the lanes are just much too narrow and steep. We're traveling in the month of May which is not a busy season, so it was not crowded.
There's always a tingle of excitement when you arrive in a new place for the first time, especially when you're coming by boat to a little village that is inaccessible by road. Cars drive behind it, but not through the village center. The village is only a few blocks wide and long, so we can see the whole place in about one hour.
You'll be tempted to linger. You could stay longer than an hour and have a meal in one of the charming waterfront restaurants, or you could even spend the night. There are three little hotels here. But we just have a short visit to get a feeling for this tiny village.
As soon as you get off the boat you can start exploring. You walk up the staircase on your left or you can walk down the passageway on the right. We will end up going both ways as we walk along and begin our little climb, a welcoming committee, a friendly local cat, greeted us.
It's the first of a few little surprises as we wind our way around these narrow lanes, and bends and turns and twists and discovering -- always fun to find someplace new for the first time. An old grindstone illustrates the days when they produced olive oil from their local orchards.
Nowadays there are more artists than farmers living in Gandria, and we came across the studio of an artist who creates paintings and ceramics for her gallery, a very friendly lady. A lot of the residents here are from families that go back many generations. About 200 people are living here year-round and several cats.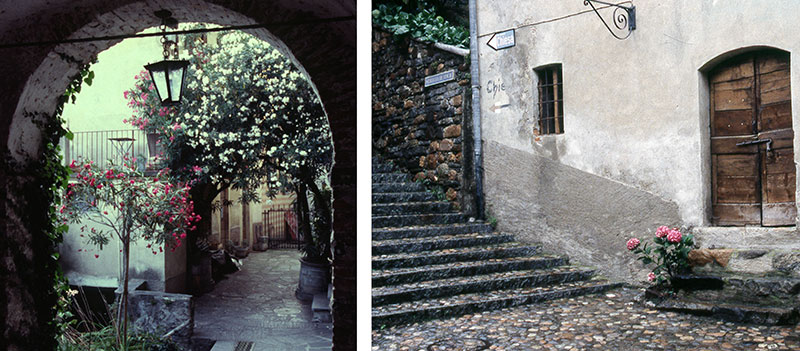 It was an easy climb to the top of the village, like going up five flights of steps at most. You quickly get back down towards the lake level. And then the path continues along beyond the other side of the village where you can gain a view across the lake, see where residents stash their boats in little garage boat sheds.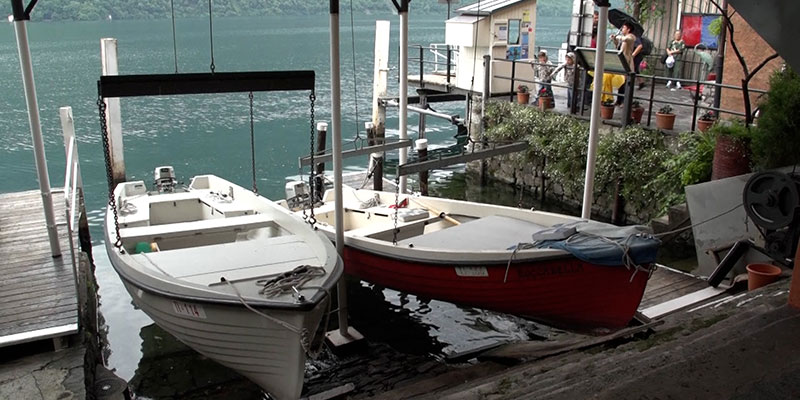 It's a pretty view, and if you are spending the night, you could stay in a little hotel that's right on the waterfront with that view right out your window. Granted, there would only be a little to do here in Gandria besides walking around for an hour and discovering the place. But if you spent the night that would rather be the point, not much to do, a place to relax, sit back, and maybe just do nothing.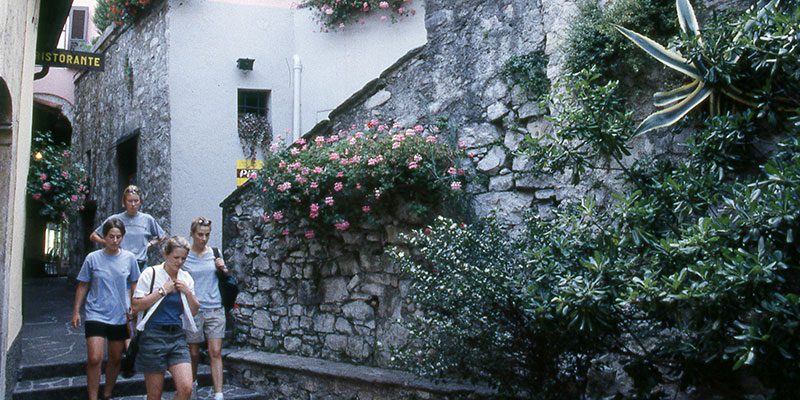 Walking of course is your main activity here. If you want to get more exercise climb up and down the staircase streets, and then you can sit down and have a drink or a meal at one of the restaurants. If you wanted an excursion on foot from here you could walk back to Lugano, that will take you 45 minutes to an hour along the lake shore on a scenic path. The village is only a couple of blocks long and wide.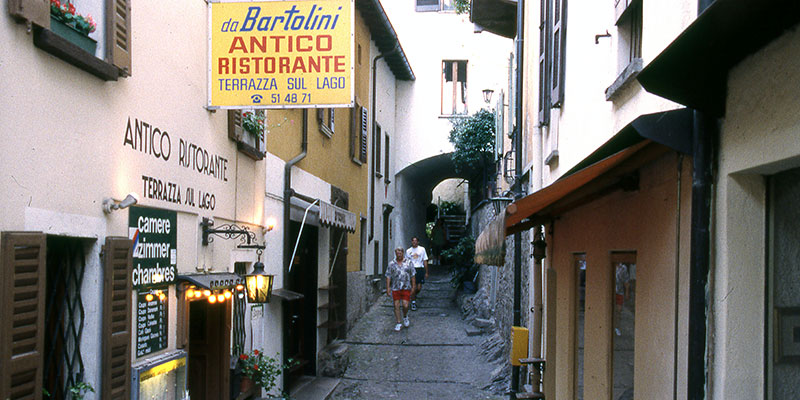 We got curious about the restaurant scene. Even though we're here in midafternoon, not the meal hour, but it's a beautiful setting. You can have a nice table and look right out on the water, very tranquil. That would make the food and wine taste even better.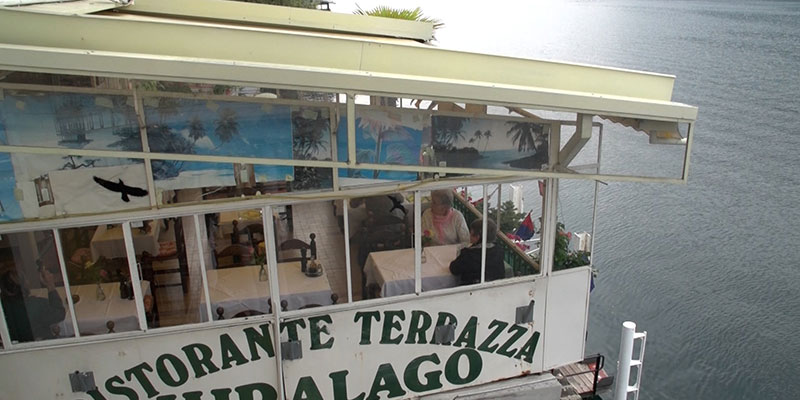 If you're here in the afternoon or even late afternoon before the dinner hour, it's almost certain that you'll be able to get a nice table sitting right by the water, so you have a great view looking out while you have a drink, and maybe just a snack. It is worth it because there really are not too many other spots in the village where you get a view of the water, aside from the little shoreline path at the north edge of town.
The earliest record of this village goes back to about the 14th century, and some of the houses we see here today are several hundred years old, and there's a church that's nearly 400 years old.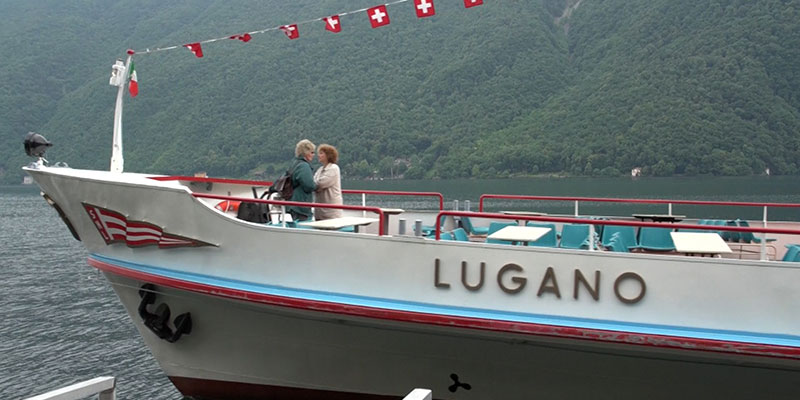 Of course we've timed our little excursion so that we're waiting down by the dock as the boat arrives because they only come through here about once every 90 minutes, so you don't want to miss the boat. So just keep your eye on the schedule and hop on board, and off you go.
If you're here in the summer, the boats come a little more frequently, maybe once every hour, and the last boat usually leaves about 5:30 PM. You can also take a bus back to Lugano or you can walk it, as mentioned it's a 45-minute walk. Although Gandrians no longer rely on fishing for their economy as they once did, they are still very much connected with the lake waters.
We got lucky with the weather because it was cloudy bright while we were walking around and a very comfortable temperature. A little bit of drizzle, then some clearing, and the sun comes out a little bit. Well, we're on the lake, so the weather is quite changeable.
This was a brief one-hour visit just to have a quick look at this small village, not much time, but it's enough. There is a boat departure every hour back to Lugano, so we board the boat for our return journey back to Lugano, another half-hour boat ride. And of course, we get some more very lovely views of Gandria as we slip away.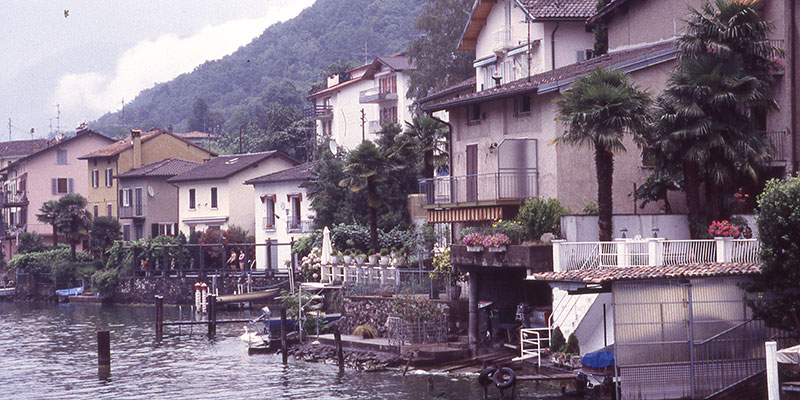 Looking back at this little village tumbling down to the lake, you are struck by how Italian it all seems, and why not? Italy is just a mile away. These national borders seem a bit arbitrary, especially when you're out here on the fringe cruising on a lake that's nearly half in Italy.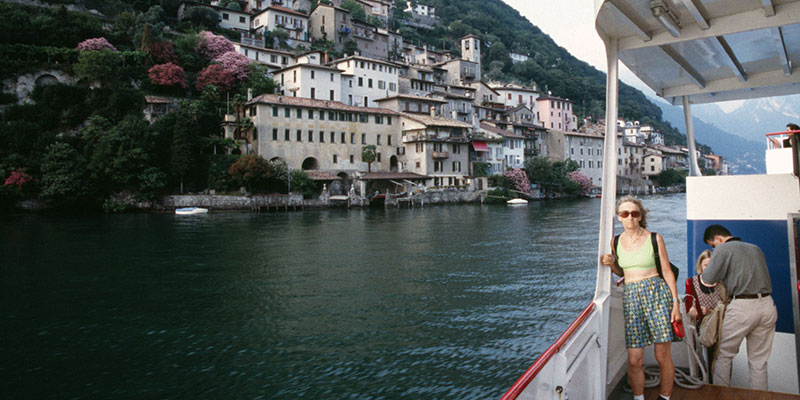 You'll catch the nicest breezes and the best view from the bow. It seems grand and exotic to be getting around by boat. Normally we're on the land, we're taking a bus or a train or walking, but here it's the pleasure of a short cruise enhancing the value of this little trip to Gandria. This time we're sitting below deck. We enjoyed the upper deck while coming out here, but now it's nice to have the cabin's comfort and coziness down below, look at the map, and see where we've been.
Passing once again the elegant gardens of the Villa Favorita still owned by the Thyssen-Bornemisza family as a private estate not open to the public except for the pathway along the water.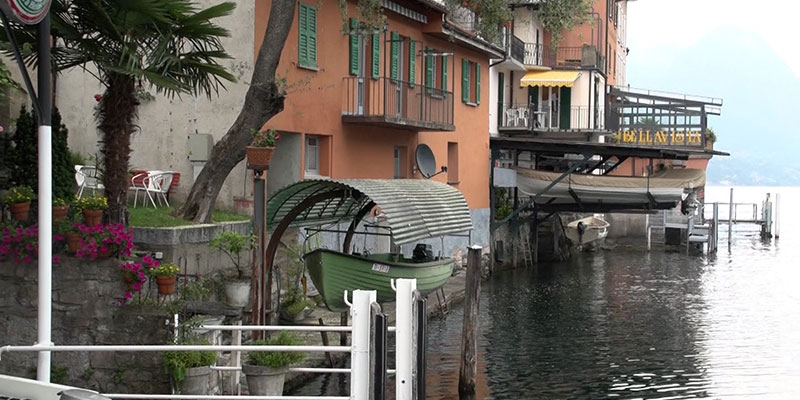 There are several small docks where the boat can stop on request so you tell the captain if you want to get off or if he see somebody waiting at the dock to get on, the boat will stop, otherwise it goes by, typical of the relaxed atmosphere of the ship.
Next we're coming up on a very curious boat stop, it's Campione d'Italia, which is actually a piece of Italy, but it's surrounded on all sides by Switzerland. It's called an exclave. It's a little isolated fragment of Italy not attached directly to the homeland. And their casino operates exempt from Swiss and Italian laws. Five hundred years ago the Pope gave this region to Switzerland except for that little half square-mile bit.
We arrived pretty quickly back at Paradiso on our way to Lugano. Paradiso is a separate city from Lugano with its own city government, although they're next-door neighbors. You could just walk from here into Lugano town along the waterway, about a 15-minute pleasant stroll, or just stay on the boat. You've already paid for your ticket, and by the way, if you have a Swiss rail pass the boat ride is free, otherwise the round-trip will cost about 30 Swiss Francs, about US$30.