Ascona
We're going to take a little trip from Locarno over to the nearby Ascona village. You can go by boat, or you can just take the city bus. It only takes about twelve minutes on the city bus number one to get over to Ascona, just 3 kilometers away and the ride is quite cheap. After the visit we'll return to Locarno by boat on a scenic ride, making a delightful round-trip.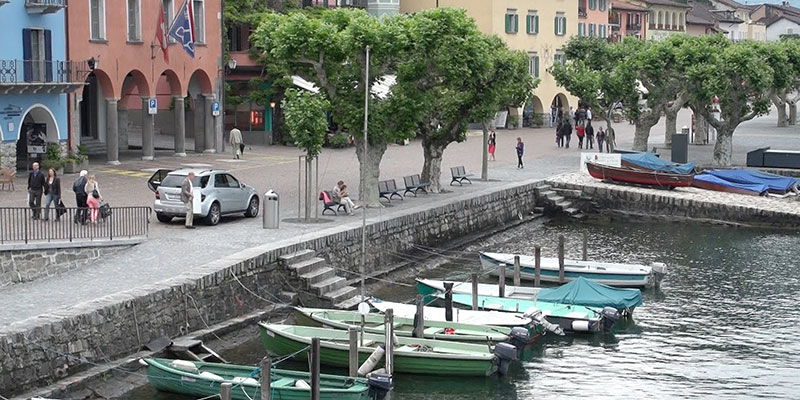 You could get there in five minutes by taxi but the bus service is excellent and in the morning between 9 AM and 10 AM there are four departures so you don't have to wait long. You don't even have to check the schedule, just show up at the bus stop. Swiss public buses are modern and comfortable. When you get off the bus it's quite easy to get your bearings. If you get disoriented, just ask someone for directions to the lake. It's a short walk.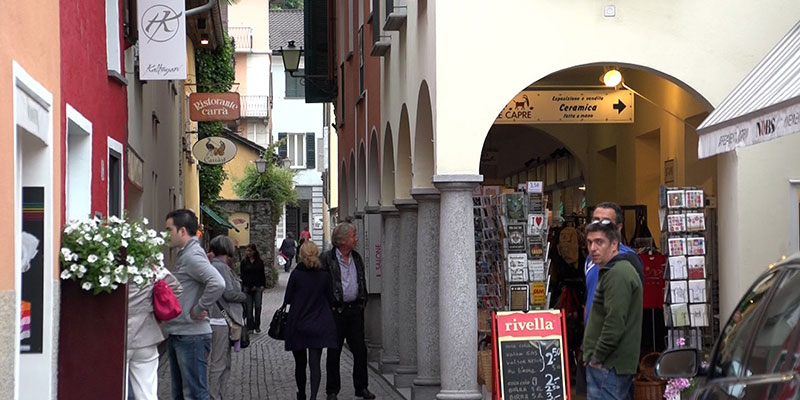 This is a small village after all, Ascona only has a population of 5,000 and an area of 2 square miles, so it's easy to get around. If you get disoriented, just ask someone for directions to the lake. It's a short walk. The central village area is only several hundred meters wide, but you will discover many beautiful sights in this small area. It's really worth the trip over from Locarno.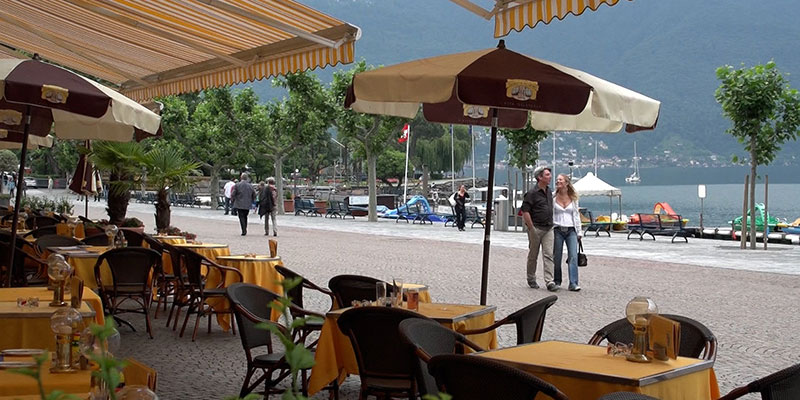 You'll probably be drawn first to that picturesque waterfront scene and row of restaurants and shops along Lake Maggiore. But you also find that those little pedestrian lanes just inland have great attractions: shops, art galleries, more restaurants, and beautiful buildings. We will show you both sides of town in our brief visit.
You're going to see that this is a very pretty little village. It's another one of these picture postcards come to life, especially along the waterfront promenade with its row of outdoor restaurants and colorful facades – very inviting to sit on the terrace, have a drink, relax, have a meal and watch the people stroll by. Like Locarno, this town has an Italian feeling to it even though we're still in Switzerland, the country's southern canton of the Ticino.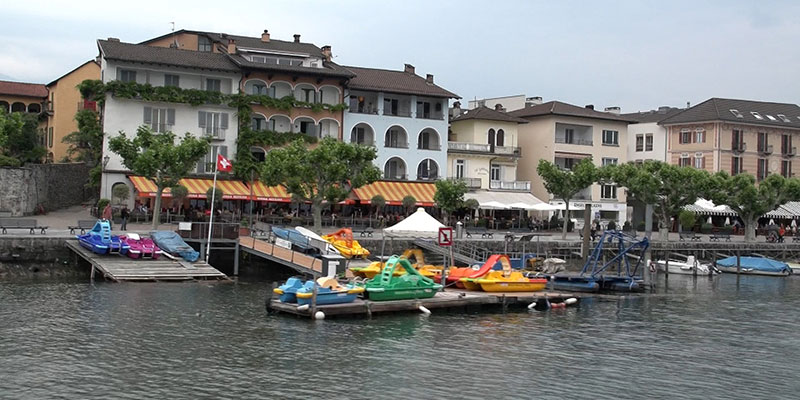 There really is something very special about this kind of waterfront where you don't have any cars. You've got the lakeside and beautiful buildings with restaurants, a broad pedestrian promenade area, and trees and gardens. It seems so classic and typical in your imagination of the ideal waterfront village, but in reality you just don't run into this all that often. Here it's all laid out in a perfect setting. You can see how popular boating is here for fishing, pleasure craft, and cruising. For the visitor it's all part of the picturesque scenery. You'll reach a landscaped garden with flowers and a playground for the kids at the end of the promenade.
After you've had a good look at the waterfront, perhaps you had a meal or drink, then take a stroll inland to the pedestrian lanes just a block or two away. You can wander around here for another hour or two if you're going to do some shopping or have a drink, or just do some sightseeing. It's big enough that you can get lost, but so small that you'll quickly find your way again.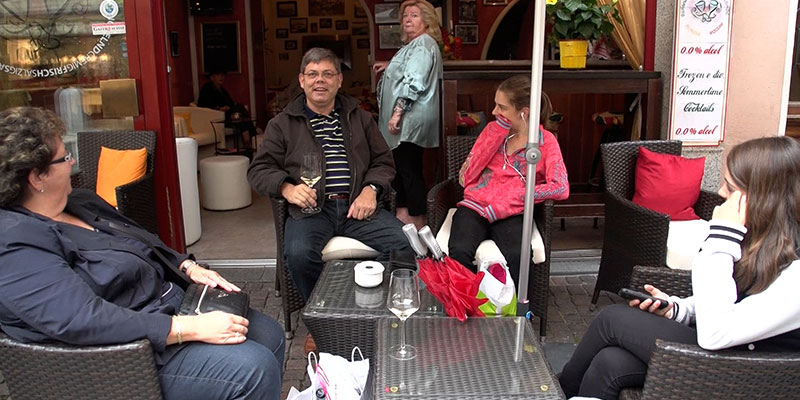 You're going to run into some friendly fellow visitors. People here are in a good mood – they're on holiday. Ascona is a popular destination for the Swiss. It is like their little Mediterranean seaside village. It's something rather exotic and different than you find in most of the rest of Switzerland, snow-covered mountains and all that, and it's really not that far away from the northern part of the country. You can drive down here or take the train and arrive within a few hours from much of Switzerland. It's an easier stretch than going on down to Italy and provides a lot of the same rewards if not more so.
Because the town is so small you're going to find that these little back lanes are one of the main attractions. If you were to walk around the entire little village, it's only one kilometer in circumference, and then if you got ambitious and wanted to walk the little side lanes that's another kilometer. So it's an easy stroll. Of course you'll want to spend time looking in the shops and have a coffee, maybe get a gelato, and just look around.
You might often find in your travels that just this simple, aimless stroll is one of the most pleasurable activities. You certainly don't need a map here, just follow your nose, take a left, take a right and you might find yourself walking around in circles, but that's all part of the fun.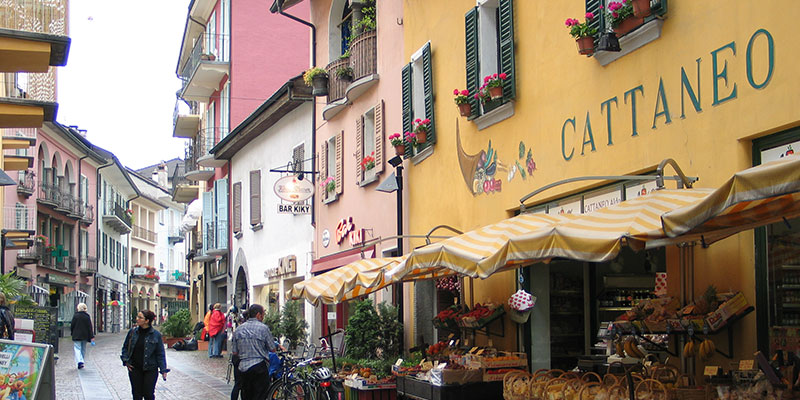 Of course, a desirable setting like this has been occupied by people for a long time. The earliest archaeological remains go back to the late Bronze Age. There was a settlement here during the Roman time later on, and it was during the Middle Ages that the area got its name, Ascona, and it was always linked from that time on with nearby Locarno.
Many of the locals, especially the older folks don't speak the nation's two main languages Swiss-German or French. They just talk Italian. It's a good time to brush up on your basic Italian, however, such as buon giorno and grazie, si, prego, vino, pasta, basta, grazie, toilet. Just for fun and show little courtesy. They might speak English, especially people who are working in the shops and restaurants – they're going to speak some German and English, and of course Italian, maybe a little French. Most Europeans who work in the travel industry are multilingual and so you don't have any problem getting taken care of in the shops and restaurants. Even in a little out-of-the-way village like this.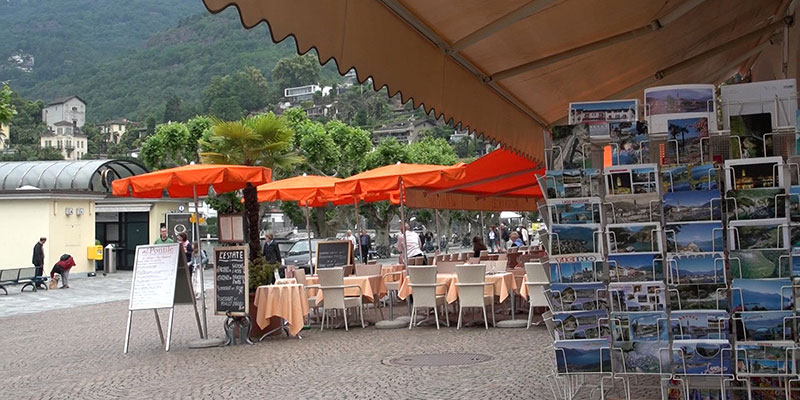 You can see Ascona in a couple hours, but you might find this is a nice place to drop anchor for a few days. You could spend the night here in one of the thirty-four hotels and keep busy eating in the sixty-three restaurants.
The weather can change quickly right next to the Alps on the shores of Lake Maggiore. It had been sunny here a little earlier in the day and then it was cloudy bright, then we got some rain showers, so it was time for the umbrellas. The wet pavement is nice with glistening light reflected off the cobblestones, especially if you were here at twilight, which would be magical.
We tolerate the rain for a while and then it clears up. Temperatures are very pleasant here in the month of May, our favorite time to visit Switzerland. Fortunately the climate in the south of Switzerland is considered subtropical, kind of like the shores of the Mediterranean.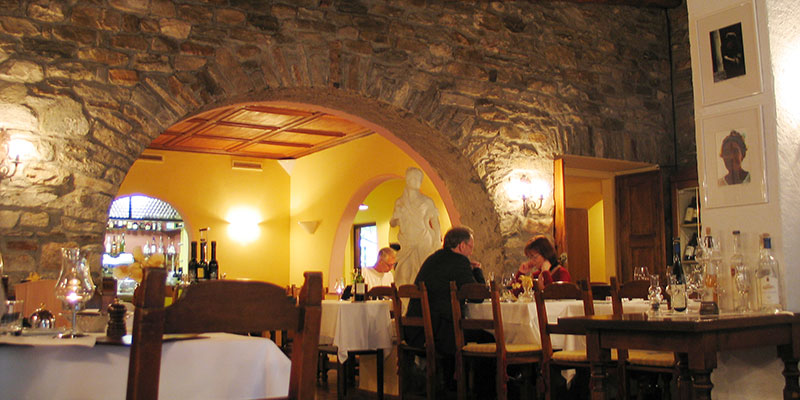 One way to escape any bad weather is duck into a restaurant and have a nice meal. Most serve Mediterranean cuisine in a refined setting and a varied menu, and make their own fresh pasta Italian-style. Remember, we're in Ticino, which is very much the Italian side of Switzerland. Most of the restaurants feature Italian food, but there is a variety of other sorts of fast food, delis, take-out counters, pizzeria, anything you want.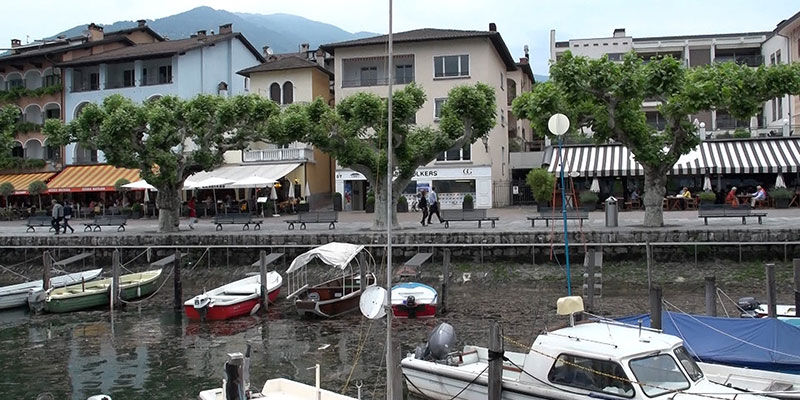 While those little lanes are attractive and certainly worth your time, there is nothing like the waterfront promenade here at Ascona. That's what makes the place so very special.
Return to Locarno
You could easily return to Locarno by bus, you already know where the bus stop is, but why not consider the other option, take the boat! Looking at the signs and the boats and schedules, hmm, the bus stop is 5 blocks away and the boat dock is right in front of us.
Luckily, our timing was perfect because it was arriving and we only had a few minutes to purchase our tickets which we quickly did. Of course they are very efficient and quickly selling you the right ticket, one-way back to Locarno. You can pay with cash or credit card, ask a few questions while you're at it, and then move along.
If we miss this boat we have to wait for another hour, so even though we got lucky with our last-minute decision, it would be a good idea to be aware of the boat schedule and adjust the timing of your visit accordingly. We got on the boat just in time for them to pull up the gangplank behind us, and cast off. Suddenly we find ourselves on the boat enjoying the view of the Ascona waterfront as we cruise away.
It would've been easy to walk up to the bus stop and ride back to Locarno that way. But this was a lot more fun, and it only takes 25 minutes by boat from Ascona around to Locarno. It's a nonstop ride, and you'll discover it's quite scenic, and actually faster than the bus because there we were at the boat dock ready to go.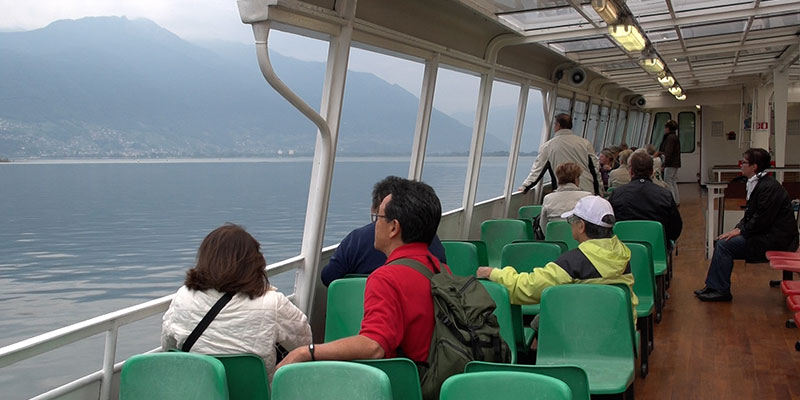 The boat is comfortable. You can sit outdoors on the deck, especially in such nice weather, or you can sit down below. Inside they've got a snack bar which is not crowded because we're here in the month of May, our favorite time to visit Switzerland. In the summertime the boat would probably fill up, but we are enjoying a lot of space here.
How unusual, the boat passes an eighteen-hole golf course, which was voted the country's best golf course some years ago. You don't see that many golf courses anywhere in Europe as you're traveling around, nothing like in places like America. Elsewhere in town they've also got a miniature golf course and a couple of small museums and eleven historic sites in Ascona.
The boat company is called Navigazione Lago Maggiore and operates cruises throughout this very large lake, most of which is in Italy. They also have cruises on Lake Garda and Lake Como – a whole series of operations you can pick from. You could easily build a rewarding vacation by cruising the lakes of southern Switzerland and northern Italy.