Saint-Moritz
Saint-Moritz is a high Alpine resort town in the Engadine in Switzerland, at an elevation of about 1,800 metres (5,910 ft) above sea level. It is Upper Engadine's major town in the Swiss canton of Graubünden.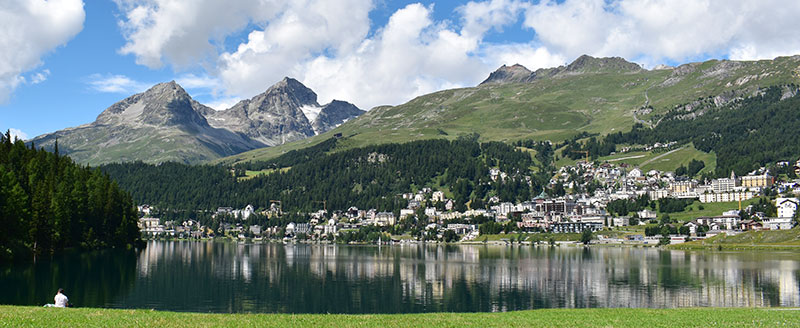 Origins of the winter resort only date back 159 years ago to September 1864, when St. Moritz hotel pioneer Caspar Badrutt made a wager with four British summer guests: they should return in winter and, if the village was not to their liking, then he would reimburse their travel costs. If they were to find St. Moritz attractive in winter, then he would invite them to stay as his guests for as long as they wished.
This marked not only the start of winter tourism in St. Moritz but also the start of winter tourism in the whole of the Alps. The first tourist office in Switzerland was established the same year in the village.

St. Moritz developed rapidly in the late nineteenth century; the first electric light in Switzerland was installed in 1878 at the Kulm Hotel, and the first curling tournament on the continent was held in 1880. The first European Ice-Skating Championships were held at St. Moritz in 1882 and first golf tournament in the Alps held in 1889. The first bob run and bob race was held in 1890. By 1896, St. Moritz became the first village in the Alps to install electric trams and opened the Palace Hotel. A horse race was held on snow in 1906, and on the frozen lake the following year. The first ski school in Switzerland was established in St. Moritz in 1929.
Thanks to its favorable location, St. Moritz enjoys over 300 days of sunshine a year. Every winter it hosts the "White Turf" horse race on the frozen Lake St. Moritz attended by the international upper class. Prominent property owners in St. Moritz included Sonja Ziemann, Gunter Sachs, Herbert von Karajan, Lakshmi Mittal, Ivan Glasenberg, Mohammad Reza Pahlavi, Ingvar Kamprad, Helmut Horten, Giovanni Agnelli, Aristoteles Onassis and Stavros Niarchos.
Popular pastimes include skiing, snowboarding, and hiking, and nearby there is also the world-famous Cresta Run toboggan course.
The year-round population is 5,600, with some 3,000 seasonal employees supporting hotels and rental units with a total of 13,000 beds. The Kulm Hotel St. Moritz is a large luxury hotel in St. Moritz.