Garda town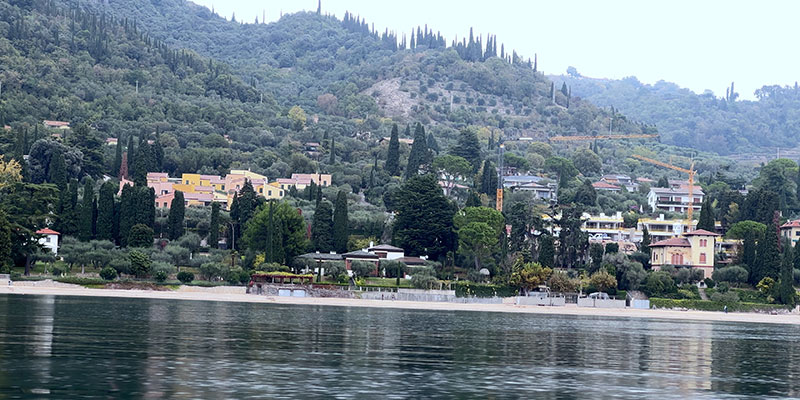 Arriving in town by boat gives you a lovely view of the tree-lined promenade with the marina out front. Our group enjoyed a charter boat, but the public ferries pull into Garda about once every hour throughout the day, with stops at more than a dozen towns along the lakeshore.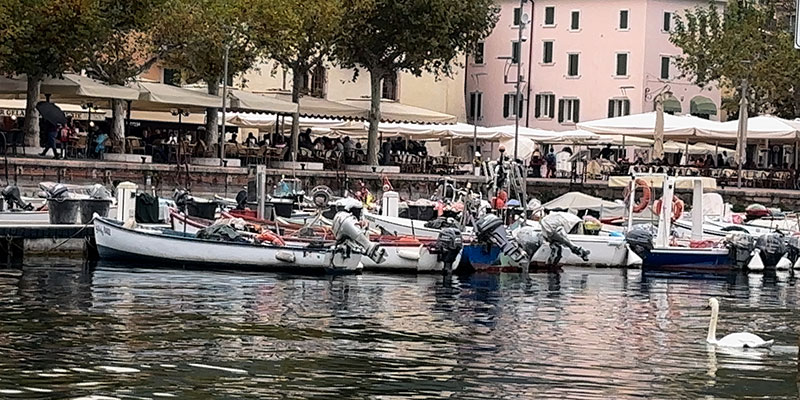 The town is known for its beautiful lakefront promenade, which is lined with cafes, restaurants and shops. Visitors and locals alike can enjoy a stroll along this promenade while taking in the stunning views of the lake and the surrounding mountains. We'll see more of the promenade in a few minutes, but first, we want to dive into these wonderful pedestrian lanes. It's a tangle of shopfronts and restaurants and homes up above. It gets busier in the summertime, but our visit was in October when it was nice and quiet, and peaceful. The locals are out walking their dogs.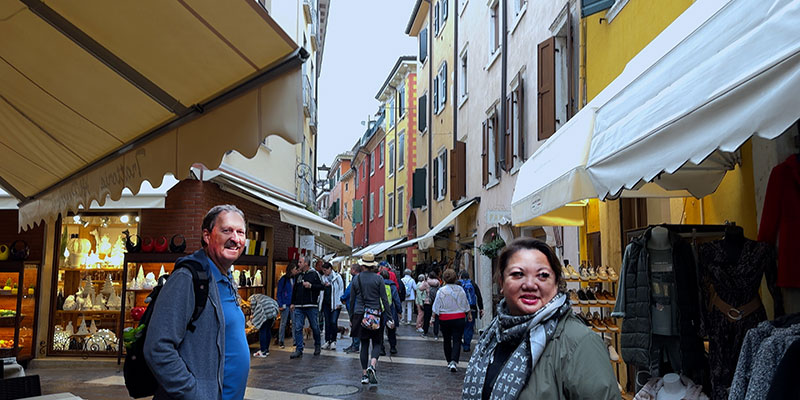 The Old Town is quite small, with a length of just about 400 meters and extending inland just a few blocks. Population is only 5000. This is one of the smallest towns in the whole province. You don't really need a map to navigate here. You can just wander at will. The route that we navigated was along the lakefront promenade, then into a couple of blocks of narrow pedestrian lanes with all the shops and then back out again to the lakefront, and then going in once again. You can go back and forth into town, then along the lake.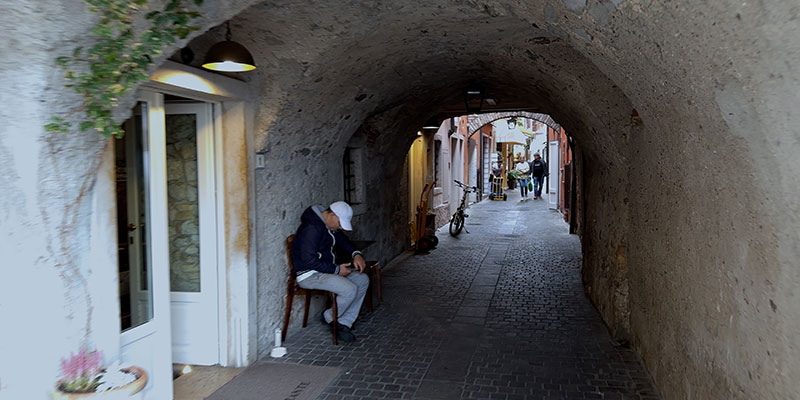 It's quite wonderful to walk through these stone tunneled passageways that go right through the buildings. It's a densely packed town center, but it's all in a human scale. No high rises or modern structures here. Even the smallest of the alleys are not dead ends. They connect through to other lanes. So you can just keep on walking. Brick arches are stabilizing the buildings.
The return route towards the lakefront brings us back through another tunnel passageway, now arriving at the main square, the Piazza Catullo, a nice open space with more shops and restaurants.
Overall, Garda is a charming town with a rich history and plenty of attractions to keep visitors entertained, whether you're looking to relax by the lake, explore the town's historic sites, samples some delicious Italian cuisine, or enjoy adventurous outdoor experiences, Garda town offers something for everyone.
In addition to the Old Town, some of the other popular attractions in Garda include a big outdoor market every Friday, and there are wine tastings. You can visit one of the many local wineries in the area and enjoy a wine-tasting experience featuring the region's famous wines such as Bardolino and Valpolicella. You can explore the beautiful countryside around town by hiking or biking along one of the many scenic trails in the surrounding hills and mountains.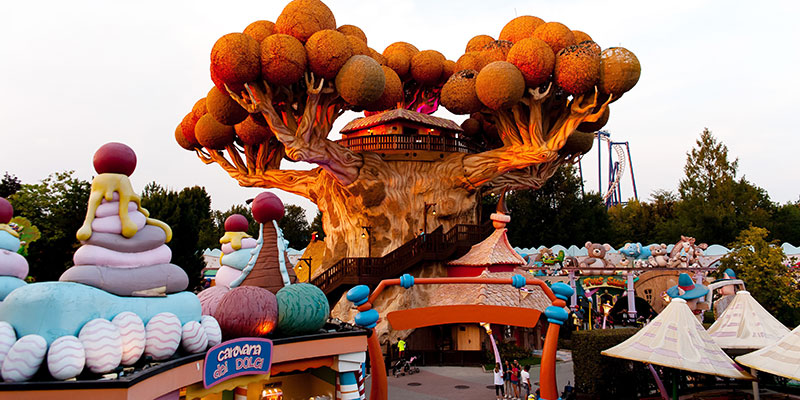 There is also Gardaland for families and children. It's one of Italy's largest amusement parks, a short distance from town. Garda is situated in the province of Verona and the region of Veneto, with Venice located an hour and a half away by car. The old clock tower is one of the tallest structures here.
Known for its excellent cuisine, visitors can enjoy a meal at one of the town's many restaurants serving traditional Italian dishes. Especially notable are the seafood meals prepared with fresh fish caught right here in the lake. The earliest known inhabitants of the area lived in homes and villages right on top of the lake, built on stilts or piles over the water, a bit similar to this dock with a gazebo that we see today.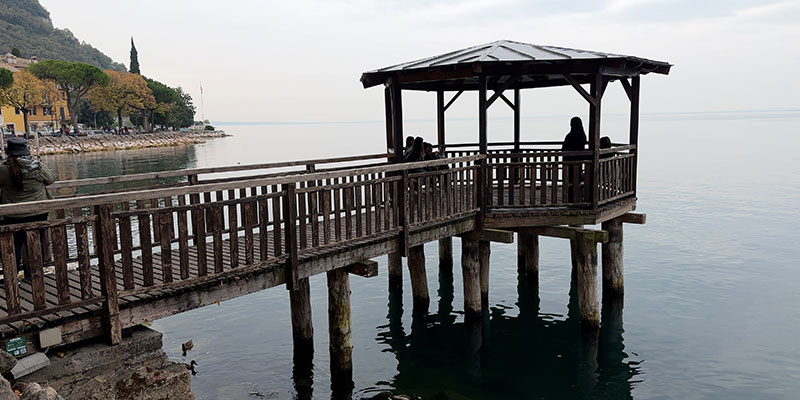 These early lake-dwellers were skilled in agriculture, fishing and weaving, and they also traded with other cultures in the region, dating back to the Bronze and Iron Ages, between 1500 B.C. and 500 B.C.. The first actual town on dry land dates back to Roman times when it was an important commercial center. By the ninth century, the town became so important that it ruled the entire area and the name of the lake was changed to Garda.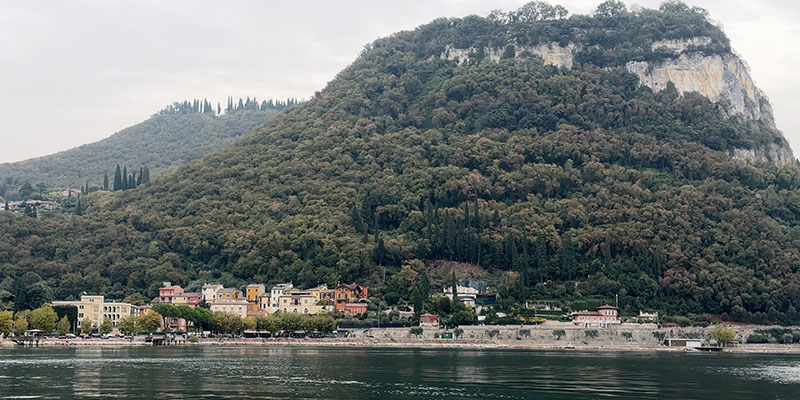 About that time, a fortress was built up on top of the hill. Now you can walk up there for the view from 300 meters high. What had been most recently, a fishing village is now a thriving tourist center with a strong economy. You don't see any vacant shopfronts here. Nearby, olive groves and extensive vineyards for wine are also important parts of their economy.
Just beyond the north end of Garda town, you might drop in on the luxury hotel, Locanda San Vigilio, with just over a dozen rooms in a Renaissance villa. Some famous guests who took up residence include Napoleon, Czar Alexander II, Winston Churchill, King Charles and Laurence Olivier -- featuring an outdoor cafe terrace and a deluxe restaurant surrounded by a park with hundreds of cypress and olive trees and a big swimming pool, located about three kilometers from Garda Town, which has many, many other hotels in various price categories.
Garda slideshow
Google map of Garda Town