Swissminiatur and chocolates
An excellent activity just outside Lugano is an excrusion to Swissminiatur, Switzerland's largest open-air miniature museum, where you can admire the most important Swiss buildings and means of transportation. It is in the nearby village of Melide, just 8 minutes from Lugano by train, also you could get there by boat, or driving.   After that, visit the Alprose chocolate factory (below).
See a short video about Swissminiatur.
Swissminiatur has 128 models of some of the most famous and characteristic buildings in the country at a scale of 1 to 25, in an area covering 14,000 square meters. There are monuments and transportation, including 3.5 kilometres of miniature railway that wends its way through the Park with 18 trains running on tracks, crossing bridges and stopping at stations, whilst boats ply the lakes, cable cars and funiculars climb and descend mountains and cars run along the motorways.

There are little boats in motion on tiny lakes, cable cars and funiculars going up and down miniature mountains. For garden lovers the whole park is decorated with a selection of 1500 different plants and over 15,000 flowers, and while you do see lots of children running around having a great time, this place is not just for kids.
If you're visiting Lugano for a couple of days, come on over.  The hours are 9 AM till 6 PM daily but it does close from early November through early March.
You can easily spend a couple of enjoyable hours walking around.  The miniatures on display include meticulously faithful reproductions of well-known sites such as the Rapperswil Castle, Chillon Castle and the Castles of Bellinzona, the Parliament Building in Bern and the Piazza Grande in Locarno. The exhibition is constantly being expanded and slightly modified.
You might not recognize the actual names of most of these buildings, although a Swiss person probably would, so for the foreign visitor it's more of a visual treat. You can check up on the names and get more information about each exhibit on free Swissminiatur apps available from Apple and Google. They list every building, identified with a little picture and description on the apps, so you can consult that during your visit. 
A one-hour journey taking in the whole of Switzerland. Seems impossible? Not in Swissminiatur, the park reproducing a miniature version of the Swiss Confederation. The exhibits are always appealing for young and old alike to have fun at Swissminiatur.
Alprose Chocolate Factory 
Yet another excursion you might enjoy out of Lugano is a trip to the Alprose chocolate factory. You can get there in 22 minutes by the local Malcantone train and then it's a short walk over to the chocolate factory.
See a short video about the Alprose chocolate factory
They're open Monday through Friday, with a small admission. You get a chocolate tasting and can look at the actual process. It's a real factory where you can look down through the windows at how the operation proceeds from production of the liquid mass to the molding and final packaging, with informative displays in their little chocolate Museum. And then of course you end up at the chocolate shop where you get some great prices and fresh product with the biggest variety of kinds of chocolates that you've ever seen.
From the Alprose website:
At Alprose, there are two things that we really love. Good chocolate and the Alps. This is why we use only the best from the Swiss Alps to create our fine Alprose chocolate and are committed to protect and preserve this unique habitat, its natural beauty and its culture.
NATURALLY SWISS
Fresh air, wonderful nature encounters and a feeling of almost limitless freedom. The Swiss Alps offer all this and much more. And those who care about the Swiss mountain landscape with its unique nature and diverse culture, will also love Alprose and our chocolate. Because with Alprose, you can enjoy this feeling anywhere and at any time when you let a piece of chocolate melt in your mouth. SWISS ALPS INSIDE applies not only to the ingredients in our chocolate, but also to our strong commitment to preserving the Swiss mountain landscape.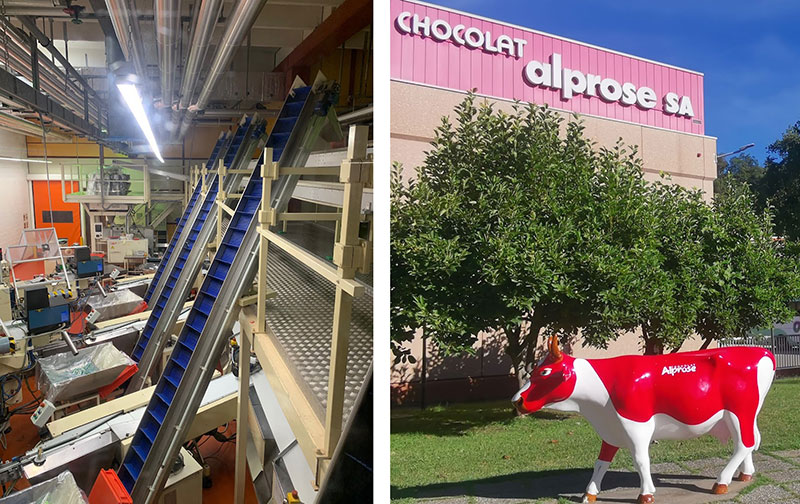 SWISS ALPS INSIDE reflects our mindset and our values. We rely on regional, sustainable and fairly produced ingredients and make an active contribution to the preservation of the unique Alpine habitat, with over 15,000 animal and 13,000 plant species and a diverse culture, for future generations. We are committed to various projects to promote the sustainable management of the Swiss Alps. So that intense hikes, where you can encounter ibex, chamois and marmots and cool off in a mountain lake, will remain among the most beautiful experiences offered by Switzerland.

Many brands make a secret of the ingredients used to make their products. We don't. On the contrary. We talk often and openly about the ingredients of our fine chocolate. These are only the best, and whenever possible, they come from the Swiss Alps. In order to preserve the biodiversity of the Swiss mountains, we also pay attention to sustainable and environmentally friendly methods and materials when producing and packing our Alprose chocolate. In addition, we work together with organisations that are also concerned about the future of our Alps, such as the Swiss National Park.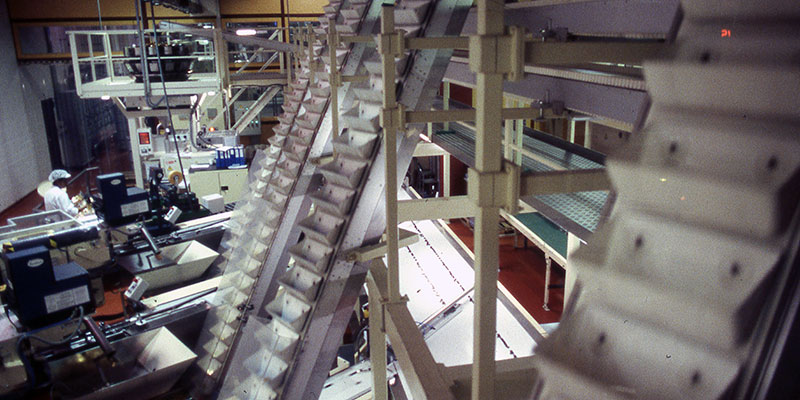 We also pay attention to the environment during production. Since 2018, our production has been entirely CO2-neutral. This means that we always recover at least as much energy as we use to produce our chocolate specialities. We achieve this with 348 solar panels on the roofs of our storage and production facilities, a wooden chip heating system and LED lights that save 448,900 kg in CO2 emissions and 111,000 kilowatt hours of electricity per year.
We carry the Alps in our hearts. This is why our commitment to the preservation of the natural beauty and culture of the Swiss mountain landscape does not stop with the production of our chocolate. We know that we can achieve more together, and therefore collaborate with organisations that also care about the future of the Alps. In cooperation with the Swiss National Park, we carry out projects and make an important contribution to the protection and preservation of the flora and fauna of the Swiss Alpine world