Sunnegga
We are continuing our look at Zermatt with a ride up a funicular to Sunnegga mountain and then walk down on two easy trails that gradually descend the hillside with mountain views along the way, ending up back in town.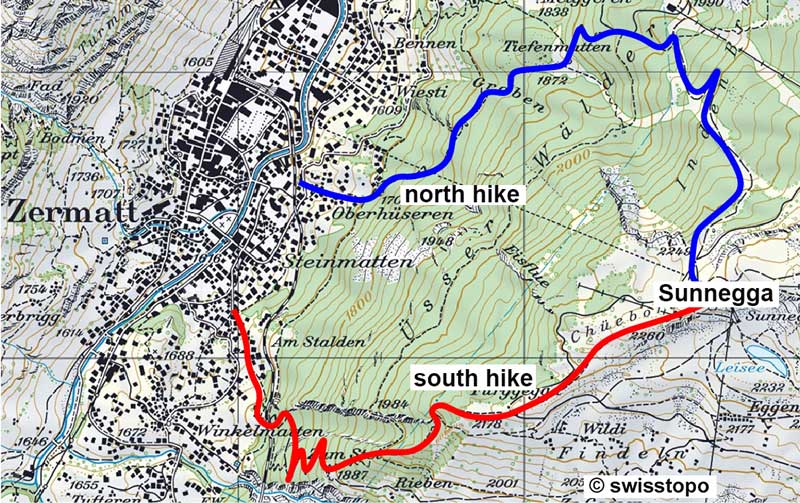 You have a choice of two directions in walking down each side of this ridge from Sunnegga to Zermatt. You can either take the south route or the north. The two routes are about equal in angle and both are easy, but they do have their own differences that we will describe as we walk on down the trails, because we are taking you down both sides.

Something they share in common are the frequent views of the Matterhorn, the magnificent signature mountain of Zermatt. Scenery at the upper level is open forest with grassy hillsides between the trees.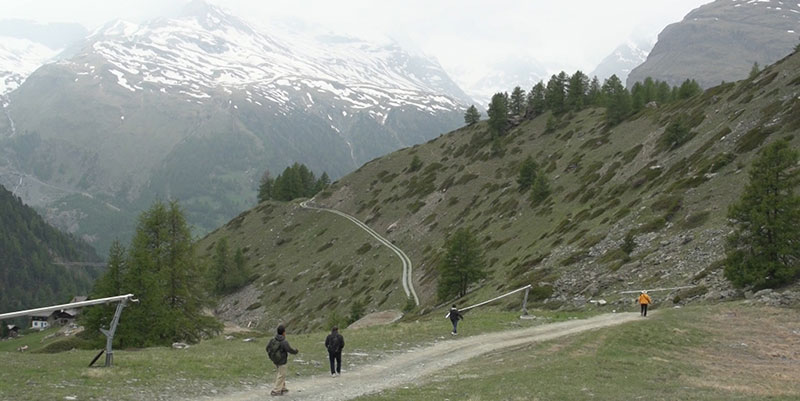 We will start with the south side, which is more of a gentle and straight slope with a forested environment. Going to the north is a bit more of a winding trail through a slightly longer, steeper hill. Each direction takes about the same time, two hours, easy and scenic. Both directions are beautiful, but the south route is nicer if you don't have time for both.
The funicular entrance is on the south side of town next to the river, which can be reached on a 600-meter walk from the Zermatt train station along Getwingstrasse. This valley station is officially called Zermatt (Talstation Sunnegga). Purchase your tickets from the booth here, no reservations necessary. Then you walk through a tunnel for about 80 meters to reach the boarding area.
You ride up in a funicular that runs inside the mountain, like a subway to the sky. Opened in 1980, this was the first funicular in Switzerland to travel entirely inside a tunnel. The ride up only takes four minutes and then you're out on the terrace. There is a restaurant up here of course and a bar, you could have a drink or a meal, or just skip it and start walking.
If you would rather do this on a bike or scooter, those options are available. For the bike route, rent a bicycle in town and ride up, or down, peddling or with bike assist, maybe on an e-bike for added comfort There is a dirt road on the north route that makes this an easy adventure. At Sunnegga there are lots of opportunities to connect to other bike routes in practically every direction.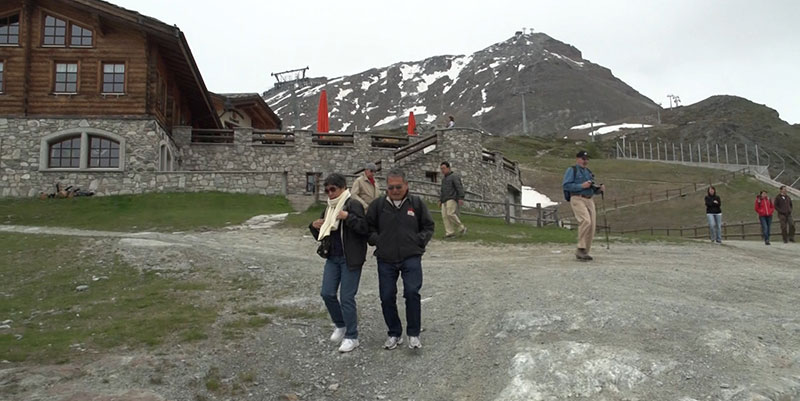 Or you could rent a standup scooter, they call it "kickbike," to ride down on a thrilling adventure. A kickbike is like a cross between a bike and a scooter, great fun to ride for people of all ages. Another way to get down this mountain is to jump off it in a paraglider. You can go up as a total amateur, with an expert pilot doing the work. Jump off the mountain and fly tandem, you'll come floating down into Zermatt. It was my wife's thrill of a lifetime.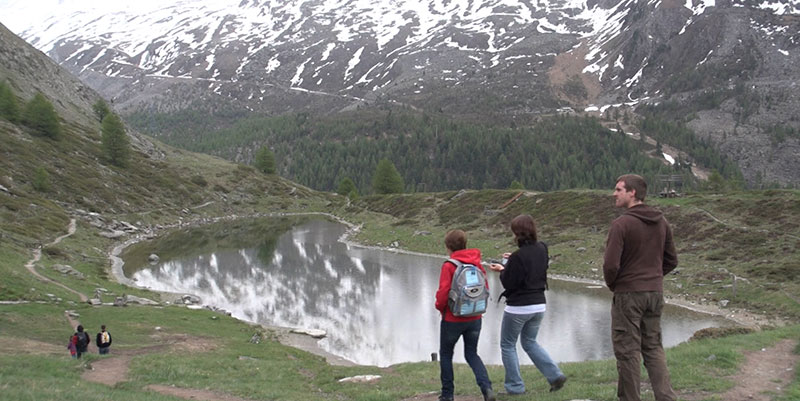 Hike begins down south side:
Right away you reach a little lake called Leisee. In the summertime people go swimming in this lake but it's a little nippy here in the month of May so we're just taking a look. Leisee is one of five lakes up on this plateau. You could keep walking further uphill and see more lakes if you wish, but we are heading down in the other direction, so we just stop, have a look down at the lake – beautiful reflections – and turn around, keep on walking down. Another option is you could walk across the mountain over to Gornergrat, but we are not going there either.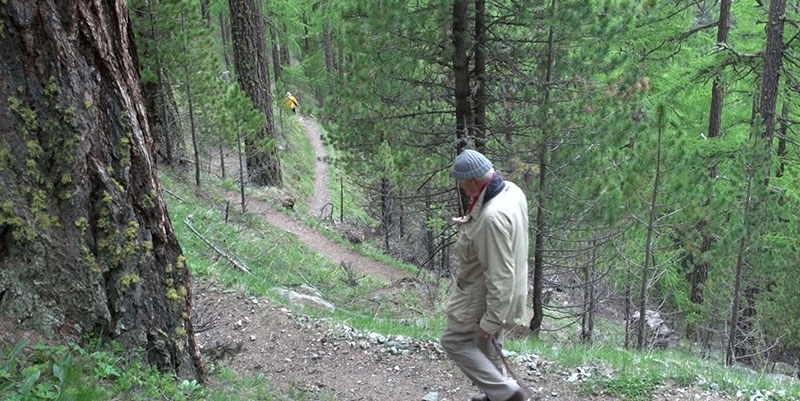 The next part of the trail was reached within about 15 minutes and it was so pleasant, descending in gentle zig-zags with rocky outcrops, the grassy hillside slope and a few wildflowers. We have entered a magnificent forest of Larch trees, the typical cover in this part of Switzerland, a hearty and durable wood that's used for construction as well as firewood.
Getting into the characteristic rythm of the trail going steeper downhill, but it is planned so that the slope is very easy for anybody to handle. You do not have to be in any kind of special physical condition to make this hike, it's quite easy. It might help if you have a walking stick, especially when you're going downhill, which you can improvise by grabbing a fallen branch on the ground. We used some sticks that we found on the trailside to help stabilize ourselves as we walked down. You could always find the odd branch or two, so look around and grab one, it's part of the fun and that'll help you get down.
Or on the other hand if you're more serious hiker, a regular on the trails, you want to have poles – Nordic walking sticks. Local folks tend to walk uphill, enjoying the exercise and view looking up at the mountain, but it's easier to walk downhill. Another trick when you're going downhill is don't try and put on the brakes, just go with gravity, go with the flow and let the hill carry you down.
Some places get a little steeper, occasionally with a slight uphill, and there are some tricky rocks and dirt under foot, so you have got to be careful, sit down, take a break, take a rest, relax and enjoy yourself here.
From this point the trail is all quite level, especially compared to what we've just come down from up on the mountain. With all the beautiful scenery and the lovely trees and the easy walk down, we find that the trail is beginning to level off. It looks like there's light at the end of the tunnel, we've almost arrived at the bottom.
We soon reach the suburbs of Zermatt. There are always houses being built, sprouting up like wildflowers here. This town is quite small, only about 6000 population but it's booming, growing quite rapidly because of the increase of tourism – always more people want to come to Zermatt to enjoy these beautiful mountains and trails.
Houses on this lower stretch look like they stepped out of a postcard – it is so perfect with the rustic chalet wooden architecture, flowers and wooden balconies, benches, planters and a beautiful lawn out front. You might see the Gornergrat train coming down from the mountaintop – we describe that journey elsewhere on the site.
In these outskirts you can see the town is booming with construction everywhere but don't worry they're not going to ruin it – Zermatt will always be a village, it will always have that small-town charm and they're just making it better, they're doing a great job with these modern expansions, more houses, a few more hotels, make more room for the visitors.
Finally we've arrived back in town. We're just a few minutes away from the main streets of the village, but even here you see there are open fields and wildflowers especially in the month of May when we prefer to visit – it's the perfect time for wildflowers and access to the trails. Then we are back in town ready to start our next adventure.
Hike the North route
Now we are going back up in the funicular to walk down from the Sunnegga mountain on a route that's different from the trail that we just presented, walking down the north side this time. It takes about the same two hours to get down to the bottom whether you go down the trail on the south side or the trail on the north.

From Sunnegga, this north trail leads initially past ancient Swiss pine trees and tall larches through a thick forest. In about half an hour you arrive at the tiny hamlet of Tuftern with a couple of restaurants and cafes so that you can actually take a break if you feel like it, sit down, get something to eat. More likely you're just going to keep on walking by, but it's a pretty collection of chalet-style buildings to enjoy as you walk on down the hill.

After Tuftern the track plunges into the lush mountain forest and follows a giant zig-zag all the way down to the village of Zermatt. For just a short while the trail gets wide and gravelly and dusty and not so attractive – it is more of a bicycle trail than anything, but most of the trail ahead is going to be nice and narrow and geared for the hiker. Walking further puts you on the narrow, more peaceful trails heading in the direction of Reed and then on to Zermatt.
If you are walking it will take about one more hour to reach the bottom from here and practically throughout that entire walk you're going to be enjoying scenery with the green hillside and lots of trees – these are primarily the Lark trees, very clean and green with plenty of fresh air up here.

There are several different and interconnecting routes on his hillside marked by signposts. A sign marks a trail intersection that splits, so take the lower path down to Reed that will take you away from the bicycle traffic. Numbers on the signposts are not miles or kilometers, but list the hours to walk that route.
At this point it becomes an ideal mountain trail, so easy with just the right angle downhill that it lets you float along without any effort at all, winding and turning in sinuous curves that are very pleasant. Then the trail gets a little steeper, a bit more uneven, so you've got to watch your step. It does help to use a walking stick.
Even though you're in a rather heavy forest it still opens up now and then for those classic views of the Matterhorn, and some glimpses of the Gornergrat train. Green hillsides covered with trees provide a nice frame for this excellent walk.

The final signpost shows it's just 15 more minutes to the end of the trail. In this bottom section the trail levels off a little bit more. You're still heading downhill but it's an even smooth surface, easy walking.
At this point you know you're getting close to town because you can see the village in the valley below. It's only another five or 10 minutes before you reach the first house. The last little stretch of nature trail becomes a paved urban pathway and staircase that brings us right back into the suburbs of the village.
This would be a good time for a stroll through town to find some refreshments and celebrate conquering both side of Sunnegga, north and south.
Rothorn
There is one more option to consider on Sunnegga: visit the top of Rothorn at 3,104 meters, where you can see the highest peaks of the Valais Alps. Some people say that the Matterhorn is best viewed from the Rothorn, since it showcases its pyramid shape perfectly.
When you reach the top of the funicular at Sunnegga, walk over to the cable car station and board the eight-person gondola to Blauherd (2,571 meters above sea level). From here, the themed Marmot Trail leads back to Sunnegga and the five-lake trail into the valley of the Findel Glacier. On windless days, you can see the mountains reflected in several small lakes. You might do this hike on your way back down.
Finally, a big cable car takes visitors to the summit of the Unterrothorn (3,103 meters above sea level). The views of most of the 4,000-meter peaks around Zermatt are quite simply breathtaking, including the Obergabelhorn, Zinalrothorn and Weisshorn, with the Bernese Alps in the background, over the Findel Glacier to the Rimpfischhorn and Strahlhorn, and over the Gornergrat ridge to Monte Rosa.
The Rothorn summit station offers glorious views of the highest mountains in Valais and Switzerland.
In summer, this is the starting point for challenging hikes and a popular destination for sunrise excursions, and for paragliding. In winter, the summit station offers direct access to the ski pistes. There are mountain restaurants at all levels, with sun terraces.