Utrecht
Utrecht has a wonderful ambience created by terrace restaurants and promenades at water level alongside the main canals, with pedestrian shopping streets above in a unique split-level setting. This up and down arrangement produces a delightful atmosphere not found in any other Dutch city, something quite special. It is the defining characteristic of the city of Utrecht.
We have another Utrecht page featuring a walking tour with a local guide, describing more of the town and explaining many fascinating aspects of the economy and history.
These terraces function as the outdoor living room of the city, with many outdoor restaurants and a public promenade, but how did this happen? Why are these terraces here and not found anywhere else in the country? Part of the reason is that Utrecht is above sea level, more so than many of the other Dutch cities, and therefore there is a drop down to the level of the water from the street up above. Centuries ago the main harbor was precisely here in the center of town, which made it very convenient for the busy trade network.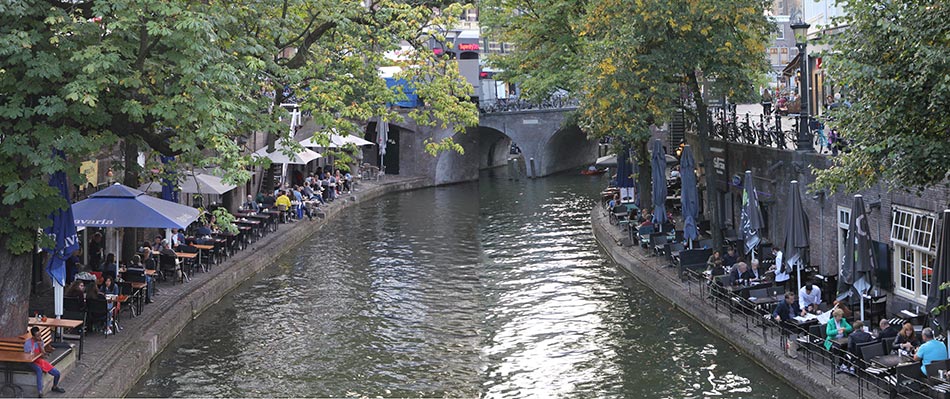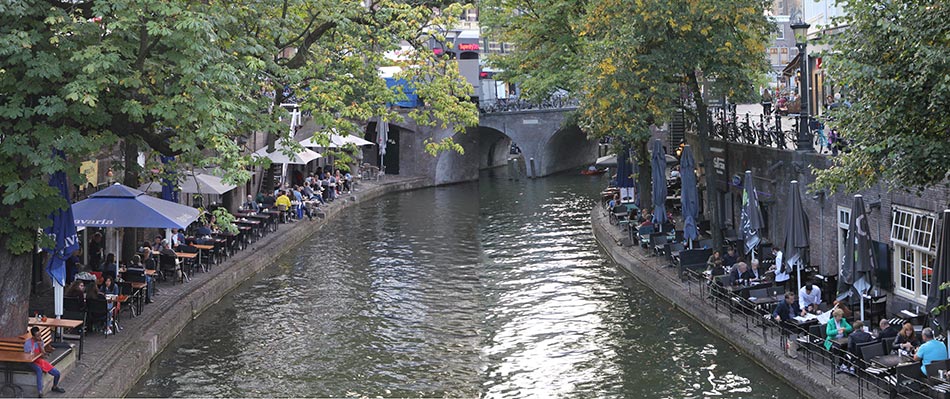 There are many other delightful reasons to visit Utrecht. It's the fourth largest city in the Netherlands, it's got one of the oldest universities, and they claim a collection of historic medieval buildings second in number only to Amsterdam.
Utrecht one-minute Video Introduction
Gondolas? Is this the Grand Canal? Sometimes the Netherlands feel like it must be past of Venice, tucked away in some remote corner of Italy. In fact here in Utrecht you can get even closer to the water than practically any place in Venice because these terraces are at the same level as the water that extends along the main canal through the heart of Utrecht, reaching 4 kilometers in length.
Utrecht, in the heart of the Netherlands, is one of the great cities of Europe to visit. It is not as well-known as some other Dutch cities like Amsterdam, Delft, or even Leiden and Rotterdam, but you might find in the most charming of all cities in the country. It's a city of history, canals andold brick buildings. There are lots of cafés, several museums and lovely streets for walking. You can also take the canal boat ride if you are staying more than a few hours. Standing high above it all is the tallest church tower in the country.
It's a city with bicycles zooming by, great beer, wonderful food, and a compact, pedestrian, historic zone lined with picturesque canals. Then add the typical Dutch ingredients of friendly people ranked high in global indexes of happiness and quality of life, with their relaxed tolerant attitude. Utrecht is a place you would love to visit as we will show you in this detailed travel guide.
In the old days large merchant houses were constructed on the street above the canal, built upon barrel vaulted cellars down below to provide a secure foundation. Their cellars were used as storehouses or even residences, and these restau rant terraces, which even today are called wharfs, were docking and loading platforms for the cargo coming through town.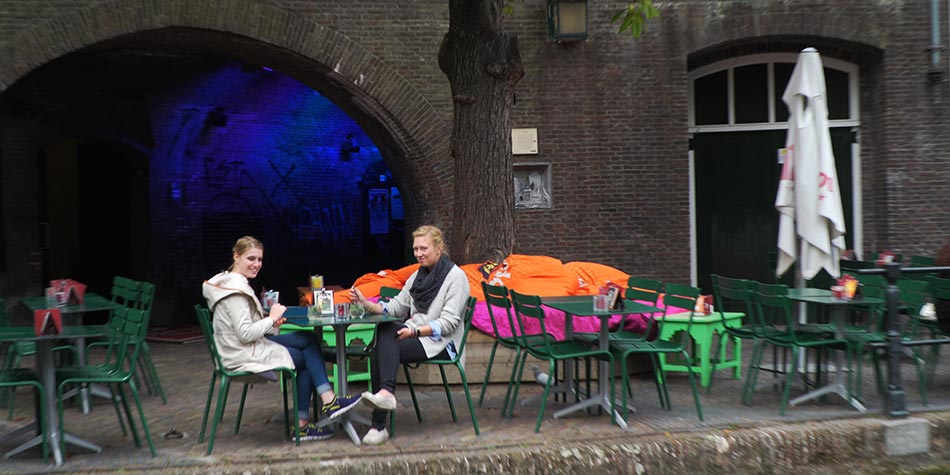 While the outdoor restaurants have a delightful ambience you want to be sure to step inside some of these restaurants as well to get that historic feeling of the barrel vaulted stone structure, many of them beautifully renovated with modern and historic touches that really create a lovely atmosphere for dining. Even if you're not eating, you're certainly always welcome to step into a restaurant, ask if you can have a look around. They will never mind, figuring that you just might want to sit down once you see how attractive it looks and smells. Check the menu, have a bite.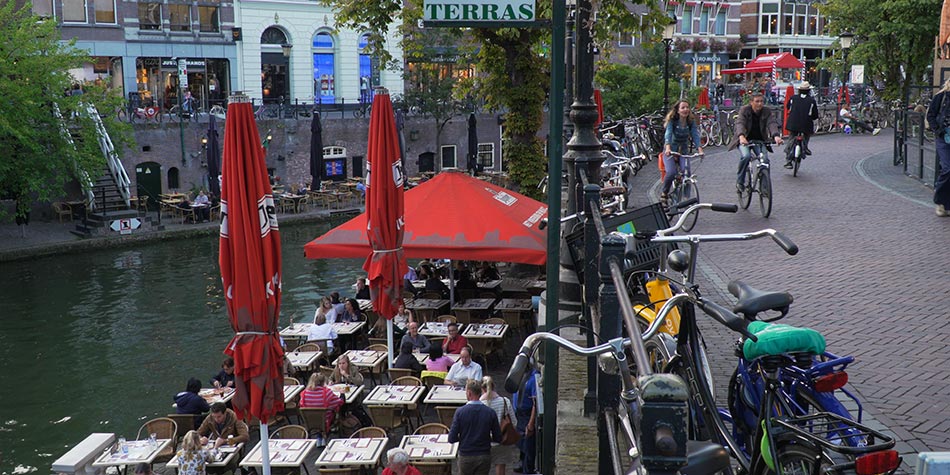 Just above the canal we now have a lively, pedestrian shopping street with modern stores and more restaurants and lots of people out walking. It has created a very unusual split-level city which you don't see in many other places in the world.
The main section of curved canal with those terraces, and tables, and shops, and trees is the magical neighborhood in the heart of town, just south of Lange Viestraat. It is downtown, the place where locals come to shop and take a stroll, see their friends, have a drink or just walk on their way to work. It's also the scenic and historic heart of town for the visitor, although you'll notice there don't seem to be all that many tourists around if you come during the off-season in September, a highly-recommended time.
Streets are not crowded because Utrecht is just not really high on the radar for tourists, which makes it all the more desirable a place to visit. It's loaded with authentic charm, proclaimed by Lonely Planet as one of the world's top-10 unsung places, undiscovered, and ranked by the BBC as one of the world's happiest places , and listed by others as one of Europe's top 10 places to visit.
You will find it worthwhile to wander around some other parts of the central historic area, certainly the little side lanes and into the church and some of the museums, but you'll always be coming back to this one spot along the canals. It is just so magical you will return here again and again, with sunshine, or cloudy days, in the morning, or at night when it gets even busier with people sitting outside enjoying dinner. It's always fun to be here.
We'll also explore the amazing cathedral, but you might spend most of your time just relaxing and enjoying the old canal, the Oude Gracht right in the heart of the historic center with beautifully preserved buildings, some dating back many centuries, experiencing the Dutch good life at its very best.
Hang on, before we get too sentimental and think this is a historic artifact, an ancient city that's trapped in amber, some kind of old-fashioned museum exhibit of the Middle Ages with nothing but old buildings, let's realize this is also a modern city. This neighborhood near the train station is a great place to stay, with plenty of restaurants and convenience stores to take care of you and just two blocks from the old part of town with the canals. It's where nearly all of the hotels are located. I enjoyed the Apollo Hotel – clean, simple, not expensive.
The population of 320,000 makes it the fourth biggest city in the country and there is a lot of cutting edge activity going on. Large banks are headquartered here and it's the main crossroads of the Dutch railroad system. When you look at the big picture, you'll see that most of the buildings in the greater metropolitan area are new, not like those old brick structures you see along the canals.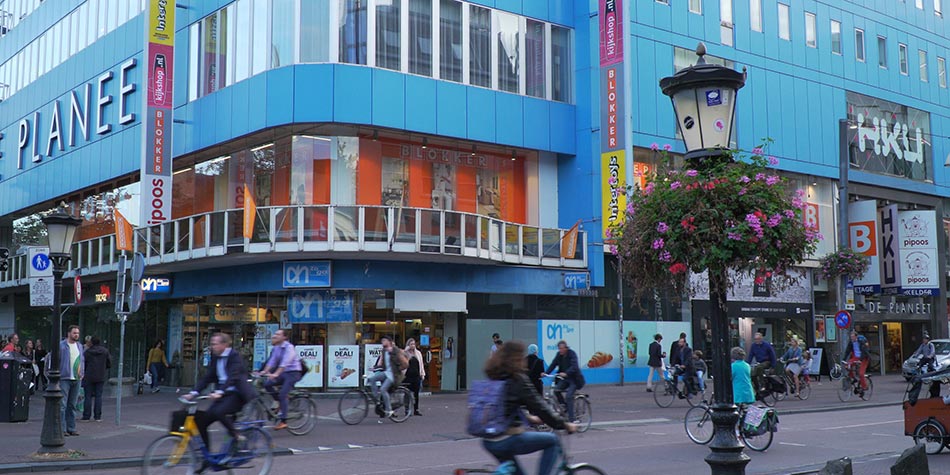 There is another downtown, the more modern side of the city – lot of shops and busy streets with cars, especially Lange Viestraat which becomes Lange Janstraat. There is no pedestrian zone in that main part of modern downtown but the sidewalks are wide for pedestrians. There are plenty of cars, trucks and buses, with lots of bicycles going by, always in the Netherlands. Bicycles are the main system of transportation.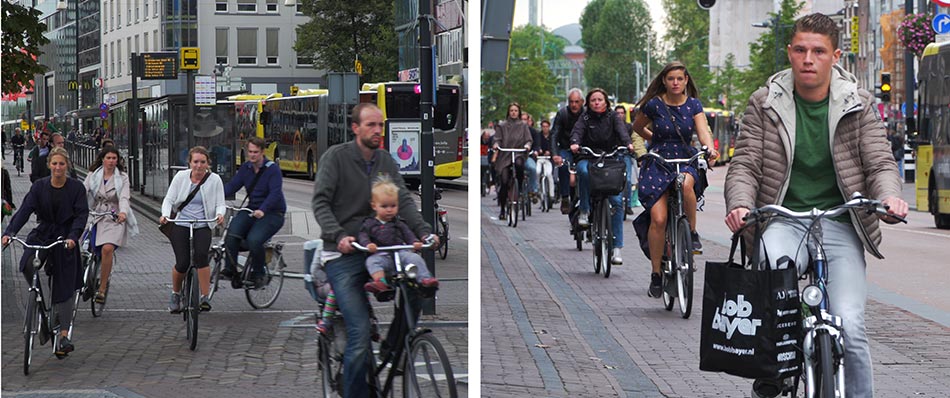 Continue along that busy Lange Viestraat street for several blocks, experiencing a bit of the modern side of the city. It's the major street coming through the central city, very busy with bicycles. Peddling is a way of life here. It's the basic means of transport. They're not peddling for exercise, but to get somewhere. It's the fundamental vehicle of the country. Cycling has always been a tradition here, but it really took off in the 1970s with a lot of support from the government in terms of bike lanes to provide an alternative to driving cars. It's quite safe even for visitors, so you might consider renting a bike for a day to peddle around.
That busy street changes name to Lange Janstraat and continues past Janskerk, originally built in the 11th century and then rebuilt in the 20th century with a busy bus station out front and some cozy sidewalk cafés around this neighborhood. The street keeps going for another kilometer with more shops all along the way. It's really quite a nice commercial street but, no canals, so we're not going that far, but if you're staying a few days you could.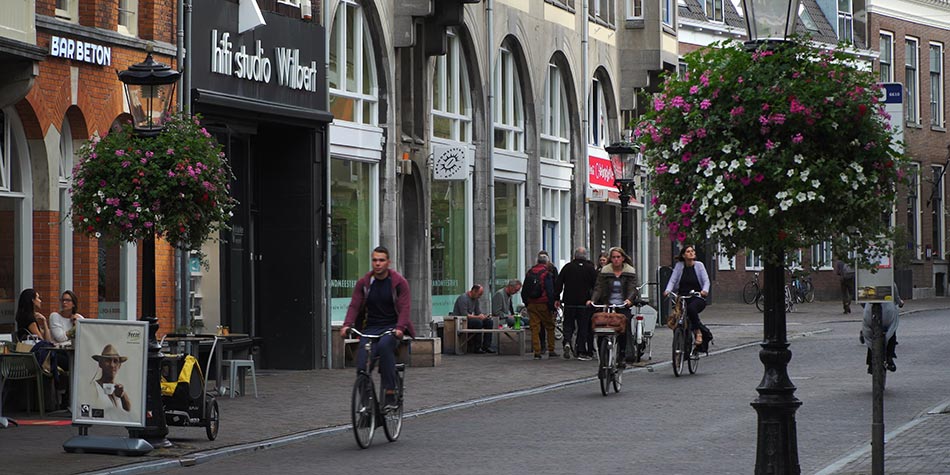 Have a look at some side lanes in the neighborhood, then continue into the historic center with shops and restaurants and carry on to the Cathedral. That is a very easy route you could do in a few hours, and then depart, just visiting Utrecht as a daytrip from your home base elsewhere. However we will prove that Utrecht is so wonderful it is worth spending a couple days here.
Plunge into the old town starting with a close look at the Oude Gracht, that charming canal in the heart of town, easily reached directly from the busy Viestraat street on a staircase that comes down from an old brick bridge to the water's edge.
It's a different world when you're at the lower level of the canal, so close to the modern city and yet centuries apart. It's quiet, no cars, not even any bicycles, just a few boats going by, some pedestrians and people sitting at the tables enjoying drinks or a meal. We'll take a close look at this most interesting section of the old canal in the heart of town, which is the main focus of our visit where you can spend a lot of time just hanging out. This popular portion is only about 500 meters in length.
Canals are still used for transportation of goods, although this of course is but a shadow of the former glory when this canal was a major thoroughfare. Now most of the boat activity is just for fun. It's for tourists in their glass-topped tour boats and for kayakers who rent a little boat and paddle around for a couple of hours.
One boat company, Canoe Rental Utrecht, has their shop right here in the central canal area. You can rent one of these kayaks, or they call them canoes, for seven euro per hour or you could rent it for all day or anything in between. They also have small electric boats for twice the price, and you can find pedal boats.
That boat rental company gets an excellent rating on Trip Advisor. One customer said "we loved it. Spent five hours including a break canoeing along the Utrecht canals. Another person called it "a wonderful change of pace after walking, kayaking through the city, canals, and outside the city through the smaller canals surrounded by nature, highly recommended".
You don't need any paddling experience or physical conditioning, even to come out here and enjoy paddling around. But you might want to make a canoe reservation with the boat company ahead of time because they do get busy and might be sold out if you just show up without a booking.
There is no doubt Dutch people love their canals. Tourists are not the only ones having fun on the water. It's for locals who very much enjoy this ambience on their own personal boats, having parties. It's like an open park land for them, a major place of recreation, a deep part of their heritage and history. Visitors can also join a boat tour with catered meals and drinks in the open air, a very popular option, easily arranged with tour companies as an alternative to that glass-top boat. Or how about cruising along on a standup paddle board?
But most visitors love the typical excursion boat experience that you'll find in nearly all major Dutch cities, as we show in great detail later in the chapter on canal our boat ride.
Everything can be arranged here in the Netherlands. It's a country that does business. They are ready to please the customer – anything you want. And then there are some utilitarian boats, like the garbage boat – similar to Venice where everything is done on the water.
The Oude Gracht, the old canal, is the main canal running through the center of town. It's a branch of the Rhine River, here sometimes called the Crooked Rhine, one of many branches of the great Rhine that spreads out in a delta across southwestern Netherlands. Utrecht became one of the great market towns of the Middle Ages because of its position in the center of the country along the Rhine. This enabled the early boat traffic to connect in many directions -- south into the heart of Europe, up to the North Sea, and across the country from Amsterdam to Rotterdam.
In that era long before railroads and easy land transportation, these watery highways gave the Netherlands a big advantage in global trade, and now they provide us with a delightful scenic attraction as we sit at table having a drink enjoying the lively waterfront activities. You never know what's going to pop up next.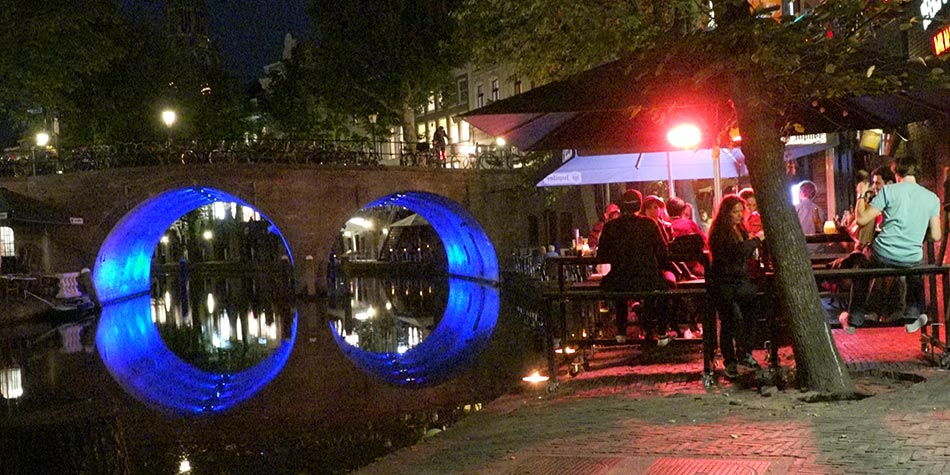 At night this same canal area gets even more lively, of course, with all of the young people in this city. It is a university town, remember, with nearly 30,000 students, so there are going to be plenty of people out in the evening and well into the night. Plus, the lighting is so beautiful at twilight. You catch that deep blue sky, nice for the eyes and for the camera.
They have some fun with special lighting effects in the city at night, lighting up the bridges with changing shades of color and they've got several illuminated passageways, a light tunnel that you can walk through. It's kind of a psychedelic light show as you walk along. The Ganzenmarkt tunnel has a history going back to the old days when horse carts rode through this passage from the city center down to the wharfs where freight was loaded and unloaded, so they didn't have to carry cargo down the staircases. Now it's been converted into an amazing light show by an artist named Eric Groen, one of many local and international artists who use light as their medium of expression.
It's all part of this program called Trajectum Lumen. It's maintained by the government of the city of Utrecht, all free and open to the public every day of the year from sunset until midnight. City Hall gets lit up as well. Dazzling lighting provides yet another reason to spend the night here so you can relax at dinner by the canal, enjoy the colorful ambience, then not worry about catching a train back to your hotel in another city. You can also pay to take a guided walking tour where everything is explained and you don't miss anything that way, and you could even include a three-course dinner package in the deal. The same buildings during daytime are still beautiful, but a little more magical in the twilight.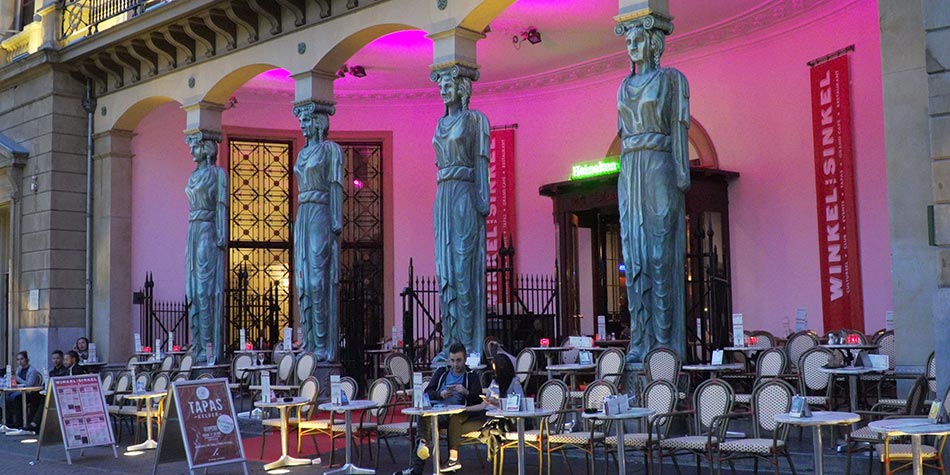 Of course, many private businesses are also getting in the spirit of this movement and lighting up their own buildings along the canal, such as Winkel van Sinkel, a famous café and tapa bar, with neoclassical caryatid statues seeming to hold up the roof. In the evening it's a big music venue, so even more reason to visit that building at night.
These couple of blocks as you approach City Hall along the Oude Gracht canal have a nice cluster of interesting and high-quality shops with a variety of things on sale for men and women, young and old. It's way more interesting to be walking along a shopping street like this instead of inside a modern covered shopping mall.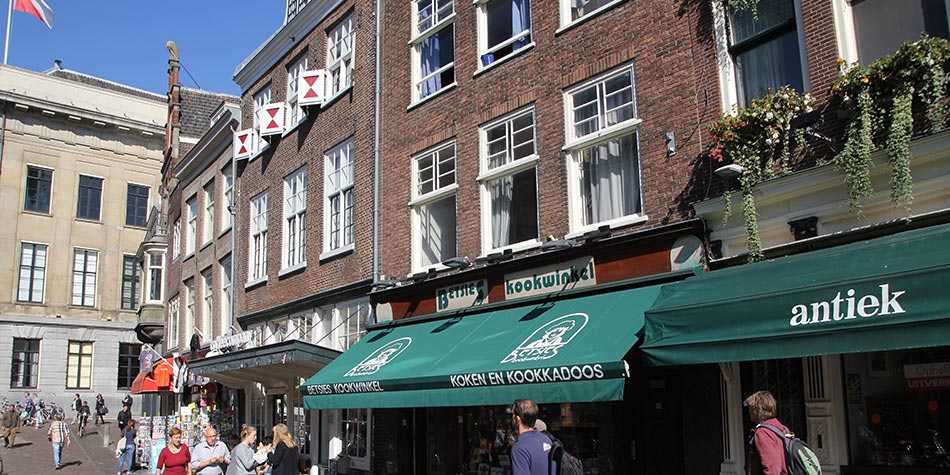 The shopping neighborhood does extend beyond the canal for several blocks along both sides of the waters, making this an excellent place to meander. Growing flowers is an important part of their agricultural economy and they love to buy them and bring it on home, as you'll notice from several busy florist kiosks here.
You'll certainly hear some music in the streets as you walk along from the various buskers, often lovely accordion music. If you enjoy the music or stop to take a few pictures, you want to give them a nice tip.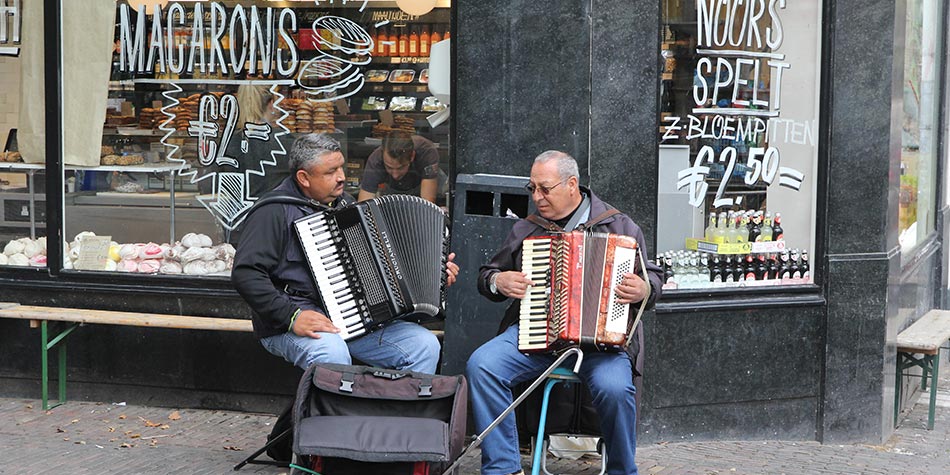 The atmosphere of the old city center creates perfect a backdrop and environment for a day of shopping and you might also find some treasures in the cozy narrow streets that lead away from the canal. Manufacturer of fabrics used to be a major part of the Dutch economy, but that ended a long time ago. Sidewalk stands offer better bargains on imports. The major chain stores are here, but you also find a lot of independent boutiques featuring one-of-a-kind items.
Several watering holes along this canal provide good places to sit down, have a beer, maybe eat lunch, and watch the passing parade of people.
When hungry you can do like the natives and line up at a lunch wagon for a delicious sandwich at low cost. The name of one of the most popular lunch wagons is "Broodje Ben." This place is amazing, so popular that people line up, waiting patiently. It doesn't take that long and the workers are very efficient, cranking out the sandwiches, delicious food, fresh ingredients, pretty healthy and a good price. No wonder there is a long line every day waiting to get lunch.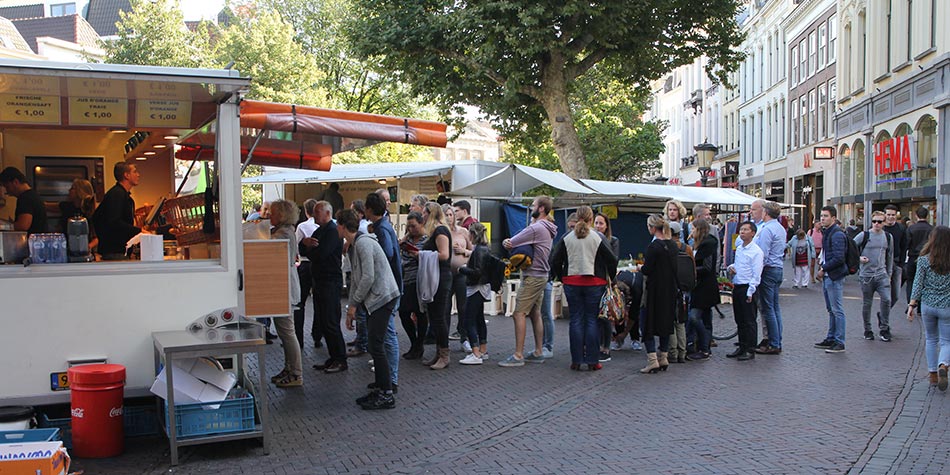 You can buy a basic sandwich for 3 euro or get a fancy one for five euro. You'll see lots of people eating a sandwich, standing or walking along on the street, lunch in hand. You can just wing it on the cheap, get a sandwich to go and have a picnic on the steps down by the banks of the canal, a bit dusty but free seating.
There are many other choices for lunch beyond the sandwich, such as restaurants on the side lanes or main street, and of course there is a lot of dining along the canal itself on the lower terrace, that thing which makes this town so very special. Any way you do it, you're going to enjoy some good eating.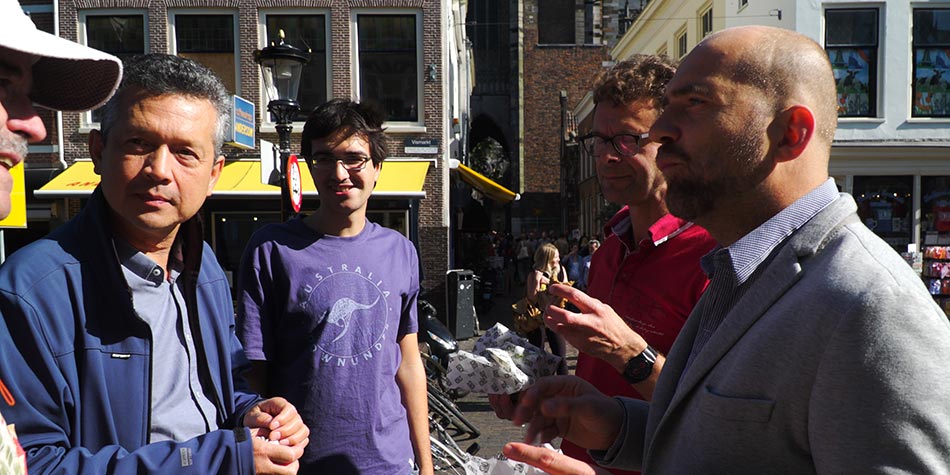 Dutch people are quite friendly and sociable, which makes them approachable if you'd like to strike up a conversation. They're gregarious, friendly, and they speak English. So by all means, if you see a chance to talk with some locals, go for it. Find someone who is not in a rush and break the ice with a simple hello or question like "where's a good place to eat around here?"
The Dutch live in a society with high levels of cooperation and mutual respect, in part because of their geography. It's a small country, it's densely populated, so people have to get along. There always other people around, it seems.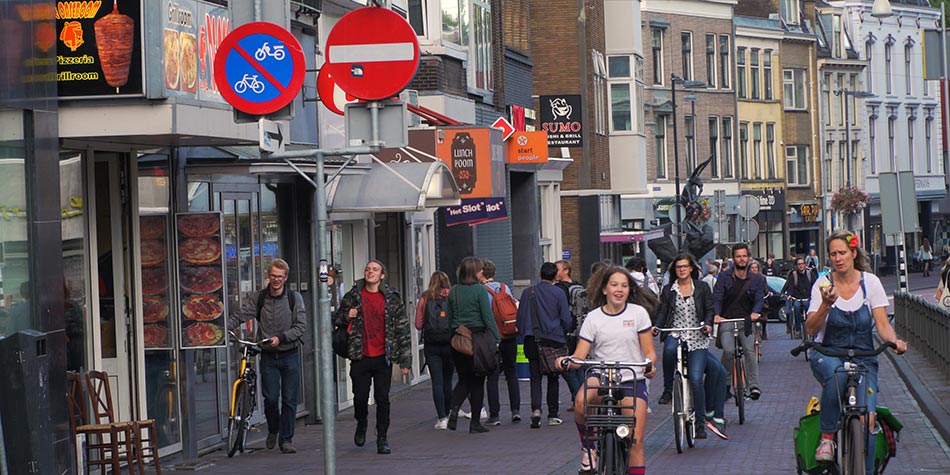 Perhaps they are sociable because of the way they get around, either walking or riding on a bicycle rather than being isolated as sole occupant of a private car as many modern travelers are. Very often you'll see people having a conversation as they pedal along next to each other. Another way that geography has brought the people together is their history of dealing with the water. About one third of the country is at or below sea level and would be underwater if they didn't do something about it. So they have to work cooperatively to drain and maintain it, building dikes and canals in a process that started about 700 years ago.
Cooperation, it's really a hallmark of the Dutch personality. They cooperate with each other, whether it's sharing a sandwich, or on the job site, or in school, or in the family. It's a very cooperative bunch of people. And they have created quite an egalitarian society with a lot of economic equality among the population.
They do not have the great disparities of wealth that you find in many other developed Western countries. They're famous for being thrifty, perhaps frugal, but they are not stingy, not cheapskates.
They built a society that generously takes care of its population with abundant education support, healthcare and various kinds of social resources, but they do love those takeout sandwiches. How about some gelato for dessert? We mentioned earlier the similarity to Venice, with all these canals. Well here it is, a little touch of Italy in a few popular gelato stands.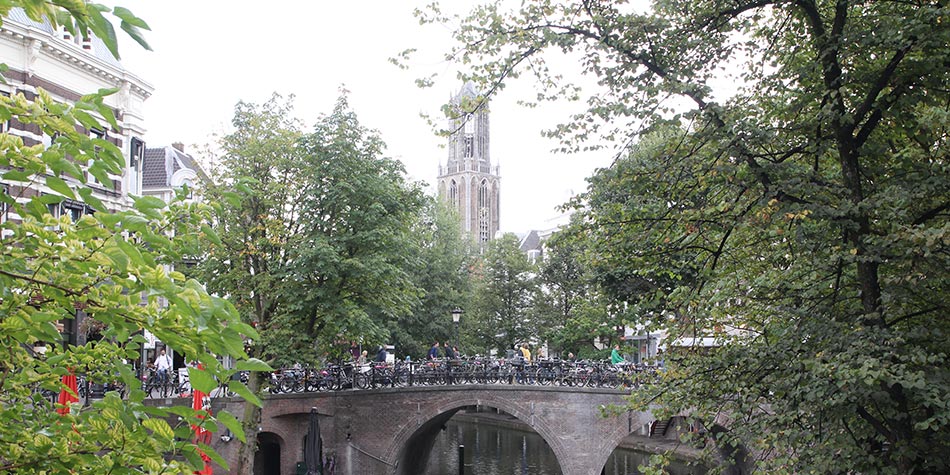 Walking near City Hall, you'll see the country's tallest church tower visible just beyond, part of the Cathedral that we'll be visiting in just a few minutes. A couple of streets extend beyond it with many shops continuing for about five or six blocks and then gradually becoming more residential.
Coming up on another bridge which you can step onto for classic view back at City Hall and that nice row of shops. Called Kalisbrug, an extension of Steenweg street opposite the canal, this bridge is a bustle of activities. The bridge forms a plaza serving as a crossroads in the center of the old town with people dining and walking around and with shops all about it.
You can still walk down a staircase to the water's edge here, but it's only a short terrace and the rest of the stretch of this block of the canal has no terrace at all, just straight down. There are basements below, but they don't have any wharfs. Lots of shops up above make this a great block for walking, shopping and eating.
Neighborhoods are pretty close together here in Utrecht. For example, we've only walked about 2 kilometers from the train station to get to this point along the canal, including our bit of meandering. We have more to see, continuing a few blocks south along the canal, enjoying more shop fronts and restaurants, and there's another little side bunch of shopping streets, and then back over to the Cathedral and a smaller canal. You could do this entire walk in a day, so you could consider visiting Utrecht as a daytrip, perhaps from Amsterdam, which is only a half-hour train ride away, or any of the other northern towns in the website, under 40 minutes distant.
You can spend a full day walking around and if you do that, by all means stay here until evening. You'll want to see those illuminations that we pointed out and have dinner at one of the lovely outdoor restaurants if the weather's fair. Then you could catch a train back to Amsterdam or to whatever your home-base city might be. However, you are finding out that there is enough to see in Utrecht that staying for a couple of days would be worthwhile. Then you can do enjoy the boat ride, rent a canoe go paddling around, do some shopping and just really take your time here and enjoy the place.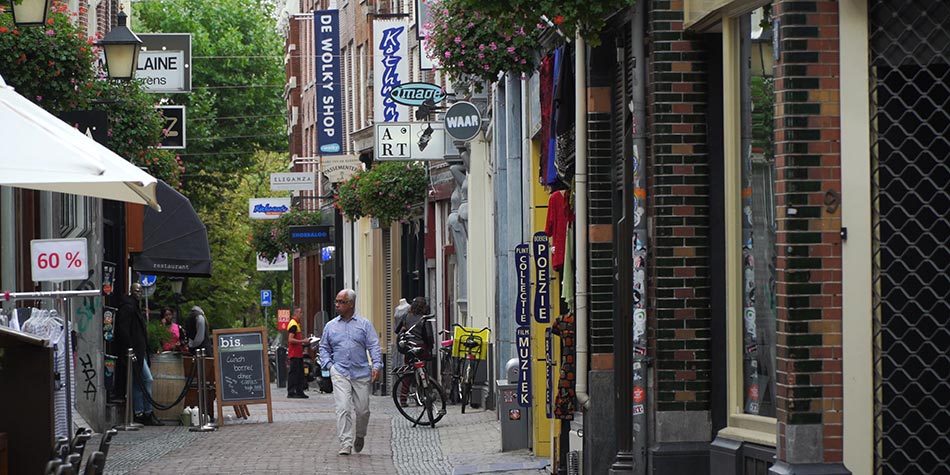 Next, walk a few blocks south of City Hall and over to the west bank of the Oude Gracht to discover another lovely cluster of shops and little side lanes. No cars allowed on several of these small streets, which form one of the nicest pedestrian zones of the city.
The main lane on this side is Lijnmarkt, a lovely pedestrian route lined with dozens of shops and of course, some outdoor cafes. This is a cozy neighborhood to spend time in, something you would probably miss if only in town for a day.
Walk in a block on Zadelstraat, reaching the small peaceful plaza of Mariaplaats, with some nice shops and cafes and a small forest canopy in the middle. Retrace your steps or walk back towards the canal on a residential lane, Boterstraat.
Steenweg is another major street on this west side of the center, with many more shops and a wide pedestrian promenade that goes all the way back towards the train station, just 800 meters away. If you were short on time in your visit this is where you could make a hasty exit, but there is much more left to see, so hopefrully you have at least a full day, or two.
This neighborhood is loosely considered still part of the museum district even though the main museums are on the other side of the canal and a few blocks further south. This quarter has a sublime relaxed attitude you should not miss.
Returning back over the canal, in just a couple blocks we're now approaching the Cathedral. Servetstraat, the short pedestrian lane leading over to the Cathedral is a beautiful site in itself. with some fast-food takeout shops. As you walk along it you have to look up, up, up at the tower. It's the highest church tower in the Netherlands at 112 meters tall, right here in the heart of the oldest part of the city.
We'll be plunging through that archway into the sacred domain of the Cathedral in just a moment but first a little look around this short street where you're going to find potential for nonstop eating, drinking, and shopping. It seems it's wall-to-wall eateries and drinkeries here.
Then take a left just around the corner in the direction of the Tourist Information Office, the VVV. It's a great place to stop in for some free information, book a hotel, or schedule a walking tour with a local guide as we're doing later.
A pleasant walled garden is nearby called Floris hof, on the location of the old Episcopal Palace that was demolished after 1850 when the Catholic Church was prohibited. Now it's a hidden gem, a small garden in the heart of the oldest part of town, a nice place to feed some lunch to your cat or sit on a bench and have your own picnic.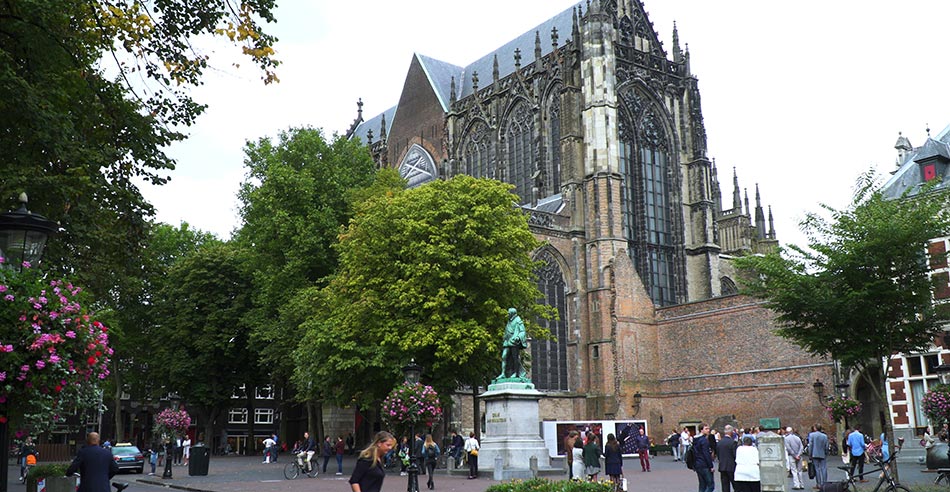 Walking now through the pointed arch at the base of the church tower into the Dom Square (Domplein), a beautiful open plaza - and you might find something special going on. The University of Utrecht has one of their main academic buildings just here and there are frequent, small graduation ceremonies taking place.
In the Netherlands the class does not all graduate together, but individually in small groups, a more intimate celebration where the family can gather. the Domplein, a nice place, a tranquil space in town, especially with the beautiful tower of the Dom still standing.
From here there is direct access into the Dom, the full name, St. Martin's Cathedral. One door leads right into the Cathedral and a door on the right leads into the cloister.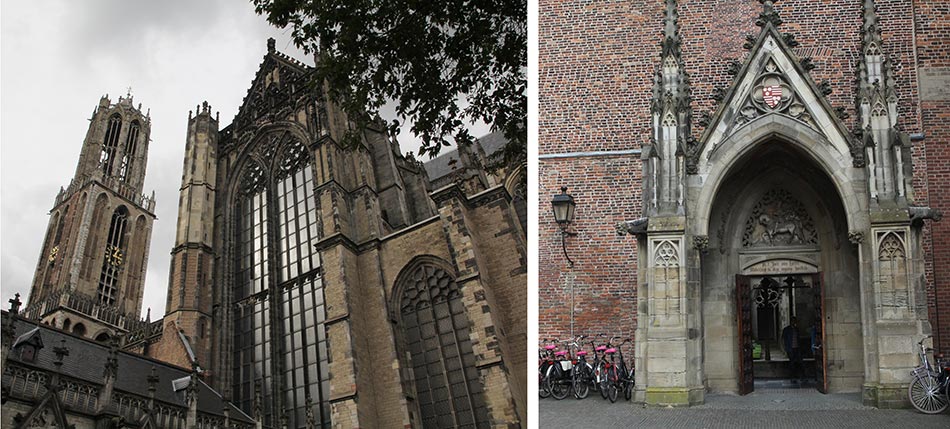 The Utrecht Dom has got an amazing history – a tragic history. It was first built in the Gothic style starting from the year 1254 and it took them 300 years to finish building it in 1580, but then 100 years later, in 1674, it was ripped apart by a tornado, a big storm that knocked down the middle portion, the nave, destroyed it completely, and they never rebuilt that section. Inside the Cathedral there are some displays that graphically illustrate what happened.
The tower survived and the apse of the church is still standing, the choir, the ambulatory, the altar area, and the crossing, and the transepts are still there from those Gothic days. But the middle portion, the nave, is now gone -- it's that open square in the middle of town. You can actually walk up the steps of the tower, it's about nearly 400 steps to get up there, and they say – they say, I wouldn't know, that you have a view all of the Netherlands on a clear day from the top. It was built of course as a Catholic church, and then it became a Protestant church, and now it's really a wonderful sight to enter and experience. Even though half the church is gone, you don't want to miss it because the part that remains is a spectacular Gothic structure.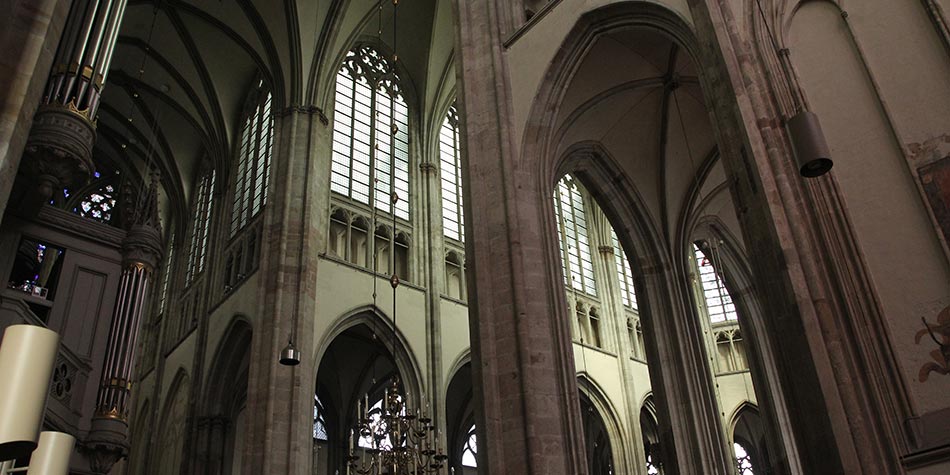 Along with church there is a cloister which is a beautiful peaceful garden space. It's the original Gothic cloister, still standing attached to the remaining part of the church. There's a café here, and the nice garden with the hedges, flowers and a little fountain statue in the middle. Of course the cloister was a place for prayer and meditation, and the members of the clergy would generally live around and upstairs in the cloister. With a splendid garden in the center, this is truly one of the prettiest cloisters you'll ever see.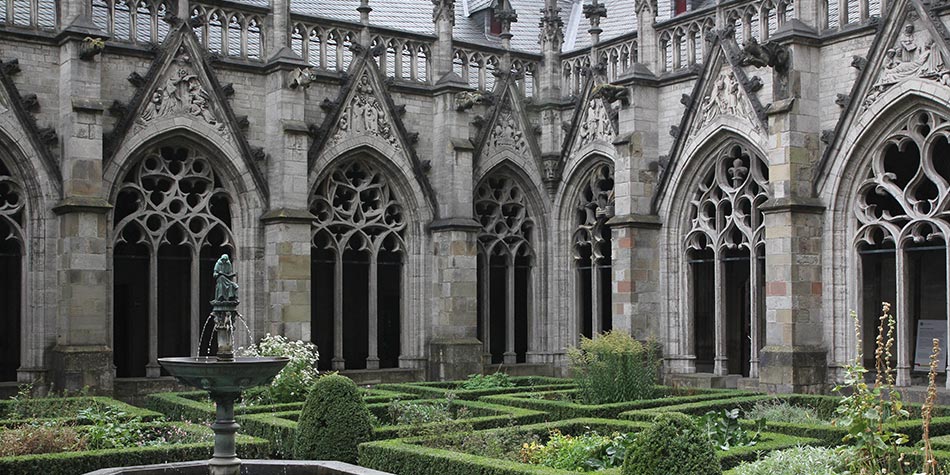 There's no admission charge to the cloister, it's a public park, and the church is also free. You might give a donation if you like, a couple of euro, it's up to you, voluntary, and enjoy that church interior as well as outside. You can see the buttresses around, the flying buttresses, and of course the amazing tower.
One block beyond the cathedral you will see another canal, the Neu Gracht, New Canal, smaller and more peaceful than the main canal, but we shall visit that with our local guide, Gitte, in the next section, where we also learn more about the cathedral.
Museums
You might want to look inside several of the important museums, covering history, art and culture with some interactive hands-on activities. Start the museum tour by walking from the Domplein south along Lange Nieuwstraat to its southern end where it meets Agnietenstraat, location of the Centraal Museum, the main museum of the city.
Centraal Museum has been housed in a medieval cloister since 1921 and has expanded into a collection of nearby buildings. It's a lovely place to wander in three levels with 10 major gallery areas through the hallways and stairwells that can get a little bit confusing but they'll provide a map for you. And you will be surprised by various exhibitions featuring the rich history of the city of Utrecht. It houses the works of mostly local artists stretching from the ancient Roman occupation right up through modern times.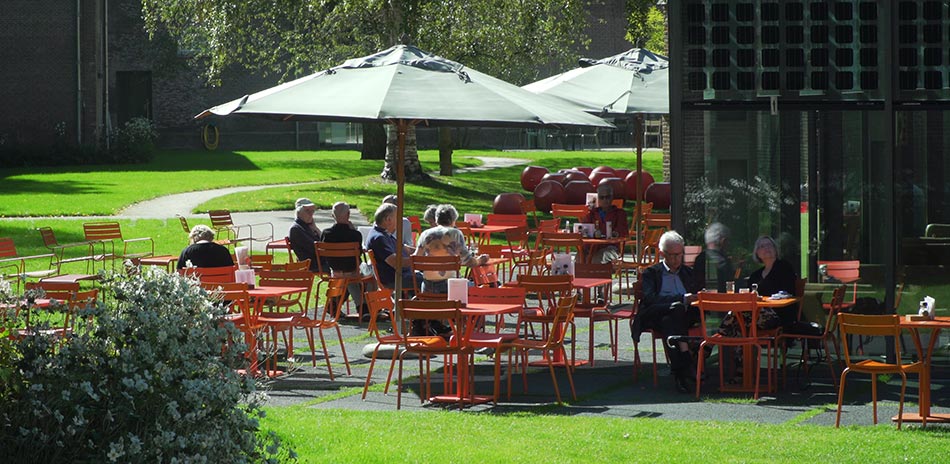 Don't miss the large grassy courtyard and open-air café at their center  The permanent collection is enhanced by regular special exhibits and of course one of their star attractions here is a model of the cathedral, Utrecht's most important building that we visited earlier. They have workshops going for some of the local students gathered at a work table with a hands-on activities.
Back on the street, we're looking for the next museum, which is just a few blocks away on Lange Nieustraat, it's the University Museum of Utrecht open every, day from 10 to 5.
It's an active research institution and the museum features various kinds of scientific exhibits, Some of It in the Cabinet of Curiosities, lots of bones and skeletons and stuffed animals and scientific instrumentation, and they also have a botanical garden, which presents quite a contrast, with a wonderful greenhouse in the backyard.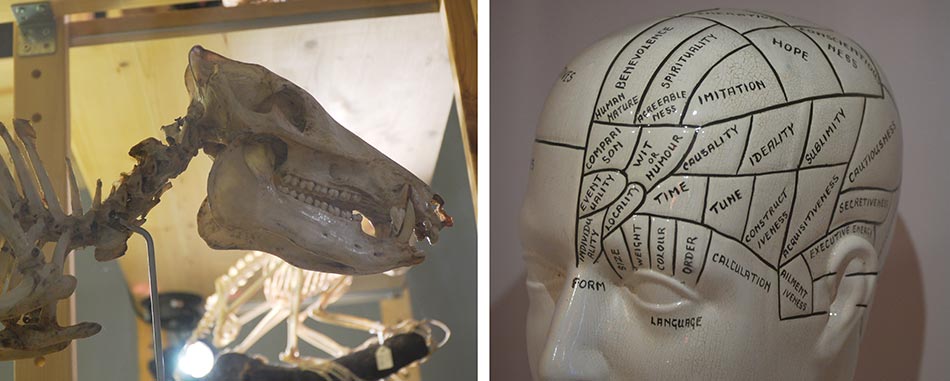 You'd never realize such a big exhibit can exist behind its small shopfront.
Walking out a few blocks further along the same street past these lovely historical buildings, to our third and final museum, Museum Catharijne convent, featuring a collection of religious artifacts and a nice café in the lobby.
Wander the halls of this former medieval monastery building that goes back to the 14th century then marvel at the glittering gold and silver in the treasury and precious Gothic sculpture that formerly adorned the old churches of the city.
The best way to end the day is with a final look at the nightlights of Utrecht. The central canal area is beautifully illuminated in the evening by special lighting and has those lively restaurants by the canal, so you really want to be around at night to experience this delightful ambience.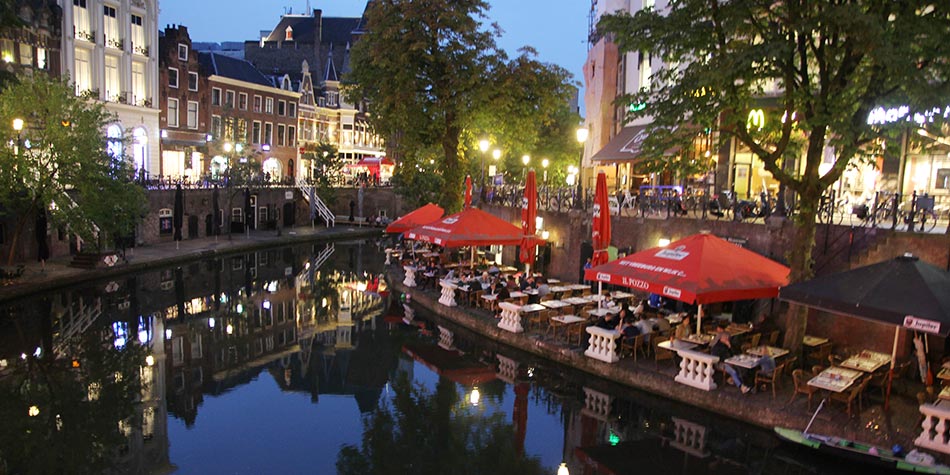 In these final moments let's consider how to handle your visit to Utrecht. Do you come here as a daytrip from someplace else? Or do you come and spend at least one night, maybe two at a hotel in Utrecht? It's up to you, but as you've seen, there is much to enjoy in this wonderful city, and it could be done, either way. If you come as a daytrip you really want to spend the day walking around and then stay into evening to enjoy the beautiful lighting and dinner at one of the outdoor restaurants. Then you could take a late train back to your home city.
Better yet, stay a night or two in Utrecht. That way after dinner you can take a leisurely, relaxing stroll back to your hotel for a good night's sleep. The trade-off is you have to deal with your suitcases, moving from one city to the next, which is never much fun. But it's easy enough here, the distances are short and it's an easy walk from the train station into the Old Town with many hotels available.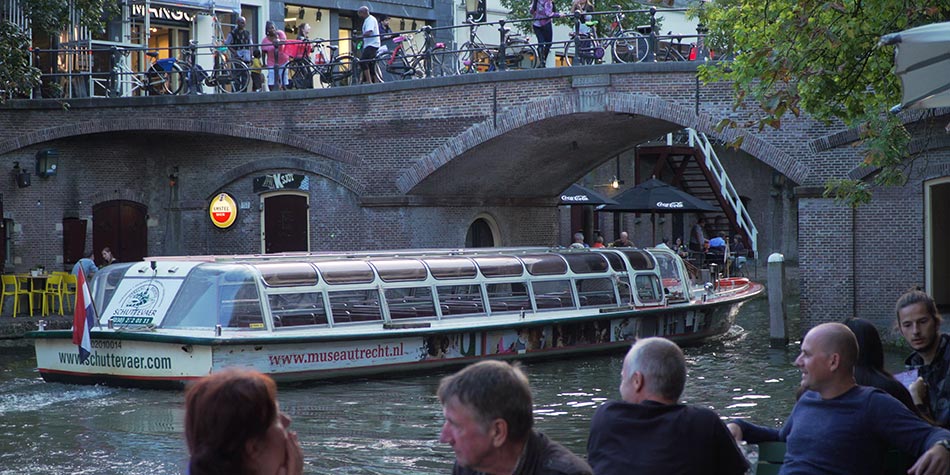 So do yourself a favor and give Utrecht a couple of days, one of the Netherland's best destinations.
You can learn much more about Utrecht in the next page on a walking tour with a local guide.