INTERLAKEN
Some of the world's most spectacular mountain scenery is waiting for you all around Interlaken in the heart of the Swiss Alps, especially the Alpine peaks of the Jungfrau, Schilthorn, and Lauterbrunnen Valley.
Here is nature at its very best, and you don't need to be an athlete to enjoy it because the Swiss make it easy to get up the highest peaks with their efficient network of trains and cable cars. They have civilized the wilderness with restaurants and observation platforms that provide comfortable facilities so you can relax, have a drink, and enjoy the eye-popping views of giant mountains, vast glaciers and splendid valleys.
If you like to hike, you will be able to get that much more out of the experience, for the region has a vast network of trails ranging from simple paths to mountain-climbing ascents.
Among the many astounding sights you will find in this Bernese Oberland region are:
Europe's longest glacier
Four famous peaks, the Mönch, Eiger, Jungfrau and Schilthorn
Astonishingly beautiful Lauterbrunnen Valley
Europe's highest railroad station
A giant waterfall inside a mountain
Delightful villages of Grindelwald, Wengen and Murren
Two large lakes with tour boat service and
Fascinating nearby cities.
It would be good to visit for at least three days to see the main sights, or you could easily stay a full week and keep busy exploring all the possibilities. An outline of three days is listed here and will be fully described in the other pages devoted to these places.
DAY ONE: Jungfrau, Grindelwald, Murren
DAY TWO: Lauterbrunnen Valley, Schilthorn, Trummelbach Falls
DAY THREE: Relaxing boat ride, and train to Bern
These exciting destinations are described in detail on our other pages, while this section will focus on the town of Interlaken and its many fine attractions.
INTERLAKEN TOWN
Interlaken is located in a beautiful setting surrounded by lakes and mountains. It makes an excellent home base for visiting the Jungfrau and Schilthorn, with 100 hotels and guest houses, many shops and restaurants, and excellent rail connections. It also has beautiful parks, mountain lookouts, and waterfront activities right in town. There is a lot to see in and near Interlaken town.
Those famous peaks, valleys, lakes and villages are your main reasons for being here, so your time in Interlaken is mostly for eating, shopping and sleeping in order to gear up for excursions into the mountains. Interlaken is very easy to reach by train with extensive international connections, and once you arrive it's an easy walk from the East or the West train stations to many of the hotels. We describe hotels and rail connections at the end of this page.
The city name means "between lakes" as in Brienz and Thun, so you can be sure there will be scenic boat rides to quaint little villages along the shores, with opportunities to enjoy various waterfront hikes and visits to historic sites. If you have a rail pass, the boats are free, otherwise pay the small fee and enjoy. Two nearby mountains have direct access from town via a 10-minute walk and 10-minute funicular ride, offering majestic viewpoints from Harder Kulm and Schynige Platte, described below.
Already you might realize that three days are not enough to tap into all the possibilities around this wonderful town.
Interlaken is not one of Switzerland's quaint, traditional villages, loaded with historic old wooden buildings and a pedestrian town center, but the practical value of this town more than makes up for any lack of gingerbread cuteness. It is a more modern city than most Swiss towns because it grew up after the railroads arrived in 1872, so does not have a long historic ancestry. There is one old section of town, Unterseen, a 10-minute walk from the center, described below.
The architecture is plain rather than traditional for the most part, but it's a functional, clean and pleasant place, with half a dozen Thai restaurants, Italian, Indian, Chinese, French, you name it, and Swiss. You'll find it has a nice urban buzz, a sense of vitality about it with all the shops and restaurants packed in closely together, easy walking on the sidewalks, always busy with tourists. It's a fun place to hang around.
It is a compact town, about 2 kilometers from one end to the other, with pretty gardens and many features to keep you busy when you are not going up the mountains. Flanked by the two major train stations on each end, the little downtown is only about 6 blocks by 6 blocks so it's quite easy to walk through and see most of it in a short time. You're going to be busy up in the mountains and visiting all of those sights outside the city, but when you come back down it's good to know that there is a nice little town to enjoy.
Interlaken is proud of the large green park they have right in the middle of town, the Höhematte, offering a great view of the mountains beyond, with fountains, benches and playground areas. This lush green meadow is a peaceful spot and yet you're going to find some joggers and skateboarders, even paraglider's landing. Most of all, the Höhematte is a place to stroll and relax, take it easy and get away from the city for a while.
The major street of Interlaken is Höheweg, beautifully landscaped and kept in a semi-natural state with flowers, trees, wide sidewalks, the grand hotels along one side, and the Höhematte on the other.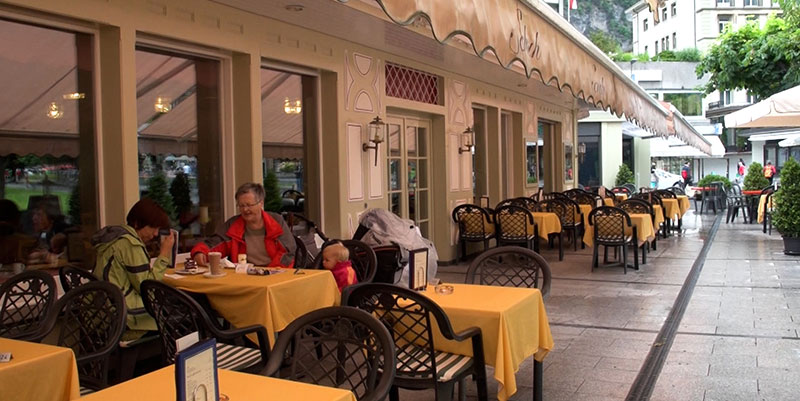 A famous restaurant in town is the Grand Café-Restaurant Schuh, located next to the meadow on the main street, in business here since 1818. They've got live music while you dine, and you can sit outdoors on the terrace with a view of the meadow, or indoors. They specialize in chocolates along with fine dining.
A useful row of restaurants with reasonable prices is across the street from the park, with some outdoor bars, casual places where you can relax with friends and sit down for a meal. Behind this strip of restaurants and shops is the haven for gamblers, the casino.
The casino is part of the elegant Kursal complex which for 100 years has been a cultural center of the city, set in a beautiful park with fountains and flowers. It's not like a big Las Vegas casino by any means, but typically Swiss, is small and casual with mostly electronic slot machine and some table games.
Tourists have been coming to Interlaken and the area since about 1800 when it was first popularized by some romantic painters, and then tourism really increased in the 1890s and early 1900s with the opening of railway service.
One of the main activities in town is shopping, with all sorts of souvenirs for sale, clothing, or hiking gear like backpacks, boots, hats, outdoor clothing of all kinds, walking sticks.
There's not much of a zone free of automobiles but they do have one short pedestrian street, Jungfraustrasse, extending from Höheweg next to Hotel Weisses Kreuz. The rest of town is very friendly for strolling, with wide sidewalks, and always sights to look at and things to do.
Population of Interlaken is quite small, about 6000 people, many of them living in traditional chalet-style houses in a quiet residential area behind the main commercial town. The town itself is relatively flat and you can peddle through the shopping areas and up into the residential zones.
Another nice activity is just take a stroll in the residential neighborhood, or rent a bicycle, as I did years ago. While pedaling along I noticed a family walking with their cow, which they brought right inside their house! Then I realized it was a barn attached to the house.
In that residential zone there are a few restaurants geared as much to locals as to tourists such as Restaurant Tenne, specializing in Italian food if you have enough of Swiss food already, quite good. It takes about 10 or 15 minutes to walk here from most of the hotels, located at Alpenstrasse 58.
Right across the street from the East train station is the Coop, a huge food store, with cafe, restaurant, bar, indoors and outdoors. It's a wonderful place to stock up on reasonably priced foods. If you do not want to go to an expensive restaurant you can get by here very nicely.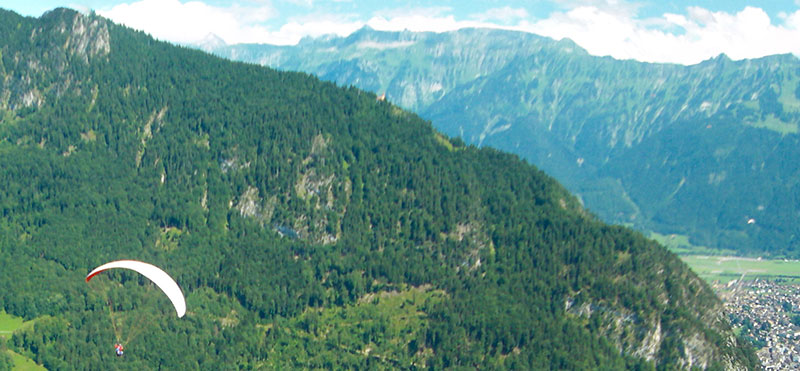 Paragliding is one of the fun activities, even if you don't know anything about it, you can go with a pilot and enjoy a tandem paraglide ride. They'll drive you up to the hills, you walk a little further up the slope, and jump off. The payoff is you get to glide down and enjoy a fantastic view, landing in the town's meadow.
Nearby Sights
While the famous mountains may be the main attraction, there are other wonderful things to see very close to town, including the Old Town and two mountains, Harder Kulm and Schynige Platte, and the Swiss Open-Air Museum at Ballenberg.
Unterseen
This Old Town is just a 10-minute scenic walk from the hustle and bustle along the Höheweg, or ride the bus in just 3 minutes. At the heart of the village is the Stadthausplatz, in the middle of which is the imposing Stadthaus building. The square is also the home of a variety of charming restaurants and cafés that are perfect for unwinding and relaxing. Its historic houses and impressive church tower make for great photos and have many interesting stories to tell. Walk around and see centuries-old mills and canals, factories from the days of the Industrial Revolution, the town's 17th-century palace, Tourismuseum, and a medieval moat that once protected the 500-year-old houses that line it.
You could walk to Unterseen from the East train station on a nice waterfront path called Goldley Promenade and return to the town center by crossing the two bridges of Spielmatte. The one-kilometer path is surrounded by the most beautiful nature along the turquoise Aare, with numerous benches inviting you to linger. Unterseen is on the northern bank of the Aare, which flows here from Lake Brienz to Lake Thun. For those interested in longer nature walks, you can stroll along the shores of the two lakes, walking out one way and then maybe take a bus or boat back into town.
Open April-November
The nearest mountain to Interlaken offers overwhelming views of Interlaken, the lakes, and peaks of the Eiger, Mönch and Jungfrau, from the viewing platform at 1,322 meters. You look down upon Lake Brienz, Lake Thun and admire the Eiger, Mönch, and Jungfrau.
Take a 10-minute walk from Interlaken-Ost railway station, or from the town center across the Beaurivage-Brücke bridge to the Harder Railway valley station, then ride the modernized, but 100-year-old funicular to Harder Kulm. Travel time up to the peak is just 10 minutes, or you could walk up the 5.4 kilometer trail for free.
From the mountain station, an easy path leads to the inviting Panorama Restaurant that serves outstanding Swiss dishes. Savour the delicious fare as your gaze roams across the impressive natural landscape.
Next to the restaurant is the spectacular Zwei-Seen-Steg, or Two Lakes Bridge viewing platform with a glass section in the floor and exhilarating vistas laid out before you.
Lake Brienz
Lake Brienz (in Swiss, Brienzersee) can be explored with a choice of boat, bus, train and hiking, depending on how ambitious you feel. Board the boat at the Interlaken Ost landing stage behind the train station.
You can visit interesting nearby villages, such as Brienz, on a 70-minute and could return the same way or take a train on a 30-minute ride. Find boat information here
Brienz village is famous for 18th-century wood-carved buildings and its Open-Air Museum Ballenberg a short bus ride from the boat dock. You can visit over 100 rural buildings from all over Switzerland: farmhouses, humble workers' quarters, alpine huts and stalls, barns, shops, storehouses, kitchens, parlors, washhouses and drying oven.
These historical buildings provide architectural as well as socio-historical testimony to the everyday life and rural culture of the past. They could not be maintained at their original location, so were dismantled and transported to the museum's 66 hectares of land to be reconstructed.
Craftspeople In the buildings work with traditional tools, while various theme exhibits give you an insight into scenes of rural former days. About 250 farm animals represent the whole gamut of native domestic animals. Gardens, fields, pastures and meadows, set up according to historical models, surround the farmsteads and houses.
The cogwheel trains to the Brienzer Rothorn departs just minutes away from the boat dock in Brienz. There are breathtaking views of Central Switzerland and the Bernese Alps along the way and from the top.
Iseltwald is another popular waterfront village, designated as part of the Inventory of Swiss Heritage Sites. Located on a peninsula at the lake's south bank, 14 kilometers from Interlaken, the local economy is based on tourism, agriculture, fishing and timber harvesting, with some backpacker hotels.
Lake Thun
A cruise on Lake Thun is an experience that relaxes while enjoying a fine meal, a glass of wine or simply the glorious sunshine on deck. Your gaze will travel pass along the attractive shore with its romantic villages, majestic historic castles, right up to the peaks of the Eiger, Mönch and Jungfrau. Towns of Spiez and Thun are main attractions here.
Open May - October
A 5-minute train ride, or 40-minute walk, from the Interlaken Ost railway station brings you to Wilderswil, where you take a rack-railroad that has been carrying sightseers up to the Schynige Platte since it opened in 1893.
Guests step into the open coaches of the nostalgic cog railway, and the higher the train climbs, the more breathtaking becomes the mountain views. The wooden benches in the coaches of the nostalgic train as well as the vintage rolling stock dating from the nineteenth century exude the flair of times long past and revive the spirit of a bygone era.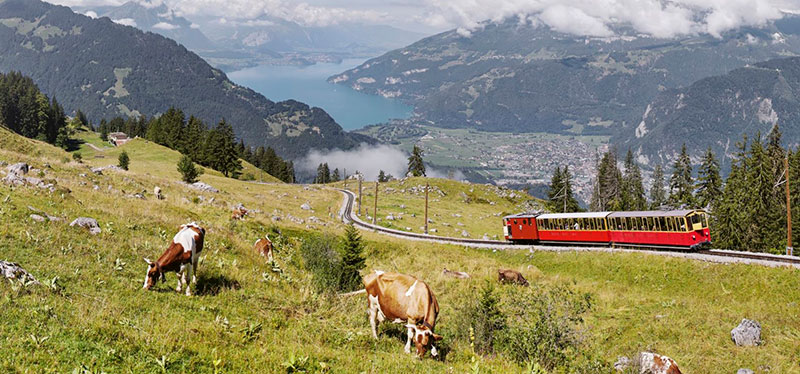 The mountain station at 1967 meters is the starting point for various delightful circular hikes. It's also home to the Alpine garden with some 650 plant species. The magnificent view can best be savoured from the panorama restaurant "Schynige Platte", where guests are treated to delicious Swiss specialities as well as international dishes.
The village of Wilderswil has a well-marked trailpassing medieval houses and a covered bridge across the Lütschine River to a 12th-century church and the 600-year-old Gasthaus Steinbock.
Hotels
While you have many lovely hotels to pick from in all price ranges, there's no question that one stands out above all the others, the five-star Victoria Jungfrau Grand Hotel and Spa, one of the world's finest hotels. Even if you cannot afford to spend the night here you might enjoy a meal in one of their various restaurants, and you can even have a nice meal on their front terrace with a view looking up towards the Jungfrau, or just take a stroll through their wonderful lobby.
Victoria Jungfrau is the grande dame of Interlaken with a history going back 150 years when it first opened in 1856 as a pensione. The main Belle Epoch style structure we see now opened in 1899.
Trip Advisor lists 40 hotels and there are just as many guesthouses and bed-and-breakfasts.
There is large modern youth hostel with private rooms, group rooms, and a popular bar in the basement open to everybody. The staff is great, food is good, location perfect right next to Interlaken Ost train station, with that friendly interaction between guests so typical of hostels.
Hotel Du Nord is another fine place we stayed in our visits, conveniently located between the East station and the Höhematte.
I have also enjoyed staying at the Hotel Carlton-Europe Vintage, located a few blocks from the East train station making it very convenient for taking the mountain railroads up to the Jungfrau and into Lauterbrunnen Valley.
Alternatively, you could find smaller hotels up in Grindelwald or Lauterbrunnen as mentioned in our other pages, but Interlaken is right in the center, easy to get to from other parts of the country and easy to get out of there once you're done, with the best supply of hotels.
As you've seen, Interlaken offers more than just a place to sleep and eat. Unfortunately, some tourists come to Interlaken for a day and never get up into the mountains. That would be like going to a major art museum, walking in the front door and just staying in the lobby and the gift shop, but not going to see the great visual treasures. So stay long enough to get out of town and venture up into the mountains.
Weather is always a major factor for determining your schedule in the mountains because you do not want to spend time and money going to the top on a cloudy day when you can't see anything. This is another good reason for spending a few days here -- to increase the chances of good weather. Fortunately, you can get some idea about what the weather is like at the top of the mountains, because most hotel room televisions include a weather channel with live reports from the top of the various peaks. If yours doesn't, ask the hotel staff to check the morning weather report, or go to the train station yourself and look at their live television broadcast from the summit.

Weather can change suddenly in the mountains, so what you see in the morning may not be what you get at the top a few hours later, but you just have to take a calculated risk on the forecast. If the reports from the Jungfrau summit look good this first morning, go for it, because this is the main event of your visit to Interlaken and it might cloud over tomorrow. Or if it is very cloudy, move the third day's itinerary up to day one, with a boat ride and a train trip to Bern. Temperatures in Interlaken are mild from April through September but bring some layers when going up. A light jacket and sweater should be enough. Of course, the winters are cold, with dozens of excellent ski slopes.
Notes on arrival and departure:
ARRIVAL
If you are arriving from Lucerne, as we recommend in our Swiss itinerary, you will enjoy fabulous scenery on a scenic ride through the Brunig Pass, preferably by train. The bus is faster, at just 70 minutes, while the narrow-gauge train takes nearly 2 hours, but the relaxed journey by rail offers better views, no traffic, and is so pretty you'll probably wish it took a bit longer.
Sights along the rail route will include lakes, green pastures, old wooden barns, Swiss chalets, mountains, rivers, forests and cows. These are perhaps some of the most contented cows in all the land – a beautiful open-air barn and lush green pastures, and perhaps they're enjoying the view as well. You want to keep your eyes wide open and camera on during this ride. It's so much easier to take the train instead of trying to drive, especially in Switzerland where the trains are comfortable, clean, quiet, with big windows framing views that are always so pretty.
Most of the journey is on the Brünig Pass, at altitude reaching 1,008m, which connects the Bernese Oberland and central Switzerland. It is on the watershed between the upper reaches of the Aare, which flows through Lake Brienz and Lake Thun, and the Sarner Aa, which flows into Lake Lucerne.
The pass is crossed by the Zentralbahn's Brünig railway line, between Lucerne and Interlaken, and that line's Brünig-Hasliberg station is situated in the pass. The pass is also crossed by the A8 motorway, between Lucerne and Spiez. Both rail and road crossings are normally kept open throughout the winter.
The pass is the starting or finishing point of many hikes. Particularly popular is the route to or from the Brienzer Rothorn, which is accessible by rail at both ends.
The rail route passes along the shores of Lake Sarner and Lake Lungern, two picture-postcard, scenic Swiss Alpine lakes. They are just so beautiful you want to stop the train and get out, but we're rolling along. And we will find more lakes at our destination in Interlaken.
At this point the train is still climbing higher into the Brunig Pass, because the waters from these two lakes drain back down into Lake Lucerne. We will be soon reaching the watershed height of 3300 feet in the Brunig Pass and then we will be heading back downhill on our way to Interlaken.
This route is so attractive, it's part of what's called the Golden Pass, a scenic journey from Lucerne through Interlaken all the way to Montreux. If you're on one of the special Golden Pass trains you might have the panorama curved windows for a bigger view but even with the regular train you get fabulous news.
There are several places along this part of the route where the train can stop, drop passengers off, because there is a network of hiking trails, of course, in this area as well. The Brienzer Rothorn is one of the great destinations.
The rail route is fairly steep with a general gradient of about 3% and there is one section that gets very steep at 12% angle, and here it goes on the rack, so there's a rack system that helps pull the train up. Otherwise it's regular adhesion, steel on steel. This is not one of those high-speed European trains clicking along at 186 miles an hour. No, it's quite the opposite. But that's fine. The slower the better, really.
It is just poking along in some places and that's ideal for our picture-taking and just enjoying the scenery. Passing through the Meringen station, which is a regional hub with two major rail lines connecting here. As we come down from the mountain pass, we reached the valley of the Aare River and the train rolls along side of the channelized Aare for a little while. And there are some waterfalls out the window and other nice scenery as we soon come to the beautiful shores of Lake Brienz, the Brienersee. The word Interlaken means between the lakes, because two large lakes, Brienz and Thun, each with numerous recreational and sightseeing opportunities, flank the town of Interlaken.

The train segment along the shores of Lake Brienz to Interlaken takes about thirty minutes, with more eye-popping scenery, of course. Upon arrival at the Interlaken Ost train station, the east station, hop off and walk or taxi to your hotel.
DEPARTURE TO ZERMATT
After riding the narrow-gauge trains and seeing nearby cities, it's time to leave Interlaken, get back on the big train and continue to the next destination. Following our suggested itinerary we are heading deep into the southern part of Switzerland to Zermatt, most famous for the Matterhorn Mountain and surrounded by dozens of other high peaks.
Interlaken has two train stations, East and West, and you can catch the train from either one of them. There are three different train legs, changing trains twice, at Spiez and Brig, with a total journey just under 2 1/2 hours all the way to Zermatt.
See all the details in our Zermatt section.