Portofino
Get ready for a great day! We are taking you to one of the prettiest places in Italy, the small village of Portofino.
It has been admired by poets and painters, writers and artists of all kinds, for centuries. Even the architectural elements seem to have come from some sort of a romantic picture book, like a dream come to life. It's the ideal version of an Italian seaside village.
Portofino is one of those very special destinations, probably in the top hundred of the world, and we are going to show you how to enjoy it best, especially in the off-season. As always, we are providing a practical guide, filled with beautiful sights.
Portofino is located on Italy's northwest coast, in Liguria about twenty miles south of Genoa, sometimes called the Italian Riviera. It's a land of rich green vegetation and multicolored fresco houses, enriched by the cultivation of olives, vines and exotic plants. Now it's a world-famous capital of tourism. Fortunately. It's protected as a national historic landmark, so it's going to retain this wonderful appearance for quite a while. This village has been here for hundreds of years. It was a fishing village originally, and now it's one of the great visitor destinations of the world.

You could drive your car, go by public bus, or take a ferry boat. We will describe arriving by bus and leaving by boat. The public bus ride along a beautiful winding road is wonderful, along the scenic, curvy, cliff-hugging, seaside stretch between Santa Margarita and Portofino, arriving in just 20 minutes. You do want to buy your ticket before you get on the bus. They have machines at the bus stops which is less expensive than if you pay the driver, which might cost double.
This inexpensive drive ranks with any in the world for scenic beauty, such as the Amalfi Drive, further south by Sorrento, or the drive in Pebble Beach, California. If you are pressed for time, such as arriving late at your hotel in Santa Margherita, take a taxi to catch the late afternoon lighting, which is so special in Portofino. Or you could walk there in an hour and 1/2 on a scenic four-kilometer inland coastal path.
A big factor in the pleasure of your experience would be in the time of day, or in the season that you get here. It is best to come in that off-season of April, May, or early October, when it's perfect and not crowded.
This region is very, very popular during the summertime, especially this little village of Portofino, when it gets gridlocked with heavy traffic and wall-to-wall tourists overwhelming the small space. The hotels in the region are fully booked sometime several years in advance so it's best to come in the shoulder season of spring or fall. When we are here in October, in mid-week, it is very quiet, with no crowds.
Halfway, you pass the little beach of Paraggi, the only sandy beach on this stretch of coastline. Most of the coast is rocky cliffs, or little boulder beaches, but in that little village of Paraggi there's an actual sandy beach.
The bus arrives in the little back streets of Portofino, dropping you off just a few easy blocks from the waterfront. If you're driving here in the summertime you probably will not find any parking spaces available, so it's better to come by public transportation.
From here, walk along that main little pedestrian lane lined with shops and cafes a few blocks, and you'll arrive in a few minutes at the waterfront. Get ready to be dazzled by the beauty of this perfect little place. When you get your first look at the sheltered cove and pretty buildings of this little village, you'll see why it has become world-famous.
It's a very small village, which makes it easy to walk around, enjoying the splendid view of the marina, beautiful yachts, and fishing boats, and pleasure craft of all kinds. And around it, you've got the village itself, with rows of restaurants and shops, and the old pastel-colored buildings embracing it all.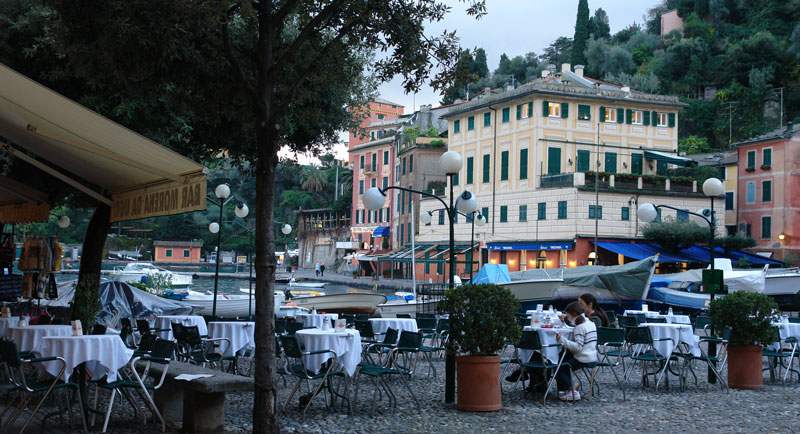 Less than one thousand people live in Portofino, and yet the place still seems like a little seaport town rather than a mere fishing hamlet. It's a microcosm, a world unto itself. Many of the villagers live in these colorful houses lining the waterfront. The first story is for shops and restaurants and the upper floors are apartment houses in buildings mostly from the 18th and 19th century. The natural small harbor is a cove sheltered by a lushly overgrown promontory that projects like a giant breakwater into the Gulf of Paradise.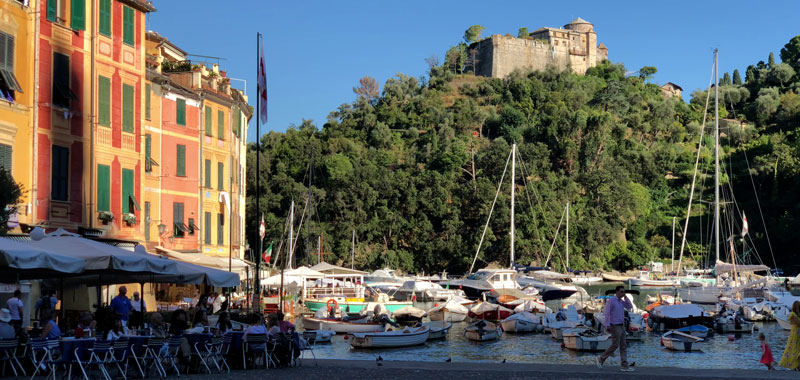 Across this tiny little harbor on the other side at the top of the hill you'll find the Castle of St. George, open to the public every day from 9 to 5, and next to it is the church of St. George. It's an easy stroll up to the Castle on a staircase and paved footpath, carved right out of solid bedrock, quite safe and not very strenuous -- most of this path is quite level.
I suggest you have a preliminary look at this charming waterfront – check out the restaurants and shops for later visiting. But one of the first things you want to do after you get oriented is take that walk up the hill for the world-famous view.
Reserve lots more time to poke around in the village later, but now let's go get that vista. The path is just on the right side of the village – you'll see it between the shops. It's a little inconspicuous, you might even miss it if you don't know look for it. There is a small information sign with arrows pointing the way, but it's pretty inconspicuous, so follow your nose and you can't go wrong. It's just the one path that goes up the Hill.
In a few minutes you arrive at a break in the vegetation and buildings with the first view of Portofino's harbor, colorful buildings, and green hills beyond. That's the first glimpse you get but keep going because it gets better. You've come this far and it's only another hundred meters or less to get to the very best view, so don't stop here. Just keep going. It's an easy walk. Yes, it's a bit of an uphill climb, but not so bad. Only takes about fifteen minutes at most to walk up here, or ten if you're a good walker.
When you reach the church of St. George you have arrived at the very best viewing location. This is it. What an amazing vista. Of course you want to take a lot of pictures, grab some selfies, maybe get some group shots, snap away, but when you're done taking the pictures, just stop and look. It is such a gorgeous view that you might never see again, so soak it all up this first time and really appreciate it.
Sometimes we are so busy taking pictures, and I'm as guilty as anybody, that we forget to just drop it all and look at the view, just soak it up, just have a seat, there's little wall you can sit down, there's benches and take your time up here.
The view is best in the afternoon, because in the morning the sun is not lighting up the main waterfront row of pastel-colored buildings. We arrived in the late afternoon on a sunny day, which provided perfect conditions. It was as bright and colorful as it could possibly be. And there was plenty of daylight left for us to go back into the village and walk around and still enjoy that lighting on the buildings.
This is not to be missed; in fact this view is a major reason for your visit. Somehow the overall elements around you fit together in a perfectly harmonious whole, admired by poets and writers and artists for centuries. It's just the ideal picture postcard, and it seems too good to be true, but this is the real thing.
It's good to be a savvy traveler. It's very likely that many if not most of the visitors to Portofino never get this view. They just don't bother walking up the hill or maybe they don't know about walking up the hill or they can't find the path, or they don't have the time or they think it's a big effort to get up here or they want to use their limited time for shopping and eating, but it's really easy and you don't want to miss it.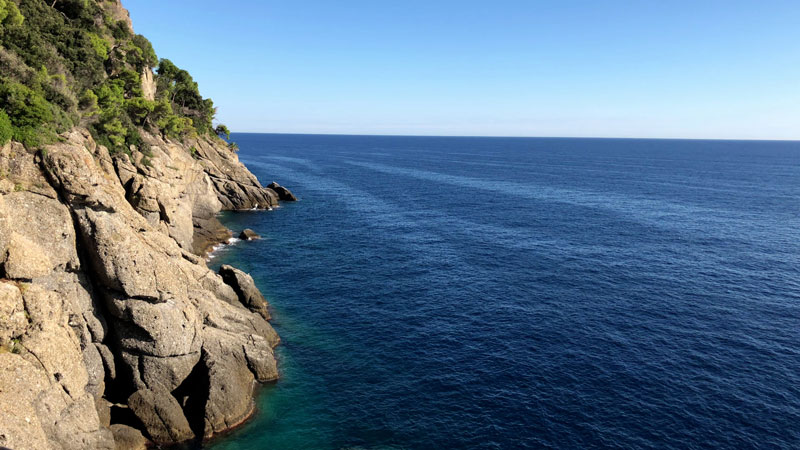 There's also a nice view behind you and the other direction, just to the right of the church. Walk over to the wall and you can look down at the sea cliffs and the beautiful waters down below. There is a footpath that continues along and that direction if you'd like to take an extended walk and there are several little side paths that deviate from the main trail that you can go off and explore on your own.
You could walk further uphill for another five or ten minutes to the Castle of St. George, and get some more vistas, but the view from the church is the best, so you don't have to walk any further up.
The Castle was built to defend this area against the Turks a couple of hundred years ago and it still has the residential Castle for caretakers who actually live on the grounds. There are some houses up here scattered on the hillside, but there are no roads at all, so their supplies have to be carried in and out by hand.
Looking out across the bay to the opposite green hillside you'll see that lush vegetation and there are some beautiful homes up there, and a spectacular hotel. The Belmond Splendido Portofino is a five-star deluxe hotel, one of the best in the region and there are some walking paths on the hillside you can enjoy as well.
Walking downhill, of course, is a lot easier, and you can enjoy the views once again. Fortunately, it's protected as a National Historic Landmark, so it's going to continue looking the same, with his wonderful appearance, for quite a while.
As you get down to the bottom of the hill, this little lane becomes a shopping street with all sorts of kiosks and souvenirs tempting you on both sides, as people crowd in to see what they can buy. And then all of a sudden, you're back in town at the waterfront, free to explore at will.
Back into the village center you might see some nautical activities: sailors painting their boats, fishermen fixing nets, scuba divers preparing to go out to sea. In the summertime the little harbor is filled to gridlock with the yachts of the rich and famous, but in the off-season the locals can work on their little boats.
After all of that exertion to get up and down the hill for the view, this is a great time to reward yourself with a drink, maybe have a spritz, or one of the local wines, and you can always find some freshly made gelato.
I suggest you take a lovely stroll all the way around the marina, because over on the south side there is a charming row of outdoor restaurants, and cafes, and wine bars, and some little boutiques tucked away. Plus, you'll have splendid views of the various boats from different angles in the midst of the marina.
While this is obviously a touristic town, you will be delightfully surprised at the high quality of the restaurants, and they're no more expensive than restaurants that you're going to find anywhere else in Italy. You can have a light snack or a full meal. They've got a lot of fresh fish, of course, that's one of their specialties here, and there's always that great Italian pasta.
Each one of these restaurants serves wonderful food. They wouldn't be here if they didn't. And usually, the owners and waiters live right nearby as well, so they have a stake in doing a very good job for you. Perhaps most famous is the Delfino, a waterfront restaurant founded in 1889. Other eateries include Concordia, Tripoli, Stella, Puny, Magazin and Marinaio.
The view is as good as it gets from a terrace restaurant, and the food will be delicious, but somehow this superb setting creates a magical atmosphere that makes your food and drink taste that much better. The waiters here are not in any hurry to pressure you to order a meal or finish up. This is Italy, after all, it's very relaxed and casual – harbor-side dining at its best in Portofino. The combined synergism of food and setting could produce the best meal of your entire Italy visit.
On the other hand…you might save your main appetite for dinner after the short bus ride back to Santa Margherita, which has an excellent variety of dining in all price ranges, specializing in seafood. Since Santa Margherita is a waterfront harbor town, the fishermen bring their fresh catch every morning and keep the restaurants very well supplied.
Maybe just have some drinks and a snack at one of the places around Portofino's cove. I stopped for a look at Winter Rose wine bar which looked very inviting, with his outdoor tables, and friendly service, and big selection of wines. And then I found out that it's ranked as the number one restaurant in Portofino by Trip Advisor. I took a look inside – lots more wines in there. Not just a great wine bar but excellent food. In addition Trip Advisor lists thirty other restaurants, bars and cafes right here in this little town.
This little village has become world-famous for yachts and the visiting jet set, the millionaires and billionaires, Hollywood royalty and media superstars. The natural small harbor is near the rocky tip of the lush promontory that protects the sheltered cove from the Gulf of Rapollo like a giant breakwater.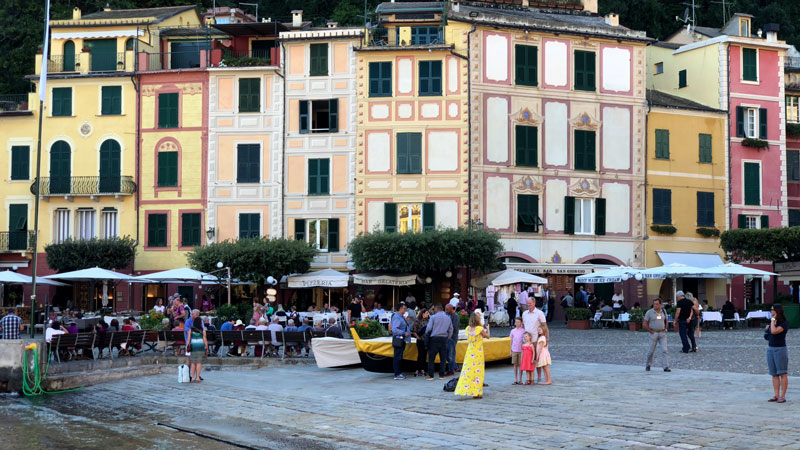 Every small Italian town has a main place where the people gather, and here is right at the waterfront Piazza Martiri dell'Olivetta, a fine place for the visitors as well as the locals to hang out, surrounded by restaurants, cafes and all those beautiful buildings.
It's a peaceful and safe harbor where the kids can play, and the families can enjoy the experiences together. And this public space is created in such a way that it's friendly and inviting to the visitor, to encourage you to linger and rest. There are benches, chairs and the seawall you can sit on, places to relax, plenty of room to stand around, and then have a seat at one of those many outdoor restaurants that are so inviting with their nice tables, great food, quick service, pizza, pastry and drinks.
While the marina with its cafes and that beautiful view from the hill are the main draws of Portofino, there's another side to this town, just a block inland from the waterfront is a series of promenades and small lanes for shopping, eating and drinking. There are a few hotels tucked away in here, such as the affordable three-star Hotel Nazionale, and its adjacent Don Nicola restaurant, just inland from the waterfront. There are also a few B&Bs and vacation rentals available here in in the surrounding areas with some affordable rates, especially in that off-season.
Even though this is a high-quality resort town, the prices you'll find in the stores are about the same as you find anywhere in the country. It's the downtown of this little village with a range of deluxe shops, and souvenir stands, and little grocery stores tucked away more deeply into ever smaller alleyways, in a setting that many travelers are going to miss all together. Art galleries where you could find an original oil painting by a local artis, t take-out foods, and beautiful paving underfoot for walking. There are no more hills to climb or distant vistas in this part of the waterfront village.
Another small hotel back here is the three-star Hotel Eden, situated in the center of the little town on a narrow side street close to the piazzetta, but well-hidden from the crowd. They have a small garden shaded by old trees that provides a unique atmosphere.
You might even use this as home base for visiting the surrounding region. However, there are many more hotels in the city of Santa Margarita Ligure, just about three miles away, which makes a very efficient home base, as we have done in our tours to this area. But if the charms of Portofino have seduced you, there are possibilities for staying here. There are half a dozen hotels, and there are some vacation rentals you can pick from.
At the end of our daytrip visit here, we had two different ways to get back to Santa Margarita. We could either take that city bus, or better yet, take the boat. It's a scenic boat ride, and sure, it costs a little bit more than the bus, but under ten euro, and what a wonderful excursion it turned out to be — great fun.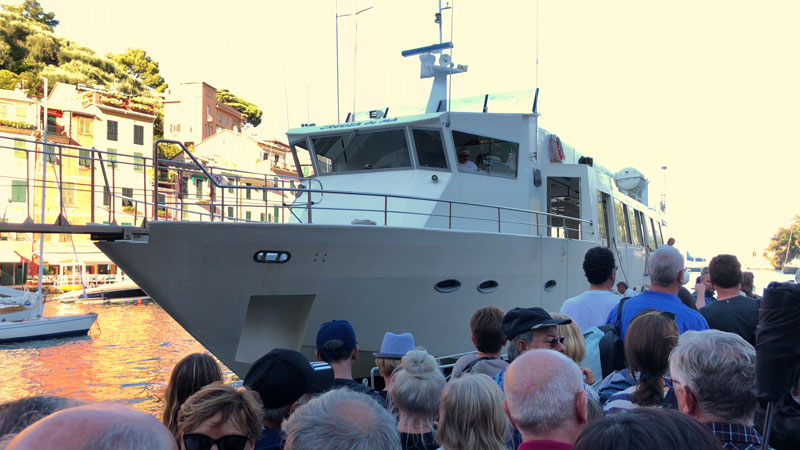 You don't need reservations, but you can buy your ticket ahead of time, and get to the dock about 10-15 minutes early, wait your turn, wait on the short line, and soon enough you shuffle on board and away you go. It's good to get there early to secure a seat up on the deck rather than down below.
Right away you get scenic views of the boats in the harbor and the buildings all around from water level, as we make our way out of the marina and into the Gulf of Rapollo. As we round the point and exit the marina we can see up on the hill that large pink building, the Belmond Splendido, that five-star super-deluxe hotel of Portofino.
It was an exceptionally clear and sunny afternoon that threw beautiful lighting on the green forested hills sprinkled with mega-mansions of the multimillionaires, also getting us a view of that beachfront hamlet of Paraggi that we spotted on the drive coming in, with its little beach.
This beautiful ride was over too soon because it only took fifteen minutes. Somehow, in memory, it seemed like a longer ride because it was so stimulating with all of the nice views along the coastline.
The ride is so quick they don't even have a snack bar. You have seating indoors, down below, or better yet, on the upper deck where you get the best view and all that fresh air, and the sights all around, other boats going by, the beautiful wake of your ship, that's quite a sight to see as well.
The boat brings you right into the center of Santa Margarita Ligure, and you'll have a splendid view of that city as you arrive as well. There's a lot of hotels along the waterfront here. We stayed at one of them. And they've got a sandy beach. There's lots of bars and cafes. It's a great city. We have another movie about Santa Margarita Ligure you'll have to look for in our collection.
The city of Santa Margarita is wonderful in itself, with its many restaurants, and bars, and hotels, and friendly local people, and kind of an authentic character, not quite as touristic as Portofino or some other famous Italian places. It also makes a very good home base for visiting Portofino, as we've just seen, as well as Cinque Terre, which is just about an hour away by train, and you can also find a lot of videos about that splendid place in our collection.
Two more videos of Portofino:
Including a visit to Santa Margheritta
Google map of Portofino