Locarno
Locarno is a rather surprising part of Switzerland that you might not recognize at first: adorned with palm trees, colorful flowers, pastel buildings, some with arcades -- and they speak Italian, but yes, we are still in Switzerland.
This is a beautiful resort town along the shores of Lake Maggiore in the southern part of the country called the Ticino. Locarno has got a small-town feeling, with a population of 15,000, which ranks it 74th in Switzerland in city size. It is smaller than nearby Lugano for example, and yet Locarno offers that full urban experience with a human scale. There are hotels in town and along the waterfront, with residential homes up on the hill, and lovely streets, piazzas, shops and prime location along the shores of Lake Maggiore.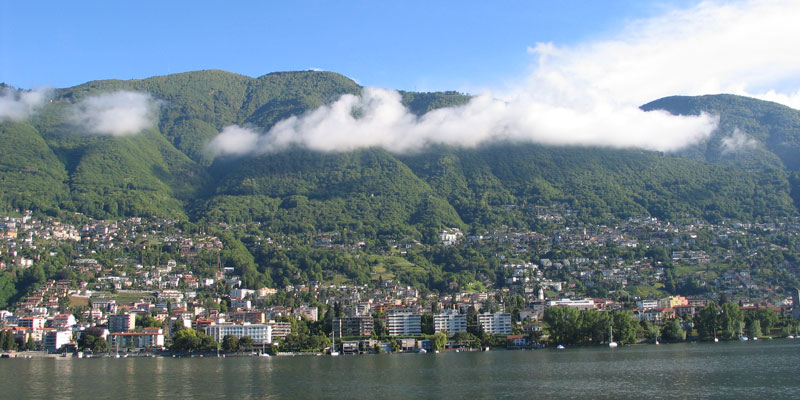 They have a Mediterranean climate here in the Ticino in the southern part of Switzerland, enjoying a pleasant temperature. They don't get any significant winter weather here, not cold and snowy like the rest of the country. The climate here is technically classified as humid subtropical which might be kind of surprising to hear about Switzerland, but it is the southern, sunny section. In fact, they have sunshine more than 56% of the time. So it's all really quite moderate, quite lovely temperature, great place to come anytime of the year.
We will take you on some walks through the narrow pedestrian lanes of the old town, show you the market, the waterfront, and there's quite a bit to see outside the old town in the surrounding areas, so you are going to get an in-depth look at the region. In other pages we're going to take you a few kilometers over to Ascona, a little waterfront village, and bring you up into nearby valleys on a bus trip for some hiking through little stone villages.
PIAZZA GRANDE
The center of Locarno is Piazza Grande, with an extensive arcade hosting indoor and outdoor restaurants, sheltered from the rain and the sun by the arcades, awnings and umbrellas. You can have some pizza, pasta, and choose from a variety of delicious gelato flavors. The cuisine is both Swiss and Italian.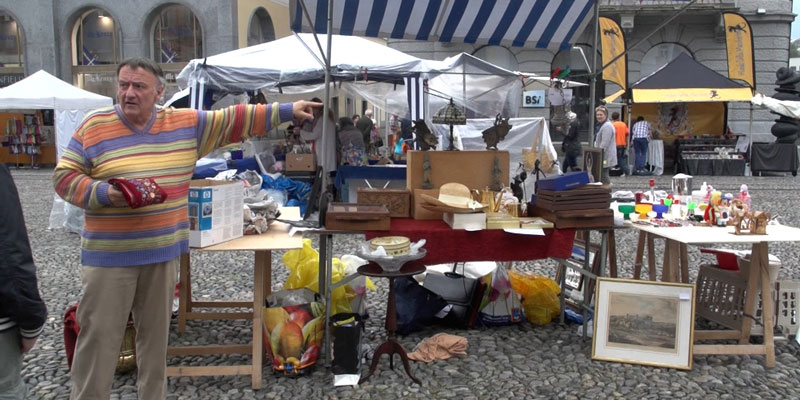 An outdoor market in the middle of the Piazza Grande sells all kinds of products, especially the local handmade crafted items. There are fabrics and products in wool, ceramics and wooden objects. You can find some wonderful local foods at the market like fresh cheese, eggs, fruits, and vegetables. Some foods are prepared fresh here for takeaway, including a giant wok filled with polenta, made from cornflower.
Some of the vendors sell secondhand merchandise like old CDs and books, and even music tapes and clothing can be found here. It's all very down to earth, very local. These are casual part-time vendors. In the German-speaking part of Switzerland they might call it the Hauptmarkt and in the French side on the west, this would be the Grand Place, but here it's Piazza Grande.
Hotel Del Angelo is located on the piazza, making it easy to go for a morning walk and right away you'll see some kind of activities. You'll probably see the beer truckout there every day carting away the empty kegs and bringing in the fresh ones. They also have a department store and casino. The paving in the piazza is smooth, water-worn stones in various colors, really quite beautiful.
Nearby are the train station and boat docks along the lakeshore. You'll find the Tourist Information Office on the Piazza Grande in a nice modern building, and they've got plenty of maps, brochures and information about activities and hotels.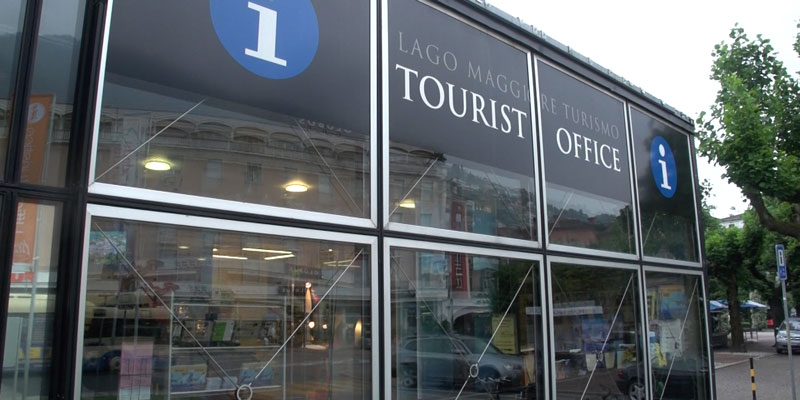 The city has done a very good job designing parks along this waterfront in the center of town. There are a few related buildings on the lakeshore for the boat service, a ticket office and there's a nice outdoor cafe, and gelateria. The waterfront promenade is an open, beautiful parkland with benches and steps, and nice vistas, and of course several marinas for the small boats.
On a different visit we stayed at Hotel Geranio, on the waterfront adjacent to the main part of central Locarno. It's always helpful when you rely on the train to have a hotel near the train station and the Geranio, while on the waterfront, it is just one block away from the station. Making it even more convenient, the hotel has a back door leading directly to the station.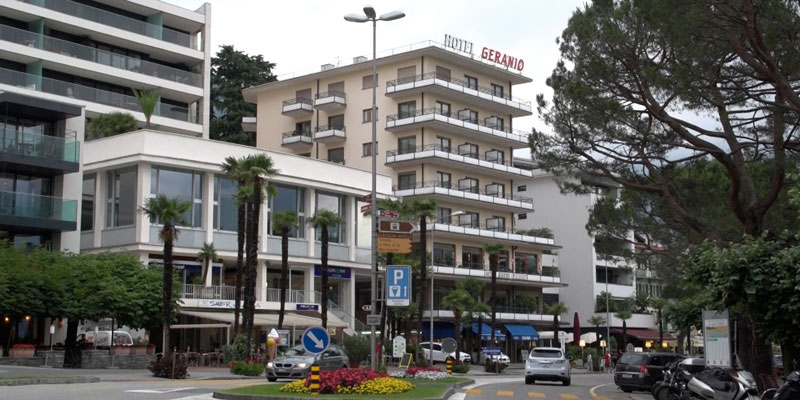 The hotel's waterfront setting provides a nice view from your balcony and the breakfast room. Typical of European hotels, breakfast is included in the price of your room and it's a nice spread: breads, meats, cheeses, juice, cereals and fruits and all kinds of good stuff. You could sit outdoors, enjoy the terrace and scenery, or just take your breakfast inside the dining room.
LITTLE LANES
Be sure to take a stroll through the lanes several blocks north of the piazza. Walk up from the piazza and you'll notice these quiet lanes do not have not many tourists. Many visitors wouldn't even realize that this pedestrian zone is right next to Piazza Grande, the main square of town.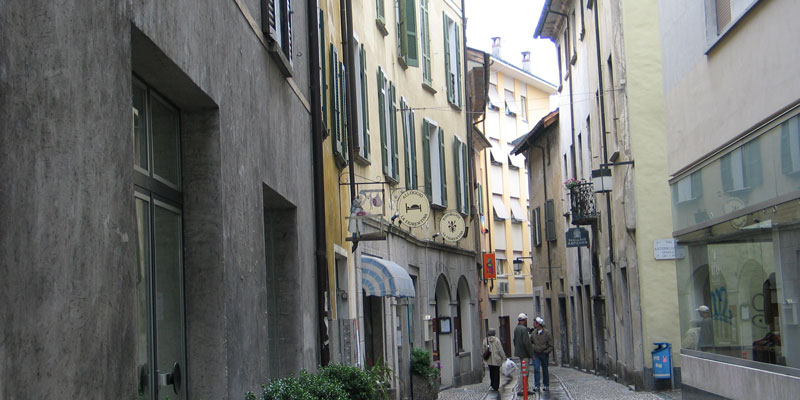 The streets here are very narrow, with no cars allowed in this part of the old town. It's strictly for pedestrians, which always makes it lovely for a stroll, very safe for the families, nice and quiet and peaceful here.
This part of Locarno's Old Town goes for about six blocks by four blocks, small enough to enjoy a nice stroll and have a poke around in the art galleries and antique stores, with quite a few modern shops along with the mix.
It's kind of simple place to enjoy the mundane aspects of living here. You'll feel part of the scene instead of being just a tourist. Those narrow lanes are just short block over from the main piazza, so it's easy to just walk back and forth, go to one area and then come back down to the big square.
It is a small but choice shopping area, with more stores more for local people and discriminating visitors. They've got art galleries, there's antique shops, clothing stores. They even have some small hotels in the neighborhood.
A famous antique store, Bellerio Antichita, has indoor and outdoor display areas, and not only do they sell works of art, but you can purchase furnishings. You can get cabinets and chest tables, and cupboards and chairs dating back hundreds of years and still functional. Open since 1956, it's worth going inside and wandering around.
Of course you'll always find the neighborhood cafes and bars and restaurants up here. You might get better prices than down on the main square. Amid these narrow lanes you do run into the occasional little piazza, with the inevitable outdoor restaurant and fountain in the middle. Be sure to get up into these little lanes. It's so charming, and there are a few bars and cafes and little shops up here. It's a residential zone as well, a place where locals just spend some time of day chatting with their neighbors and generally just hanging out.
As happens so many times when visiting a place you focus on the main square, the monuments, go to a museum, perhaps, go down to the waterfront and overlook the real heart and soul of the city, that local place where people stroll and hang out and shop and live. This is very much the case here with Locarno. It's a lot of fun to just take a walk on these streets and they're easy, not very steep, it's quiet, no cars. It's a small area. You really can't get lost. Just stroll around. You might find yourself walking in circles a little bit, but that's okay, you go up one lane and then back down the same lane in the other direction. When you come to a spot from a different angle, it looks like a different street or restaurant.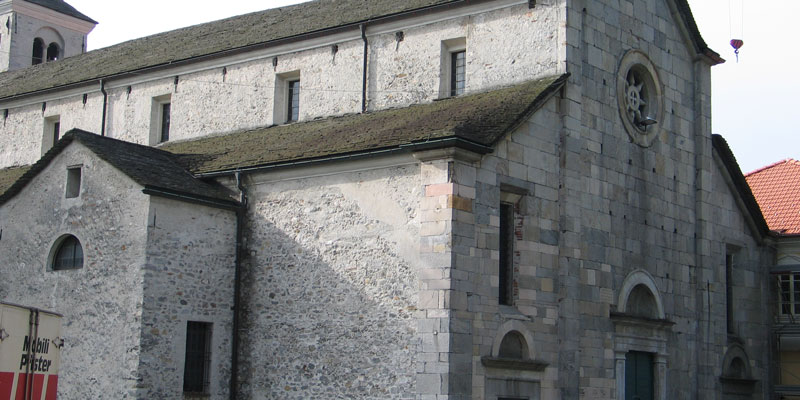 The church of St. Francis in this neighborhood is the oldest church in town. The choir and the cupola date from the 14th century, and the nave dates from 1528, so here we have a mix of the Gothic style and the early Renaissance. And next to the church is a former 13th-century Franciscan monastery. This church has got some Baroque side chapels and very old fresco paintings that are barely visible on some of the walls. It's quite unusual to see such an old and Italian-style church in Switzerland.
You can easily find your way back to the main piazza anytime, just head downhill.
Castello Visconteo
You can experience firsthand some of the history of the area with a visit to Castello Visconteo, which is the Municipal and Archaeological Museum, with turreted tower and crenellated walls all around it, just one block beyond Piazza Grande.
The museum building itself, is part of the exhibit because the castle is as old as some of the artifacts inside. They have an excellent small display of artifacts from the surrounding region, including ceramics, glassware, old architectural fragments, columns, and original frescoes on the walls.
You can almost imagine back in the day, 500 years ago when there were some elegant banquets in these rooms. This castle has an old primitive feeling to it, including a dungeon and small rooms down the basement.
They have done a nice job renovating the castle and installing modern display cases with excellent lighting. You might be surprised that 2000 years ago the Romans made beautiful delicate glassware and even 3000 years ago the Egyptians made glassware. Some labels tell you little bit about the history.
Next to the museum there is a highway underpass where they did some archaeological excavations and found Roman artifacts on the site. That is a free attraction just a couple blocks from Piazza Grande.
For thousands of years people have been living here. During the Roman era it's believed there was a small market center along the lake. And numerous buildings we see today are several centuries old and yet all in very good condition, with that typical Swiss efficiency of exterior maintenance and moderm interiors.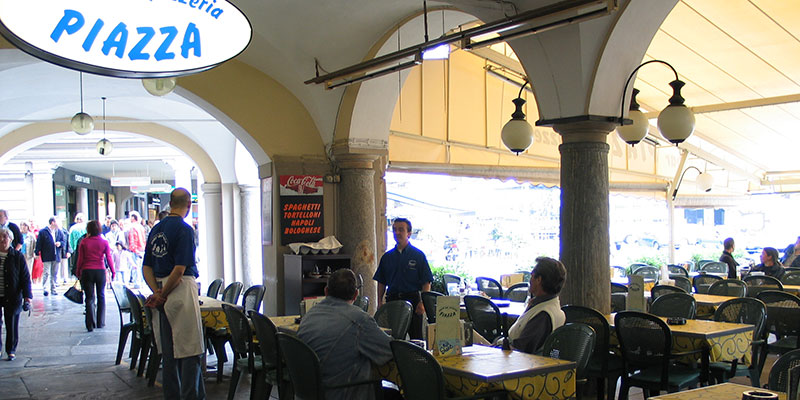 We were getting hungry so we tried Ristorante Sensi. It was only a block from our hotel, so convenient and worked out really well. They have lovely pastas, salads, fish, chicken, meat, everything could want on the menu. It's the beauty of eating in Ticino – you can have Italian cuisine and Swiss service. The arugula on top, looks like a salad but it's really a pasta dish with pesto and arugula and tomato, and sliced Parmesan – delicious, hot right out of the kitchen. And they have a wide variety of other dishes, chicken, fish, and vegetarian items.
Swiss produce a range of red and white wines of very high quality, even though they're not well known outside the country. The rest of the world does not get much Swiss wine because this is a small country and there's not much quantity to export, so 90% of the wine is consumed domestically.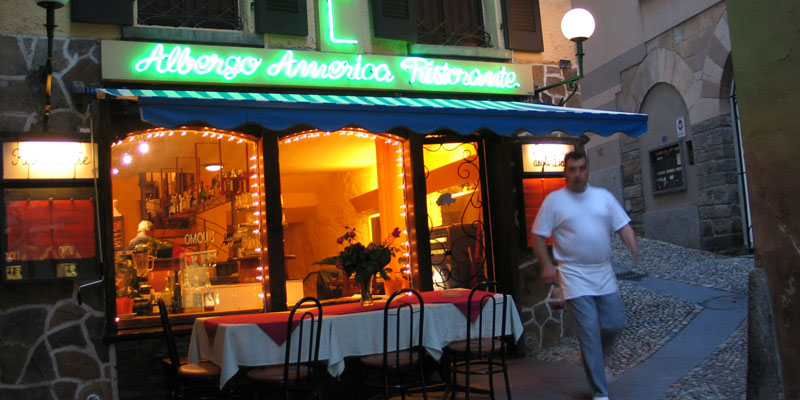 In this Italian part of Switzerland, the most planted grape is Merlot. The most planted grapes in the east part of Switzerland is the Pinot Noir. In the West part of Switzerland, where they are speaking usually French, they are planting more white grapes than red. The white grapes are Chasselas grapes, and in the north part of Switzerland near the region of Zurich they grow pinot noir grapes for the red, and the reisling for the white grapes.
BOAT RIDES
Lake Maggiore is a huge lake that goes for many miles down into Italy, with many different boat rides you can take. You could go for 3 1/2 hours if you wanted to head south to Isola Bela in the Italian part of Lake Maggiore near the town of Stresa. There's a combined ticket where you can travel by train, Locarno down to Stresa and enjoy time in that area, and then take the boat back up to Locarno. It's a full-day excursion which makes a very worthwhile daytrip, providing yet another reason for spending a few days in Locarno.
In this case we are just taking a 30-minute round-trip ride to the town of Magadino, back and forth, crossing the northern tip of the lake. From the lake you have a nice view of Locarno showing snowcapped peaks in the distance and the valleys beyond. It was curious, though, it was so early in the morning that nobody else was on the boat. It was an 8 AM departure and it had to leave anyway because they had to go across to the other side to pick up passengers and there you will see some people getting on, but it's kind of like reverse rush hour, nobody's leaving Locarno at 8 AM except a few oddball tourists.
The ferry is just crossing the lake over to the next village to pick up some local passengers. It's a mix of some students heading to the University for their classes, and some workers going into Locarno for the working day – a short stop and then we're on our way.
There are easily enough things to keep you busy in Locarno for several days. However, you don't want to just drop in for one hour and have a quick look at this town. It's worth exploring.
In other pages we're going on day trips out from Locarno to the waterfront village of Ascona and into the mountains for a trip to the nearby valley of Valle Maggia and the small village of Binasco, and along the lake to Morcote. Then later we re-locate from Locarno to Lugano for a couple of days, enjoying another rewarding Ticino destination.
Combined video of Locarno, Ascona, and the valleys: