Gornergrat Mountain, Zermatt
One of the most spectacular activities of any visit to Switzerland is a trip up the Gornergrat mountain high above the village of Zermatt. The Gornergrat is nearly 3,100 meters high (10,000+ feet) and offers perhaps the best view in all of Switzerland, looking out at 29 mountains higher than 4,000 meters all around you.
The highest outdoor train in Europe brings you to the top where you will be rewarded with an amazing mountain panorama, then you can walk down part of the lower slope for one of the most satisfying hikes in Switzerland. The summit of Gornergrat is easily reached by this cog wheel train that you catch across the street from the main train station in the center of Zermatt. Nearly all Zermatt hotels are in easy walking distance to catch the train.
While going further up you'll see other views of many peaks in the surrounding mountain range on this spectacular 33-minute ride, including some quick views looking back into Zermatt village. Price is 88SF round-trip, and you'll get a 50% discount if you have the Swiss Travel Pass. During the summer the trains depart two or three times every hour, but other seasons it could be one time an hour, so check the schedule.
Construction began on this railway way back in 1896, which was five years after Zermatt was connected to Switzerland by its own train system. They opened in 1898, and it was the world's first fully electrified cog railway. Originally it only operated in the summer, but by 1941 it has been running year-round. Of course, they're constantly improving the service and the machinery. Rail cars in service now are fairly new. Typically, it's a two-car train and can carry approximately 2500 people per hour from Zermatt, with service about every half hour.
The Gornergrat cog rail goes up a very steep incline with a gradient of one in five at the maximum and makes four short stops along the way up. The line rises along the slope of the valley and crosses the Findelen Gorge by a long viaduct, passing through several tunnels, with a stop at Findelbach 1,770 meters high (5,810 feet). The Zmutt Valley and the Matterhorn are seen in the distance. After 4 kilometers you reach the station of Riffelalp which is at 2,211 meters (7300 feet).
About 400 meters away there is the famous Hotel Riffelalp where you could stop by for refreshment or spend the night. More about that later on the way down, when we shall get off the train here and hike to the bottom, reaching Zermatt town on foot. Ascending further, the next station is Riffelberg at 2,582 meters (8471 feet), and then over hilly pastures to the Rotenboden at 2,815 meters (9,236 feet), another station where you could get off the train and do a little bit of hiking.
Usually during the month of May, when we prefer to visit, there is plenty of snow at this level. However, in the summer, the snow does not reach down this far so you could do some hiking. The narrow-gauge rack railroad travels up past some stunning views of the Matterhorn, the signature sight of Zermatt.
The train station at the top is at 3,089 meters (10,135 feet) above sea level, making it the highest outdoor rail station in Europe. The train that goes up to the Jungfrau is higher at 3,454 meters but runs inside the mountain through a tunnel. Right away you see the impressive mountain view, with the Matterhorn looming in the distance, and in the other direction, the complex of buildings housing a restaurant, hotel, observatory, shops, and more. As usual the Swiss have civilized the mountaintop.
From the train station take a 5-minute walk up to the cafeteria facility where you've got an outdor panorama deck and indoor cafe. Already you get the classic mountain view, but don't stop there! You want to walk another 5 to 10 minutes further beyond those buildings up a little higher to get the unobstructed clear view.
You have to walk up the final hundred meters to get to the very top observation platform, and from there you get the stunning panorama. So don't stop just at the top of the train station or at the restaurant or the cafe terrace. You want to get to the top, the very top – easy to get up there, and you will be rewarded with an unbelievable vista.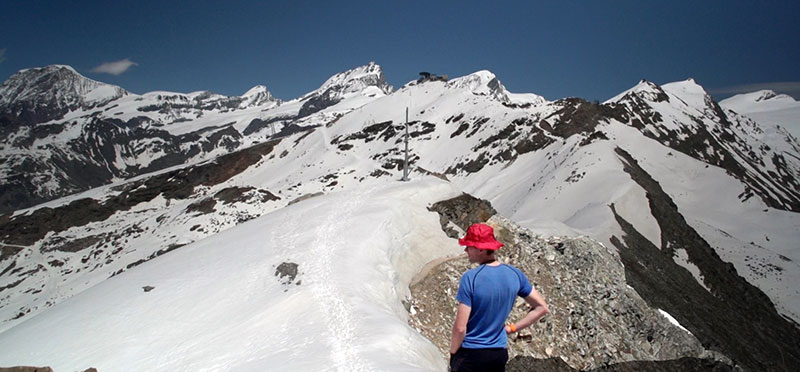 Only from this point do you get to see 29 mountain peaks all around, 360 degrees in this vast panorama. And each of these peaks is over 4,000 meters (12,000 feet). Views from the restaurant are good, but this terrace is much better. You can easily walk the pathways in June or July, but in winter through April they'll probably be covered with snow, so walk more carefully. Of course, distant peaks are snow-covered year-round.

It is usually a beautiful day up here in May, with temperature about 10C (50F) – it doesn't feel cold at all. The sun is out, there's no wind, some people wear shorts, and yet we are surrounded by snow and mountain peaks with glaciers all around us. It's really a fabulous experience, at the top of the Alps enjoying a fabulous view.
Here you have what is said to be the finest Alpine view in Europe. You're standing on a central dome of rock and as far you can see, a surrounding world of ice and snow. Before you lies the Monte Rosa massif with Switzerland's highest mountain (Dufourspitze, 4,634 m) and the Gorner glacier, which is the third longest, second highest and second-largest glacier in the Alps, at 22 square miles. It winds around the snowy base from a dizzy depth below. This viewing perch is an isolated rocky peak formed by nature which enables one to survey at leisure the marvelous scenes all around.

When looking at a mountain the vista is usually in front of you or perhaps on two sides, but here you are encircled with an unbroken range of magnificent snow peaks on every side. Beyond are snows of that glorious central range of the Pennine Alps with the stupendous summits of the Dent Blanche, the Gablehorn and the Rothorn and the Weisshorn all linked together in one vast chain of snow and ice.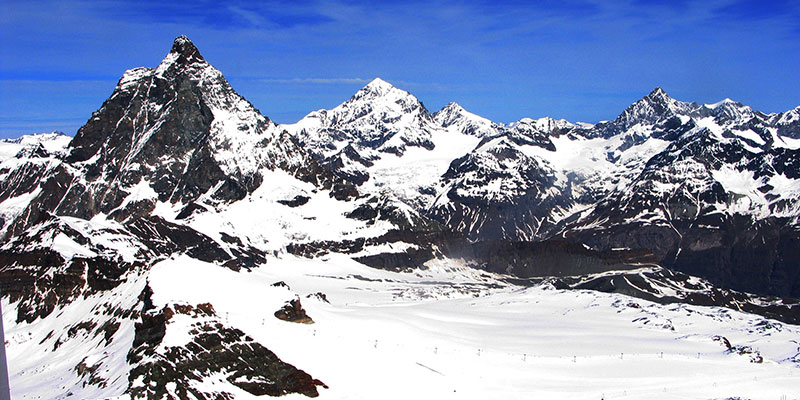 Far away beyond the Rhone Valley you'll see some distant peaks of the Bernese Oberland. And again to the right, the group of 10 more mountain peaks completing the circle all around you. In-between these mighty peaks lie innumerable glaciers, notably the vast sea of ice formed by the Gorner, the Findel and the Fergen glaciers which lie like a map down below, with moraines, snow slopes and countless crevasses revealed at a single glance.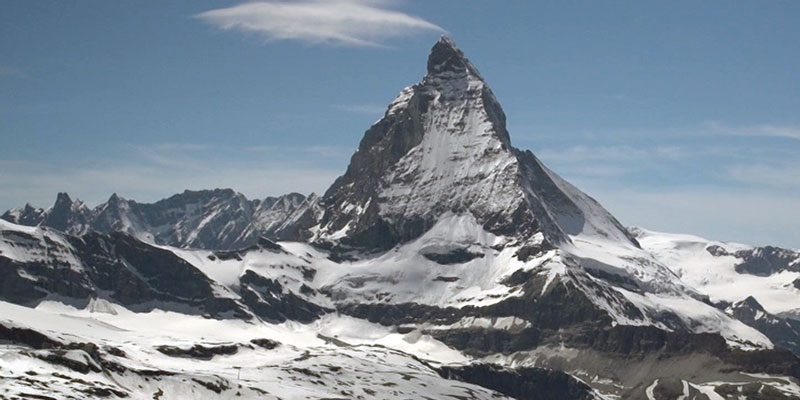 Among all of those massive peaks there is one particular spike that is most outstanding, the Matterhorn, the most unique and imposing mountain of the Alps. Its shape is so familiar, probably the most famous mountain in the world, and stands as the symbol of the country, something like the Eiffel Tower does for Paris. No photo or video or story can possibly do it justice, yet anticipate what you will, it is impossible to be disappointed. Not only is the icy wedge nearly 15,000 feet high, but it's gaunt tusk-like form emerges from the surrounding glaciers with an almost perpendicular side. Its clear-cut silhouette stands out against the sky, unutterably grand, while clouds sometimes skirt or shroud its giant form.
Notice it's very comfortable up here. They've got benches, very good pathways and information signs to identify the mountains all around you. Naturally, these are some of the most exciting photo-ops you'll ever find, so you want to be sure to get some good angles, get some selfies or have your friend take pictures of you. Get together with your group and have that mountain backdrop – everybody smiling and waving with the sunshine beaming down.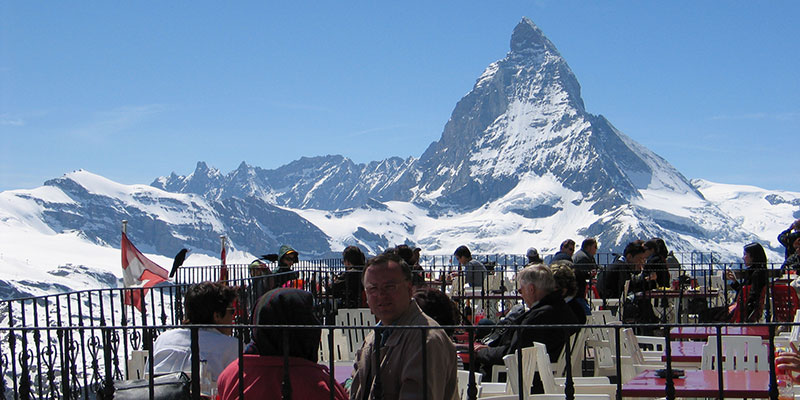 After taking proper time to fully soak up all this glory, head back down and warm up in the cafe. You can sit outdoors or indoors at their cafeteria, but most people like to sit outside on the terrace where you can see the Matterhorn in the background. You don't have to buy anything, you can just sit at the outdoor tables and relax or have a picnic, but you'd be surprised at the nice quality of the traditional Swiss food available up here.
The Gornergrat boasts the highest shopping mall in Europe where you can buy watches, pocketknives, luggage, a bottle wine or some chocolates.

They have also got a small deluxe hotel at this level, the Kulmhotel, the highest hotel in the Swiss Alps, and you could spend a night or more here. Hotel prices range from just over 400SF a night in the summer to over 500SF in the preferred winter, which includes a buffet breakfast and a four-course dinner with the view of the mountain peaks right outside your window. Plus, you'll have the mountain to yourself at dusk and dawn, often including spectacular views of stars at night.
They really pamper the guests here with an elevator service which really does come in handy because at this altitude – you're 2 miles above sea level – the air is pretty thin and you don't want to be exerting yourself too much or running up staircases.
Getting Down from Gornegrat
There are several exciting ways to get down from the Gornergrat, taking advantage of the beautiful hiking trails. You could even walk all the way down to Zermatt village in the valley bottom if you are there in summer and the snow has melted sufficiently, and if you have stamina to walk five hours.
It you don't want to walk all the way, ride the train part of the way and then walk down from intermediate stops into the village at the valley bottom. For example, Rotenboden is a bit further down from the top and offers a nice walk over to a lake called Riffelsee, and you get a beautiful picture of the Matterhorn.
Or you could get off the train at Riffelberg, another station further down. Your choice is dictated by your stamina, time available, snow conditions and weather. You can check with the railroad people and find out which trails are open and determine how much time you want to spend.
We decided to get off about halfway, at Riffelalp station, which then takes about an hour and a half to walk 5 kilometers into the village. There are several different routes down from the Riffelalp station. Instead of hiking down to Zermatt town there are many different hikes possible from Riffelalp.
Excellent descriptions of the route and related activities are found in the Gornergrat website, and also the Zermatt website.
You could do an easy one-hour loop hike from Riffelalp through the pine forest and alpine meadows then return to that station. There is also a longer hike from here to Sunnegga on the next ridge over, along a 10 kilometer trail that passes four lakes, taking about 3 1/2 hours. Another intriguing option is to take the Riffelberg Express cable car from here to to Furi (1,867 m), then transfer to another cable car up to Kleine Scheidegg and what they call the Matterhorn glacier paradise (3,883 m). In this way you can easily visit the two highest peaks of Zermatt in one day, without having to travel totally down to the valley floor in between, as was previously required.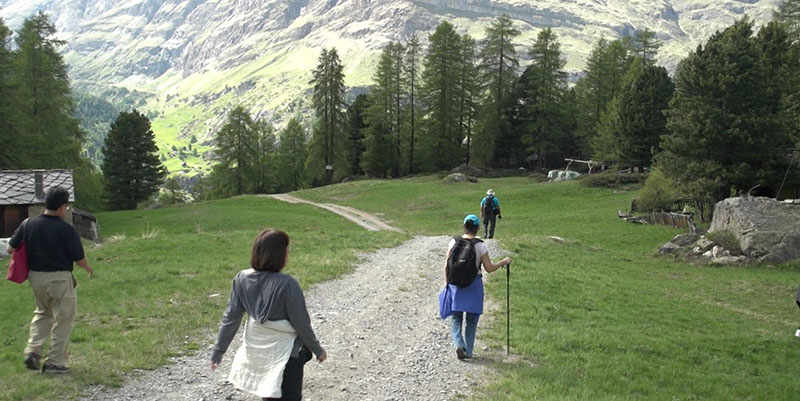 Of course you could just stay on the train if you want and ride all the way to the bottom, but it's nice to do some walking. The easiest adventure is get off at Riffelberg and walk downhill to Zermatt, as described here. In late afternoon you'll have plenty of time to walk down to Zermatt on this easy family stroll. From Riffelalp station you could go to the right side of the cog wheel tracks on a slightly more direct route, or come along with us on the left side.
The route we took from Riffelalp station follows the abandoned tracks of the historic Riffelalp tram, which was the highest tram in Europe. It leads within a few hundred meters to the 5-star Riffelalp Resort hotel. Here, the fantastic perspective of the Matterhorn and various restaurants invite you to linger, or even spend the night. Rates range from 600SF to 1,400SF.
We didn't go to the hotel, but it's there if you want to stop in for a break. Or you could stop by and have lunch of their outdoor terrace at the restaurant, which is open to the public. You get a beautiful view looking out across the mountains, and after resting and refreshing, you can resume your hike.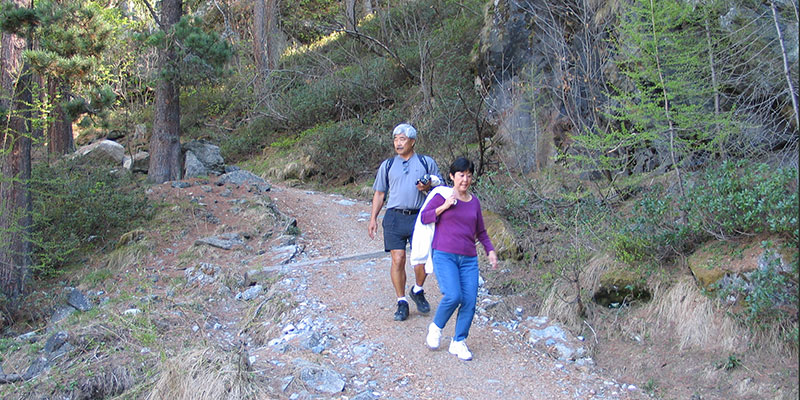 We found that this hike was pretty much ideal, providing the authentic experience of an Alpine hike, with mountain vistas including the Matterhorn. It is quite easy, but you don't want to trip and fall down, so keep your eyes on the ground and be careful. Some people purchase a fancy walking stick to help them down, others just grab a branch off the ground and that works pretty well too.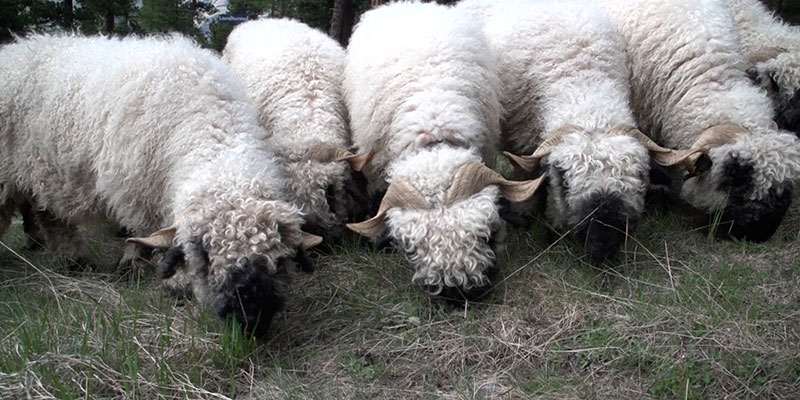 Wildlife can occasionally be spotted, such as ibex, marmots and chamois, although the only animals we saw was a flock of local Valais black-nosed sheep. They were quite entertaining, very well-behaved while munching away on the grass and making a little musical symphony with their bells.
Walking down is easy, but many Swiss people and other enthusiastic hikers prefer to walk uphill. They feel it's better exercise to go up and you get views of the mountains looking up as you go. They even claim it's easier on the body and you're less likely to lose your balance when walking uphill rather than down.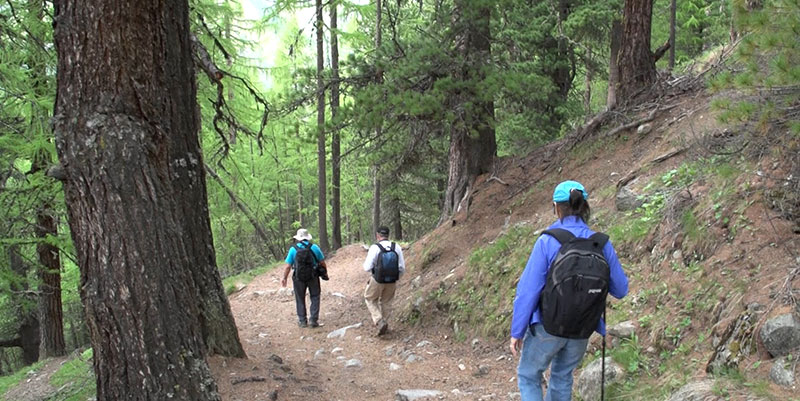 But for us occasional hikers going downhill is just the ticket. Obviously, it's much easier and you can kind of float down when you get into the flow of the right speed and the right angle with your feet, or so it would seem. Consider that bold approach and walk uphill, do our route in reverse. Of course, there are many loop hikes where you can walk uphill for part of it and then turn around and walk downhill on a different leg of it, back to where you started.
Fortunately they provide some benches along the way so that you can sit down and rest, drink some water, have a picnic snack. Towards the bottom the trail levels off which makes walking a lot easier, and signposts let you know where you're going.
As the ground levels out you will think you made it. Well, not quite, not all the way down yet. We thought we were, but looking at the signposts, hmm, okay we have a little bit further to go to reach the village through these outskirts.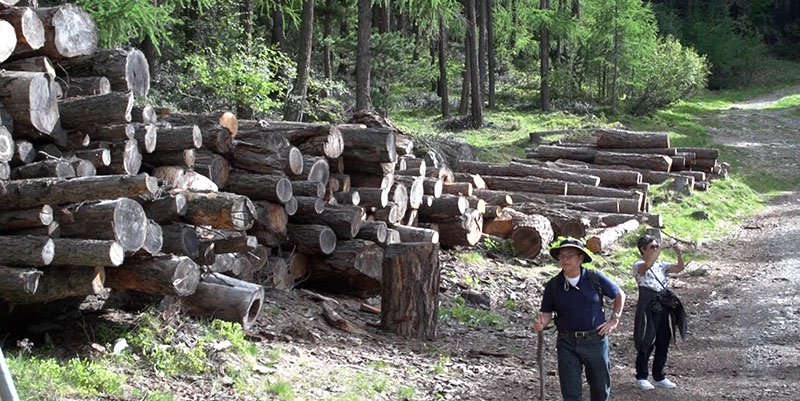 You will probably see cut trees neatly stacked up to dry. Timber production is still important to the economy, and of course they do it in a very ecological way with selective logging, a lot it used for firewood. There's lots of lumber here, lots of trees growing all around. It's primarily a forest of Larch trees, which is that same building material that they've used for centuries in the area. It's very durable hardwood.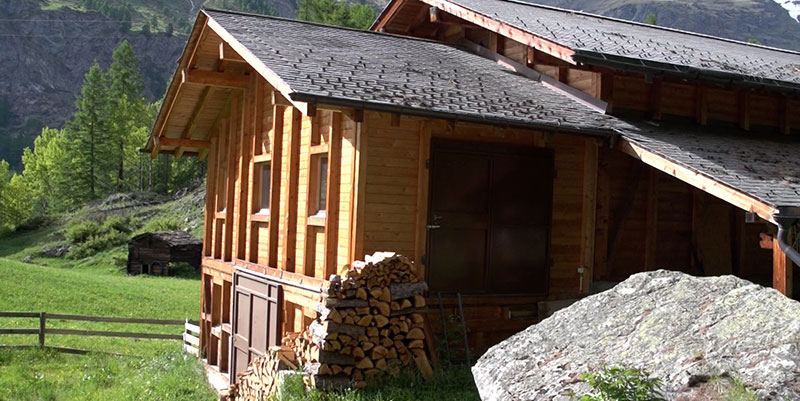 A few more downhill legs, passing a new house. They build the new ones in the old style using the local materials. We finally reached a paved road, a narrow road but a sign of civilization and progress. Some of us thought it would be easier to walk along that paved road to get back in Zermatt and others thought a more direct route was continuing on dirt paths and passing through a dispersed residential cluster of houses. Turns out those who took the paved road took about 1/2 an hour longer to get back to the village than those on the dirt path.
At the end of the walk we took a little break to have a rest, nurse our feet, check our shoes and celebrate our wonderful hike down the mountain. Back in Zermatt town you want to relax after such a busy day, maybe have a meal. Rest up a little bit. We have a separate page about Zermatt that shows you how lovely this village is.
We also have a page about the other great mountain adventures, going up the Klein Matterhorn, walking down part way, also going up the Sunnegga, and there too, hiking down. Be sure to look for those in the website.
Google map of Zermatt and Gornergrat