Vence
We're going to take you on a walking tour through the medieval town of Vence in the South of France. This small, picturesque village with its pedestrian zone makes a very worthwhile daytrip.
Much of the medieval still survives here in the maze of narrow streets crowded with houses of great age. It's truly a joy to walk here because it's small enough that you can't get lost. The terrain is level, no hills or stairs to climb, and the paving is smooth underfoot. The lanes open into several small plazas with outdoor tables, and the beautiful buildings shelter, cafes and attractive shops.
Vence is fairly close to Nice in Provence. Trains do not go to Vence, but there is excellent public transportation available. It's an easy bus ride from Nice – it takes just over one hour to get there, and in the morning the buses leave about every half hour. This small picturesque village with its historic pedestrian zone makes a nice bonus on your way to see St-Paul-de-Vence, a few kilometers away.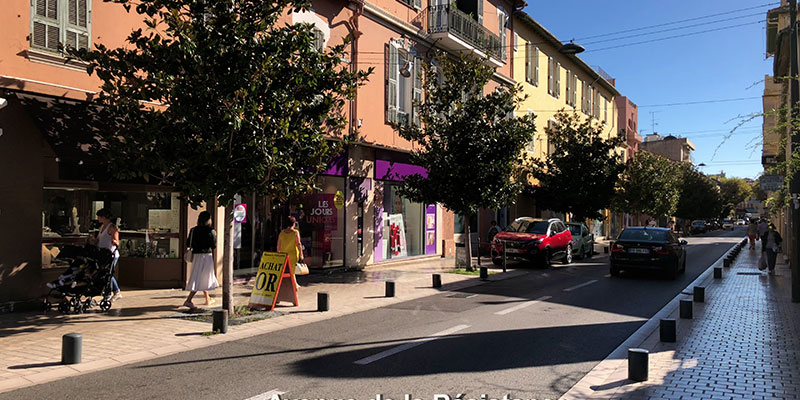 The bus drops you off 500 meters from the old town at Place du Grand Jardin, which is a lovely park with benches and flowers, with a fleamarket. And from there you'll walk along, several blocks of the main street of town, passing all sorts of interesting stores. You might want to linger here for a while. It's a typical clean and modern French city, but we are heading for the old part of town, just ahead.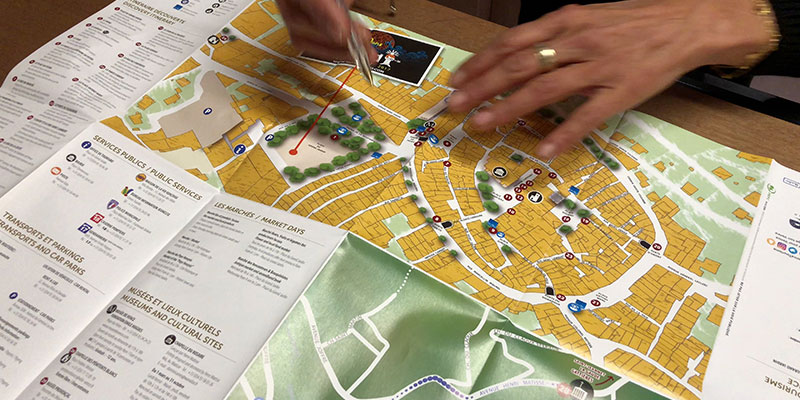 Vence is a small village, roughly circular in shape, just 300 meters across, the size of six football fields, so you can easily see it in a few hours on foot.  You really cannot get lost when you're inside the Old Town, but you might get a little disoriented by the curving foot paths, so it helps to consult a map.  There are also 27 information signs posted in the village explaining the history of various sites. Keep in mind there is one primary route and several plazas -- feel free to wander along the main lane and deviate down the little side alleys, then come on back to the main lane – it's interesting whether you are coming or going. 
Vence is not only small, but flat – not a hill town, yet 1,065 feet above sea level – so it makes for cool, easy walking. Vence is a dreamy place, quieter than those other tourist towns, but it can get busy during summer afternoons with busloads of tourists streaming through, so as always, we recommend the off-season.
As usual in a small Provencal village, the main attractions are the pedestrian lanes lined with historic old buildings harboring shops, cafes and restaurants.  Little plazas and fountains liven up the space, and the central church, Provence's smallest cathedral, is a medieval delight. Vence is one of those rare medieval towns in France that still has its wall all the way around, not freestanding, but incorporated into the backside of buildings. Any time you have a wall around a medieval village you may hope to find a well-preserved historic site, like Vence. This Old Town was entirely surrounded by ramparts built in the 13th and 14th centuries, and before that a moat protected the south side with water from a Roman aqueduct.  Within and about the ramparts rose the town, like a castle of stone, elliptical in shape.
We suggest here a route through little lanes bringing you through most of the village in one hour without backtracking, but you can easily double that time with stops along the way.  Or, just plunge in and take whatever direction looks good, making up a route as you go along -- always fun, but you might duplicate steps, waste time and miss some sites.
As you walk into the old town through the main Peyra Gate the setting changes from modern to tranquil, embraced by an atmosphere of old cobbled lanes, fountains and plazas. Somehow it's modern with all of the latest conveniences and yet at the same time you're looking back into some deep history. This Place du Peyra, renovated in 2005, had once been a bustling market and place for people to gather and socialize, and is now "front door" to the Old Town.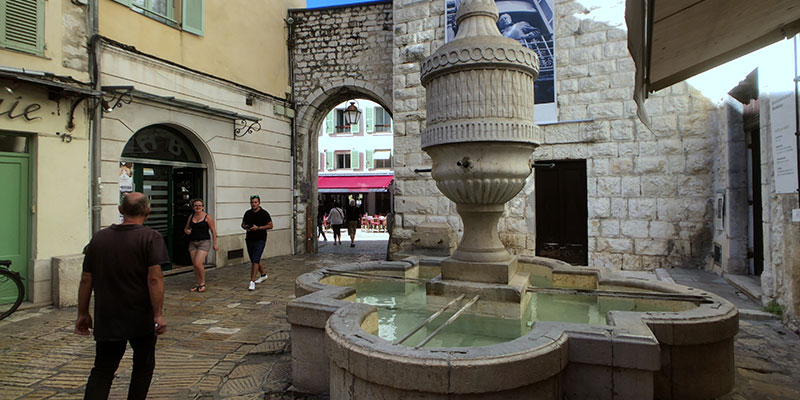 The main commercial lane runs through this square, and if you are in a hurry like most visitors and only want to see the Cathedral, turn right on Rue du Marché, then first left to the central plaza. However, a better route circles the town in a meandering zigzag, seeing its many wonderful sites.  The little lanes that we suggest are kind of off the beaten track, quite interesting and worth a look.
After entering Place du Peyra, turn left and walk a block along Rue du Portail Lévis, with nice shops.  At the end note the ancient gate on your left, the Portail Levis, one of three gates of the ancient Roman road. Turn right on Rue de la Coste for one block, then right again on Rue de la Place Vielle, following the signs towards the Cathedral.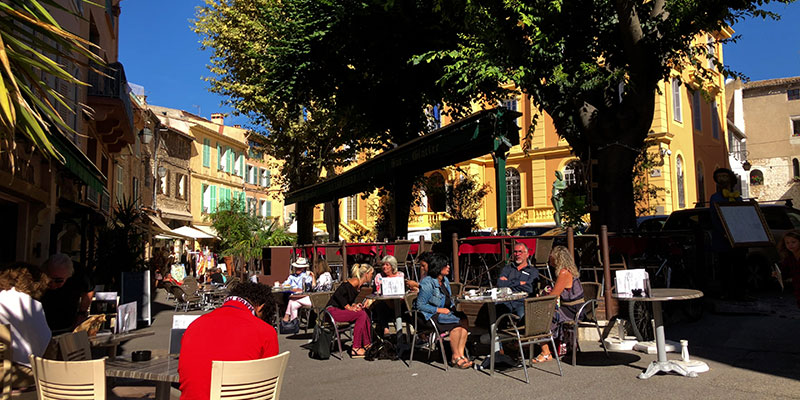 Now turn left on Rue de l'Evêché, then right at Passage Cahours, through medieval arcades leading to the main square, Place Clemenceau, with City Hall and the Cathedral of Our Lady of the Nativity. This Passage Cahours has columns and arches supporting an upper covered walkway, which connected the bishop's palace and Cathedral so his holiness had direct access, from the 14th century.
Vence Cathedral is the smallest in Provence if not all of France.  The first church was built in the 4th century on the foundations of an ancient Roman temple -- two stones outside the door date back to third-century Roman times.  The current building took shape in the 11th and 12th centuries in the Romanesque style.
The cathedral is 110 ft. long, 68 ft wide, and about 70 high, with a tall battlemented tower dating back to the tenth-century château fort, a remnant of those grim medieval days when even churches were places of defense. The interior is striking: double aisles, simple nave lined by massive columns with tiers of semicircular arches, a choir with richly carved oak stalls, a fourth-century sarcophagus for altar, and a font and lectern of the Italian Renaissance.  Its bishops were illustrious men, most of whom are buried in the cathedral.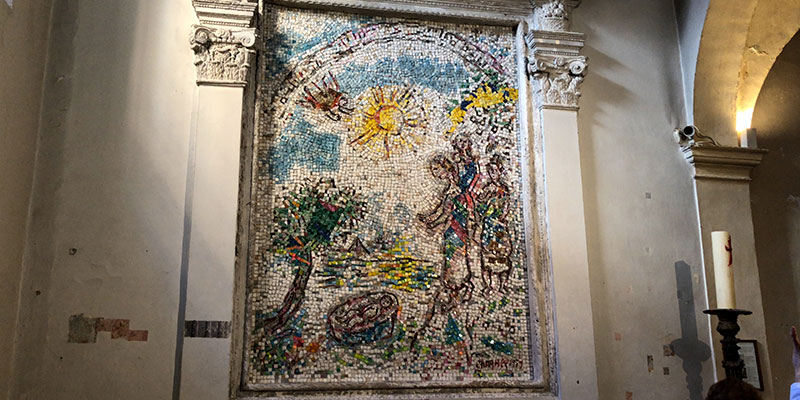 Quite remarkably, this old, small building has an original mosaic mural in the baptistery by Mark Chagall, one of the great artists of the 20th century, who lived nearby, depicting "Moses saved from the waters."  This mosaic radiates a special glow, with side light streaming onto these colorful stones vividly illustrating flowers, fruits, the sun, a rainbow, angels and a newborn Moses being baptized.  Next to it is a charming bulletin board of photographs of babies that have been baptized in the cathedral, showing this is still very much an active church.
City Hall is next to the Cathedral in the usual pattern forming the main square of a typical European town, with church, civic building, shops and open space, clustered in the center of town. There was a castle here in the 13th century for the Lords of Vence.
Exit this plaza on the south end, turning left into a small market square, Place Surian, with a few restaurants, cafes, food stores and bars, nice for browsing or a snack.  On far end of the plaza continue left at the fork along Rue de l'Hôtel-de-Ville for two short blocks, passing more nice shops, to Porte du Signadour, a watchman's tower dating to the 13th century,  and exit the Old Town through the stone gateway onto busy Avenue Marcellin Maurel.  You have arrived at a lovely plaza, Place Antony Mars, with a fountain, pizzeria and art gallery.  This square was first laid out in 1431, with a fountain built in 1439 for those residents outside the walls. 

From here you get a revealing look at the outside curve of the Old Town, where you see houses that used the town wall for foundations or are themselves remnants of the wall, but before 1840 was a solid fortified wall. From the 15th century the inhabitants were allowed to build their homes against the wall, on condition they had an iron grill on their windows.
Vence is one of those rare medieval towns in France that still has its wall all the way around it. Anytime you have an old wall around a medieval village you are going to see ancient buildings dating back hundreds of years. Sometimes they're all falling apart, but in this case the town has been beautifully preserved. While the buildings still have their original authentic appearance, they have been thoroughly renovated, well-taken care of, and have quite modern interiors.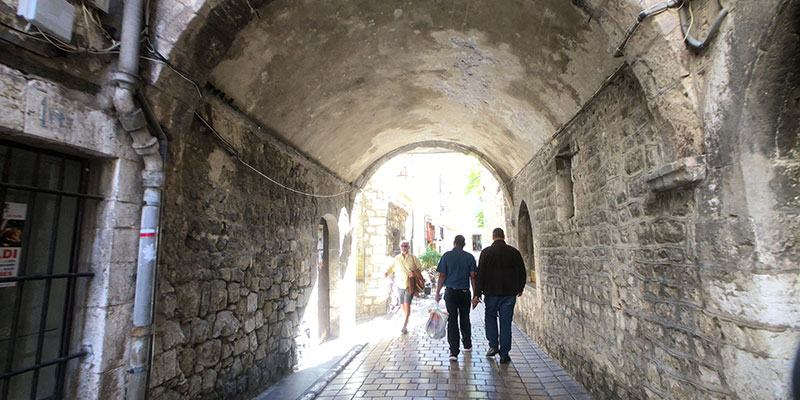 You cannot get lost when you're inside the old town of Vence because it's so small, but you might get a little confused from these twisting lanes. Just keep in mind there are several main lanes and several main plazas, and just feel free to wander, deviate down the little side alleys, come on back to the main lane, and walk both directions. It's interesting whether you're coming or going.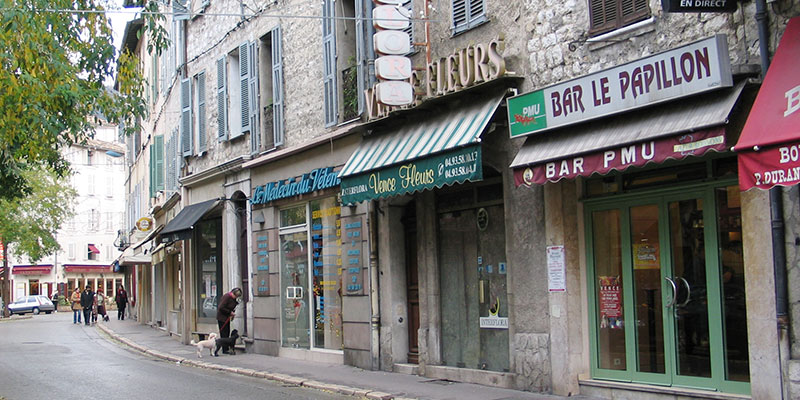 Turn right exiting the gate and walk along the avenue, heading west, for one block, getting a feel for this nice section of the modern town, with more shops, the bustling heart of downtown Vence.
Walking along the avenue gives you a view of distant hillsides and the new town of Vence which is also attractive. You'll find small hotels and restaurants and various shops here. Turn right into the next gate, Porte du Pontis, returning back in time and place to a quieter space. Now turn left on Rue du Marché for the best and final leg of your journey, along a narrow pedestrian shopping street with the best variety yet. Now it has lovely shops but a century ago was only residential, with some kitchens and stables.  Enjoy these final minutes because in two short blocks you are back where you began, at Place du Peyra, ready to exit this ancient town.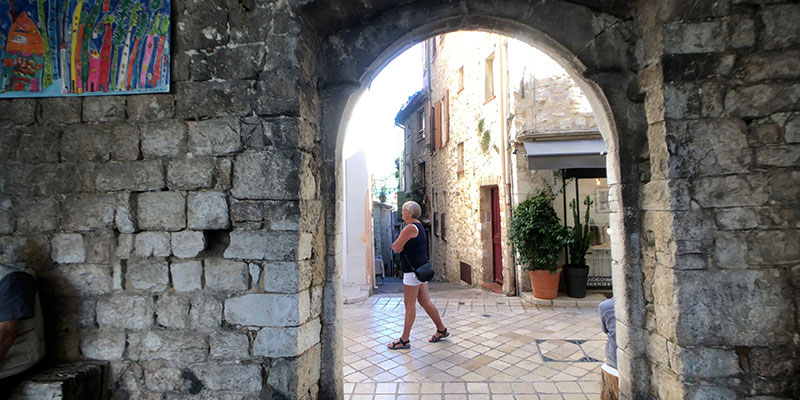 Of course if you want to extend the visit there are other tiny side alleys to see and the main lanes to revisit from different directions.  As is frequently the case in modern Europe, you are walking along ancient paths that have been patiently restored through massive recent construction which disturbed previous visitors, but you don't even realize that previous chaos, so be appreciative of all that noisy, dirty work which is now finished. The town is a polished gem, very clean and well-maintained, enhanced by landscaping of floral displays, open leafy plazas and hundreds of trees in a wide variety.
Several options might tempt art fans, including Château de Villeneuve, a fortified 17th century mansion displaying changing exhibits of modern art, in the Fondation Emile Hughes, located just outside the Peyra Gate at Place de Frêne (notice the enormous 500-year-old ash tree). You might also enjoy a ten-minute walk to Matisse's Rosary Chapel with famous architecture and stained glass by the artist who considered it his masterpiece.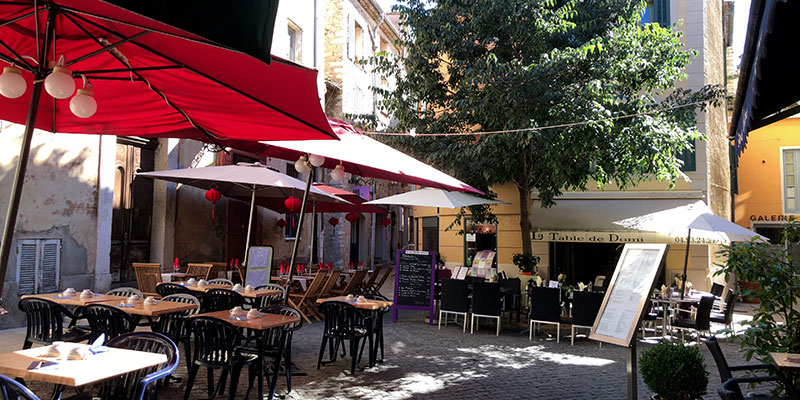 Otherwise the visit is done and you will be next heading to St Paul if you are following our day's itinerary, so give yourself 10 minutes to reach the bus stop, having already checked the schedules so you arrive just before the bus, which only comes hourly in mid-day, and continue on to St-Paul-du-Vence.
VENCE HISTORY
Within the walls of the town there is much to attract those interested in ancient history. Vence was occupied in turn by the Phoenicians, Phoceans, Ligurians, Romans and Gauls. We know from Ptolemy that it was the capital of a primitive Ligurian tribe called the Nerusii at a very early period. They had a series of forts built from massive stone blocks without cement, crowning the tops of the nearby high hills, which they fled to for refuge when attacked by the Roman legions.  
Eventually the town was conquered by the Romans who established on this secluded spot an imperial city, Ventium, which speedily gained great importance as a central supply depot for the army. It was one of the eight principal cities of the province of the Maritime Alps, and possessed a forum, an aqueduct carrying to it the delicious water of the Lubiana, two temples dedicated to Mars and to Cybele, many splendid palaces; and included among its inhabitants many persons of high rank, besides a large body of priests and magistrates. But only behind the cathedral is there any remnant of imperial Rome. A granite column supporting an arch, and reliefs and inscriptions built in the north wall of the cathedral, are all that's left. 
At the beginning of the Christian era a splendid road connected it, a branch of the old Via Julia Augusta, with Cimies, Vado, and the southern Italian routes, along which extensive traffic was carried.  Fragments of this road have been found in different places between Vence and Cimies, consisting of large slabs of pavement with layers of masonry on either side, and ruined tombs, which, according to the custom of the Romans, lined both sides of the public ways. 
During the Middle Ages Vence was a stronghold of the Holy Roman Empire. Because of its inland remote location it played but a minor part in later turmoil which disrupted the rest of Provence. High on her hill, she was too difficult of access to suffer greatly from marauding foes, and hidden from the sea, she did not attract the Mediterranean pirates.   When Antibes and Nice were sacked, her little ledge of rock was safe; and people crowded thick and fast behind her walls.    
The old town was entirely surrounded by ramparts built in the thirteenth and fourteenth centuries. On the top of these walls was a broad way, where the defenders mustered when the town was attacked.  To the outer world it presented only a lofty and continuous wall, entered by certain gates, and strengthened here and there by towers.   The wall represented the backs of the outer houses welded together in one unbroken barrier. The fronts of these houses looked inward to narrow streets, but the outer wall was blank and blind, being pierced only by a few small windows, high above the reach of attack, and by long, narrow, vertical slits near the ground.  These ancient windows and slits in the wall are still to be seen, but the enclosure has been broken in many places by casual windows of recent date and even by doors.  Large portions of the old walls and ramparts, with massive square towers of the eleventh century next the gates, still remain, and testify to its former strength and importance.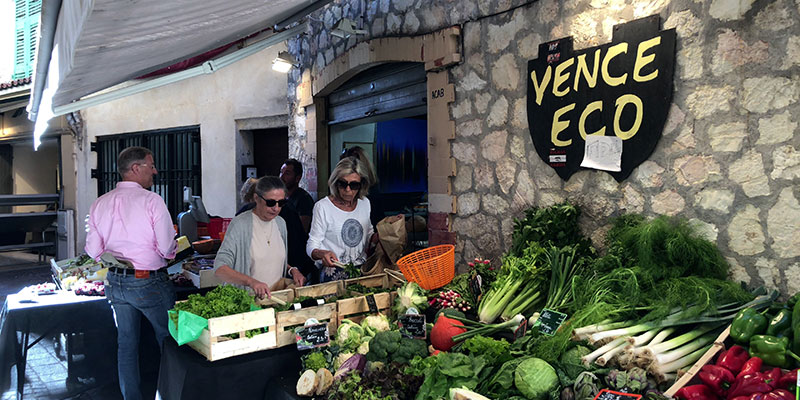 These early days were a time of growth for the little city, and she prospered in her Medievalism as a prominent and influential center.  Here were arts and occupations, burghers and charters, riches and liberties.   The Knights Templars, too, invested the place with romance of the Middle Ages, for the ruins of one of their castles may be seen perched half-way up the mighty precipice of the Rocher Blanc.  Much of the medieval still survives in Vence, as in other hill towns of the Riviera.