Villefranche
Villefranche is relatively small and often overlooked because so many other nearby glamorous destinations tempt visitors astray, but the pretty pastel-colored buildings lined up along the waterfront promenade in front of the yacht harbor make a brief stop here most enjoyable.  It is especially convenient to visit from Nice on the way to Monaco or coming back from Monaco after that visit, just 6 miles further east. The sequence can be determined during the visit.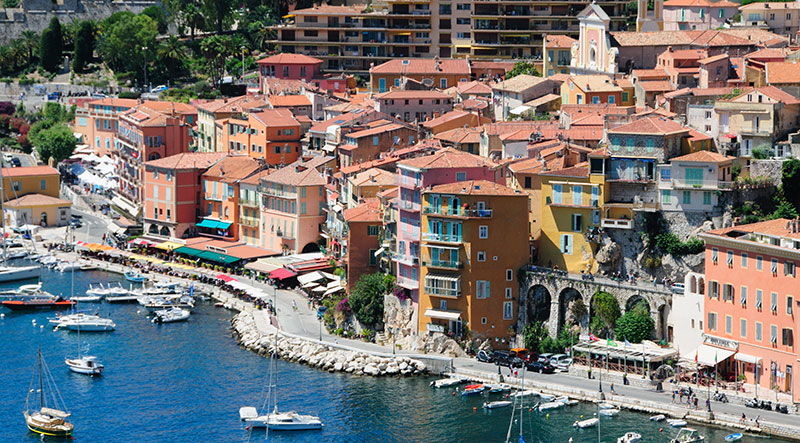 This little harbor town of Villefranche can be easily reached in a 15-minute scenic ride from Nice on bus 81 or 100, which you catch on Place Garibaldi on the edge of Nice's Old Town.  Get a window on the right side to enjoy the scenic bus ride along the coast, passing a couple of yacht harbors and splendid villas. 
The bus stops in Villefranche on Avenue Albert 1st in the middle of the newer part of town at a busy intersection, Villefranche-Octroi.  There is no need to explore this upper section of town, which is just a small cluster of shops and restaurants like any other. Instead, you want to get into the Old Town section and the special waterfront down below, a ten-minute walk through lovely pedestrian lanes, downhill all the way.  Tiny Villefranche has a population just 6,000, so you won't get lost or spend too much time on this fun little stroll.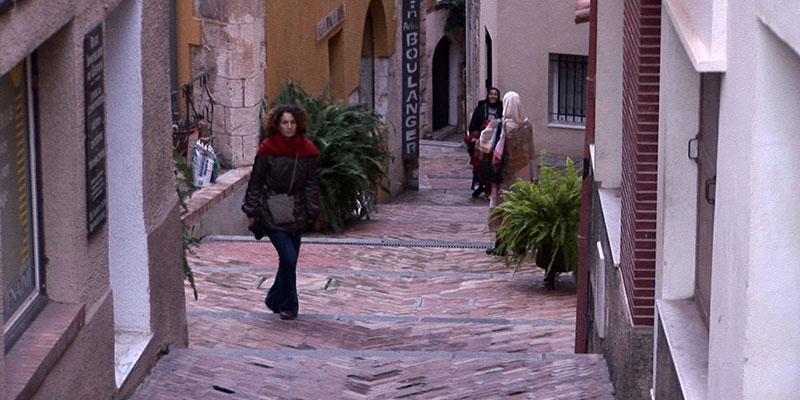 Finding the lane which leads to the waterfront is a little complicated: exit the bus and confront a busy three-way intersection, with Grand Café Venezia across the street to your left, at the junction of Albert 1st, Sadi Carnot and Maréchal Joffre.  Looking northeast, take the middle road, Sadi Carnot, which leads in a few blocks to a hairpin curve where Place Charles D'Anjou departs from the northeast edge of this intersection.  Don't hesitate to ask anyone "où est Place Charles D'Anjou" but it will be easier to find than it sounds, following these tips. Another landmark you could ask for is nearby Café de la Paix. This brings you to a staircase street, Rue de l'Église, which leads directly down through the Old Town and to the picturesque waterfront.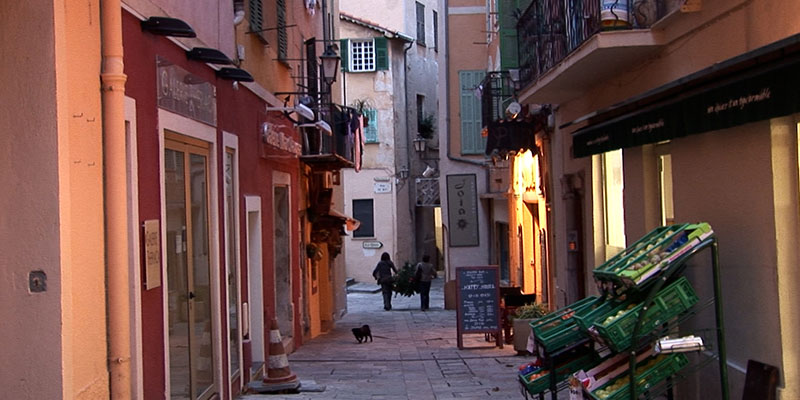 Before reaching bottom, the steps will deliver you into a small pedestrian maze of alleys, with shops, art galleries and cafés scattered around.  It's one of those magical tangle of lanes you love to see when traveling, so don't just march in a straight line downhill to the harbor, but enjoy the several attractive side routes along the way as you descend.  These offshoots are level and easy to navigate, especially Rue du Poilu, the main pedestrian lane extending for several interesting blocks.  One block further downhill, notice the arcaded street, Rue Obscure, a historic landmark that looks more like a tunnel than a lane.  Five parallel pedestrian lanes making up this neighborhood, linked together by staircase streets, creating a wonderful maze for you to explore.  Most lanes are residential, including some bed and breakfast and short-term rentals where you could spend a few quiet nights.
If you plunged straight down through the old town to the waterfront it might only take 5 minutes but you would be missing out on those fun diversions, so take your time, do some window-shopping, check out the cross streets and appreciate this special place.
You soon arrive at the picturesque boat harbor along the water's edge, lined with a row of outdoor restaurants and pastel-colored buildings. The main activity is just walking along the quay past restaurants, bars and little shops, with a few other people out for a stroll.  The town is full of small shops, mostly expensive and catering for the tourist trade but also plenty offering the usual services for the permanent population. Prices here are rather high, so you would find better shopping deals back in Nice, but if you see something special, go for it.
One of the special features of this promenade is that the buildings are right at the waterfront with no big road in between, creating a rare ambience.  There is a small, cobblestoned service road but restricted to local delivery traffic, resulting in a peaceful pedestrian promenade with the yacht basin on one side and a row of bars and restaurants on the other.  It would be wonderful if this were the normal Mediterranean situation but alas, there is generally a big ugly noisy road along the waterfront no matter where you go, with rare exceptions like Villefranche, making this little diversion quite worthwhile.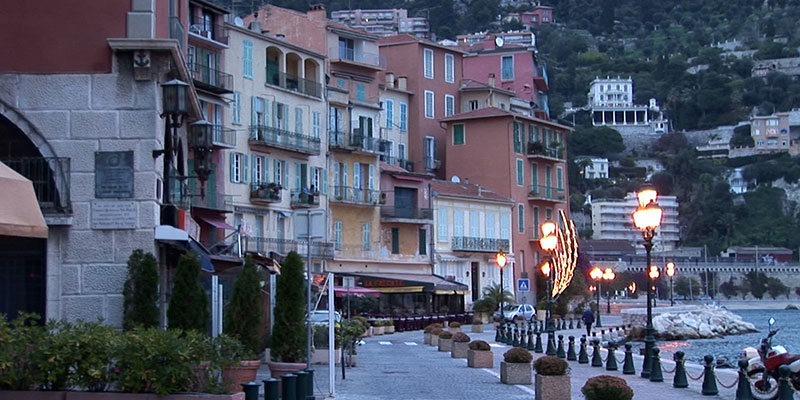 It's such a small place that the entire waterfront of the Old Town is only 200 meters long, which you can easily walk in a few minutes.  Of course you will be stopping as you go to soak up the views and maybe take a break at the attractive eateries.  Cruise ships drop anchor in the bay and shuttle their travelers by tender to the small dock at the south end of the waterfront. One can easily see this entire routine in an hour and then move along. 
For departure, either catch a train or bus to continue your journey along the coast, perhaps heading on to Monaco or other nearby destinations like Eze, or back to Nice.  The train station is only another 300 meters further along a pleasant waterfront promenade, an easy, level stroll which also brings you towards the beach, just beyond the staircase leading up to the train platform. The beach is not a fine sand, but much better than the smooth stones that make up Nice's beaches. 
On the other hand if you wish to continue by bus you will need to walk back the way you came up all those steps that were so easy to walk down…hhhmm, not so effortless to climb back up.  At this point the train sounds very attractive, especially with 3 departures every hour, so you don't have to worry about a schedule - just hop on and go. However, look at our Monaco chapter to see the advantage of arriving in Monaco on Bus 100, which you can catch in Villefranche at the same Octroi stop where you arrived.  Getting to Monaco by bus puts you in closer proximity to the Old Town and Palace up on the Rock.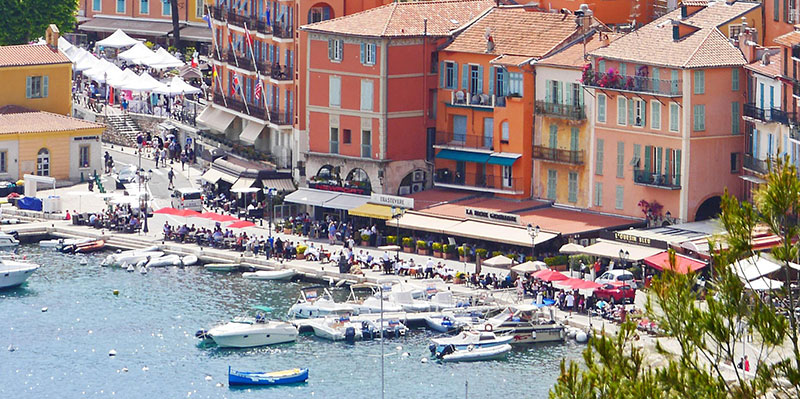 Two more options to consider visiting near Villefranche are Saint-Jean-Cap-Ferrat and Eze. Bus 81 can take you to Saint-Jean-Cap-Ferrat from the same Villefranche bus stop you arrived at, Octroi, in a 10-minute ride and you can then stroll around the waterfront pathway of the Saint-Jean peninsula.  A big attraction here is the fine art museum
Eze Village, way up on the hill, can be reached by Bus 80 from the Octroi stop in Villefranche, riding uphill to Col de Villefranche, and then transferring to bus 82, bringing you directly to Eze Village.  If you are then continuing from Eze to Monaco you can catch Bus 112, but it only runs over other hour.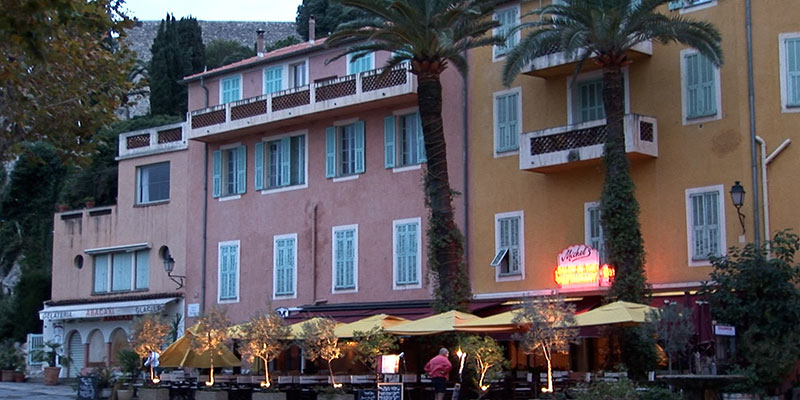 Because the town is quite small there are very few tourists clogging up the quaint, waterfront, although when a cruise ship pulls in during the high season, the beach and narrow lanes do get very busy.  Ironically, most cruisers debark their ships and jump into a tour bus to Nice or Monaco, skipping Villefranche which is right under their noses, because they don't have much time and want to get to the Big Star attractions.
Villefranche is part of the urban community of Nice Côte d'Azur, a suburb of the Nice metropolitan area.  Villefranche-sur-Mer adjoins the city of Nice to the east along Mont Boron, Mont Alban and Mont Vinaigrier, and is 10 km (6.2 mi) south west of Monaco. Villefranche's bay is notable for reaching a significant depth of 95 m (320 ft) only a short distance from shore, forming one of the deepest natural harbors of any port in the Mediterranean Sea, providing safe anchorage for large ships.
This deep water harbor is home to many Mediterranean cruise ships, whose tenders routinely disgorge several thousand passengers on organized trips to nearby Eze Village, Nice and Monaco, an annual total of 250,000 cruisers.
In prehistoric times, Celto-ligurian tribes roamed the area and established farming communities on the surrounding hills. The Greeks and later the Romans used the natural harbor as a stopover en route to the Greek settlements around the Western Mediterranean.  The old harbor of la Darse dates back to the 17th century, but during the 18th century, the city lost some of its maritime importance to the new harbor built in Nice but remained a military and naval base, occupied by the U.S. Navy until DeGaulle kicked the USA and NATO out in 1959.