Mt-St-Michel
Sacred fortress on an island in the sea -- one of the truly magical places on the planet -- a walled medieval town with church on top of the hill.
We're visiting Mont Saint-Michel on the northern coast of France in Normandy. It is one of the most unique places you'll ever see. It's an island connected by causeway to the mainland, with a long history going back to the year 600 when the early monastery was built here, and it expanded and grew over the centuries.
It is the greatest tourist attraction in France outside of Paris and you can see why -- it's so charming and quaint, with buildings that are centuries old. There are some excellent restaurants, and surprisingly there are six small hotels on the island, each with about 20 to 30 rooms, and of course, there are a lot of gift shops.
We'll show you around this special UNESCO World Heritage Site. Mont Saint-Michel has been a pilgrimage destination for a thousand years and still is today. It's one of the most important pilgrimage sites in all of Europe is also one of the most popular tourist attractions in all of Europe. In the season it gets really jammed, but we are here in early December when it is really quite lovely and empty. It's perfect.
Of course Mont Saint-Michel is a pedestrian zone. There are absolutely no cars in this little tiny village, which is only about 1/2 a mile across from one end to the other. So it's really easy to take a walk, especially along the main shopping lane. It's a slight uphill, but that's no problem with cobblestones underfoot and shops, restaurants and little hotels along the sides as you pass by. You'll find souvenir shops and don't be dismayed by the certain touristic quality. After all, it's been this way for a long time. For a thousand years pilgrims have been coming here, purchasing little trinkets and amulets from their pilgrimages, and this is just a modern version of something quite similar.
But it's also fun to get away from the main lane, and there are some little side lanes here in Mont Saint-Michel. You do have to work a little bit to climb up the staircases, but it's not that high. It's like going up by a three-story building, perhaps four-story building in some areas, and it's easy you get these wonderful views walking through this stone village. It's all very safe and very well-planned people have been living on this island for well over a thousand years and they have developed great system for getting around.
There are the ramparts that give you a spectacular view across the bay. You can walk around about 1/3 of the island on the rampart, part of the defensive fortifications. The views are so stunning you might end up walking backwards sometimes to see behind you, and look up at the Abbey on top of the hill massive fortifications. Enemy forces never took this island, and yet it lived through some turbulent times, such as the Hundred Years War when England and France were at each other's throats for over a century. It was controlled by the British for nearly 200 years and so people could freely travel back and forth.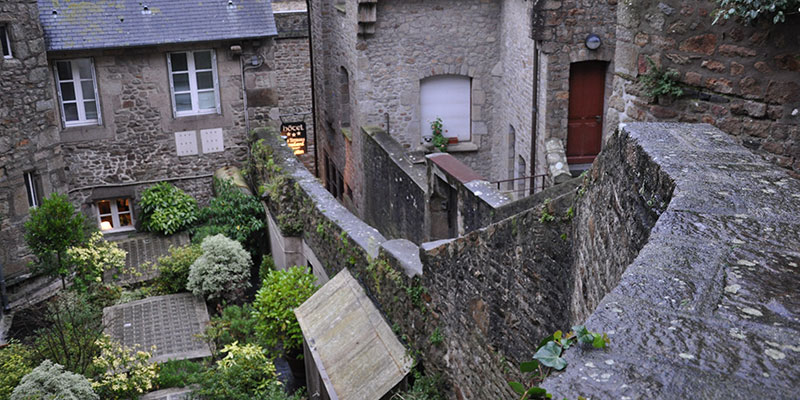 One alley is so narrow you need to walk sideways to get through it. Continue along up the steps on your pedestrian journey, and you can always stop and catch your breath on the landings and enjoy the beautiful views looking out across the village rooftops. Then perhaps it's time for some refreshments.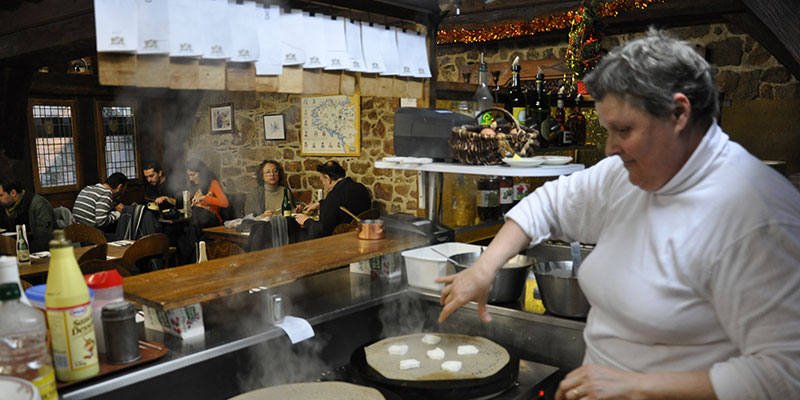 There are a bunch of good restaurants here on the island. Try some crepes, that's the traditional style, a charming light meal freshly prepared by friendly people. Some goat cheese on that crepe made for a very tasty meal. The dining room is about 500 years old, like most of the buildings here on Mont Saint-Michel. Put some salad on top of the crêpe and you have a complete light meal.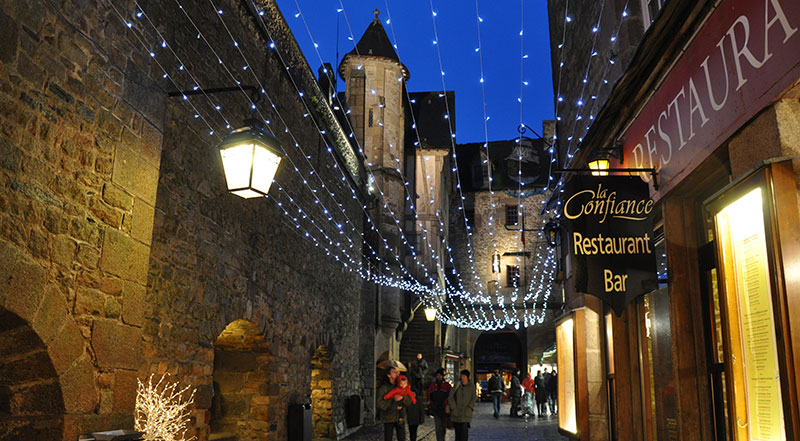 In the winter season, especially near Christmas, the festive lighting along the lanes makes the village come alive with a delightful atmosphere. Sometimes the fog rolls in, giving an ethereal aura to these ancient buildings.
ABBEY
The Mont Saint-Michel Abbey is an essential part of the structural composition of the town the feudal society constructed. On top, God, the abbey, and monastery; below this, the Great halls, then stores and housing, and at the bottom (outside the walls), fishermen's and farmers' housing.
The abbey has been protected as a French monument historique since 1862. With more than 1.335 million visitors in 2010, the abbey is among the most visited cultural sites in France.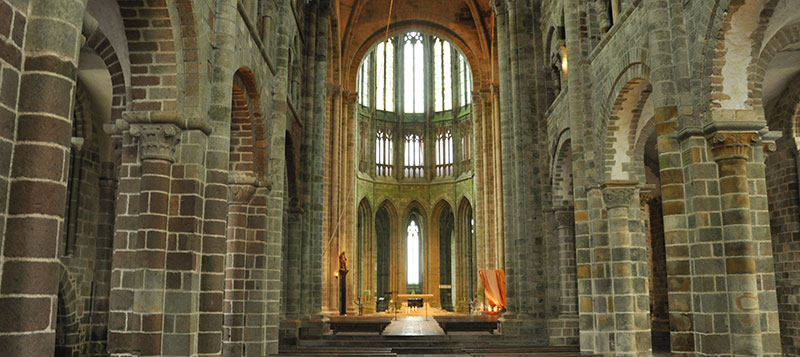 The Mont-Saint-Michel monks during the 9th century venerated the archangel Michael. By the time of the French Revolution there were scarcely any monks in residence. The abbey was closed and converted into a prison, initially to hold clerical opponents of the republican regime. The prison was finally closed in 1863, and the mount was declared a historic monument in 1874.
It was not crowded here in early December, but if you come to Mont Saint-Michel in the high season it will be very crowded. So come in the winter -- you'll love it.