Santa Margherita Ligure
The Mediterranean shore of northwest Italy has numerous famous towns, such as Portofino, Cinque Terre and Genoa, but you might be surprised and delighted by the less well-known resort spa of Santa Margherita Ligure.
This is a classic town on the waterfront of the Italian Riviera, with arcaded sidewalks, beautiful palm trees, a pedestrian zone filled with shops and restaurants, and a green park promenade along the beach and marina.
In many ways it's every bit as impressive as those other more famous sites – and in some ways it's even better because it is less touristic, not expensive or crowded, while offering an authentic slice of Italian life.
It makes a wonderful place to stay for a few days, providing easy access to this popular coastal region, because it is just 15 minutes from Portofino by bus or boat, and 45 minutes from Cinque Terre by train. The many affordable hotels, restaurants and attractiveness of this town make it especially inviting. It's a safe and friendly place, with a good variety of shops that can really take care of the visitor.
Another video from a few years earlier:
This town is one of the jewels of the Italian Riviera, and while it might not be the gilded and glamorous jet set spot of some other famous Italian towns, it is as good as any of them. You'll find a restful tranquility in this old-fashioned kind of resort, not smothered by tourism.
Many visitors to Santa Margherita arrive by rail, with convenient international connections. The train station is located right in the town, so if you're traveling light you could most likely just walk from the train station to your hotel. Most of the hotels are within 1/2 a mile, or at most, one mile away. From the station, you can reach the beach in 100 meters and the main piazza, another 300 meters away. Paving is good, terrain is flat, so this can easily be done in a few minutes.
The town is roughly divided in two halves, reflecting the earlier history when it was two separate villages. The main part is Peschino on the north, with Corte just south, divided by an old fortress. A third section along the waterfront has its own breezy atmosphere, with a large marina and a popular green park running alongside the shore. With so much to see, this town could keep you busy for a few days, in-between your visits out to those other famous cities.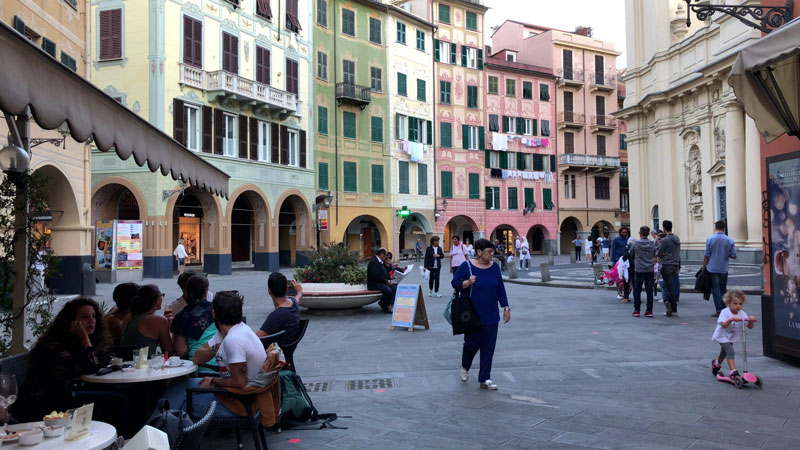 Here we focus on the people, piazzas, pedestrian lanes and the delightful waterfront. We visited in the off-season, in October, so we had nice weather and the town was mostly occupied by locals. There are always lots of things to keep you busy, exploring the little pedestrian lanes, piazzas, parks and marina of this charming seaside city.
Piazzas and Pedestrian Zone
First place you will reach is Piazza Vittorio Veneto, a busy traffic circle in the center of town with some excellent restaurants on the nearby Piazza Martiri della Libertà, described later.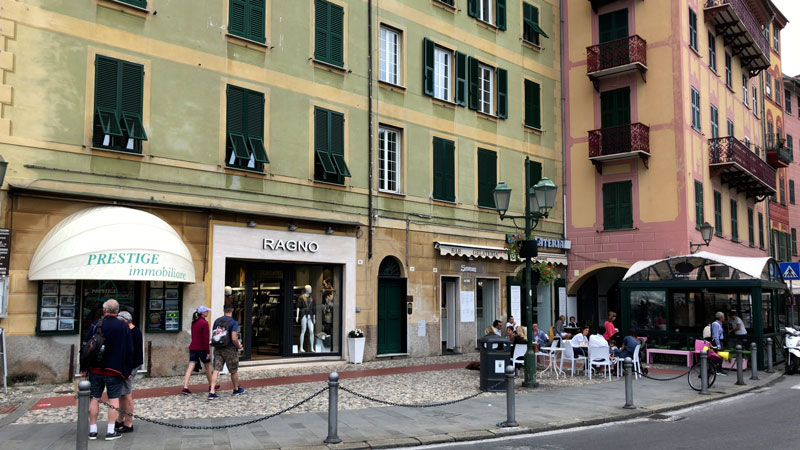 From here all directions lead to interesting destinations within a few blocks: the beach to the east, the main piazza on the west side, and a shoreline park extending south, then a few blocks beyond that, another section of town by the marina.
Walk over to Piazza Caprera, the main plaza, the center of life in the city. It is a prime place for locals to hang out: families, retirees, young couples, socializing, eating, drinking, having a good time.
In that casual Italian style, laundry hangs out the windows, even on the main piazza. Notice the paintings on the buildings -- it looks like three-dimensional carvings but it's all painted on in exquisite detail to trick the eyes. It's a trompe l'oeil kind of effect, in a style called sgraffito, making the buildings look stately and elegant. And yet there is no actual graffiti, which is quite remarkable for an Italian city. The people take very good care of their buildings, and of each other.
Extending directly inland from the piazza are the two main pedestrian lanes of town, Via Cavour and Via Palestro, lined with shops, restaurants, cafés, and lots of people out for a stroll, especially in late afternoon.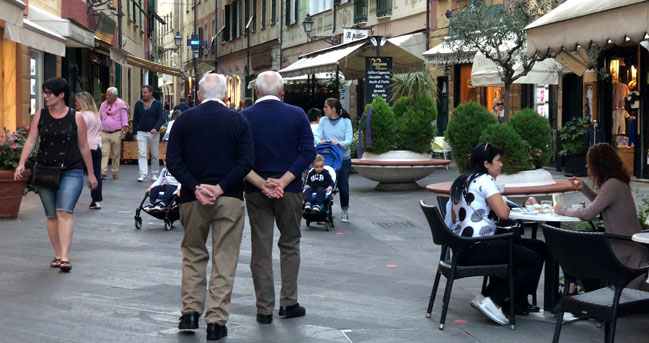 Passeggiata is the time-honored tradition in which nearly the whole town participates, out for a stroll. But it is not just any old walk. It's more of an art form. People are not necessarily shopping, or going anywhere in particular.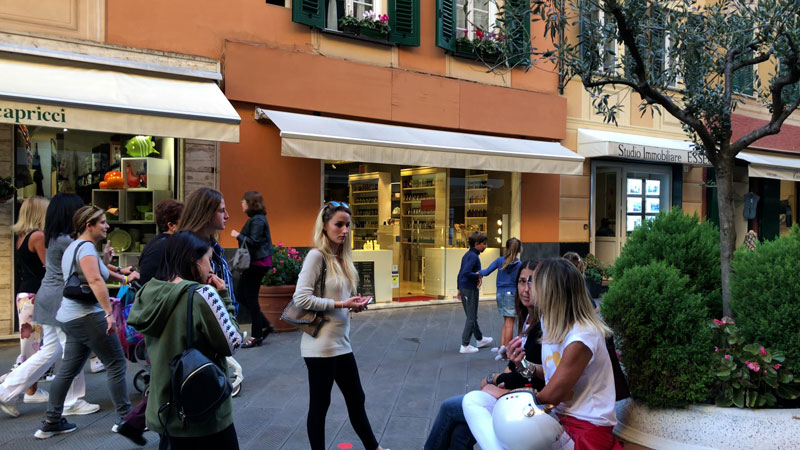 It's a leisurely stroll to see their friends, and see who's wearing what, and maybe stop for a chat. It's an expression of the feeling of having plenty of time, with leisure, and ease in a relaxing way – something Italians learn to do from an early age.
Waterfront
Be sure to spend some time on the waterfront and take a stroll along the esplanade, a very popular gathering spot for the locals. The pebble beach is on the north side, quite popular for a stroll anytime and swimming in the summertime.
The lush, green park extends south, with beautiful flowers, tall shade trees, exotic palms, fountains, and many benches and seawalls to sit on. It is so popular among locals the seats are often fully occupied from one end to the other, set amidst this beautiful green park.

This is a mingling place for people of all ages, a wonderful variety of kids running around, parents chatting with friends, and the elderly enjoying their privilege to sit and relax. The waterfront is a center of social life, like an outdoor living room. It's a place to snooze, or to kick a soccer ball around. It's a safe place for the local bicycle kids to hang out and race around. Just be careful not to get in their way.
There are quite a few concerts and outdoor music festivals that happen in the park throughout the year, including occasional music recitals on a little waterfront stage. And it's a venue for folk shows and events associated with competition, such as the half marathon.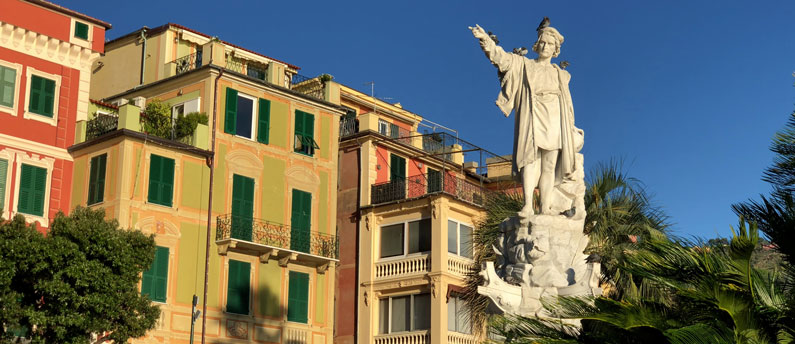 Notice the heroic statue of Christopher Columbus pointing towards the New World. He was from Genoa, just twenty miles away, and probably stopped by here on shorter boat rides. You'll also spot that perennial favorite hero, Giuseppe Garibaldi, standing nearby.
The statues are next to Molo Maloncello, the small pier called the Battelli Turistici Cruise Terminal, used by the ferry service to Portofino and other shoreline towns, including San Fruttuoso, Rapallo, Chiavari, Lavagna and Sestri Levante, with occasional service to Cinque Terre and Portovenere. Find cruise information here: https://traghettiportofino.it/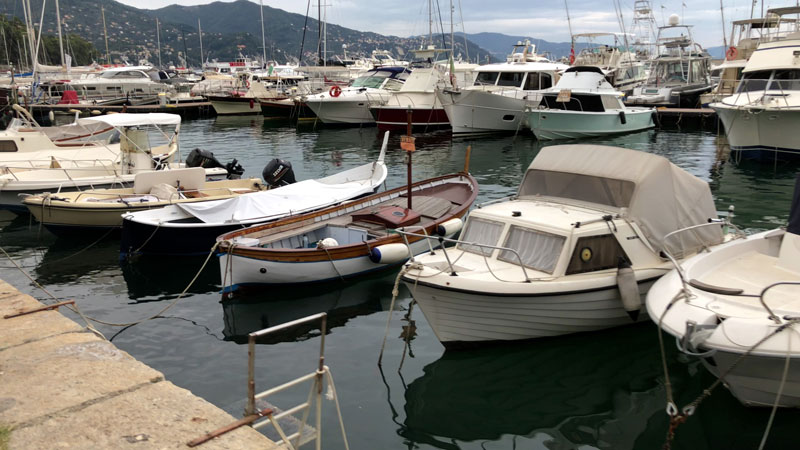 South Side
A block south along the waterfront you are going to see many boats of all kinds in the large marina, which can accommodate 600 boats. You might see fishermen bringing in the day's catch to the local customers waiting on the dock, or perhaps a multi-million dollar yacht making its way to Portofino.
The large marina and harbor is dotted with lots of sailboats and sleek motorboats, and there are some working fishing boats as well, pleasure craft of various kinds, and charter excursion boats, and ferry boats that regularly bring passengers back and forth along the coastline in the season – not so much passenger traffic in the winter.

The sunrise view is particularly attractive. It's not that often that one can enjoy such a sight, so you should take advantage if you are staying at a hotel in town and wake up early to catch the natural light show over the tranquil boat harbor.
From the waterfront you'll see the turret of Castello di Santa Margherita Ligure, which was built by the Republic of Genoa in 1550 as defense against the increasing attacks of North African pirates. It was designed by the same architect of the Castle of Rapallo. After World War I it was restored and dedicated to the Italian victims of that conflict.
Continue walking in this south end of town alongside the marina to reach another interesting commercial area with more shops and restaurants.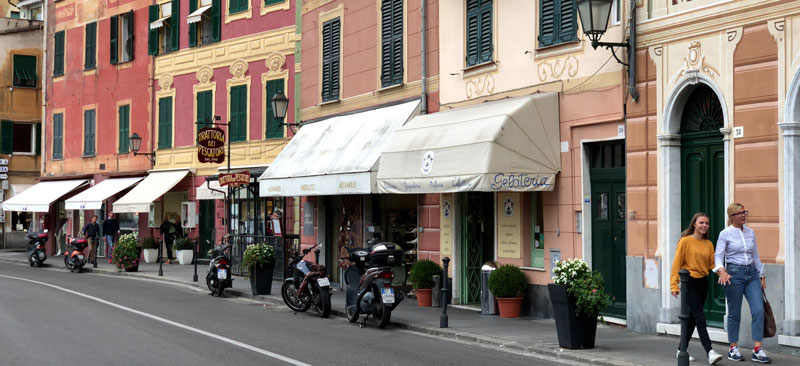 This south side of the city has a different, less-touristic character, because it's really oriented towards the waterfront, facing the marina and harbor, with no beach or swimming. There is a lovely promenade that runs along the shore and the street with a lot of bars and restaurants, but no pedestrian zone extending inland.

The tables on this side of town are across the street from their restaurants, so the waiters have to walk through traffic to bring your food and drinks to you. This south end of town by the waterfront is a little bit more for the locals rather than the visitors, but you can see this is definitely worth walking down to – get away from the main center by the piazza we saw earlier and come on over.
It has an authentic nautical charm and some out-of-the-way restaurants that cater more to locals, especially nice with the view of the waterfront from your table.
It's a rather busy two-lane street with no official parking spaces, just some room for scooters along the edge. On the harbor side it has a nice wide sidewalk with restaurant tables, benches, and people out strolling.
Caffé Del Porto is a historical restaurant facing the harbor, open for breakfast, lunch and dinner. You can have coffee, champagne, pick from their extensive wine list, or have a beer.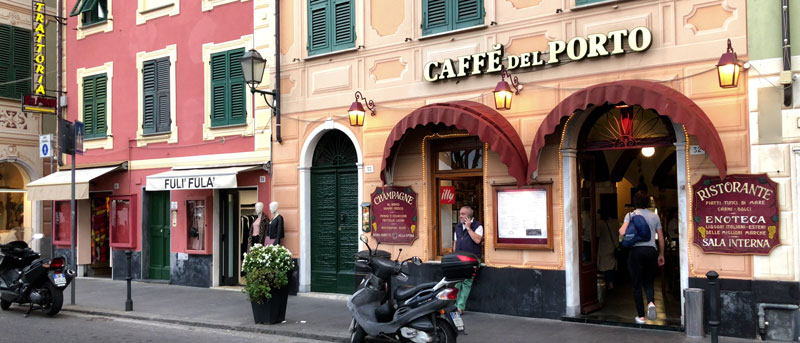 They provide a relaxed atmosphere where you can just sit back and read your newspaper, or have a conversation with the waitress. They offer take-away food so you could cross the street with it and have a seat with the view of the marina.
This part of town also extends inland for several block, with some restaurants and hotels back there. It's mostly a residential neighborhood, not a prime area for the visitor to explore, but you might like to take a look anyway and see what's happening back here.
The architecture is rather plain, but typical and traditional of the region, and there are some arcades that were intriguing, leading into the little Piazza Fratelli Bandiera, which is not much more than a parking lot. Again, note the painted walls with the illusion of three dimensions, although peeling and faded here.

A walk through is mildly entertaining, but the main action is happening out along the street. It's the road to Portofino, which is only about three miles away. You could take a city bus, or you could even walk it, as described elsewhere on our site.
Eat and Drink
Now we're going back inland to see some restaurants, just across from the waterfront, starting with a row of very popular pizzerias serving delicious food to mostly local customers and with a casual atmosphere, along the curve of Piazza Martiri della Libertà. It's not easy to get a table at these restaurants because they are so much in demand, so try for a reservation, using the contact info we provide here.
Starting with the most popular, Da Gennaro, founded in 1947. They are busy every day, very popular, yet everybody is very well taken care of, with food and drinks visible on all the tables, outdoors and inside. It's an excellent restaurant with atmosphere, great food, a big menu and decent prices, that you'll want to go back to several times in your visit, even if you're just in town for two nights. That is if you can get a table.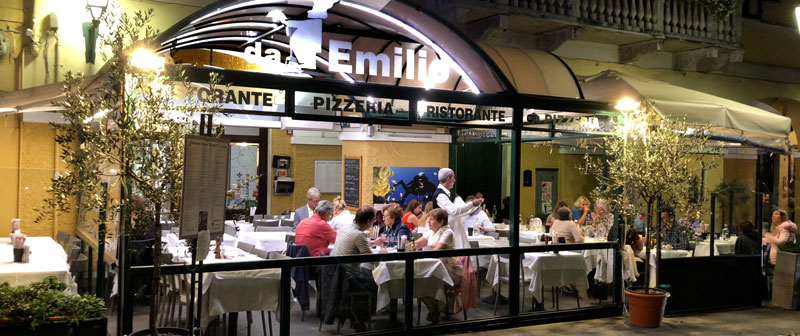 Otherwise, you have two other excellent choices on the same block. Right next door is da Emilio's Ristorante Pizzeria, and they too were excellent. This is where I was finally able to get in and had a wonderful meal. I was looking for restaurants in the pedestrian zone instead of here along this busy roadway, thinking that in the pedestrian zone the atmosphere would be more charming, but these three places, including Ristorante Pizzeria Palma next to Emilio, were all excellent. They are called restaurant pizzeria, which actually means a full-service restaurant with all sorts of fresh pasta, and meats, and fish, and salads, and pizza.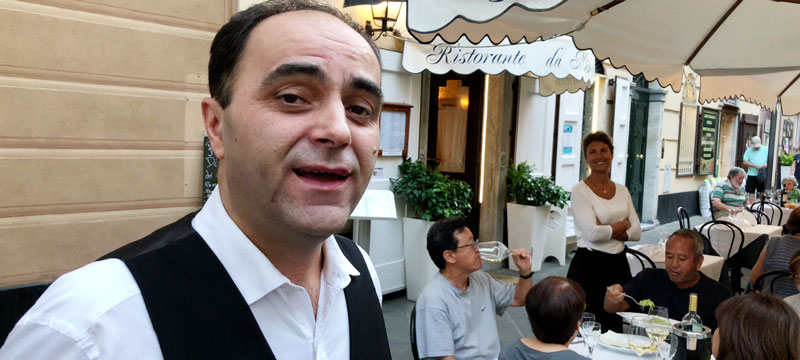 My personal favorite restaurant in the city is Ristorante da Michele, a family-owned and operated restaurant that I have been coming to for years, with the daughters managing and serving the food. Muscles are one of the specialties here, along with the red gambas shrimp, lightly cooked and peeled, a light pasta with lobster aragosta. Maybe try grilled calamari, or scallopini Marsala. Another favorite dish is sea bass ala pizzaiolo, with fresh tomatoes, capers, olives, oregano. Our friendly waiter, Mr. Bush, was happy to not only bring the food promptly but explain what we're getting.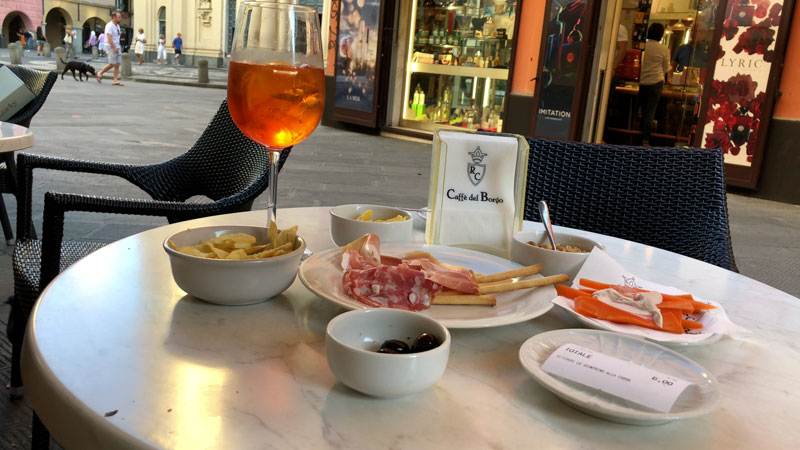 Perhaps you only want a drink, maybe that ever popular spritz? The warm hospitality and low prices of the area will provide complimentary snacks of chips, olives and bite-sized sandwiches with it, for less than ten euro. You pay for the drink and the delicious snacks are free!
Evening Stroll
Another advantage of staying for a few nights is that you can enjoy an evening stroll, when all the cafes and restaurants are going in full operation and plentys of locals are out and about. Santa is ideal for walking morning, noon or night. This is a pure pleasure and a delightful way to end your day.
Older video including Portofino:
History
The waterfront has always been important to this town, which got started thousands of years ago as two, adjacent, small fishing villages, then it became more of a trading center, it was attacked by the Saracens in the tenth century, it was attacked by Venice in the 1400s, and it was acquired by the Republic of Genoa, until Napoleon arrived and built the road along the coast to Portofino. The two adjacent villages here, Pescino and Corte, were unified as Porto Napoleone in 1813, under the Napoleonic domination. However, three years later, with the fall of the emperor, the name was changed to Santra Margherita and the city was transferred to the kingdom of Piedmont and Sardinia.
The correct name of the town is Santa Margherita Ligure, to distinguish it from other Italian towns called Santa Margherita, but locals commonly call it Santa.
 By the early 1800s some wealthy families from Genoa had been building their luxurious summer residences here, grand stately homes, and foreigners began arriving as visitors, especially English people, who were charmed by the climate, the sea, and nature, and began arriving in large numbers, which changed the character of the coast.
By the mid-nineteenth century, Santa had become a spa, similar to the very popular thermal spas of the day, but in this case it was the ocean bathwater spa that consisted of rapid immersion in the water, a quick dip, no swimming, no sunbathing. It was just considered to be a medical treatment that was good for your health.
In those days, travel was for the very wealthy who enjoyed luxurious facilities of villas, and exclusive hotels, and social clubs. This all started to change with the growth of tourism brought on by the railroad, which came here in 1868, and more hotels began to flourish. By the early twentieth century tourism had established itself as the main economic activity.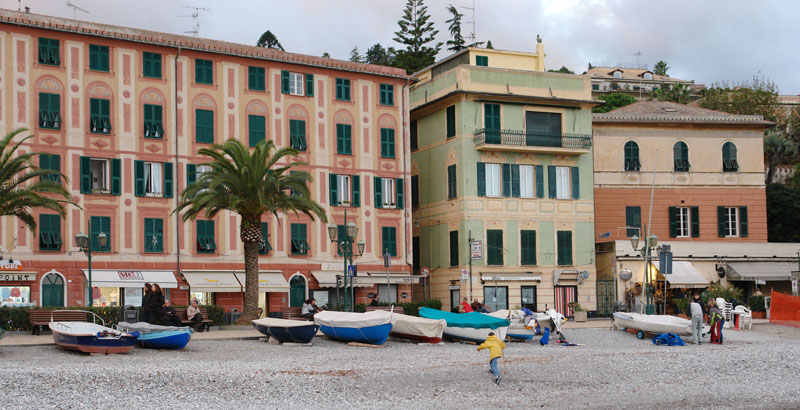 Tourism greatly increased with an expanded road system that enabled growing use of the automobile and was further accelerated with transcontinental flights. The 1930s was a Golden Age for Santa, with an elitist environment, large numbers of visitors taking longer stays, including many famous Hollywood entertainers such as Clark Gable, Humphrey Bogart, Lauren Bacall, Yves Montand and Simone Signoret.
In our modern era with increased competition from hundreds of other places that became easily accessible, and mass tourism became based on shorter visits, the glow of Santa diminished, but it has retained its elegantly retro charm, with an unspoiled beauty.
Google Map