Bignasco and Valle Maggia
One of the great things to do while you're in Locarno is travel into the mountains for a stroll in the forest and visit several small stone villages. You can take your pick of several different deep valleys that go way into the Alps. We're taking the public bus up into the valley called Valle Maggia and visiting the small village of Bignasco.
See a short video of the valleys.
Bignasco is a picturesque spot, looking like it popped out of a postcard, with an old, stone, arched bridge and tiny village around it. Bignasco is situated at the confluence of the river Maggia and the Bavona in the Swiss canton of Ticino, near the Italian border.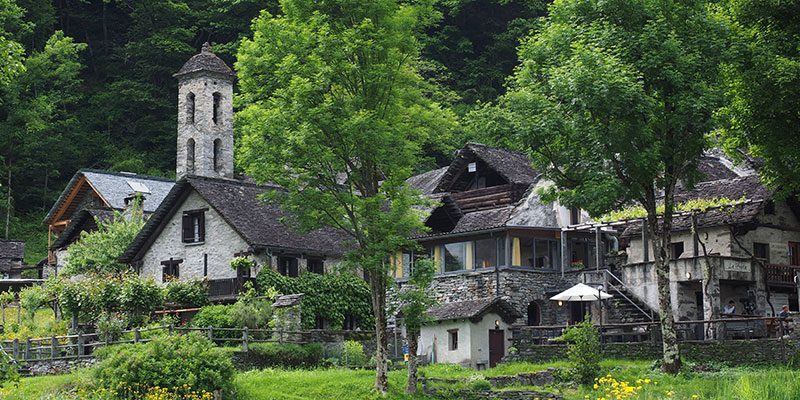 Typically, weather on the day we visited was a little overcast but we had some nice views and we were able to walk around in a couple of the little stone villages. The buildings are made from stone which is quarried nearby. Builders usually take advantage of local materials, in this case it's good quality stone widely available in these valleys.
Some of these stone villages were abandoned about 100 years ago when the region fell on economic hard times. Many of the residents uprooted themselves and moved to California where they established a wine-growing industry and started producing a wine that they called Italian Swiss Colony.
Do you remember a long time ago hearing about Italian Swiss Colony wine? Well, here is where the people who made that American wine (long gone from our market shelves) originally came from. They were Swiss but of Italian cultural ancestry in the sense that they speak Italian, and they formed a little wine-producing colony in California.
As a result, many of these villages have some empty homes, yet the people living here today seem to be doing fine. They're in modern Switzerland, which has a robust economy. Most of the buildings are occupied today and they are quite nicely maintained actually. They look so ancient they kind of look like hobbit homes that have just grown up out of the earth. Those natural stone building materials are very organic, functional, and attractive.
You can stop for some refreshments at a couple of the villages as well. We took a little stroll, just walking for about a mile along the level, comfortable trail along the stream, through a pleasant forest.
Spectacular waterfalls feed the river that goes right through the middle of this valley, which makes an ideal place for a nature hike. Don't worry about getting lost in the woods because it's a very well-marked trail, and the nearby road runs parallel.
Anytime you feel a little tired you can just go back over the road, look for the bus stop, and catch the next bus coming by. You'll probably have to wait a little while as the buses are not too frequent here, usually once every hour, so coordinate your timing with the bus schedule so that you're not waiting too long. It's about a 45-minute bus ride from Bignasco back into Locarno town.
There are some other options while you're up in the valleys. For example, you could change bus in Bignasco and go explore different side valleys, such as Bavona Valley where you could visit the little old village of Sonlerto.
And if you like hiking you could walk from there back to Bignasco, about a two-hour walk.
The route we've just described will probably be sufficient for most eager hikers. It'll take about half a day, so this is only good if you are spending more than one night in Locarno. If you have a few days relaxing in that charming lakeside city, this is undoubtedly an activity you would enjoy.
History
As of 1230 documented as Bugnascho. In the 14th century Bignasco, Cavergno, Menzonio and Brontallo formed a single cooperative, but each village remained autonomous. In 1483, the parish Bignasco dissolved from Cevio. In 1781 Bignasco was given the right to hold two fairs. In 1786, Bignasco and Cavergno split. During the eighteenth century a constant stream of emigrants went to Italy and Holland, while in the 19th century, Bignasco was not much affected by a mass emigration. For centuries, the main occupations of the inhabitants were agriculture and livestock, crafts and the occupations of seasonal emigrants; The use of hydropower at the beginning of the 1960s brought in infrastructure and jobs.
From 1907–65, Bignasco was the terminus of the railway connecting the Maggia Valley with Locarno. Gneis was transported by rail out of the valley and German and English tourists traveled up the valley.
Bignasco was the largest municipality in the district by area and also included the hamlet of San Carlo in the Valle Bavona. In 2006 Bignasco forfeited its status as an independent municipality when, together with the village of Cavergno, it was consolidated into the municipality of Cevio.
In 1669 there were 103 homes, by 1801 215 inhabitants, in 1900 179, and in 2000 306 inhabitants.