Camogli, Italian Riviera
The Italian Riviera along the northwest coast of Italy has some of the most beautiful towns you could ever hope to visit, and one of the nicest is Camogli, located 24 kilometers southeast of Genoa. The most famous places along the Ligurian coastline are Portofino and Cinque Terre, but Camogli is just as beautiful, less well-known, and not crowded. Easy to reach, you can get here from Genoa in less than one hour by car, bus, excursion boat, or train.
Watch a short video of Camogli.
Camogli's main attractions are its long row of pastel-colored buildings along the pebble beach and the lovely pedestrian promenade lined by many outdoor restaurants and cafes. There's also a picturesque small harbor for fishing boats and tourist excursion ships offering scenic rides along the coast. This is a perfectly divine spot, which is why they call it the Gulf of Paradise -- a little bit of heaven.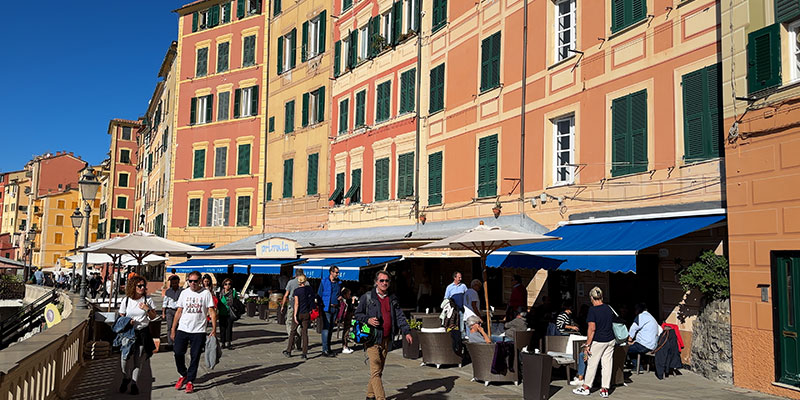 Camogli is not a big place, about 600 meters from one end to the other, but there is a lot here to keep you occupied. For many visitors, the main activity is simply enjoying the absolute beauty of these buildings and the waterfront. The town is bounded on one side by the Mediterranean and beach and on the other by a forested promontory carving out the bay, with scattered homes climbing the hill.
With its perfect seafront looking like a theatrical stage set, this exquisite village has much to offer, yet all with a low-key vibe. This differs significantly from those towns with high-end fashion chains and jewelry stores pushing the major name brands. Instead, it's a casual place to relax, where you'll find friendly service from many family-owned businesses, restaurants and shops.
Our visit was on a sunny Saturday in early October when it was fairly busy but not congested, and most restaurants had tables available even at the lunch hour. One of the great pleasures here is eating and drinking, either a light snack or perhaps a fresh seafood meal, washed down by some tasty, inexpensive local wine, most of which is Vermentino white wine. Outdoor dining was wonderful as the weather was very comfortable, warm enough for some to swim offshore. Of course, the beach and swimming are big attractions, especially for Italians, who are the main visitors.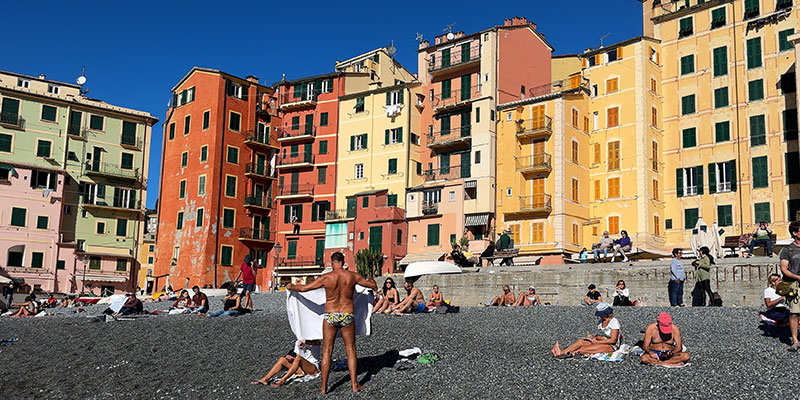 You will find quite a bit to do here that could keep you happily occupied for most of the day, and with numerous hotels, you could easily stay busy having fun for several days. Some of the apartments are available as vacation rental, so you can settle right in like you're one of the locals. If you plan to stay here in the high season at a hotel or apartment, make reservations well in advance because Camogli gets quite busy in the summertime. Spring and fall are the best times to visit.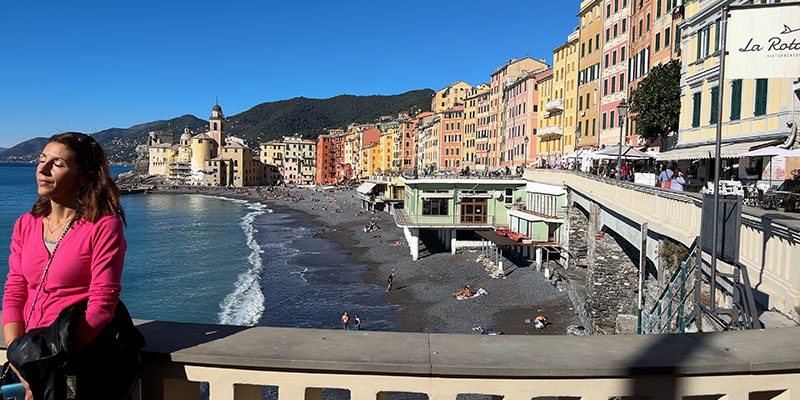 Camogli's magnificent setting has enchanted tourists the world over for centuries. For example, Charles Dickens called it "a perfect miniature of the primitive seafaring town." He wrote, "There is nothing in Italy more beautiful to me than the coast road between Genoa, Camogli and Spezia."

Arrival
You could travel up from Milan in a couple of hours, but we have arrived by train from Genoa, a direct route, taking 41 minutes at a cost under five euros. Much of that journey is along the coastline, providing lovely views, and the seats are quite comfortable for everybody. The train is on a major intercity line with frequent service. It's a short walk to get into town when you arrive at the station. Right across the street, a lovely Louis Braille Terrace gives you an initial viewpoint looking down on Camogli, a limited preview of the beauties that lie ahead.
The basic route from here is to walk down the nearby steps, Scalinata Martiri delle Foibe, which brings you down to Camogli's main pedestrian street via Garibaldi. It is a monumental staircase, but easy enough when walking downhill; well-maintained with railings and reasonable steps, so it's quite safe to head on down. From via Garibaldi, you could (but don't) continue walking down the lower staircase that will take you directly to the beach. However, arriving at the bottom, you will find that this is not the main beach. So, unless you want to see every inch of the waterfront, avoid this bottom staircase.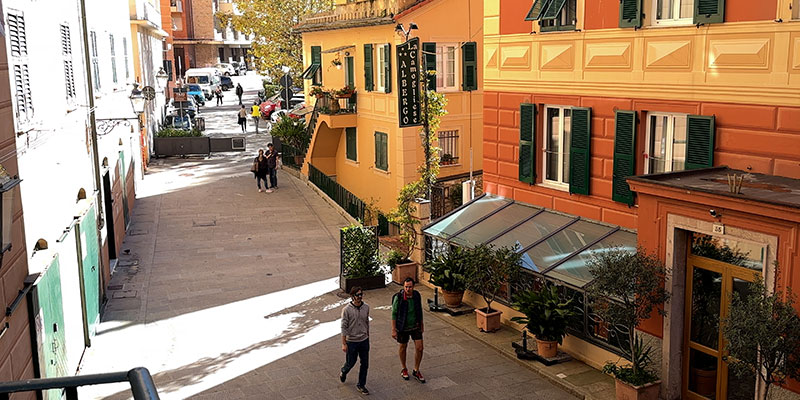 At the bottom of the main stairs take a right on via Garibaldi and follow the crowd, which will lead you in a few minutes to the center of town. You then emerge into a grand vista looking out on that long row of beautiful pastel-colored buildings. You have arrived at downtown Camogli, a beach town!
Even if you are not planning to swim or sunbathe, walking on the beach is fun. It's a pebble beach with some gravel, so it's an excellent place to play. Even if you're not a little kid, you'll enjoy taking a stroll and getting directly involved instead of just looking at it from a distance. Maybe kick off your shoes, roll up your pants legs, get a little wet, and then stroll around on this pebble beach. It's very tactile, providing a little foot massage as you walk. It's an excellent place to have a rest. Or maybe sit down and enjoy a picnic with some takeaway food you bought in the restaurants here.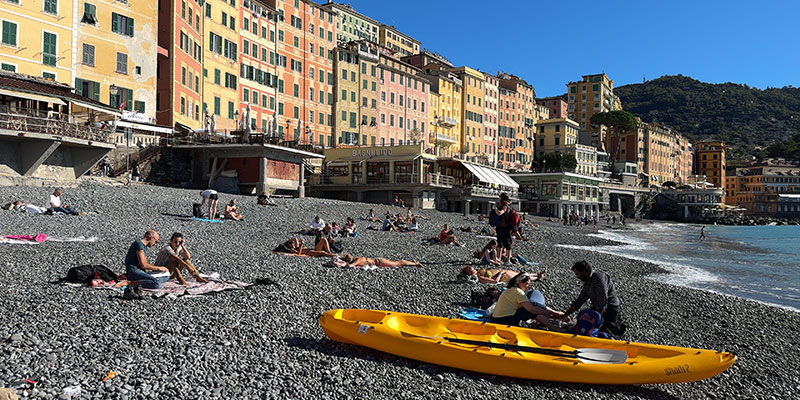 If you want to go boating you can take an organized excursion from the boat harbor or rent a boat from vendors on the beach. Some people bring their own kayaks, while others get to go sailing, which can also be arranged. There are rowboats, paddle boats, skiffs, a whole variety of watercraft that are waiting for the adventurous traveler.
Or maybe you just want to relax and sit on the beach. If you're coming from Genoa, you could take a boat tour organized by Golfo Paradiso instead of taking a train. It's only one hour to get from Genoa to Camogli, and you stay for two or 3 hours, then you can catch the boat back to Genoa. And there's an extension to Portofino and other towns as well, described later. But with these boating possibilities, the many shops, delightful photo ops, tasty restaurants, it all comes back to the beach. That's the main attraction of Camogli, especially for the Italians, who are the main customers here, after all.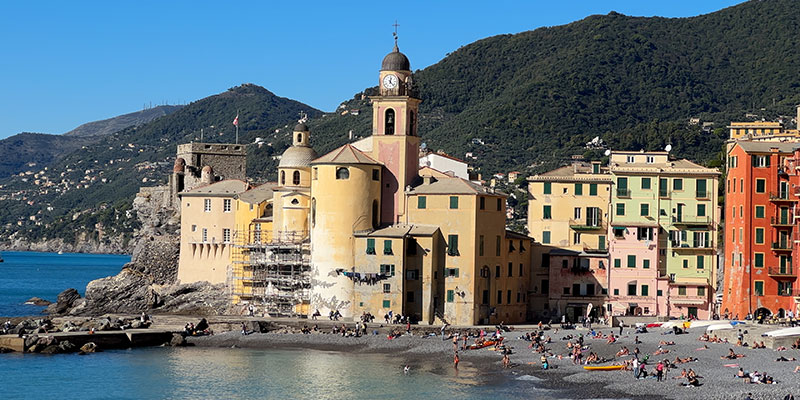 The Basilica of Santa Maria Assunta stands on the most extreme point of the village at the end of the beach on what is called the ancient medieval island, a symbol of Camogli since ancient times. This beautiful church dates back to the 12th century, with a bell tower that functions like an exclamation point heralding the beauty of the shoreline, the beach, and row of pretty buildings.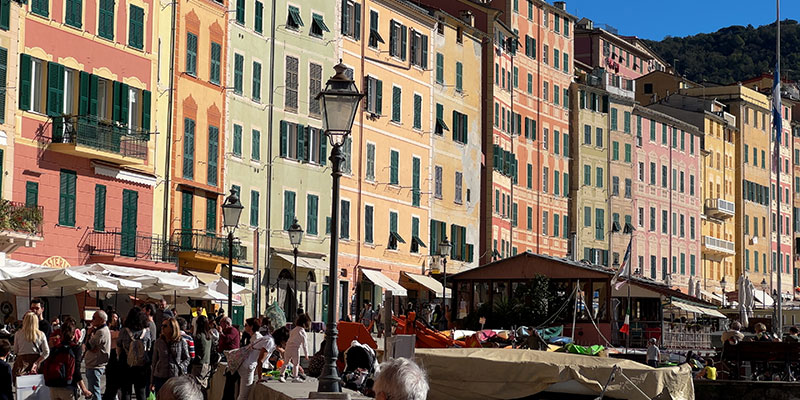 The colorful facades of the houses accompany you along the entire promenade. Typical of Liguria, these painted facades, known as trompe l'oeil, depict architectural elements, including pedestals, cornices, and closed shutters. Each building, with its tiny details, contains an intermingling of history, sea, and pastel colors. In olden days, the house colors helped the fishermen of Camogli find the way back to port.
Among the many eateries here, the place with the longest line is not even a restaurant. It's Revello Focaccaria, a bakery specializing in that Italian flatbread which can be flavored with various toppings like fresh herbs, tomatoes, olives, onions, or cheese, transforming an ordinary piece of bread into a gourmet focaccia.
There has been some kind of bakery on this site for over a century. It became Revello about 60 years ago, featuring sweet and savory Ligurian specialties, including their famous pastry, the Camoliesi al rum. It's a bakery that does not make bread, but focaccia. You will always have places to eat here, especially lovely with that outdoor ambiance.
Bagni Lido extends out over the beach and is a bathhouse offering various services, including a restaurant and a rooftop terrace where folks relax and kids play. Their ristorante, Osteria delle 7 Pance, is down one level, so walk down the flight of steps into the restaurant, noted for its focaccia and fresh seafood like spaghetti alla vongole and monkfish. See if you can get a table outdoors on the balcony with a beach view. You could finish off with some tasty tiramisu or panna cotta, perhaps washed down by the local white house wine or freshly squeezed lemonade, one of the specialties of Liguria, along with some pesto. Be sure to get some pasta with pesto sauce. Their roof deck is the perfect place for some local kids to kick the ball around and do a little roller skating. It makes a nice playground with a view.
Nearby is Osteria Xodo, with more fine Italian food and outdoor table settings. Try the tasty ravioli and frito misto. Typical of most Italian towns, there is a shop here where you can purchase fresh pasta, then take it back to your vacation rental and cook it yourself.
The most dramatic restaurant setting is La Rotonda, with two levels and a rooftop terrace reaching right out to the jetty and to the sea beyond. Inside is a Hawaiian-style tiki bar and a restaurant with more fresh fish, handcrafted beers, stuffed pasta and more focaccia. They also provide beach service with chairs, umbrellas, and a lifeguard from April to September.
If you walk back and forth on the promenade and still do not find a place to eat, look on the east end for the little hole-in-the-wall cafe called Enchanting Camogli, with a couple of stools and little tables on the Pinetto steps, because there you're going to get a fantastic treat with a view that goes all the way to the end of the beach.
You'll have fast service and a spritz for five euros, and the meal is free, an Italian tradition you'll find in many cafes -- sandwich, olives, bread, cheese, and mortadella. To find that cafe, look for the Hotel Casmona sign on the promenade just east of the Miramare Terrace and follow the arrow up the Salita Pinetto steps (see the map below). They also service tables on the via Garibaldi promenade offering a panorama view.
Harbor
There's more to see in Camogli than that beach and lovely waterfront promenade, especially at the west end, where you can go through a tunnel walkway, strolling underneath buildings that reach high above this covered passageway that will lead you to the small boat harbor. Called Porticciolo di Camogli, this small harbor is just not visible when you're in the main part of town along the beach, but is worth exploring. Fishing has been a significant part of Camogli's history and culture for centuries, especially before tourism became the number one economy in town.
The picturesque harbor is filled with colorful fishing boats, and you can often see the local fishermen going out to sea or returning with their catches. The traditional fishing industry played a crucial role in shaping the town's economy and local traditions. In the late Middle Ages, Camogli was a considerable seaport. In its heyday, its fleet consisted of hundreds of Tall Ships, and it was called the "city of a thousand white sails".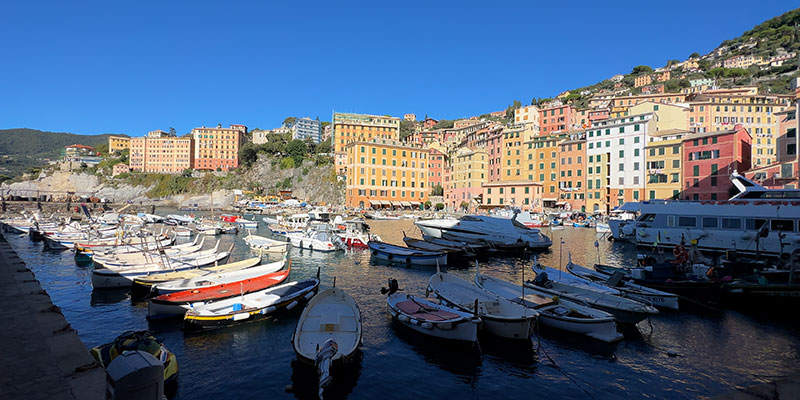 Unlike Portofino, you'll see more fishing boats here than yachts. Many of the fishing boats here are small, some no larger than a rowing skiff, reflecting a concentration on inshore fishing. During the second weekend of May, the biggest annual festival here is a fish fry, with fireworks and what's claimed to be the world's largest skillet, four meters in diameter.
Some of the local fishermen offer tours and excursions where visitors can join them on their boats and learn about the traditional fishing techniques. And these tours typically provide all the necessary equipment, including fishing rods and bait. Participants can learn how to fish, get insights into the local fishing industry, and just enjoy the experience of being out at sea, maybe on one of those small double-ended gozzo fishing boats.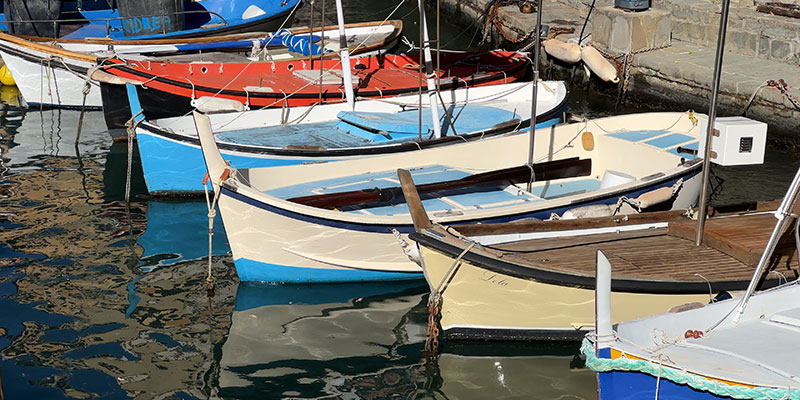 You'll be impressed with the main harbor vista right away, but don't let that stop you, keep going and take a stroll. And you'll also find several harbor restaurants with very fresh fish. This walkway around the marina has some intriguing staircases leading off from it, little side alleys here and there with nice level flagstone paving underfoot, which makes this sidewalk a family-friendly place that's easy to navigate. And of course, it has a few shops. You can buy souvenirs, posters, paintings, or clothing from one of these little waterfront shops. And once again, it goes into a tunnel. This makes things even more intriguing as you're walking along through a space that seems centuries old. The harbor is a lively and vibrant place to experience the maritime ambiance.
When finished, head back out through that arch into the central part of town again. Take a left turn and head up some steps that will lead you into the back streets of Camogli. It's interesting to see these little alleys where the actual people live. There are a few shops and a few little cafes back here, and it's fun to explore it. These lanes are like being backstage at a theater to discover what's behind the stage props that we've been enjoying from the beachside. And even here, the buildings are still quite attractive, very clean, hardly any sign of graffiti or peeling paint.
Camogli has received two important environmental awards, The Blue Flag and the Lilac Flag. These are European Union recognitions of tourist destinations that have been attentive to the environment and personal safety. The awards were given after careful evaluations of the cleanliness of the sea, respect for the environment, and the services offered. The Lilac Flag aims at increasing and improving conditions for tourists with visual, hearing, or motor disabilities, and eating disorders, rewarding and supporting those towns that pay particular attention to those concerns. Camogli won that award thanks to demolishing architectural barriers and construction of pedestrian walkways, public lifts, toilets for people with disabilities, equipped beaches, and the agreement with the state railway to equip the train station with two elevators.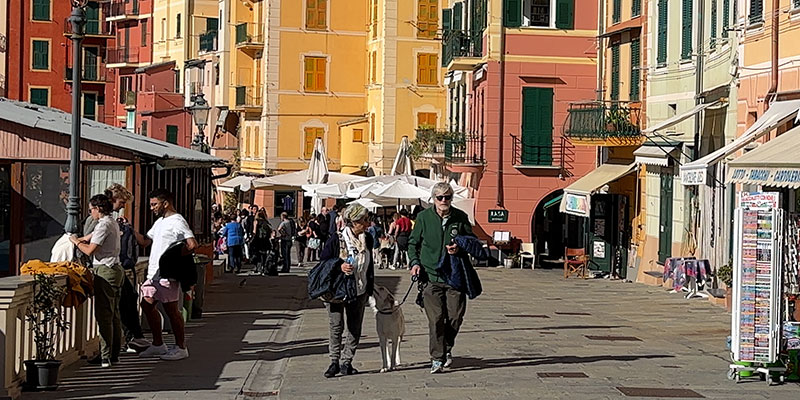 The village's small size makes it particularly accessible and convenient to explore on foot so that you can breathe in its entire atmosphere, the promenade along the sea, the marina, the small internal streets, and the facades that look like paintings. A place where time seems to have stopped, but it also offers many small characteristic shops where you can discover jewels, ceramics and typical Ligurian handcrafted objects. It is the destination for those wanting to enjoy a mix of relaxation, culture, seaside fun and great food.
Overall, Camogli is a beautiful and charming town that offers something for everyone. Its colorful buildings, stunning views, delicious food, and wine make it a must-visit destination for travelers who want to enjoy the best of the Italian Riviera.
Other Activities
Hikers can travel one of the many scenic trails near Camogli, walking in the surrounding countryside, sometimes uphill, which can be a little strenuous but rewarding. Scuba divers can rent some gear and check out the numerous grottoes and underwater caves here, with tiny shrimp, lobsters, crabs, and corals also on view. The shoreline waters are a marine protected area, a popular destination for snorkeling, and the area is home to a wide range of marine life, including dolphins, sea turtles, and colorful fish.
For sea history enthusiasts, Camogli's Marine Museum is worth a visit, one block east of the train station (Civico Museo Marinaro). It holds works with links to the maritime world, including paintings and ships in bottles. One of these bottles contains a reproduction of the typical Camogli dwelling, port, and sailboats. Another section in the museum is dedicated to models and ships, and visitors can also see a part of the German torpedo that sank the English Steamship Washington in World War I.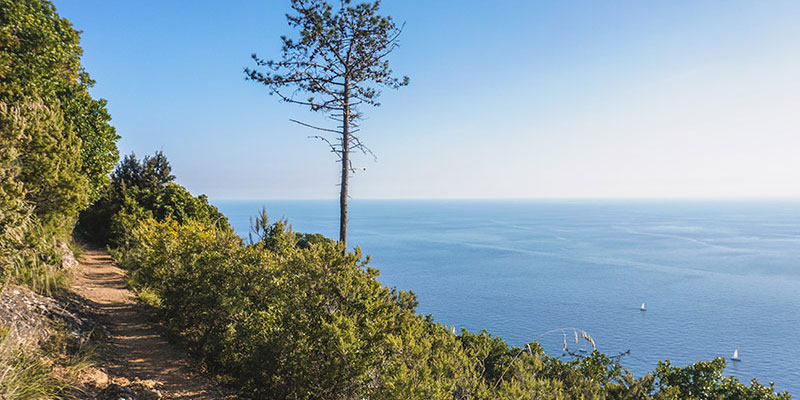 Camogli is also a popular starting point for hiking and exploring the nearby Portofino Regional Natural Park. Trekkers can travel one of the many scenic trails that run between Camogli and the Ruta zone, perhaps arriving at Punta Chiappa, a quaint seaside town that takes its name from the cliff jutting out toward the sea (also known as San Rocco). And lying along one of these trails is the splendid 13th-Century Romanesque Church of San Nicolò di Capodimonte.
You could also make some train trips out to nearby towns such as Santa Margherita Ligure, 8 minutes away, Portofino, about 30 minutes away, or a bit further south, Sestri Levante. Perhaps take the direct train from Camogli to Cinque Terre, arriving in Monterosso in just one hour.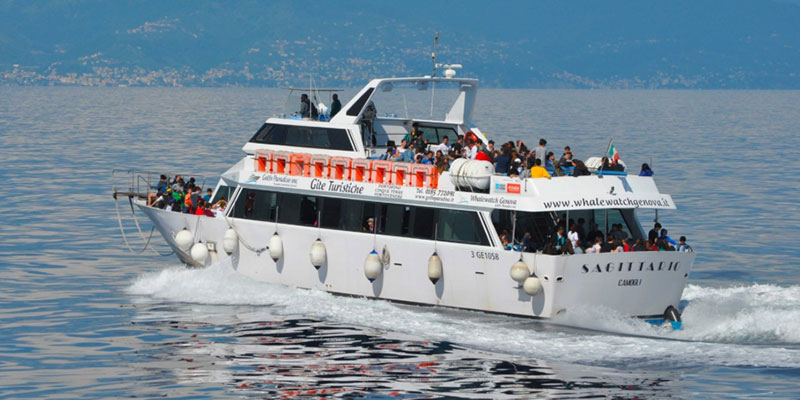 Excursion to San Fruttuoso
The boat ride from Camogli to San Fruttuoso is one of the most popular excursions, which can be done as a one-hour round-trip staying on the boat to enjoy the views, or get off for a while at the hamlet of San Fruttuoso and catch a later boat back to Camogli. Alternatively, there is a hiking trail that connects Camogli to San Fruttuoso, offering a scenic walk along the coastline.
After leaving the dock of Camogli passengers will first enjoy a beautiful panoramic view of the tiny village and then be able to admire the majesty of Portofino mountain, the pudding-stone landmark outcrop of Punta Chiappa, and then the exclusive hamlet of San Fruttuoso. Along the way, passengers often sight striped bottle-nosed dolphins and the other dolphins that live in these coastal waters.
San Fruttuoso is known for its picturesque beauty and historical significance. The main attraction is the Abbey of San Fruttuoso di Capodimonte, which dates back to the 10th century. This medieval abbey is nestled in a small bay surrounded by cliffs, providing a breathtaking view of the Ligurian Sea. The abbey has a rich history and was originally inhabited by Benedictine monks. If you are traveling in the summer, make sure to take the early ferry or you will be stuck with no room on the beach because it is tiny and it gets very crowded.
In addition to the abbey, San Fruttuoso offers a pebble beach where visitors can relax and enjoy the scenic surroundings. The crystal-clear waters make it a popular spot for swimming and snorkeling. The village itself is quaint and charming, with three restaurants and two bars where you can savor traditional Ligurian cuisine.
You could also do a boat tour from here all the way down to Portofino or Cinque Terre on boats operated by Golfo Paradiso. There's also a pleasant walkway that goes all the way around this little harbor. Some of it is again going through these tunnels beneath the buildings overhead. It's always nice to explore all of the possible angles when you're in a scenic location like this.
Find more information about Camogli on the official Tourist Information Office website.