St-Remy-de-Provence
Saint-Rémy-de-Provence is the archetypal Provencal village.  While it may not have spectacular monuments or ancient ruins in the village, it has a special charm of its own, definitely worth visiting. In addition, there are two famous historic sites outside town, the hospital where Van Gogh spent his final, most-productive year, and Glanum, a Roman ruin, described below.  A famous attraction in town is the busy outdoor market on Wednesday mornings.
The historic center of St-Rémy village is quite small, several blocks long and wide, 250 meters on each side, but contains charming nooks and crannies.  St-Rémy's Old Town used to be surrounded by a circular wall, which modern busy streets have replaced, but the effect of a sheltered refuge remains, with many structures going back to the 15th and 16th centuries.  These narrow lanes and alleys in the heart of the Old Town are charming as could be. 

Entering from any angle will bring you to the center in a few minutes, but perhaps the "front door" is the town's main street, Rue Carnot, on left side of the big church of Collégiale Saint-Martin, whose interior is said to be a smaller copy of Rome's St. Peter. An outdoor market takes places in front and along the side of the church.
Rue Carnot leads in two blocks to the most picturesque square of town, Place Favier, surrounded by ancient, ivy-covered buildings, some going back to the 14th and 15th centuries.  The entire village has charm but this square is extra special, with the small castle tower rising above, old stone walls all around and a multi-level fountain on the end.  In warm weather a café sets up tables on the square adding another touch of delight.
Adjacent to Place Favier, through a cobbled alley spanned by an ancient arch, is the Hôtel de Sade, still owned by the family of the Marquis de Sade who had ancestral connections with this town.  The medieval atmosphere of this stone lane is complemented by the small Musée des Alpilles in a former Renaissance mansion, Hôtel Mistral de Mondragon, with original inner courtyard encircled by galleries featuring archaeology, ethnology, graphics and photography.
You don't really need to walk along Rue du Parage just north of Place Favier unless you have time for a stroll in the simple residential neighborhood on this end of the village. It does present a contrast if you get a block off the main street here in these quiet little residential lanes with people living in apartments at ground level and upstairs.  The old stone buildings are low rise with medium density as they had been throughout most medieval villages in Europe, remaining the same over these many centuries. This is a tricked out tourist town in some ways, and in others it's a quiet Provençal village.
Then head for the little retail "downtown" by walking another block east along Rue Carnot to reach three main shopping lanes of Rue Gilles, Jaume Roux and Lucien Estrine, all converging at little Place Joseph Hilaire.  One could easily wander up and down for an hour in this heart of St-Remy, with lovely shops and a quiet pedestrian atmosphere, featuring dozens of stores in surprising variety for such small village center.
One specialty of Provence is handmade pottery, with yellow and green theme colors, gaily displayed in many shop windows.  You'll often find the craftsmen running their own shops, giving you a chance to talk with them and do a little bargaining. Pottery is a little hard to bring home, but you might get a small piece and pack it carefully.  Local fabrics also display those same green and yellow pastels, with various attractive floral and botanic themes -- an easy gift to bring home.
There are lovely cheese shops, bakeries and little restaurants of course.  One fromagerie had 12 different kinds of goat cheese, so you might buy variety for a picnic, with fruit, bread and…of course, wine from separate nearby shops. Other popular local items to admire in the little shops and galleries are the soaps, fragrances and potpourri. They even have a small Museum of Aroma, for this entire region grows countless flowers for the perfume industry. 
One block further along Rue Carnot brings you to another town landmark, a statue, fountain and street dedicated to local hero Nostrodamus, the most famous person from St-Rémy.  He was quite the scholar and reputedly could see the future, although none of his prophecies were ever proven true.  Born in a house several blocks away, he left for Avignon as a teenager to begin his education and career.
City Hall is a block south on Place Jules Pélissier, the other main square, which sometimes has a few market stands selling local olives, breads and cheeses.  Rue Lafayette in front of City Hall has more shops to explore. The narrow Rue de la Commune is especially nice, extending 100 meters south from here with a lineup of traditional shop fronts ending at the picturesque, arched, gateway of Portail Saint-Pauline, a remnant of the old encircling wall.
That would bring you out onto Boulevard Victor Hugo, part of the busy ring road encircling the Old Town.  Free maps, brochures and toilet are available another block south at the Tourist Information Offiice at Place Jean Jaurè (closed for lunch 12:30-2:00pm). You might also find parking here or on nearby streets, but in busy times this is a challenge.
Boulevard Victor Hugo is a wide tree-lined street with plenty of traffic, many parking spaces, more shops and restaurants.  It leads around to where you began, at Place de la République, a big parking lot and market site.
Wednesday and Saturday mornings are the nicest times to be here to catch the outdoor market. Each town takes its turn during the week, so it is useful to find the schedules and arrive in town on the right day if possible.  The market offers fruits, vegetables, handmade items as well as clothing, junk, imported goods, antiques, bric-a-brac, and there are always the local folks hanging out -- lots of characters here. 
After visiting the village there are two more stops to make: the Roman ruins of Glanum and Van Gogh's hospital, the Saint-Paul de Mausole Asylum, both just a few minutes drive.  You can see portions for free, but pay an admission charge to go inside.  There is a discount pass covering four attractions at full price for the first, then half-price for the others, including these two sites and the Alpilles and (modern art) Estrine museums in town.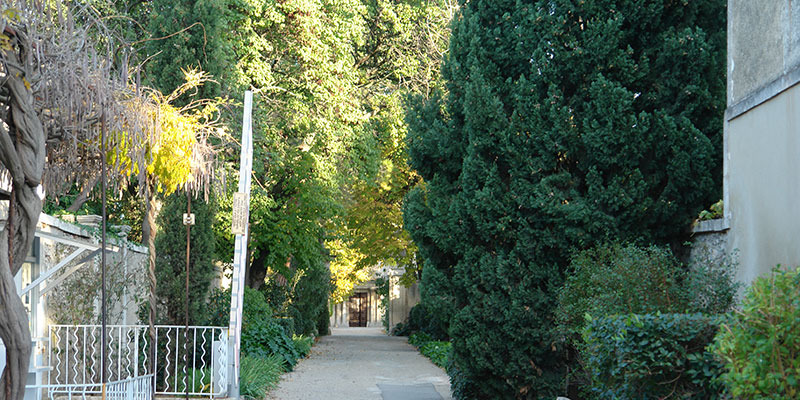 St-Rémy is perhaps most famous as the place where Vincent Van Gogh was confined in an asylum towards the end of his life. Van Gogh was brought to the hospital in 1889 for recuperation after he sliced his ear and was having episodes of despair and hallucination while living in nearby Arles. He stayed at the hospital and found enough stability to walk in the gardens and surrounding countryside and create 150 paintings -- undoubtedly the greatest one-year outpouring of masterpieces in art history, worth one billion dollars today.  Of course we know the tragic story…he never sold a painting and died soon after in poverty, unknown.
These conflicting emotions will come vividly to life as you stroll through the hospital grounds and nearby fields in the organized walk provided with your ticket.  Copies of his paintings, along with interpretive explanations, are displayed where he made them, adding new dimensions to your appreciation of this amazing person.  Evocative plaques include excerpts from his letters to his brother and others expressing his feelings about each painting, giving you a sense of his struggles and progress. A replica of the room in which he was confined is also part of the tour. None of his original paintings are here or in Arles, but this hospital provides a most satisfying alternative for Van Gogh lovers.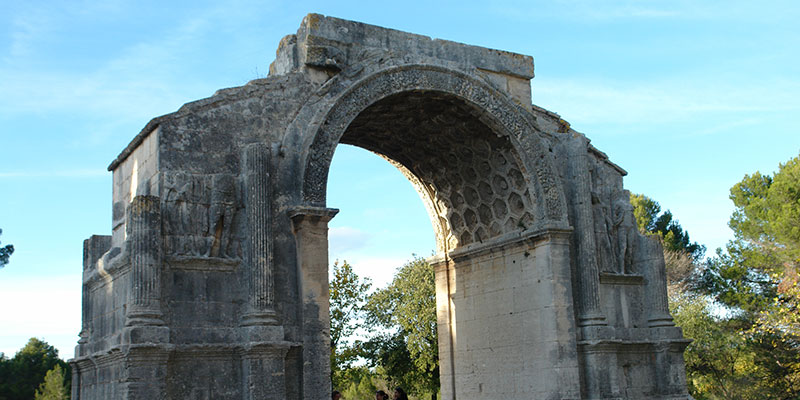 About a mile from Saint-Rémy are two monuments of the earliest Roman time, memorials of the skill of hands whose work was finished two thousand years ago. Here, at the foot of the Alpines, lay the Roman town of Glanum, destroyed by the Visigoths in 480. The smaller monument is a specimen of a triumphal arch with sculptured coffered vaulting, much damaged, but what remains is more beautiful in its proportions and simplicity than many of the larger triumphal arches found in Provence.  The archivolt is enriched with a garland of leaves and fruit; and right and left are reliefs representing captives.
The other monument, the tomb of the Julii, is a mausoleum of exquisite symmetry and distinction. The mausoleum isone of the best preserved of the Roman era, called the "Tomb of the Julii," from the inscription on the architrave. It is 60 ft. high and consists of three stories: on the bottom, a square base; in the middle, porticos; on top, ten columns holding up a small round temple. The pedestal sculpture on the north side represents a cavalry fight; the south, hunting for wild boar; the west, a combat between infantry in the Trojan War; and the east, an Amazon celebrating a dead enemy. 
The second story is a square portico, which has four niches and is enriched with fluted columns at each corner.  On top, the entablature is embellished with moldings and ornament and surmounted by a small circular turret, or tholos, with ten fluted Corinthian columns, inside of which are two statues lacking heads, representing the parents of Sextus and Marius, of the family of the Julii, for whom this mausoleum was erected. The conical roof is decorated with carved fish scales, traditional for Roman mausoleums.
There is no charge to see these monuments, but there are also extensive ruins of the Roman town that have been uncovered in recent decades and do have an admission charge.  This impressive site reaches further back in time to the Celtic-Ligurian tribes who settled here before 600 BC, and later Greeks arriving in the 2nd century BC, with the Romans landing in 125 BC, conquering the local tribes, destroying their city and building a new town in Roman style. Under Julius Caesar and Augustus many classical structures were built, including a forum, temples, basilica, residences, baths, dams and aqueducts, whose ruins are visible today inside the historic park.
At the end of your trip through the south of France, you might look back upon these brief hours in St-Rémy as some of the most enjoyable of the whole experience.
It only takes 30 minutes to drive to the small village of Saint-Rémy-de-Provence, back to Arles or Avignon. It is not possible to see all these places in one day using public transportation, but if you rent a car and bring along our book, you could manage quite nicely.
The easiest way to visit is take a day-trip with a local travel company from your home-base town that also can bring you to Pont du Gard and Les Baux, with a guide providing explanations and doing all the driving.