Mount Rigi
Rigi, Burgenstock and Pilatus in one video.
Video summary of the trip up Mount Rigi.
There are many boat itineraries available for Lake Lucerne (the Vierwaldstättersee) ranging from a 50-minute round-trip making no stops that circles back to Lucerne, up to a long ride to the end of the lake at Flüelen, which takes nearly three hours. If you do that long ride, you could take a train back to Lucerne in one hour or stay on the boat to see the same sights in reverse on a 5 ½ hour round-trip.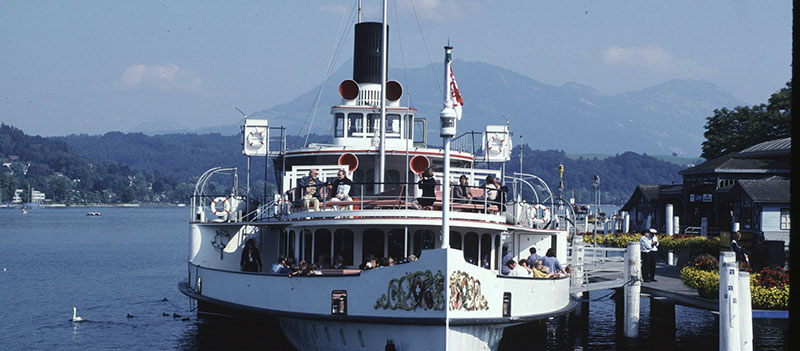 Taking the boat is a refreshing and relaxing way to see Lake Lucerne, gliding over the water, enjoying a fresh breeze and basking in the sun on the spacious decks of the stylish ships. Different boat routes provide the most direct access to various mountain railways, beautiful villages and fascinating places steeped in history.  Drinks and light refreshments are always available onboard, while the paddle steamers and large motor vessels offer full catering services in ornate salons or comfortable modern lounges.
You can see all the routes and special possibilities on the lake cruise website.
There are special culinary cruises that enhance the beautiful vistas with gourmet cuisine. Savor wonderful flavors on a breakfast, brunch, lunch or dinner cruise. Skilled chefs will treat you with creative menus for every taste, from hearty Swiss cuisine to vibrant global fusion.
In this section we describe the most popular options to Mount Rigi, Bürgenstock, and Mount Pilatus, the signature peak you can see from many parts of town.
MOUNT RIGI
Mount Rigi is another of the famous mountains near Lucerne that is easy to visit, ascending the 1,800-meter-high peak by rack rail after a lovely boat ride on the lake. Or you could just do a two-hour round-trip from Lucerne out to the lakefront village of Weggis, skipping Mount Rigi, and return to Lucerne, but it is much better to include the trip up the mountain to Rigi.
The boat dock and ticket office are right in front of the Lucerne train station, with frequent departures. You can check their schedules online or just go right to the ticket booth and find out when the next boat is leaving. The Swiss are so efficient in their transportation schedules, making it very easy to figure out the best timing.
Start out with an excursion boat ride from Lucerne to the village of Weggis which just takes 45 minutes one way. As you leave the boat dock look at the theater and convention center with its dramatic cantilevered roof, designed by Jean Nouvelle, one of Europe's leading architects. You'll have nice views of Lucerne off the stern and looking up at Mount Pilatus.
And as we reach the edge of the city, passing the marina, you'll see that boating is very popular among the locals of Lucerne, with many sailboats skimming along.  There is a lovely public beach with nice white sand, with some cabana facilities in a park behind it, very popular in the summertime. There is the stop for the Transportation Museum, as described in our main article.  We continue along passing some big mansions and tiny hamlets, so keep your camera ready. Perhaps the nicest feature of the boat ride is simply relaxing, a place where you can just put your mind in neutral. The peaceful scenery will surely help you feel good.
You're welcome to bring your own food on board the ship, no problem with that. Your own food and drinks, that's a real Swiss tradition, picnicking, going out for day's hiking and carrying the rucksack on your back and with a lunch inside. There is a first-class dining room with complete food service, and a second-class dining room, or you can just sit down at the bar and have a drink.
You'll find there's a good view from your dining table, even if you're eating at the indoor dining salon, but perhaps the best view of all is out on the open deck, especially when the weather is mild. You can see all around 360 degrees and enjoy that fresh lake air. There are a variety of larger and smaller boats, but the most fun are the historic side-wheel paddleboats, some of them a century old. They love to show off their very clean engines.
The ship sometimes makes a few intermediate stops before you get to Weggis, such as at Hertenstein, with its deluxe resort hotel along the lake, and wouldn't that be a nice place to drop anchor for a few days and do practically nothing except sit at the lakefront cafe and watch the ships come and go? That Campus Hotel Hertenstein gets a very good review on Trip Advisor, ranking it second out of 18 hotels in the Weggis area, with a score of 4.5 out of 5, very good.
Weggis is a small village with a few restaurants, a few shops, a couple of little hotels. You could spend a few days here if you wanted a quiet relaxing spot by the lakeshore .You could easily stay in one of these lakefront villages, and visit Lucerne during the day for your sightseeing in town.
If you are not interested in going up Mount Rigi you could just catch the next boat going back to Lucerne. You wait around for 10 minutes, or if you want to spend an hour here in Weggis you could do it that way, but we're going up to Mount Rigi.
You can decide on the spot if you wish, you don't have to purchase a Rigi ticket ahead of time and you don't need a reservation. When you arrive at Weggis see how you feel, check out the weather, the visibility, the temperature and decide if you want to go up. If so, you head over to the ticket booth and purchase your lift ticket. You would not be disappointed. It makes a great excursion.
Weggis does make a nice place to take a break, have tea or a meal, walk along the waterfront promenade park with fountains and benches. You can get up to Mount Rigi either by getting off the boat at Weggis, or at the next stop, Vitznau.  When starting from Weggis you take a cable car halfway up the mountain, then change to a train to complete the trip in 40 minutes. If you start from Vitznau, there is no cable car and you take the train all the way in 30 minutes. Our suggestion is to take advantage of the variety by going up from Weggis, and down from Vitznau, making a scenic round-trip.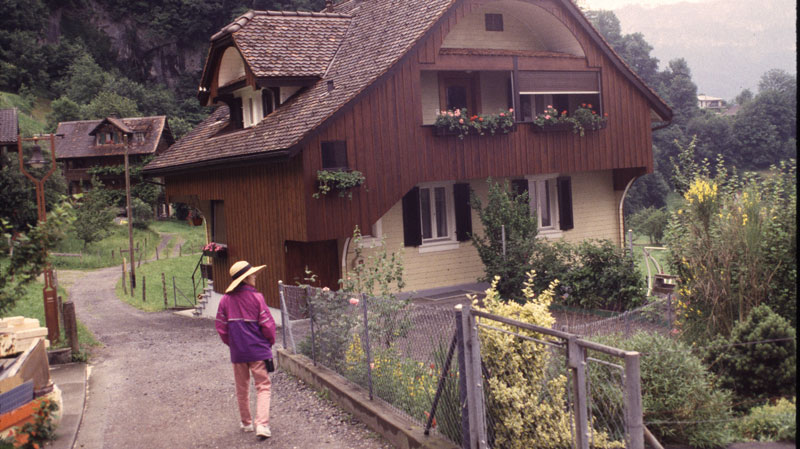 One small issue to consider is that you do have to walk uphill for about 15 minutes to get to the Weggis cable car, whereas if you go up Rigi via Vitznau you just take the rack railway right from the dock. It's a little easier. Anyway, it is a beautiful cable car ride up.
You could do the Rigi route in reverse by staying on the boat until you get to Vitznau, take the train up to Rigi, and then you can take a train and then cable car down to Weggis, and back to Lucerne. Either way, this is going to get more spectacular every minute.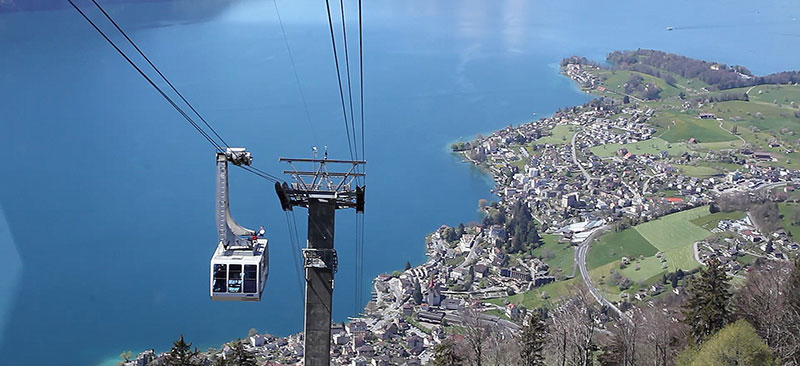 Starting from Weggis on the cable car will give you a special viewpoint suspended in air above the green hillside with specetacular views of the mountains and lake in the distance. It is definitely the best way to begin your ascent up Rigi.
Then you reach the halfway point at Rigi Kaltbad, transfer to the narrow guage train, getting always more fine views while going up, up, up. The middle rail is actually a rack, and there are gears with teeth on the underside of the train that engage that and pulls the train up and down the steep slope. It's the oldest rack railroad in Switzerland, built in 1871, and still running safely and reliably every day. Of course, the cars have been modernized and replaced many times since then.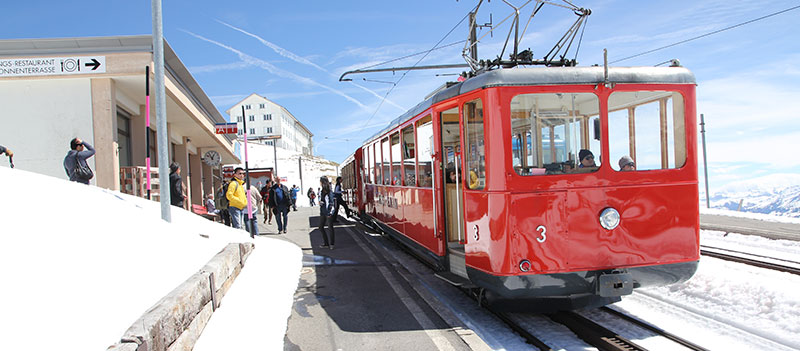 There is no glacier at the top of the mountain but usually in the month of May there is still quite a bit of snow on the slopes of Rigi. By mid-summer the snow is all melted. Curiously, Mount Rigi is technically not in the Alps, instead it belongs to the Swiss plateau, with a different geological composition, but is still a mighty big mountain. You can see why Rigi makes a popular half-day outing.
At the top you will enjoy a magnificent vista looking from Rigi across the lake to the massif of the Alps. These are the highest mountains in the central Alps reaching a peak of 10,000 feet at Mount Titlis. Most visitors just stay up top for just a little while to wander around, enjoy the view and take some pictures.
Perhaps you would enjoy the restaurant, have a meal, look in the gift shop and wander around the grounds of the visitor center.
Mount Rigi stands 1,798 meters (5900 feet) and is nearly surrounded by water, giving rise to one nickname of Island Mountain, and another, Queen of the Mountains, with its steep shoulders covered with forests, beautiful chalets, and contented cows.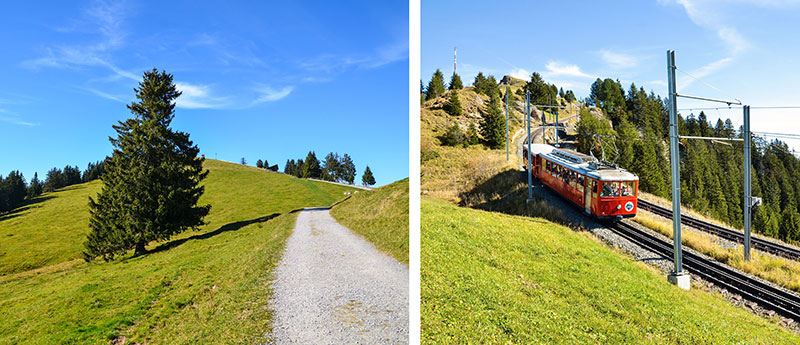 Rigi offers an area for recreation and sports measuring approximately 90 square kilometres with a variety of well-maintained walking trails or mountain hikes where visitors can have a panoramic view of 150 km from various marked points.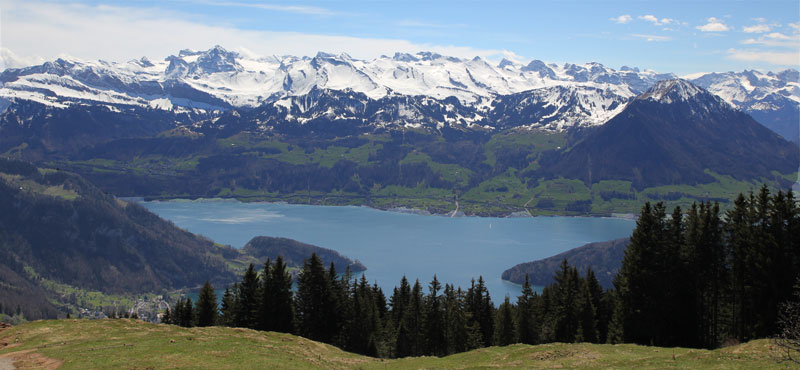 The whole massif is almost entirely surrounded by the water of three different bodies of water: Lake Lucerne, Lake Zug and Lake Lauerz. The range is in the Schwyzer Alps, and is split between the cantons of Schwyz and Lucerne, although the main summit, named Rigi Kulm lies within the canton of Schwyz. The Rigi Kulm Hotel, established in 1816, is located on the summit.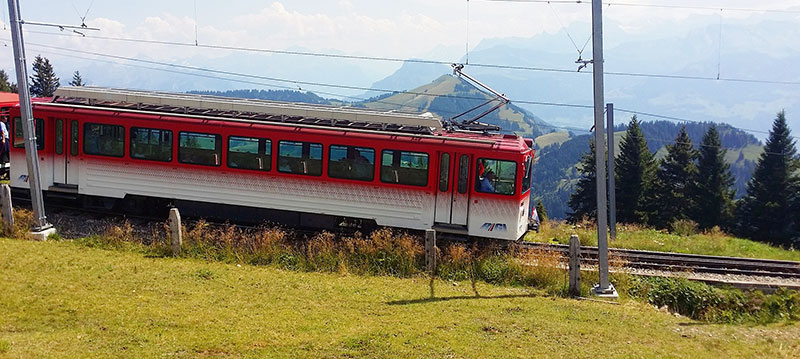 Then take a rack railway back down to Vitznau, or half-way if you want to transfer to the cable-car, and finally catch the next boat for a return journey back to Lucerne. Going down is perhaps more beautiful than going up, because you get constant views of distant mountains and nearby pastures with cows grazing in the fields.
Or you could just walk down to the lake along the side of the tracks, if you wish, and there are side trails that crisscross and honeycomb all over the hillside. So this half-day outing really exposes you to a whole variety of different kinds of Swiss transportation starting out with the boat ride, train, cable car and walking.
You can easily make a whole day of it just by taking your time and taking a little longer stroll, having a longer lunch. You can also extend the trip by getting off the boat at some of the other villages along the lake shore. Of course Vitznau is another small village where you could spend a night or two. There are some lovely hotels like the Vitznauer Hof, founded in 1901, four-star deluxe.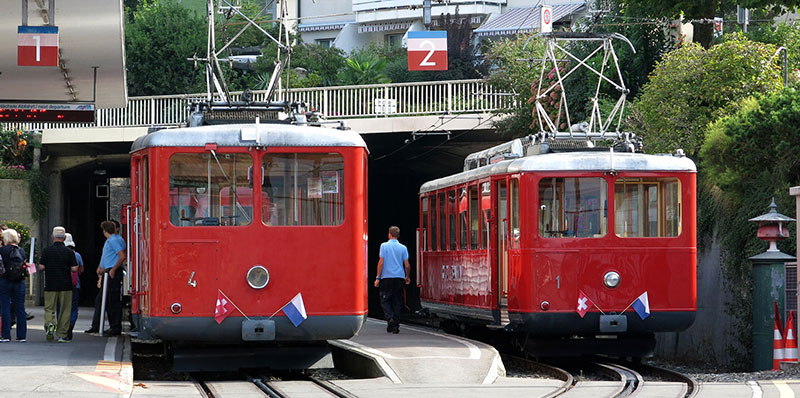 You get off the train at the Vitznau station, onto the adjacent boat, and depart for Lucerne, making brief stops at a few little villages along the way. The Swiss schedule is perfectly timed.
It's a one-hour boat ride back to Lucerne from Vitznau following the same route you took getting here. And by now perhaps it's quite late in the day depending on your timing. It could be fortunate to come home at sunset, a beautiful time to be arriving in Lucerne by boat.