Spello
Spello is an ancient town in Italy's Umbria region filled with fascinating sites that we shall explore as we wander the little lanes of this charming place, often called one of Italy's most beautiful villages.
Spello is up on a hill with an old Roman and medieval wall around it, and narrow peaceful pedestrian lanes that are ideal for wandering. Plus, it has important art masterpieces painted on the wall of the church by Pinturicchio, and some splendid old historic buildings, such as the Town Hall.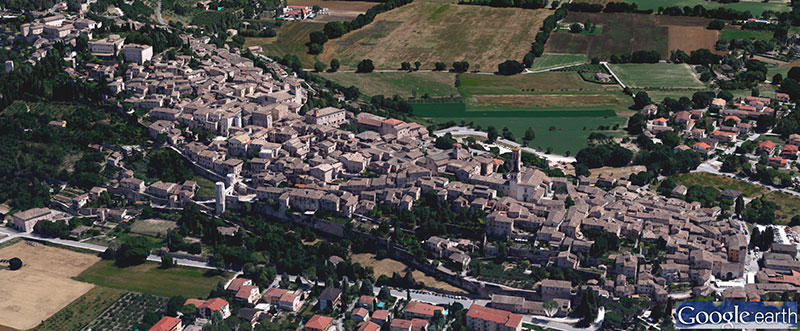 From above, you'll see how tightly clustered these old buildings are, forming a dense community ideal for exploring on foot. There is one main street that goes through the middle of town, and many more little lanes branching off on both sides. We will take you to some of the best places, as we will show you walking from one end of town to the other.
Spello is among the many beautiful towns that you'll find in Umbria, which is located in central Italy, north of Rome, easy to reach by train or car from the other towns such as from Spoleto where we've been staying. You can get from Spoleto to Spello by train, and it's only 30 minutes if you take the direct train. The one-way ticket is inexpensive and you can buy your tickets right at the train station from a machine, no seat reservations are necessary in second-class. There is a departure about once every hour. Some of the trains only go halfway and you have to change trains at Foligno, which adds another 20 minutes to your journey.
There is a taxi stand at the train station, but those are usually reserved, so call ahead if you want to take a taxi, but it's only 600 meters to walk from the train station to the old town, so it's really quite easy.
There is generally a sidewalk market as you arrive, selling ceramics, guidebooks and some practical goods and souvenirs, which is good because there are not that many shops in the town itself. And right away, you'll find the people of the small town are friendly. The market is located just outside the town walls, which were built by the ancient Romans.
The maingateway, called Porta Consolare, was one of the main entrances to the ancient city. This old Roman city gate has a massive construction rising far above the entrance, like a triumphal arch. And on the façade there are three original Roman statue, s standing on slabs projecting out from the wall. The structure is one of the most impressive and best-preserved Roman gates in all of Italy. As you step into the town and look back at the gate, you see it's part of a longer wall that stretches almost all the way around the town.
The gate leads right into Spello's main street, which changes names several times, at the start it's called via Consolare. You'll notice some intriguing little side lanes leading off, with potted plants and flowers. It's actually one of the prettiest parts of town called via Borgo San Sisto, so by all means dive in, take a little detour enjoying short meandering wander through these quaint little lanes. The winding route takes you back to the main street, and then you can reenter the next lane of this labyrinth. It provides a nice preview of many similar sites coming up.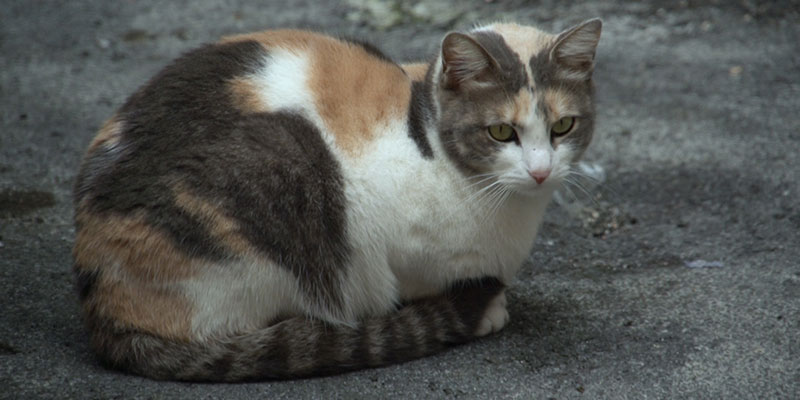 The town has lots of cats. It's a sure sign this is a calm, peaceful town, and these cats know how to get around. They've got their little nooks and crannies and hiding spots. Continuing along, we get to an intersection of a couple streets, and the main road soon changes name to via Cavour. Running alongside it we've got Piazza Matteotti, with some outdoor restaurants.
You'll notice the street is not quite level because we are in a hill town, so you are going to do some walking uphill and downhill, but none of it is too strenuous. Also here is the church of Santa Maria Maggiore, which contains the most important attraction of Spello, a series of frescoes by Pinturicchio. We will bring you inside for a closer look later. For now we continue our walking exploration. Most of the homes have fireplaces for heating up the house and some of them use wood in the kitchen in the stoves, continuing an old tradition.
Entering through an archway leads us to a scenic vista on the other side of the parking lot. Just down below, we can see the remains of the ancient Roman forum, that was the center of town, which would have been quite extensive stretching for several hundred meters with many buildings. This is all that's left now.
We have arrived at Piazza della Republica, the center of Spello. It is a relatively modest space because this is a small town. There's a fountain, there's room for cats to roam, they have benches to sit on.
It's the central gathering place for locals as well as visitors, with some shops and restaurants around it. There are various attractive pedestrian lanes leading out from the piazza, and one very impressive major building, the Town Hall called Palazzo Comunale, with a museum inside that will show you later, and we'll come back to the piazza after exploring more of the wonderful streets of town.
Our main road has changed names again to via Garibaldi, named after that great hero, the unifier of the country. Every respectable town has a main Piazza or street named after Garibaldi, showing the importance of this stretch of the road. You'll find just a few shops and galleries scattered through town. At the end of the a Garibaldi it widens to form what's called Lago Mazzini, with a few shops and there's some gelato here – a perfect spot for a break.
Now we face a three-way intersection. You might go straight through that arch to via Torre Belvedere. We will show you that neighborhood coming up in a bit, but we're going to turn right and continue along the main street, which is now called via Giulia. You might see a large modern truck squeezing through the opening of an old garage at a historic location - the Arco di Augusto.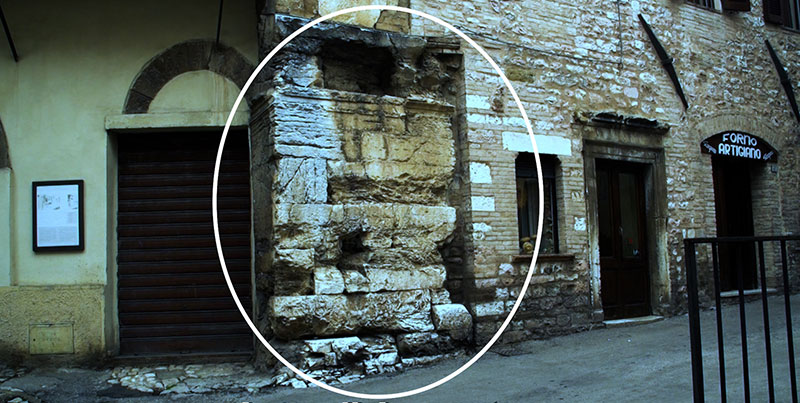 The white circle outlines the stone remains of what had been a magnificent Arch of Augustus, the first Emperor of Rome. That's all there is left of it today, but it would've been a triumphal arch, perhaps a gateway through the Roman wall.
Several little streets branch out from this dramatic location with that characteristic paving of stone and brick, and some archways across the alleys, helping to stabilize the buildings. You got a quality restaurant right here, the Forno, and there is a small three-star Albergo dell Teatro, a hotel in an 18th-century mansion. There's even a bus stop. They offer a free shuttle bus that runs along this main lane of the old town, then extends out into the newer part of town.
Now we are finally going to depart from the main street and venture into the little side alleys, going up the via Arco Di Augusto. It looks quite intriguing up there and the way is nicely paved with this brick and stone path that acts kind of like a ramp, and a sidewalk, and a staircase altogether. You could just walk up a short way, have a look, and turn around and walk right back down again. That would be something interesting. However, it's even more interesting if you keep on going up, and then further up, and further into the old town, as were going to take you now.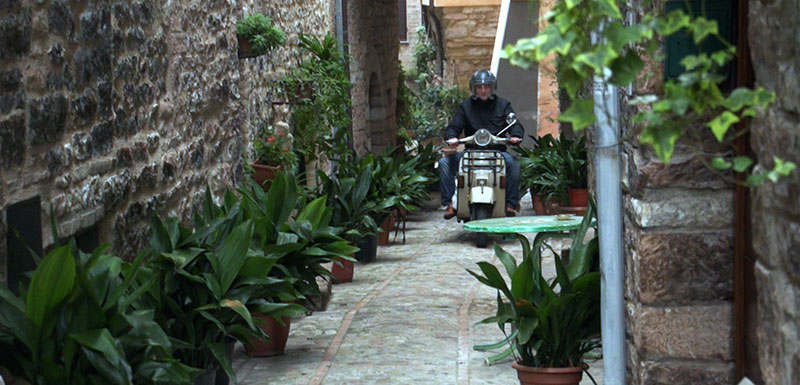 Up here the lanes get level as we enter a little residential neighborhood, just around the corner from Lago Mazzini, visited earlier. And a motor scooter providing home delivery of food from the market in a cozy alley with potted plants and little arches tying it all together. I only saw a couple of other motor scooters in my visit here – somewhat unusual for an Italian city, but just another indication of how quiet and peaceful Spello is.
You might find that you're wandering in circles in a place like this and getting a little bit lost, and perhaps retracing your steps and ending up back where you began, just as we have now. We're back to the Largo Mazzini. That would've been a satisfying walk in itself, but there are more things to discover back up in that same neighborhood.
Look how inviting the archway to via Torre Belvedere is, so were going back in to discover some new sites. It's the ideal setting for a wander. It is like we've gone backstage in this town. Many visitors would just walk along that main street, which is quite lovely, stop in the piazza, get a bite to eat, perhaps go into the churches and museums, and then depart without seeing the real heart and soul of town and these winding little lanes.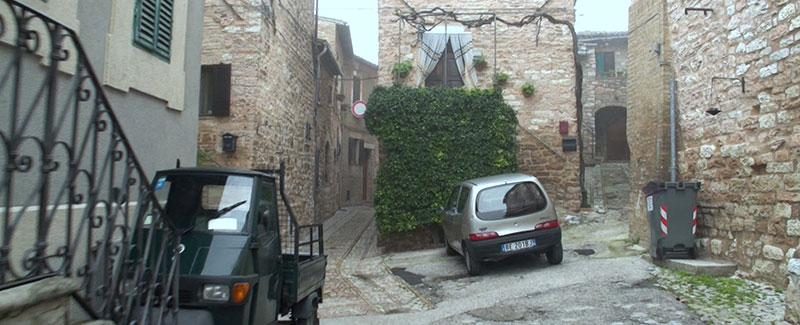 Then you make a turn, and the street becomes a driveway into a residential courtyard parking lot. It's all housing back here, people living in stone structures, some of which are 400 years old.
Nearly every visitor destination is divided in two parts: a foreground and a background. The foreground is the property of the guidebook, a listing of sites heavy on history, museums and churches. It's the premier plan outline for the hasty sightseer who does not have much time. The background is for the dawdler, the dreamer, and the happy few who remain more than three hours in a place. With that leisurely approach you'll have the freedom to discover slightly out-of-the-way sites such as the Roman Arch, another classic remnant of Spello's ancient history.
The Roman town started out as a small village of little importance and gradually became a desirable home for retirees from the Roman army. And during the reign of Emperor Augustus, the town was called Hispellum, and given the honor of becoming a Roman colony, which grew in size and importance in the following centuries.
During the Christian era, after the fall of Rome, there were some troubled times with the invasion of Attila, and conflicts with the neighboring cities of Perugia, Assisi, and Spoleto, but by the end of the 14th century, peace returned under the powerful leadership of the Baglioni family. And like this cat, they felt protected behind their medieval walls.
If you'd like to settle into a quiet neighborhood like this, there's are some bed-and-breakfasts that would take care of you. We've come around through this interesting residential neighborhood in another big circle taking us back once again to via Giulia. Here we find another side lane that looks pretty interesting, via Fontanello.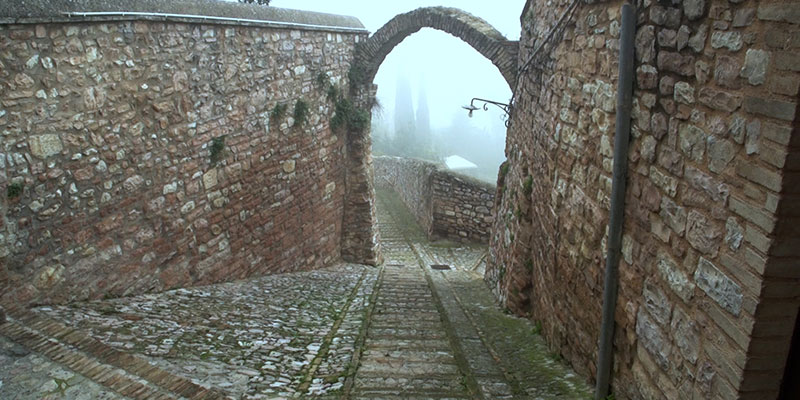 People living in the smaller Italian hill towns do a lot of walking during the day. That's how they'll get around. The streets are largely for pedestrians, rather than driving a car as many people do in the West. And while this walking is not a vigorous exercise, it is a healthy way to get around. So for those travelers interested in exploring these many little back lanes, it's important to get in shape. Increase your exercise program before you take your trip, and then walking up and down the incline streets adds another dimension to the benefits.
Notice the big, round, stone turret up above. It was part of the fortifications in the medieval wall that runs around Spello. You're always going to notice the little side staircases as you walk along – maybe best to resist some of those temptations and just keep on going on the level. Some of them are dead ends that don't really go anywhere except to somebody's front door. When you look at the walls of some of these buildings you see how the structure has evolved over time – earlier windows and archways filled in by a stone wall.
This was photographed in late November, which proved to be a lovely time to be traveling in Umbria and Tuscany. I spent a month traveling around, showing you many of those cities in this series. And the weather was great, it was never cold, just comfortably cool, and occasionally misty as we've seen today in Spello.
Well, after a long walk like that you might want to reward yourself by sitting down in one of various excellent wine bars in Spello. After all, Umbria is in the heart of wine country in Italy, and with that fine Italian cuisine, you can be sure that the food and drinks will be excellent, especially in a place where local families gather for a meal.

Bonci looks like a simple café with counter service when you step inside, but then take a look in the back garden where you'll be surprised by a large outdoor dining area. However, it's not getting any use on this grey November day.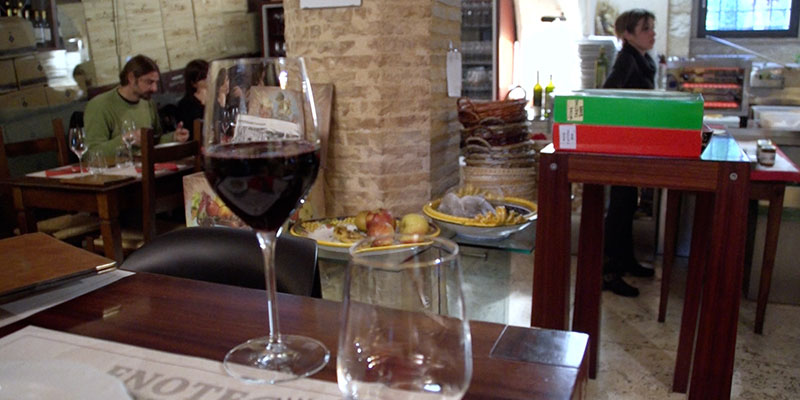 After looking around a little bit and comparing the possibilities, I settled into Enoteca Properzio, and it was a very fine choice. It's conveniently situated in the middle of town on Piazza Giacomo Matteotti, perfect location.
The church of Santa Maria Maggiore is nearby, containing the masterpiece of Pinturicchio. For many people, it's the main attraction of Spello, so it's time to enter the divine world and pay our respects. There is no charge to enter the church, but to go into the side chapel with the paintings you pay a small admission fe, e well worth it.
The masterpiece is rich in minute details. Pinturicchio painted these while he was returning from Rome in the year 1500, where he had assisted in creating frescoes for the Sistine Chapel.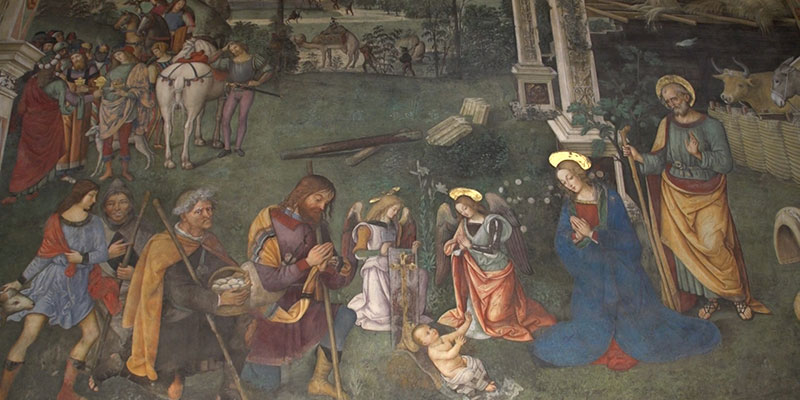 On the left The Enunciation, in front of us, The Nativity, with Umbrian landscapes in the background, and on the right Christ Among the Doctors, on the ceiling are the sybils, the mystic link between the old faith and the new.
I can only show you these humble pictures, but to experience the genius, you have to be here in person. It really is reason enough to come to Spello. When finished with Santa Maria Maggiore you will find there is yet another painting by Pinturicchio and the in church of St. Andrew. It's the Enthroned Madonna and Child with Saints.
Pinturicchio was an Umbrian Renaissance artist from nearby Perugia where he was a student of Perigino, and his greatest masterpieces is in Siena in the Cathedral in the Piccolomini Library, but the works here in Spello are among his best.
The Civic Art Gallery is located in between those two churches and has a small collection in seven rooms, mostly of Gothic and Baroque goldwork and wooden sculptures, some final paintings, frescoes. They are precious examples of the local artistic activity in Spello in the previous centuries.
Just in front of the museum and those churches you'll find another fascinating street that will lead you to yet another neighborhood of the back lanes, with a few shops and restaurants, but mostly residential for the local folks, with typically smooth paving, culminating with another ancient Roman site, a major gate into the old city called Porta Venere, or Gate of Venus.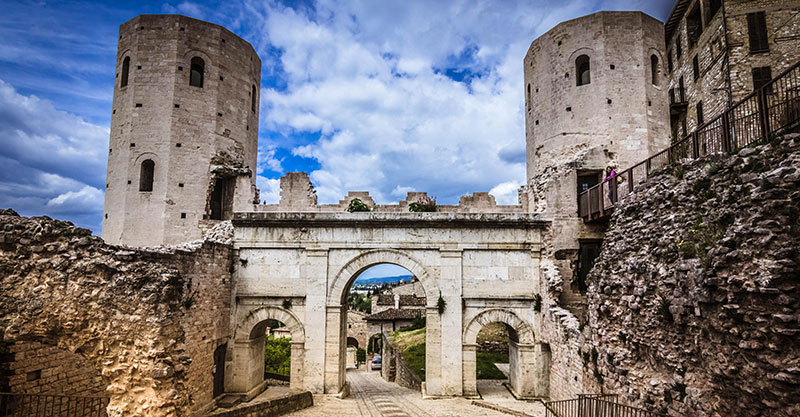 They believe Porta Venere was the main entrance to the Roman city 2000 years ago. By that time the Romans had built their wall all the way around Spello. The gate is flanked by a couple of 12-sided towers that are from a later time period, but beautifully integrated together with the gate. Continue walking on the lane uphill and there you'll connect with yet another street that will bring you back to the center of town at Piazza della Republica.
Aside from the occasional motor scooter, it's nice and quiet in this residential neighborhood. Walking along stone lanes surrounded by stone buildings, witht some potted plants hanging out on the walls and balconies to provide a touch of greenery.
Then we soon arrived back at via Garibaldi. It was just a 400-meter side trip, walking out via Torri Di Properzio to the Venus Gate, and then around through the lanes back over to the main piazza.
Piazza della Republica is relatively simple compared to some of the other grand spaces that you'll find in many Italian cities, but that's because Spello is a small town. It has a park-like atmosphere, and of course there are various shops and a few cafés around it.
We started our visit in the morning, and now as the day progresses we notice that more and more people have arrived, even in November, there are some small tour groups. In the summertime it can get quite crowded. If you want to get to the train station from the piazza, it's about one kilometer. Easy to walk, but you could also take a taxi from this main square.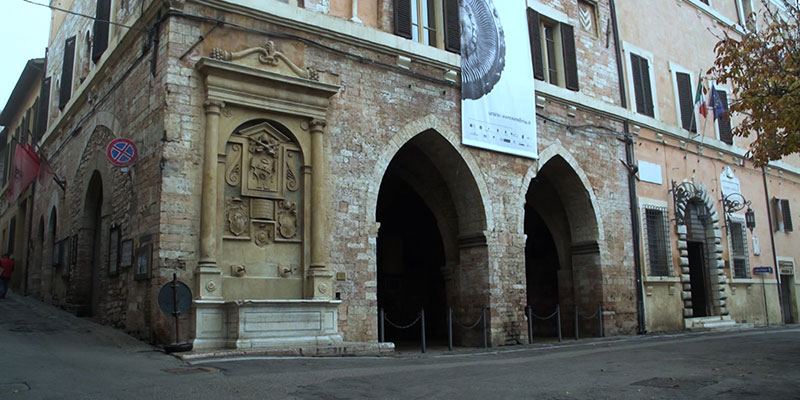 There is one monumental building on the piazza, the Town Hall, called Palazzo Comunale, with a museum inside. It was first built in 1270 in the Gothic style and over time it's been transformed with renovations and enlargements. I had purchased the Umbrian museum pass, and the clerk was kind enough to open a door for me into a little special exhibits with ancient amphora that had been used for storing olive oil, a very important product of the region.
Stepping out through the side loggia, you'll notice there are several old alleys in this neighborhood beckoning you to come explore.
Then when you return to the main street of via Garibaldi in front of the Town Hall and walk down this lane via Catena, you will reach a very impressive old palace with a wooden loggia above the stone courtyard. It's the Loggiato Palazzo Urbani, also called the Cruciani Palace.
Constructed in 1602, it was the largest private building in the city until the beginning of the 19th century, and served as a residence for various noble families. In 1940 became a boarding school, but now it's the headquarters of the municipal city government of Spello.
I have just got one more very short walk to take you on. We're going up Tempio Diana, back into those charming little residential alleys of town, making a little circle loop that will bring us back to the main gate where we originally entered the city.
By now there should be no surprise that we have one more hill to climb. And then in a couple of minutes it levels off, makes it quite easy. It's worth it because it brings us into this unusual neighborhood where the lane is going through what seemed like tunnels through the buildings, with arches and roofs overhead. It seems that the residents of this town have remained quite healthy, with all of these hills, and steps, and their Mediterranean cuisine.
As we reach the end of our journey you can look back and see that this was a very rewarding place to visit. Spello is not one of the most famous cities of Italy, but it certainly is one of the prettiest of the small hill towns. Look on top of the medieval tower next to the Roman gate as you depart and you'll see an olive tree, representing the importance of olive oil production in this area. Spello is called the "city of oil" surrounded by some of the best olive trees in all of Umbria, producing what they call liquid gold.
Spello is also famous for carpeting the streets with flowers. It happens once a year on Corpus Domini, in June, the 9th Sunday after Easter. Several thousand town volunteers put in hundreds of hours preparing for this event, which is visited by nearly 100,000 people.

It's another thrill to exit through the ancient Roman gate, and with its three entryways it resembles a triumphal arch. When you're done, the merchants are probably still out here in the marketplace waiting for you, just outside the city gates. And even though we are leaving, it's a place that you'll always want to see again.
It's been a long day, so it is time to head back over to the train station to catch a ride back to your home base in Spoleto, if you are following this itinerary. See Spoleto.