Schilthorn, Mürren, Gimmelwald, Trümmelbach Falls
You are going to experience some of the finest scenery in the Swiss Alps on this trip to the top of the Schilthorn at the back of Lauterbrunnen Valley. Along the way you can visit the villages of Mürren and Gimmelwald, and go inside a mountain to explore Trümmelbach Falls. This will be yet another action-filled Swiss adventure, especially if you do it the right way as presented here.
Summarizing this exciting day with the most interesting route:
Train Interlaken to Lauterbrunnen 20m (minutes)
Cable car up to Grutschalp 4m
Train to the village of Mürren 14m
Walk to cable car 11m
Cable cars to the top of Schilthorn 18m
One hour on Schilthorn
Cable cars back down to Mürren 18m
Lunch and walk in Mürren 90m
Walk to Gimmelwald 30m
Cable car down to Stechelberg 4m
Bus to Trümmelbach Falls 10m
Walk inside the falls 60m
Bus to Lauterbrunnen 10m
Train back to Interlaken 20m
Waiting time total for various legs 90m
Approximate total of nine hours.
That is a lot to pack into one day but can be easily done, especially if you get an early start. The advantage of this route is that you can enjoy a nice variety of transport modes and scenery in an efficient round-trip itinerary with little duplication or backtracking. Saving the waterfall for the end enables you to get up the Schilthorn as early as possible, providing best chance of clear mountain views before typical afternoon clouds roll in. This assumes you are staying in Interlaken as your home base, but if you are staying in Lauterbrunnen you don't need that first step train from Interlaken.
You can see the route in this google map:
However, if you do not have this much time available and are only interested in getting to the top of Schilthorn it would be quicker to just take the bus from Lauterbrunnen to the back of the valley at Steckelberg, then go straight up the three cable cars in 30 minutes to the mountain top. Total journey length from Interlaken to the mountain top by train, bus and cable car is just 90 minutes, then assume 30 minutes at the top and 90 minutes back to Interlaken, you are done in less than four hours.
Weather is always a major factor for determining your schedule in the mountains because you might plan other activities if you see it's a cloudy day such as taking a side trip over to the city of Bern. This is another good reason for spending a few days in Interlaken, to increase the chances of getting this good weather that you want.
Fortunately, you can find out what the weather is like at the top of the mountains, for with this typical Swiss efficiency, most hotels have televisions that include a weather channel with live reports from the top of the various peaks. And you can always ask the hotel staff otherwise to check the morning weather report.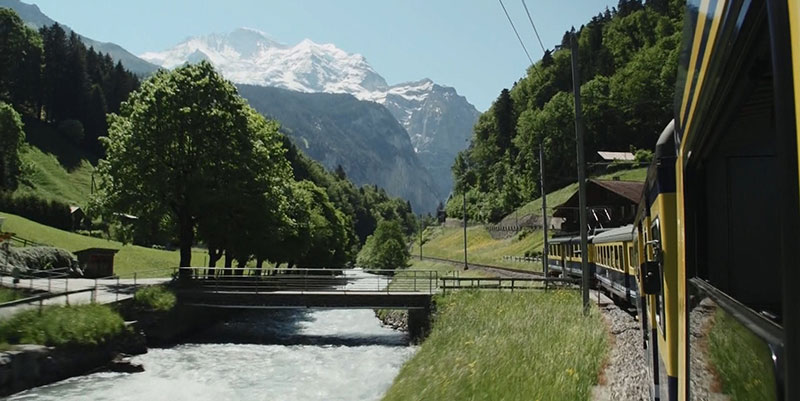 The Journey Begins
Assuming you are staying in Interlaken, which we suggest as a good home base, take the train from the East station to the town of Lauterbrunnen, perhaps on the 7:05am departure for that early start. The first train departs at 6:05am but that is way too early for most people.
The ride to Lauterbrunnen offers some beautiful views along the Luschine River where the valley is quite narrow, before widening out to the full Lauterbrunnen Valley a few kilometers ahead.  In the following story we assume you are taking the longer scenic route as outlined above.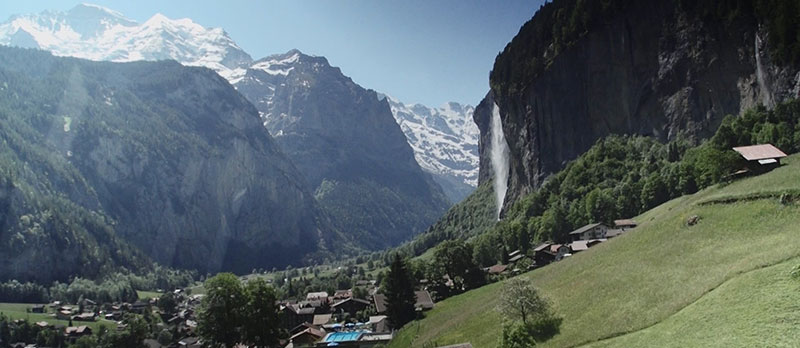 After arrival at the Lauterbrunnen train station it is only a one-minute walk to the cable car, which will take you up to Grütschalp. This cable car ride offers spectacular views looking up into Lauterbrunnen Valley, framed by the high mountains on both sides – to the left, the Jungfrau, the Mönch and the Eiger, and in the far distant right the Schilthorn.
The train schedules are usually coordinated so that when you get off the cablecar and walk through the small station at Grutschalp, your next the train is waiting for you, ready to go.
This narrow gauge train, called the Lauterbrunnen Mürren Mountain Railway, first opened in 1891. It is owned by a larger company, the Jungfraubahn Holding Company, which also owns the rail systems on the other side of the valley that go up to Wengenalp and up to the Jungfrau. Originally the route up the hill was a ground-level funicular running on tracks, until the cable car was introduced in 2006.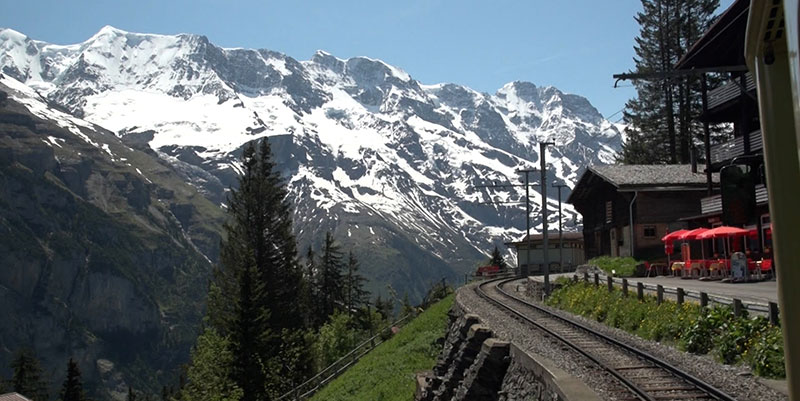 The railway from Grutschalp to Mürren is a single track, about 4 kilometers long. Halfway there is another station called Winteregg where you could get off and walk the last two kilometers, which is level and pleasant with excellent mountain views of Jungfrau and Mönch looming above the other side of Lauterbunnen Valley.
You are going to love the village of Mürren, one of the very few automobile-free towns in Switzerland, so it makes a nice place to walk around. This cozy community consist of picturesque, traditional wooden chalets, with a backdrop of huge mountain peaks across the valley.  Mürren has several small hotels and some traditional guest houses where you could stay. However, there is not much to do here except hike, relax, admire the views and have something to eat.
There are many trails that lead out from this village which could keep you busy all day if you wish. Mürren sits at an elevation of 1,600 meters with a population of just 450, but 2000 hotel beds available, so it could make out a very peaceful place to stay. Skiers should come in the winter to try some of the 51 kilometers of ski runs, serviced by 13 ski lifts. You can jump off the mountain, with parachute, for the thrill of tandem paragliding with an expert, no experience necessary.
If you are here in the morning and getting hungry or missed breakfast at your hotel due to an early start, there are various restaurants and cafes in the village, but save lunch for after coming down from Schilthorn, when you can have a traditional meal outdoors at a terrace restaurant overlooking the view.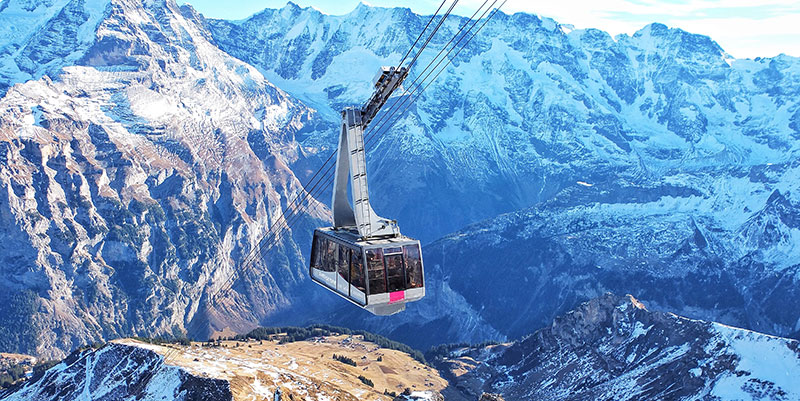 From Mürren you'll be taking two cable cars starting with a 12-minute journey from Mürren to Birg, where you get off and follow the crowd to change cable cars for the final 4-minute leg up from Birg to the Schilthorn. The scenery gets more wonderful as you gain altitude, with those jagged snow-covered peaks all around you. On a clear day you've got the sunny highlights and dramatic clouds in the background, with beautiful peaks and valleys all covered in snow. 
View this portion of the video, cable car up the mountain.
The view from the cable car is magnificent, because you're going up to an elevation of 2,970 meters. If you are a short person you want to board the cable car quickly and stand by get a window so you can see well. If you're taller, anyplace you stand in the cable car is going to provide a great 360° panoramic view as you go up the mountain.
The Swiss engineers have done it again with superb facilities at the mountaintop observation center, including a rotating restaurant and escalators to bring you to the different levels, all run by solar power.  Perhaps have a meal at Piz Gloria or a simple lunch in the self-service cafeteria while soaking in the amazing view.
You are in the midst of the Bernese Overland with the Mönch, Eiger and world-famous Jungfrau Mountain on the far side of the valley. It's a glorious 360 degree panorama with many more mountain peaks all around you. There is a convenient diagram that points out how you're surrounded by other peaks that are as much as 4000 m high (13,000 feet). All year round you'll see snow because this is a glacier.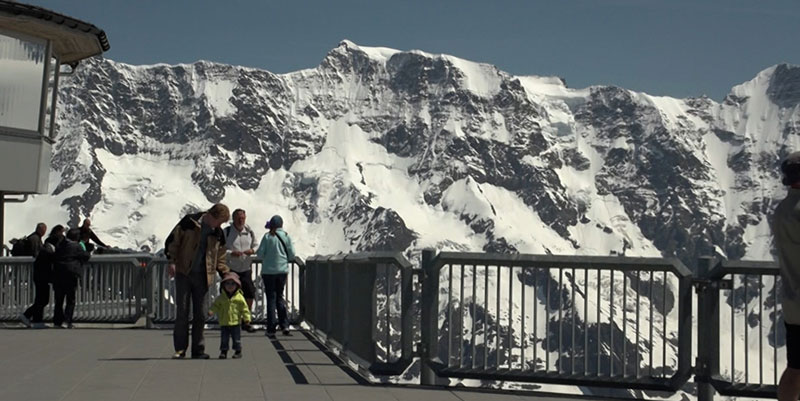 A large outdoor terrace provides an excellent vantage to look back across the valley at those three world-famous peaks,  the Jungfrau, Mönch and Eiger, whose complete forms can be seen better from this vantage than from close up. On a sunny summer day the temperatures hover around freezing, but it usually feels very comfortable when you're properly dressed. You don't need a heavy jacket on most days in the summer.
Watch this portion of the video, with panorama views: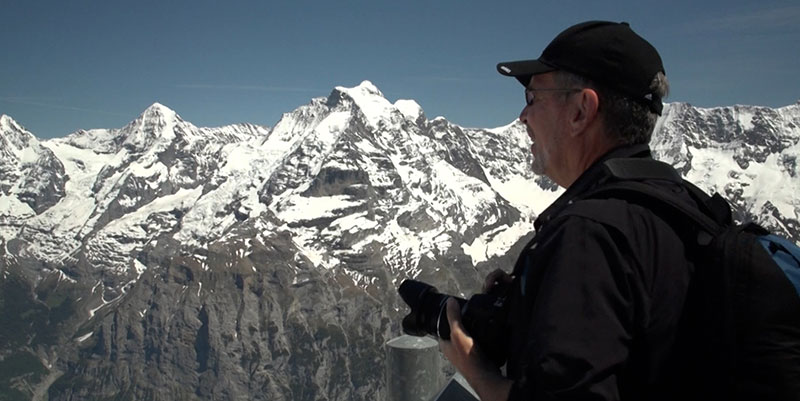 Many people consider this view from the Schilthorn into the heart of the Swiss Alps even more spectacular than the view from the Jungfrau, because there are tall peaks in all directions. The Jungfrau observation deck at 3,463 meters is about 500 meters higher and has that endless Aletsch Glacier, framed by several massive peaks, and in the other direction, a green slope heading down to Interlaken. Both mountains are covered with snow all year round and give spectacular views of mountains, glaciers and valleys.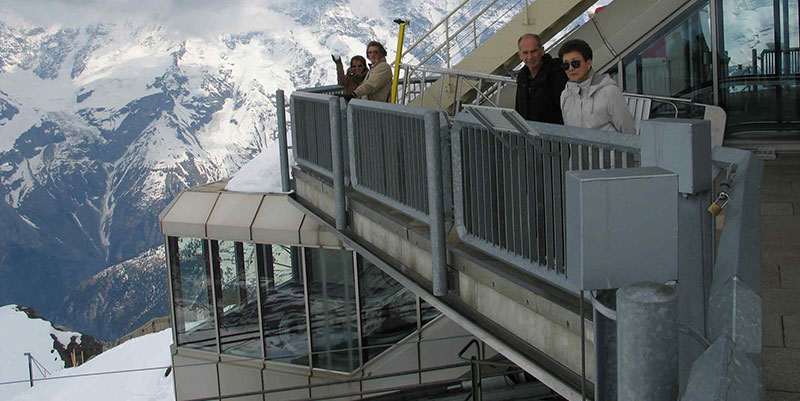 They have added a new observation deck with glass paneling on the floor and all around to give you the feeling of being suspended in space, as shown on the Schilthorn website. They call it the Skyline View Platform, included in your admission. You could cap off the visit with a drink in the Crystal Lounge and imagine watching James Bond in the frantic chase scene from On Her Majesty's Secret Service,  filmed here in 1969.
After an hour at the top you've probably seen enough, so unless you're staying for meal, head down in the next cable car back down to Mürren.
Four different cable car rides are needed to get down this highest cable run in Europe, if you are riding all the way to the valley bottom at Stechelburg. But we suggest you take your time and break it up with lunch in Mürren followed by a short hike down to Gimmelwald. 
It just takes about two minutes to walk from the Mürren cable car station to the outdoor terrace restaurant of the Hotel Alpenruh. They offer a lovely lunch with a variety of light salads, roasted sausages, mushrooms, chicken and more on their big menu. You could have ham, bacon, onions and potatoes in an omelet. Or just get a hamburger and french fries. They also rent rooms in this very comfortable three-star lodging with an amazing view looking out across the valley to the mountains beyond.
Watch the video of lunch on the outdoor terrace
Another place to consider is the Allmendhubel flower park reached by a funicular going up from Mürren. The new adventure playground at the Allmendhubel transports children and young-at-heart to a fantasy world of giant alpine flowers, grasses and oversized insects.  This is where children can fly with butterflies, explore a marmot burrow or try their hand at milking and cheese making – forging a relationship with plant life, animals and farming in the mountains.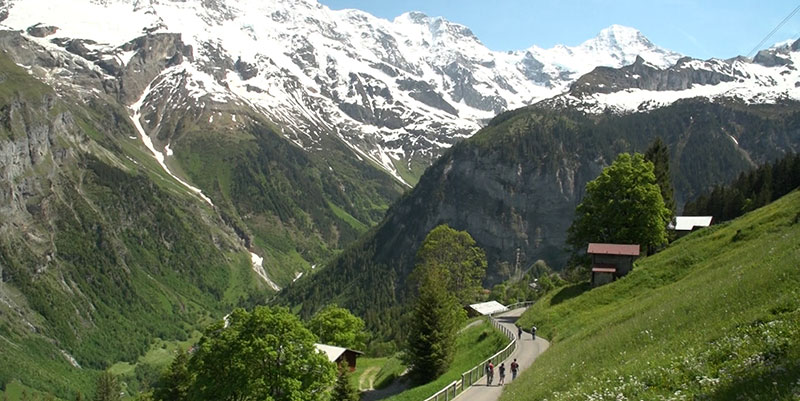 When done with Mürren you could continue down by cable car, but instead you can walk part of the way on a most enjoyable hike to Gimmelwald. It's a beautiful half-hour downhill stroll, and you get some amazing vistas of the valley. You'll see other hikers and rustic cabins along the way, so by all means consider walking that easy downhill slope to Gimmelwald, where you can pick up on the cable car once again. In hindsight at the end of your trip to Switzerland, you might feel that this walk was the nicest of all.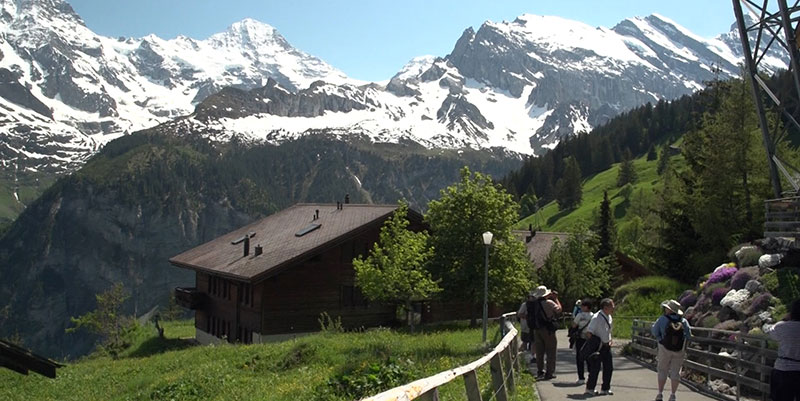 Perhaps you'll be interested to stop off for a quick look at the tiny hamlet of Gimmelwald, with its few scattered chalets, or its hundred and forty residences. There are some guesthouses here. There is one little store, a little restaurant, but really not much. This is as rural as it gets in backcountry Switzerland – very cute. Then you can resume your journey on the cable car going down or keep walking. You'll see farm animals out in their corrals, including some sheep and goats.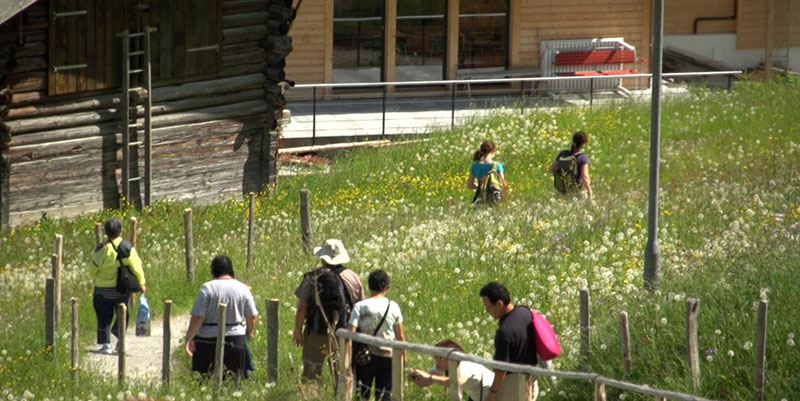 It's really one of the easiest Alpine strolls, with a mild downhill slope that gently pulls you along, fueled by sights so pretty that make it an effortless glide.
Watch that part of the video, walking in Gimmelwald.
Even if you're not spending the night in Gimmelwald, you could extend your visit. If you enjoyed that little hike from Mürren, you could continue on an easy hike from Gimmelwald to Chilchbalm that leads you to the end, the backside of the Lauterbrunnen Valley, where the mountains are in your face and the views superb!  One-way takes 70 minutes at a leisurely pace and the path doesn't have any significant uphill stretches.  There is a similar short, easy hike from Gimmelwald into Sefinental Valley, a quiet peaceful place where the only sounds come from the bubbling brook.  Then walk back to Gimmelwald for the cable car trip down.
Gimmelwald offers a few small bed-and-breakfasts, a hostel and pensiones where you could spend the night. You'll see their notices posted up on the bulletin board at the cable car station, or just do a search on-line. There are lovely hiking trails that go out from here, and it is a quiet little hamlet for some total relaxation.
A Gimmelwald website says "If Heaven isn't what it's cracked up to be, send me back to Gimmelwald."  They add it's like "something out of a fairytale."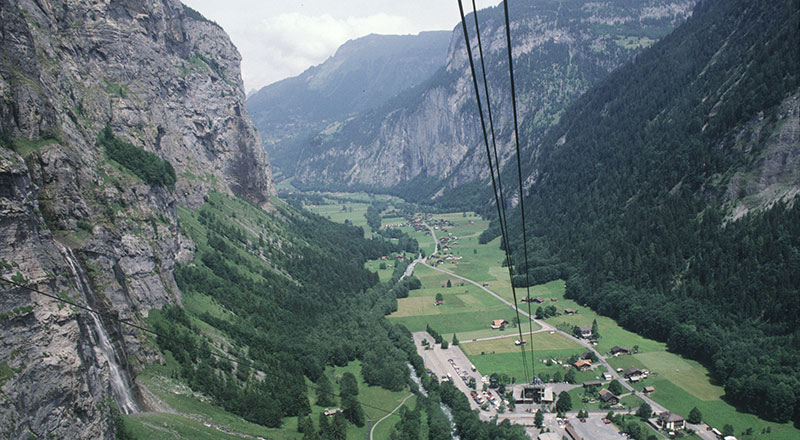 The views from the lowest stage of the cable car journey below Gimmelwald are so fine, that they alone would make the day worthwhile, looking out the length of the Lauterbrunnen Valley to distant waterfalls, and that dramatic rock cliff a few feet from the gondola.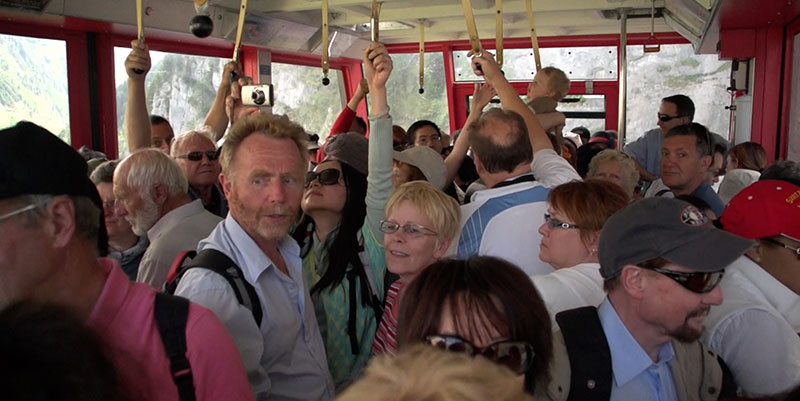 It helps to get a window position, so when you get into the cable car head to the front or to the left side and you'll be in position for getting the best view and pictures.
Watch that part of the video, views from the cable car.
When you reach the valley bottom you can catch the bus from Stechelberg that will bring you back to Lauterbrunnen Valley, to the town of Lauterbrunnen, but do make a stop along the way at Trümmelbach Falls.
Trümmelbach Falls
The valley has 72 waterfalls, but Trümmelbach is by far the most spectacular, even though you can hardly see it from the outside, because it is inside the mountain! You actually go up inside the mountain to view the waterfall.
Swiss engineers have built elevators, staircases, and walkways, and viewing platforms to give you a closeup view of this most unusual waterfall. You actually ride an elevator inside the mountain, then you've got 204 steps up the stone staircase tunnel to get to the top. A few level walkways have been carved into the crevasse to make it easier for you to get around,  but nearly everything here is natural rock formations.
There are about a dozen major drops in this waterfall, so it's like looking at 10 or 12 waterfalls in one, and always there is the naturally sculptured rock cliff face with the booming water pounding through.  Over millennia this huge barrage of water had carved out a narrow vertical, twisted canyon into the rock face of the cliff and so the engineers realized this was an interesting opportunity to help people enter and be inside the waterfall itself.
This torrent of water is draining from the Aletsch Glacier, coming down from the Jungfrau, Eiger and Mönch, those three big peaks of the Jungfrau Massif.
You might get a little bit wet from the spray as you're standing close to the edge and looking at this thundering waterfall coming down, but that's okay, just protect your camera – and you're not going to get drenched. They designed the steps and walkways so that you can get close to the edge for good views with a bit of mist, to enhance the feeling of being inside a waterfall.
They put some colorful lights in here which might seem a little tacky, but it does add some welcome color to this otherwise gray stone and gray water, not exactly a spinning disco ball but all part of the fun.
The engineers designed these interior tunnels and walkways with varying degrees of enclosure, sometimes in a dry, narrow tunnel, elsewhere opening up wide with water spraying around and views outside to the valley beyond. You look at it on various landings on the way up, then turn around back down again, and get different angles, different viewpoints.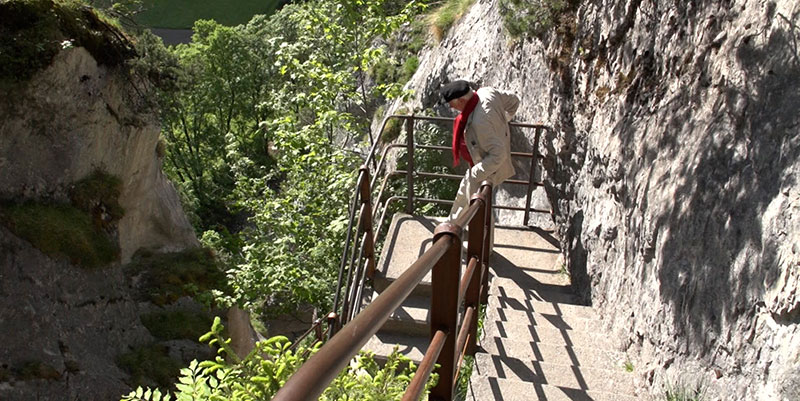 When you walk halfway down you reach the top of the elevator again, so you could ride it back down to the bottom. However, it is better to walk all the way down, getting new views of the lower waterfalls. We discovered this by accident, because on our way down in late afternoon the park was closing already so we had no choice – the elevator shut down and we had to walk over back down, and we're glad we did.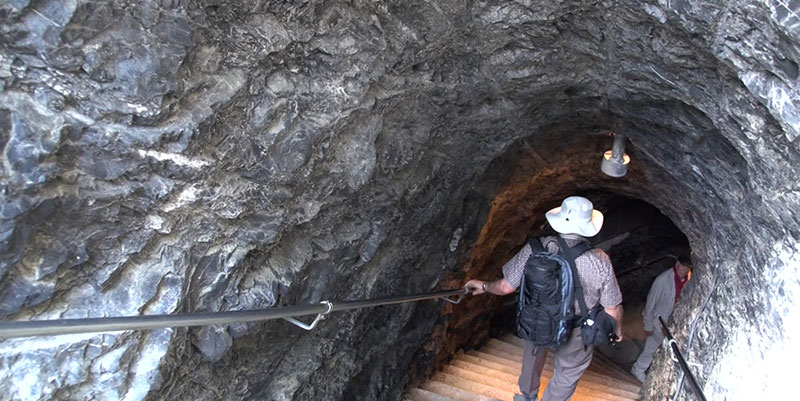 Walking all the way down is a better strategy because you'll see parts of the lower falls that you would've missed otherwise, and more of the wonderful views from the waterfall looking into Lauterbrunnen Valley.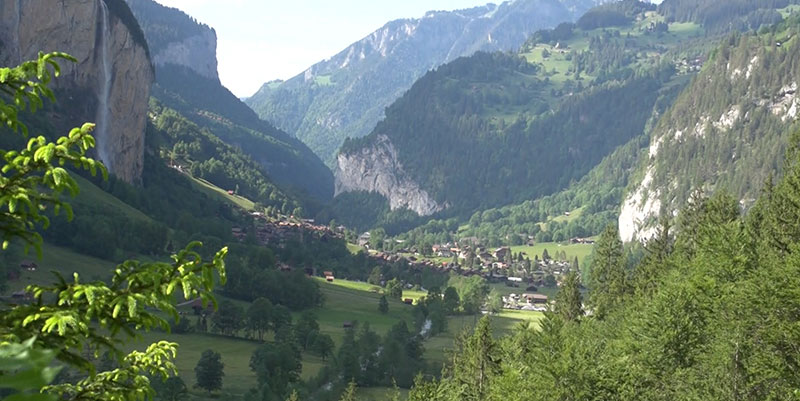 This is very easy visit and when finished you walk back to the road to the bus stop and catch the next bus coming through. You should check the bus schedule that are posted on the board before you go into the waterfall so that you can time your visit.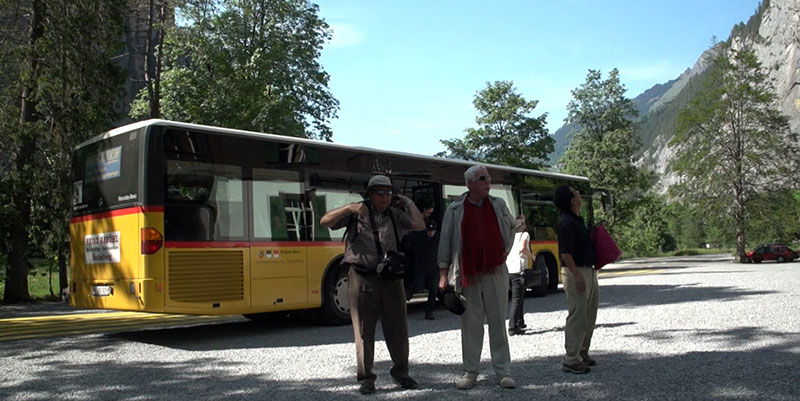 Buses run every 30 minutes, and if you know when the next bus is coming, you can then linger in the waterfall or hustle out a little bit in order to catch that bus. Otherwise, you might have to sit around and wait for half an hour at the bus stop for a bus to come through.
You could also very easily walk from Trümmelbach back down to Lauterbrunnen town on a nice riverside trail that will take you about 45 minutes, an easy, level 3-kilometer stroll through beautiful scenery. Or you could just walk along the roadway and that'll be quicker, maybe 20 to 30 minutes to walk from Trümmelbach to Lauterbrunnen, so take your pick. But if you timed it right, the bus arrives and it will pick you up and bring you back to the town of Lauterbrunnen, which is only about a 10 minute bus ride from this point.
Arriving at Lauterbrunnen, you can catch the final leg of your day's adventure,  which is another scenic train ride back to Interlaken,  which only takes about 20 minutes. By now your body is a bit weary and the eyeballs are full of scenery from the day's adventures,  but be sure to look out the window on the train ride and you'll enjoy those same views of the stream and turn your head around for vistas back in the valley.

You will probably get home by late afternoon from the big day's adventure, leaving you time for a walk through Interlaken town and settle in for a relaxing dinner.