Kinsale
Kinsale is one of Ireland's most beautiful towns, famous for its brightly colored buildings, numerous shops, including art galleries and antique stores, with many excellent restaurants, often called the "Gourmet Capital of Ireland."
It's slightly out of the way, about 17 miles south of the bigger city of Cork, and yet it has become one of the most popular visitor destinations in the country, primarily because of its beautiful setting with the waterfront harbor and the lovely arrangement of its narrow, winding streets that are just perfectly ideal for walking.
Here we have an authentic and cozy village feeling with these many blocks for discovering on foot, lined with an excellent variety of shops that are usually smaller and independent family-operated boutiques. You don't see those high-end luxury fashion and designer shops like Louis Vuitton and Chanel here. Instead, it's much more of an authentic local shopping experience, with typically Irish workers who are friendly and happy to chat with you.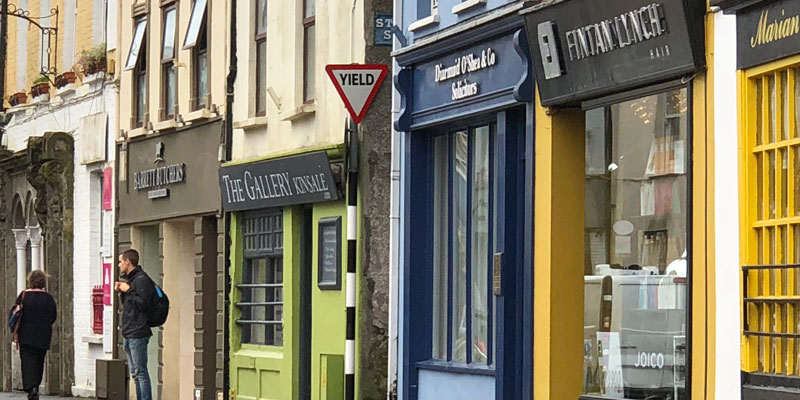 Kinsale is an ideal town for walking, partly because of its small size, just about 400 meters from one end to the other, with a lovely concentration of shops and restaurants in that central part of the village. There are many variations of these paint jobs and colors of the stores along the streets, turning the urban landscape into an outdoor art gallery, delightful to look at as you stroll along. We will be taking you on walks along those main streets of town, showing you the beautiful shopfronts and restaurants along the way.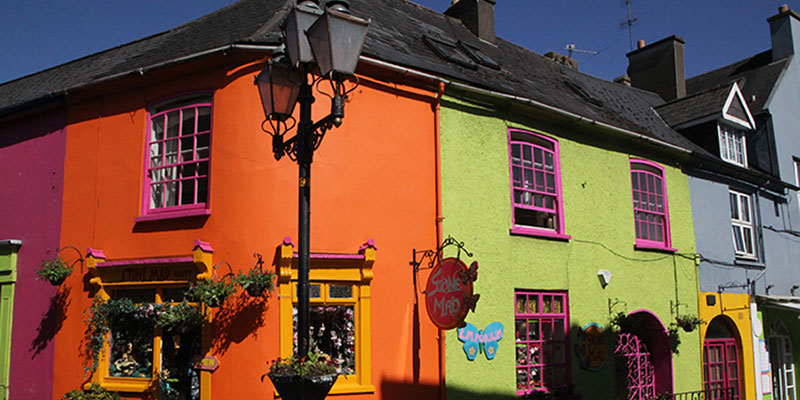 Market Square, and these little pedestrian lanes, have a lively atmosphere. It's a popular gathering place, surrounded by a delightful array of colorfully painted, picturesque shops and boutiques, just a few blocks, and there are no cars in these beautifully painted colorful buildings with some benches where you can sit down and relax and enjoy the sights. It's the kind of place where you just want to hang out and relax.
We've gotten used to pedestrian zones in most towns of Europe and come to expect them where cars are not allowed, but it's not that common in Ireland, except in a few places such as Kinsale. Even here, the pedestrian zone is quite small, only three little blocks, but the entire town center is very friendly for the pedestrian, for walking along. Yeah, there are cars in the streets, but not many -- doesn't matter because it's still a wonderful place to walk, enhanced by the large number of shops and restaurants housed in these historic buildings that are so well-maintained and delightful to look at, keeping you pleasantly occupied while strolling along.
It's quite different than most Irish towns, which usually consist of one main road running through the center of the town, with buildings along both sides. You don't often have that tangle of inviting side streets that you want to go exploring like you find here in Kinsale. Partly it's because Kinsale is located out of the way -- it's not on a major thoroughfare connecting to other big cities, but along a waterfront on the southern edge of the country. And another factor is that it was occupied and developed by the British from 1600 up through the early 20th century when it really took its form. For a while, Irish were not even allowed to live here.
The central streets are clustered together and intersect with various angles. Many of the roads start with the same word, "Market," because this had been the market center of the old town, as it is today, along with several other main streets that go all around the center. And yet the actual pedestrian zone where cars are not allowed is just a few tiny blocks around those colorful buildings next to Market Square, the center of town.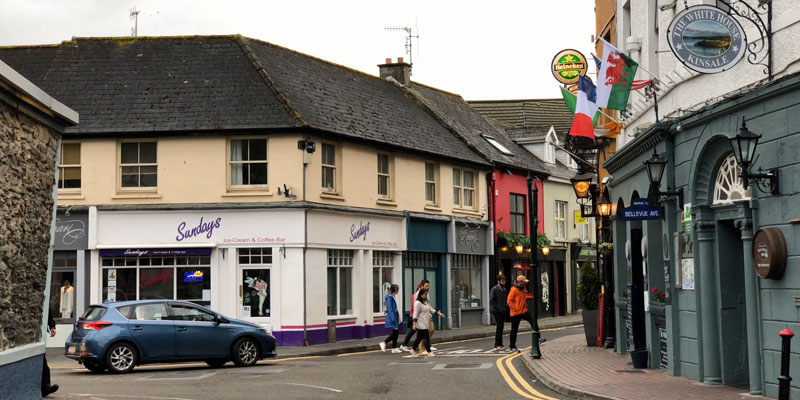 This intersection of three streets is another focal point of town where you've got Pierce Street, Market Street and The Glen coming together with several outstanding restaurants and hotels such as the White House and across from it, the Blue Haven Hotel, Bar and Bistro, one of the top gourmet dining experiences in Kinsale.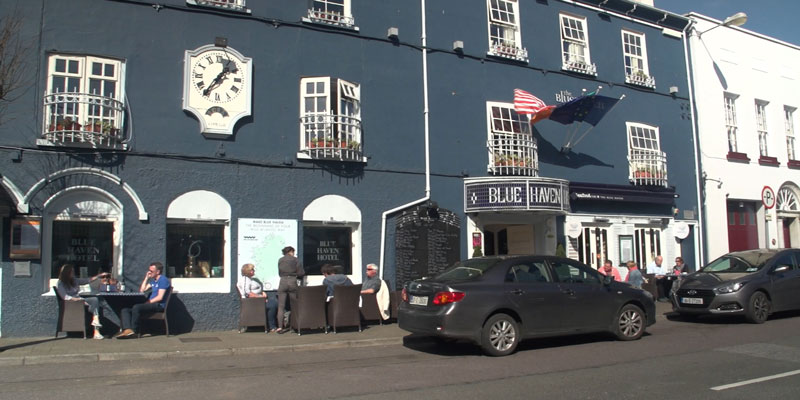 The Blue Haven restaurant is highly regarded for its delicious cuisine, showcasing a range of dishes made with locally sourced ingredients, including fresh seafood, meats, and seasonal produce. There's also an attached pub where you can kick back and have a light meal and some Guinness, along with a range of Irish whiskeys, local craft beers, and carefully curated wine options. You can also have a meal at their Fish Market Bistro. The Blue Haven Hotel features stylish, cozy rooms, blending modern amenities with a touch of traditional charm.
The White House Hotel and restaurant has a distinctive white facade, contrasting with the vibrant colors of Kinsale streetscape. It's a historic building with a rich heritage that dates back centuries. The restaurant features a mix of traditional Irish dishes and contemporary European flavors, from seafood delicacies like fresh oysters and grilled fish to succulent meat dishes and vegetarian options, a diverse range of delectable choices to suit various pallets. The restaurant's ambiance is warm and inviting.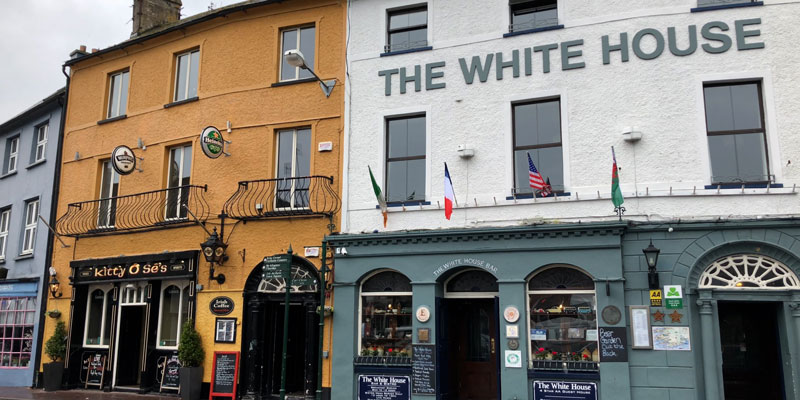 Next to it is another popular venue, Kitty O Se's, with traditional live Irish music every day. Oh yes, you'll find lots of Irish music in the pubs of Kinsale. It is a small town with a friendly atmosphere, seemingly more of a place for locals rather than tourists.
Walking Tour
We're going on a walking tour of some of the main streets of town, starting in the very center on what is probably the best street in town for walking and shopping, Market Street, with a mix of shops, restaurants, pubs and little hotels.
The town consists of well-preserved historic buildings because during the 20th century, this area was in economic decline. Nothing much happened here. There was very little development. And so the old buildings from centuries ago are still standing. It's one of those delightful historical sequences where a town was booming in the 1600s and 17 or 1800s with many attractive shops and homes built in a nicely organized village center. Then it went into decline, left alone for 100 years, and now it's been rediscovered.
The buildings are all renovated and painted in a lively variety of colors. You'll be captivated by the colorful facades of the buildings. In the last 40 years, Kinsale has blossomed and has bounced back today as a desirable destination. Market Street intersects with Main Street, another lively thoroughfare that runs right through the center of town, lined with an array of shops, restaurants, pubs and historical landmarks. This is a place where they love their bookshops.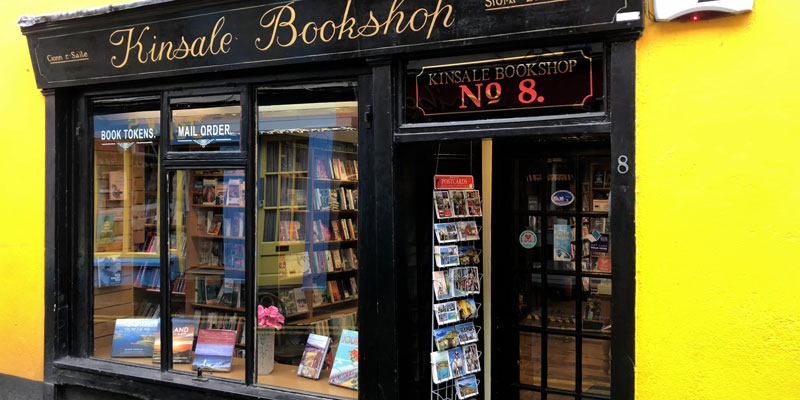 It's a shopper's paradise where you can browse through an array of specialty stores, fashion boutiques, artisanal craft shops and more. If walking has worked up a little appetite, you will find plenty of places to satisfy, with a little snack, some meals, sandwiches, drinks, coffee and bars, perhaps a little Irish tea and a muffin.
There are a couple of steep staircases that go from Main Street up to Higher O'Connell Street, but there's not a lot up there, so you can skip that. Instead, there is much more of town to discover. The largest and busiest street in the city is Pearse Street. It's so wide they even have diagonal parking, with many cars going by, wide sidewalks, and lots of shops and restaurants.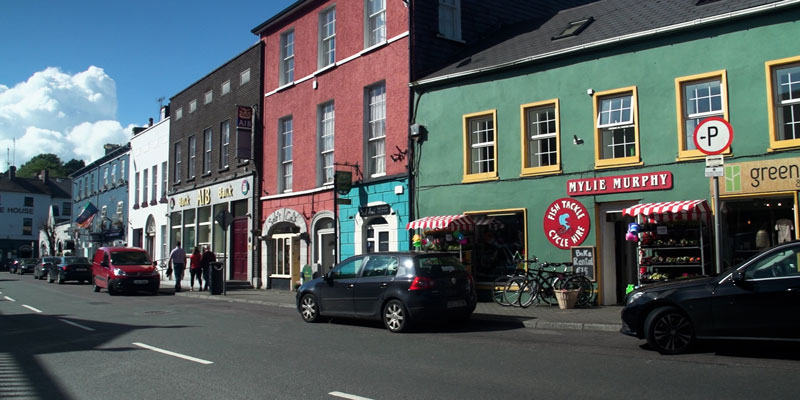 Mylie Murphy is a place you can get fishing supplies or rent a bicycle. That way you can explore some of the many bike trails available in the vicinity. Pearse Street has a lot to offer, but with a much different character than those other narrow streets we've been walking on. It's more like a typical big city street. Then it changes names to The Glen and at that point connects to Market Street. Even though it does not have that old-fashioned character, it's worth walking along Pearse Street. Among the excellent restaurants here is Hamlets, associated with the Blue Haven Hotel, with indoor and outdoor seating. And it's nice that this is not just a touristic street, but one for the locals where they have a post office and a grocery store.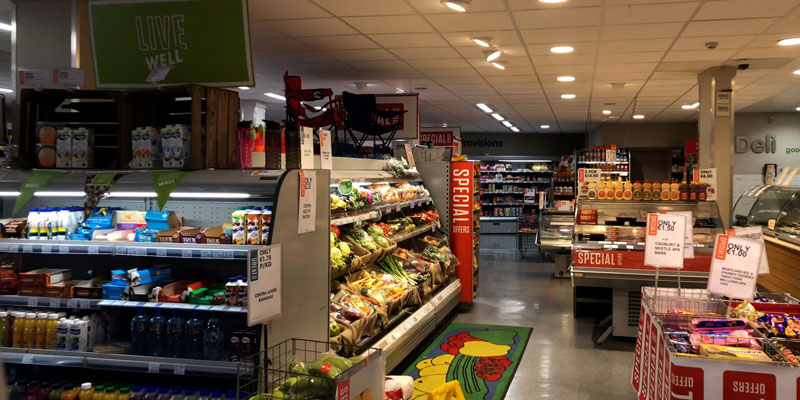 Let's take a look inside a supermarket and see how similar it is to the markets that we've got everywhere. You'll feel right at home walking these aisles, maybe just getting a snack or if you're staying at a vacation rental here, you can get some supplies for your own kitchen. Kinsale is a town of fine gourmet dining, but perhaps you want to take a break from the fancy restaurants and the high prices and just get some down-to-earth food and snacks, and here you've got it right in the supermarket on Pearse Street.
A block away is a street called Market Place with a curious historic site, The Old Pound, which was not a prison but was for the care of stray livestock, especially pigs and horses. This old stone structure is now preserved as a historic site on the corner in the middle of the Old Town.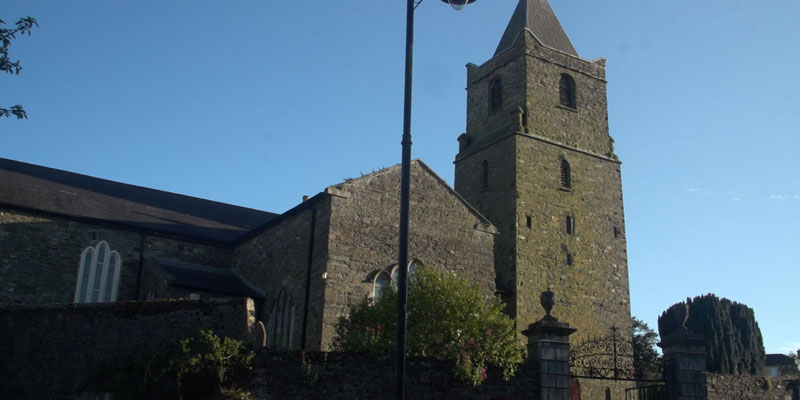 St. Maltose is one of the oldest churches in Ireland, built from 1190 in the Norman style.
Desmond Castle
A few blocks away, we arrive at Desmond Castle. It was built about 500 years ago. It's a fine example of an urban tower house. It was initially built as a Custom House, playing a major role in importing wine.
The Earl of Desmond was granted the right to take one cask of wine from every shipment, and Kinsale in those days was a significant importer of wine from Spain and France and Portugal.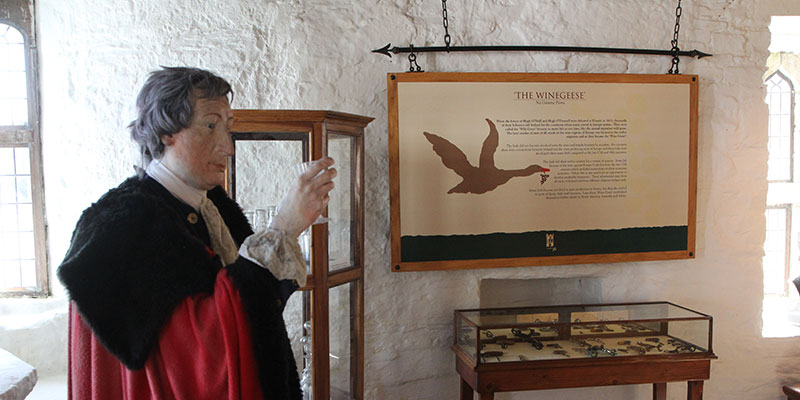 They have a small wine museum inside the castle, with different kinds of corkscrews, old bottles of wine and different paraphernalia. After 1641, the castle was converted into a prison because the French navy attempted to capture Kinsale and they were defeated. And so the prisoners were held here, and it's known locally as the French Prison because of soldiers who were locked up here during the Napoleonic Wars.
It's worth climbing up the steps to the rooftop observation deck to look out over the Old Town with Kinsale harbor in the background, showing the many boats in the marina. You can take an excursion cruise from this harbor that serves as a hub of activity with fishing boats, pleasure crafts and sailboats dotting the shimmering waters. Kinsale's ideal harbor made it an important maritime trade and fishing center as far back as the 13th century. The town thrived as a bustling port, attracting merchants from across Europe and establishing trade connections with cities like Bristol and Bordeaux.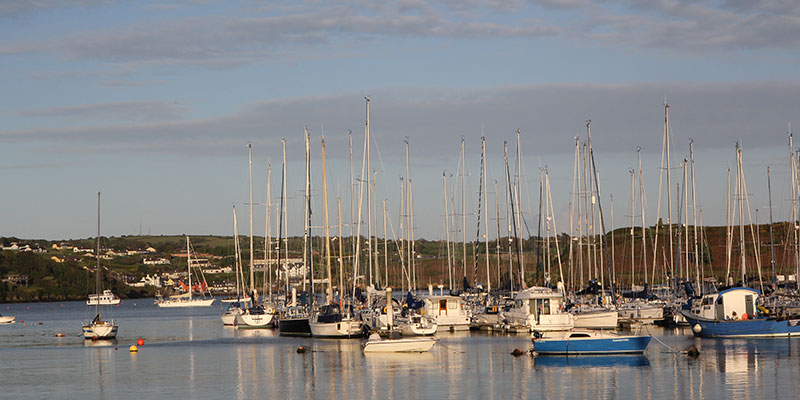 The harbor looks pretty big from the shoreline, but it extends way beyond what we can see, forming a major naval facility back in the Middle Ages and on through the 1800s. The water's edge makes a delightful place for a stroll.
Other features of this harbor are some nice restaurants and several hotels right along the waterfront. Dino's Family Restaurant has been in the area since 1970 as a family-run business. They serve homemade chips, fresh fish, crispy chicken and their famous King Dino burger. They support local suppliers and farmers to get fresh fish and produce using local ingredients wherever possible. And they have a stand-up counter for quick service of takeaway food.
Fishy Fishy is also a fine restaurant along the waterfront. It is operated by a husband and wife team who opened their original Kinsale Gourmet store in 1990 and expanded into this roaring success. Be sure to call ahead for a reservation.
There's a nice little park along the Promenade, primarily a place for the local families to gather and give the kids a chance to get out, play around, and have fun.
Also, along the waterfront, Actons is the oldest hotel in Kinsale and is thoroughly updated as a contemporary four-star destination. I've stayed here with my groups several times and really enjoyed the facilities, their excellent buffet breakfast, its great location with an easy walk right into town. You would love to have dinner at Bastion, the only restaurant in Kinsale with a Michelin star, where they make everything they serve in-house, operated by the McDonald family.
Another gourmet feast can be enjoyed at Max's Wine Bar and Seafood restaurant on Main Street, operated by a husband-and-wife team since 1999. Many of the restaurants here are also pubs and small hotels, suitable for bed and breakfast, following in the path of an old Irish tradition where hospitality and comprehensive service for guests take care of everything a visitor could ever hope for. Now you can see why Kinsale has been called the "Gourmet Capital of Ireland". Yet it's a place where they don't take themselves too seriously and love to have fun.
Another highly recommended restaurant is Jim Edwards, a gastropub. Some locals told us this is an excellent restaurant, and as we sat and enjoyed a meal, we saw more and more local people coming in to fill the place. So we knew this was a good spot, as confirmed by our chat with one of the owners.
"So it's a family business here, there's my mom, my dad and my two brothers are here. We grew up upstairs. We have accommodation, with seven rooms." Naturally, they have a lot of excellent fresh fish on the menu, and they are famous for their scalloped potatoes. It figures that the Irish can be very creative with potatoes. And they were. And there they're big side dishes of vegetables. It was an amazing feast at a reasonable price. So a pub is not strictly a bar with a lot of Guinness and maybe a pub lunch. Many of them are gourmet restaurants nowadays, especially in Kinsale.
Jim Edwards is located along Market Quay, a short street, extending from the harbor to Market Square. The street has a market on Wednesdays from 9 a.m. to 2:30 for fresh produce, local cheeses, baked goods, crafts and souvenirs.
Down at the harbor end of Market Quay, you'll find the Tourist Information Office -- free maps, brochures and help on finding accommodations. They also have an excellent website.
At the other end of Market Quay, we're back at Market Square, that essential gathering place of town. It's kind of curious, it's not really much of a piazza, it's just a widening of the sidewalk with some restaurant tables out there, but people love to gather here. It's right next to that small pedestrian zone with the colorful buildings we saw earlier, another great place for gathering, especially when your dog wants to play tug of war, then run around and play some games, a friendly guy who wants spectators to join in on the fun.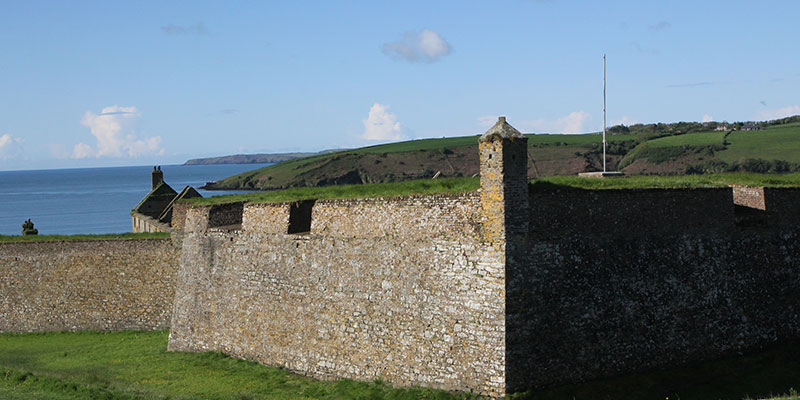 Charles Fort
We are almost finished with our visit to this beautiful town of Kinsale, but there is one more major sight to see on the hill just outside town, where we find a massive fortification. And that's the historic site of Charles Fort, built in the late 17th century by the British to protect Kinsale from attack by the Spanish, French and Irish rebels.
Earlier in 1601, Kinsale was the site of a major battle between Spain and England, in which the fourth Spanish Armada was here to help the Irish rebels fight against the British to gain their independence. Unfortunately for the Spanish and Irish, they lost that battle and England continued its domination over Ireland for several centuries.
This fort is one of the reasons why the British maintained that control over Ireland. The location up on the high ground gave them a commanding view over the entire coastline.
That completes our detailed visit to Kinsale. You can find many more articles about Ireland in the website.