Haarlem
This historic city is a perfect example of the delightful benefits of visiting places beyond Amsterdam when exploring the Netherlands. Haarlem offers a real contrast to the big city because it has the peaceful atmosphere of a small town and is one of the most attractive destinations in the Netherlands.
Haarlem one-minute Video Introduction:
Haarlem is a perfect example of the delightful benefits of visiting places beyond Amsterdam when exploring the Netherlands. This historic place offers a stark contrast to the big city because it has the peaceful atmosphere of a small town and is one of the most attractive destinations in the Netherlands.
Haarlem is only 15 minutes away from Amsterdam by train and yet many visitors never get there. Let Haarlem be your first step in reaching out beyond Amsterdam to discover some other wonderful towns in the Netherlands.
You could come here on an easy day trip from Amsterdam and see quite a lot, but then you're not going to discover all of the shopping lanes or get into the interesting little residential back streets, or the history and art museums. It would be better to spend at least one night to have sufficient time so you can take the walks suggested here through various quiet pedestrian lanes, do some quality eating and shopping, then dive into the museums.
Quick summary: The center of town features one of the nation's largest market squares and churches, the Grote Kerk (Great Church) built four centuries ago in the late Gothic style. Just south there is a series of pedestrian lanes lined by charming shops and cafés, with little side residential lanes here as well, all perfect for exploring on foot. the oldest history museum in the country.
Bicycles are everywhere as usual in this typical Dutch city, with hardly any cars in the historic center. Although there are no charming little canals weaving throughout the center, there is a big canal that wraps around the whole city, and the excellent pedestrian shopping lanes through the middle more than compensate for any lack of waterways. There are two major museums, the Frans Hals collection, Haarlem's most famous local artist, and Tyler Museum, of science, history and art.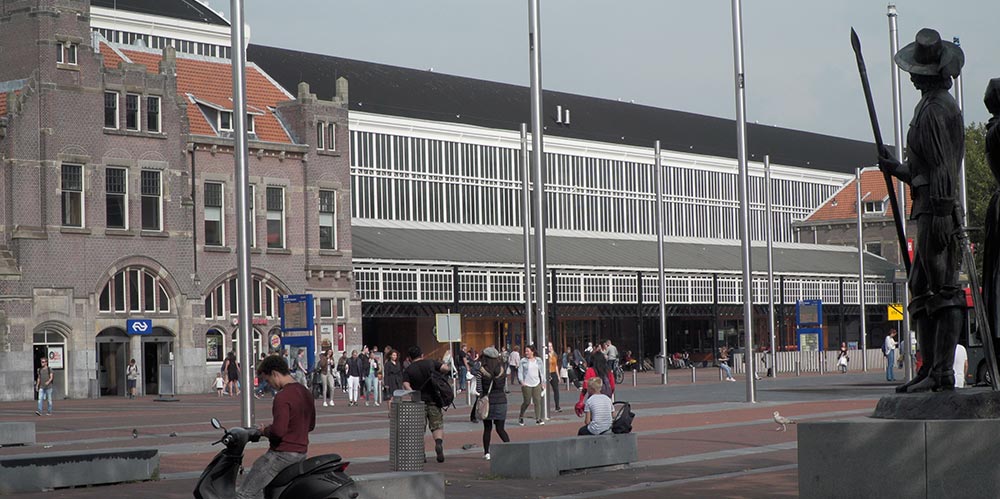 ARRIVAL:
You're probably arriving by train from Amsterdam, or you could take the 50-minute direct bus ride from Schiphol Airport. It is an easy 10-minute walk along Kruisweg from the train/bus station at Stationsplein into the heart of town.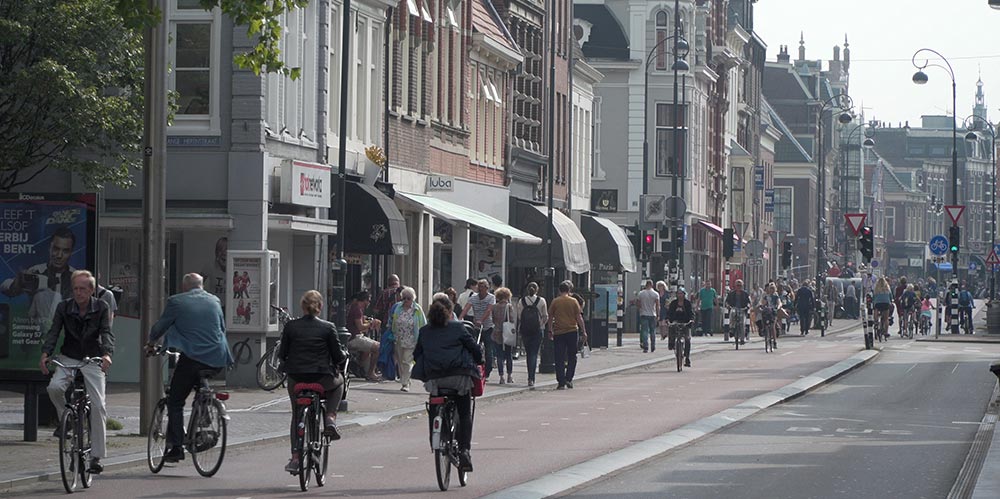 From the start you will find a nice variety of shops, bars and restaurants every place you look along Kruisweg street leading into town. The historic center is a network of a half-dozen pedestrian lanes, all of which lead to that market square, making it easy to navigate without getting lost.
Haarlem travel video, 18 minutes
MAP ROUTE:
The map shows the walking tour route we are going to take you along in this section.
MAIN SQUARE: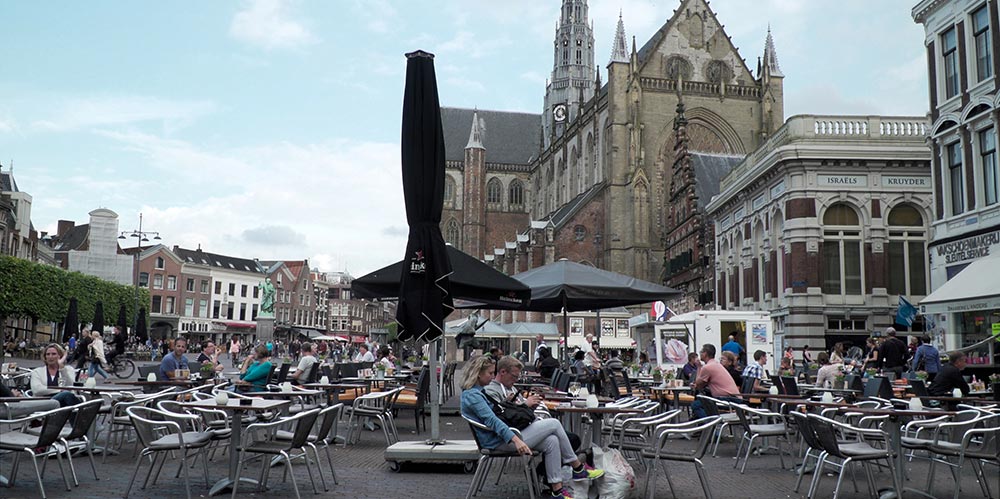 Grote Markt is so large that it usually has abundant open space and plenty of room for sidewalk restaurants, but on Saturday morning there's a big outdoor market as we shall describe in detail later in the market page.
This amazing market sells all sorts of cheese, vegetables, fruits, flowers, clothing, knickknacks, hardware, antiques and more. Saturday's market is open from about 8 o'clock in the morning until after 4 PM, so it's a big day. Because of these extended hours you can have a look at the market, then go off to the shopping lanes and come back to the market.
As usual the area around the outside of the big church is a busy spot, the center of town with lots of bicycles whizzing by, pedestrians, shops and restaurants.
It's fascinating to see how many people the family can put on a bicycle and some even carry cargo in the attached carts. You might see a baby hanging from dad, mom behind and two in the cart, five people on one bike.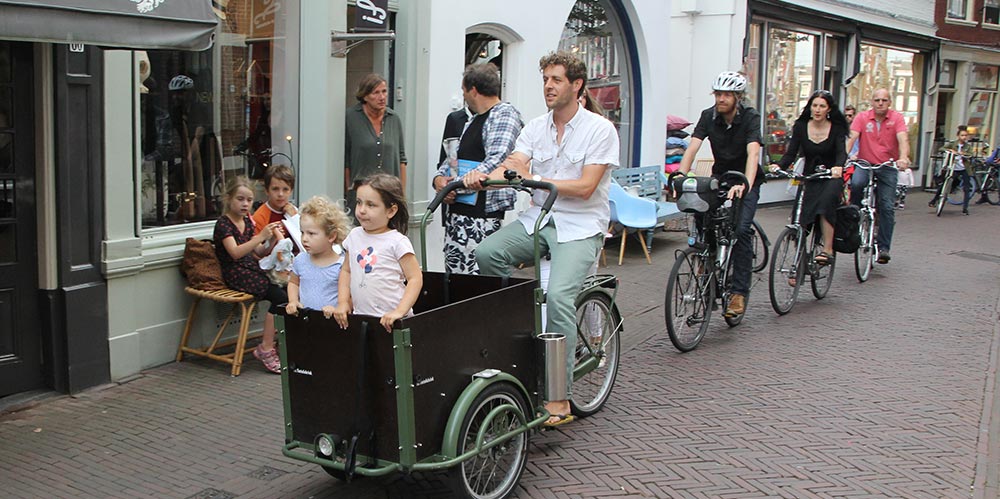 Most of the population rides bicycles so there are plenty of these efficient vehicles all over the place. Be careful to stay out of their way so you don't interfere with them, and so they don't run into you. With normal caution there will be no problems -- they are skilled life-long riders. The historic center is a safe and quiet zone.
Side Streets:
Zilstraat is a major shopping street extending from the northwest ciorner of the Grote Markt. Stately historic buildings and exclusive shops set the tone in the first part of the street, while smaller shops and trendy restaurants surprise you in the second part of the Zijlstraat.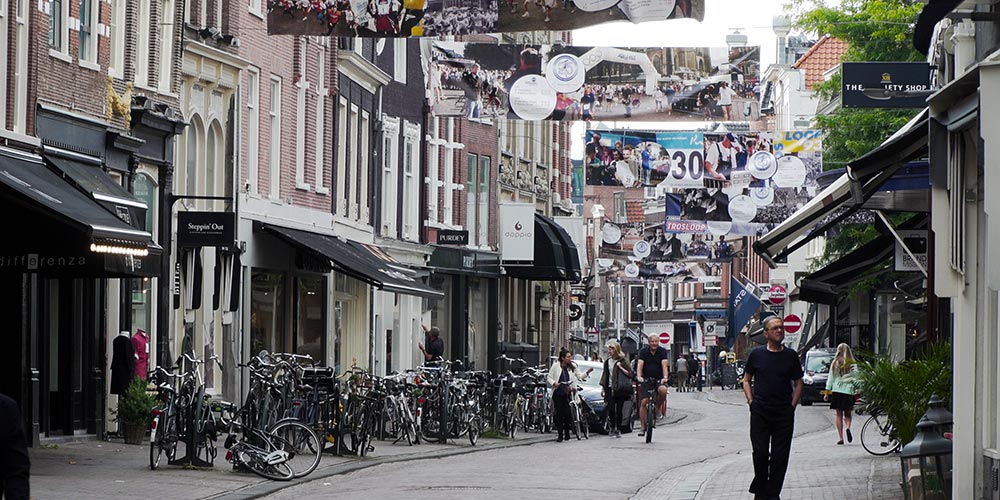 For lovers of second-hand finds and curios, this piece of the street is a small mecca. This is one of the designated Seven Golden Streets for shopping, and has more than 25 national monuments, including many stepped and bell gables.
Just behind the market square is the Oede Groenmarkt, more of a small plaza than a street, which was previously the site of the main outdoor produce market but now hosts several sidewalk restaurants and functions as a major route for pedestrians and bicycles.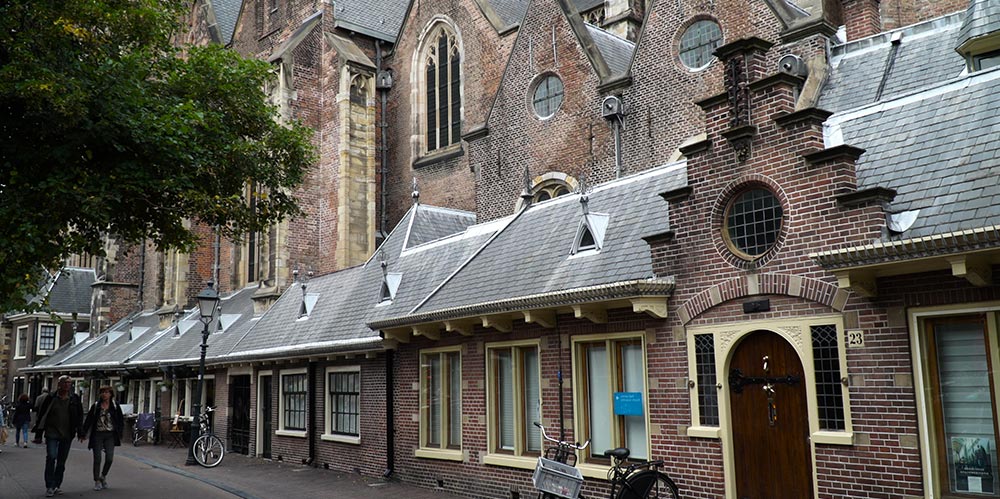 The small buildings physically attached to the outside of the church here were formerly residences and workshops – now they host a gelateria and gift shops. This is typical of the Dutch style, making full use of their churches not just for religious purposes but for the life of the society in general.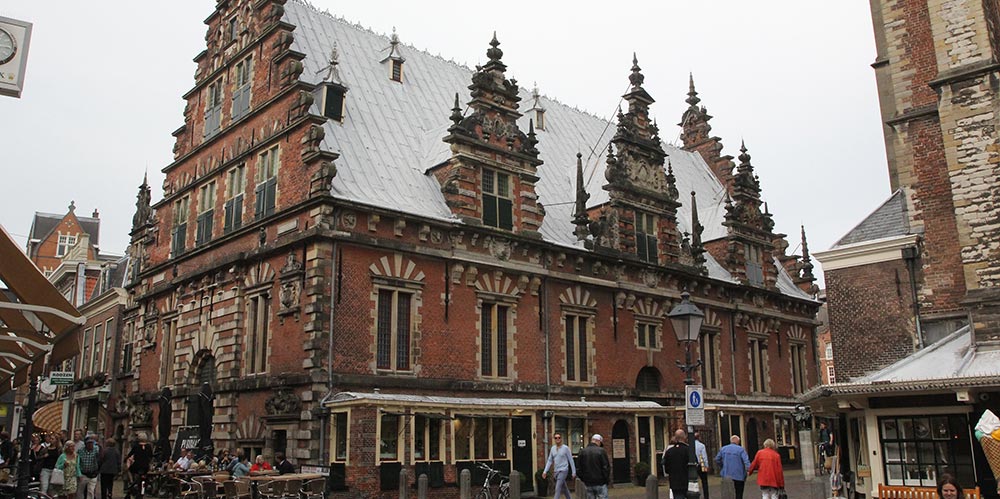 The ornately gabled structure of brick and stone next door was the Vleeshal meat market, built in 1602, one of the finest Dutch Renaissance style buildings in the nation.
BACK LANES:
The neighborhood just south of the church is one of the most attractive parts of town where you can venture into the network of small pedestrian lanes.
You'll enjoy a stroll along Warmoesstraat, a pedestrian lane going right through the middle of it, lined with tables set up for the row of outdoor cafés. The cozy, cobblestone ambience is even more appealing than the main market square on the other side of the church.
Warmoesstraat leads to Anegang, another perfect pedestrian shopping street, just three blocks long but connecting several main lanes.
This charming neighborhood is a fine example of living the good life outdoors in Haarlem. It provides a relaxed atmosphere for people enjoying drinks or a meal at the sidewalk restaurants, with pedestrians strolling by lending a theatrical element to the scene. Many of these buildings were previously homes, workshops and warehouses of the merchants, dating back 400 years to the 17th century when Haarlem was at its peak of prosperity. Today the lane is all bars, restaurants and shops.
We are going to point out more shopping streets that you will enjoy exploring and then for contrast we will take you over to a quieter residential district on the west side of town. You won't get lost here because it's a small district and the streets are rather straight and run at right angles to each other, but there's plenty here to keep you busy for a full day just wandering around.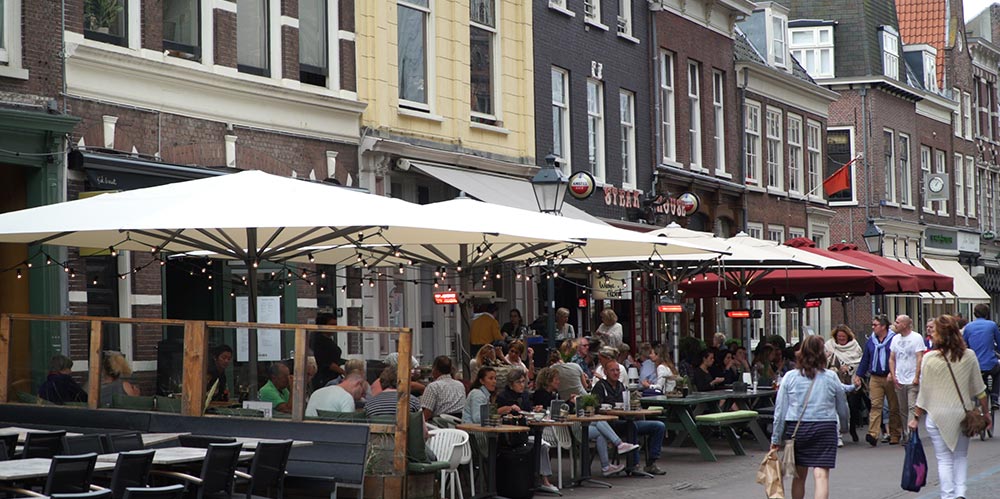 You'll find the shoppers and workers are friendly and ready to talk. In a camera shop I asked, "how would you describe Haarlem for the visitor?"
"Well Haarlem is like a village. It's a town of course, 780 years, and it's not very crowded. You can walk on your own. In Amsterdam when you come on the street you are moved. Here you walk alone. If you see Amsterdam and Haarlem, Haarlem is very quiet and Amsterdam is very crowded. But we have a lot of old things. We have the oldest museum, the Tyler Museum, on the Spaarne, yes. And of course we have the Frans Hals Museum, a nice building, we have the great market with the enormous church, and a lot of things to see.
"A lot of people say, well we stay in Amsterdam but for one day we came to Haarlem and wow, what a beautiful city. No cars. No garage. Just bicycles. And that's another difficulty – to park your car, it's not easy. But it's quiet, those side lanes, very quiet. There's a lot of quiet places in and around Haarlem. I am born in Haarlem and I'm glad to live here." The shop is called Camera Warehouse, located on Anegan just two blocks south of the market square, quite central. If you ever need any photo supplies or other kind of information stop in for friendly help.
Continue on Anegang for a block to perhaps the most charming street in Haarlem and one of the cutest lanes in the country, Kleine Houtstraat.
KLEINE HAUTSTRAAT
Kleine Houtstraat is a pedestrian lane with mostly small, privately owned boutiques. This is not a wide shopping street with major brands, but is loaded with unique specialized boutiques and cafés. In comparison, a few blocks over we'll soon get to Grote Hautstraat, the wide, busy pedestrian street for the major brands and large stores, like Apple, but for now continue along Kleine Hautstraat.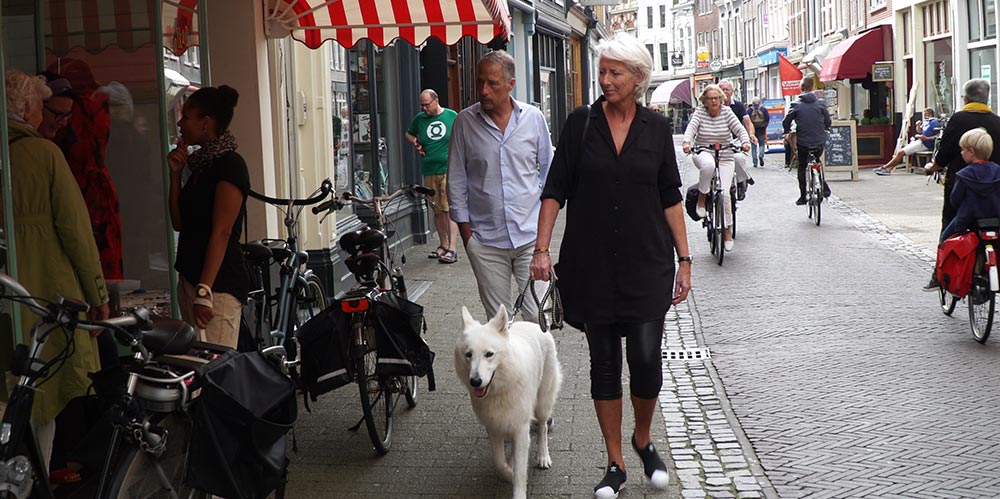 It's always encouraging to see locals out sharing the street with you, it gives you an indication you're onto something authentic. And you might have a quick chat with the merchants.
No surprise, you'll find lots of ladies clothing along the street in unique shops where you'll find something different and unusual. This retail zone of Kleine Houtstraat is only 400 meters long and yet it might take you a few hours to browse your way through it.
They might be a little biased, but according to the Tourist Information Office, Haarlem is the best shopping city in the Netherlands. If you want more details about these shops go to the tourism website where they list 640 shops in the center with detailed info about each store listing address, websites, goods featured, and phone number contacts with a widely diverse range of shops. https://www.visithaarlem.com/en
Take time out maybe for a snack or lunch as I did at Blender, a very friendly and popular spot with great service and a lot of healthy organic food. Or maybe select that delightful aspect of most Dutch towns, the corner bar, a place for the neighbors to get together, and visitors, and have a beer and conversation, maybe have dinner. Nearly all Dutch speak English and are generally friendly and outgoing, so you can easily strike up conversations in a pub, or anywhere. Just break the ice with a smile and a question or comment.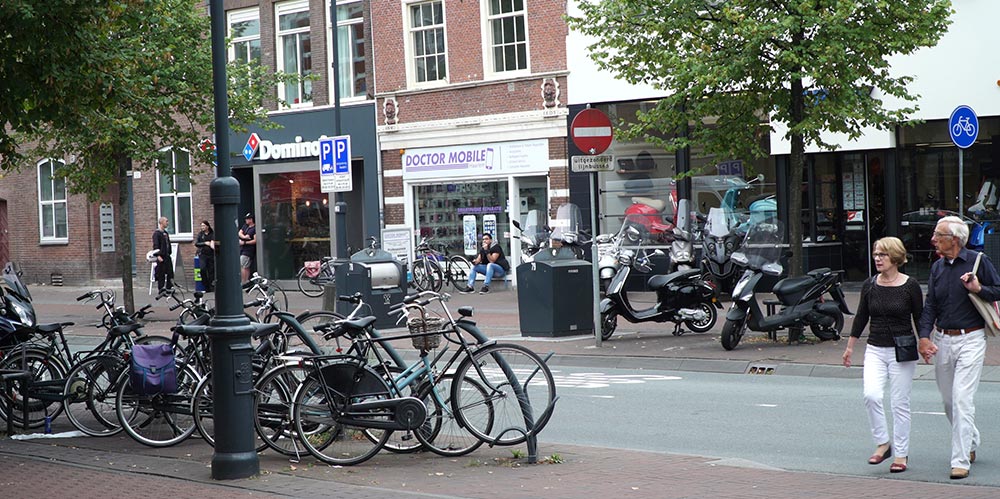 When you reach the busy cross street, Gempte Oude Gracht, walk west along it enjoying several blocks packed with retail stores of all types, bustling with urban vitality. Gempte Oude Gracht used to be a canal, but is now filled in as a busy two-lane traffic street, with wide sidewalks, bike racks, trees and places to eat nestled among the many shopfronts. Optionally you might continue further south down Kleine Hautstraat, which becomes a mix of retail and residential.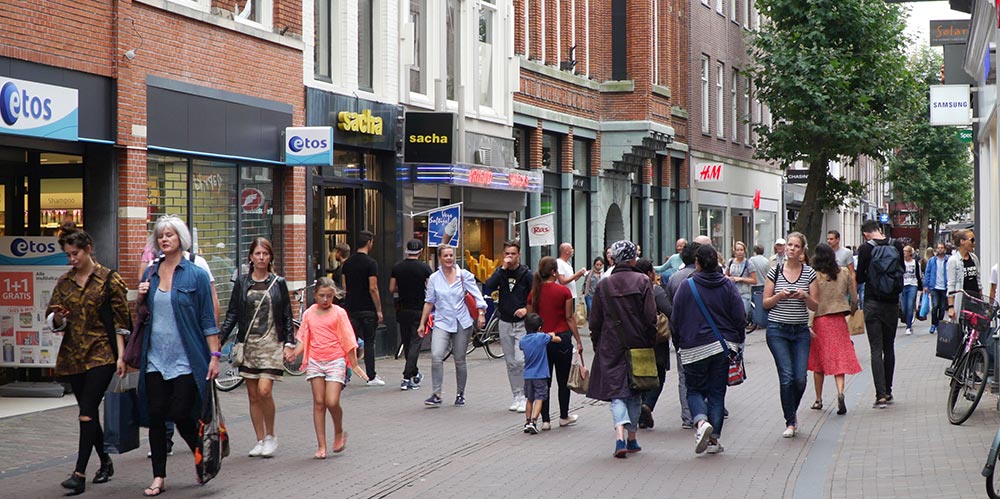 GROTE HAUTSTRAAT
After walking three blocks along Gempte Oude Gracht, turn south on the biggest shopping street, Grote Hautstraat, the pedestrian lane with famous chain stores and plenty of quirky little boutiques. This "Big House Street" does extend south from here with a lot more shops all the way down to the canal, so keep on going.
It's undoubtedly the town's main shopping lane and you will notice some familiar stores, like my favorite, Apple. Just because the city is 800 years old and has buildings dating to the 16th century doesn't mean they have to be old-fashioned.
Near the lower end of Grote Hautstraat you'll reach a "hofje" courtyard, the Proveniershuis housing for senior citizens. You will find these institutions throughout the country.
In Haarlem there are about 20 of these senior residential compounds with a history going back hundreds of years. This traditional form of senior housing got started back in the 14th century as a kind of charity that was funded by religious, wealthy people who wanted to take care of the poor and also earn credits for themselves for getting into heaven.
Typical of the Dutch pattern, there is a lot of housing on these quiet little side streets that are mostly for pedestrians. Cars can come through occasionally for delivery or pick up but otherwise it's for people and bicycles – a quiet neighborhood in the center of town.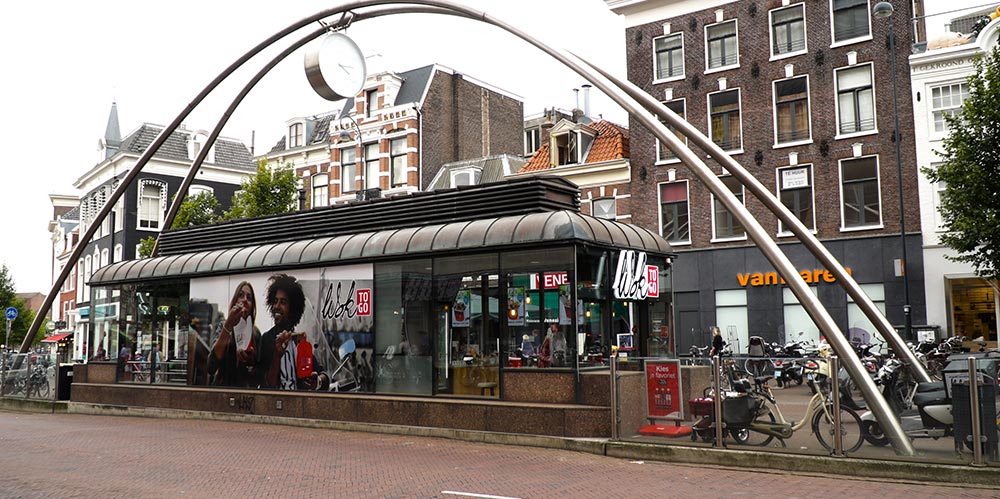 Eventually you get to the end at Gasthuisvest and now you'll find out where all the cars have been hiding. There are many buses, trucks and cars going by, so watch it as you cross over.
Across the street you'll find the main canal of Haarlem which extends all the way around the old town in a big loop. Part of the waterway is the river Spaarne and the rest is a man-made canal.
The typical drawbridge here can be passed under by most of the pleasure craft, but some are a little too high and so the bridge has to tilt up for them.
In tradition all over the country, people occasionally wait patiently on the roadway for the bridge to come down and let them pass. The bridge operator pushes a button, the bridge rises up, the boat goes through, bridge goes back down again and the traffic resumes. The canal has a variety of recreation users including some standup paddle borders who glide along quite serenely.
Many Dutch towns have several canals running right through the middle of them, but in Haarlem the canal only goes around the outside of the old town. Here, the city center is dry, and mostly for bicycles and pedestrians.
If you want to visit the excellent and highly-recommended Frans Hals Museum, described in detail later in this chapter, walk 2 blocks east along the canal to Groot Heiligland street where the museum is located.
While walking back up Grote Hautstraat take a left where the road forks, to Gierstraat, another delightful pedestrian lane with many more shops.
LITTLE JORDAAN
For a change of pace, turn left onto Breestraat for a little detour into a peaceful residential neighborhood. You see a few shops here but mostly homes for locals living in peace. This very efficient use of land creates a human-scale neighborhood right next to the busy shopping street. They call it the "Little Jordaan" after the similar but much larger Amsterdam neighborhood. If you see a resident sitting on a bench, say hello.
"The name of the street is Breestrat. I like it because it's quiet – you can sit here, I can have my wine or something and I watch the people. And I am three blocks away from the supermarket and the shops, everything, and my children live five minutes from here. There are maybe 100 streets like this all over Haarlem – it's so well-planned. It's the old style the old plan.
"You have the street, you see that one? That's the Lange Raamstraat, and that's also a small lane. All the streets here in the neighborhood are small. You can come by car here but the bike is faster, easier. If I go to my work with the bike it's only one stoplight, but if I go with the car, six. So, it's faster by bicycle."
I spoke with another friendly resident who explained more about the neighborhood and the name of this town.
"Haarlem actually is a tiny, small village within a city. It's very hospitable here. And you're now actually in the center of Haarlem. It's a really village feel – it's like – I know most of the people that are living here, because everybody knows each other, in the center, in the center everybody knows. Yeah like the Jordaan, Jordaan. This is actually called the Jordaan of Haarlem. You're in the midst of it and this is a café, the Vijfhoek, which is a bar that is filled with locals."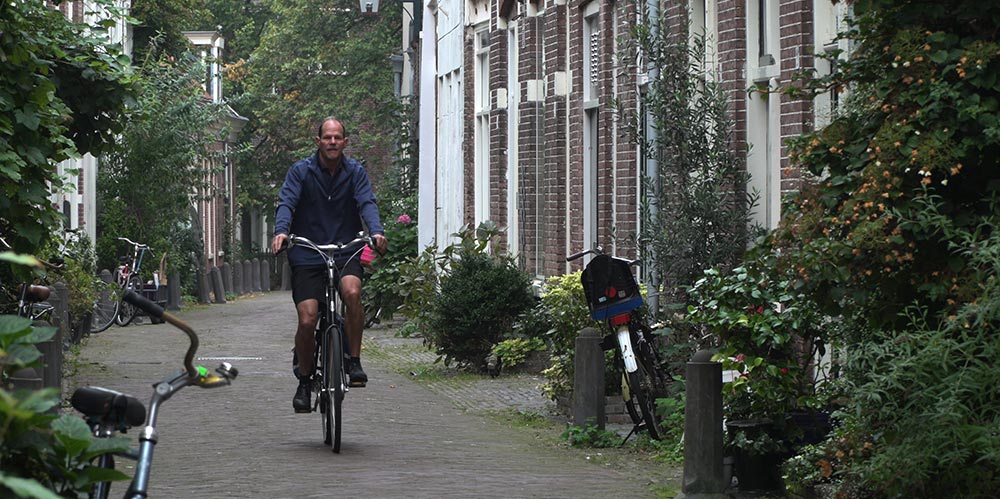 "And this is really for the locals where we hang out. Well you got Harlem in New York. It's actually deferred from Haarlem, this city, with double a. So you've got, you've got Haarlem. Brooklyn is Breukkelen. You know Brooklyn? The original name of Brooklyn is Breukkelen. Oh. It's a city and Holland actually, and New York was New Amsterdam".
These historic neighborhoods have been functioning very well for hundreds of years. Holland developed a relatively dense settlement pattern that produced these very pleasant neighborhoods because half this country was a big swamp, and so therefore the people clustered together in their little villages, and they gradually drained out the marshes and created dryland.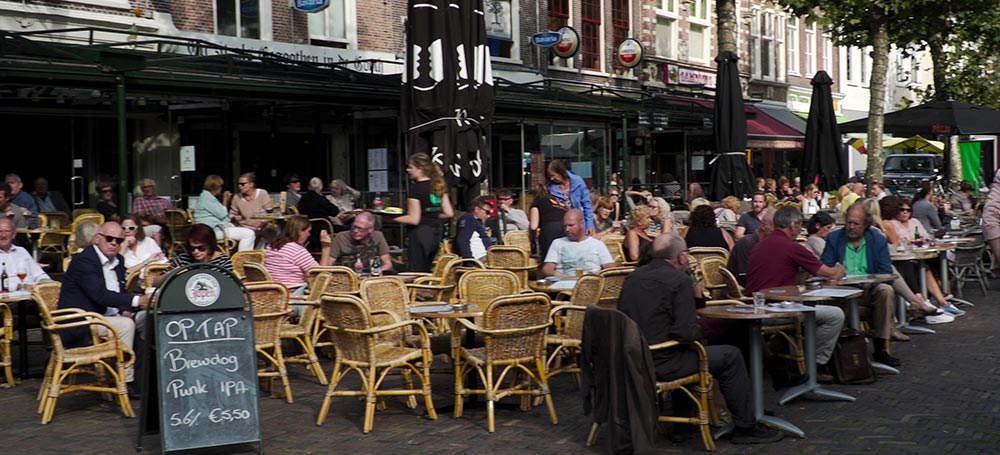 Walk along to the lively Botermarkt square, where the locals hang out! These terrace restaurants are bathed in sunshine until late in the afternoon so this square in the middle of the city is a great place to be.
There are markets in Botermarkt square 4 days a week. On Mondays, second-hand clothes; Saturdays, a produce market; Wednesdays, a book market and Fridays, a farmers' market offering organic produce.
You'll find another example of the traditional hofje here called Bruinings Hofje, with its garden center and cluster of apartments around it, with cats in residence, nicely protected by a wall, keep the tourist out. Some of them are open to the public, some not. This hofje has a very inconspicuous entry. It looks like a private door but it's open during the daytime to visitors, so step on in you are welcome to have a look at the garden, but don't make any disturbing noises.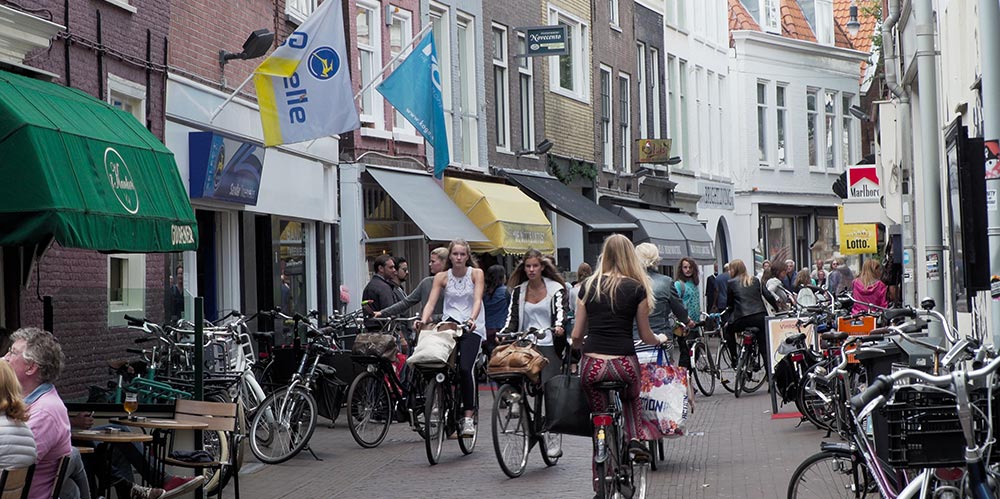 At this point Gierstraat changes name to Koningstraat which continues north as a pedestrian shopping street three more blocks to the market square.
No doubt you find yourself winding back to the Grote Markt several times as you walk around. All streets seem to lead there and from the square you can easily explore out in all directions.
Jopenkerk
If you are a beer-drinker, walk four blocks west to one of the most popular gathering spots, a former church that's been converted to a bar and outdoor terrace café, Jopenkerk, with a microbrewery inside carrying on centuries-old tradition when beer making was a large part of the Haarlem economy.
The bars of town function like communal living rooms where people gather to have a drink accompanied by endless conversations. Sit down after this long day and join them.
With a population just over 150,000 it's large enough to offer a lot of variety and attractions and has got that great history. Parts of town are really buzzing with activity – people out on the street – while other parts are more laid-back. And yet it's small enough to create that cozy village feeling. People here seem to be in less of a rush than in the big cities and more likely to stop and have a chat. Next we'll visit the lively Saturday morning outdoor market.
We have shown you the major pedestrian lanes of Haarlem, and now you can see that this is a marvelous town to come and visit. At the end I remind you that Haarlem is only 15 minutes away from Amsterdam by train and is worth spending one or two nights here. It could be done as a daytrip, which would enable you to get a basic feeling for the place, but you could never see all the fine sights described here in a day, so spend a night or two if you really want to discover the many neighborhoods, museums, shops and restaurants, with time to meet some locals.
More pages about Haarlem: