Nine Streets
Amsterdam's most popular shopping neighborhood
Berenstraat, Gasthuismolensteeg, Hartenstraat, Huidenstraat, Oude Spiegelstraat, Reestraat, Runstraat, Wijde Heisteeg, and Wolvenstraat
We're going to show you one of Amsterdam's best neighborhoods for walking and shopping, called the Nine Streets. Located one block from the Dam, it looks like it's three streets, but each one has three segments, making a total of nine streets. We are going to explore those streets from south to north.
You will be delighted to see how friendly it is to pedestrians and how many little independent shops there are here. We will also look at the beautiful canals that run throughout this district – four major waterways that add to the special character of the Nine Streets.
It's so mellow and peaceful, you'll see a few shop dogs in the doorways without being disturbed – hardly any noisy cars or scooters going by. It's a place for pedestrians, bicycles, and little shops. Here you also find apartments, offices, and some hotels. It's a complete neighborhood, very attractive for both the visitors and the local residents.
This is a compact zone with basically a square shape, just 400 meters from one end to the other, making it so easy to walk and see all of it in a few hours. The paving is smooth, you're welcome to walk in the street and the terrain is flat.
There are quaint and picturesque neighborhoods throughout the Netherlands, and in other sections of Amsterdam, but it's hard to find one that has all of these characteristics in one place: sidewalk cafés, major canals, pedestrian lanes, a thick concentration of independent little shops, amid a large collection of attractive historic buildings, with a central location that's easy to get to. Indeed all over Europe there are hundreds of charming towns with wonderful places for strolling, but this is clearly someplace very special.
An excellent website organized by the merchants of the area describes everything that you'll find in the Nine Streets, with a listing of the shops, including photos, maps, and a brochure you can download. The website and brochure list all of the shops, in geographic order with store websites and phone numbers.
Their website explains that from the very beginning 400 years ago, this charming neighborhood was dominated by trade and culture, and still has a great bustling atmosphere full of quirky little shops, designer boutiques and hidden cafés. Visiting here is a must if you want to hang out where the locals do, the ideal place to get to know Amsterdam in all its variety and richness, with a great overview of the architectural style of Amsterdam heritage.
Among those stores there are 60 boutiques, 40 places for food and drink and sleep, 5 for vintage, 12, shops for shoes and bags, 16 for accessories and jewelry, 14 for hair, health and beauty, 18 home and lifestyle, 8 art, culture and books, and 25 specialties. Most of these shops are unique little boutiques. There are hardly any tourist souvenir shops, but you'll find plenty of places to buy a keepsake to bring home.
These streets served the merchant families and businesses who worked along the canals in the old days. There were milking establishments, gas and fire shops, and liqueur distilleries. In the 60s, the hippies discovered the neighborhood. They not only came to live there, but also started shops selling secondhand clothes, furniture, lamps and curiosities, some of which can still be found today.
Herengracht is one of the four parallel canals running through these nine streets, which form a belt of canals around central Amsterdam. Streets along the banks of the canal have the same names as the canal.
Singel is one of the main streets along the canal of the same name, and this is part of that great charm and historic heritage of the neighborhood – you've got waterways along with these pedestrian lanes that go across them, lined with shops and places to eat.
There are no shopping malls or big department stores here. It's just not that kind of place, but instead it's laced with authentic boutiques and picturesque scenes. There are big department stores elsewhere in Amsterdam, of course, you can find them along some of the main boulevards, but don't look for them here.
Most shops are open every day from10 or 11 in the morning until six or seven in the evening, all year round. While this neighborhood is a slice of heaven for shoppers, it's fun even if you don't intend to buy anything. Just walking around through these streets is a pure pleasure. And we have the added bonus of seeing row after row of houses along the canal.
Each building gable has a beam extending out with a hook. You'll find this all over Amsterdam. And what was it for? They attached a pulley wheel and rope to haul up heavy items and furniture, and bring them in through a window rather than trying to carry big things up inside through those narrow staircases.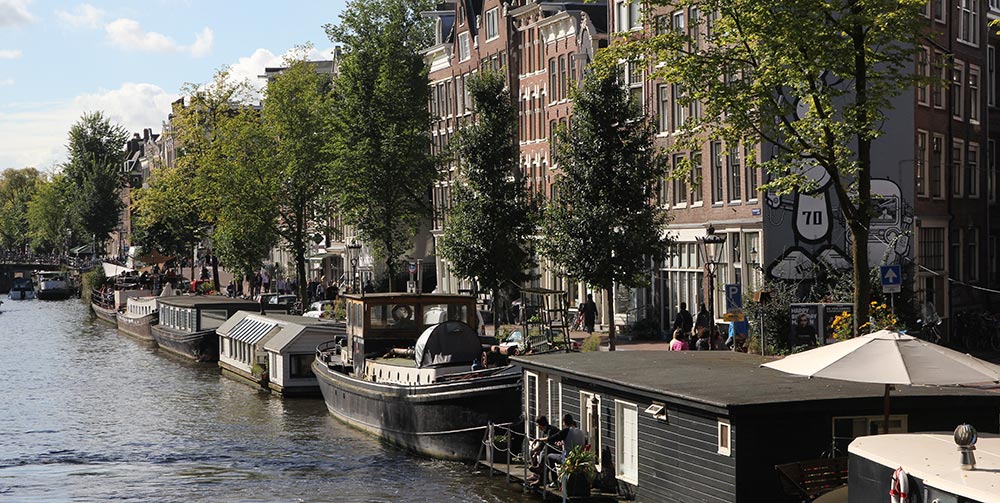 There are thousands of boats of all shapes and sizes here, including quite a few houseboats, some of which are available as vacation rentals, although Amsterdam has been reducing the number of vacation rentals available to protect the housing market. Several excellent hotels in the Nine Streets have converted rows of canal houses into deluxe accommodations, including the Pulitzer, the Dylan, the Hockston and the Andaz. You can get a room with a view looking out over the canal, or a quiet room at the back looking out over a garden.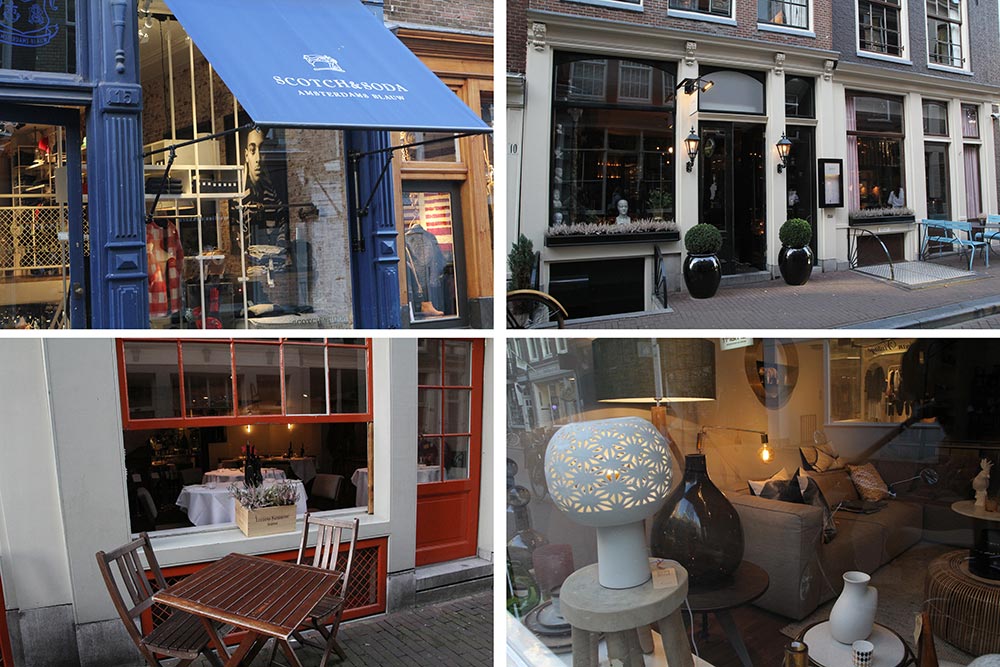 Amsterdam is a large city and many of the buildings do look quite similar to each other, with no skyscrapers providing some kind of visible landmark, so you might find yourself wondering where you are, but, within our Nine Streets it's quite easy to keep your orientation. If you should get a little lost, just pop into a shop and ask for directions, and yes, they all speak English.
That completes our visit. From here it would be nice to spill into the adjacent neighborhood, called the Jordaan, which we take you through in another section.